EVER THE TWAIN
Instagram luminaries Andy Poupart and his wife, Michèle Free, are not just eternally soigné, they dress in a way that complements each other's style smarts — especially when one examines the finer details…
Having grown up avidly tuning into the Oscars — "but only for the red carpet bit" — Andy Poupart, a software engineering manager, has always been left a little cold by the "trackie pants and jeans" culture prevalent in his professional realm. But it was a chat with a man whose neck was a-drape not with a tape measure but a stethoscope that prompted the sartorial overhaul that has proved life-redefining. Poupart says: "About eight years ago I had a physical — my blood sugar was trending badly and the doctor just said, 'You don't want that trend to continue'. So I ended up losing a bunch of weight, and my clothes didn't fit any more. I needed an entirely new wardrobe. I had a couple of suits made on Savile Row — once you've experienced a good bespoke it's hard to go back — and then you need shirts, and you start thinking about pocket-squares and ties… You end up taking a deep dive down the rabbit hole." His wardrobe replenished, Poupart's daughters challenged him to post a selfie on Instagram: as he took them up on the bet, little did the California-based Briton know that he would become something of a legend among the esurient style enthusiasts who scour social media in search of ordinary folk with extraordinary sartorial smarts (see
@styleafter50
for regular updates). Poupart is pictured here in an Edward Sexton jacket (regular readers will already have clocked those lapels) and Hollywood Top whipcord trousers, also by the Godfather of British bespoke, while his wife and partner in all stylistic endeavours, events manager Michèle Free — who describes Andy as "my stylist" — wears a grey flannel suit that (along with the shirt beneath it) was made by the Mayfair-based Caroline Andrew. "It's quite a deviation from Michèle's normal style," Poupart says. "If you look at our Instagram pages, she often wears quite daring and spectacular cocktail dresses, but she manages to carry off both styles: she can wear not conservative, necessarily, but business-like day clothes, then she has this amazing ability to glam it up in the evening." So what other paraphernalia, on closer inspection, make up the sartorial sum total in the couple's ensembles?
Andy Poupart
"This is a copy of a broach my mother wore — it was costume jewellery but it had irreplaceable sentimental value," Poupart says. "I had three made by a jeweller friend of ours in Dallas — one for me and two more for my sisters — as a way of remembering our mother. I don't like putting pins through my clothes, so I asked him to make a bayonet-style fastener.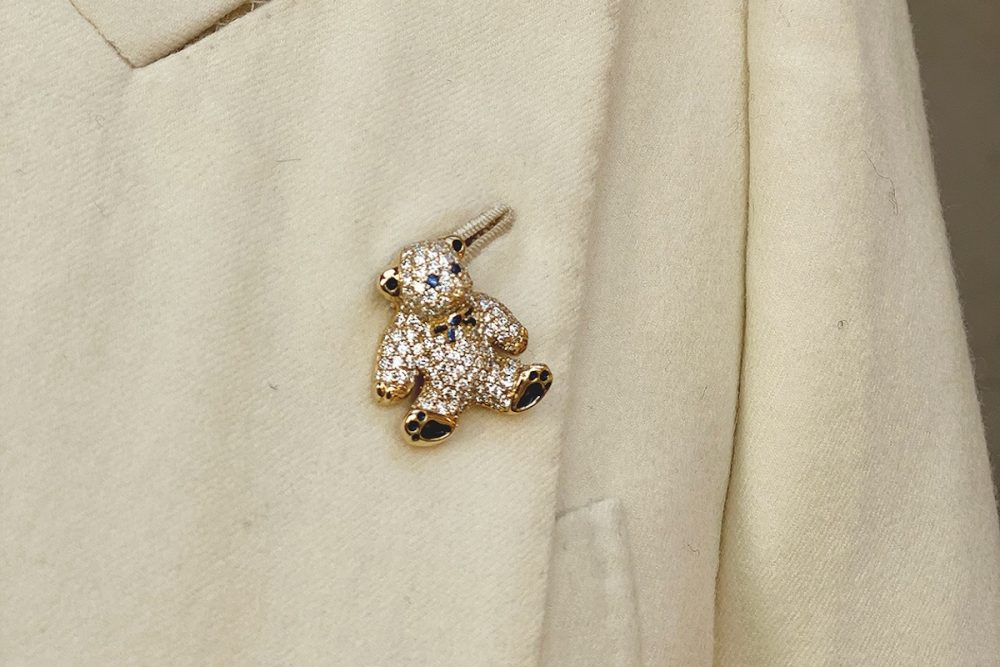 "The bracelets are by the German jewellery company Wellendorff. We went to one of their events a few years ago, and the C.E.O., Christoph, was wearing a prototype, which we liked, and he said, 'You can have the first production piece we make of it'. It was a present from Michèle for my 60th birthday. Michèle has two similar bracelets from the same brand, and we wear them all the time — they commemorate milestones in our lives." Many readers will also be admiring that stunning cocktail jacket's cuff..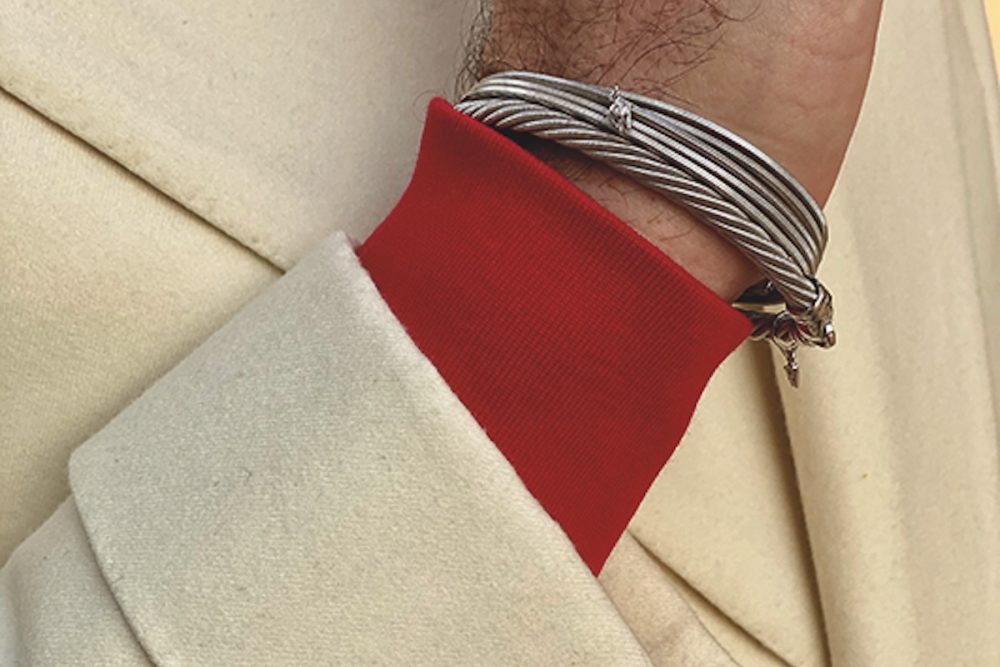 "The jacket — the second Edward ever made for me — is a bespoke version of a collaboration between him and The Rake. Most of the tailoring I have is of a soft, drape-cut style, but if I was going to start my sartorial journey all over again, I might well just go completely with Edward's tailoring. The cut appeals to me, and being with him is a fantastic experience. The first time I met him, he had this superb sage-green linen suit on, and I just thought, I hope I have that much style and charisma when I'm the age he is."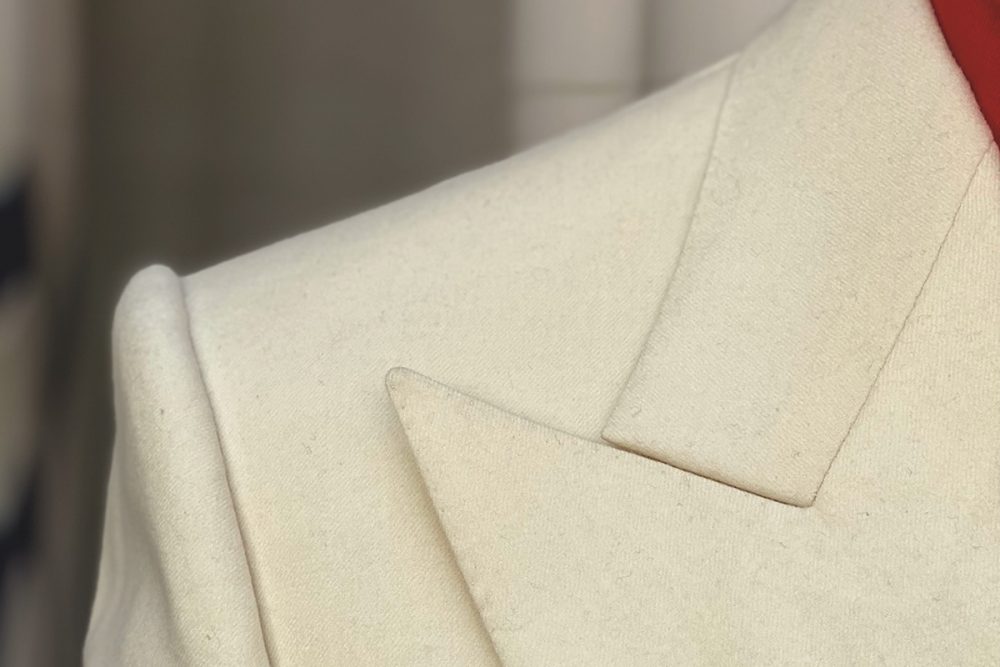 Keen-eyed readers will have noted the sublime juxtaposition that a Jaeger-LeCoultre Reverso makes with Sexton's trademark gauntlet cuff (check out how beautifully one completes a shawl-collared dinner jacket when you get a chance).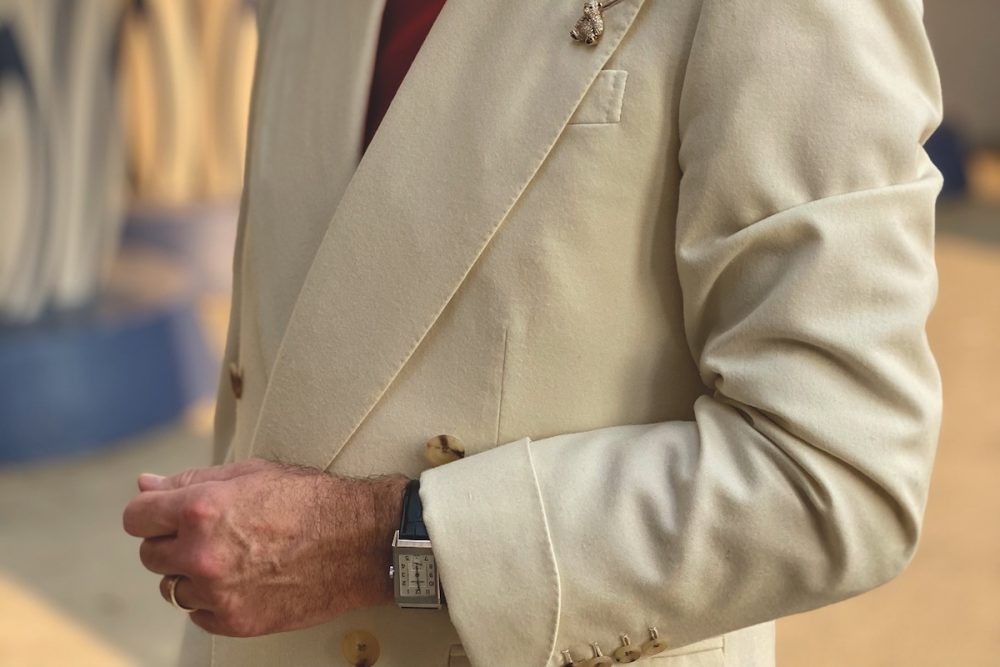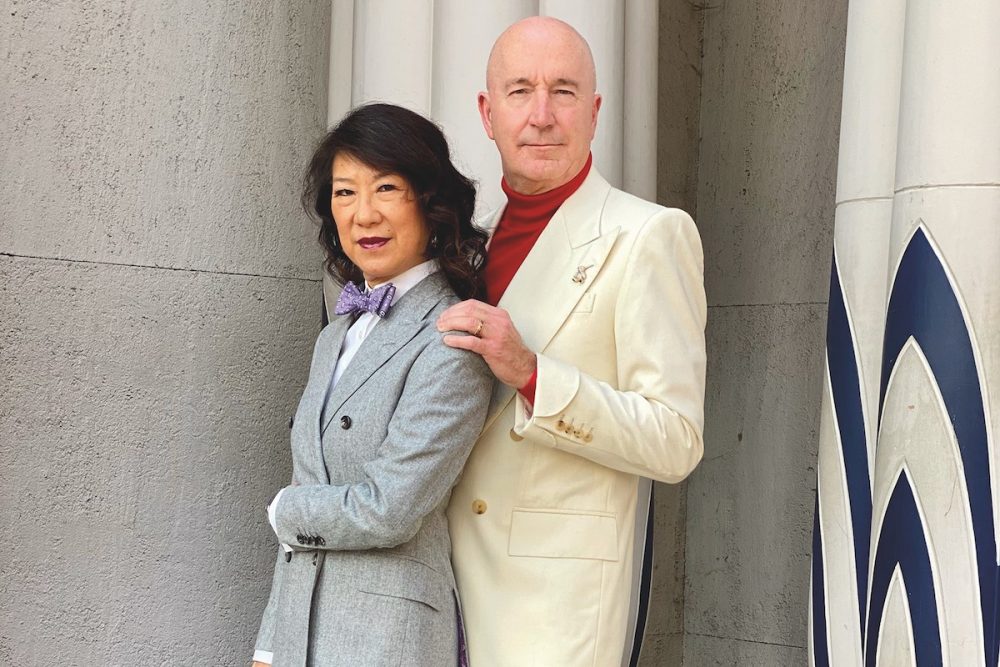 Michèle Free
Michèle's six-by-four double-breasted suit from Caroline Andrew "also owes a lot to Edward Sexton's heritage", says Poupart. That gorgeously textured worsted flannel cloth, meanwhile, is from a certain fabric mill, founded in London in 1836, by the eponymous Holland & Sherry.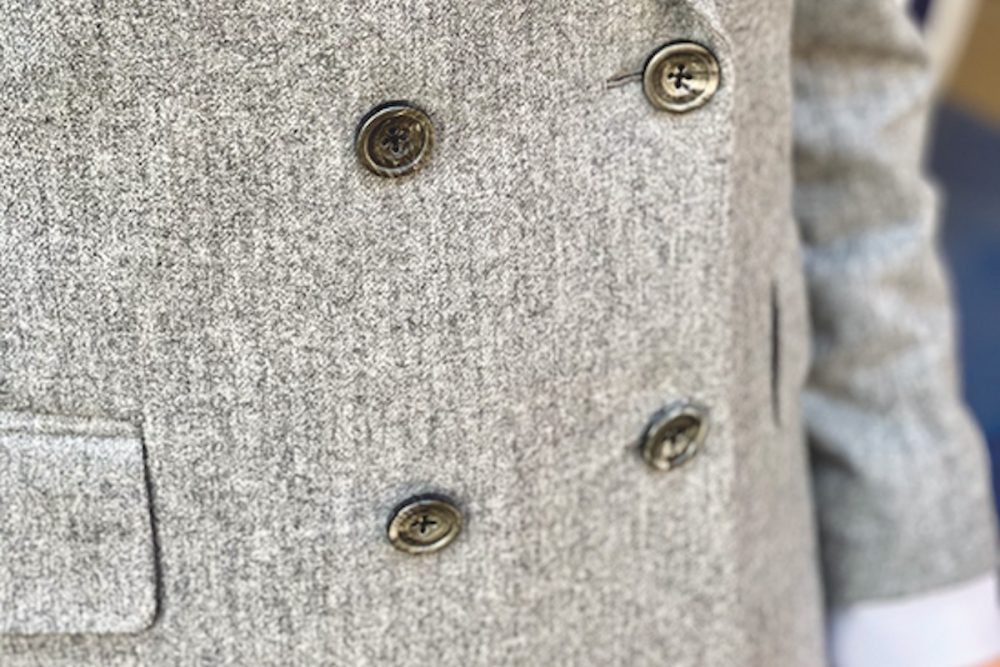 Another dazzling juxtaposition here: the turn-ups Caroline Andrew has built into the bottom of Michèle's trousers, and her boots from Stuart Weitzman, which pack all the elegant femininity of well-chosen women's eveningwear but are, Michèle says, comfortable enough to have walked around Florence in last winter.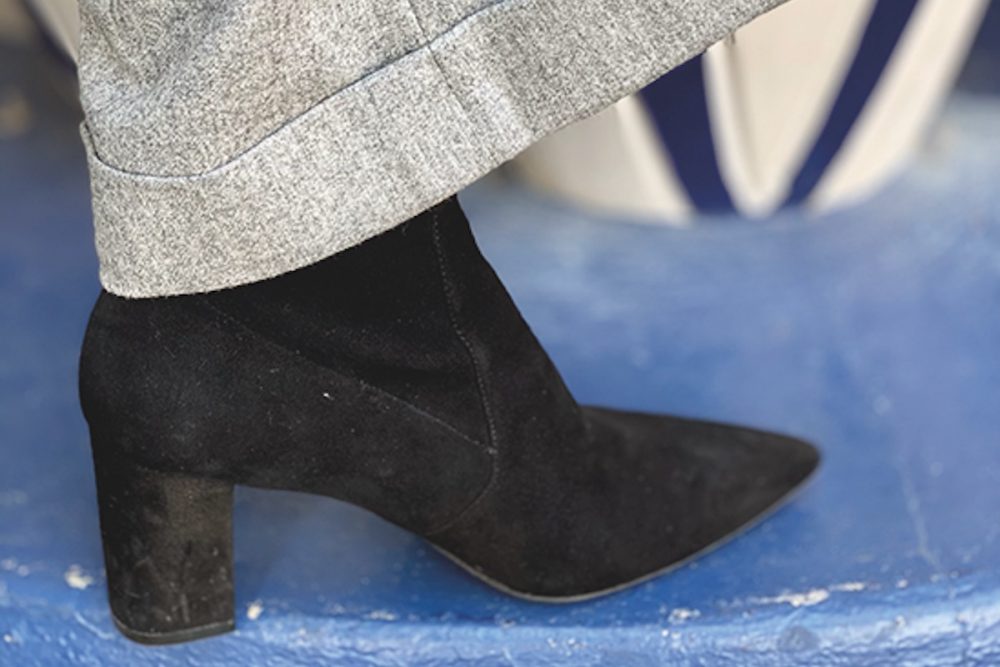 If you've not encountered Maison Michel Paris before, the 1936-founded French millinery makes hats that are beautifully crafted, highly sophisticated, and, more often than not, involve a soupçon of whimsy. Which is apt, as the one here was spontaneously picked up by the couple at the brand's Burlington Arcade outlet when Andy and Michèle visited London on their way to Pitti this January.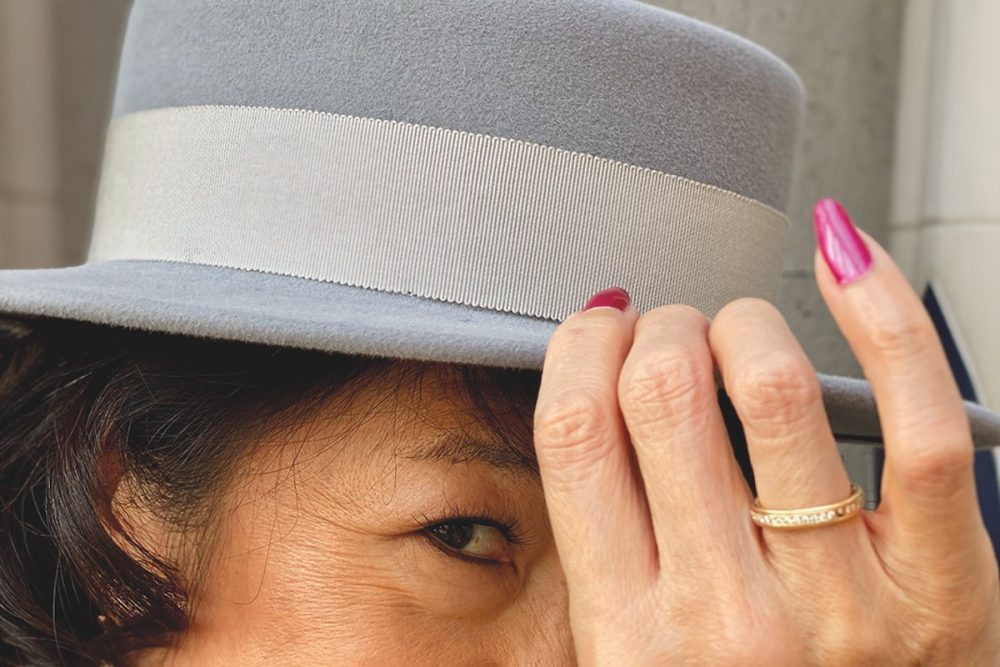 Two remarkable things about the Jaeger-LeCoultre Reverso are: a). its exquisite elegance, given that it was designed in the 1930s as a hardy solution for British Army officers wanting a suitable timepiece to wear on the polo field, and b). its outstanding unisex credentials. "We have his and hers Reversos, both engraved on the back with personal messages to each other," says Poupart.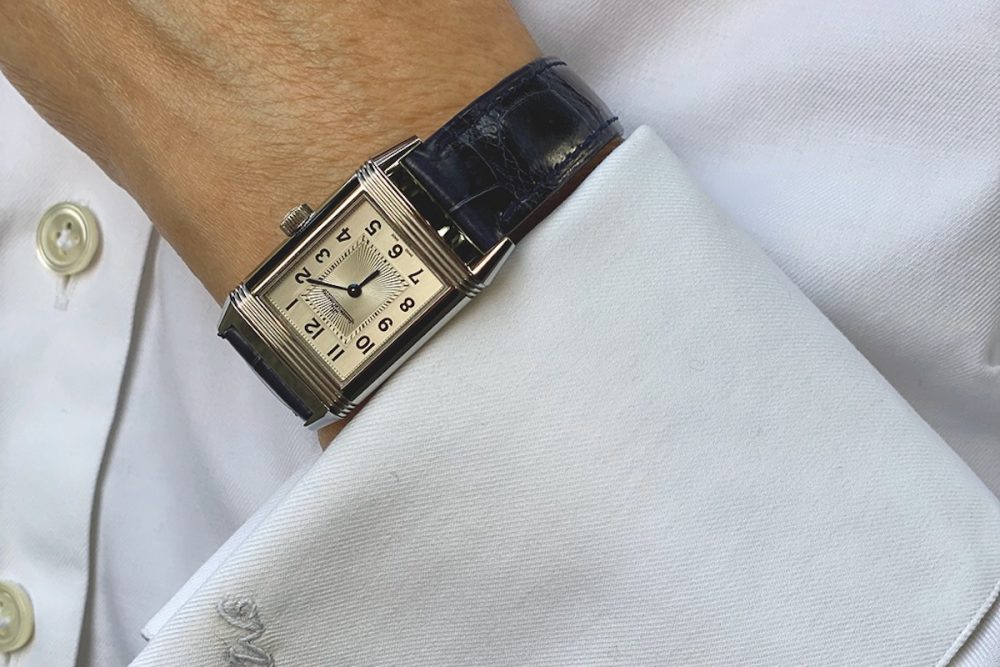 Arguably we have Marlene Dietrich and Katharine Hepburn to thank for the fact that, since the 1930s, elegant women have worn bow-ties; we have Brooks Brothers to thank for this one in a pink hue that sings in sweet harmony with the grey flannel of Michèle's suit, and is emblazoned with sprouting date palms associated with paisley patterns.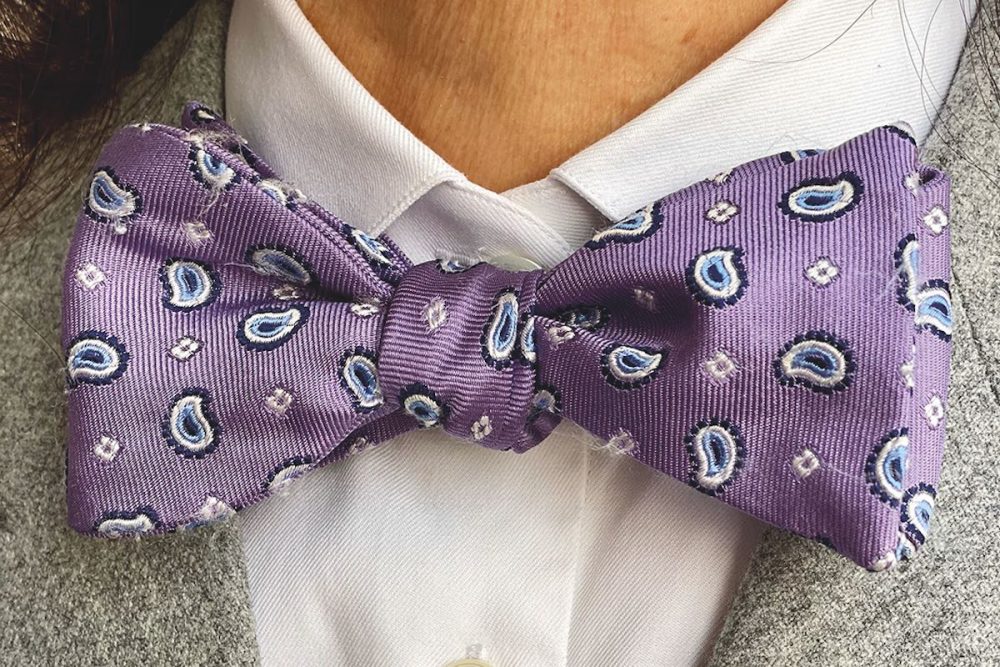 You can also read the story in Issue 72 of
The Rake
- on newsstands now. Available to buy immediately now on TheRake.com as
single issue
,
12 month subscription
or
24 month subscription.
Subscribers, please allow up to 3 weeks to receive your magazine.