Opulence Epitomised at the Fairmont Royal Palm Marrakech
Sprawling grounds, stunning design and plentiful opportunities for rest and relaxation make the Fairmont Royal Palm Marrakech a most luxurious Moroccan base.
Marrakech will take it out of you. Bursting at the seams with a frenetic energy that refuses to dissipate, the
vibrant
city is a heady and intoxicating
hub
of activity; a busy metropolis of colour and commotion that promises a serious slap to the senses.
Whilst it's easy to get swept up in the
chaos
- haggling in the souks,
wandering ornate palaces
and navigating your way through snake charmers, magicians and musicians, it pays to take a step back and breathe. Where better to do so than the tranquil Fairmont Royal Palm Marrakech - an oasis of calm just a twenty minute drive from the madness of the Medina?
Set upon a sprawling 231 hectares, the hotel boasts 134 rooms, suites, penthouses and villas. Renowned designer
Marilin Spataro (who collaborated with Jacques Garcia in renovating Marrakech's iconic La Mamounia)
is responsible for the luxe interiors, which honour Morocco's rich heritage through sumptuous textures, warm tones and the tasteful integration of
local art and craftsmanship
. There has been a concerted effort to bring the outdoors in and natural influences abound, with a striking colour palette that features tones of dusty pink, rust orange and earthy browns, as well as high ceilings, water features and plenty of artfully carved wood. There's certainly no shortage of space: a sizeable marbled bathroom (complete with an
enormous
bath), large dressing room and luxurious bedding and living area
inject decadence in
to each of the rooms, while floor-to-ceiling glass doors open onto spacious balconies that overlook the hotel's lush 18-hole golf course, the majestic snow-capped Atlas mountains looming in the distance.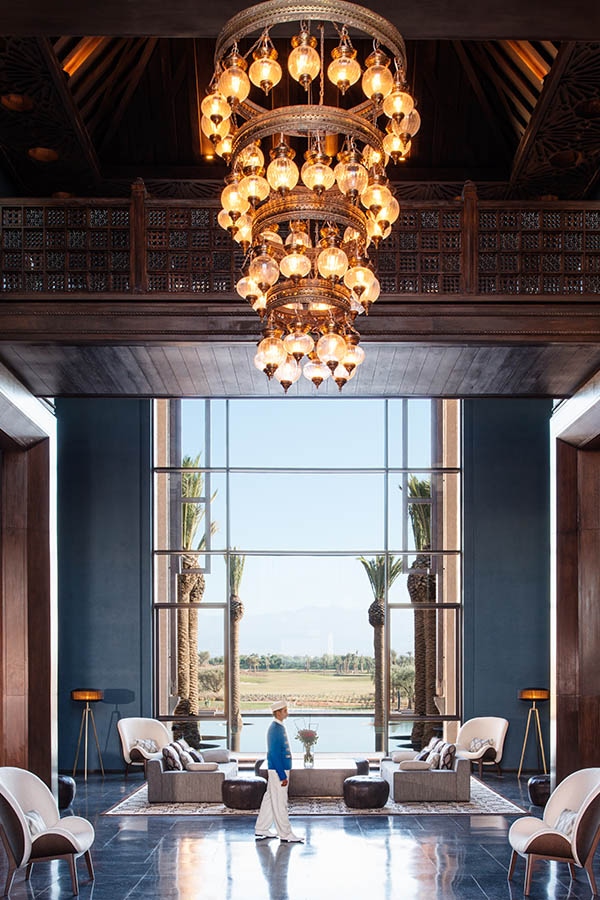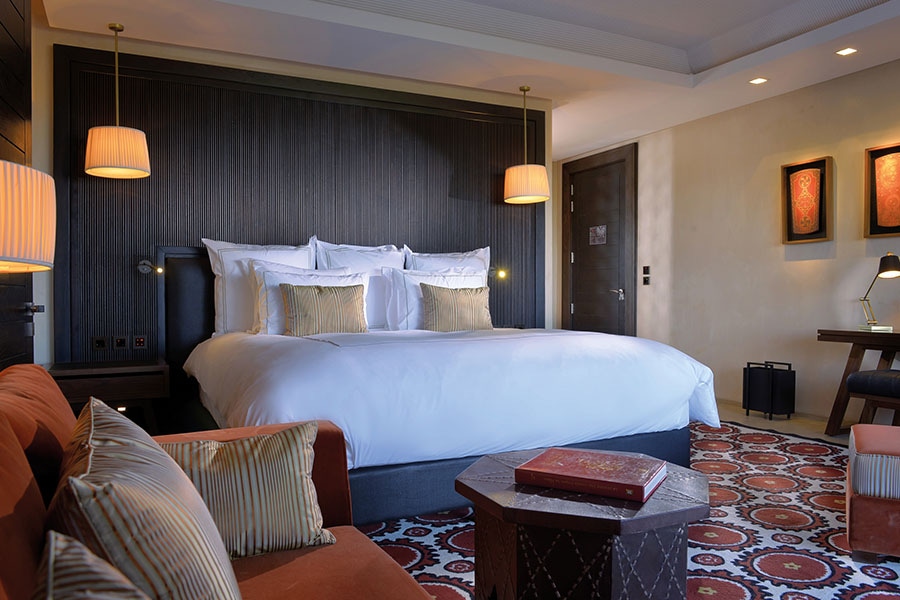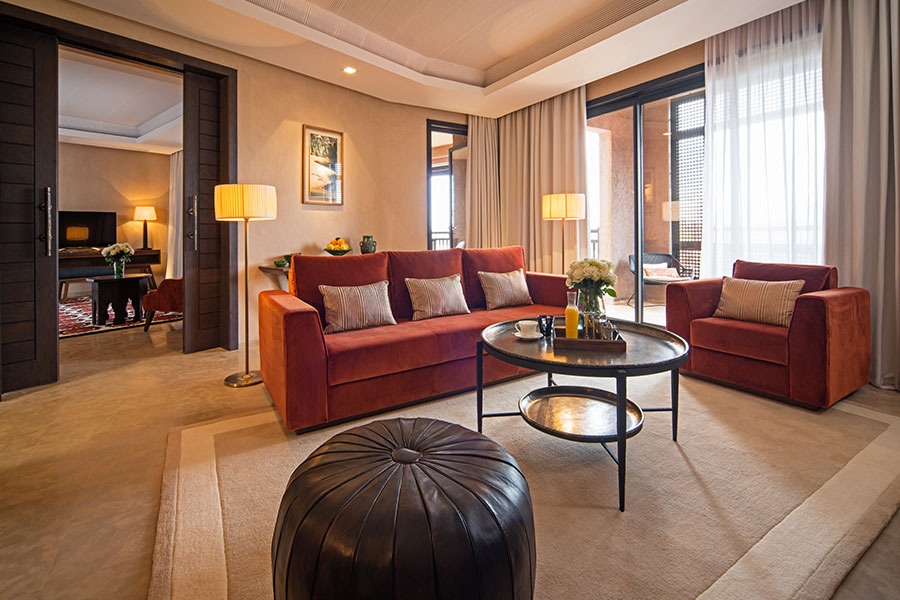 But in a place like this, it would be criminal to
limit your stay
to your bedroom. It's the facilities that really
make it shine
, with an almost-overwhelming array of
activities
to choose from. Active types will be in heaven with
two
well-equipped
gyms, four clay tennis courts, two squash courts and a yoga studio, as well as access to expert coaches for those serious about staying fit. The golf course, designed by American architect Cabell B. Robinson, is one Morocco's finest. Its Country Club offers full facilities and two dining areas, making it the perfect setting to while away an afternoon in the sun after a game of golf. Those more intent on spending their much-deserved holiday relaxing rather than working up a sweat can take their pick from a wide-range of treatments at the 3500-metre-squared spa, which is designed to resemble a traditional riad and features an
indoor pool, sauna and steam room.
When visiting Morocco, sampling the local cuisine is of course a crucial part of the experience. Traditional dishes - such as tagine, chermoula and harira - are renowned for packing a punch with their strong, spicy flavours, and often some of the
tastiest meals
are found by way of markets and street food stalls. While you should certainly endeavour to experience the culinary delights within the bustling Medina and its surrounding cafes, you can be confident that the myriad of dining options at the Fairmont Royal Palm will offer a similarly authentic experience of Moroccan experience - just with added comfort. Start the day with a breakfast spread fit for royalty: homemade sweets, jams and breads are on offer at the buffet alongside cured meats, cheeses and salads, as well as a large variety of Morrocan specialties. Come lunch (if you can even entertain the idea after your morning feast), L'Olivier - with its prime al fresco position by the pool - is the place to be. It boasts a lengthy menu of fresh and flavourful dishes that fuse Mediterranean and Morr
ocan influences, with a clear emphasis on local seafood. But for a truly authentic Morrocan dining experience, be sure to reserve a table for dinner at Al Aïn, where highlights include traditional Harira Marrakichi (Morrocan soup), roasted line-fished sea bass in a carrot, fennel and coriander foam and for dessert, a deliciously flaky Jawhara (milk pastilla) with almonds and orange blossom cream. You may have to roll back to your room, but such a gastronomic experience is well worth the inevitable bellyache.
Of course, the Fairmont Royal Palm Marrakech will not be for everyone. Those who'd prefer a raw and rugged experience right in the thick of the hustle and bustle may more suited to a small, centrally-located riad within easy reach of key landmarks and popular restaurants. But if you're after a luxurious, indulgent escape with quality service, state-of-the-art facilities and plenty of opportunities to really unwind, this is undoubtedly the place.