Far Afield: Inspired by Wanderlust
Taking heed from the beauty of materials in a range of celebrated global cultures, Far Afield combine ethically sourced-products with quality-driven design, yielding smart-casual attire for those inclined to sport some contemporary touches.
We all like to travel; to get away and feel the sun, or cool sea-wind, brush across our face while nursing a couple of icy Margaritas. But it is the images that we remember best: the patterns of a Lisboan tile or a New Yorker's unusual shirt as he strolls out of the subway. Few menswear brands understand this better than Far Afield. The expression of colours and tasteful patterns on their shirts, shorts, sweaters, and more, reflects the brand's globally-inspired outlook, and hence the name: 'Far Afield' is aptly evocative of elsewhere (and anywhere) but home. Home, however, would be London, where British brothers Mark and Chris Scholes founded the brand in 2006. The pair have carried over their mutual experiences in menswear design, production, and retail (over twelve years), and created the type of clothing that best matches their colourful vision.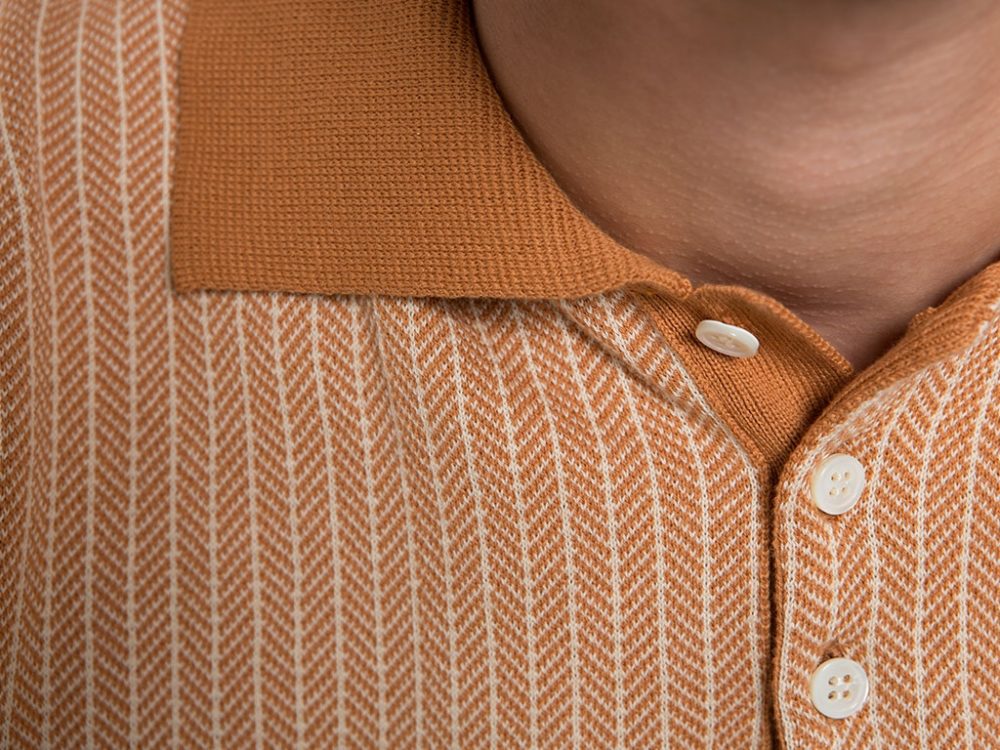 Since then, Far Afield have continued to source ethically-created products from around the globe, utilising the highest-quality materials as a canvas for all their design ideas. Some of these ideas evoke a Havana jazz club, a weekend in Portofino, or a steamy terrace in Saint Germain de Pres; with all the mid-century nostalgia and contemporary touches that makes each piece timeless. Their vision is best understood by looking at their camp-collar shirts, Chet Baker-like knit polos, and Ivy League sweaters, always with sustainability in mind: "We source our fabrics and yarns from various leading fabric mills across the globe and from SS20 onwards our purchasing policy on new woven and jersey fabrics will involve using Better Cotton Initiative (BCI) accredited cotton only,"explain the brothers. "Our knitwear yarns are purchased from Turkey and Italy and follow all ISO and OEKO-TEX standards. Where possible we purchase BCI cotton yarn, however we are sometimes restricted by the factory/mill minimum order quantities. "Where appropriate we also use recycled polyesters and organic cottons. For swimwear we are trailblazing a specialist fabric made from recycled plastic bottles.All plastic bottles labeled with #1 on the bottom have the same chemistry make-up as polyester known as PET (polyethylene terephthalate) allowing plastic bottle flakes to be transformed into fabric perfect for swimwear. This polyester fibre is made of 100% recycled plastic, comprised mostly of post-consumer plastic bottles. All our buttons are strictly all non-plastic and have been since we launched. We use natural only buttons, including; mother of pearl, shell, coconut, wood, and corozo." Today, travel and style have a complicated relationship (there are more flip-flops and bucket-hats than loafers and Panamas out there). But as long as the Scholes brothers continue marrying their sustainable ethos with 'wanderlust' inventiveness, Far Afield is a source of creativity that produces the type of menswear making tourists and fans of smart-casual very excited.