The Rake's Ambassadors Don The Rake Tailored Garments
Long-time friends and contributors to The Rake sport a selection of The Rake Tailored Garments. Bona fide photographers, style aficionados and brand owners in menswear, each ambassador carries with them their own artistic and distinctive expressions in front of the camera. Veritably popular personalities in menswear circles - Jamie Ferguson, Milad Abedi, Robert Spangle, Karl-Edwin Guerre and Andy Poupart go wild in The Rake Tailored Garments, but with their timeless style intact.
The Rake Tailored Garments stylistic objective is to ordain freedom and expression; where our tailoring is worn with each person's unique take on elegance. In the realms of rigid tailoring, it isn't always possible for the wearer to fulfil and incorporate their own idiosyncratic ideas into their look, whilst honoring the traditions and quality in what their wearing. In The Rake Tailored Garments, we've been able to carefully curate a design premise using a fusion of English, Italian and French tailoring techniques. With the help and expertise of our valued partners, each garment admits unrivalled accessibility in terms of comfort, size and fit, making it totally inclusive. Using all of the greatest moments in men's style, we have aimed to narrow the gap in dialogue between the consumer and tailor, which is only going to transcend into a more clarion way of dressing for all. It was only right that we call on our trusted friends who are all stylistically influential behind and in front of the lens to showcase the breadth of creativity in which The Rake Tailored Garments can be worn.
Jamie Ferguson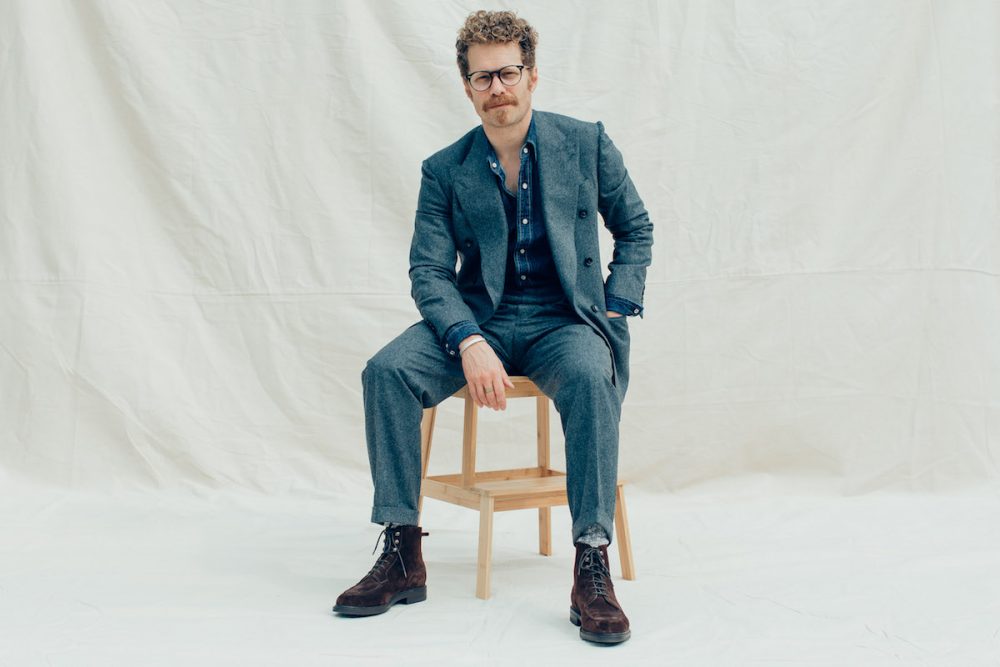 Jamie Ferguson is one of the most charming, celestial and likeable photographers in menswear. He is often seen lurking on the ground in the city of Florence at Pitti Uomo, on the streets of New York or flitting from from tailor to tailor in London's Savile Row, often turning up unannounced for a friendly chat. It is in these three cities that he consistently captures an instant in time that epitomises genuine menswear style. He also recently became an author, with his book
This Guy
- a fascinating collection of his photographs celebrating modern menswear. It is certainly worth picking up a copy, if you can get your mitts on one.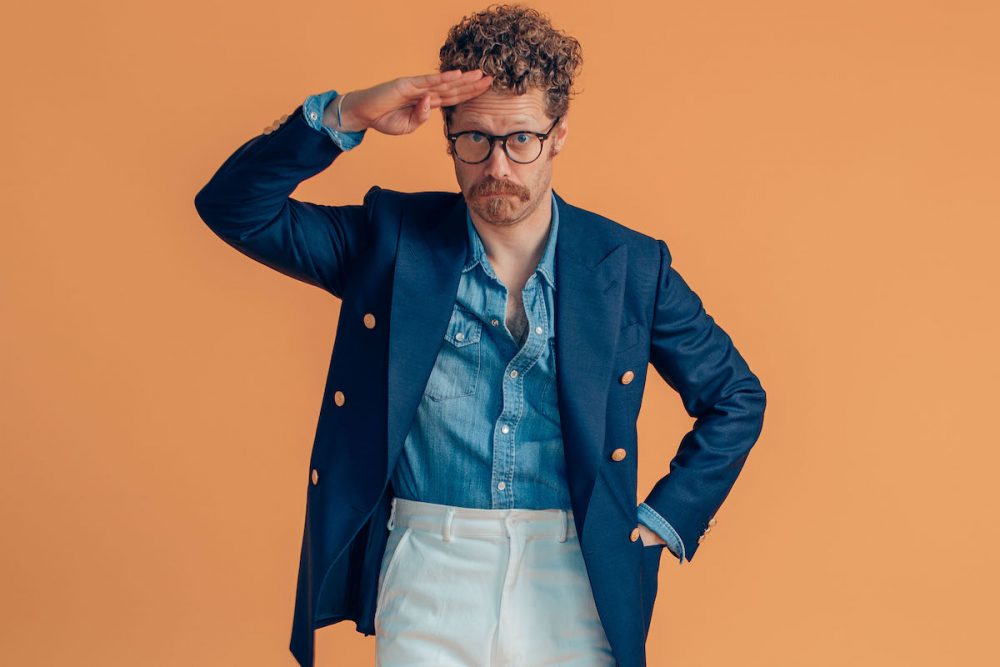 As dress codes have become less polarised Jamie has been leading the way in opening up the minds of traditionalists, that there is innumerable ways to sport an impeccably tailored suit with pizzazz and panache, without losing its provenance and originality. Not a very tall gentleman at 5'9 and only 10st, Jamie wears a 36 jacket and size 30 trousers and is a great example of how the drape is kept intact, whatever your height or weight. Anyone from the long-established and doctrinal code of tailoring will be happy to see full use of the jacket's buttons, where his neat shirt and tie really demonstrates the stylistic quality of the fusion of British and Neapolitan tailoring; in this case with its wider than usual peak lapel and spalla camicia shoulder.
Milad Abedi
Followers of The Rake may have clapped eyes on the perennial contributions of Milad Abedi. The Swedish photographer on the one hand, regularly captures moments in time that depicts authentic menswear style, while on the other he has found himself in front of the camera, inspiring others, through his unique style. Wherever in the world he is snapped, there is always a nice hint to a theme, such as aspects of the Western look, but always retains the classic principles of timeless style. Well-known for his dégagé elegance when it comes to dressing, we couldn't think of anyone more pertinent than Milad to sport the cream flannel double-breasted suit from The Rake Tailored Garments collection, with the freedom to wear it the Milad way. Milad is a size 46 chest and a 40-waist trouser. Not every gentleman likes to show off the finer details of the upper half of a tailored trouser. A fervent proprietor of overcoats, he also regularly allows glimpses of the finer trouser details around the waist. In this instance as the jacket is worn open the double reverse-facing pleats are nicely visible, whilst the slightly higher waist of the trouser creates this beautiful equilibrium between jacket, shirt and trouser. He cleverly uses the impressive silhouette to its full advantage, by wearing some neat John Lobb black loafers, which balance perfectly with the way the trouser is turned up.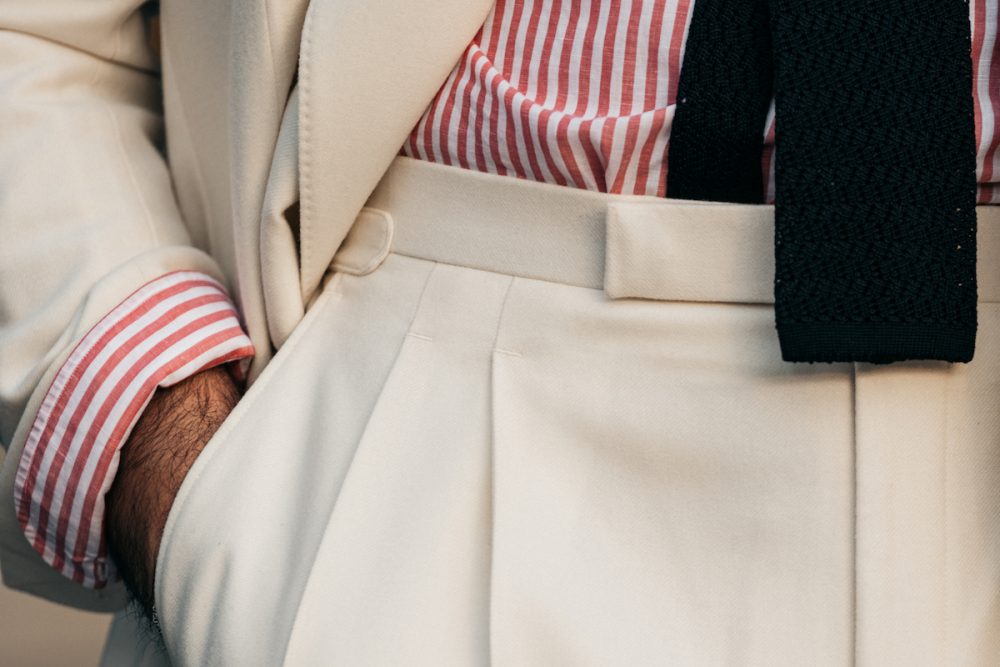 Tailoring has long been the preserve of the white-collar worker. Today the margins of popularity for these workers has shifted to using traditional tailoring as the foundation for a fusion of dressing. There's been the interventions of sneakers, polo shirts, but as boundaries become more blurred than ever before the incorporation of denim is going to open up endless dressing opportunities – and it really works when worn correctly. With a different twist to his fellow photographer Jamie, Milad has been a fervent incorporator of the blue hue into his looks. Once again, he has demonstrated the unique adaptability of the grey flannel double-breasted suit, with the use of a denim shirt and tie. The suit comprises all of the immaculate style qualities you would expect, but with its added drape it creates this beautiful fluidity which allows the double-breasted jacket to be worn open or buttoned up.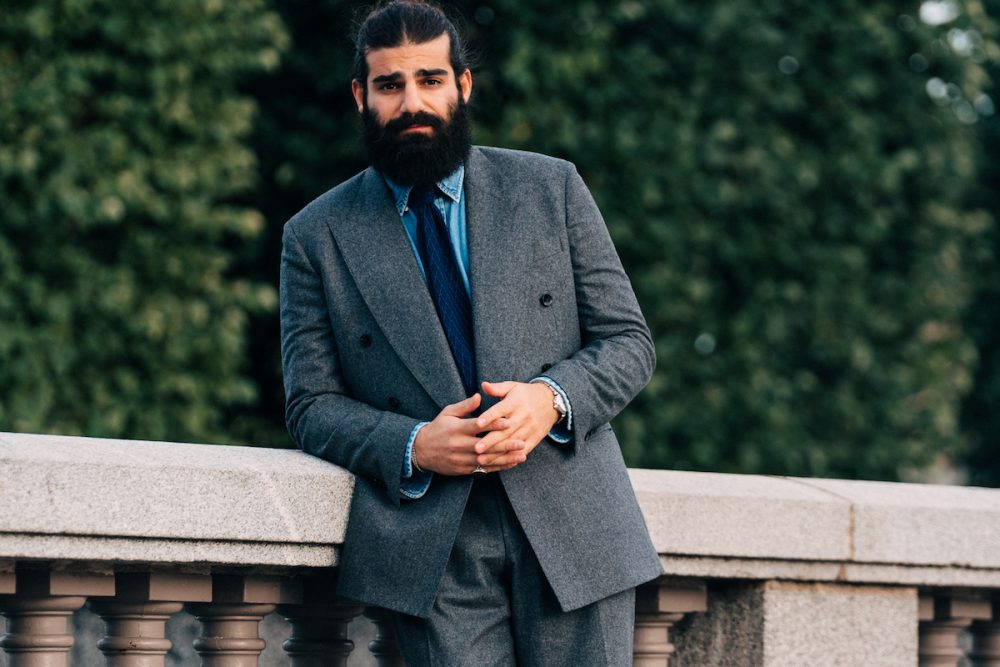 Robert Spangle
In Robert Spangle's short life, he's served in Afghanistan for the United States Marines, become a trained Savile Row tailor and has criss-crossed the globe photographing the very best of menswear style, with a Leica in tow. An old-friend of The Rake, it was only a few months ago that he photographed Paul Feig for the front cover of Issue 70. With an adventurous spirit and a discerning appreciation for timeless style, incorporating numerous quirks, we couldn't think of a personality so adept at styling a selection of The Rake Tailored Garments. Often seen pounding the streets of London, Paris, Milan and New York capturing unique styles, Robert himself has led the way in congregating looks that are more tactile. As dress codes lean towards a more relaxed aesthetic, Robert's approach to dressing has a real synergy with the way The Rake Tailored Garments has curated their collection, with a nod to freedom and expression.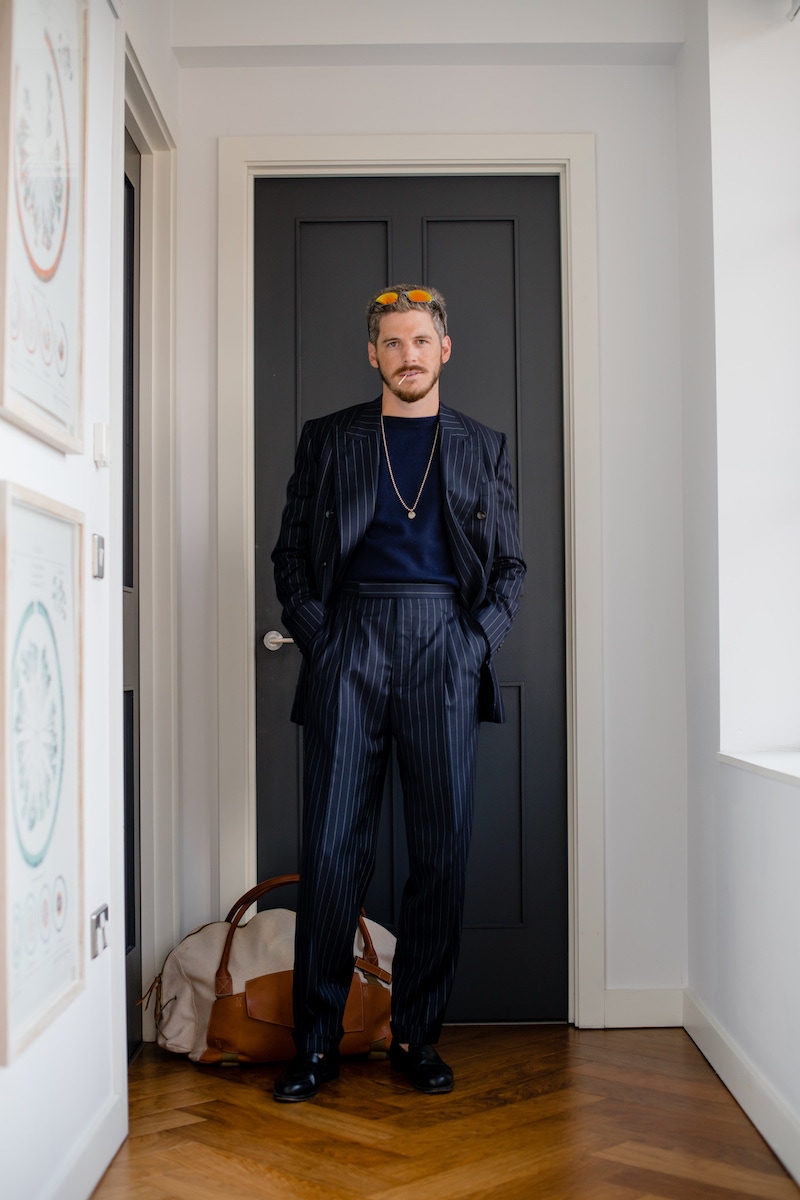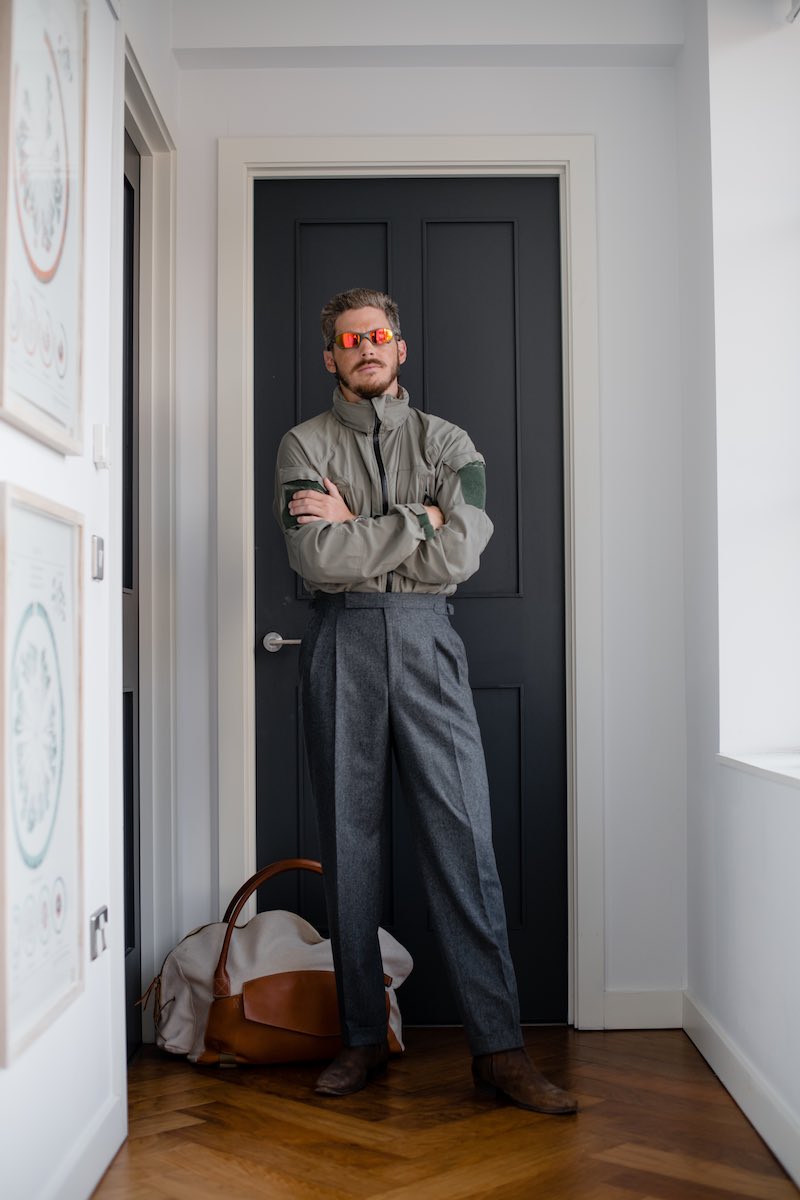 Underneath the grey flannel double-breasted jacket is Spangle's military PCU lvl. 5 grey windbreaker with the collar zipped all way up. Now to most folk of military traditions who have faithfully used their tailor on Savile Row for complete refinement, this may come as a shock. But it's comprehensible that their high-quality suits wouldn't be able to sustain its shape with a windbreaker underneath. Inspired by the British Drape as well as Neapolitan and French tailoring, we've sought innovative ways to remove the stiff, restrictive padding and layers of horsehair that impede freedom of movement. Robert has shown here, all of these pioneering virtues of the garment, by still looking comfortable and refined. He has even managed to tuck the windbreaker into the trousers, with no hint of scruffiness. This is partly down to a touch more depth that double reverse-facing pleats provide, plus the height at which the trousers sit on the waiste and finally the impressive silhouette of the trousers. Spangle also sports the navy pinstripe suit. Double-breasted suits with less silhouette and worn unbuttoned can look a little inflexible. Spangle has certainly tarnished this view by wearing the jacket open, with just a navy jumper underneath and a long necklace chain. The jumper tucks in beautifully to the trousers, where the sharp double reverse-facing pleats are in full view. With the inclusion of a pair of Oakley sunglasses with the iconic Juliet frames Spangle has perfectly characterized the sartorial renegade. We're not quite sure which 100
th
floor office window he's flashing past next. A carefree incorporator of the unusual, Spangle pairs the Prince Michael of Kent inspired navy double-breasted 4-ply blazer with a pair of Fireforce Ventures Rhodesian combat pants. While most 6x1 DB jackets button in line with the pocket, we've placed our button slightly higher — making the buttoning point somewhere between a traditional 6x2 and 6x1. The slightly higher placement allows the jacket to retain its balance and develop a full skirt. In turn, it means that you don't have to be tall and slim to be able to pull this off with aplomb. There is the added touch of
gold RTG skull and crossbone buttons made by Benson & Clegg. Spangle is a 38 chest, 30-waist, 5'10 tall and 70kg in weight and with the blazer buttoned-up, its beautiful silhouette hangs nicely off the thicker trousers. The black Morjas loafers serve as the lower pivot of neatness at the bottom of the look.
Karl-Edwin Guerre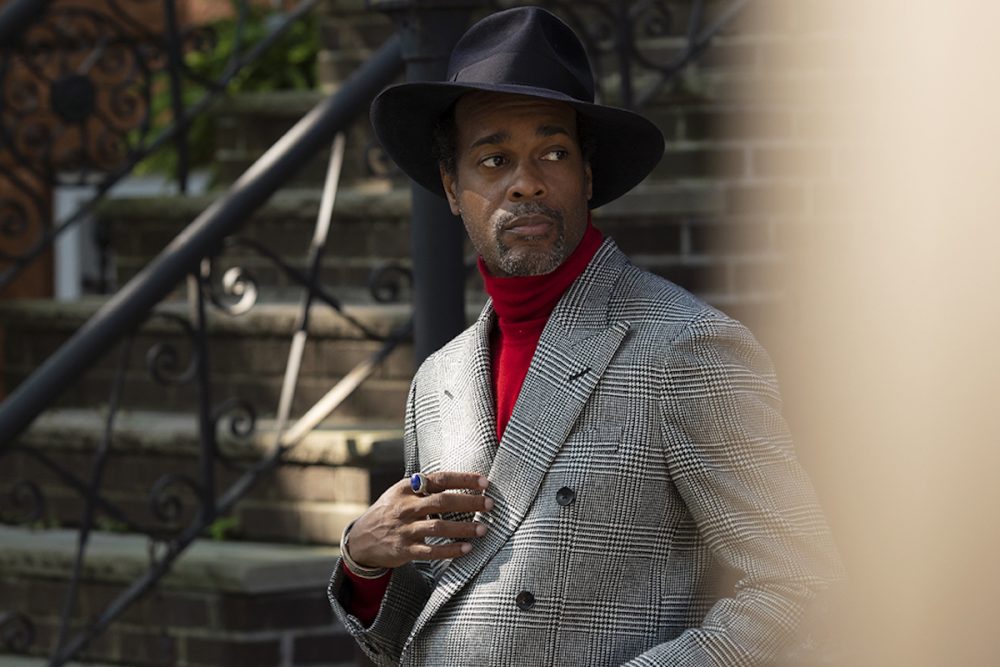 A photographer primarily, Karl-Edwin Guerre's own personal stylistic tendencies has rallied a like-minded legion of discerning gentlemen to follow suit. With a spirit that encapsulates an eclectic take on timeless style, he's the utopian attorney to sport The Rake Tailored Garments. Guerre is the "King of men's street style" in New York. Never seen without a hat, it is thought he hasn't rushed out of his house once in ten years without sporting a chapeau. With a real sense of adventure, Guerre looks to create his own rules when it comes to his personal style, which is why we couldn't think of anyone more pertinent to don a selection of The Rake Tailored Garments. His style approach has real symbiosis with the way The Rake has curated their collection. Guerre's outlook on style is that he believes feelings and emotions should be infused with a taste acquired with experience and knowledge of self, thus hailing freedom and expression of which The Rake Tailored Garments certainly encourages. One of the most recognisable of all patterns is the Prince of Wales check. It also happens that Miles Davis, the inspiration behind our very own POW sports jacket is also the superlative icon with whom Guerre most admires. Davis had the ability to turn commonplace clothing items to artistic expressions in their own right. It is with this in mind that we see Guerre wearing the Prince of Wales check double-breasted jacket from The Rake Tailored Garments. Underneath the jacket is a deep-red rollneck jumper, which perfectly marries the impeccably tailored jacket with a rebellious spirit of jazz – a combination that Guerre is known to fully encapsulate. Now to do this with the character that Guerre does, isn't quite so straightforward if the tailoring you're wearing is restrictive in nature. Inspired by the British Drape as well Neapolitan and French tailoring, we've sought innovative ways to remove the stiff, restrictive padding and layers of horsehair that impede freedom of movement. Guerre has shown here with more than a hint of nonchalant elegance the pioneering virtues of a jacket stemming from intelligently fused tailoring techniques. Guerre's wide-brimmed fedora caps off a cool and effortless ode to jazz.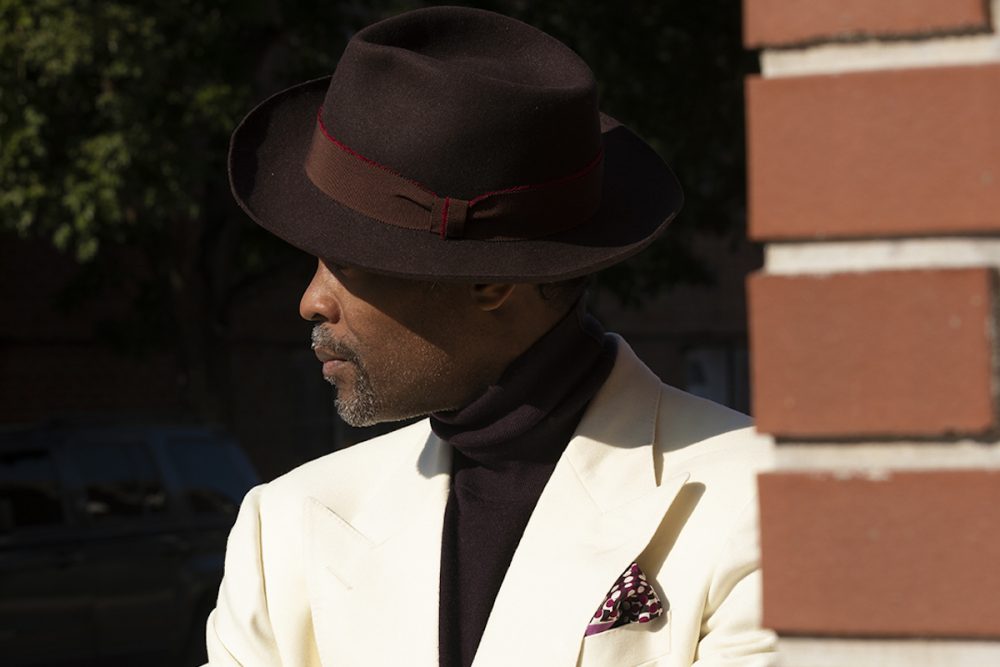 Guerre is a size 38 chest and a 32-waist trouser. He manages to beautifully pair a rollneck with a cream suit. Perhaps this is where Guerre finds himself with own style today. As a younger gentleman he favoured a cool hip-hop aesthetic, but then reversed to a more serious style, incorporating a more Wall street grey. Now he finds himself somewhere in the middle using beautiful tailoring, but with accompaniments evoking a sense of casual cool. As the suit is flannel there is no reason to use the cream shade as an excuse as it has been tailored with the intention for you to make your own interpretations of how you would like to wear the suit, according to your style. This is exactly what Guerre has done, by intelligently using the cream shade as a beautiful juxtaposition to his brown rollneck and brown trilby hat, which is downright cool. With a swaggering silhouette and armed with flexibility due to the strategically applied VBC cloth, this suit can be worn all-year-round and just like Guerre has shown can be worn in more artistic ways than one, whilst keeping its core of originality.
Andy Poupart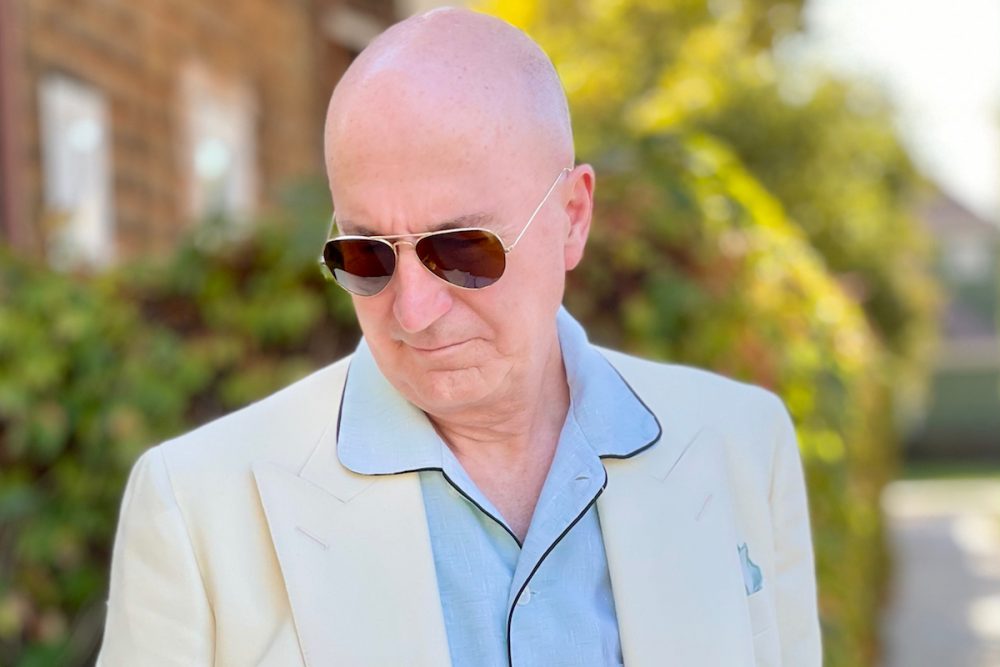 Andy Poupart didn't engender the sudden magnitude of his sartorial following. A software engineer in global tech hub, Silicon Valley – he decided later in life to cross the Atlantic back to his British roots to have a couple of suits made on Savile Row. Enthralled by the experience, he gradually paid much more attention into his dressing. Not seeking anything other than the comfort and joy that fine tailoring brought him, he posted a photograph on Instagram. Forthwith came a cult like following of people in search of extraordinary style on normal people. He and is equally stylish wife, Michèle Free are now regular attendees at Pitti Uomo in Florence and provide a refreshing contribution to the show. Andy is often seen in cream or ivory – regularly combining the shades with deeper reds and purples. With this in mind we were delighted when Andy decided to don the cream flannel double-breasted suit. By using a fusion of English, Italian and French tailoring techniques we have sought ways to eliminate the restrictive nature that some tailoring can encompass. Whilst retaining all of the credentials of sharp styling, the added drape from the strategically applied cloth and Parisian button stance has meant the jacket has the scope to be worn in the way you want to. Emphasizing, The Rake Tailored Garments propensity for comfort, Andy wears a light blue pyjama shirt from Budd Shirtmakers underneath the jacket, which looks just as cool when worn open or buttoned up. There is a nice contrast to the shorter collar of the pyjama shirt overlapping the wider than usual peak lapel. There really is an open ending on how creative you can be with The Rake Tailored Garments.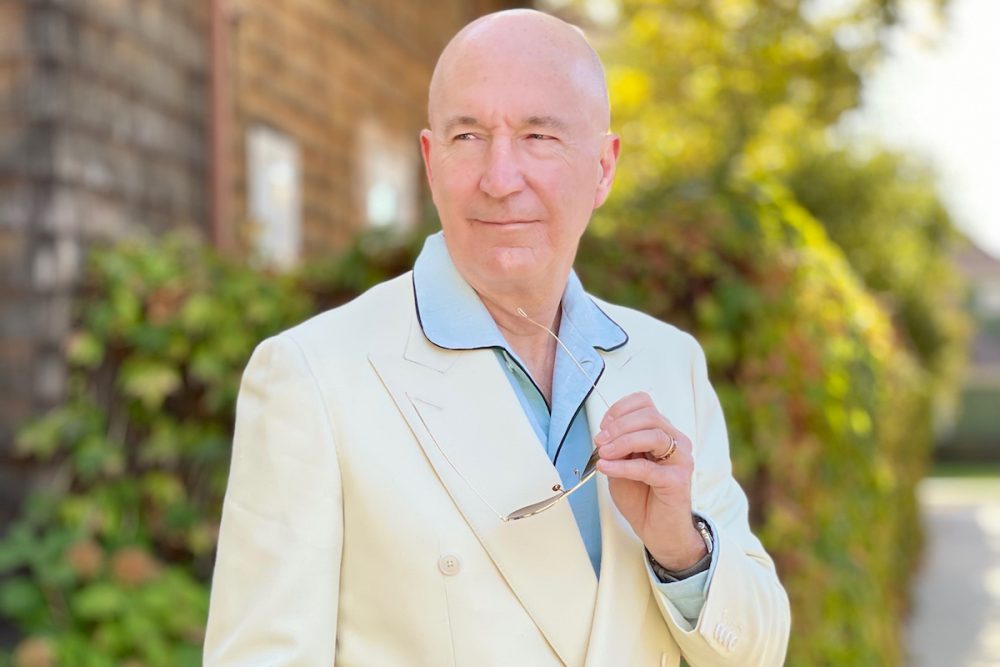 Fabio Attanasio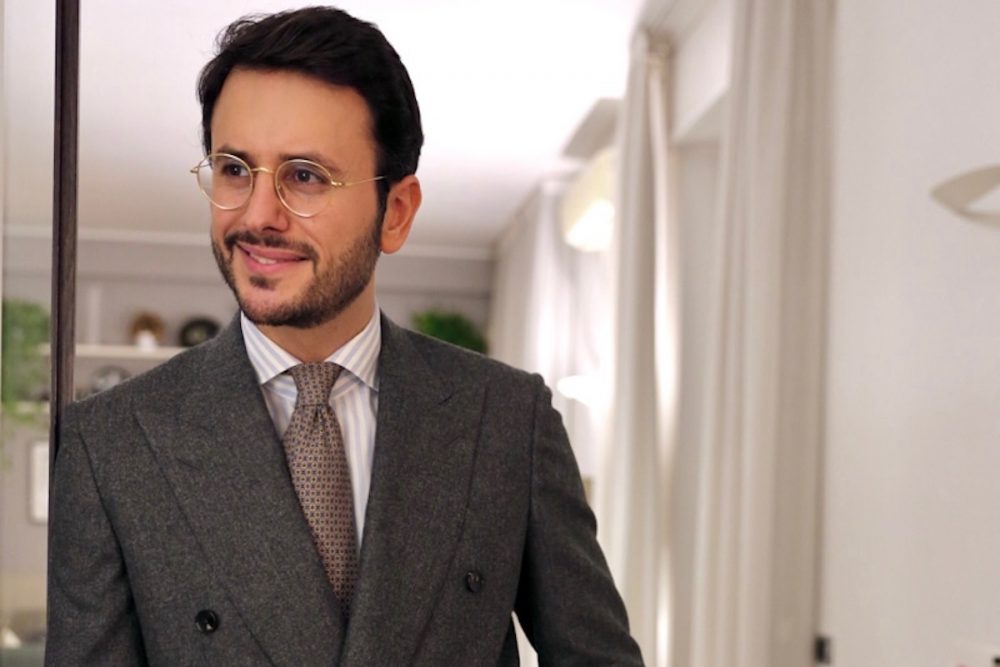 Jislain Duval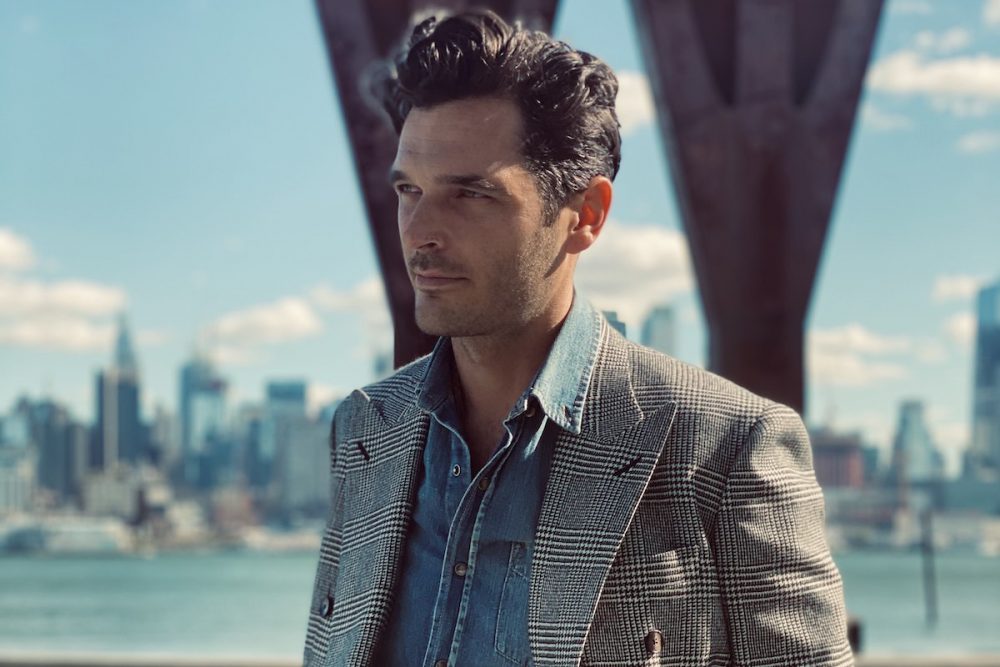 Will of The Dons Club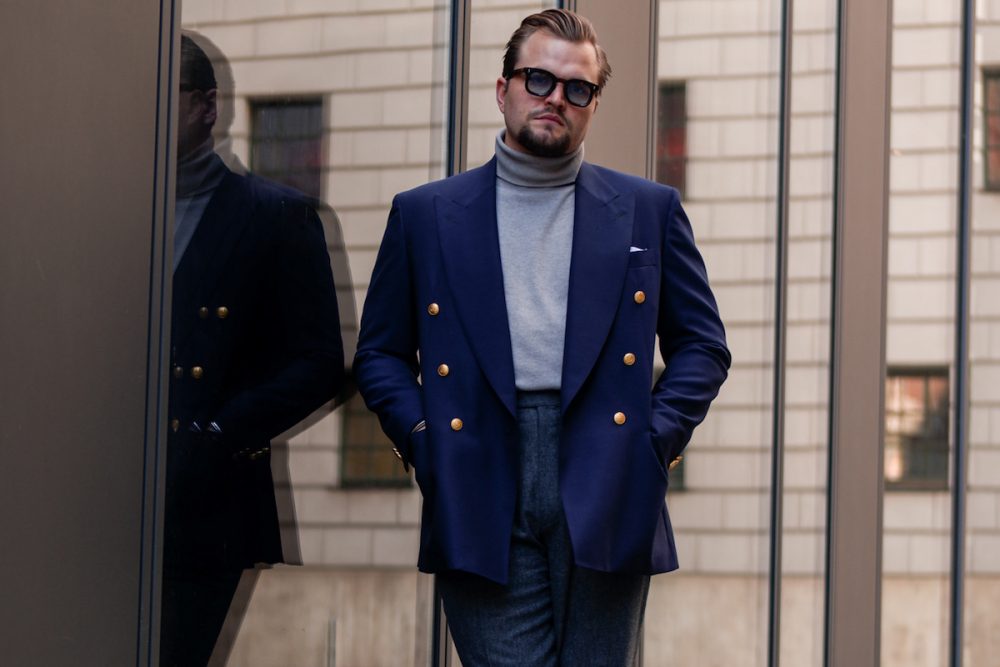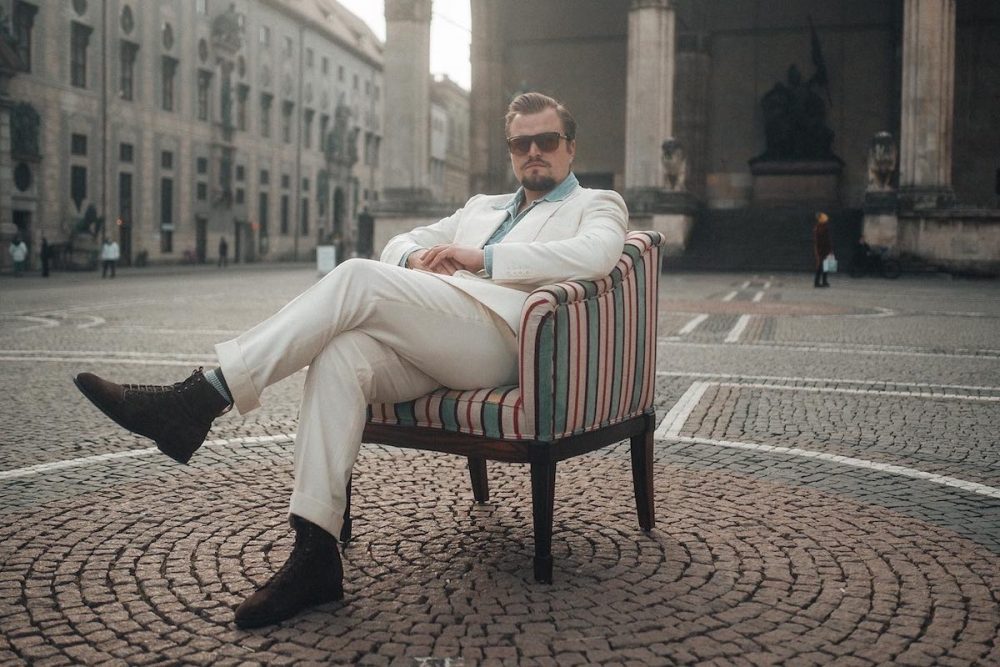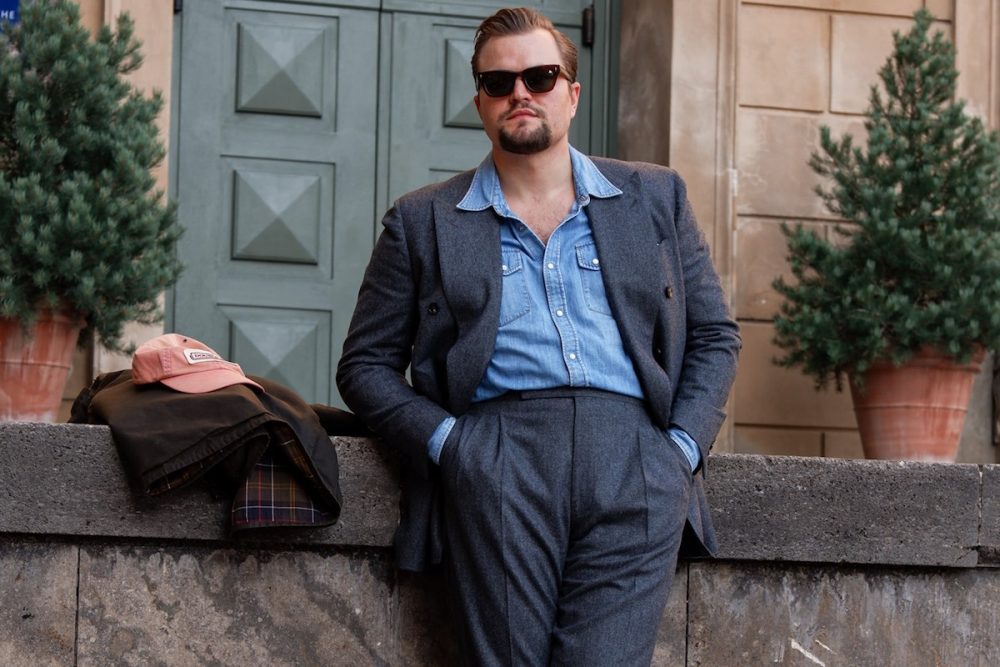 Richard Biedul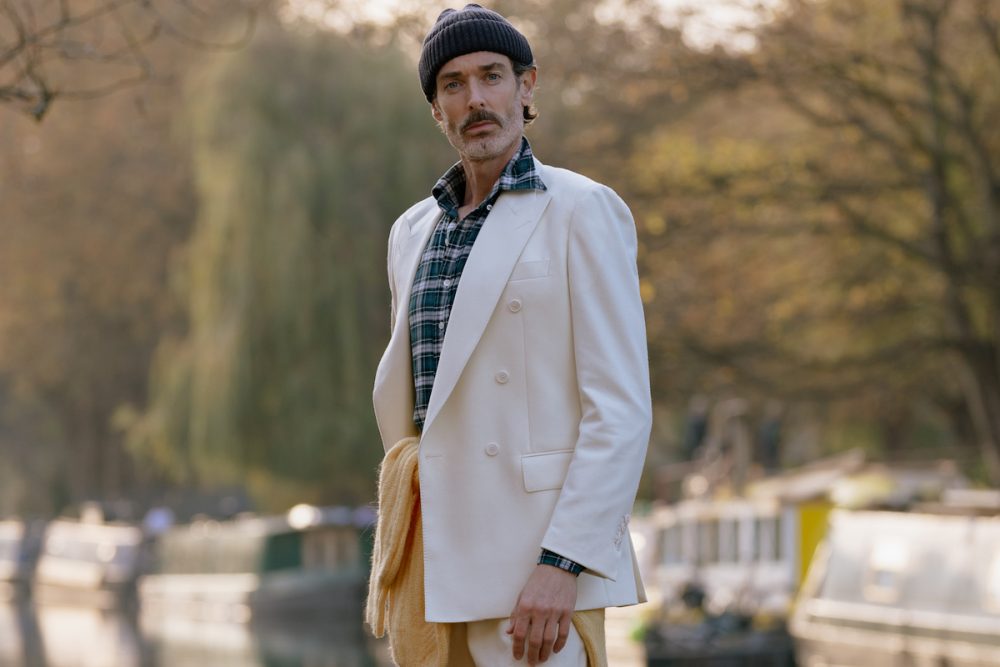 Freddie Foulkes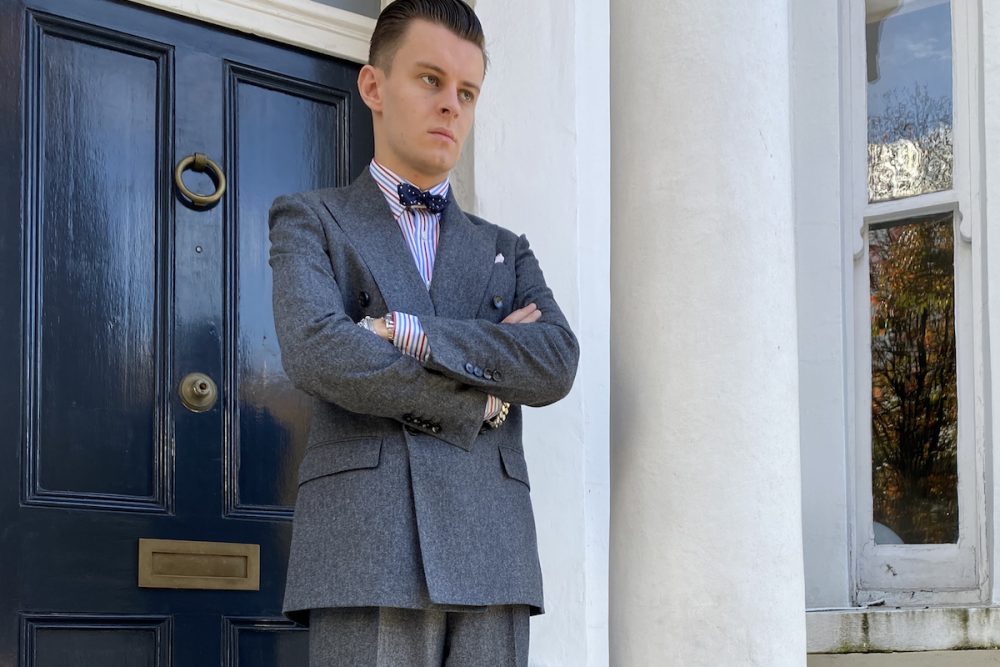 Max Foulkes