Five Style Tips From @Flannels_And_Tweed
Andreas of @Flannels_And_Tweed shares his insights on classic sartorialism, clashing patterns and experimenting with fabrics.
Instagram is an interesting tool to utilise. However, it can also be a dangerous one as I'm sure that we've all been found guilty of procrastinating on it for too long. Yet, for many of us, it's become an extension of ourselves, a digital canvas if you like. So, when looking into our little world of menswear, there's no denying that Instagram is the single greatest source of inspiration and information. In the last few years, Sweden has developed a very strong following for its stance on classic menswear. In other words, there are some seriously well-dressed men honing from that narrow stretch of land in Scandinavia. Taking into account the climate they find themselves in, dressing appropriately for the winter season is a must. One such exponent of this is Andreas Klow, otherwise known as @flannels_and_tweed, who has practically mastered the art of layering and incorporating colour and texture into an ensemble. Here's what he had to say when I caught up with him at Pitti Uomo...
Hi Andreas, please tell me about yourself. 
I'm Andreas, a menswear nerd from Sweden and my Instagram account is under the moniker of @flannels_and_tweed. I'm a lawyer but my hobbies are photography, menswear and travelling. For the last few years I've been going to Florence twice a year to shoot interesting people and to source style inspiration. I can't think of a better place on earth if you like classic menswear than Florence during Pitti Uomo. I've met a lot of great people through my hobbies and we all seem to gather there. Sun, wine, friends and an insane amount of inspiration. I've had my work photography work published in Plaza Uomo magazine on a few occasions, with the latest being the cover featuring Orazio and Pino Luciano.  
How did you get into classical menswear?
So my grandfather, who was a true gentleman, was born in the 1920s. At the time, I didn't appreciate this properly, but I know that he would be proud of the way I dress today and more importantly, the way I care for the items in my wardrobe. I've always had an interest in clothes. I especially remember a few items from when I started out. First, a green and blue rugby shirt I wore to pieces when I was about 15-years-old. I could easily wear that today.
When I started my studies to become a lawyer, I bought a pair of Polo Ralph Lauren Chukka boots which I wore a lot and really cared for. They just got better with time and this was an eye opener for me — buy the best you can afford, I'd say. I also bought a Barbour wax jacket during my first years in law school. I still have it and I wore it in Florence in January earlier this year. It was when I started working in a law firm that my interest in classic menswear really kicked off and I started to build out my wardrobe. But, perhaps not in the most sensible way.
One should start with the classics like navy suits and a jacket, grey trousers, a few white and light blue shirts. I went for the opposites and my first high-quality jacket was a gun club flannel jacket from Raffaele Caruso - Sartoria Parma line. I still have it and although it's a bit tight in the waist, I still wear it from time to time.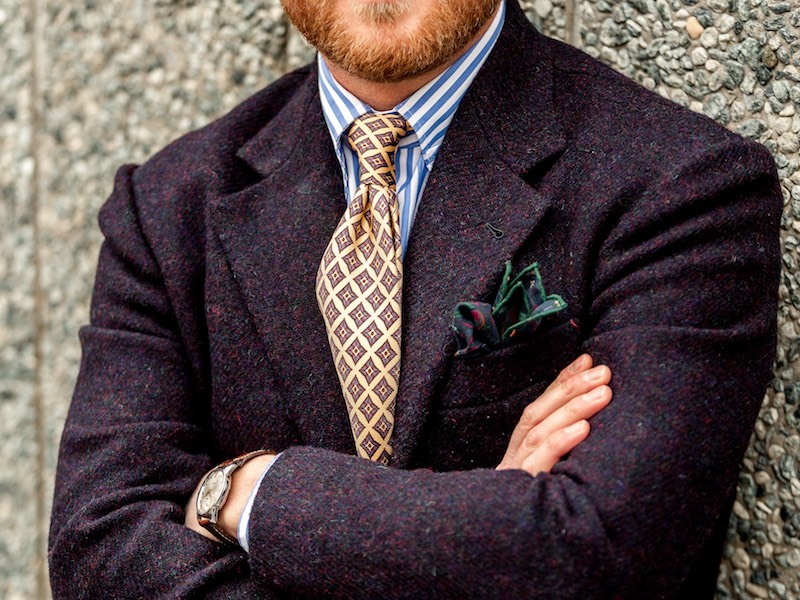 What are your five top tips on how to combine colours and patterns?
1) Almost every man looks good in a well-fitting navy suit paired with a crisp white or light blue striped shirt. This is a great starting point and something to fall back to. When you want to start experimenting then add one colour and/or one pattern and continue from there. 
2) Patterns should all be different in size. Combining same pattern of different sizes can look good but is hard so start with different patterns: striped shirt, medallion tie and a Prince of Wales suit. The goal is to create contrast. 
3) If the ensemble looks busy, take away one element like the pocket square or change the tie to a solid tie. The main point is to look good and not get as many patterns into an outfit. 
4) Don't be afraid of colours. Everyone can wear colour but not every single colour. The hue is the key. Are your colours warm or cold? When you have found that then start with muted ones like dark green or dark purple, both of which work really well with navy. A cream sleeveless cardigan is another great start. Find accenting colours but don't pick the obvious one. Instead look for the second or third colour in a tie and match it. Like I said earlier, the goal is contrast. 
5) As with colours and patterns, one should aim to create contrast with textures. One of my favourite combos is pairing Harris Tweed with a silk tie as the juxtaposition of the course texture of the tweed against the smooth, soft handle of silk works so well. 
A final note is to try seasonal incongruence. Loafers with a tweed suit or a linen tie with a flannel jacket.