Fralbo: The Generational Shirtmaker
Allow us to introduce Fralbo, a Neapolitan shirt-making brand whose meticulous approach to their craft runs generations deep and its premium range, the Anna Barone Collection, is simply remarkable.
Since 2008, The Rake has - with an unwavering approach - celebrated true artisanship, and in the process covered in microscopic detail countless makers of finely-made goods in great length. Be it meticulously hand-welted Oxfords, the rarest of seven-fold ancient silk ties or mind-boggling complex tourbillon complications, craft is our raison d'être. With that said, allow us to introduce to you Fralbo, a Neapolitan shirtmaker founded in 2005. You may not have heard of the brand, yet it produces shirts for a long list of houses that you will most certainly be familiar with. It was founded by brothers Francesco and Alessandro Boccia — the company name is portmanteau of their first names — who are the third generation of shirtmakers within their family.
Last year, we visited Alessandro - known as Ale - armed only with the basic knowledge that Fralbo has been producing shirts for some of the most reputable sartorial houses for several years from a medium-sized laboratory. Warmly greeting us in the workshop with a sweet and silky espresso on a hot September's day, Ale proceeded to explain his lineage, surrounded by age-old shears, bolts of fine cottons and collar samples. I asked what he was doing prior to setting up Fralbo and he was quick to respond with a great deal of assurance that he has always been a shirtmaker, and nothing else. Like many Neapolitan artisans, his career path was predetermined — his mother was a shirtmaker, and her mother - Anna Barone - was too.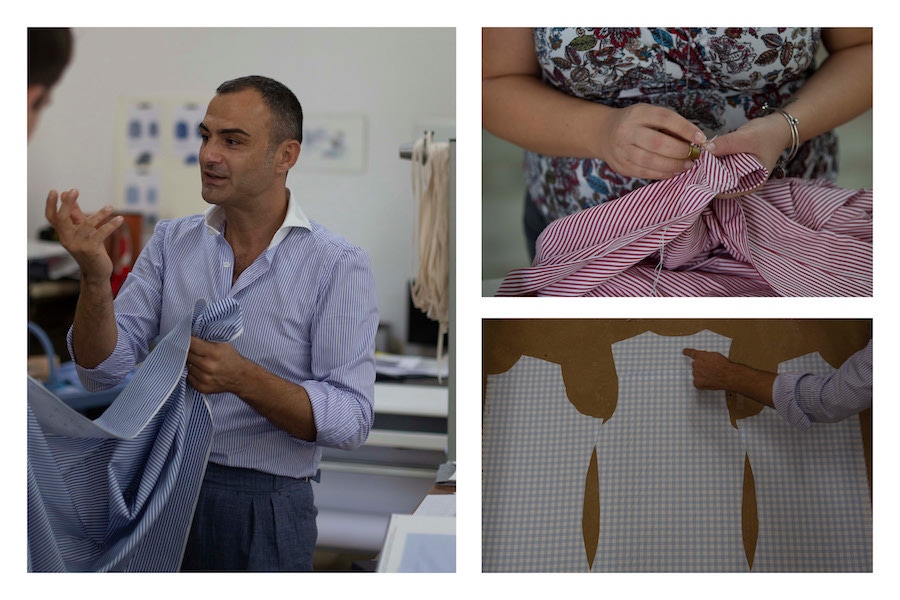 There are two lines of shirting that we now have the pleasure of offering online. The first comes under the Fralbo name. They feature eight points of true handwork, some of which are functional and some of which are merely for aesthetics. These include the armholes, buttons, sleeve gauntlets and gussets, which feature a double-stitched edge, buttonholes, collars, yokes and front plackets. The rest of the shirt is constructed via the reliable hands of a skilled seamstress, like the side seams and bottom hems. Overall, it takes at least four hours to produce a Fralbo shirt.
The exclusive Anna Barone collection for The Rake, though, is something that we are very honoured to offer. Born in 1933, the spirit of Ale's grandmother lives on through his work. He tells me that "every shirt that comes out of this place, I feel it has been made by my grandmother,"  underlying their intense passion for their craft.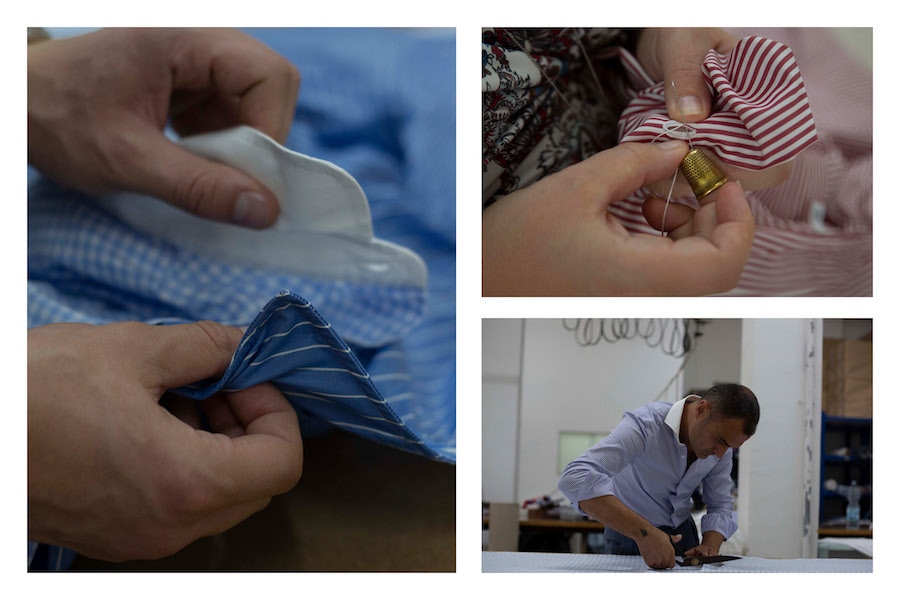 Using Super 200 cottons, it takes a whole day to produce a single Anna Barone shirt and each one features the full 17 points of handwork. So, it shouldn't come as much of a surprise that they're roughly £500 each – the button holes themselves take four hours to sew. To demonstrate the level of quality, Ale chalked out the pattern directly onto a gingham check cloth. He then removed his solid guideline, and proceeded to cut freehand each section of the shirt. The way he's able to match the pattern of the cloth across the entire body, meeting in perfect unison at every seam, is very special and highly skilled. The underarm construction is particularly telling of Ale's extreme aptitude in the art of shirtmaking, as, in comparison to other shirtmakers who allow a parallel seam, Ale allows a subtle curvature, which gives a greater freedom of movement. The collars are un-fused, but at the back of the neck there's a floating lining which allows a necktie to be securely tied and when worn without a tie, it sits perfectly beneath the collar of a jacket. Other areas that are constructed by hand include hand-rolled hems, which are clearly noticeable. The shoulders feature a mappina sleeve head, and the puckering of cloth as it the gathers into the shoulder is particularly aesthetically pleasing. 
Following the demonstration and tour, we pulled out several bolts of cloth and examined the various collar styles on offer to produce this exclusive collection that you will not find anywhere else online. So, if you're looking for something on the casual end of the spectrum, the Egyptian cotton jersey polo shirts are for you, or if you're wanting to make a statement with a business shirt, there are understated or expressive options aplenty. In my opinion, though, the pick of the bunch is the indigo denim button-down with the Ralph Lauren-styled collar. A perfect middle ground between the two pillars of formality.
The Anna Barone Collection expressively for The Rake