Francesco Marino's Family Ties
Founded in Naples seven decades ago, family-owned tiemaker Francesco Marino continues to uphold the artisanal and customer-centric values of its founder.
The patriarch of respected Neapolitan tie-making house Francesco Marino got his start not adorning men's necks, but shaving them. Patrick Marino, the third generation of the family to enter the tie-making business, explains: "The company was founded by my grandfather, Ferdinando. He was originally a barber going from house to house. During the war, he went aboard various navy ships to cut, trim and shave the crews. After the war, he realised that there was a market for neckwear."
Patrick relates that Ferdinando and his wife Grazia started small, establishing what was very much a 'cottage business', based in their apartment. His grandmother, a seamstress, started making models and sewing the ties. They found different quality materials from the Piazza Mercato in Naples, which wholesales material supplying dressmakers, tailors and upholsterers, and through trial and error they learnt which materials were best suited to tie making. "My grandfather was the salesman," adds Patrick, "and with his knowledge of how to treat his clients and keep them content, he had no trouble in finding new customers for his ties. Napoli was a bustling city then — it still is."
From these humble beginnings the neckwear company came into being — first as MARFER, an amalgamation of MARino and FERdinando, and then, after the death of Ferdinando, when Patrick's father Francesco took over the business, as Francesco Marino. By the time Francesco assumed the reins, the company had long since expanded beyond the owners' apartment into a small but bustling workshop. Francesco had spent some time learning the ropes at a larger tie-maker in the US, and applied the skills and methods he's picked up Stateside at his family firm.
"My father put all his knowledge to work," Patrick says. "He moved the factory from downtown Napoli to San Giorgio a Cremano. This town on the outskirts of Napoli was well established in the manufacturing of both men's and women's apparel. Originally the craftspeople all worked from home. In one home probably everybody sewed, the grandmother, the mother, the daughters, aunts and even neighbours. Each home was a factory with its own production line. Some joined the ties, someone else closed the tie, others sewed on the labels. My father originated the idea of having his workers in the factory."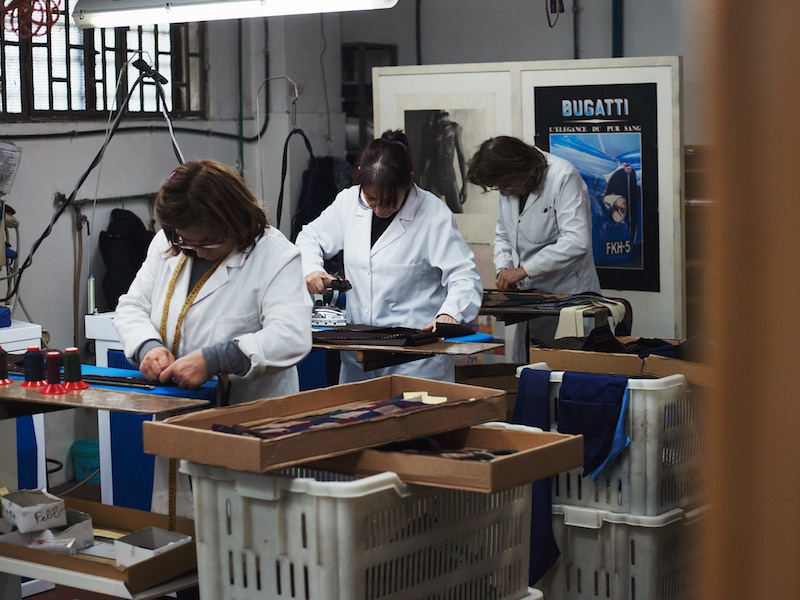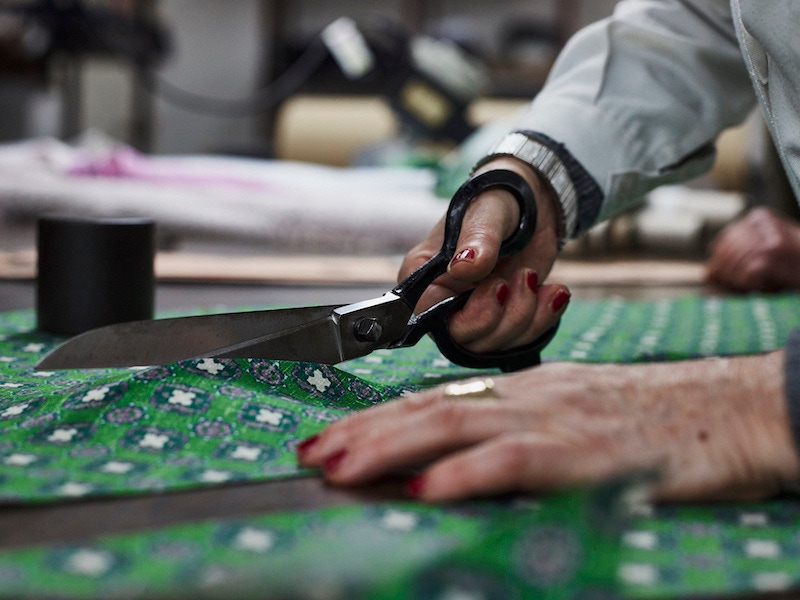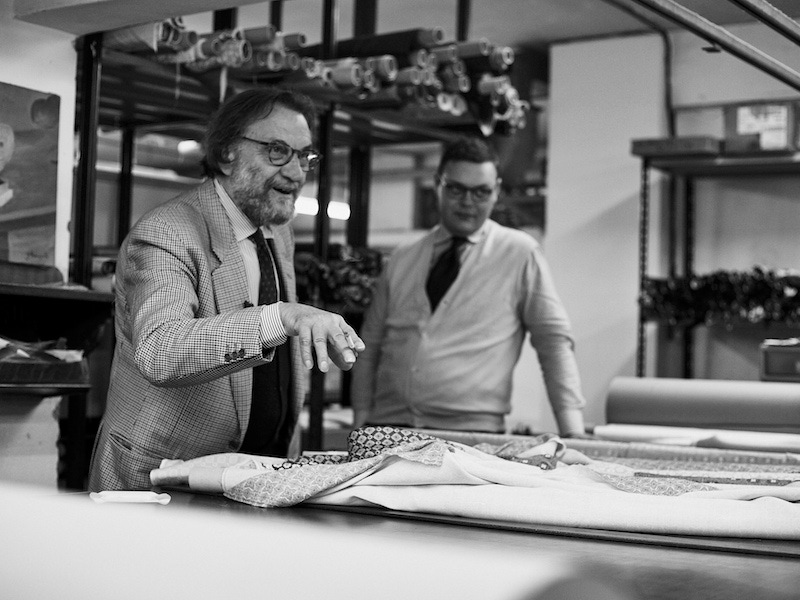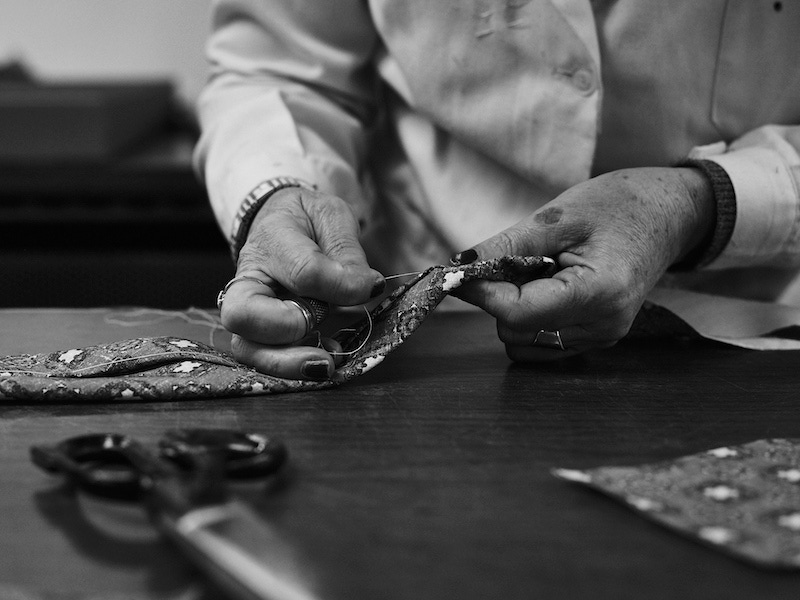 Patrick remains duly respectful of his father's foresight in building up the business while maintaining the founder's dedication to excellent customer service. "He is a great inspiration," Patrick says of Francesco. "I never tire of hearing of how my father grew up among the smells of the different materials while playing with the colourful remnants lying on the floor under the cutting tables. It has been important to me to have been able to relive this same experience myself, since I was a baby. The difference today is that the smells have changed — different and better quality materials. The sound of the hand-sewers, and other girls and women chatting between themselves has not changed, however."
Though Francesco — still very much in the prime of his life — currently remains at the helm of the business, when he eventually retires, Patrick hopes to carry on in his father's footsteps. "I hope that he will be around to guide me and teach me for a long time. I will strive to keep the company as it is: A small, friendly, homely place of work where visiting clients from around the world will get the feeling of being an individual, each one of them special and important to us — which, of course, they are."
Francesco Marino's wares, according to Patrick, share many common attributes with the work of the city's legendary suiting specialists. "
Neapolitan tailors are renowned for their craftsmanship, their flair and styling. Our ties do not lack any of these qualities," he remarks. Attracted by its comfort and relaxed style, many younger men have enthusiastically adopted Neapolitan tailoring. Patrick counsels that they should not neglect the finishing touch that a fine tie provides. "It is true today that ties are not worn as much as they were previously. Lifestyles have changed. In my father's day, teenagers wore ties when attending a party at a friend's home. Craftsmen, mechanics and factory workers wore ties under their overalls. Few do today."
Nevertheless, Patrick says, one shouldn't forget that ties give flair to a wardrobe. "They are the final touch of elegance, probably also the most colourful. The careful choosing of design, colour, width, finish — it's a pleasure. Tying the knot and making that final touch of straightening the tie under the collar in the mirror is comparable to putting the key into a Ferrari before turning on the engine and putting the foot on the accelerator," says Patrick. The importance of neckwear today, he adds, is that sensation of knowing that you, as a gentleman, are dressed to impress. "It is all about confidence and feeling good with and about yourself."