G. Inglese: Distinctly Retro In Winter
Expert shirtmakers at the heel of Italy's boot-shaped landmass, G. Inglese once again show it's not just high-quality shirts they craft. With bold check double-breasted jackets, exquisite long-sleeve polo shirts and a rather enticing leather bomber jacket, you'd be a fool to overlook a G. Inglese creation.
For Apulian shirtmaker G. Inglese, the 'Made in Italy' appellation is everything. Established in 1955 by Gianni Inglese, the business is now run by his son Angelo. He punctiliously checks every garment to leave the atelier, ensuring each product does his father's name proud. The true essence of 'Made in Italy', says Angelo, "should manifest itself in excellence." Crafted from the finest cottons, a G. Inglese shirt is artfully hand-cut, hand-sewn with silk thread, hand-finished, and embellished with hand-rolled hems and hand-stitched mother-of-pearl buttons. Not a single detail is overlooked – and it shows. On TheRake.com you can witness the label's unwavering commitment to high-quality craftsmanship, with their latest offering. The brand's range features a number of elegant styles that are destined to become your favoured options this winter. Covering all ends of the spectrum, from casual double-breasted jackets to ties and most exciting of all their shirts in retro cloth, there isn't much that is missing. The overall mood is ebullient; vibrant colours and bold stripes characterise the range, making the garments ideal for winter days that are either casual or on the smart side of casual.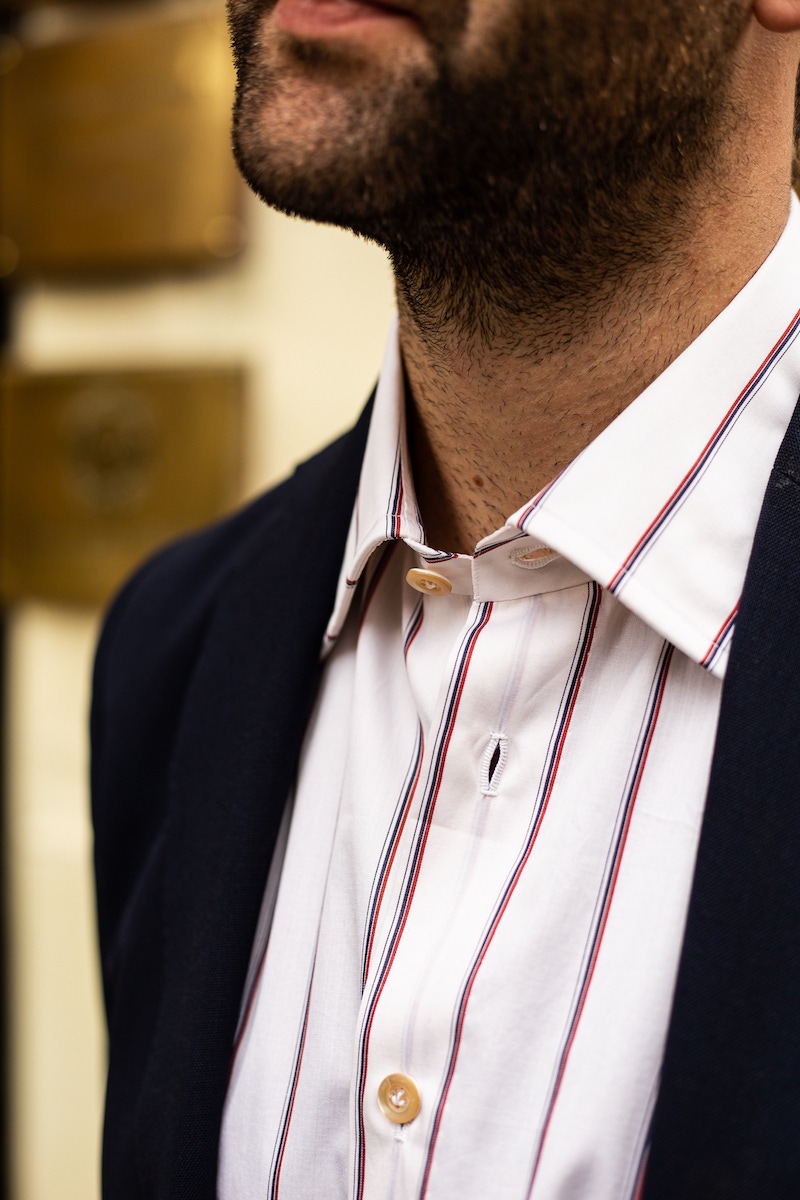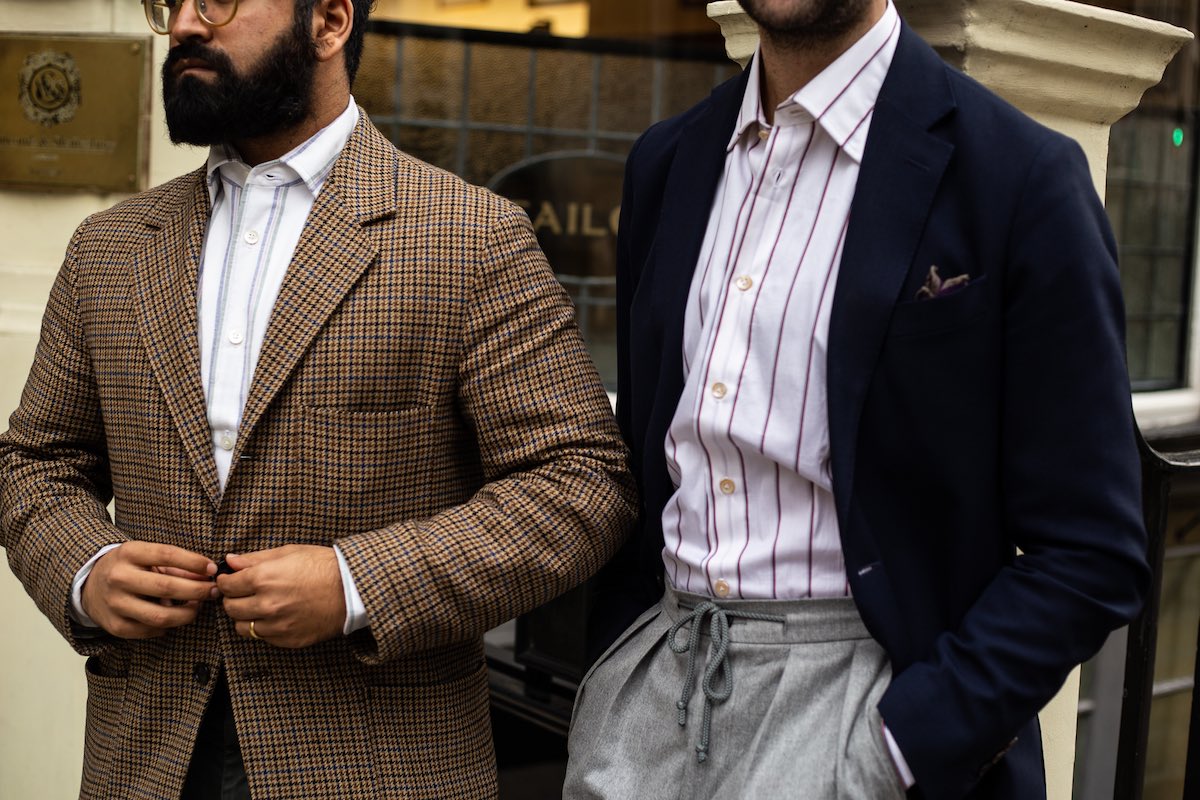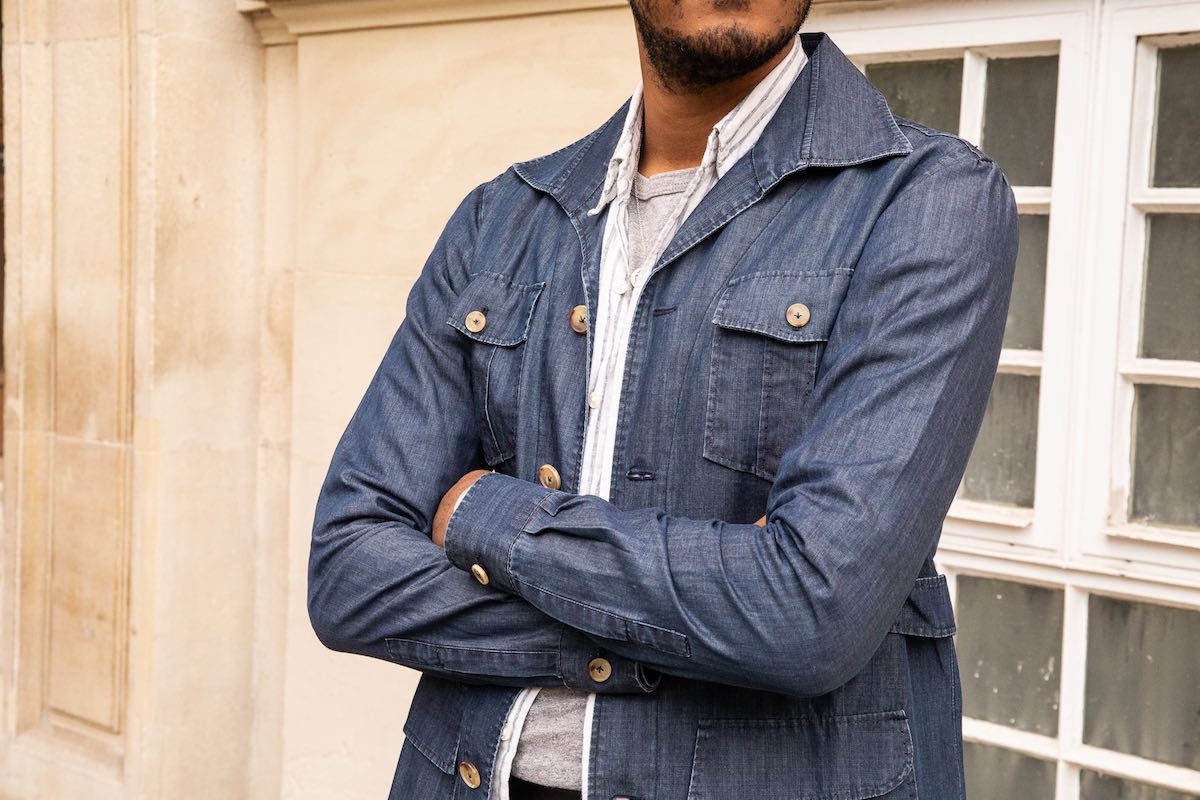 This level of perfectionism has won G. Inglese a client list brimming with bold-faced names. Perhaps most famous of all, Prince William (who could've selected any tailor in the world) chose to have his wedding shirt made in the Ginosa atelier. It is shirting that the house is particularly known for. It is increasingly rare to stumble upon shirts where you've never witnessed the stripe in question. Each season G. Inglese seem to unearth these retro stripes in a subtle and time-honoured form, that ooze class. In high-quality cotton vintage cloth, there is a beautiful grey, blue and wide striped shirt that will discreetly manifest the old-fashioned glamour into your look. Respected artisans for mastering the art of the button-down shirt, you also have this style option in a very similar
mélange
of colours, but in a slightly thinner stripe. Wide check jackets have also become a symbol of the G. Inglese armoury. These are certainly apparent in their latest collection with three wide check Prince of Wales double-breasted jackets, in autumnal browns and greys. If Prince of Wales isn't the pattern for you, there is two flamboyant houndstooth jackets, one of which is single-breasted and the other in a double-breasted guise. Heading in the cooler part of the year, it always wise to have an overshirt in your arsenal. A fantastic layering accoutrement, there is also three to choose from in a variety of details. Many of the most esteemed menswear commentators have always apotheosized
G. Inglese
's long-sleeve polo shirts. Keeping up the trend of doing things in threes this season's shirts are very lightweight, with meticulous handmade details. They can be worn with a blazer for a business meeting or on its own for a leisure outing in any city. They come in grey, beige and navy – all easy tones for whatever you decide to pair with them.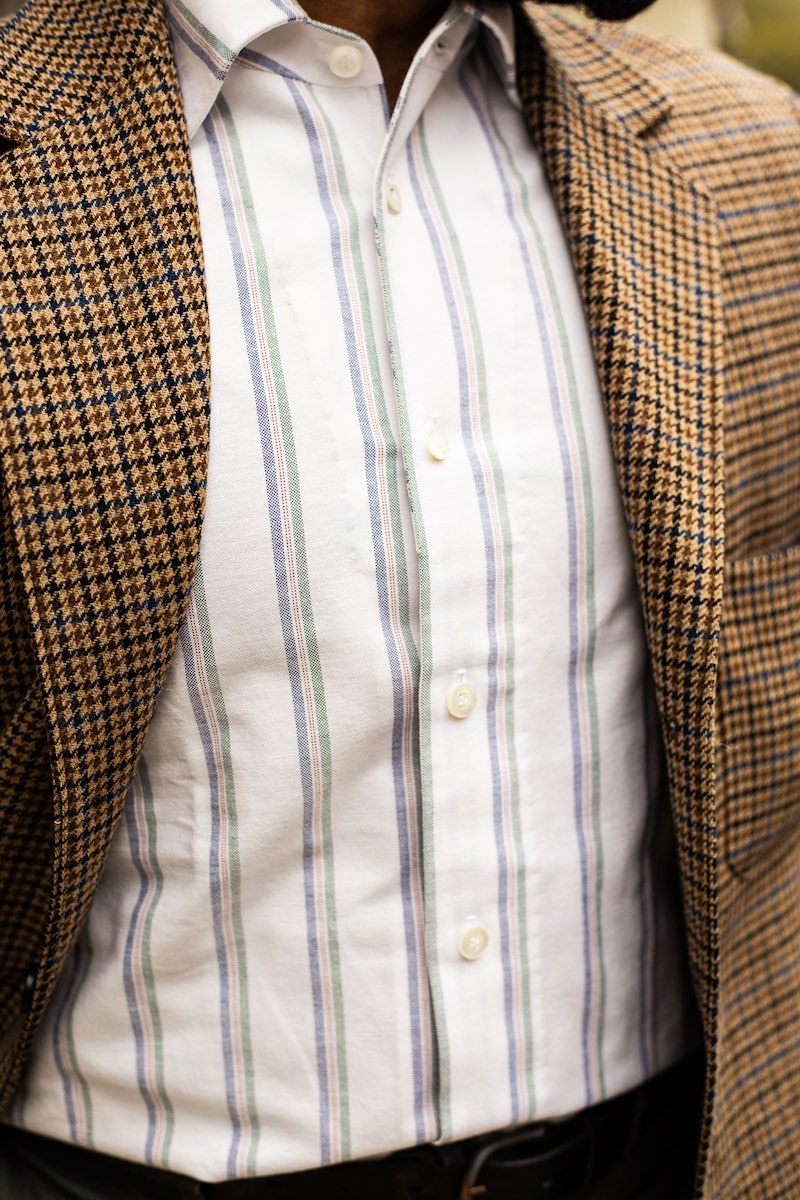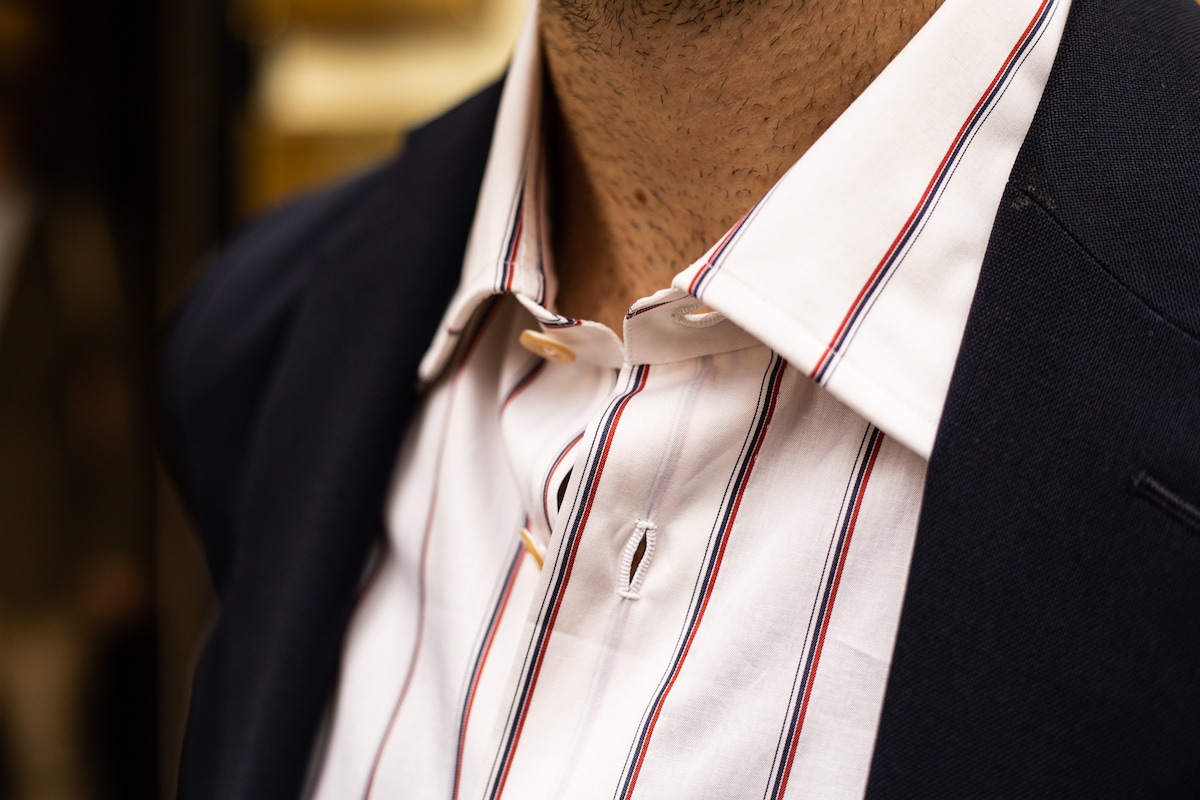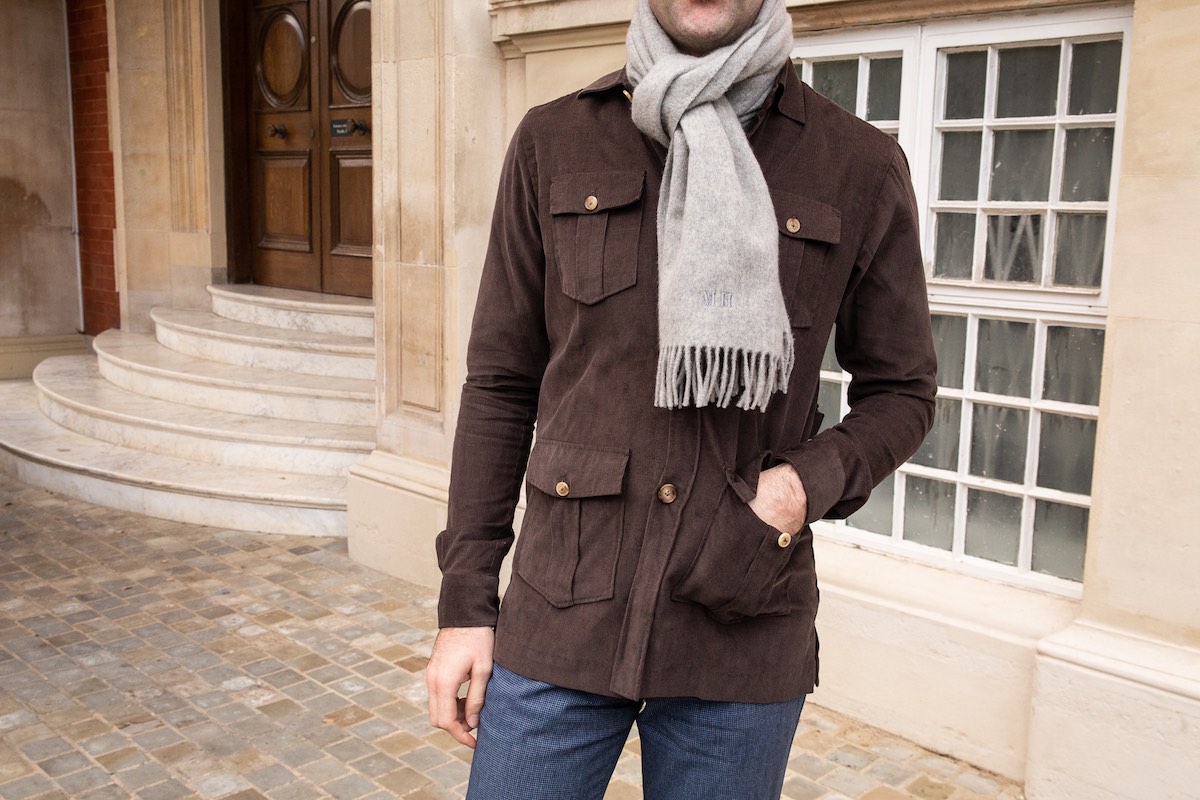 As eluded to earlier Angelo is well-renowned for his button-down shirts. He designs them so that the collar is made in a structure that follows the movement of the neck while allowing it to maintain the shape you want, making the shirts a perfect option for both a formal and informal look. In keeping with this theme, the structure can certainly act as a formal shirt, but the patterns come in elaborate diagonal stripes and wide check, which make them perfect options for the fun and informal aesthetic. The A1 bomber jacket is a classic piece of menswear – and rightly so. Standardised by the USAF in 1927, it remains elegant, understand and functional to this day. G. Inglese's rendition is cut from supple leather, giving it even more versatility and handle. It's a fine piece that certainly caps of a collection that steers towards informal elegance in the highest-quality form.