Gaziano & Girling: Savile Row's Fearless Footwear Artisans
In 10 short years Gaziano & Girling has cemented its place as one of the most exciting voices in footwear. The Rake speaks to Tony Gaziano about how balancing reverence and rebellion made it all possible.
Heritage is a tricky thing. Without it, we'd be lost. It informs us, it guides us, it helps sculpt the pillars and principles upon which we build a future. But heritage can also become a shackle; a framework that defines what we are not, what we cannot be and where we cannot go. It's a dichotomy that's became ever more apparent to Tony Gaziano and Dean Girling during their years making shoes for the likes of Edward Green and
George Cleverley
. So they formed Gaziano & Girling and set out to do something about it.
Gaziano & Girling today is one of the most exciting and adventurous English shoemakers in the market. Absolutely ruthless with quality - all shoes are crafted using what is essentially a bespoke level of craftsmanship - but creatively daring in a way that's rarely matched. "Nobody wanted us to succeed," laughs Tony Gaziano, the brand's charismatic lastmaker and creative lead, when I ask him about the brand's early days. "And nobody thought we would. Especially because the same companies have been around for so long. To create a new company and get the trust of suppliers, get the workforce together and even get some of the machinery that we use, which can be anything from fifty to a hundred years old, is a huge undertaking."
Tony and Dean met through the industry, Tony a lastmaker and Dean a sole and heel maker. "Between the two of us, we could make a pair of shoes," says Tony. "As we entered into the first few years of our business, we decided that there was a gap in the market for a ready-made or made-to-order shoe that had all of the characteristics of a bespoke pair. We set out to create shoes on a manufacture basis that had all of the characteristics of a bespoke shoe, which had never really been done before. We used the materials that were involved in bespoke and we created our own lasts that were based on bespoke fitting lasts. We bridged that gap - that was our vision for the business."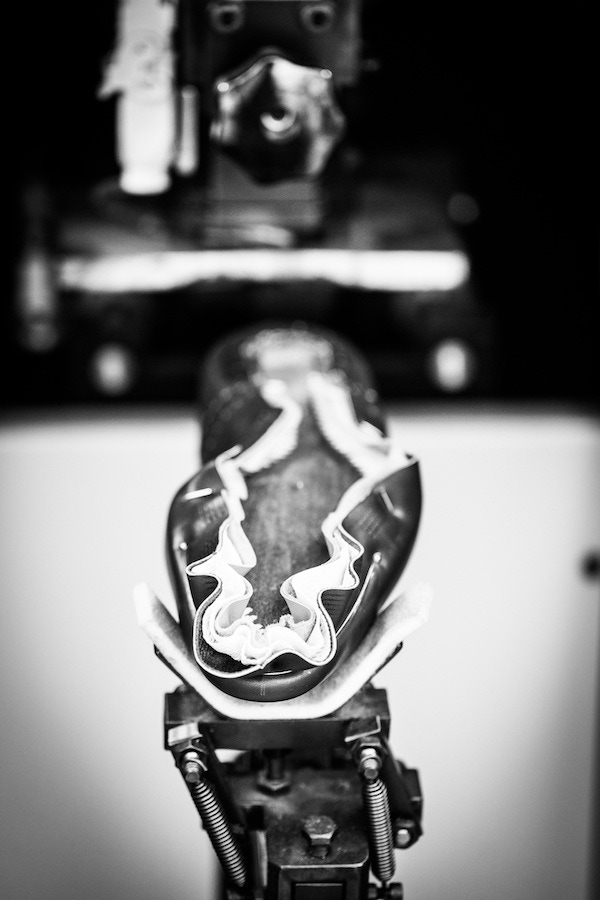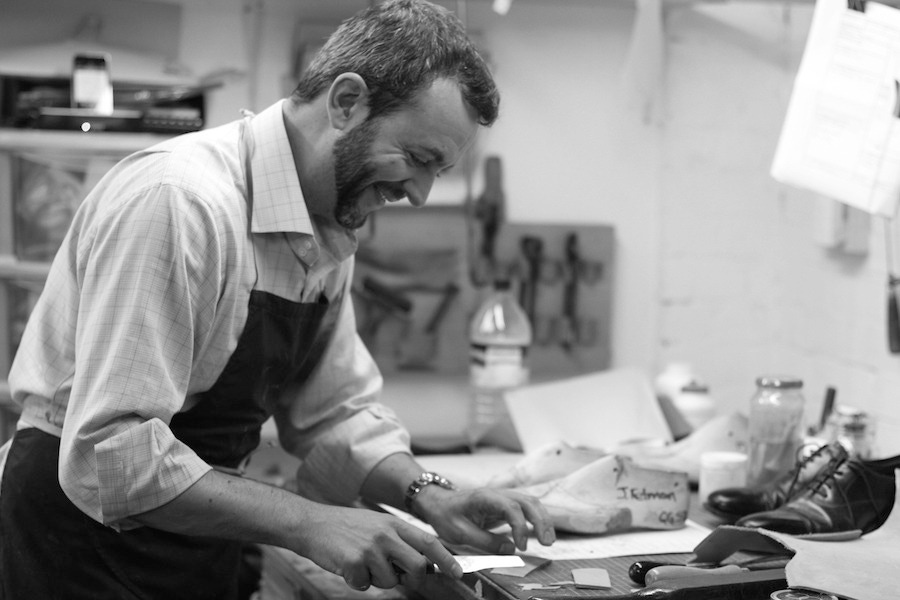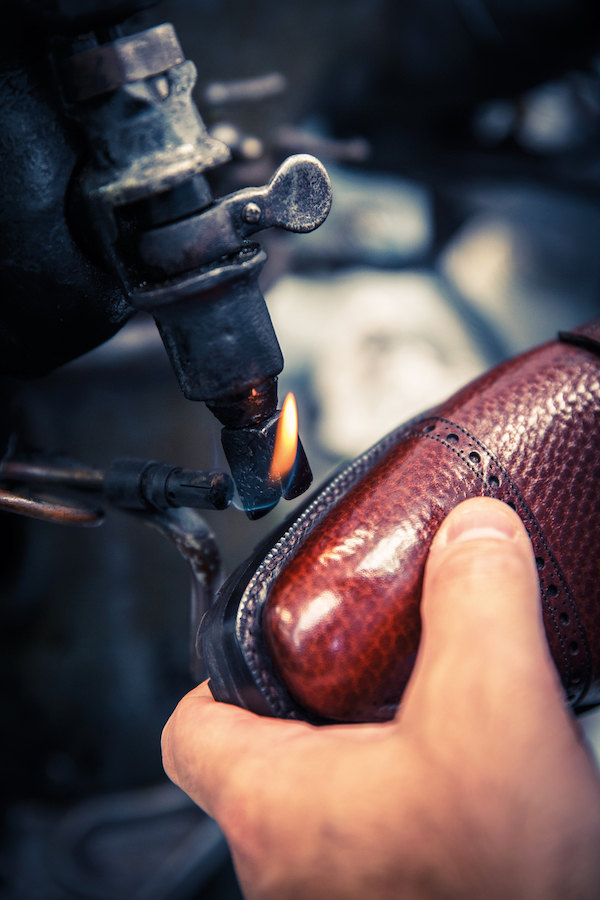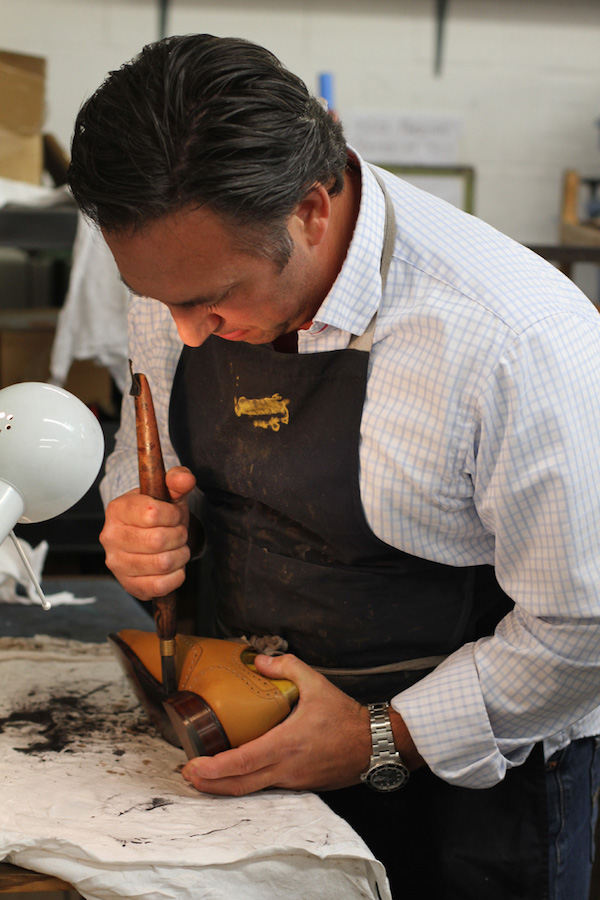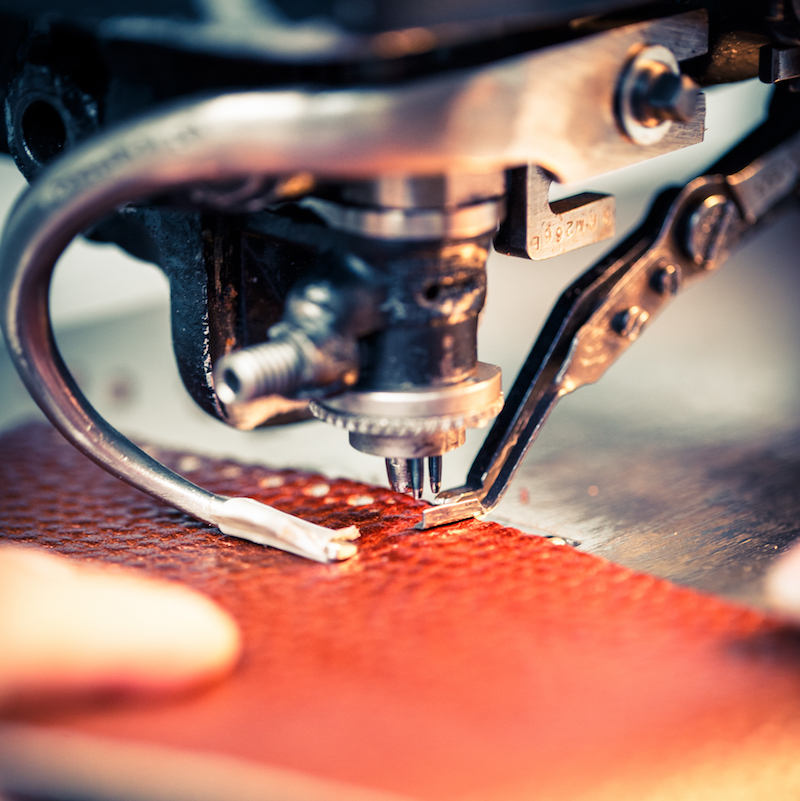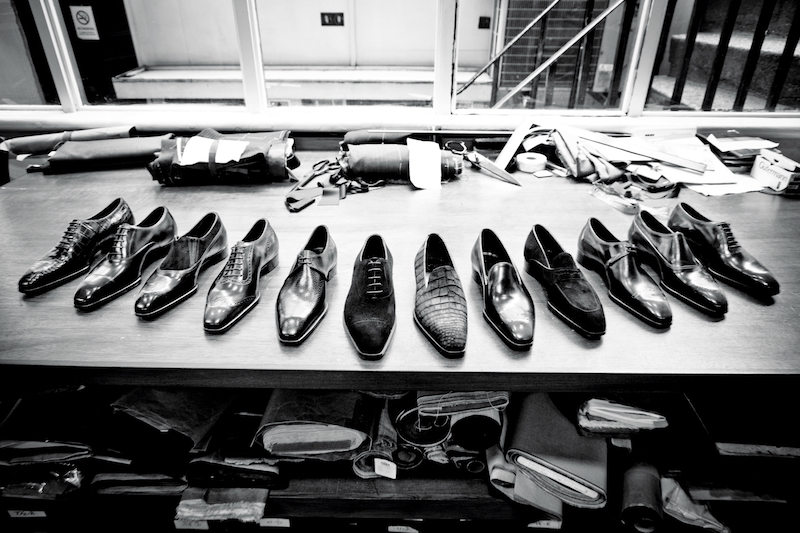 For Tony, this vision wasn't simply one of superior make. His goal was also to replicate the fit benefits that a bespoke pair offers, something his and Dean's backgrounds as makers was critical in realising. "I think the difference with us is that I have a lot of experience in last-making," says Tony. "All of the lasts were carved by me, which means that I know how to manipulate the method of making the last so that it maximises the look of the finished shoe. Most manufacturers use a last-making company, so they're very restricted - you get a more bog-standard product as a result, and that tends to manifest in less shape and an inferior fit. When customers put one of our shoes on, they experience a very unique fit, something that supports the heel and the inner arch extremely well, but also frees the toes and gives you the comfort that you don't normally find with this kind of shape."
And what a shape it is. Informed by British classicism through the heel, arch and sole but climaxing in a sculpted, magnificently dynamic and distinctly continental toe shape, in its short time on the market it's become nothing less than iconic; instantly recognisable, even at a distance. "What appeals to me is that it's a crafted work of art as much as an actual practical shoe," Tony says of his signature silhouette. "When we create shoes, we really do try to concentrate on people falling in love with the shapes - that's what really motivates me. We want to create things where people forget about the fact that they're going to put them on their feet, they just admire the beauty of the product."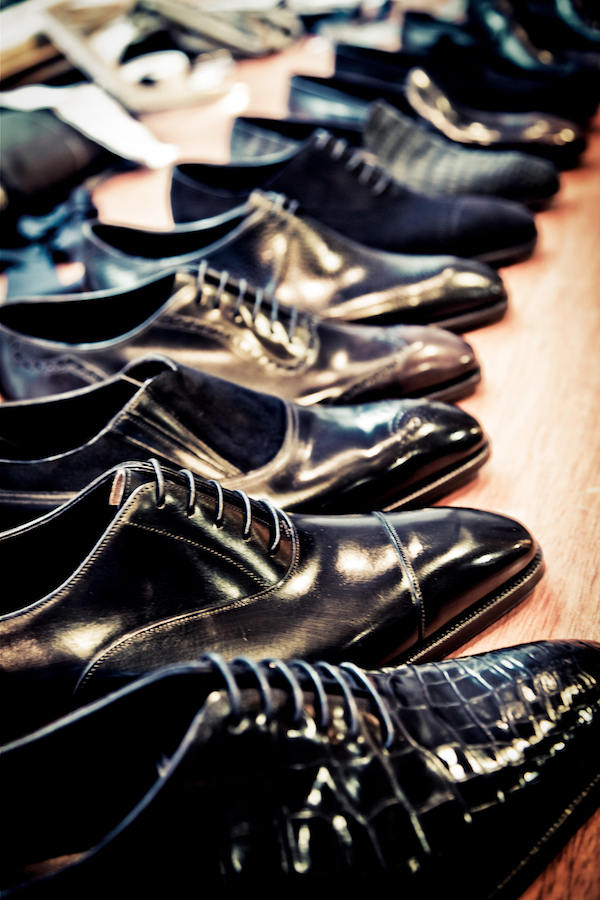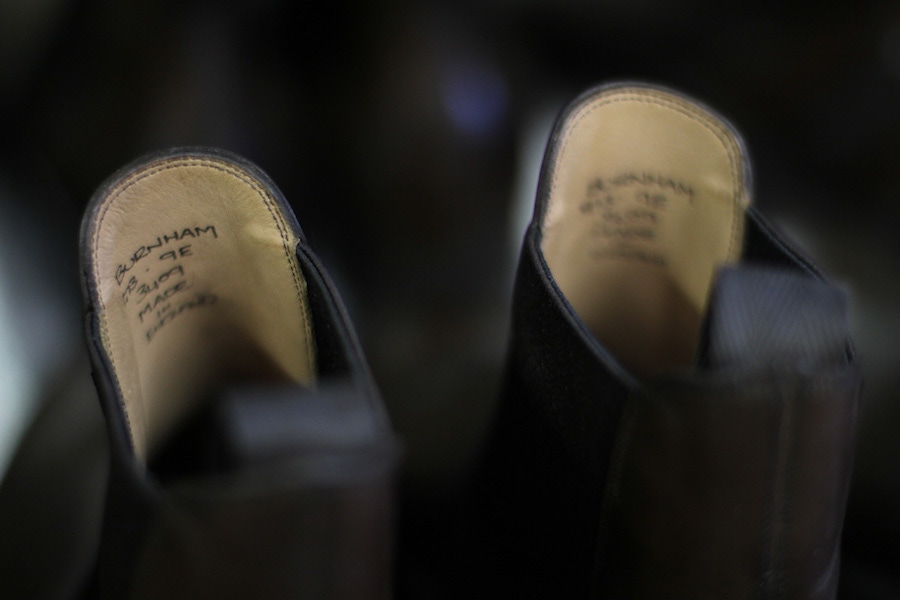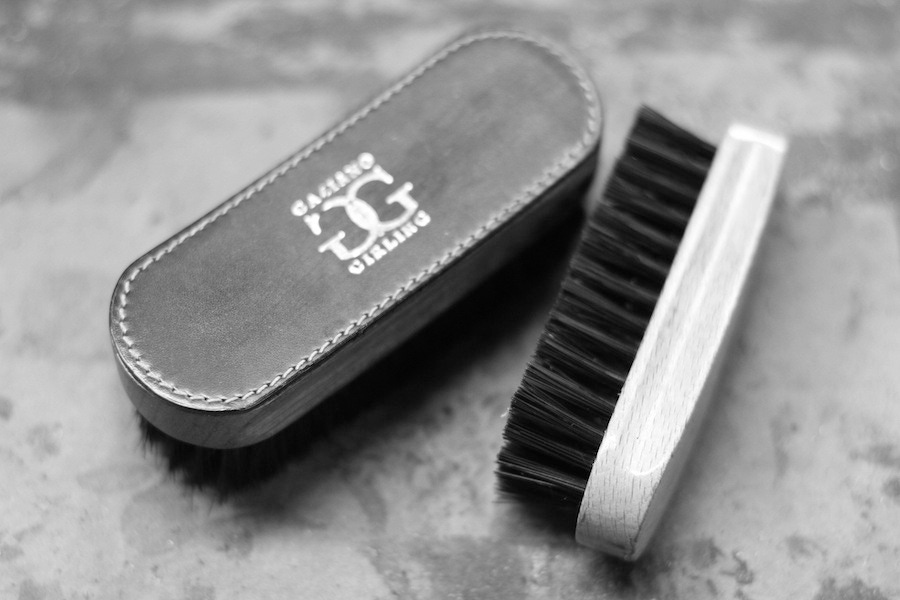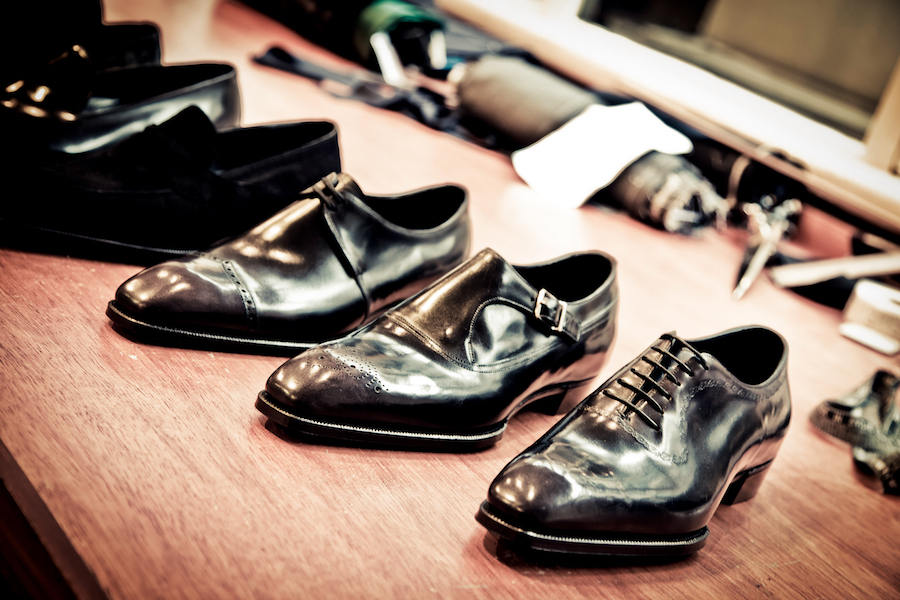 Tellingly, it's a shape that's also only achievable through Gaziano & Girling's rigorous construction. "A lot of inspiration for that shape comes from a
1920s or '30s
look," says Tony. "Shoes were mostly handmade back then and these sculptured toe shapes were much more achievable. We wanted to try and recreate that because in manufacturing, some of the restrictions of the methods used make it very difficult to achieve. A lot of other makers probably put less attention to soling detail and shape detail and they make 'just' a shoe. The way that we combine shape, line and colour, it really enhances the product to be very ornamental." Gaziano & Girling's merging of British and European aesthetic codes mirrors their blurring of lines between ready-to-wear and bespoke, and it's enabled them to craft a handwriting all their own, something Tony says was only truly possible due to the brand's comparative youth. "Because we're only ten years old and we didn't have an identity when we started, we've had a huge amount of freedom to create and mould our image into what we want. We've had no restrictions. If you look around our range you've got everything from a very classical-looking English shoe to a very continental, sleek looking shoe." As well as helping to give the brand a clear handwriting, Tony credits their adventurous design philosophy with expanding their reach beyond strictly traditionalists. "Companies make to these rules that they've done for so long, and the fact is that that restricts you to a very small subset of people. People want exciting, sexy things that other brands maybe haven't been able to give them. We want to be appealing to the guy that wants a pair of
black Oxfords
and
the guy who wants high contrast patinated, pointed shoes. We've broken the rules in not being scared about what we're going to make."