The Edit: George Glasgow Jr.
George Cleverley's George Glasgow Jr. selects some of his favourite pieces of clothing and accessories from TheRake.com.
Born and raised in London, Mr George Glasgow Jr now splits his time between his home city and Los Angeles. As the CEO and owner of George Cleverley, a London-based luxury shoemaker, Mr Glasgow Jr travels the world for an extensive trunk show tour twice a year. He has worked closely with Mr Porter to bring George Cleverley to the Kingsman collection. In late 2018, Mr Glasgow Jr collaborated with the costume designers of the Fast & Furious Presents: Hobbs & Shaw movie to create a special range of shoes for the cast. At the start of 2019, George Cleverley partnered with IWC Schaffhausen and The Rake to create a limited-edition collection of watches – Mr Glasgow Jr designed the unique straps from vintage leather – which sold out within 18 minutes at the launch in Geneva.  Lastly, he has collaborated with Rocketman to design a unique boot for the launch of a musical fantasy about the uncensored story of Elton John's breakthrough years. Here he selects some of his must-have pieces from TheRake.com.
This denim shirt by my friend Luca Rubinacci is one of my favourites to wear!  It's so versatile and I  wear it casually and with suits.  I love it. It also pairs very nicely with my go-to summer trouser, Rubinacci's 'Manny', which
 I will be wearing in various colours throughout Europe this year.  They are very comfortable and look casual too which I love. Day-to-day though, a backpack has usurped most other styles of bag as we seem to taxi around so much stuff these days. 
This strong canvas one by Bennett Winch is perfect for everyday use to the gym/office and for travel.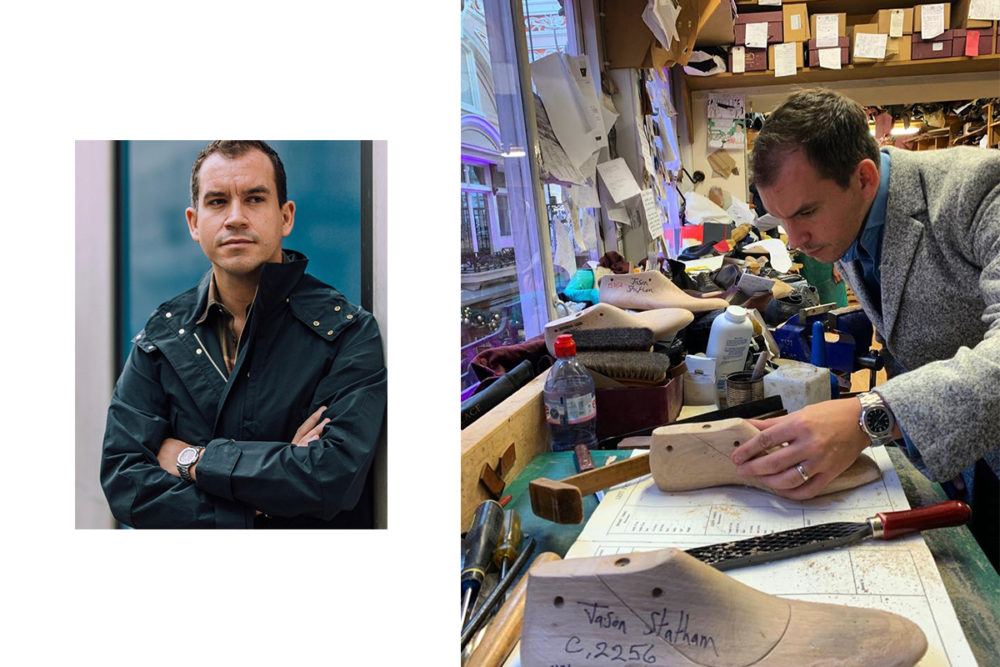 Of course, the IWC Pilot's watch that we collaborated on with The Rake is one of my favourite items as I was personally involved and made the watch straps.  Unfortunately, it is sold out (and did so in minutes) but it would be my must-have watch for 2019!  Even the size at 36mm is perfect and very elegant. So with the IWC out of the equation, my next option would be George Bamford's black steel Mayfair. George is a stylish guy himself and has a beautifully minimal watch aesthetic that I really like. This black-on-black version would be an edgy way to complement some
 classic patent Oxfords. 
If you only buy one then these Cleverley ones should be it.  The silk lacing is an extra nice touch and can change the look of the shoe for the occasion, which I love.  This was the design we used in all of the Kingsman films. This decanter by Linley wouldn't be amiss on the set of Kingsman either. I actually have this in my home. It's both stunning and incredibly satisfying to feel the weighty craftsmanship in your hand. 
The Workers Club is a small husband and wife team (Adam and Charlotte Cameron) but the level of detail they go into when it comes to fabric choice and functionality is amazing. The shell jacket is really versatile and a godsend in unpredictable weather, while the Japanese selvedge denim they source for their jeans is some of the best I've handled. I'd be remiss to not include Cleverley's credit card holder, crafted from our unique supply of Russian reindeer leather from 1786.