United We Stand: George Cleverley X Nigold by United Arrows
The great Andy Warhol once said: "One's company, two's a crowd and three's a party." So when a collaboration between not only two great brands, but three, comes together – it can only be a good thing. Allow us to divulge on the matter, a first of its kind in the luxury world.
I'm sure that you will be well aware of George Cleverley, the luxury British shoemaker famed for its iconic toe shapes, timeless lasts and unique styles. For autumn/winter '16 and spring/summer '17, the house has collaborated with two iconic Japanese designers whose brands operate at both ends of the menswear spectrum. Both are loyal customers of Cleverley and they have their own joint label, Nigold by United Arrows, which mixes street culture influences with formal tailoring.
Nigold is the brainchild of streetwear legend of Tomoaki Nagao, otherwise known as Nigo, famed for being the ex-owner of the incredibly successful and popular streetwear label A Bathing Ape (Bape). A loyal bespoke client of Cleverley for over 10 years, Nigo has brought to the table his experience with the contemporary and streetwear aesthetic. United Arrows & Sons is a Japanese concept store and contemporary dressmakers whose creative director, Motofumi Kogi, otherwise known as Poggy, has injected his own unique sartorial signatures into what a traditional George Cleverley English dress shoe should look like. It's also the first of its kind in the formal luxury world.
"This all came around very organically. We aren't trying to switch over and become a casual shoemaker, that's not what we are trying to do," says George Glasgow Jr, CEO of George Cleverley. What Cleverley is in fact trying to do, is to cater to those rakish individuals who are after a more casual and contemporary dress shoe, an undeniably a wise move, as the world continues to become more and more casual. But, to return to Glasgow's comment about this collaboration being organic, the provenance of the whole project, was, as he puts it: "Fate. It had to happen."
Earlier this year Glasgow and Poggy were in Soho House in Malibu having a "few" glasses of wine. All of a sudden and by pure coincidence, Rocky Balboa, aka Slyvester Stallone walked in wearing a pair of bespoke George Cleverley Chelsea boots in alligator skin with a rubber sole. Stallone is an ardent fan of Cleverley bespoke, and regularly has shoes made, updated and altered. To cut a long story short, Glasgow, Poggy and Stallone started talking about Cleverley bespoke and it lead to the remark from the Hollywood behemoth; "you should do something together!"
They started to draw up designs then and there on the spot. The inspiration was Soho House's ever-stylish patrons. "In Los Angeles you don't see too many people wearing a suit, but everyone still wears dress shoes. What they are doing in the evening is wearing chukka boots with a rubber sole or alligator boots with an elastic side, again with craic rubber soles or micro rubber soles to make it more casual," says Glasgow Jr. Poggy, realising the potential of this shift in luxury footwear, suggested bringing in his great friend Nigo.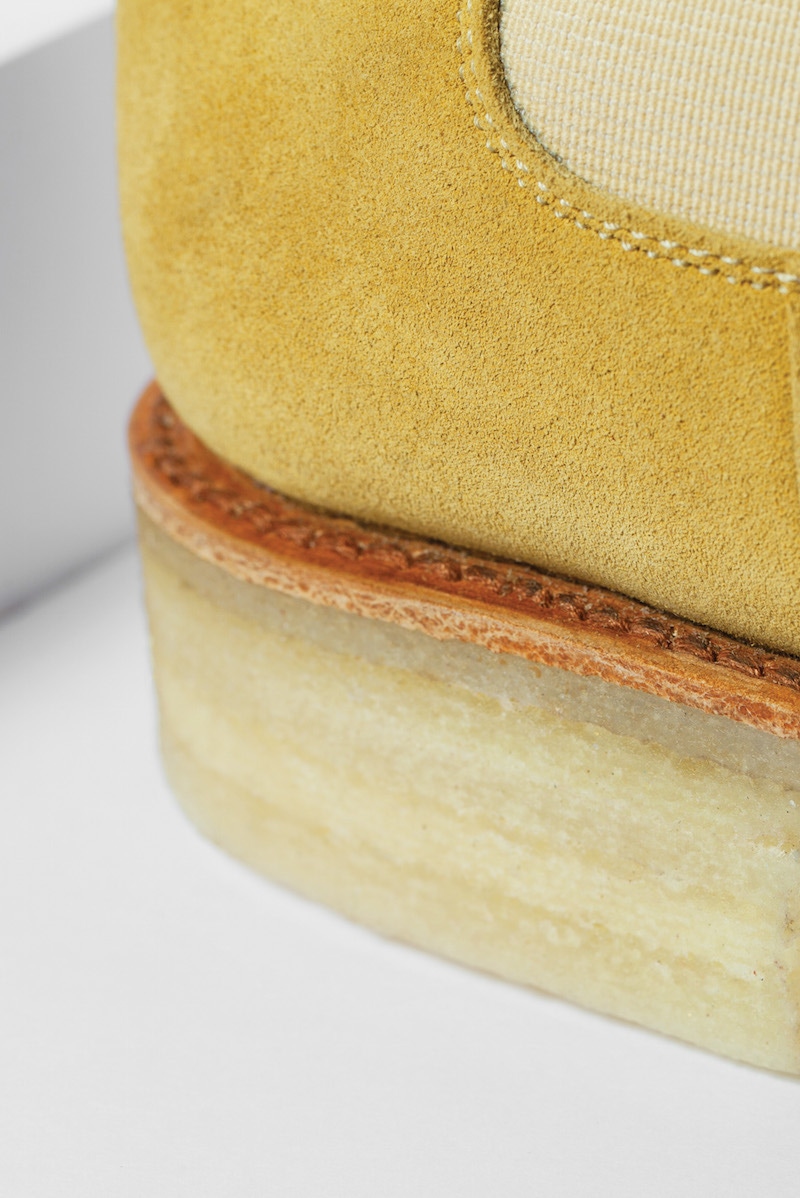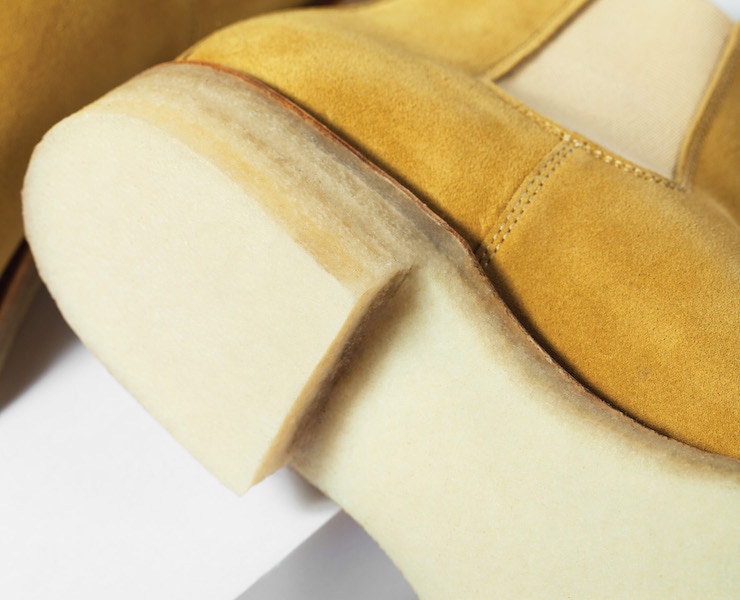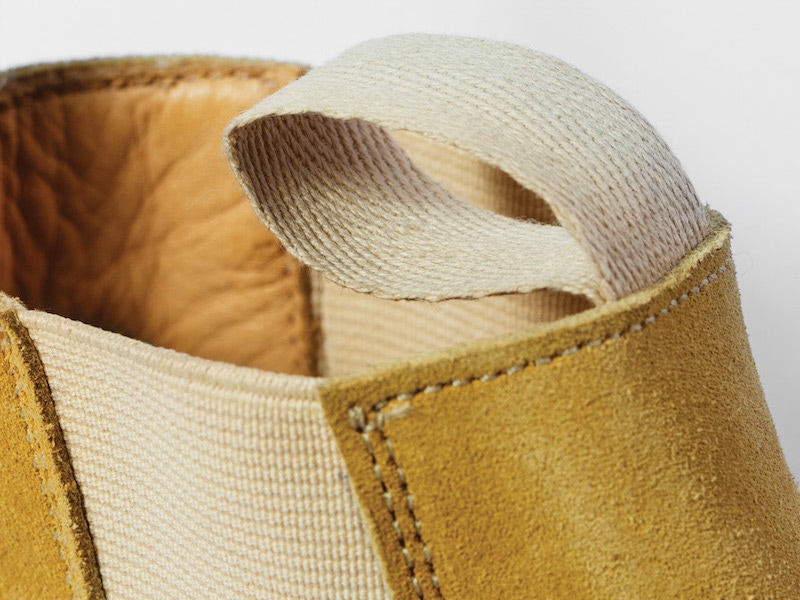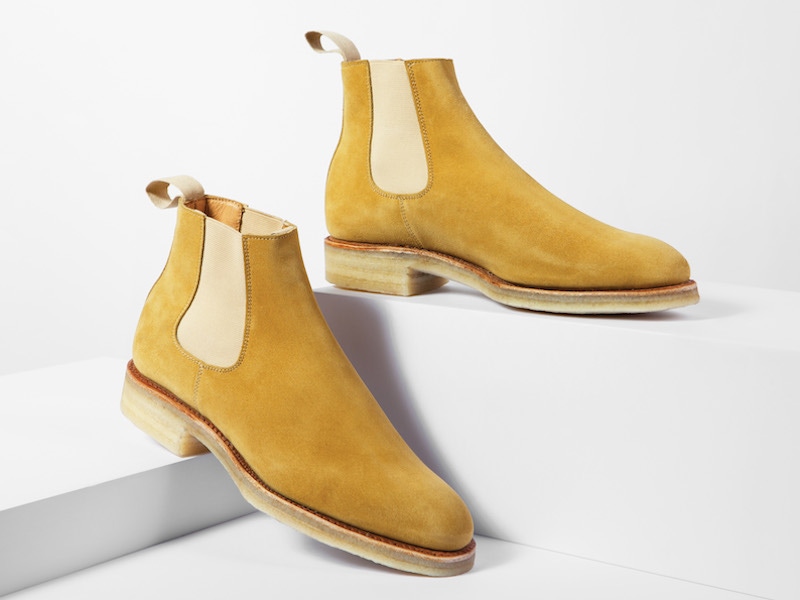 There are (so far) two models of Cleverley x Nigold by United Arrows shoes that will be available this fall/winter and next spring/summer; a suede Chelsea boot and their iconic chisel toed Churchill dress shoe. The initial Malibu design was the Chelsea boot, employing an extremely refined level of craftsmanship and execution. Clicked in luscious lemon grade one calf's suede, they are outrageously soft and the Cleverley craftsmen have delicately beveled a crepe rubber sole into the boots' uppers. "You never see this, only ever on a leather sole on a bespoke high-spec finished shoe," Glasgow informed me. The trio wanted to keep the handmade feel to these shoes, so thanks to the beveling, you'd never know these were rubber soles.
From Malibu, Glasgow headed to Tokyo to meet with Poggy and Nigo's team. Upon entering the studio, he was presented with a handful of Nigo's very own bespoke Cleverley shoes. Glasgow tells me that for the majority of the time he was completely unaware of what was being discussed as he does not speak Japanese, but he was able to pick up the story when Poggy said "Silvester Stallone" to his friend. They started mocking up several designs, using only iconic models to retain a signature 'Cleverley' feel. What then, could be more apt than the Churchill? Named – naturally – after the great Winston Churchill, who during WWII went to Cleverley in need of sharp shoes that didn't need to be tied each time he put them on. George Cleverley made him a pair of shoes that had imitation lacing - perfectly tied laces formed from stitched-in leather strips — and elastic sides below the ankle that allow one to slip easily in and out of the shoe. It was a revolutionary creation, Glasgow tells me that other brands are now "imitating the imitation" but George Cleverley in fact created it. The new take on Cleverley's Churchill sees subtle touches of gold added into the perforations on the toe cap - Nigo has a penchant for gold. The shoe is also a little wider than a standard Churchill with a gorgeous chiseled toe-box, and as a result feels much more casual and easy-to-wear. Traditionally a very formal shoe, this new Churchill has been toned down to the smart-casual echelon, or as Poggy states: "We put a little street essence into it."
All three designers have exercised a considerable influence over these exclusive shoes, so when it came to developing the logo for each, it had to reflect the characteristics of all three. As Glasgow explains, "the logo was another thing that took quite a while to come up with. United Arrows didn't want to make it very Nigo looking, they didn't want to make it very Cleverley looking. In the end, it was Nigo's design team who came up with the logo." George Cleverley's iconic script typeface motif sits at the top, whilst below the United Arrows & Sons circle with cross-hatching holds Nigo's face, underlined by the brand name Nigold; it's neat, it's tidy and it's classy.
Unless you either live in Japan or are travelling there on a regular basis, it's going to be hard for you to get your hands on these exceptional shoes, as they're being sold exclusively at United Arrows & Sons in Tokyo. The real joy of these shoes, is the way in which they represent the fruits of creatives from both ends of the menswear spectrum coming together to create a luxury product that is both sharp, yet casual. I asked Nigo what he thought about the notion of blending street style with the classics, to which he replied allusively: "I feel you need to learn the rules before you break them." Remarkably, this collaboration not only draws upon and breaks the rules, but it is laying the path for a new mode of modern, versatile and lifestyle-appropriate shoes that are set to be the next big thing in luxury men's footwear.
George Cleverley now have a new website (and online store coming soon).
www.georgecleverley.com