Giuseppe Santoni: One Step Ahead
At once a passionate scholar of his craft's ancient principles and a pioneer of its future, Giuseppe Santoni has mastered the interplay between the past and the future. In doing so, says Nick Scott, he has built on the foundations laid by his father to preside over a mass-scale artisanal shoemaking company of international acclaim.
When Giuseppe Santoni's father decided to set up a modest establishment in Le Marche, a booming shoemaking epicentre on Italy's Adriatic coast, he did so not in pursuit of a commercial empire, or even to make his fortune, but merely to provide his family a decent living. Six decades on, the company that bears the Santoni name is a global enterprise with almost 500 employees and an annual turnover of more than €50 million. It makes around 1,000 pairs of shoes per day for discerning consumers in more than 70 countries.
We're talking about footwear of unparalleled calibre, in terms of both form and function; shoes whose handsewn soles, carefully selected skins and artfully applied patinas have prompted luxury commentator and longstanding
Rake
contributor Nick Foulkes to describe them as being "about as close as it is possible for a factory-made shoe to get to being entirely bespoke". How does Santoni achieve this unlikely feat? By using a modus operandi of its own creation: one that reverently adheres to the sacrosanct, centuries-old methods of artisanal shoemaking, but on a vast scale and with a contemporary twist.
It is an almost absurdly ambitious enterprise, made possible by a combination of passion and diligence that is borderline obsessive — a state of mind that they expect of others, too. "All our suppliers, everyone with whom we collaborate, everyone who works for us, must be crazy about quality, like us, and crazy about details, like us," Giuseppe Santoni tells
The Rake
over lunch in Corridonia, the town nearest to Santoni's brilliant-white, three-storey production facility. "The staff have to know the Santoni story and ethos inside out."One of the most (literally) hands-on, proactive CEOs in the luxury world today, Giuseppe is in an effusive mood, as is usually the case when he is asked to expound on his company's impressive commercial and critical success in what are, particularly in his native Italy, times of austerity. But first, let's rewind a little: his father Andrea had found work as a leather cutter for a major shoemaking corporation at the tender age of 14 before moving on to a stint as a stitcher, then a production manager. He and his wife Rosa decided to go it alone in the mid-'70s.
From the outset, Andrea had wanted to buck the prevailing shoemaking trend of the newly industrialised era — one in which prolific output was considered the hallmark of superiority — and shift the focus back to the time-honoured, quality-driven methods of shoemaking. To say that his young offspring was vocationally precocious in these early days would be a serious understatement. "You could say that I began working with my father when I was seven years old," Giuseppe laughs. "I was there the first day he started the company. It was the summertime in 1975, and he had just two workers — one of them is still with us. I remember telling my father, 'If you need to go out, I can watch over them…' The factory back then was the garage of our family home. It was my playground. I've always naturally been a very curious person, and being near to my father, seeing, learning, understanding the things he did — this was fantastic for me."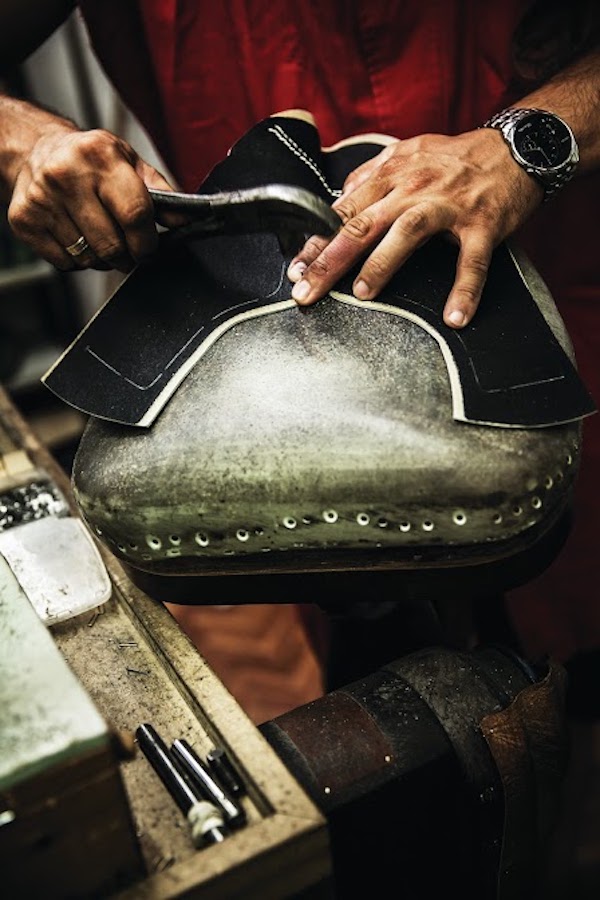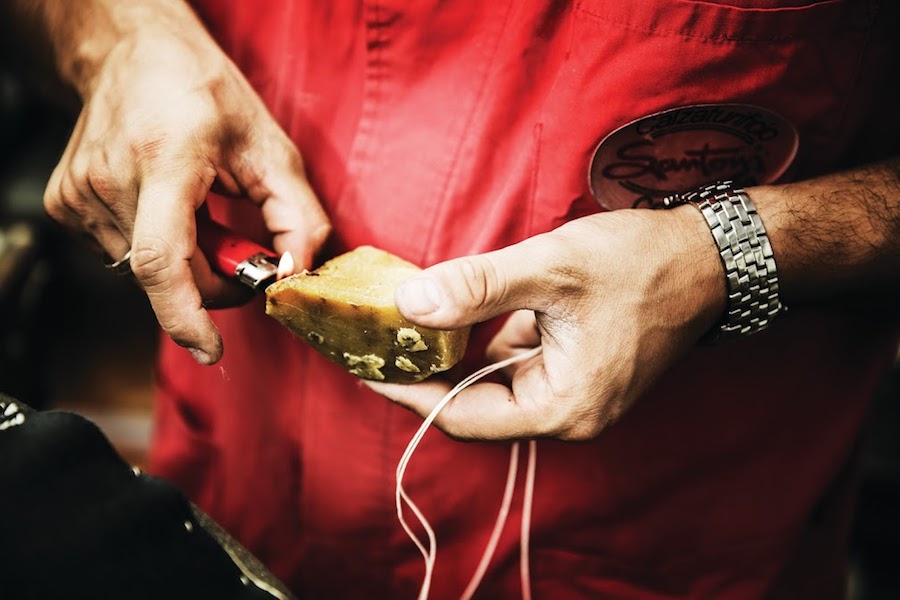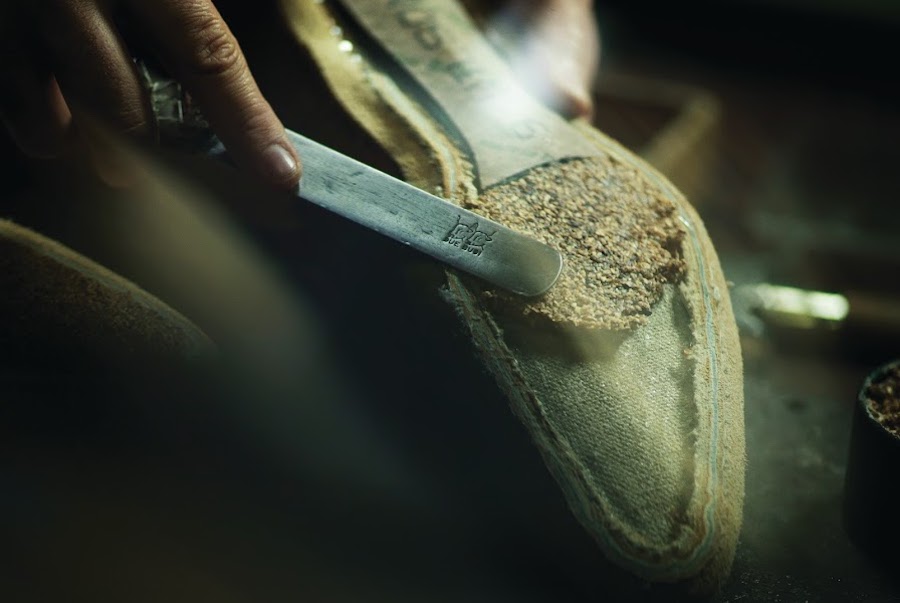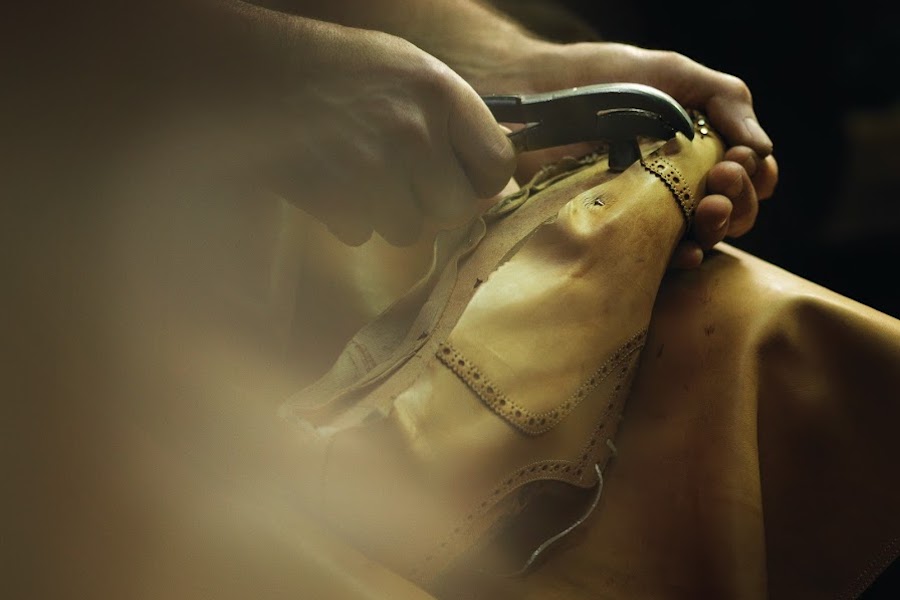 Thanks to a childhood immersion in all aspects of cordwaining, Giuseppe knew how to make a pair of shoes, from start to finish, by the time he finally went on the payroll, aged 19, in 1988. "You can't buy experience," as he puts it today. "You can only devote years to gaining it." He'd been in the company for just two years when his father made him CEO, a promotion accelerated not just because of Giuseppe's extraordinary amount of experience for his age, but also because his father was — and remains, along with Rosa — so much happier executing his craft on the shop floor.
Giuseppe's first task was to select the best countries in which to distribute Santoni's much-lauded product. "I was lucky that by the time I started travelling the world, aged about 21, I'd already had 10 years' experience in shoemaking, so when I spoke to customers, I knew what I was talking about," he says. With Giuseppe's dexterous hand on the tiller, Santoni has since gone from being a cottage industry to an international concern, with flagship stores stretching from Milan to Singapore via Doha, Moscow, Beijing and Tokyo.
For Giuseppe, though, the company's success has nothing to do with discerning flag planting on the world map, and everything to do with the methods and values of their production mores, here in this relatively obscure corner of central Italy. "What makes us creatively so different is partly the fact that I never compare us to other brands' shoes," he explains. "I control and select every detail of every shoe myself, and I never even look at what others are doing. Right from the start, in 1975, when the company was founded, when it was a huge producer of shoes for the USA, we've always gone for classic with a twist — be it the colour of the lining or sole, or even the shape of the last." Also underpinning their success, he says, is being alone in the overlapping portion of a commercial Venn diagram: "Here you have design, here you have quality," he says, sketching out his reasoning on the table with an extended finger. "Most companies, the more they put into design, the less they offer quality; the more quality they have, the less they offer with design. We occupy an area in the market where there is both — and 
there is no one else here. It's a difficult place to be, because you must invest money in both areas."
Surely there are plenty of labels out there that would take umbrage with the notion that quality and design are, when commercial reality bites, mutually exclusive? "Most of the big groups who pretend to do quality don't — they do marketing," he smiles. This is a demarcation,
The Rake
suggests, that calls to mind the difference between a juggler and a magician: the 
former relies entirely on his skill, the latter on his guile. "That's a nice comparison," he says. "If you look into our shoes, you see what you get: the product, [the] skills [required], the professionalism. In a lot of brands, the only true professionals are in the communications department…"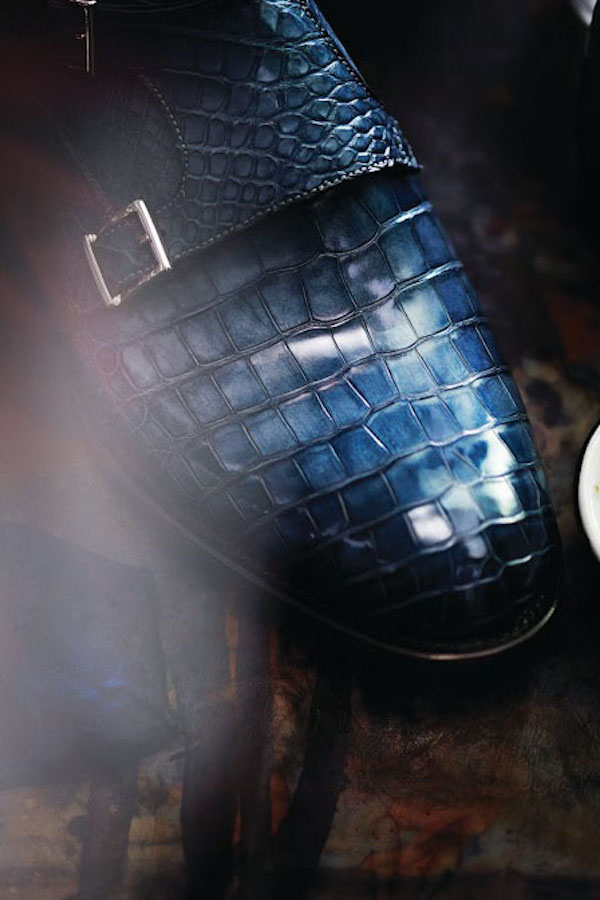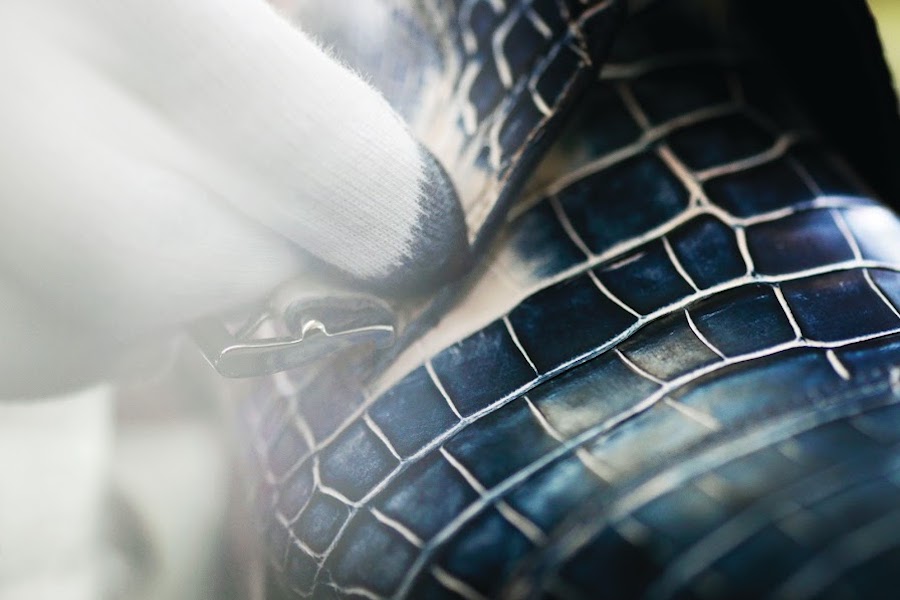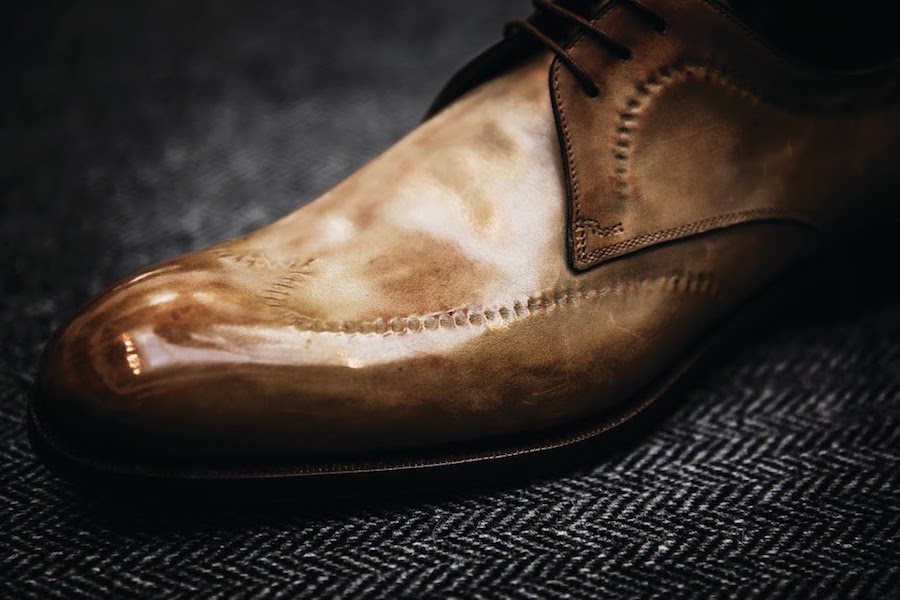 To the callow listener, this might sound old-fashioned, reactionary even, but Giuseppe is actually as fixated on innovation as he is on tradition: concepts he describes as "two parallel pillars". "If you don't have the background and just admire the future without any base on which to build something, you slip," he says. "And, if you have the heritage but don't keep an eye on the future, you also slip." This ethos applies to every
moccasin
,
monk strap
, crocodile lace-up, accessory or special collaboration (Santoni recently made driving shoes for the stylish
Mercedes-Benz
SLS AMG supercar, and has long been producing leather watch straps for
IWC Schaffhausen
).  "Even with something like our new line of sneakers, what we do is find our own niche," he says. "They're unlined, so your feet touch the main structure, and they're completely made using natural materials. The sole is natural latex — we just put the milky white gum that comes out of rubber trees into a mould and heat it with fire. There's nothing fake or chemical-based — even the tanning is vegetable-based only." It's a description that summons to mind another company tenet, one that has drawn applause from conscientious consumers the world over: Santoni's tireless approach to sustainability. "We use recyclable material, we've reduced the amount of plastic used in construction, and we have a vast tank under the building that collects rainwater," he explains. "The roof is covered in solar panels, so we produce our shoes entirely with power from the sunlight. In fact, we produce more power than we need and sell the rest to our neighbours." It perhaps sums up Santoni's attitude to embracing the old and the new that the factory has a rooftop photovoltaic power station up above, but a
manovia
— a manually operated carousel that transports the shoes from each part of the production cycle to the next — down on the basement production line. "We have a responsibility to take care of the future," says Giuseppe of the solar-powered system. And, "If you want a masterpiece, you have to work in the ancient way; you can't sprint in pursuit of perfection", is how his father explained the latter feature on my last visit to the factory. But Giuseppe seems even more proud of the company's nurturing, benevolent treatment of its staff than any of this. "The human touch is paramount — and that relates not just to the hand, but to the head and the heart," he says. "So, we have to motivate these people. The relationship we all have is very personal, very easy-going. Everyone calls me 'Giuseppe' — never mind Mr. Santoni. I've known most of the people here for at least 20 years. My mother and father know almost everyone by name." He estimates that 90 percent of the workers are from the surrounding region and, rightly, this is a further source of pride. "Keeping the production local helps this community and its economy," he says. "We try to keep the tradition and the skills of the people alive, so we've created an academy within the company, where we teach young people how to do the jobs within the building. It's about conserving ancient artisanal skills and traditions." Needless to say, natural talent is as essential in this game as on-the-job training. "The department that applies the patinas is [composed] entirely of young people from the local art school," he says. "They're highly skilled painters — we want the sensitivity and skills of people who have actually studied art for this job." Where Giuseppe will steer this remarkable company in the future is anyone's guess, but it's a safe bet that this question preoccupies him relentlessly — even during what he nominally refers to as 'down time', at his second home in St. Moritz. "When I was a kid, I was hyperactive," he laughs, "and I'm still super-energetic. I'm a multi-tasker — three things at once. I type on my phone without looking down and so that I can continue a conversation with someone…" Rest assured, he's not just looking ahead literally, but figuratively too.