WHERE GOD'S BEST ANGELS STAY | MANDARIN ORIENTAL
As Area Vice President of Operations, of the Mandarin Oriental, Paris, Philippe Leboeuf has seen guests reduced to tears—of joy, of course. We talk to a man on a mission to redefine comfort, service and sleep quality.
The famous writer and bon vivant Paul Levy once wrote, 'Krug is the Champagne that God gives his angels when they have been especially good.' Though he could have made the following addendum: 'But the very best amongst them he sends to stay at properties managed by Philippe Leboeuf.' That Philippe Leboeuf - at six-foot-five - towers above most mortals, is a fitting embodiment of his titanic and relentless pursuit of perfection. To call him a visionary within the hotel industry is a profound understatement. Here is a man who has received the National Order of Merit from the President of the French Republic, and who has headed three of the world's grandest and most iconic hotels: Claridge's in London, The Carlyle in New York and the Hôtel de Crillon in Paris. In each instance, he perfectly preserved and protected the magnificent patrimonies of these properties while seamlessly merging them with the needs of the contemporary world. His perfect understanding of his customers' tastes and his devotion to achieving experiences that are nothing less than revelatory, make him quite possibly the single most innovative and effective hotel general manager on earth. Today, he oversees his newest jewel, the Mandarin Oriental, Paris, completely revolutionising the Parisian elegant residential experience by tapping into the zeitgeist of the evolving perceptions of luxury. The moment you enter this heady, opiatic oasis of tranquility amid Paris's busiest shopping street, you'll feel as if you've exhaled so deeply that all ephemeral preoccupations - worries, stress - have left your corporeal form, and you've ascended into the realm reserved for God's best angels. In his vision for the Mandarin Oriental, Paris, Leboeuf adopts the role of Prometheus by bringing light, composed of charm, warmth and gentleness, into the darkness of a Parisian hotel scene that, at times, lack in emotional largess. This is the story of his hotel, in his own words...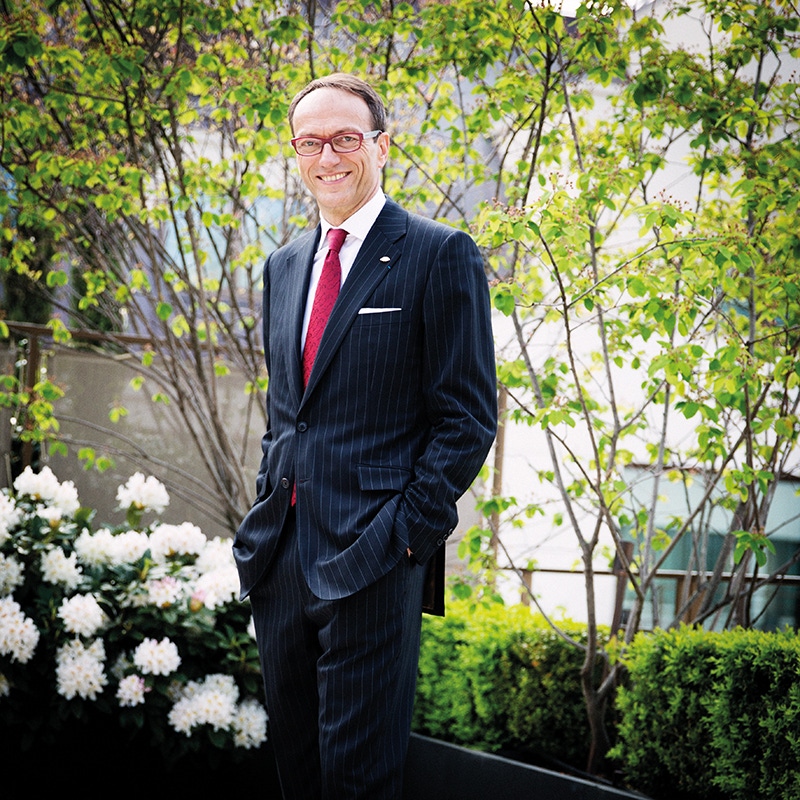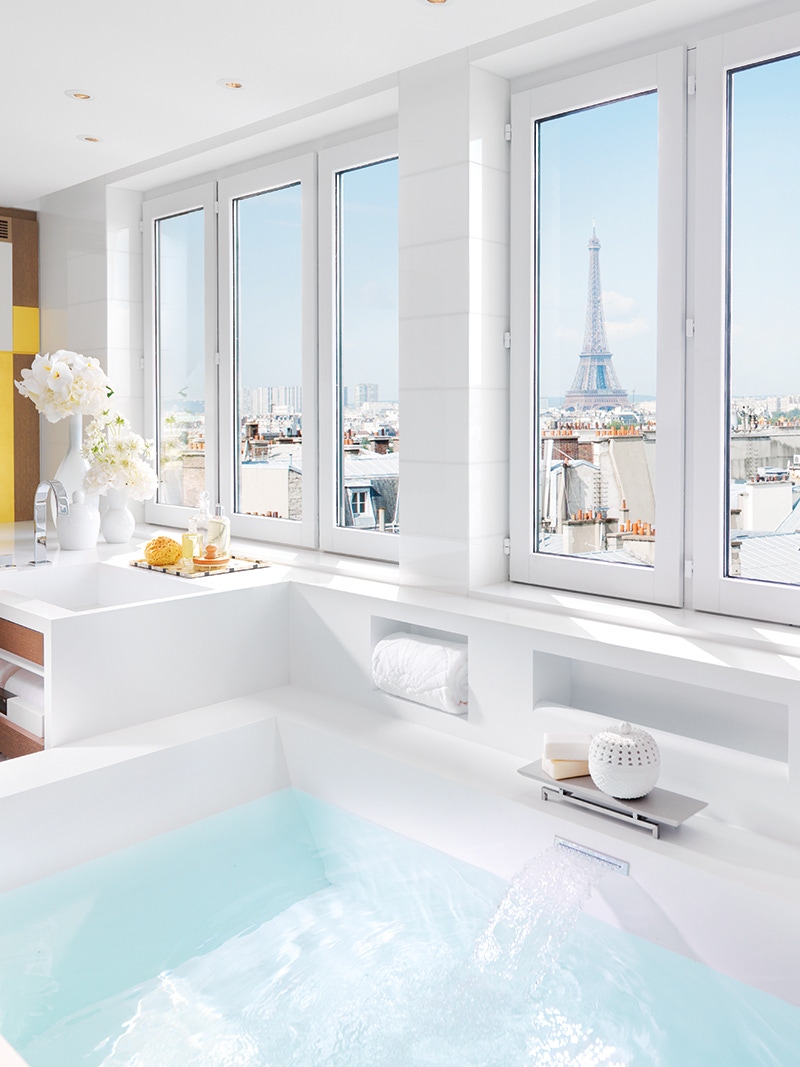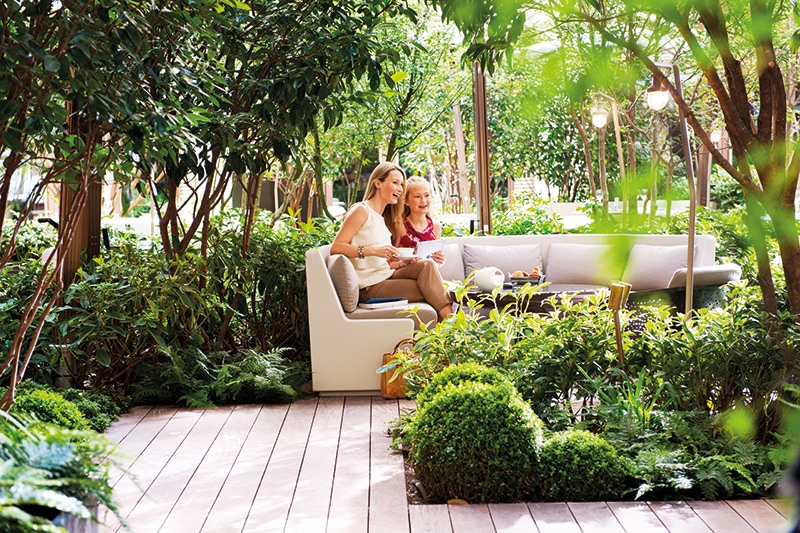 I have worked at some of the most iconic hotels in the world, such as The Carlyle, Hôtel de Crillon and Claridge's. But it's only here at the Mandarin Oriental, Paris that I've actually seen two clients cry with happiness. One was a lovely woman - a travel agent from Brazil who stayed here with her husband - who was a huge fan of our chef Thierry Marx. We knew she was really passionate about Thierry's cuisine, so we arranged a meal for her; as I sat opposite her, I saw her so filled with emotion that she began to cry. Another was a couple who were on their honeymoon, and another hotel had somehow mismanaged their reservation. It was an absolute disaster and they ended up coming to me. The wife later wrote to me that once she reached here, she cried, because of how warmly she was received and how well we took care of her and her husband. These experiences, these amazing memories, are the greatest assets a hotel can have. The world is small and people talk within their particular demographic, and it is wonderful to hear about how passionate people are when they describe their experiences here. We are located in one of the most visited cities in the world. The power of a hotel to shape a traveller's perception of a city is enormous; we have a responsibility to make this experience as extraordinary as possible, and this can only be done by building an emotional connection with each and every client. Let's face it: Paris is an amazing city, but it does not have the reputation as the warmest place in the world. Here, at the Mandarin, we feel we can change that perception - we can make our hotel one of the epicentres of warmth and emotion for the whole city. Hopefully, this philosophy will radiate outwards and effect a positive change in the service industry in Paris. We know that if you stay with us, you will have only wonderful memories of your time here. Service is everything. When I think of a reference, I think of Mandarin Oriental, Bangkok. What I wish to achieve is an haute couture [equivalent] in service, something that is pure emotion. This is the standard we strive for, and that we must achieve, so that when people say the name,'Mandarin Oriental, Paris', I want it to instantly conjure up these terrific emotions.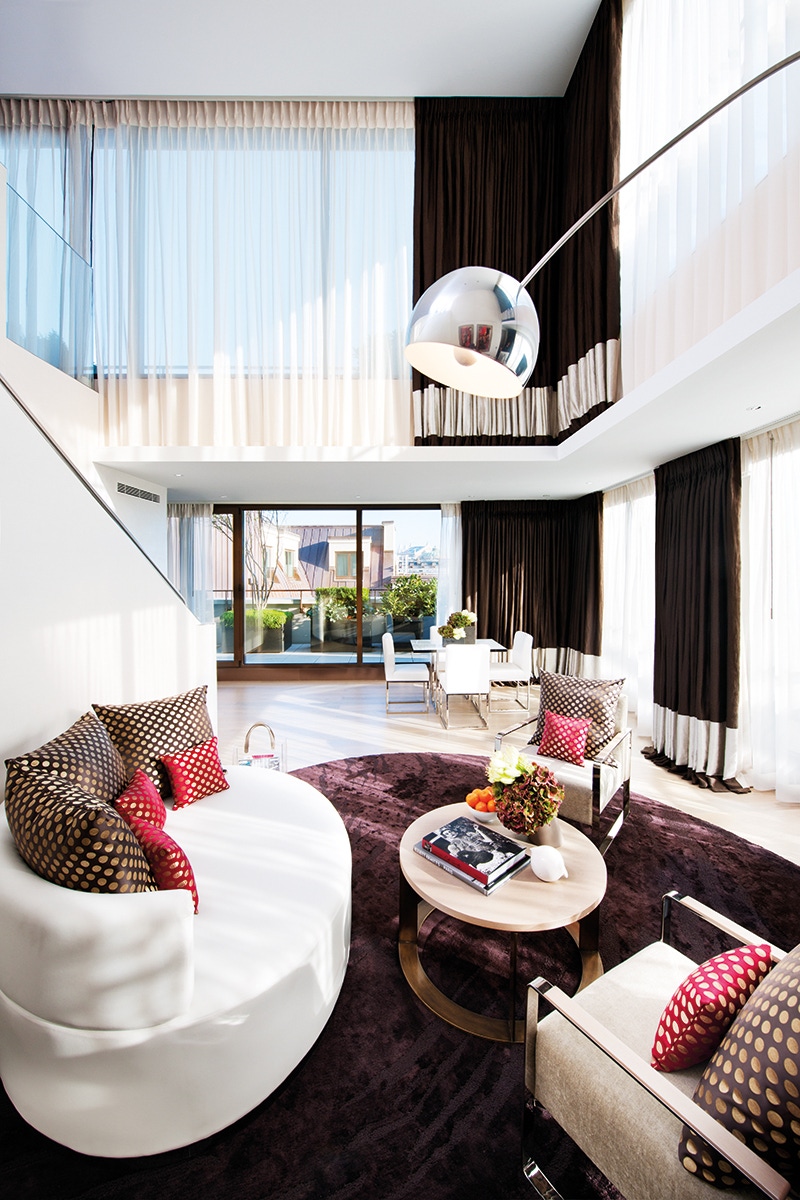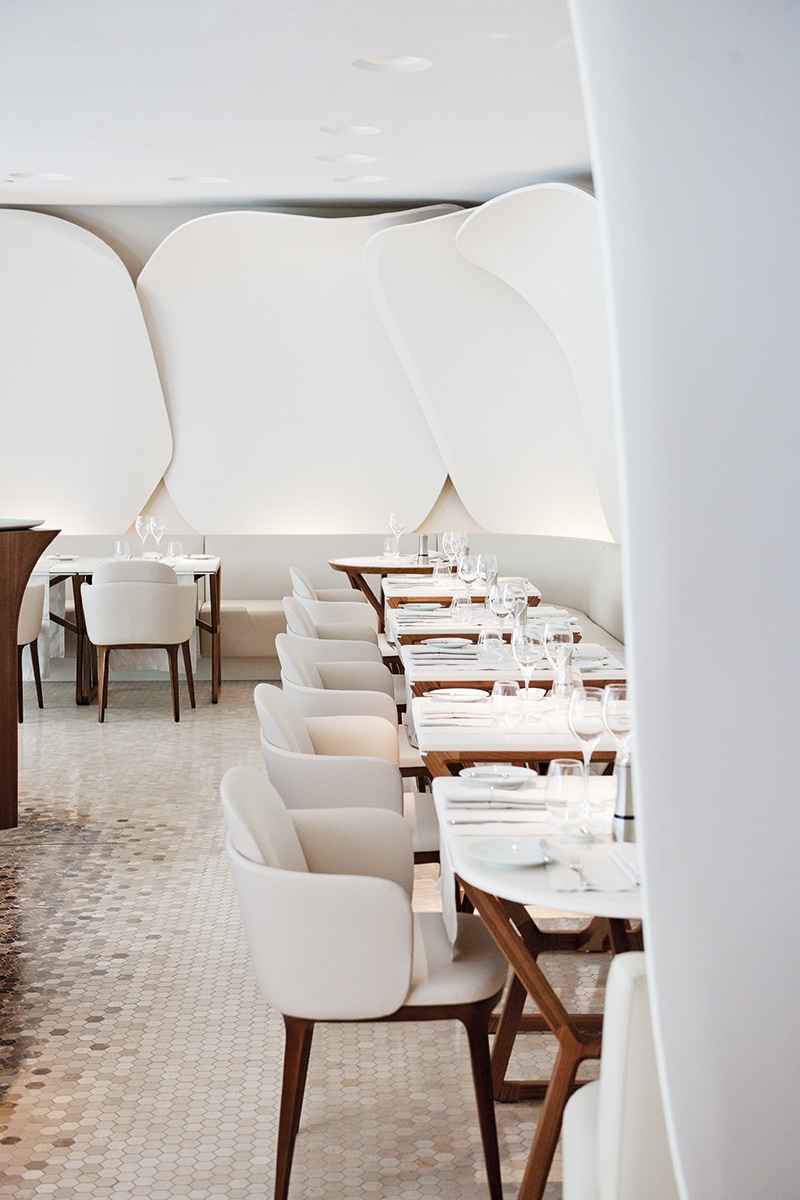 I was once staying at an inn in Japan, where you would always take your shoes off and leave them outside whenever you return to your room. Every day, the staff would shine my shoes. Then one day, I left a pair of suede shoes outside and forgot about them. Suddenly, I realised they might try to polish these shoes, which would have been a disaster. But when I got back to my room, I saw they had only gently brushed them then set them aside — they understood not to touch the suede pair. This sense of anticipation, intelligence and respect for the customer is tremendously important, and it is fundamental that I empower our team to think about the client's needs within this same sensitivity. Of the many guests we have welcomed, one of the most important was a dog. Yes, you can bring your dog: here, you can actually bring any animal you wish, on the condition that it doesn't make any other guest uncomfortable. If you do decide to bring your dog, you will be sent a card from my dog Archie, who will explain to you what you can and cannot do. There are two areas that are sacrosanct: the Sur Mesure par Thierry Marx and the Spa, for hygiene reasons. Strictly speaking, you are not supposed to go into our lovely garden as well. But Archie will tell you where you can go for a walk, where you can shop for accessories like dog collars [at Goyard or Hermès, both of which are less than a five-minute walk away]. A while ago, Archie received a letter from this dog, Tara, who stayed here with us. She is quite a big and lovely dog, but also a multiple amputee. She didn't have all her legs, and moved around on a sort of wheelchair. She explained in her letter that very often she receives funny looks, and people would not be kind to her or even let her into certain places. But here at the Mandarin Oriental, Paris, she was treated like a princess. She told Archie to please keep her carpet and balls that she had bought when she was here, because she will definitely be coming back. I don't want the Mandarin Oriental, Paris to be your typical hotel that is known simply for its restaurant or for a certain showiness; instead, I think our generation really responds to a truly seamless experience — a sort of metropolitan oasis, a refuge, a breath of fresh air and a sanctuary. Once you step into our property — whether you are in your room, the lobby, our bar, our spa or our two-Michelin-starred restaurant, Sur Mesure, helmed by Thierry Marx — there is this wonderful consistency in warmth and the sincere desire to please you. There are very established hotels where you sometimes feel as if, as the guest, you need to make an effort to dress or act in a certain way; here, we are totally at your disposal. You walk in here and you sense comfort; you feel warmth as if draped in a phenomenal cashmere blanket. For example, our restaurant has no dress code, but we've never had anyone dressed inappropriately; people just unconsciously understand how it should be. I like the idea of understatement; I like the philosophy of people purchasing a high-performance car, then removing the model number so as to remain discreet. This is our philosophy here. For instance, the fan decorations in our lobby and restaurant are made by Maison Lesage, an haute-coutureembroidery house purchased by Chanel to ensure the survival of this métier. The largest fan decoration took over 1,000 hours to create. For us, these decorations give respect to France and, at the same time, are extremely fine, but we don't want to shout about it. They are here to make the guests happy and for nothing else. There is a signature dish that our head chef Thierry Marx makes that is a perfect embodiment of who we are at the Mandarin: his risotto de soja. This dish looks and tastes like risotto with truffles, but the risotto is actually created from soy. As a result, you have this incredible sense of comfort and tradition from the sensation of eating a risotto, but also, at the same time, this beautiful, ethereal lightness. This is who we are: we take the best in the tradition of French elegance as well as the Asian softness of service, and we combine that with lightness and a charming freshness.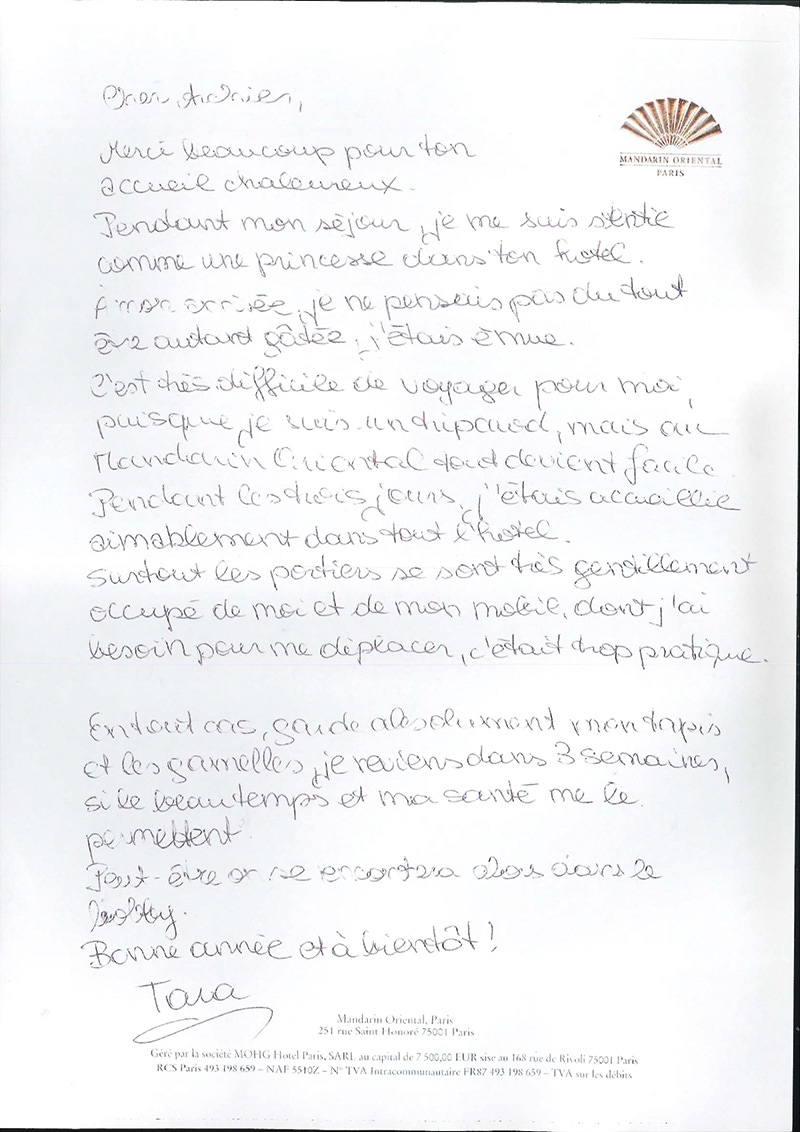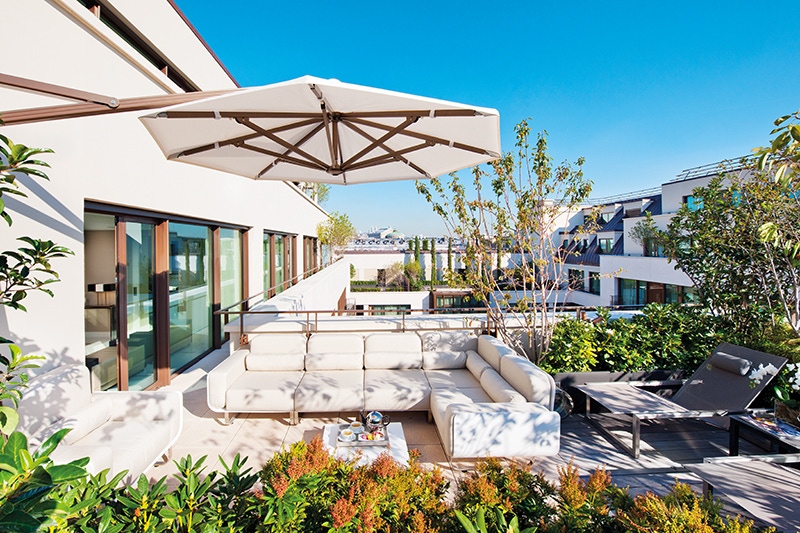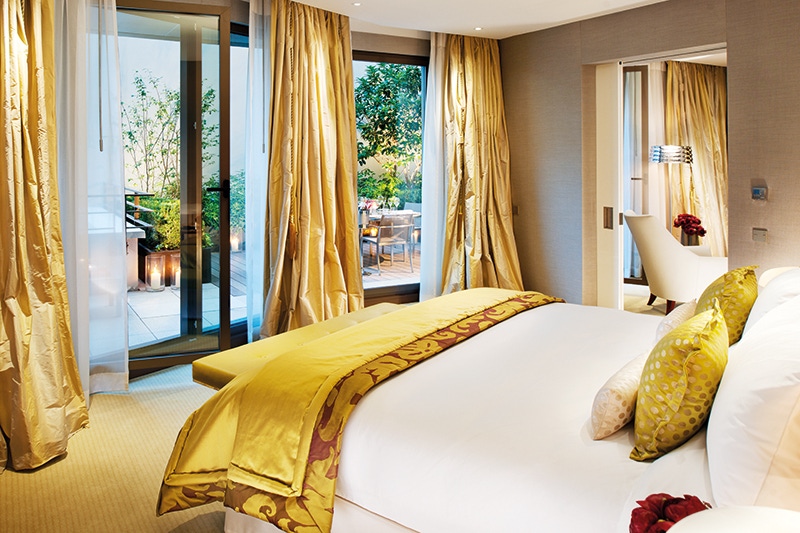 In urban centres like Paris, one of the greatest luxuries is space. We put all of our investment into the luxury of space. In Paris, the average hotel room is 10sqm; our standard room is 40sqm. Even our gym and spa are designed with the concept of having enough space, so you always feel you can be at peace. It is not only important to make the Mandarin Oriental, Paris an iconic French hotel, but also to have the underlying principles of Asian-type service that have made the Mandarin Oriental world-renowned. There is a genuine warmth and approachability that you don't get in European hotels - I call this 'soft recognition'. People here want service, but in a soft way - never in an overbearing way. There is not really this kind of tradition in Europe; with our Asian heritage, we are uniquely equipped to provide this. It is about making a real connection with our client.
I remember the GM of one of the top jewellery maisons in Paris once put the most amazing creation in my hand: a gem-set butterfly that was worth USD30 million. But the fact that he placed it in my hand with this gentleness and trust, the fact that he insisted I touch it to understand how it felt, was, to me, a real understanding of luxury. This is what we want to do here: we want to create a bond with you based on gentleness and trust. Sleep is so incredibly important. Here, we understand this, and we have done everything to maximise the perfection of this experience. There is 30-percent more fresh air in our rooms than in a standard hotel; the windows are doubleglazed with an air filter between each glass pane, so that there is, at the maximum, only 20dB of external noise. When compared to other iconic hotels, our clientele is slightly younger, generally in their 40s to 50s. The concept of opulence for this clientele is different from how people perceived it in the past - the paradigm has changed enormously. Now, it is much more about personalisation, about a balance between service and privacy, and perfection in execution. It is our job to know whether the client prefers red wine to Champagne, so that we already have the correct choice waiting in his room when he arrives. It is a bespoke concept; it is about tradition combined with innovation. This is the way we create the future. I made one mistake in the beginning. I have some very loyal clients and friends in their 60s and 70s who have followed me from the Hôtel de Crillon to Claridge's, and they told me, 'We know that you've built this incredible hotel, and we want to stay with you.' At first, I said, 'You know I love you dearly. But why don't you come for lunch first?' - I was concerned they wouldn't like it because it was quite contemporary. But I was wrong. I had a 76-year old client who stayed for 40 years at the Hôtel Plaza Athénée Paris; he came here for 10 days, and he said, 'My wife loves this hotel. I love this hotel. From now on, I have found my home in Paris.' When I asked, 'So, you like this environment?' he replied, 'Do you think my home is decorated in the style of Louis XV? Maybe it was 20 years ago, but today my home is contemporary, just like your hotel.' As a sign of our commitment to the Paris landscape, and our dedication to building something exemplary in France, we are in the process of buying the walls of our hotel, so it will be wholly owned by the Mandarin Oriental Hotel Group. We are thinking about the perennial, and never the short term - this is the only way to create something exemplary that is beautiful and emotional.