Guardian of Quality: François Thibault, Maître de Chai
Grey Goose's maître de chai François Thibault speaks with The Rake about his journey to becoming a vodka virtuoso, revealing some of the secrets he's picked up along the way.
In the world of wine and spirits, François Thibault is about as close as it comes to royalty. The maître de chai is revered by alcohol experts and lovers as a bona fide
icon
- and rightly so: it was he who developed the original recipe for Grey Goose vodka in 1997, consequently revolutionising the industry and transforming the drinking experiences
of many
.  
Though it is vodka that Thibault is so renowned for today, wine was his first love. He grew up in the heart of Cognac in France, where he quickly became enthralled with the process of wine-making and the
intricate craftsmanship it entails
. "
Alcohol has always been in my family – my father was a wine grower, so I knew I wanted to work in the industry from a young age," he tells me. Francois studied oenology in Bordeaux for 7 years before
joining the esteemed cognac house H. Mounier
. "It was during this time, in the early 1990s, that I was approached by Sidney Frank, the American businessman who brought Jägermeister to the world," he says. "Sidney had a vision – he wanted to create something a bit different and exciting.
Until that point, vodka production was dominated by Eastern Europe and Russia. It was almost unthinkable that we could make it elsewhere, but as someone who loves a challenge, I wanted to see if I could turn my cognac-blending abilities to this new sphere."
And so,
that's exactly what he did, starting from scratch with raw materials and a novel fermenting process that hadn't before been used in the creation of vodka. Ultimately, the transition from working with cognac to vodka involved a simple transferral of skills. "I believe that I haven't changed my job, coming from a cognac house to develop vodka," says Thibault. "I've simply adapted myself to a different type of ingredient but still applied the same rules. I've swapped the grapes for the grain of wheat!"
Grey Goose is the first vodka to be produced using the ancient tradition of
Maîtres de Chai
: whilst
s
uch a venture initially incited controversy from vodka purists, any scepticism was soon quashed upon experiencing the spirit first hand. A lot of this comes down to Thibault's deliberate use of only the finest ingredients sourced from France - soft winter wheat from Picardy, which has come to be known as le grenier à blé, or 'the breadbasket' region, as well as spring water from Gensac-La-Pallue, naturally filtered through limestone. "The easiest thing to do would be to purchase industrially produced alcohol from competitors, rectify it several times and add water," says Thibault. "This way anyone can make a vodka. I opted for another way, that of turning the process itself into the product, as I always did in my experience as maître de chai in Cognac. By mastering all stages of the process, it is easier to bring the best out of each one."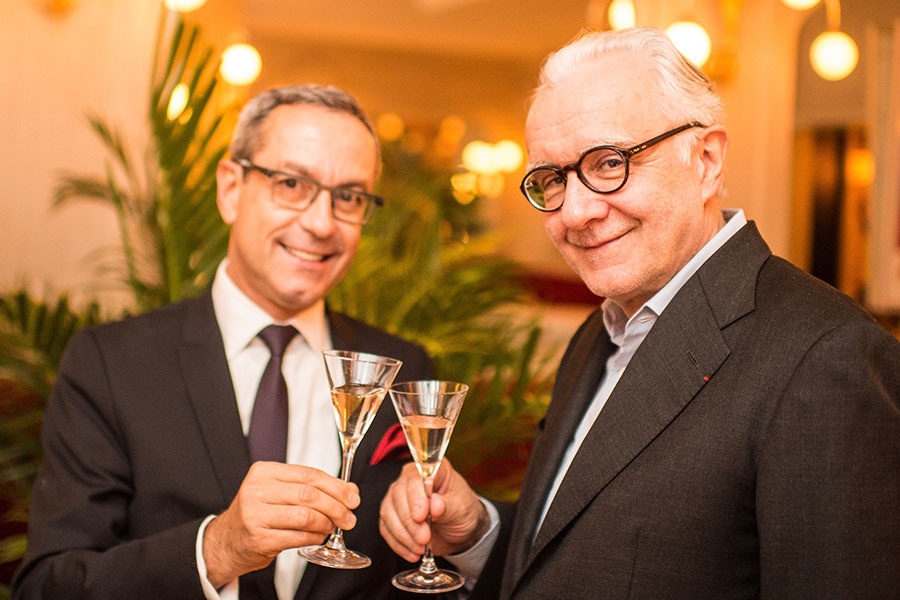 But it's not just the high quality ingredients or unique process that distinguishes Grey Goose from the rest. A large part of the brand's global success comes down to Thibault's innovative spirit and his willingness to push the boundaries. "Sometimes I think the difference that is made is measured by the creator's inspiration," he says. "I think I have a strong sense of detail and rigor, as well as a love for challenge and drive for excellence. To create an exceptional thing you need know-how, but passion and inspiration are just as essential".
His sage advice doesn't end there. Thibault has a wealth of knowledge to share with aspiring vodka connoisseurs, but most notably he extols the importance of starting with the basics and keeping things simple. "For any vodka beginners, I recommend learning to make a dry martini first, as it's the perfect cocktail to compare different vodkas," he says. "The simpler the cocktail, the higher the quality of vodka you will want to use as the flavour will be more pronounced and not masked by flavours from other ingredients."And whilst we would customarily jump at every opportunity to channel the ever-rakish James Bond, it would seem that his
iconic martini request
is somewhat flawed. "I believe that you should always have your martini stirred and not shaken," Thibault clarifies. "This is because when you shake your martini you also break up the ice in the mixer, which dilutes the mixture much more than stirring," he
explains
. "You want your martini to stay as fluid and silky a possible without too much dilution and too much contact with oxygen. I recommend no more than 20 seconds of stirring and to always finish with a twist of lemon."
As for his perfect recipe? Simply combine 50ml of Grey Goose vodka and 10ml of chilled Noilly Prat dry vermouth in a mixing glass filled with ice before stirring and straining into a chilled martini glass. Round it all off with a dash of orange bitters and lemon zest to garnish. Although the martini should be drunk quickly so to catch it at its chilled best, it would be wise to lend an ear to the anecdotal advice of Kingsley Amis, one of the literary canon's most accomplished boozers: 
"There was a man in New York one time who bet he could drink fifteen double Martinis in one hour. He got there all right and collected his money but within another minute he fell dead off his bar stool. Knock that back and have another."