Altitude Sickness: The Happy Valley Set
Originally featured in Issue 40 of The Rake, Nick Scott delves into the controversial lives (and deaths) of the Happy Valley set — a group of white, western expatriates who, between the 1920s and forties, turned a slice of Kenyan highlands into a hotbed of colonial debauchery.
In the latter part of the first half of the 20th century, Britain was feeling anything but great. In the throes of abject austerity throughout the Great Depression of the thirties, only something catastrophic — becoming a leading protagonist in a six-year bout of global genocide, for example — could possibly have made it a bleaker place to be. Fate, with its characteristic perversity, obliged. Throughout this period, during which the first syllable of the sobriquet 'Blighty' became chillingly appropriate, 6,000 miles to the south, where the Wanjohi River flows through Kenya's highlands, a group of ultra-privileged white hedonists, ever since known as the Happy Valley set, engaged in a lifestyle of weapons-grade hedonism: English country-house living in an equatorial climate, spiced up with a carefree curriculum that English intellectual and literary critic Cyril Connolly dubbed "the three As: altitude, alcohol and adultery". In his quest for alliterative resonance, Connolly left out hard opiates and — it's painful to report — what would accurately be described as slavery. (The Happy Valley set's 'houseboys', mostly of the Kikuyu people, were housed in tin huts with no plumbing, and acted on cursory orders barked by their white 'masters' in a primitive version of Swahili called 'ki-settler'; Somali men had a slightly higher status, as indoor butlers.) The British East Africa Protectorate, having been established in 1895, was transformed into the British crown colony of Kenya in 1920, and became a region to which aristocratic Brits fled in order to escape the overcrowding, high tax levels and Tupperware-domed climate of their native land. Their aim was to re-establish an aristocratic hegemony in a vast, exploitable and soothingly pastoral corner of the planet, full of native people to subjugate and devoid of modern industrial democracy (Blake's "dark satanic mills", and all that).
"A group of ultra-privileged white hedonists, ever since known as the Happy Valley set, engaged in a lifestyle of weapons-grade hedonism..."
But it was perhaps Britain's now long defunct — but then culturally prevalent — sexual inhibition that they abandoned with the most gusto: wild orgies and wife-swapping were virtually a prerequisite for any who wished to be embraced in the Wanjohi Valley social scene, which had the Muthaiga Country Club as its focal point. Evenings that began with gazelle chops and champers, soundtracked by the tinny sounds of music-hall ditties from a wind-up gramophone, would degenerate into levels of substance-addled debauchery that made Gomorrah seem like the priggish Suffolk parish of Steeple Bumpstead. One post-dinner parlour game involved male attendees lining up behind a sheet, then poking their aroused appendages through holes in it, so that the ladies present could cast their votes on their favourite. The capricious band of protagonists who made up the Happy Valley set could be the raw material for a thousand Tom Robbins novels, and the women of the scene were arguably an even more extraordinary bunch than the men. Beryl Markham was an adventurer, racehorse trainer, author and bush pilot who, during the pioneer days of aviation, became the first woman to fly solo across the Atlantic from east to west. Neatly demonstrating the blasé attitude to adultery prevalent within this community, each time Markham took a new lover, her husband — the British army officer and farmer Captain Alexander Laidlaw 'Jock' Purves — would hammer a six-inch nail into their front-door frame. Then there was Mary Miller, who "lived off lorry-loads of champagne and booze before shooting herself", according to Juliet Barnes's book
The Ghosts of Happy Valley
.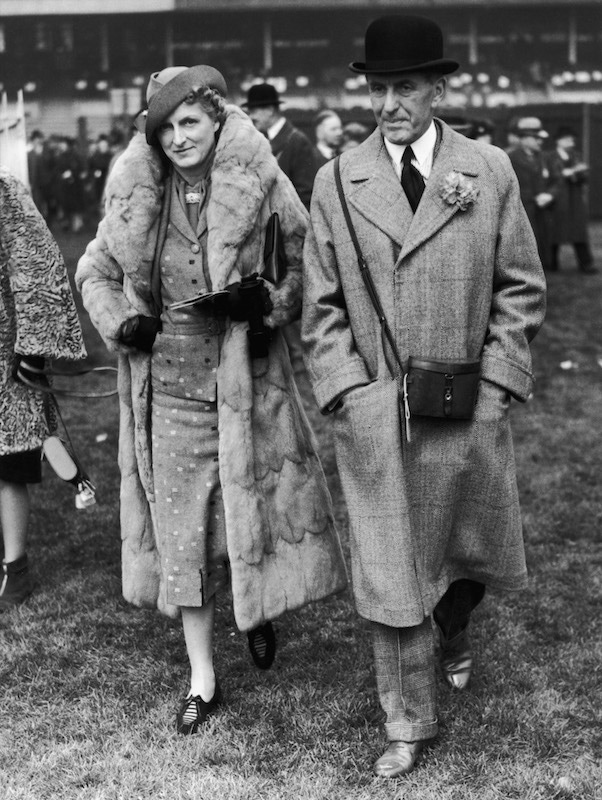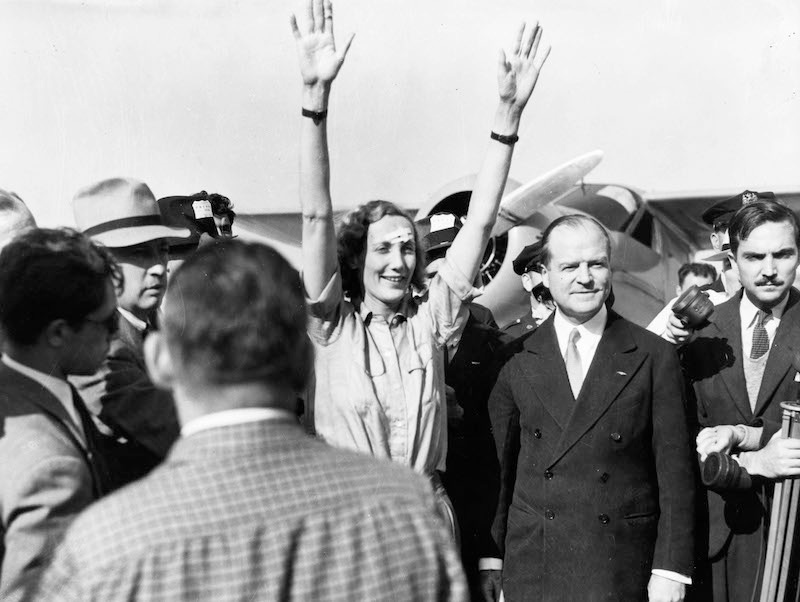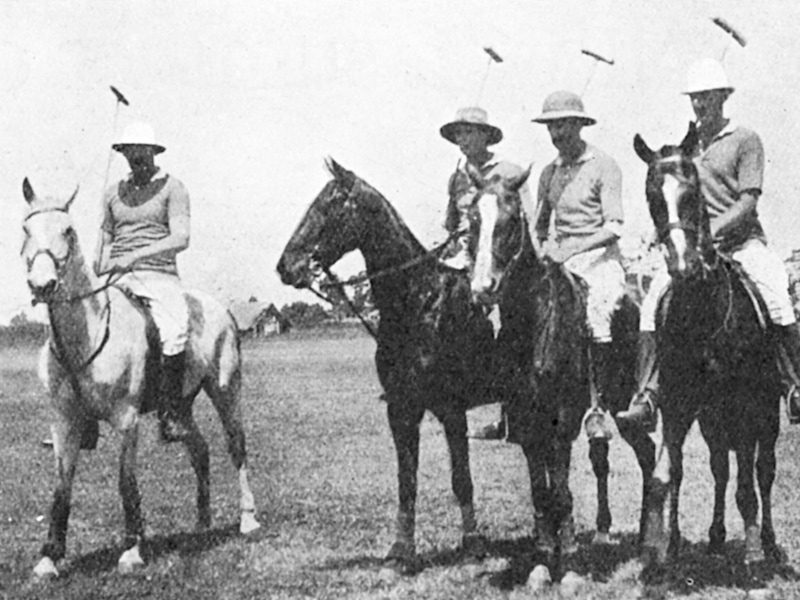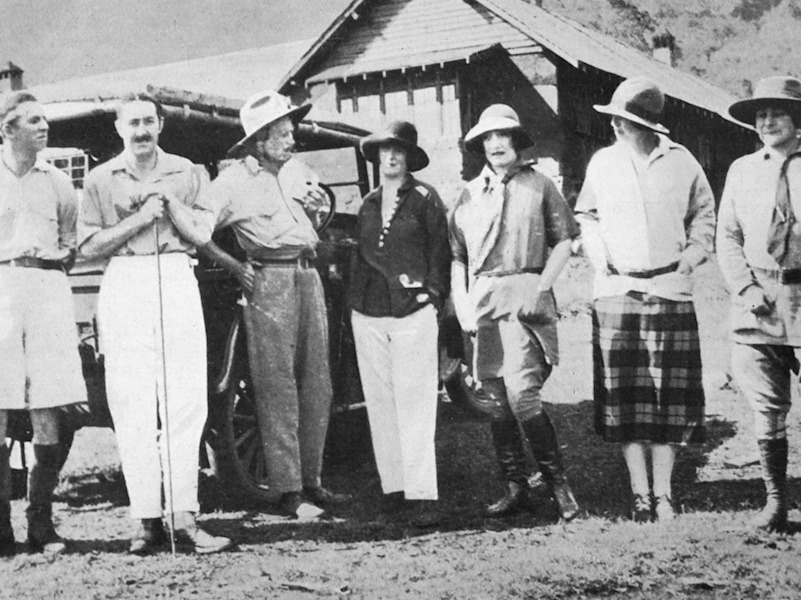 Lady Idina Sackville, the daughter of the 8th Earl De La Warr and cousin of the poet Vita Sackville-West, had caused immense scandal at home by ditching her second husband to run off to Kenya with a lover eight years her junior, the future Earl of Erroll, Josslyn Hay (more — much, much more — on him later). She would welcome her guests to her spouse-swapping soirées naked in a bathtub made of green onyx, then gracefully put on the garments (that would probably stay on for all of two hours) in front of them. Sackville, if reports are to be believed, worked her way through the male population of British East Africa with systematic zeal. Countess Alice de Janzé, a wealthy heiress from Chicago whose father was a dipsomaniac felt manufacturer, became a global household name in 1927, when she shot the last of her string of Happy Valley lovers in a Paris railway station before turning the gun on herself. Both survived, and later ended up marrying and returning to Kenya, but de Janzé's second suicide attempt — during a phase of depression, alcoholism and morphine addiction in 1941 — was successful. "No man will touch her exclusive soul, shadowy with memories, unstable, suicidal," her husband had written, prophetically, in 1928. Kiki Preston, née Alice Gwynne, was another American socialite — related to both the Whitney and Vanderbilt families, no less — who was nicknamed 'the girl with the silver syringe', due to her habit of mainlining Afghanistan's finest without the slightest regard for anyone around her observing what she was doing. A former cabaret dancer despite her privilege, she would often charter an aeroplane specifically to pick up fresh supplies of heroin, and has the dubious distinction of having introduced her favoured mind-benders to one of her many lovers, Prince George, Duke of Kent. Preston would also go on to take her own life — a very public act of self-defenestration from a high storey of the Stanhope Hotel in New York in 1946. As for the menfolk of this ultra-colourful set, the first member of the group is generally acknowledged to be Hugh Cholmondeley, 3rd Baron Delamere — an adventurous cove who would regularly travel to Africa in the late 19th century to hunt lions, continuing the pursuit even after a severe mauling by one understandably miffed giant feline left him walking with a limp for the rest of his life.
"A former cabaret dancer despite her privilege, she would often charter an aeroplane specifically to pick up fresh supplies of heroin..."
Cholmondeley was no bombastic colonial jingoist — a sincere admirer of local Maasai culture, he attempted to assimilate into the local way of life while also introducing to it some beneficial agricultural methods — but he was endowed with the required streak of batshit-mischief for a man occupying his place in history. He once — for reasons not even grasped at the time, let alone documented — rode his horse into the dining room of Nairobi's Norfolk Hotel and carried out an impromptu steeplechase, vaulting over tables. Jack Soames was a voyeur who drilled holes in the ceilings of his bedrooms to watch his copulating guests. Then there was Frank Greswolde Williams — a man too rotund and invariably inebriated to be part of the Happy Valley sexual shenanigans — who was the chief supplier of cocaine and opiates. Another non-Brit from the set was Count Frédéric de Janzé, the life partner of the aforementioned Alice and a French nobleman of aristocratic Brittany stock. He was also a noted racing driver in his native land. He died of sepsis in 1933, aged 37, but not before writing a book,
Vertical Land
— the flowery-prose account of his life in Happy Valley, from which those poignant words about his ill-fated wife, quoted above, were taken.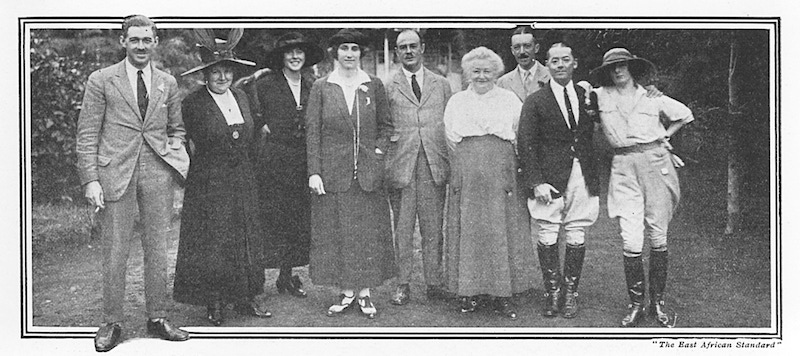 The paramour who took that bullet in the Paris railway station was one Raymond de Trafford, a prolific gambler, womaniser and hardcore alcoholic from an old Irish aristocratic family. When Evelyn Waugh visited de Trafford in 1931, he was cooking up a scheme to ensnare gorillas and sell them to a Berlin zoo for £2,000 a head. It was probably his yen for the sauce that meant he never got around to executing the idea. "He got very drunk and brought a sluttish girl back to the house," reported Waugh, "then rogered her and her mama, too. Fights and fucks and gambles and gets D.D. (disgustingly drunk) all the time." De Trafford is rumoured to have set fire to a row of local Kenyans' abodes after one particularly hearty binge. Having been forced out of the colony in 1939, he was sentenced to three years' imprisonment at home in England for the manslaughter of a cyclist, committed while driving home drunk from the horse races at Cheltenham. The most famous of the Happy Valley set, though, was Josslyn Hay, 22nd Earl of Erroll. Hay could not have been born into a nobler social station. His father was the diplomat Victor Hay, Lord Kilmarnock. He attended George V's coronation in 1911. And his family was bestowed the hereditary office of Lord High Constable of Scotland by Robert the Bruce in 1314. Despite being shown Eton's door by the Dean's shiny toecap in 1916, after just two academic years (for reasons no one seems able to establish), and despite also sparking immense scandal in his native land by dumping his diplomatic career to elope with a married woman whose reputation made that of Wallis Simpson look positively rosy (the aforementioned Lady Idina Sackville), he became a key member of the Kenyan colonial legislature, holding the post of Military Secretary. He had chiselled looks, was composed and renowned as a public speaker, and also apparently boasted a photographic memory. Hay is described in the film 
White Mischief
— a 1987 movie about the Happy Valley set's exploits, in which he is played by Charles Dance, and his wife, Diana Delves Broughton, by Greta Scacchi (it also stars John Hurt and a young Hugh Grant) — as "a frightful cad; divorced who knows how many times; rogered every girl in the colony, practically ... " Hay was the unelected leader of the Happy Valley set. His first house in the great continent to the south, although named after his ancestral castle back home, was a fairly unassuming bungalow, but it did feature mirrored ceilings and a green marble bathroom to which water was piped from 44-gallon drums heated by log fires. Before long he upgraded to a property, built in 1927 by Hollywood actor Cyril Ramsay-Hill and referred to in the community as the 'Djinn Palace', that had domes and minarets, fountains, a squash court, a pool and even a polo ground.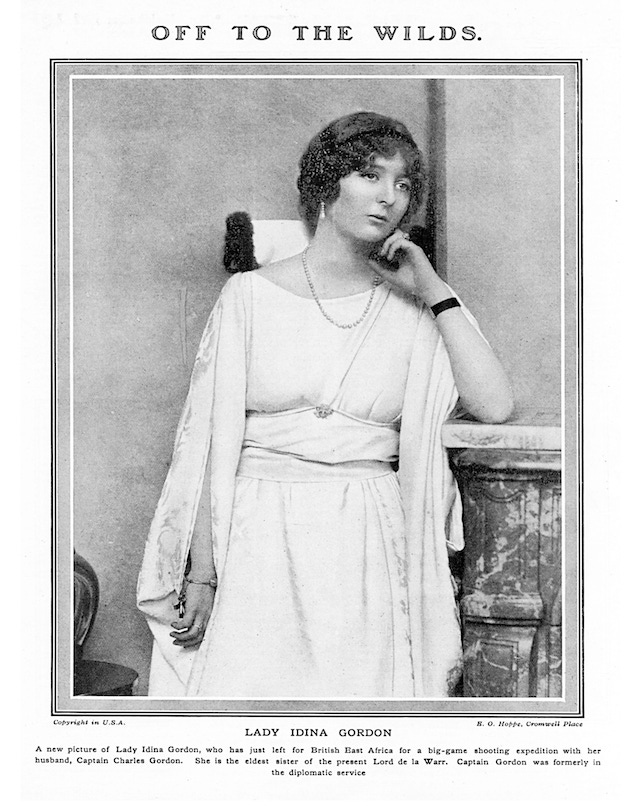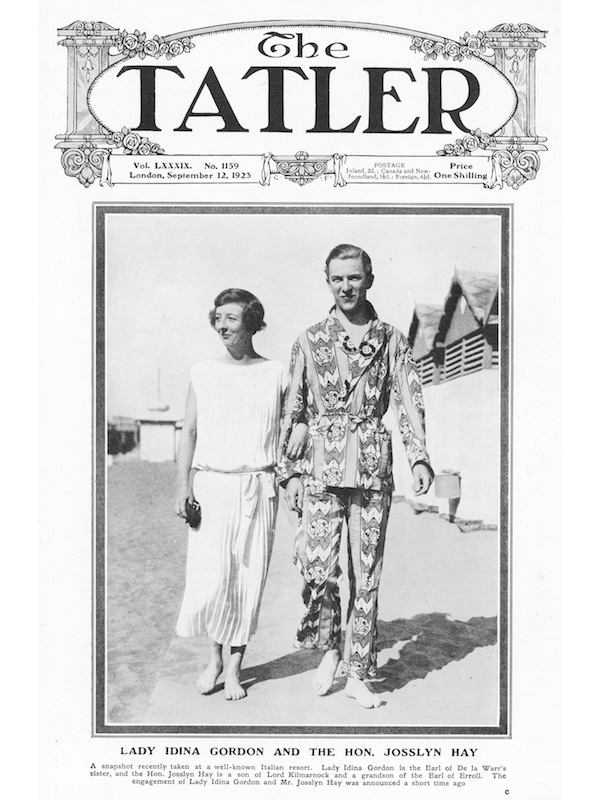 Extraordinary as his life was, Hay didn't become a household name in the British press until late January 1941, when his body was discovered kneeling in the front passenger footwell of his car, with a bullet wound behind the ear, on the outskirts of Nairobi. The tongue-wagging furore in the wake of the murder was comparable to more recent cases, such as those of O.J. Simpson and Oscar Pistorius. Conflicting theories raged as to both the murderer and the motive, and continued  to do so for six decades. Was it a crime of passion committed by Sir 'Jock' Delves Broughton, with whose wife — Diana, Lady Delves Broughton — the earl had been having one of his many affairs? Had Diana herself shot her lover because he attempted to terminate their relationship? Or — the juiciest theory of all, by some stretch — was it a political assassination based on Hay's right-wing connections? "There have even been claims that Erroll's death was due to a secret service conspiracy," according to Christine Nicholls, author of Elspeth Huxley: A Biography — a comprehensive chronicle of colonial Kenya — "and that he was executed because he was suspected of collaborating with the Germans in wartime and belonged to a renegade group including the Duke of Windsor and Rudolf Hess. People have always been enthralled by this mystery." Delves Broughton was brought to trial months after the death. The word 'motive' hung above his head in flaming italics — Hay having been one of his wife's lovers — yet he was acquitted and returned home to England. A few days after his arrival, he too committed suicide, by injecting a lethal overdose of morphine in a bedroom at the Adelphi Hotel in Liverpool. This, naturally, got scurrilous tongues wagging even more fervently. Finally, new evidence — a tape recording, made by the son of friends of Hay, Diana and Delves Broughton, and giving an account of how the murder was carried out — was provided to Nicholls while she was researching her book in 2007, and seemed to prove unequivocally that Delves Broughton was, indeed, the killer. The mystery might have been solved, but the intrigue still burns: James Fox's book White Mischief, on which the aforementioned movie was based, has never been out of print since its publication in 1982. If there is a moral to this story, it is, alas, a rather priggish one: next time some Pecksniffian pillock tells you that money, mind-benders, privilege or an inexhaustible supply of inconsequential sex will never bring anyone happiness, you may have to consider the eventual tragic fates of so many of the Happy Valley set before planting a fist firmly into their snozzle. But it would take a prissy soul not to fantasise just a little about what fun it would have been to attend one of those heady evenings at the Muthaiga Country Club, some time at the height of that remarkable two decades in what is now an obscure corner of a former British colony.