Holy Smokes: The Art of Ageing Cigars
Ageing cigars requires patience and precision. The Rake's resident habano sommelier provides the best way to experience a vintage cigar.
I'm not sure who first had the idea that ageing cigars would make such a difference to their taste (and value), but it probably wasn't a Cuban. Cubans understand the need to age their tobacco before they roll it but that's it. Indeed, up until recently, Cubans believed in smoking cigars "fresh", which meant within a year or so of production. I remember the second time I left Havana, I was mooching around the duty free cigar shop at the airport and staring through the glass like a snotty nosed schoolboy pressing his nose up on the window of a sweet shop (because they don't let you into the walk-in humidor there). In the right corner of the humidor, I spied a rather old looking box of Cuaba Diademas. I asked the assistant if I could see the box, her reply was intriguing, "these are no good, they're not fresh". The answer stumped me and I asked if I could see the box anyway. She wasn't very helpful but, showed me the box through the glass (she wouldn't even let me touch it). As she showed me the underside, I tried to stifle my smile as I saw the date 04 stamp. A 10 year old box of five individually cedar wood boxed Cuaba Diademas for 92 cuc (convertible Cuban currency) which at the time was about £65. Needless to say that box was purchased and sits in my humidor still, as I'm waiting a few more years before enjoying them. The art of ageing cigars is not about just leaving them and trying them 5-10 years later. The cigars
must
be kept at constant levels of temperature and humidity. There are several schools of thought as to which is the best method of ageing cigars and the decision on how you wish to proceed is totally up to you, the options follow thus;
- Constant temperature, 16-20 degrees centigrade and 65-70% humidity
- Constant temperature, of 16-20 degrees centigrade but a lower humidity level between 50-60%
- Lower temperature of 9-12 degrees centigrade and a constant humidity of 65-70%
We at the Edward Sahakian Cigar Shop use option 3 to age our cigars. It's the method that Edward Sahakian, owner of Davidoff of London, has used for over 35 years and few would argue about the quality and taste of his vintage collection of cigars.
What I'm smoking today:
Cigar: Cohiba Lancero
Vitola name: Laguito no.1
Dimensions: 8 x 7.6" (192mm)
Strength: Medium
Smoke time: 1 hour 40 minutes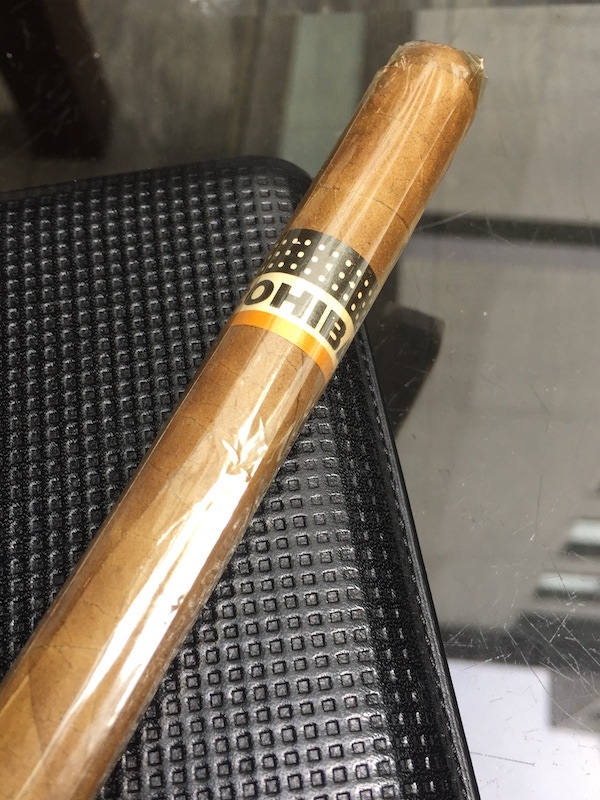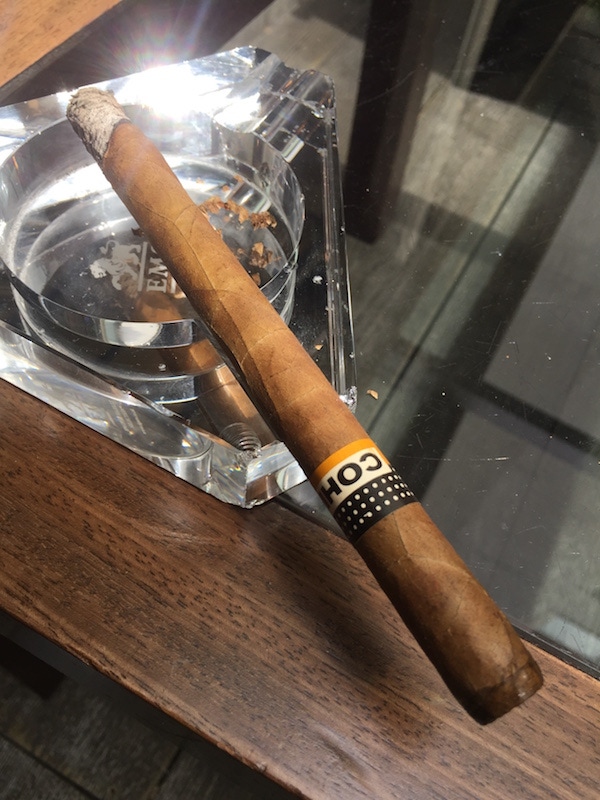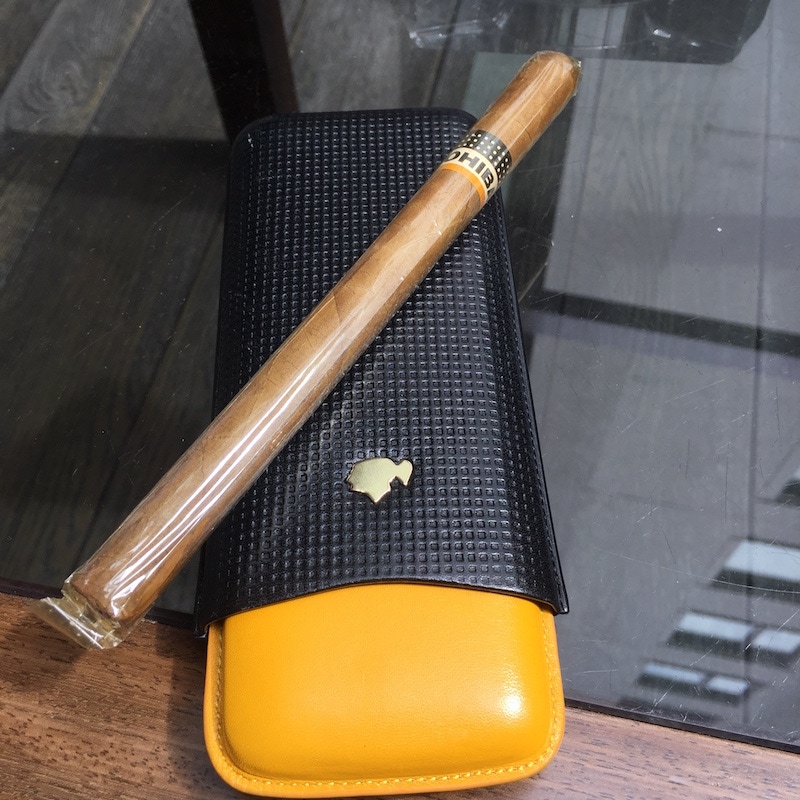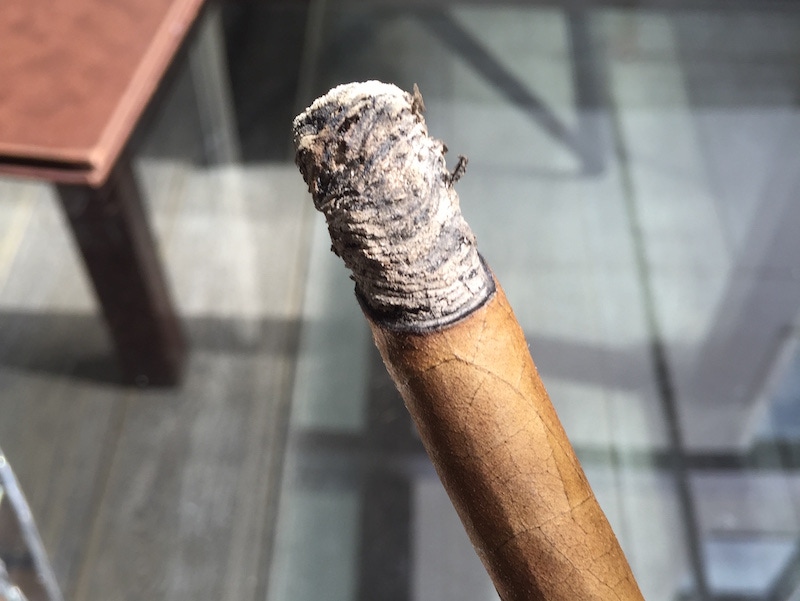 Given that the Cohiba brand has reached its 50th anniversary this year, it feels quite apt to smoke a Cohiba for you, and a vintage one at that. I won't bore you with the history of Cohiba but I'm sure you know it was created exclusively for Fidel Castro in 1966. Initially there were only three sizes rolled - the favourite sizes for El Commandante. The Lancero is a classically elegant cigar and a format I love to smoke. As the both the New World and Cuba continue to make larger ring gauge cigars, I find myself seeking the opposite and smoking 50 and below ring gauge cigars. There's more skill required to roll a slender cigar and the blends are slightly different for a slighter smoke as well. In any case, I've found a cellophane wrapped Cohiba Lancero from the mid-80's in my humidor. Cellophane wrapped Cuban cigars were the norm from the mid 1930's to the early 90's. In 1992, the procedure changed and cellophane wrappers are now only used on machine made cigars. As I have learned, cellophane wrapped cigars age remarkably well and are now sought after by collectors (machine made and handmade versions). A pigtailed cigar just oozes elegance and style. This type of cap finish was only used on the best cigars by the best rollers. The band is circa 70-90's and is printed not embossed. The initial smell of the tobacco is a little muted, not earthy and woody like some cigars I've smelt from the 60-80's. This may be the cellophane effect. I press the cellophane and as I push out the air I can distinctively pick up a strong sweet cocoa aroma. A sign of things to come? The wrapper is typical of Cohiba and although it doesn't have an oily shine like a fresh cigar, it's a fine wrapper with just a couple of thicker protruding veins. The colour is even throughout. The old band looks resplendent on this cigar. The cigar feels in good condition with just the right amount of spring to the touch. I use a straight cut and I'm happy that the cut is clean and there isn't any damage to the cigar, which can happen on older cigars as they dry out a little. I normally moisten the cap in my mouth with older cigars, this often helps the cutting process to make sure the cutter doesn't crack the cap.
"There's more skill required to roll a slender cigar and the blends are slightly different for a slighter smoke as well."
The draw is a little tight and the pre-draw flavour has a slight menthol note. I light up with my DuPont Defi-Extreme lighter. I think I'm a little unlucky with this cigar as it's definitely more on the tight draw side but I will persevere for all
The Rake
's readers. The cigar starts with a little uneven burn but, I am smoking on a terrace with the retractable roof open. I just rotate the cigar and hope it catches up. Smoke production isn't great due to the tight draw. The flavour is a little light in the first third – but one should always be patient and not judge a cigar from the first inch, it needs time to really develop. The ash falls after an inch, I do get that distinctive Cohiba taste as the finish is smooth and round but not the strength I expected. Entering the second inch there's a little pick up in flavour. The head of the cigar is very tight and I think that's the root cause of my difficult draw. The rest of the cigar is softening up as I smoke which is normal. I'll resist cutting to see what happens. Half way through there's a noticeable flavour change. The strength has picked up and there's a sudden hit of grass. Wow. The burn has evened out without touching up and the ash is firm and light grey. In the final third I've made a thin recut and that's helped the draw a little. There's definitely some nicotine left in this cigar. My lips are tingling a little. The flavour is still a medium at most and there's a sweet nuttiness coming through. The retro hale is very smooth which is normal with older tobacco. I always find with young cigars, the nasal burn stops me from doing it many times. Woody and nutty, yum! Although the draw has been testing, I really have to recommend trying a cigar like this or the Corona Especiales. There's an old world elegance to smoking a slender gauge cigar which you don't get from smoking something like a Texas Lancero (Alec Bradley 70 x 7"). Of course, each to their own - this is just my personal opinion.
COHIBA LANCEROS CELLOPHANE WRAPPED
APPEARANCE: 9/10
The Cohiba Lancero looks magnificent in this format and you can easily imagine Castro reaching for one of these in his breast pocket. Don't be fooled by the cellophane, it doesn't mean it's cheap. The overall look of the cigar is first class, particularly the pigtail cap. The wrapper is fine, has even colour throughout and just a few veins. The ash is a decent soft grey.
CONSTRUCTION: 7/10
It was let down by a tight draw which I struggled with initially and perhaps I should have recut sooner rather than later in this instance. Admittedly as a slower smoker, it wasn't the end of the world, but after two thirds I was tiring from the effort required to draw. The cigar did everything except draw well. The cap was well made and was firm throughout with no soft spots which would indicate under filling.
SMELL AND TASTE: 8/10
Like a good racehorse, the flavour and development of this cigar waited till the last few furlongs before coming in to its own. It was a long wait for the flavours to develop, but they did grow into exactly what you would imagine an aged Cohiba to taste like. Aged Cuban tobacco is a delight to smoke; it really does get better with time, the longer the better. There are those who say that ageing is just hype and that it makes no difference. I won't argue with this, but until you undertake a side-by-side smoke comparison you can never truly know how a cigar will change over time. Personally, I would always recommend trying an aged smoke, you never know how it might surprise you.