Holy Smokes: Aging Room Solera Fantastico
In a bid to prove that the tobacco blending scene is not all about Cuba, The Rake's smoking specialist indulges in a superior cigar from the New World.
There are a few who call me a Cuban cigar snob because of what I do but, in reality, I'm more open-minded than many British smokers. It has taken me a while to adjust my terms of reference and palate to learn and begin to understand the complexities of New World cigars. I'm only just starting to make inroads into the myriad of New World cigar brands available. Every time I pick up a copy of Cigar Aficionado or Cigar Journal, I recognise maybe 25% of the cigar brands tested. What I did learn early on, was that the tobacco blenders outside of Cuba have so much more to work with and have an even more difficult job bringing together tobaccos from all over the world. And let's not start with construction. Hands down, the New World brands have much better quality control and far fewer problems with plugged cigars. I've decided to review a cigar which is new to the European market. It was only released at the IPCPR show in Las Vegas in July and at Intertabac in Dortmund in the middle of September. Ladies and gentlemen, I have the greatest pleasure of presenting to you
The Rake
readers, the Aging Room Solera Fantastico! Before you say, it's just another big New World cigar with a big cigar band, cool your jets and let me explain.  Aging Room cigars are produced by Boutique Blend Cigars, which is owned by the extremely talented Cuban born Rafael Nodal (no, not the famous tennis player but, it's surprising how many hotel upgrades he gets when people make that mistake). Rafael is a true artisan in every sense of the word. Not only does he have a multi-award winning boutique cigar brand but, he's also an accomplished musician. Music influences many of his brands, names (La Boheme, Espressivo, Major, Forte, etc.) and designs. Aging Room are well known for making small batch releases; once they're gone, that's it. The concept of Solera (translates to "on the ground") ageing is not new; sherry has been made this way since the 18
th
century.  However, it's never been applied to tobacco maturation.  The concept was conceived over a dozen years ago, after Rafael and his wife Alina visited Andalucía, Spain. Rafael said that he was intrigued by the Solera system and as he learnt more about it, he decided he wanted to apply the same principle to the ageing of tobacco.  It took many experiments, but the result is a filler made from 1, 3 and 5 year old tobaccos which have been "sandwiched" together in a pile.  The 3 tobaccos are changed around when necessary.  Rafael found that all the tobacco had an effect on each other and helped age it quicker. Fast forward 12 years and numerous failed experiments,  Rafael proudly released this Solera cigar brand to the trade in July 2016. "The ageing of tobaccos from different vintages," said Rafael Nodal, "ensures the marriage of flavours and characteristics from different tobaccos, creating a unique cigar." Another fun fact about the Solera range is that Rafael has decided to make four different lines, but they will have the same filler and use different wrappers, a bold project to say the least. Four wrapper options are available for this line:
- A Dominican Sun Grown leaf (yellow band)
- Mexico San Andrés Maduro (white band)
- Dominican Coro (red band)
- Ecuadorian Shade Grown (orange band)
There are 3 vitolas to choose from:
- Festivo 52 x 4.7 with Pig Tail head
- Fantastico 54 x 5.6 with Pig Tail head
- Fanfare 57 x 6.125 Semi-Belicoso head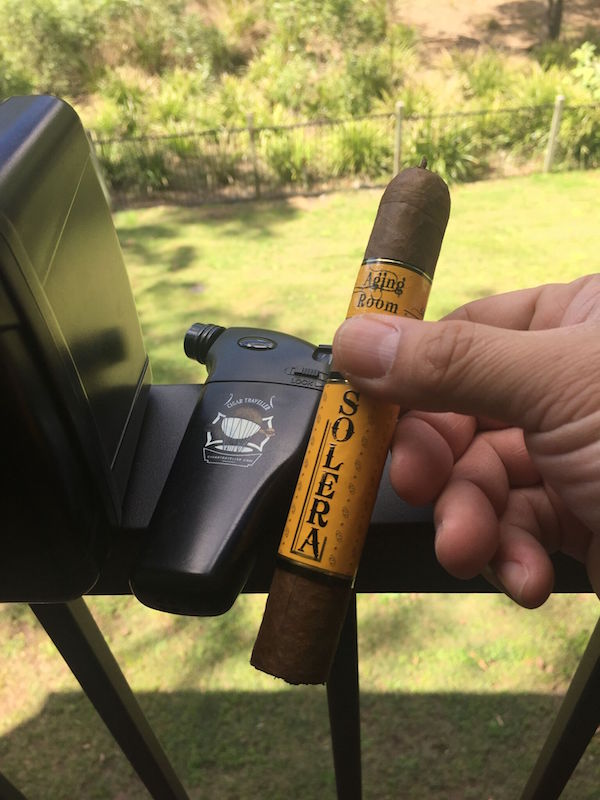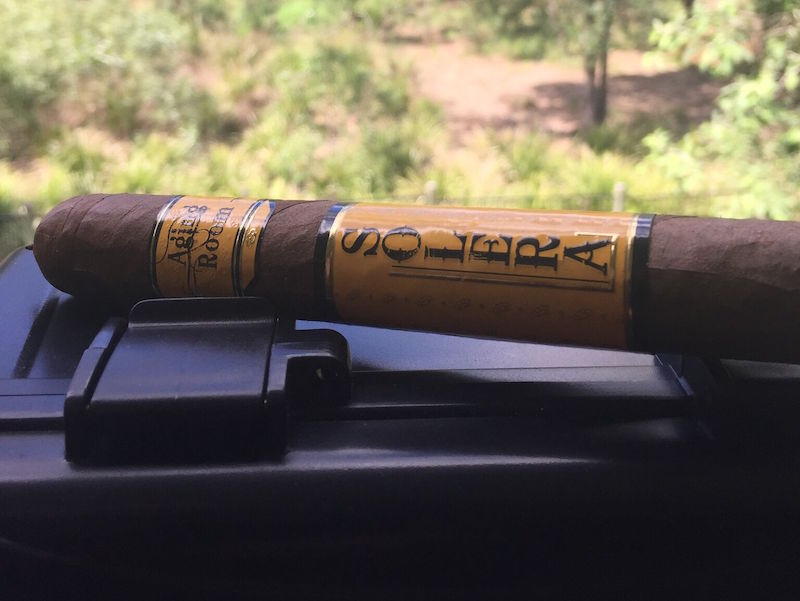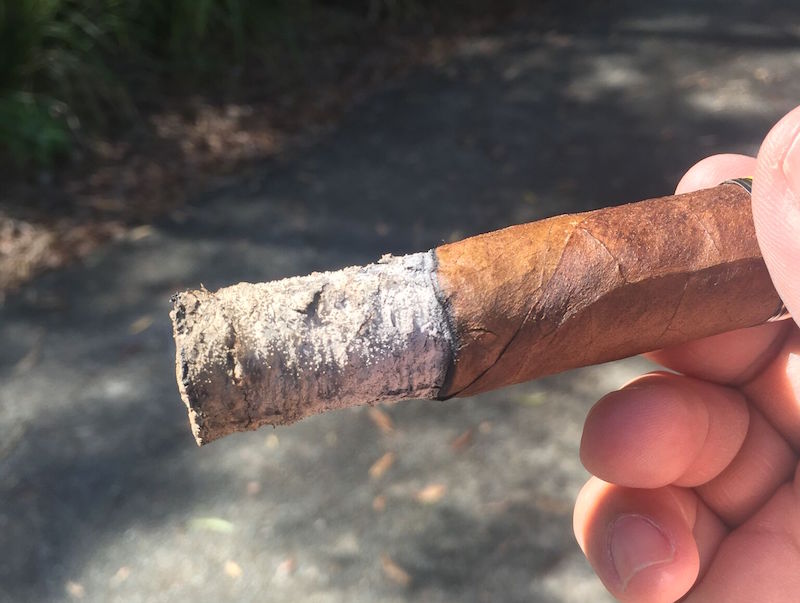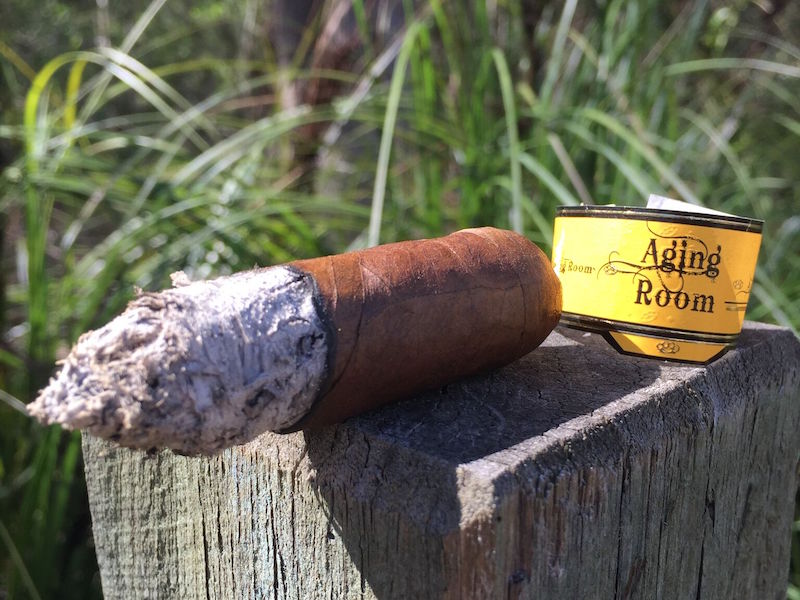 Aging Room Solera Dominican Sun Grown Fantastico
Vitola: Fantastico Size:  5 5/8" (143mm) x 54 Wrapper: Dominican Sun Grown Binder: Dominican Habano Filler: Dominican Habano Box size:  21 dress box, uncellophaned Smoke time: 1 hour 5 minutes
APPEARANCE: 9.5/10
One of the first things I notice is that the Solera comes without a cellophane wrapper.  Not many New World cigars go against the norm.  This has no bearing on anything else, I've just never been a fan of all the cellophane wrapping on New World cigars (in Cuba now, cellophane wrapped cigars are only machine made ones). I'm looking at a first class Dominican Sun Grown wrapper that is smooth with just a few fine veins. The colour of the wrapper is reminiscent of a classic Cuban Montecristo with that slight hint of red in colour. It has a single cap that is twisted into a small tail but not quite a pigtail as it isn't twisted. The yellow colour of the double bands was chosen to reflect the "sol" reference in the "solera" name.  The double bands cover just over half the cigar, it's a little excessive for me. The ash is white grey and looks very solid as it reaches the one-inch mark.  I also notice that there are virtually no cigar rings on the ash.  Even though I'm smoking outside, the burn is perfectly even and the ash is straight as an arrow – impressive.  This is consistent throughout and even in the last third of the cigar, the ash colour and pyramiding is the same.
CONSTRUCTION 9.9/10
I squeeze the foot of the cigar and it bounces back easily.  This shows the quality of the construction of the cigar.  There's plenty of give so I think it has been well rolled and not over packed.  All indicators point in the direction of a good draw.  There are no soft or hard points along the length of the cigar. The pre-draw is everything I expected from a New World cigar.  It feels open and pretty easy. The ash is white grey and very solid looking with literally no cigar rings in the ash – is this what happens when you use a solera system on the filler tobacco? Note to self, must try another. Throughout the burn of the cigar, even being outside, the burn has been incredibly even and slow.  I've been tapping the ash in 2" lengths but, I'm sure I could have made a fine long ash with this well-constructed cigar. The smoke was cool in the first third and rose to warm in the second.  In the final third, the heat picks up a little but there's a noticeable increase in nicotine as the tip of my tongue is tingling.
AROMA AND TASTE 9.4/10
The aroma of the foot is sweet and woody. There's that definite non-Cuban tobacco smell, which I always find difficult . The initial flavour after lighting is dark chocolate and has just a hint of underlying sweetness as I light up. There's a touch of bitterness which disappears after the first few millimetres. The cigar settles quite quickly into a good medium bodied cigar.  There's a  natural sweetness that follows, that reminds me of honey or maple syrup. In the second third, I try a couple of retro hales.  I was expecting the eye watering, nose stinging harshness of a young cigar but, I was very pleasantly greeted with a woody sweet retro hale.  My eyes watered a tiny bit as there was an initial sting from the smoke but it didn't last. I have to say that I am really enjoying this cigar in the beautiful sun in Brisbane, Australia.  It's a peaceful location in which to enjoy this cigar with my makeshift ashtray and bottle of water. Even after Intertabac, I'm still enjoying New World cigars.  That chocolaty flavour is back and it's in the form of a dark chocolate Hob Nob biscuit, yum yum.  Picking up notes of dark chocolate, honey and that sweetness of the biscuit.
OVERALL: 9.6/10
I've tasted aged Cuban tobacco before but, nothing with the ingenuity of the Solera tobacco maturation system. Brands like Aging Room are really pushing the boundaries of what can be done with tobacco from different countries.  Their New World blending skills, in my humble opinion, are superior to Cuban blenders.  Choosing tobacco from countries like Dominican Republic, Nicaragua, Brazil, Mexico and Honduras and being able to blend them together to make a balanced, flavourful and complex cigar is just an amazing skill.  I really look forward to the day New World brands can use Cuban tobacco in their blends – flavour explosion alert! The packaging and cigar bands are bright, simple and elegant.  The lack of cellophane wrappers is a big plus for me. The quality of the wrapper is evident - no blemishes, damage or colour irregularities and thin fine veins. Construction wise, I really couldn't find much to fault the Fantastico.  The roll was first class. The tobacco burnt evenly throughout, no touch ups required with a lighter.  The ash was beautiful white grey, stayed solid throughout and pyramided. I was pretty impressed with the flavour, it was rich, medium bodied and complex.  I really enjoyed the dark chocolate, honey notes. The flavours did change a little but, I was more than happy with the overall flavours.  No sign of youth, little harshness or bitterness except in the beginning. Flavourful and balanced spring to mind.  It reminded me a little of another Dominican made cigar I smoked on my last trip to New York City called the Quesada Oktoberfest 2016. As long as you approach New World cigars with an open mind and not to compare them to a Cuban cigar, there are many great brands out there which could surprise you. I really am happy to recommend Aging Room Solera as well as the Bin no.1 and La Boheme lines. I look forward to trying the Solera Mexican San Andrés Maduro wrapper Fantastico as the Mexican wrapper is widely regarded as being one of the best in the world.
Many thanks to:
Rafael Nodal – Owner of Boutique Blends Cigars,
www.agingroomcigars.com
. Juan Cabello – Director of Gift International Ltd