Holy Smokes: Cigars From The Exotics
Cigar sommelier Mike Choi dips his toes in the New World of exotic smokes from the Dominican Republic.
Now who said "good things come in small packages"? I pondered this question as I opened a package from Scott Vines of Tor Imports. When it comes to New World cigars (a generic term I use for any cigar not made in Cuba), I'm a novice. I turn to Scott Vines, with whom I've had the pleasure to work with in the past on an event at the Edward Sahakian Cigar Shop and known for several years. His company, Tor Imports, has the distribution rights of a number of New World cigar brands as well as accessories. I asked Scott to send me something that matches June's travel & speed theme for The Rake magazine but nothing too large in the ring gauge. La Flor Dominicana (LFD) was founded in 1996 in the city of Santiago in the Dominican Republic by Litto Gomez. Litto was a former jeweller who turned to cigars, after being robbed at gunpoint in his Miami shop. Litto always cuts a swathe through crowds with his trademark Panador Panama hat, sun tanned skin, impeccable grooming and Hollywood smile. His passion for cigars is unquestionable and it's no surprise that his son, Antonio, is also involved in La Flor Dominicana. I was thoroughly looking forward to trying this cigar, having just returned from a weekend in New York, where it's impossible to buy any Cubans legally, as the U.S. trade embargo with Cuba is still in place. I got to smoke some very interesting cigars (La Hoya, Don Donato and Arturo Fuente) from the New World and buy some of the brands I had only read about (Protocol, Freyja and Senorial). People may think I'm a Cuban cigar snob but, the main reason for this is that Cuban tobacco was my first taste and in the UK, Cuban cigars are readily available everywhere, whilst New World cigars make up around 15% of UK cigar sales. This may be small but it is certainly growing. Thanks to people like Scott Vines (Tor Imports), Paresh Patel (Havana House), Mitchell Orchant (Cgars Ltd) and Hunters and Frankau who are pushing a small number of New World brands to the UK cigar scene. If you haven't smoked a New World cigar then you must. Open your mind and taste buds to something different. New World brands have a few advantages over Cuban cigars (oh man, I'm going to get shot for saying this): They can blend tobacco from all over the world to produce uniquely flavoured cigars, whilst Cubans only have one type of tobacco to blend.
Quality control is second to none. Better rolling practise and quality control means that New World cigars are usually faultless from a draw and plugging (a blockage in the cigar usually due to twisting the tobacco by the roller)point of view. Cuban cigars are known to have a 10-20% failure rate from a box of 25.
The Facts
Cigar: La Flor Dominicana Chiselito Maduro Double Ligero
Production year: 2014
Country of manufacture: Dominican Republic
Tobacco: Wrapper – Ecuadorian Maduro, Binder: Dominican, FIller: Dominican
Vitola: Chiselito, 44 x 5"(127mm))
Smoke time: 60 minutes
Strength: Medium Full
Box size: 20 cellophane wrapped cigars
RRP: £10.30 each
Cutter: 2 finger method
Lighter: DuPont Defi-Extreme jet lighter
APPEARANCE 9.5/10
The LFD Chiselito is a strangely shaped cigar and pretty unique in the cigar world. The shape apparently came about as a result of the way Litto smokes a cigar. Apparently, he was smoking a figuardo and was so deep in thought he didn't realise he was chewing it a little. When he took it out of his mouth, he admired the shape and the Chisel was born! The head is a very odd shape; it looks like a figuardo (piramides) that's been sat on accidentally, or like the end of a flute. Litto is well known in the industry as being one of the most innovative cigar makers and this design is attention grabbing for sure. The ominous large black band says "Double Ligero". Ligero is the strongest flavoured tobacco and also the slowest burning filler tobacco. Normally a cigar contains only one or part of a ligero leaf in the filler, so if LFD have doubled the amount of ligero in the cigar, this could be very strong and powerful.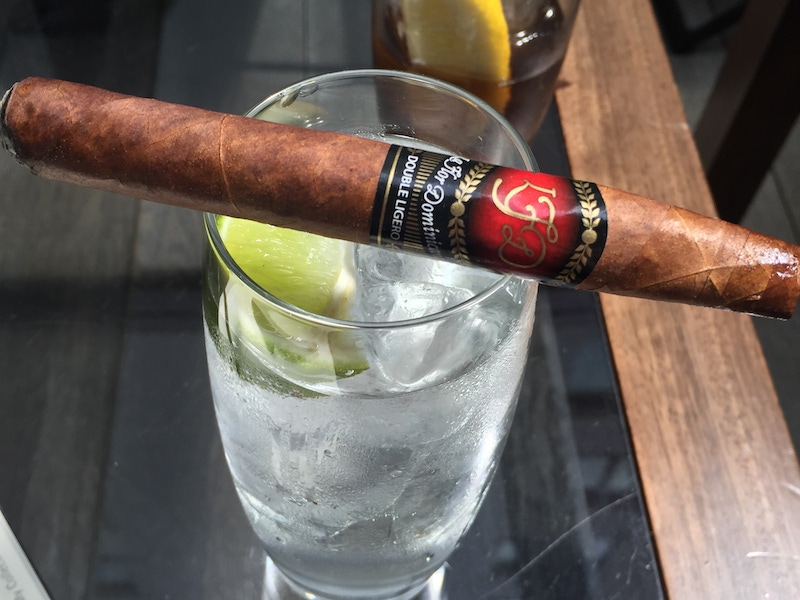 CONSTRUCTION 9.5/10
Having never smoked a cigar this shape, I decided to Google some help. Luckily, Litto had made a YouTube video on the correct way to cut the cigar. Have a look at the link below, it's quite unique. I performed my standard 4 squeeze point test and the Chiselito is firm and packed well. No soft spots which are a sign of under filling.I decided to follow the Master and use the two finger pinch method to remove the cap. Punching and cutting just didn't seem right. It is a strange way to "cut" a cigar but it really works. I actually wet the cap first in my mouth so that it would be a little more flexible and hopefully I wouldn't crack the cigar. Applying gentle pressure on both sides, the cap gave a gentle crack and it opened like popping bubble wrap. The draw is surprisingly easy - not what I was expecting. The flute-like end feels a little strange in the mouth, similar to a pipe but not as cold and hard. The initial burn was a little uneven in the first half inch, but instead of correcting it, I just let it burn to see if it corrected itself. I usually turn my cigar a quarter turn every few minutes just to even out any effect from the breeze when I am smoking outdoors. The cigar does correct itself and the burn is very even for the rest of the cigar. The ash is a light grey and firm and builds nicely. Smoke production throughout the cigar is good, which again surprised me, as the Chisel head is quite a small aperture. No relight or touching up was required throughout this cigar. I removed the band at halfway and it came off with ease in one piece. I must commend New World cigars on using a light adhesive to fix their bands on, it makes removal so much easier and you never worry about ripping the wrapper - unlike Cuban cigars which use vegetable glue. For a small cigar it took me longer to smoke than I thought. At 40 minutes I was only halfway. The double ligero effect?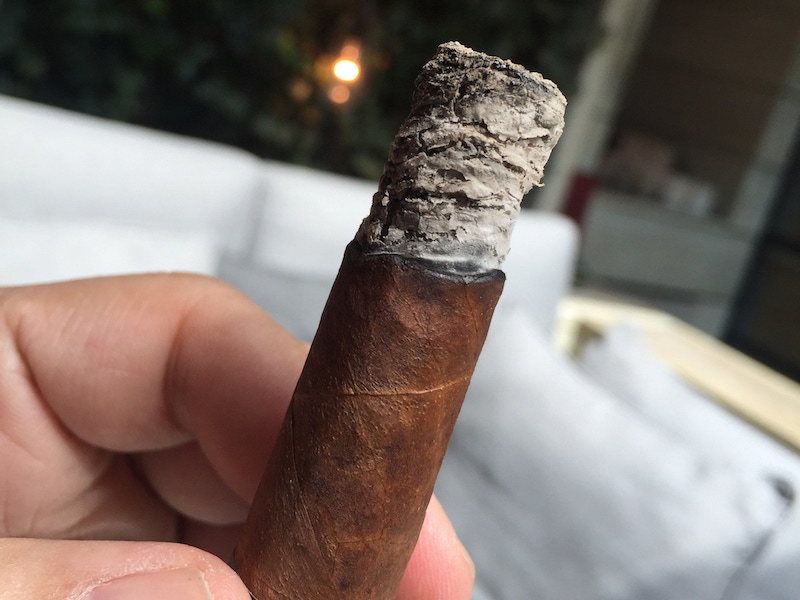 SMELL AND TASTE 8.5/10
After squeezing the cigar out of the cellophane, I smelled its aroma immediately. It's quite a strong smell which isn't typical of Cuban. The foot smells sweet and woody. The flavour on the cold draw is quite different to Cuban, rich and sweet with hints of spice. I was comparing it to the Oscuro version I tried in New York at the Cigar Inn with my friend, Sonia Smith. The Oscuro is a really powerful smoke, definitely not for a beginner. Within an inch the burn corrects itself. It's medium full from the start. The tongue tingles with a pepper burn. Not unpleasant but unfamiliar. The retro hale is surprisingly smooth and rich. This is a really smooth medium-full smoke in the first third. It's tasty and very enjoyable. A second retro hale at just over an inch and I feel a bit more strength in the exhale. My nose tingles a little more. Midway and the flavour is rounder now, not so spicy, a little sweetness has crept in. Hints of chocolate and coffee are predominant. Licking my lips, the chocolate taste is very strong now. The final third is still a cool smoke with less than 2" to go. The flavours have changed a little. The spice is back, dark chocolate, coffee and molasses. The strength is the same at medium full. Last inch. Warming a little on my fingers now. There is a lovely complex set of flavours at work here with lots going on across the palate. I would give the cigar an 8.5 on taste. It was a decent medium full strength cigar. It is rich and complex for a New World cigar.
Overall Score 9.2/10
A good score which reflects the high quality of this cigar in terms of construction and appearance. The flavour was good but just lacked enough change to really wow me. I'd happily smoke this during the day.
"Not for beginners" should be written on the box. The Chiselito is the little brother of the original Chisel. Don't let the size fool you, this is quite a strong cigar. I tried my first LFD Double Ligero Oscuro at Cigar Inn in New York and it quite literally knocked me off my feet. I was glad that the maduro version is medium-full strength. I liked the original shape of the head, it's different, although not the easiest cigar to hold in your mouth. I cannot fault much on this cigar; Litto Gomez deserves a pat on the back for great construction and blending. La Flor Dominicana is producing innovative and reasonably priced cigars. I've tried a few from their range and this is one of my favourite so far.
https://www.youtube.com/watch?v=XJ8eEGoGTB8