Holy Smokes: Cohiba Sublimes EL 2004
"I love my job" is something you'll hear me say and it's totally true. Ever since I made the move from bars and restaurants to cigars 4 years ago, I've never looked back. Thanks to Eddie Sahakian (Davidoff of London) who took a huge leap of faith and gave me the opportunity to take my hospitality skills into the world of cigars and to Edward (Owner of Davidoff of London and legendary cigar aficionado) and Eddie Sahakian or having the 2 best mentors in the world to guide me.
Cigars are my passion and life.
The Rake is celebrating opulence and decadence in the month of April, so I've chosen one of the first "legendary" smokes I've ever had. During my time as Bar Manager at Franco's on Jermyn Street, I was lucky enough to meet not only the Sahakian family but, many cigar lovers. Franco's had 4 tables outside and during the day there were many cigar smokers. One of whom was a Swiss/Korean chap who had an inexhaustible supply of vintage cigars and the ability to smoke everything with a long ash and to the nub. He invited me to a cigar and cognac tasting at The Ritz hotel about ten years ago, this was no ordinary tasting I found myself in. The small group enjoyed Louis XIII cognac and the Cohiba Sublimes EL (Edición Limitada) 2004 and I was hooked on both the spirit and the cigar.
A decade later, I've chosen the same cigar to start off this series of reviews.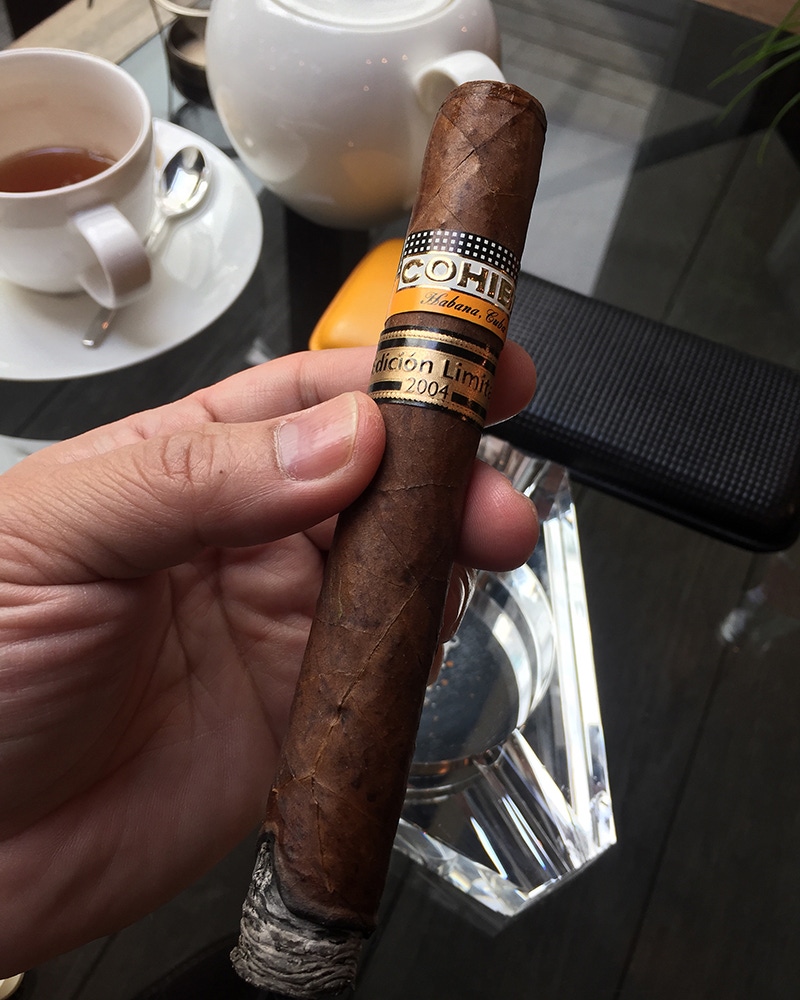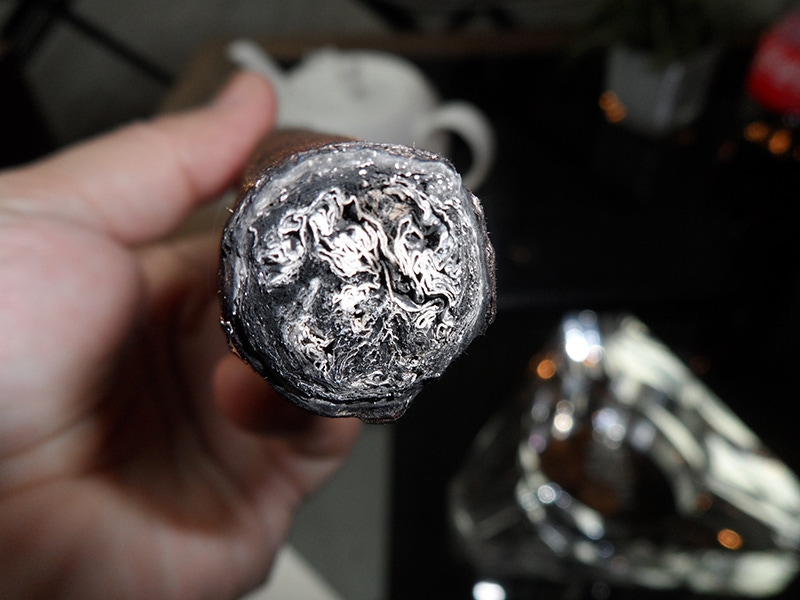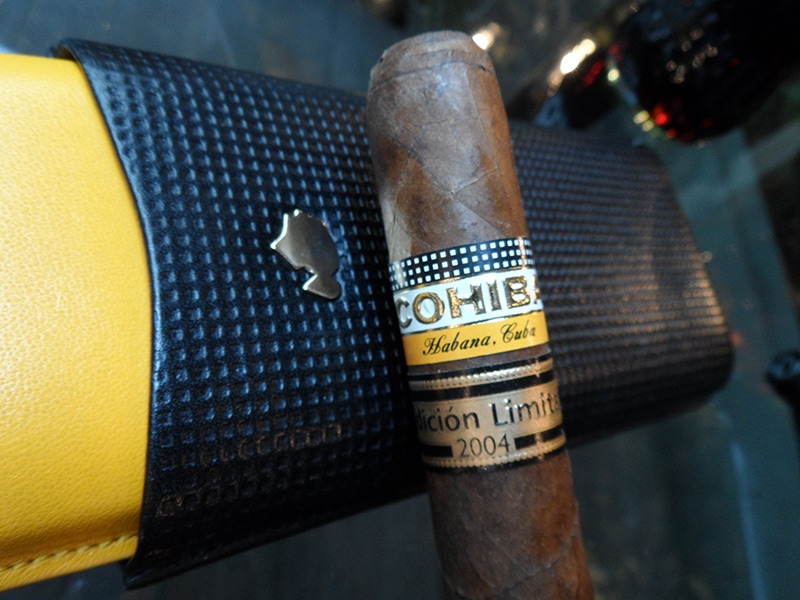 ---
The Facts:
Cigar: Cohiba Sublimes EL 2004
Release year: 2004
Handmade, Vuelta Abajo tobacco
Vitola: Sublime, 6.5" (164mm) x 54
Smoke time: 1.5hrs
Strength: Medium-Full to Full
Box size: 25, varnished boîte nature box
RRP: £250+ per cigar
Cutter: Xikar X8 double guillotine cutter
Lighter: Cigar Traveller torch
---
This is a big cigar for me, I don't usually smoke cigars of this girth as I tend to enjoy smaller ring gauge cigars. Probably quite an apt cigar brand to choose, since Cohiba celebrates its 50th anniversary this year. I can say it's always a pleasure to smoke any cigar from Cohiba as it is the flagship brand of Habanos SA.
Appearance 9/10
This cigar has been sitting in my humidor for a good few years now.  It has a lovely dark maduro wrapper, although there are a few darker patches along the wrapper which is just an aesthetic thing. There are a few veins on the wrapper but nothing too bad. Although dark in colour, the wrapper has lost its oily shine.  This is not uncommon on maduro wrapped cigars I have seen from Cuba. The cigar is adorned with the Cohiba embossed band of that period and a second black and gold embossed band below that, it reads "Edición Limitada 2004".
Construction 8/10
I always have a little bottle of hand sanitiser with me, as I do not like to handle cigars without clean hands. If I may offer readers just a few pearls of wisdom as a cigar retailer about handling cigars:
Sanitise your hands before handling cigars. Handle cigars with respect and care, they are fragile. Give cigars a gentle squeeze, do not try to pinch your fingers together as you will damage the cigar, you are looking for a cigar that will spring back into shape. DO NOT push a cigar up your nose to smell the foot or run the cigar along the wrapper to smell it – it's just plain unhygienic and someone else has to smoke that cigar if you don't. DO NOT roll and squeeze the cigar next to your ear.  You can make just about any cigar crack if enough force is applied, it doesn't sing to you and you can't hear the ocean.
This is a well-made cigar.  There are no soft points along the cigar, which means under filling.   It felt firm with just a little spring in it.  A gentle squeeze of the foot showed a relaxed foot, the tobacco had room to move a little (a good sign on the quality of the draw). The draw was just right, relatively easy but, with some resistance.  The burn was uneven due to a problem with the filler an inch in to the cigar.  It had to be corrected several times.  The ash was fairly firm and was light grey with thin lines of black throughout.  Smoke production was good throughout.
Taste 9.5/10
I use a traditional straight cut to give maximum surface area when I smoke.  Before I light a cigar, I always take a pre-draw. This not only readies my taste buds for what is to come but, it also tells me straightaway if this cigar will draw well (if you can't draw, you have a plugged cigar and need to change it as you won't have a good smoking experience). I get a deep rich earthiness taste on the pre-draw, hints of woodiness too. 
After using a torch to light up, I generally disregard the first couple of draws as you tend to feel the effects of the heat on the tobacco  - these tend to be bitter. The early flavours are dark and flavoursome, dark chocolate, roasted coffee and toasted peanuts. The strength of the tobacco is obvious from the start, straight into medium-full. The maduro wrapper adds a little sweetness to your palate. This cigar has aged well and, in my humble opinion, still has a few years to go before it really peaks in flavour.  Smoke production is good. It's rich and creamy on my palate. The aftertaste is smooth and velvety. Unfortunately about half an inch in to the cigar, a hole in the filler tobacco lead to an uneven burn throughout the majority of the cigar.
Entering the second third of the cigar, there's a slight change in flavour.  Some of the toasty notes are replaced with more earthiness and woodiness. The balanced flavour I'm getting is very characteristic of Cohiba, just with added strength and a little more sweetness in terms of dried fruit. As the cigar struggles to burn evenly, I focus on the flavour and it is everything I remembered and more. 
The strength is definitely intensifying as I finish the second third and enter the final third.  A little less sweetness now, the taste of leather has just made an appearance. This is a classic Cohiba style blend. The flavour story of this cigar is gradual rather than defined steps, as it should be with Cohiba.  Smoke production has been good throughout. The cigar has smoked cool too, this I put down to a good roll and being a slow smoker. In the final inch of the cigar, the burn corrects itself – hallelujah! The final third really is the where you taste the full strength of this cigar, it can take you unawares if you haven't prepared yourself for it.
Overall 8.8/10
If it wasn't for the uneven burn, this cigar would have easily scored 9.5/10. This is a rare treat and I was never let down flavour wise. Definitely a post-dinner cigar. This cigar has really gotten better with age and I look forward to smoking it again in a few years' time. I highly recommend smoking one of these if you are lucky enough to own a box or can buy them singularly from your local cigar merchant.