HOPE IN HELL
The internet sartorialist George Hahn cut Fox News down to size, and then went home to read The Rake. That's the kind of style we can all get behind...
For me, George Hahn is an unexpected delight in a topsy-turvy, unbalanced world that needs perspective, humour and great coffee. This raconteur du jour on the Instagram scene shot to prominence when he posted a video he calls the "78 seconds that changed my life". It was a satirical take on Fox News' insistence that, in the wake of George Floyd's killing, the metropolitan heartlands of America resembled war zones. In the video Hahn repeated these lines but added that it was a "hellscape" because the streets were lined with people "getting ice cream" and "having dinner". Then an editor in New York emailed me a link to a New York Times profile of a man pictured in his apartment with a copy of The Rake on show. Same guy! George is an unabashed sartorialist who, he says, "opened The Rake and said, 'Oh, I'm home'." He is invariably immaculately dressed in his videos, and has for years been posting on YouTube with tips for dressing. As such, he is a man after our own hearts, and a perfect subject for this column.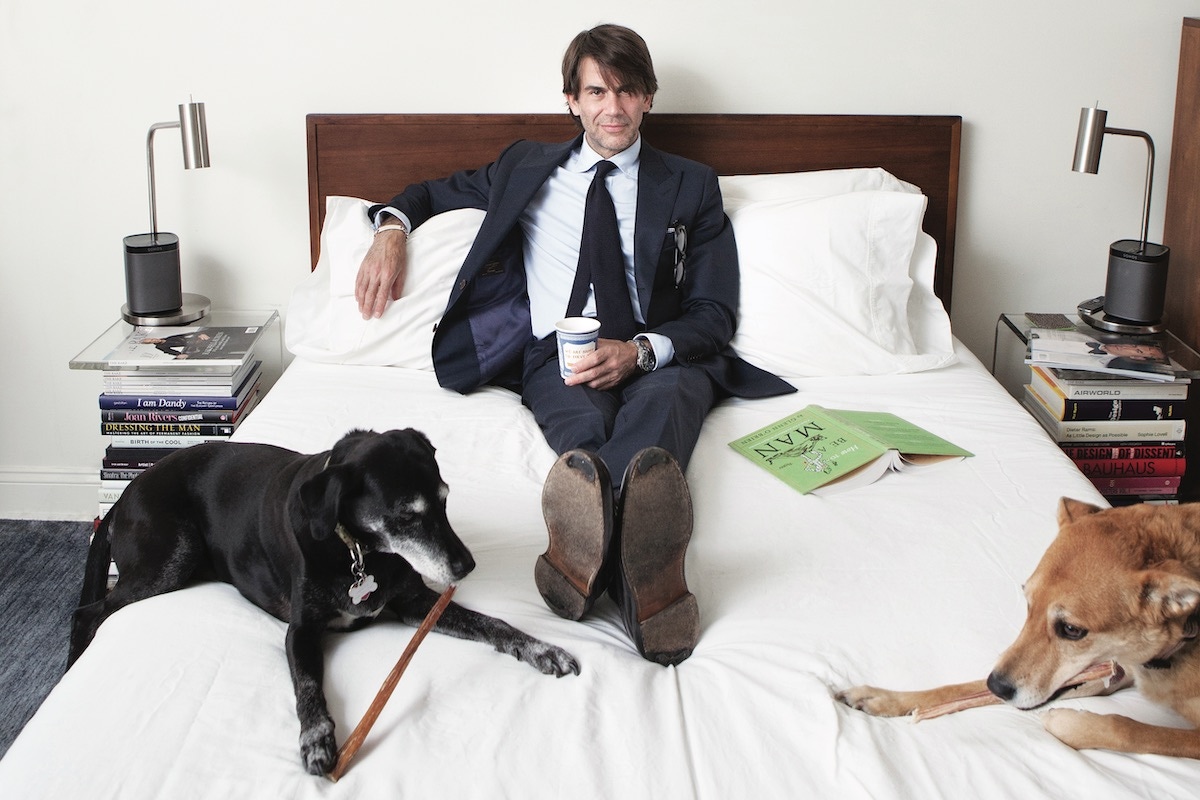 1. This silver cup was given to his mother as a gift when she was pregnant with George. "She gave it to me when I was old enough to not ruin it," he says. He still uses it, not for drinking but for keeping his collar stiffeners safe.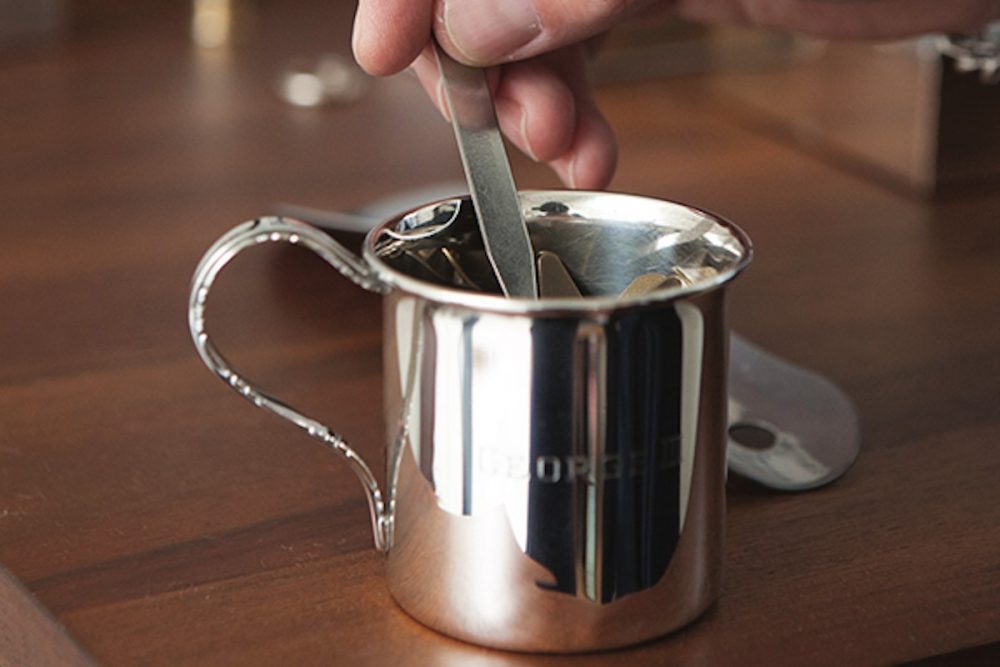 2. This is a steel sports watch from Mougin & Piquard. It keeps extremely good time, and the steel goes well with the silver and steel accessories he wear.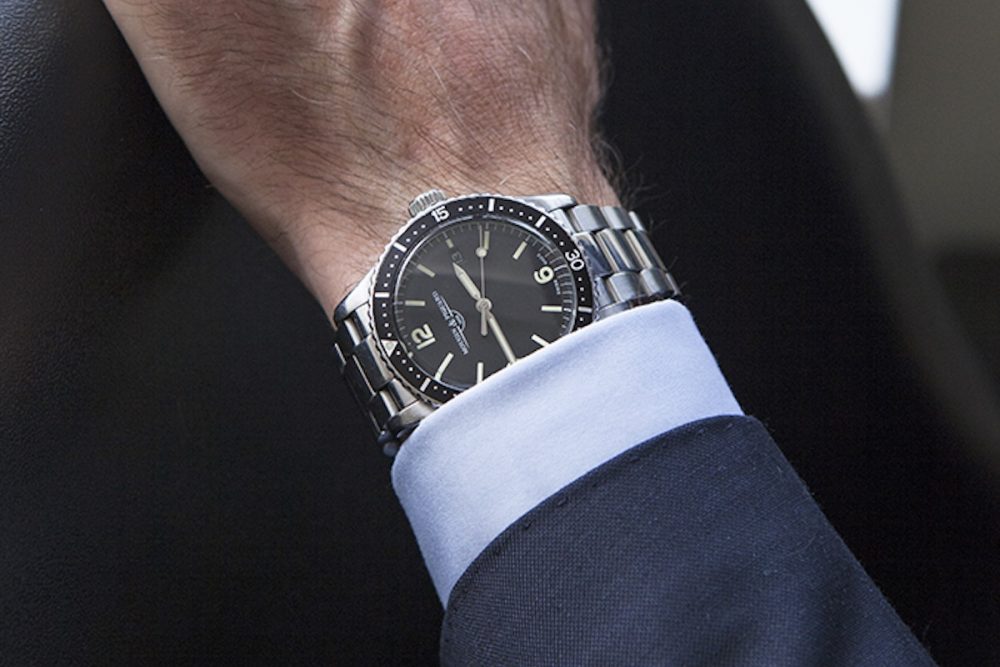 3. His stepfather, Bob, gave him this Swiss army knife for Christmas 10 years ago. "I love this thing, I use something from it a couple of times a week at least," George says. "I think every guy should have one of them."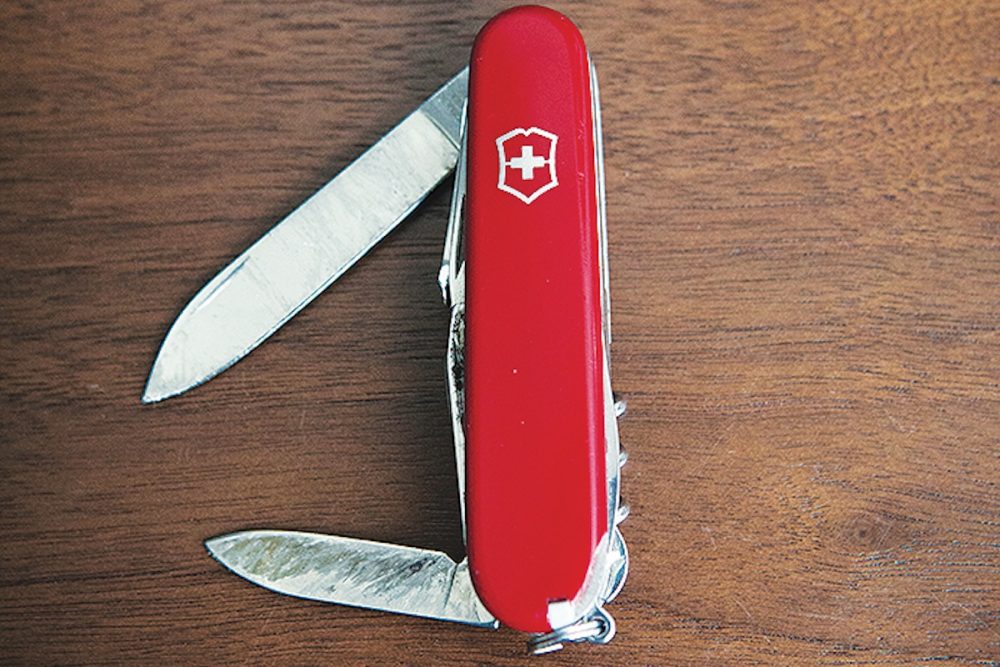 4. Another gift from his baby shower, an infant's hairbrush, and therefore the same age as George — only just over 50, would you believe? He has two dogs but cannot use this on them: "They require something much tougher."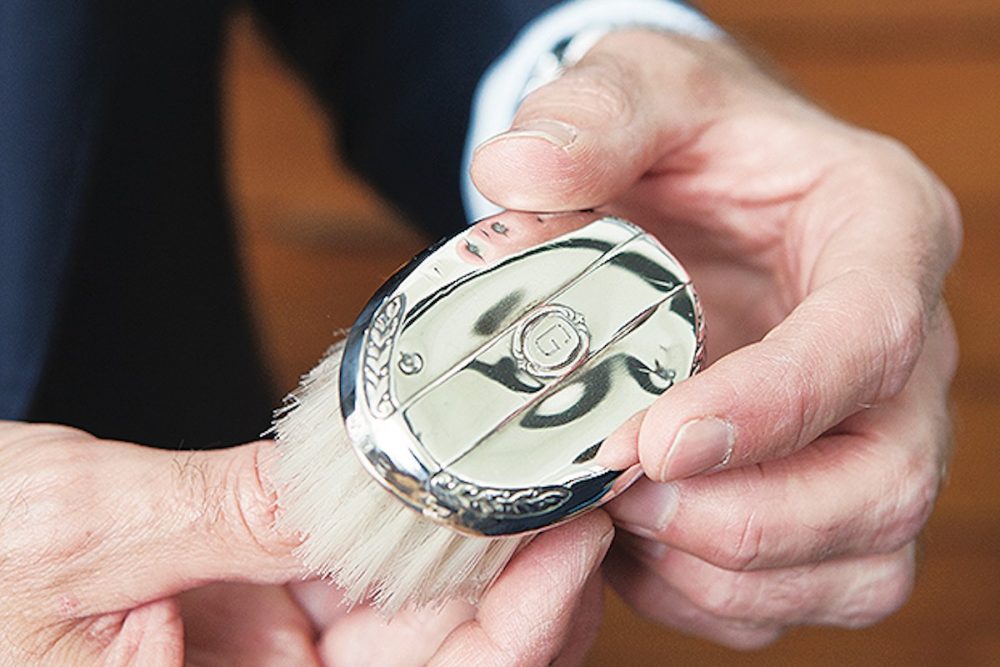 5. These are the typical out-and-about paraphernalia infant's hairbrushyou'd find on George when he takes to the Manhattan streets. The Field Notes book always goes in his right-inside pocket, the iPhone in the inside-left. The stationery is made by Ted Harrington at Terrapin Stationers, a family business in Connecticut. All jotted on with the Parker Jotter. "I like taking notes by hand, I always carry a pen," George says. And, of course, the Ray-Ban Aviator sunglasses to match.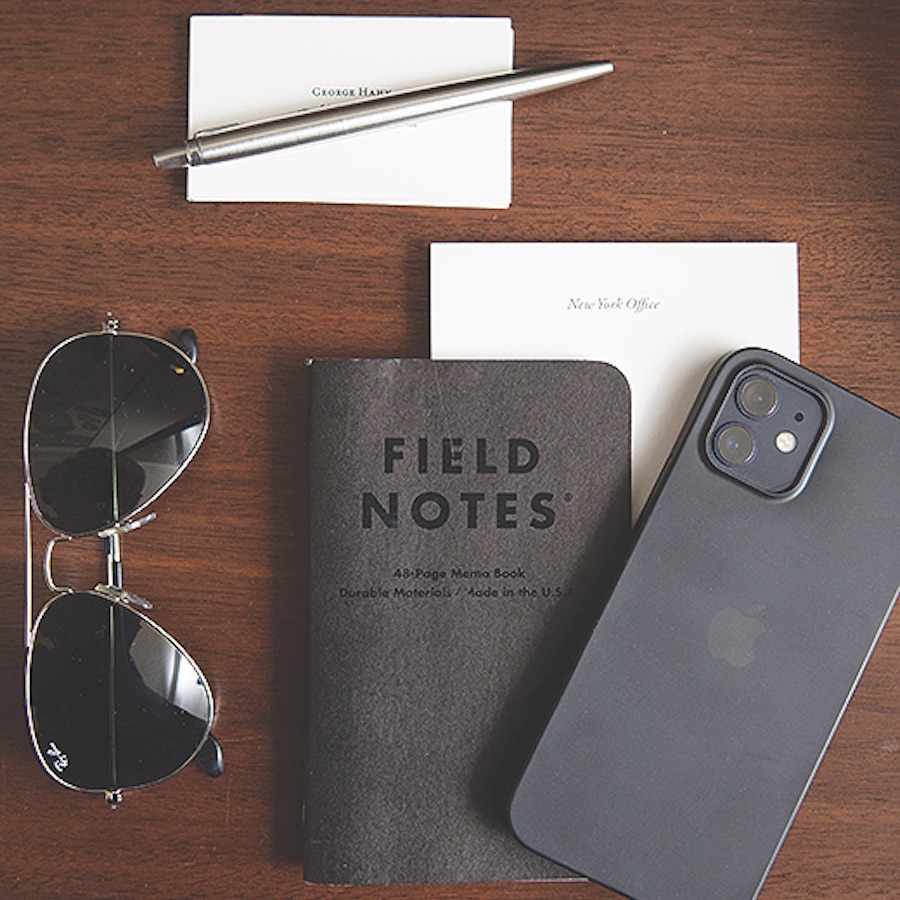 6. This 'bullet' is a trinket he inherited from his father. "He had a heart condition and used to carry his meds around in there in case he ever needed them. It is very precious to me."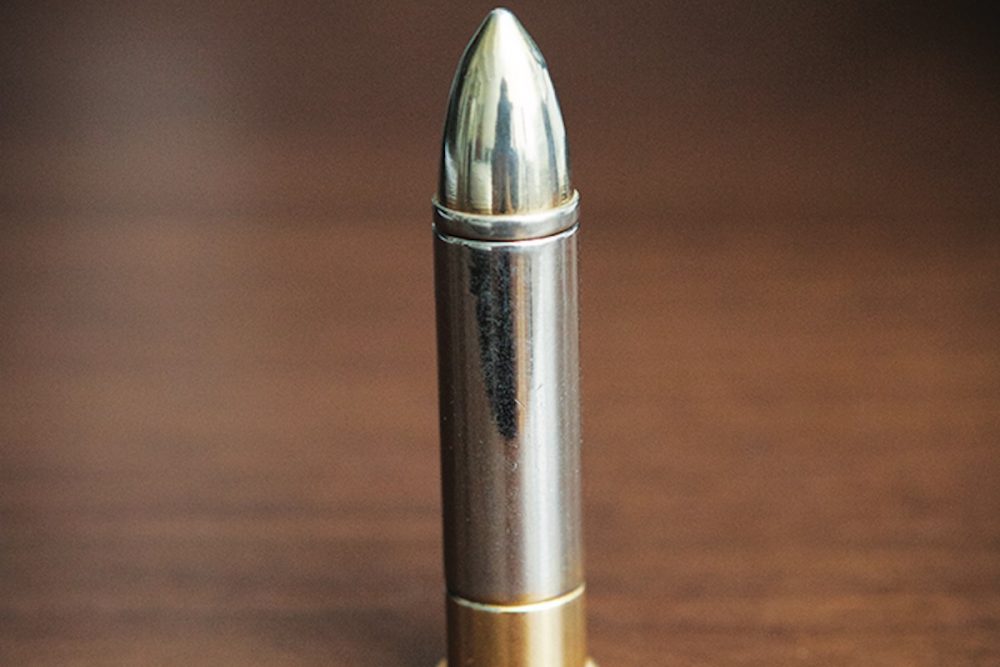 7. Silver skull-and-crossbones cufflinks from Fine & Dandy. "I am low on the bling," he admits. His bracelet in the main picture, as well as the watch, are about as far as things go. The bracelet is a medical bracelet given to him by a friend.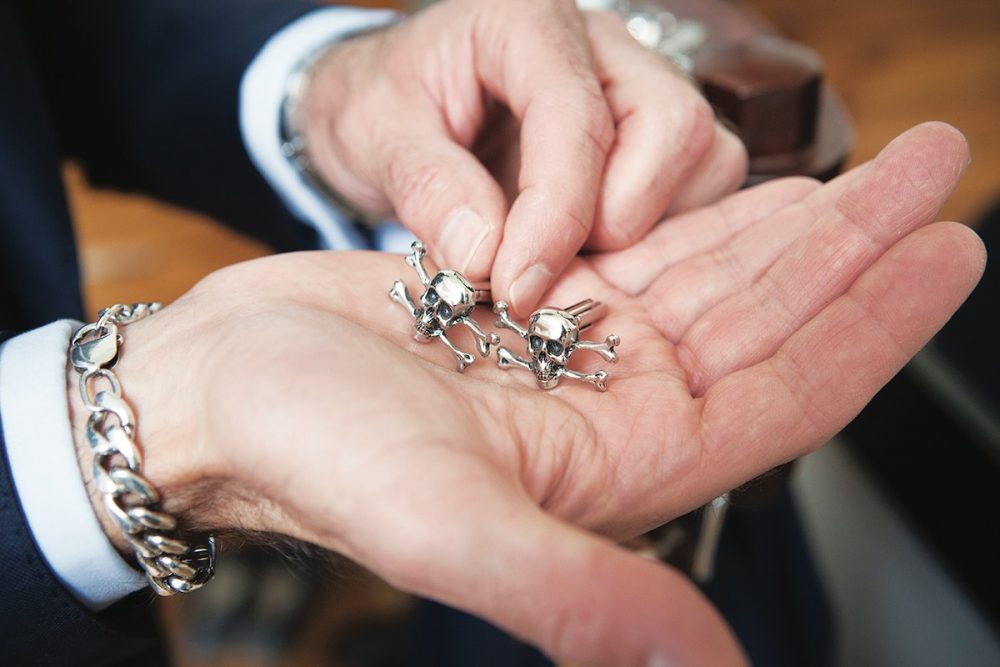 These Oliver Peoples reading spectacles are something of a signature of George's; most of his videos feature them. "I got those glasses when
Mad Men
was on and everyone was having a sixties craze." The lenses are progressive transitioning readers so he doesn't have to keep taking them off and putting them on.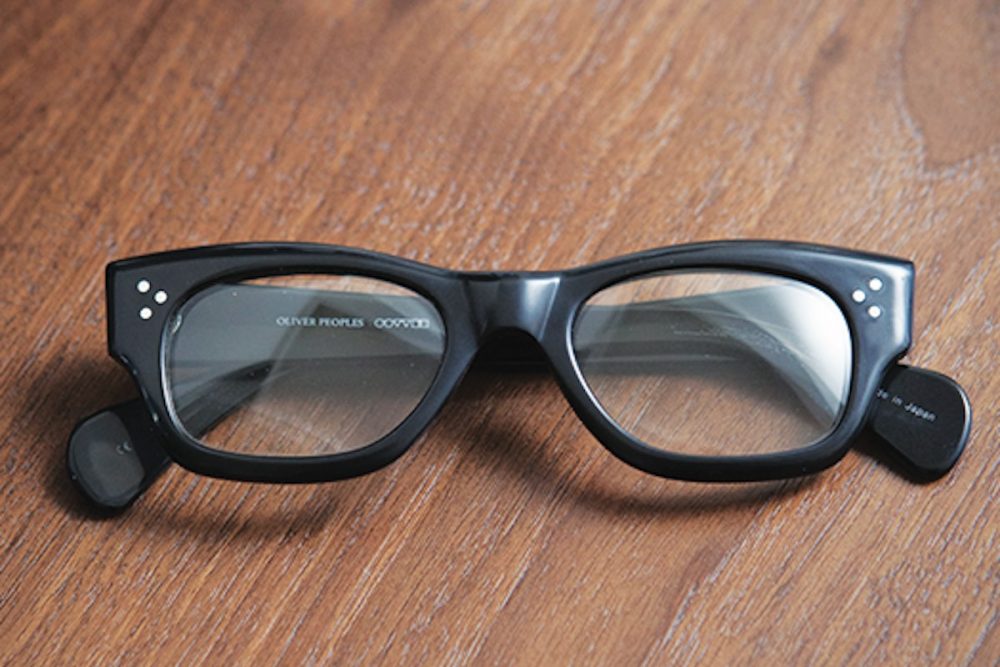 You can also view this feature in Issue 78 of
The Rake
- on newsstands now. Available to buy immediately now on TheRake.com as
single issue
,
12 month subscription
or
24 month subscription.
Subscribers, please allow up to 3 weeks to receive your magazine.