How to Assemble the World's Most Epic Speedmaster Collection and How to Buy It
From Moon Watch to Misprint — we give you Revolution's pick of 21 of the most desirable Speedmaster watches, past and present.
Reality Check No. 1: Omegamania took place fully 11 years ago. While we can attribute Omega's vertical trajectory in desirability as dating from that memorable April 2007 auction, sustaining it over a decade-plus showed the brand to possess every virtue that makes vintage timepieces desirable, with irresistible appeal beyond the ephemeral exhilaration of that sale. Quality, style, enviable heritage — throw in the unique selling point of going to the Moon, and it's no mystery why the Omega Speedmaster chronograph is one of the hottest properties in the vintage watchdom. Reality Check No. 2: "Limited editions" — "Commemoratives" — "Anniversary Models": These are klaxons that declare said models are intended from the outset to attract collectors rather than civilians less concerned with exclusivity. They also warn that such pieces of deliberately finite production will soon be auction-bound. Perhaps of greater appeal, then, are Speedmasters and Speedmaster Professionals that were not born specifically as limited editions, yet which are so innately covetable that they now nudge Patek Philippe and Rolex prices. Assisted by the world's two leading experts, Petros Protopapas, Omega's International Brand Heritage Manager, and Daniel Somlo of Somlo Antiques, Revolution offers this guide to a selection of super-rare Speedmasters for the cognoscenti. If you become a devotee, do not go down these mean streets without a copy of Moonwatch Only, by Grégoire Rossier and Anthony Marquié — the ultimate study containing 564 pages of Speedmaster lore, covering every single variant.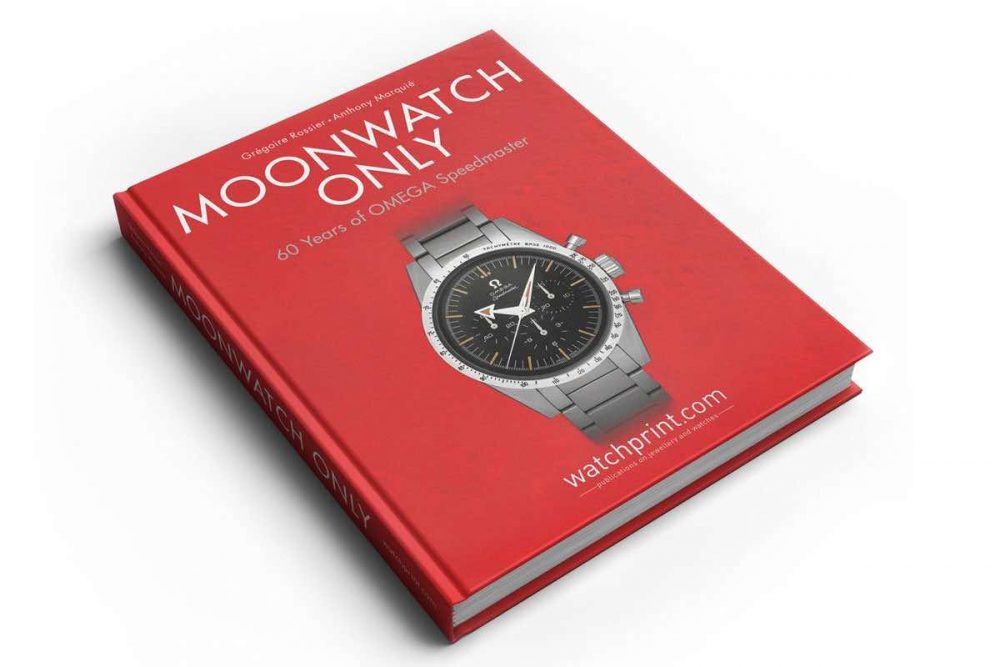 Why We Love the Speedy
When it comes to sports chronographs there is none other that is as soaked in lore as the Omega Speedmaster. The watch was created for the expressed needs of auto-racing and featured a tachymeter — a scale that combined with the chronograph's sweep seconds hand could give you your average speed over fixed distance. This bold, modern scale was printed on the watch's bezel making it the first contemporary timepiece with this feature and forged the genetic blueprint for all sport chronographs from this point on.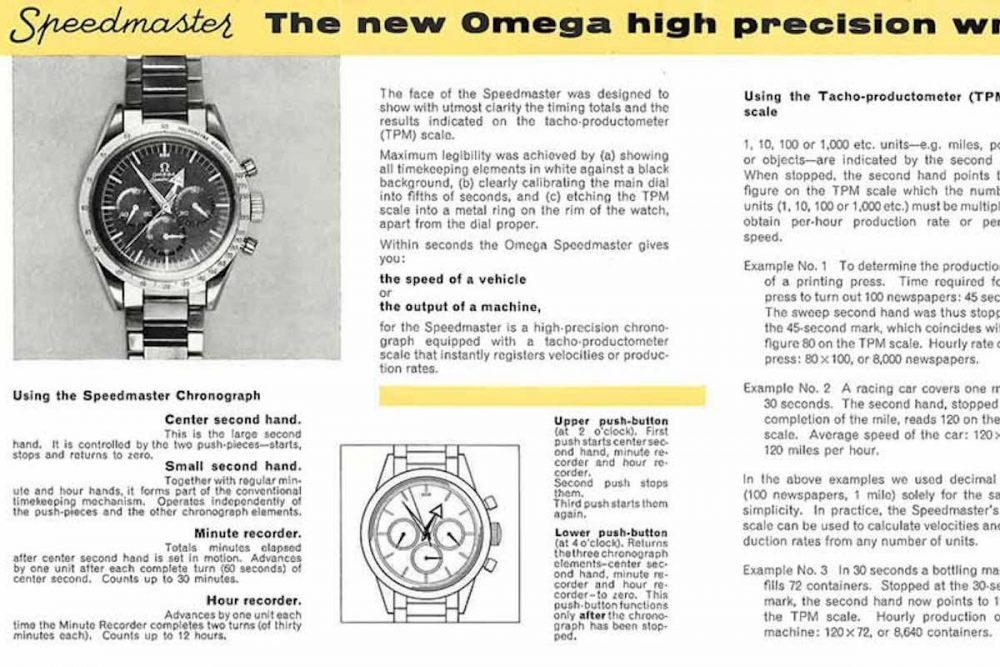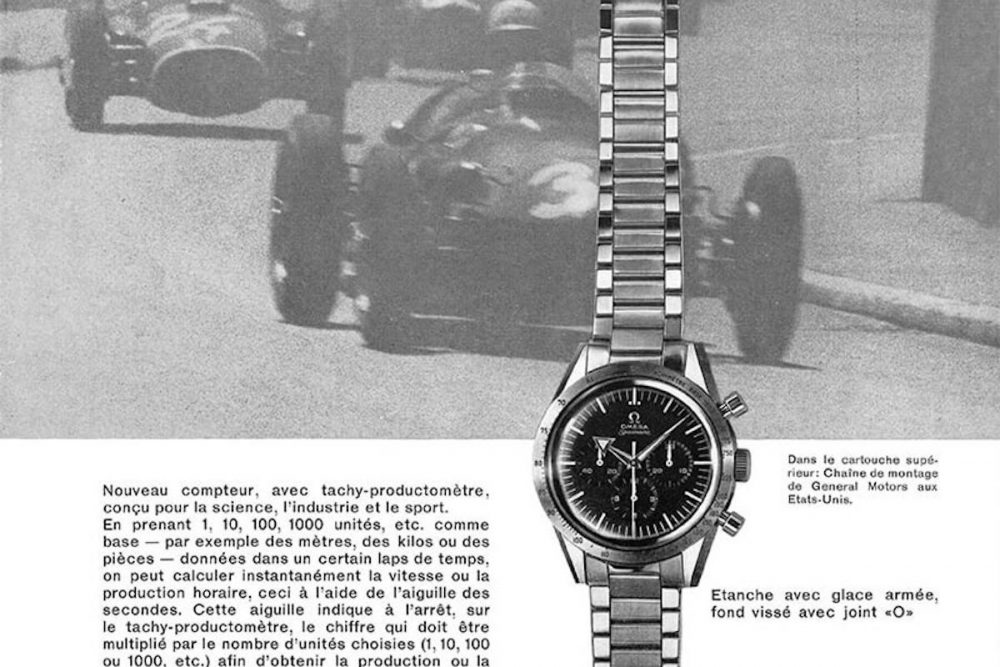 But it was the Speedmaster's association with NASA and its status as official equipment to astronauts and the first and only watch on the moon that allowed it to transcend its status from a mere timepiece to a cultural icon, inextricably interwoven into the very fabric of space conquest. The first Speedmaster that went unofficially into space, as the personal watch of Mercury astronaut Wally Schirra, on October 3rd 1962, was the CK2998. This was a full three years before NASA officially went through the rigors of certifying the Speedmaster "Flight Qualified for all Manned Space Missions". It is important to note that all watches that went to space officially whether reference 105.003, 105.012 or 145.012 or even Schirra's CK2998 featured the calibre 321, the single most famous manual wind chronograph movement of all time, created by a company named Lemania that Omega would eventually merge with.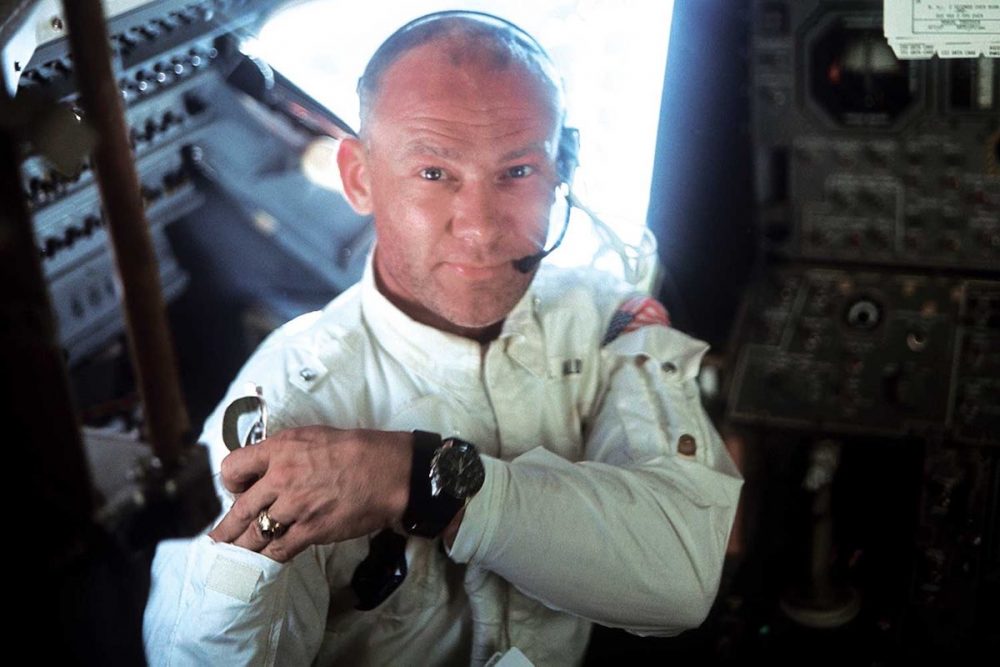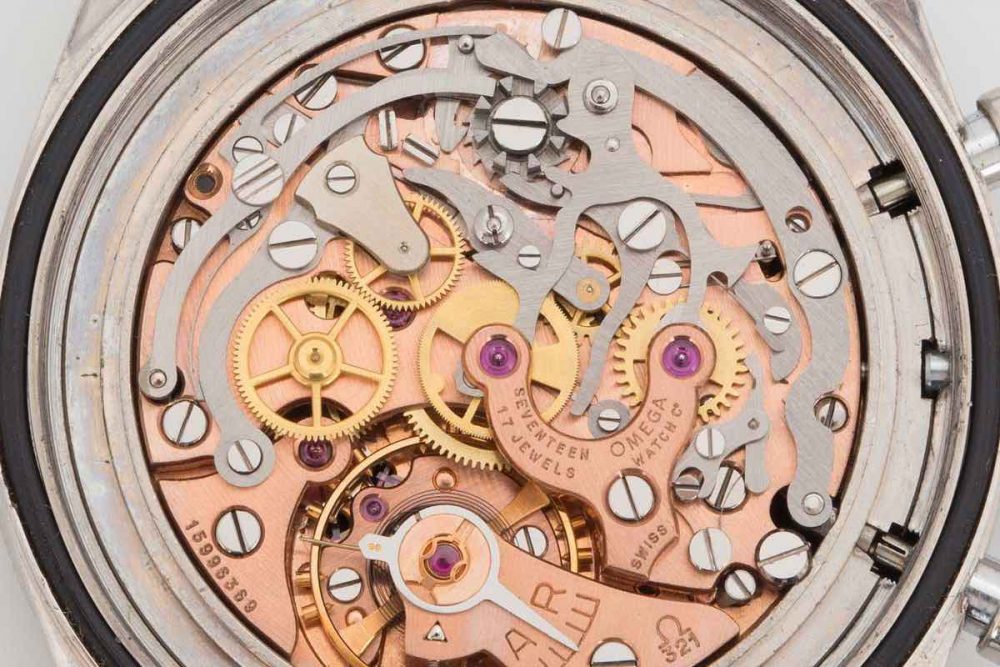 The Calibre 321 is Omega's adaptation of the venerable Lemania 2310, better known to the watch collecting community as the CH 27 (Image: Bukowski Auction House)] The absolute heroism and reliability of the Omega Speedmaster was proven, beyond a shadow of doubt, on the ill-fated Apollo 13 mission. At 56 hours into the flight, on April 13, 1970 a ruptured fuel tank on the craft caused all electrical systems to shut down. Soon after, the crew lost the majority of power to the craft. They knew that their only option for survival was to use the moon's gravitational pull to slingshot them around and back to earth. But there was one major problem — the angle of the craft's re-entry. Too steep and it would burn up upon re-entry; too shallow and the craft would bounce off earth's atmosphere, leaving the crew floating helplessly into space. Using Jim Swiggert's Omega Speedmaster, the crew used the lunar module's manually controlled descent propulsion engine to create 14 second mid-flight course correction. This allowed them to re-enter the earth's atmosphere successfully causing both the astronauts and the watch that saved them to indelibly become inked into one of the most remarkable moments in human history.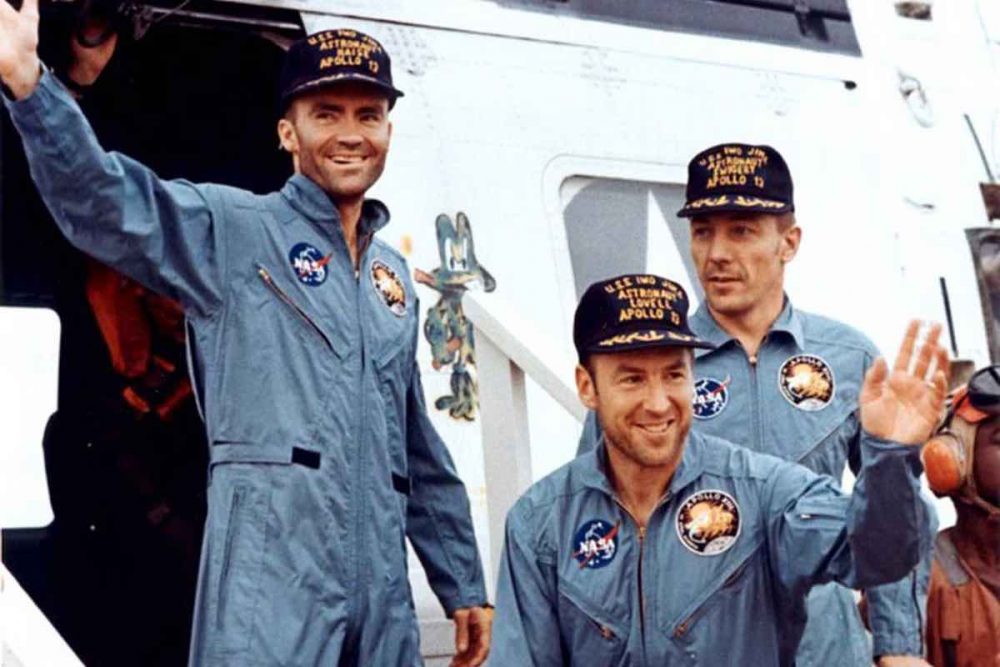 The Blockbuster Speedmasters
1957 Reference CK2915 — The Original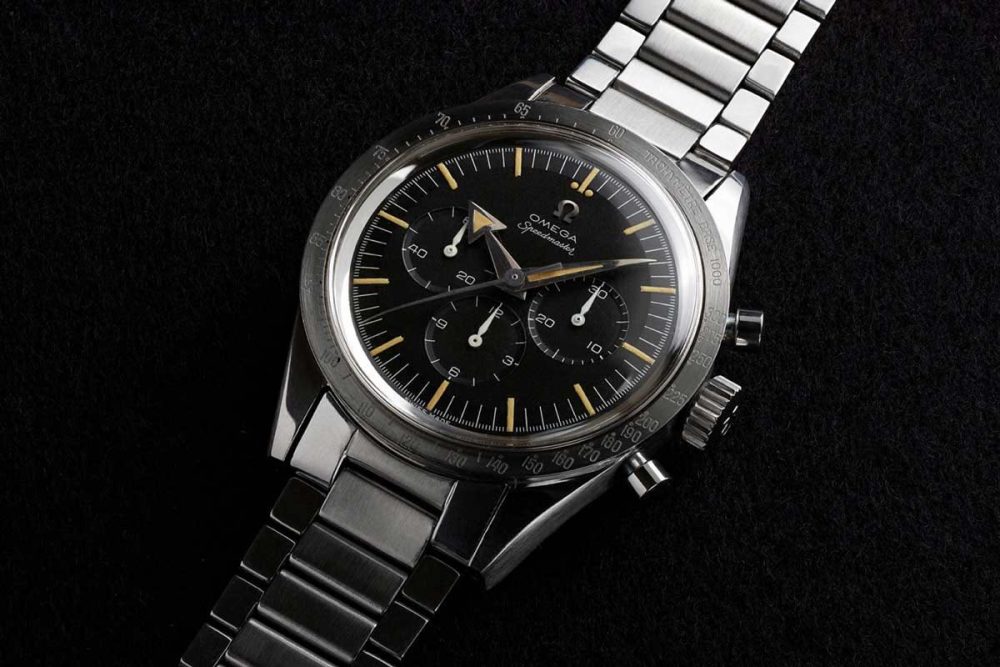 As the original, no-nonsense Speedmaster from 1957, the CK2915 began life as an unassuming tool watch which fate would turn into the most celebrated timepiece ever produced. It formed the template for all that would follow — aside from the arrow-tipped hour hand and dagger minute hand, flat-link bracelet and symmetrical case —otherwise it bears an even a closer relationship to its progeny 61 years on than current Porsche 911s do to the first version. Prices for truly original ref. CK2915s, made in three series from 1957-1959, now command six figures. Omega believes that perhaps 4,000-5,000 were produced, of which only 20 or so are estimated to be in good or near-perfect condition, with another 50 being "so-so." Exercise caution when buying: Omega was recently offered a CK2915-1, the very first reference, but while the movement was correct, the case and dial colour were original, the watch bore the wrong bezel, hands and luminous material. What looked to be "the best 2915 ever" turned out to be something "no museum would touch." At the top level, one sold for £230,000 last year, another for CHF280,000 including buyer's premium, while one collector paid nearly CHF200,000 in a private sale. Petros considers it, however, to merit higher prices.
On 12 May, Phillips sold a 2915-1 for CHF 408,500 against an estimate of CHF 80,000-140,000
.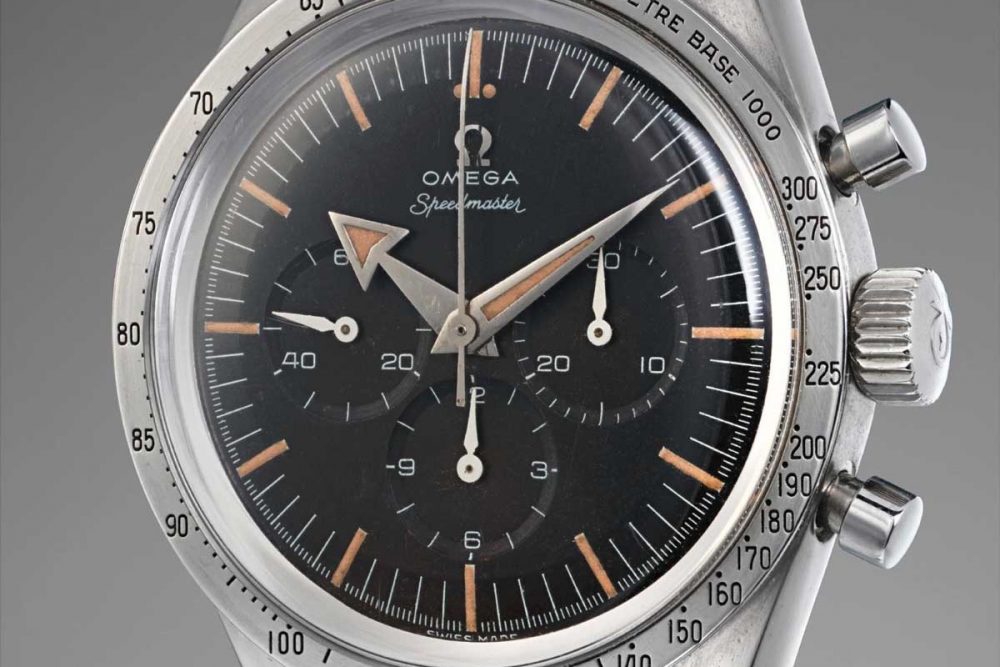 1959 Reference CK2998 — The Second Generation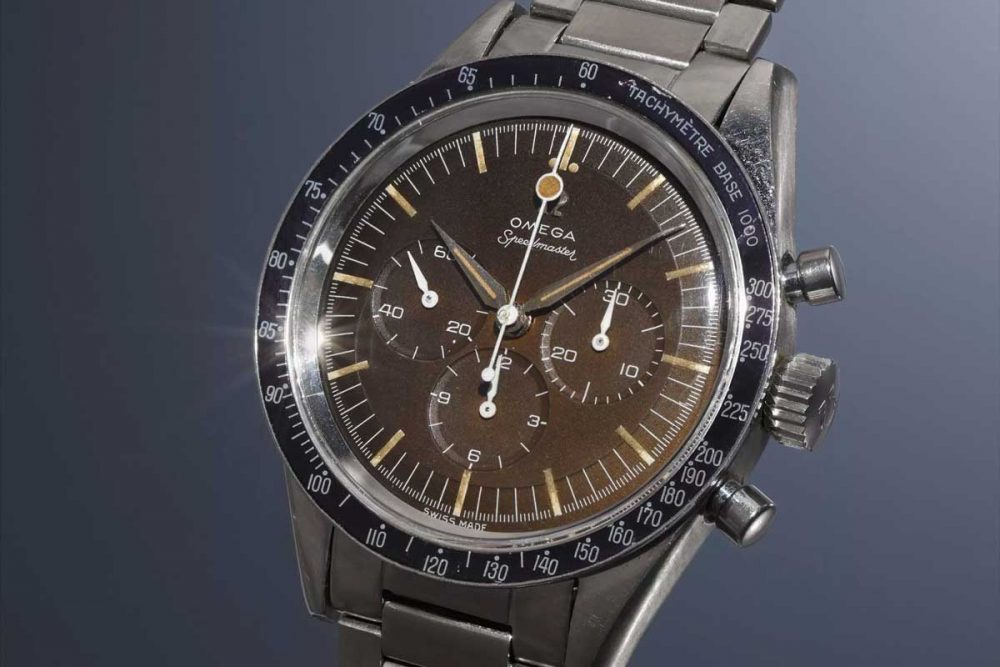 Made between 1959 and 1963, the historic importance of this model is due to its honour of being the one privately chosen by astronauts before NASA certified them. They are thus the first Omega Speedmasters to go into space. Astronauts Walter Schirra and Gordon Cooper bought their own Speedmasters in Houston; Cooper was already an Omega Seamaster owner since 1956/7; one in 14k gold received when he graduated as a pilot. When he needed a watch, he bought the Omega thanks to brand loyalty (which he confirmed in writing). Schirra checked his potential purchases for legibility in-store, and took every chronograph and literally shook it "to death" while trying to read it. The Speedmaster passed his tests. Eight variants of the CK2998 appeared in its four years, with sub-references numbered CK2998-1 onwards, all distinguished by "alpha" hands. These can vary in length if they have been replaced in service, but the longer minute hands, with tips reaching all the way to the minute graduations, are correct. The price range is vast: One sold for $100,000 last year, while at Phillips' Geneva auction this May,
a CK2998-3 commanded only CHF20,000
, yet a CK2998-1 minus bracelet sold for CHF62,500.
1962 Reference ST 105.002 — A Transitional Reference
Basically, this was the same watch as the CK2998, just with a different numerology and was actually made concurrently with the CK2998-062. This is what we would call a transitional watch, with some sources saying it was produced for just about a year, others that it was produced for no more than 6 months. Either way, the bottom line is that these were made for a very brief period and are, therefore, extremely rare. The ST105.002 can be found with Alpha and Baton hands. It was the last Speedmaster to feature the silver rehaut under the crystal with SWISS MADE written on the dials, with no T (indicating the use of radium as opposed to tritium).
1963 Reference ST105.003 — The Ed White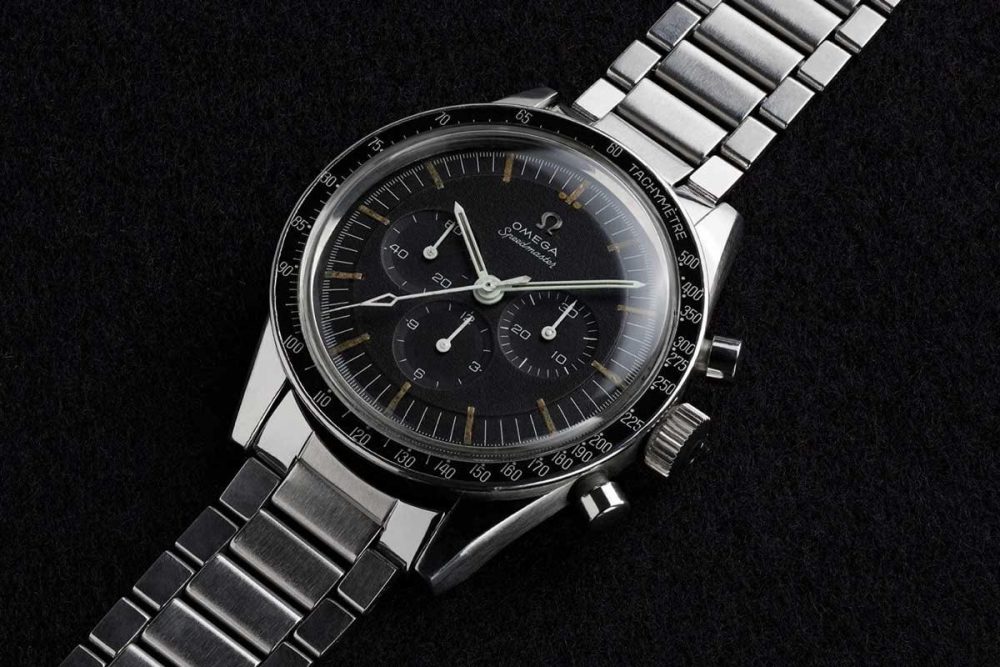 Two hallmarks of this model, produced between 1964 and 1969, identify its transitional status as eventual NASA approval approached. A major aesthetic change was seen in the earlier 105.002-62 produced in 1964: The permanent move to the baton hands used ever since. Among enthusiasts, the ST105.003 is known as the "Ed White" after the first astronaut to walk in space (during the Gemini IV mission), this was the last "straight-lug" Speedmaster — its second distinction.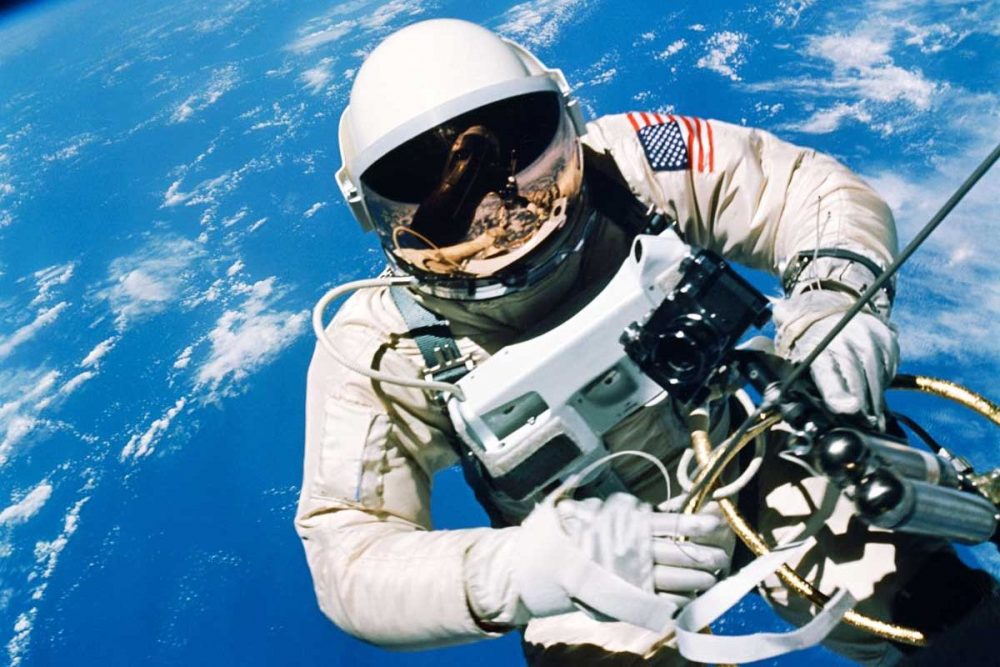 Also known to some as the "Pre-Professional", as the ST105.003 passed the NASA tests in 1965 to become the official watch for the astronauts during the Gemini missions. Prices of £20,000+ are now common for this model.
1965 Reference ST105.012 — The First Watch on the Moon
The ST105.012 is the first of its line for one major reason, it marks the first appearance of famous "Lyre" or twisted lugs, which incorporate guards for the crown and the chronograph pushers. Here we come to the first use of the word "Professional" on the dial, which Petros points out preceded knowledge of the NASA results, thus refuting the misconception that it was added to the dial for that reason. Says Petros, "It was just a coincidence that NASA tested the 'non-Professional' ones, and then later, when NASA started ordering watches — four different batches — the second batch they ordered consisted of both." The last batch contained both 105.012 and its successor, 145.012. NASA only tested watches with Calibre 321 at the time, and for all of their original deliveries for Gemini and Apollo, they only received 105.003, 105.012 and 145.012. This is important for those who only want models identical to those used by NASA. It is believed that NASA acquired 98 watches in total, and the astronauts had a pool of watches from which to choose. Most noteworthy about the 105.012, is the first appearance of the asymmetrical case, with protective shoulders for the pushers and the crown. This appeared a month before the "Ed White," and Buzz Aldrin wore this more common style case. It pains this writer to note that he once purchased a 105.012 for US $250. Now, one would expect to pay £15,000. Note that in 1966 cases for the 105.012 watches were made by two case makers La Central Boites and Hueguenin Freres. The watches made by the former feature an additional step on the top of the lugs that is sometimes polished by accidentally during service.
1967 Reference ST145.012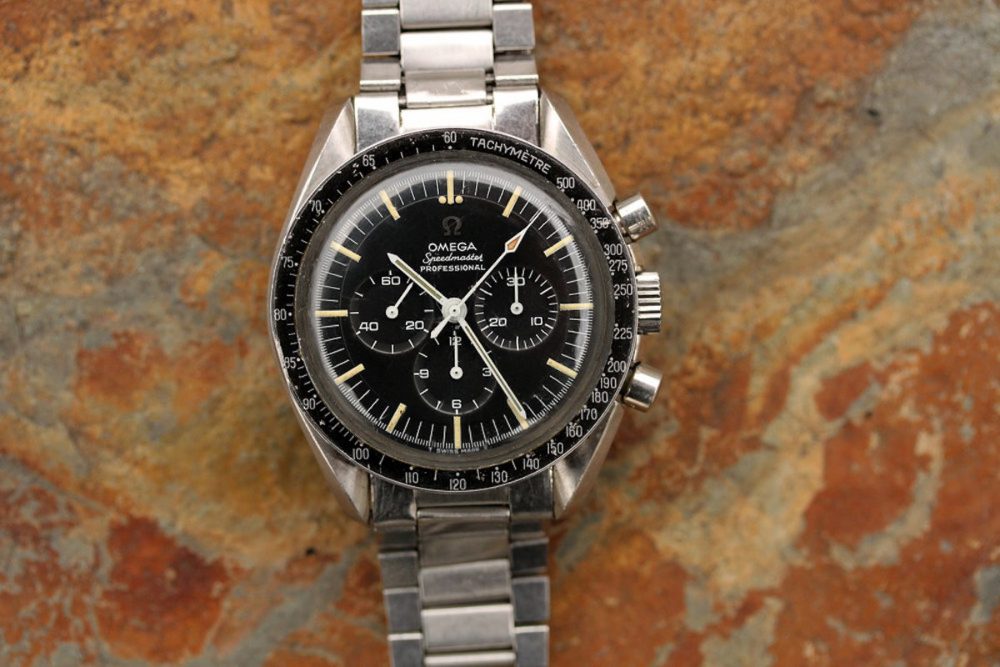 Made between 1967 and 1969 the 145.012 is the very last of its breed in that, this is the final Omega Speedmaster to use the Calibre 321 column wheel activated chronograph movement. It is distinguishable from the 105.012 by its taller chrono pushers. It is the last Speedmaster with luminous markers that run all the way through the minute track. This is probably the most attractive 321 equipped reference for any new collector from a price perspective. It is estimated that between 27,000-28,000 units were made.
1967 Reference ST145.012 — Black Racing Dial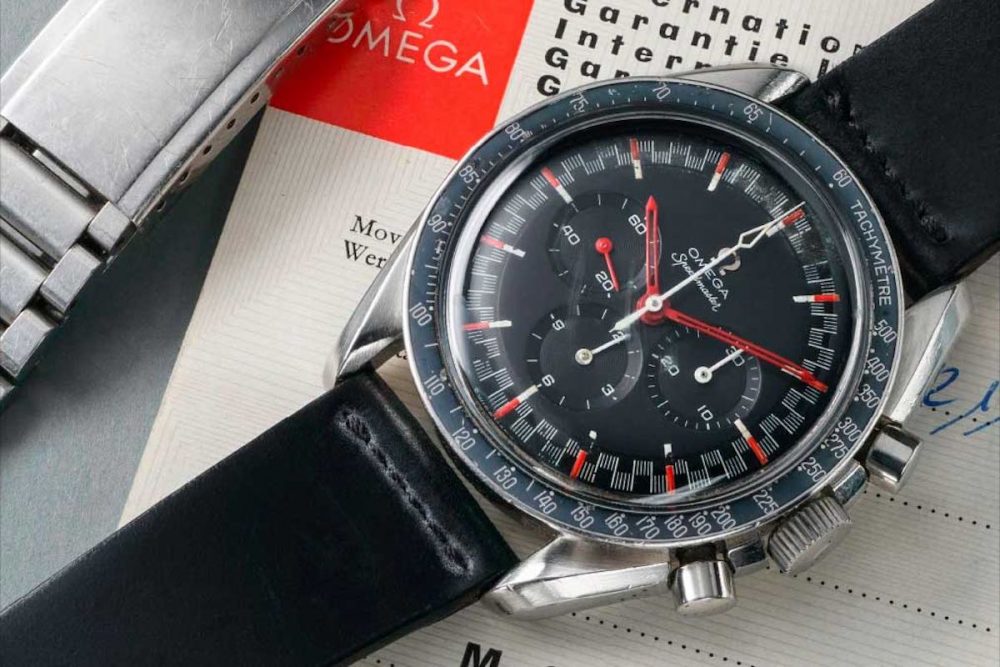 One of the more mysterious Speedmasters, the so-called "Racing Dial" – named for its colourful chapter ring – dates from circa 1967-69. Petros' reaction when asked about numbers is enough to pique the curiosity of any collector of uncommon models. Omega's Speedmaster Sage admitted that, "Officially, we don't even know. The problem is we can retrace almost every single Speedmaster in our archives, but we don't always have the mention of what dial a watch sported when it left the factory." If this situation sounds familiar, it is also the basis of the dilemma in determining what Rolex Cosmographs were issued as new with "Paul Newman" dials. How it came into existence is due to the times: the late 1960s saw exotic dials appearing on a number of watches, "a modernisation of an existing reference," says Petros. However, it never received its own model designation, leaving the factory with a racing dial, but this is compounded by another discovery made by Omega: the possibility existed at the time that certain Speedmaster orders from certain retailers were supplied with two different dials, and the client could be offered the choice between standard and flamboyant. While Daniel Somlo suggests that possibly as few as 20 exist, Petros is more optimistic, thinking numbers may extend into the low hundreds, "but that doesn't mean all of them survived." This model's rarity has inspired fakes, Daniel mentioning that he has been offered them, so care is needed to assure authenticity. While the consensus is that around £100,000 is needed to acquire one, Phillips sold one on 12 May for CHF40,000, at just over double the upper limit of its estimate.
1968 Reference ST145.012 — Ultraman
It should be noted that is one other hugely coveted versions of the 145.012 and that is the legendary Ultraman a watch featured on the Japanese television show, specifically, The Return of Ultraman in 1971. It is made unique by having 18.80mm orange chronograph seconds hand. Ultramans are one of the rarest Speedmasters and movement numbers for the watch usually fall between 26.076.8xx to 26.079.7xx but we would caution against buying any watch without an extract from Omega's archive stating it to be an Ultraman.
1968 Reference ST145.022-69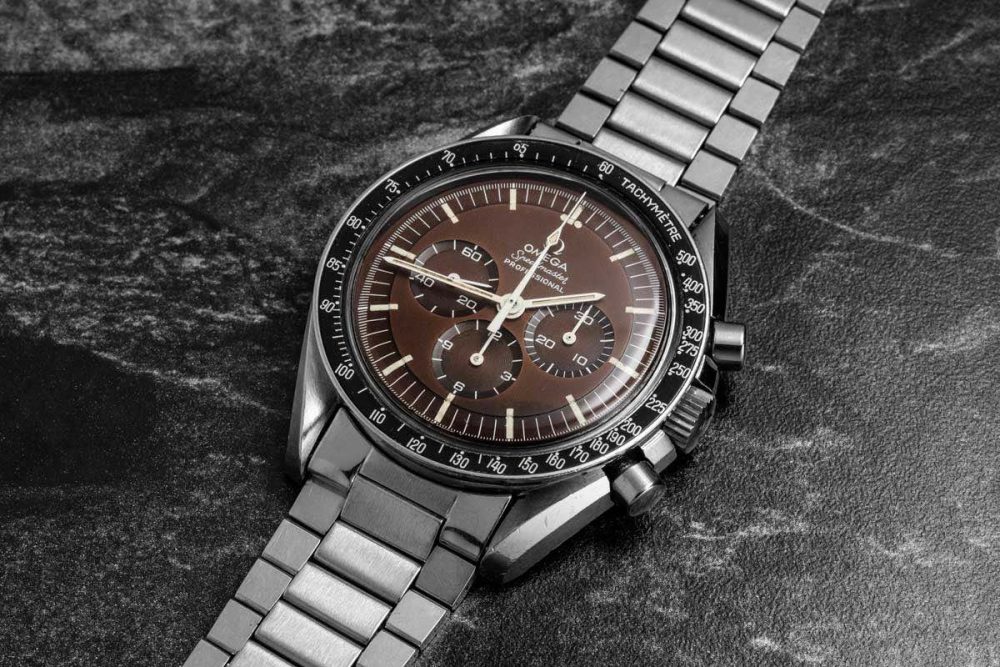 This watch forms the iconography of the Speedmaster Professional from 1968 until present day. The watch uses the Lyre lugs introduced with the 105.012 and a new Caliber 861, which features a shuttle cam instead of a column wheel system, the modern version of which still resides in the modern Speedmaster Professional today. This is the last reference to feature the pre-1970 Dot Over Ninety, or DON, bezel preferred by collectors. Some of the most brown, chocolate or brown patina dial Speedmasters occur within this reference, as well. These dials result from a faulty UV coating in reaction to age and exposure to heat and light. Our friend, William Roberts, aka Speedmaster101.com tells us that these watches should appear in units with movement numbers 29.11X.XXX to 29.60X.XXX, while the book Moonwatch Only puts the movement numbers slightly wider as 29.110.XXX to 31.009.XXX.
1969 Yellow Gold Omega Speedmaster Tribute to Apollo XI Reference ref. BA 145.022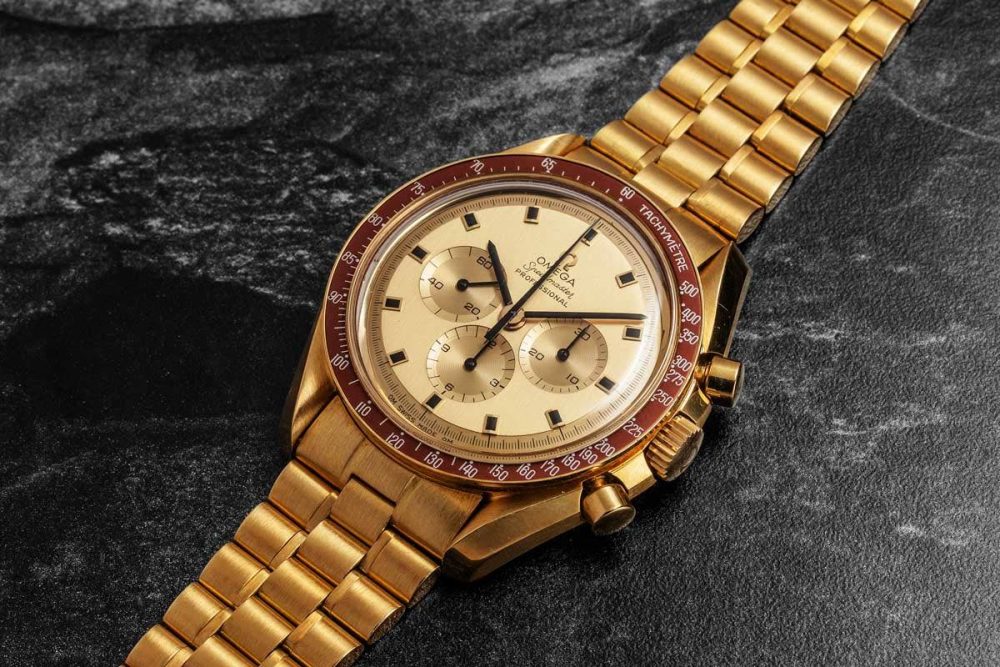 This standout would be desirable just for the movement alone, as the 145.022 was the reference in which the Calibre 861 made its debut. But this variant provided two more firsts: This model was the first Speedmaster offered as a planned limited edition. The other? Distinguished by its Bordeaux bezel, this commemorative model was the first-ever Speedmaster in 18ct gold, including a hallmarked gold dial. This model, of which just 1014 were manufactured during 1969-1973, was offered to the President and Vice-President of the United States and the active astronauts, each engraved with the recipients' names, with numbers 33 – 1000 sold to the public. As neither President Richard Nixon nor Vice-President Spiro Agnew were allowed to accept such gifts, theirs are now in the Omega Museum. Categorically an undervalued item, this highly desirable model only fetched around £20,000-£25,000. But as of 2018 it seems poised for a major leap in price with an example recently sold with Phillips in Hong Kong for US$45,900 (before buyer's premium).
Read Wei Koh's complete story about this watch, here.
1969 "The 220 Misprint" Bezel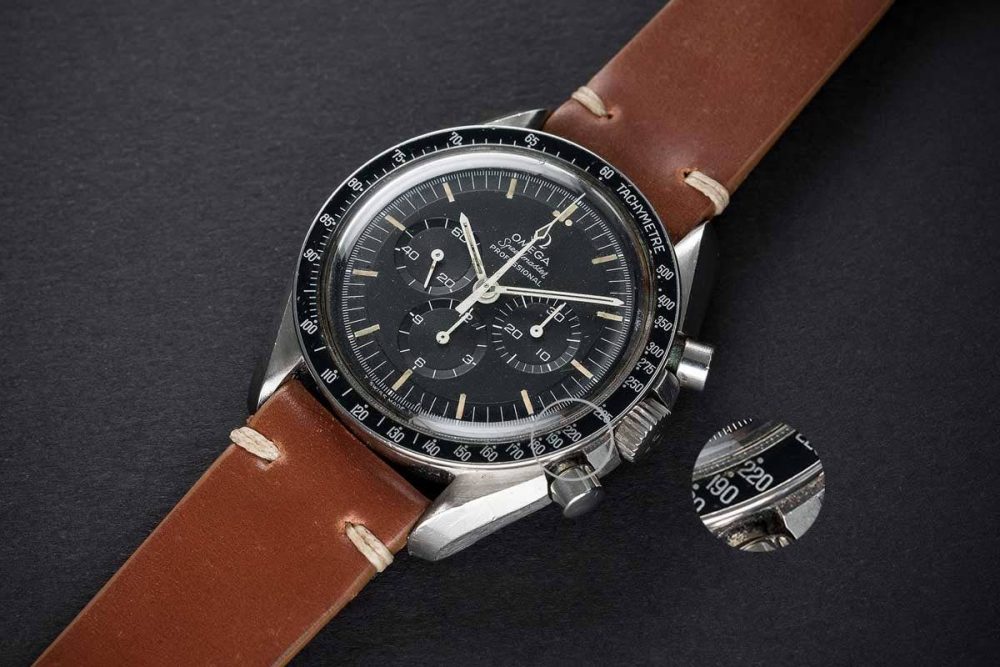 Like tropical dials, crazed dials or other anomalies, misprints hold a certain appeal for collectors simply because of rarity value. Produced for only a couple of months, this model was the result of a change in the tachymeter in 1969-70. The misprint was on the scale, which read "220" instead of the correct "200", but the quantity produced is unknown. Says Petros, "It's a technical misprint, it's nothing more. The watch is the exact same as the regular model but collectors love it." Despite being a "normal" Speedmaster Professional, its erroneous numbering endows it with a value of circa-£10,000-£12,000, though some are said to have sold for as high as £20,000.
Check out this example, sold by Watches of Knightbridge in Novemeber of 2017. The watch was had for a steal at £4,800 (before buyer's premium).
1969-1979 — The Alaska Projects I-IV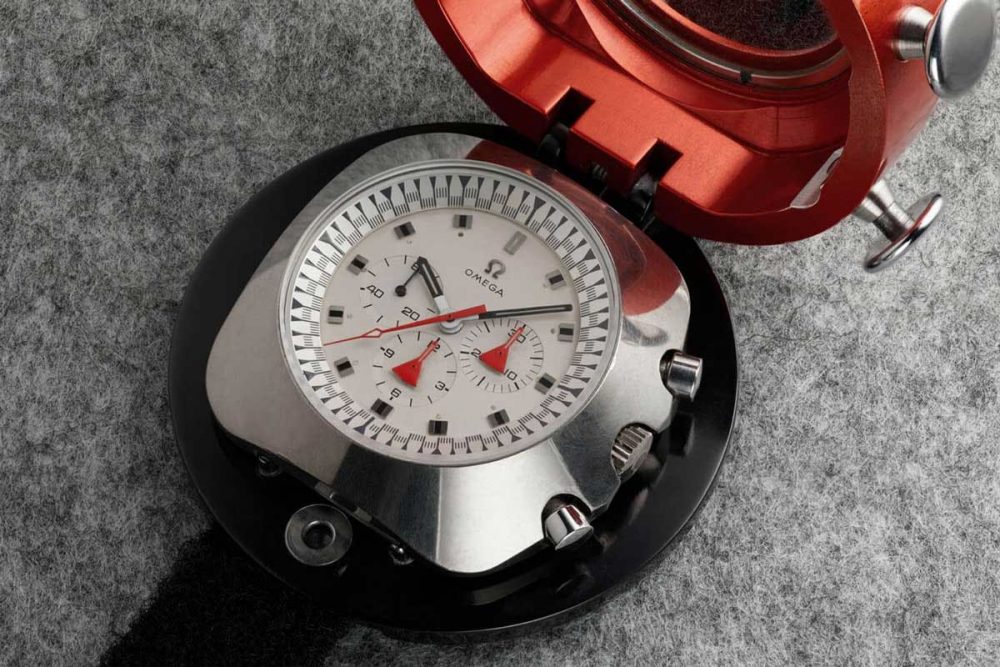 A complicated topic that warrants its own book, the Alaska Project Speedmasters are so-called because of corporate secrecy: Omega protected all of its work for NASA with the code name "Alaska Projects" to distract its competitors. The fruits of Omega's Research and Development section, all items were issued straight to NASA, and never went into space. Petros says that, should a real Alaska I prototype appear on the market, "We would bid on it"; the company recently acquired Elvis Presley's diamond-bezel Omega in auction for $1.8m. Petros says "I would be surprised if it fetched less that £250,000 to £300,000, and I can think of at least ten collectors would be bidding."
In the 12-13 May auction held by Phillips, a Prototype Alaska III Ref. ST 188.0002 stainless steel electromechanical prototype chronograph wristwatch with day and date, delivered to NASA in 1978, was entered with an estimate of CHF10,000-20,000.
The hammer came down at CHF162,500. After actual astronauts' Speedmasters, any of the watches produced for the four Alaska Projects would be the ultimate items in any Omega collections.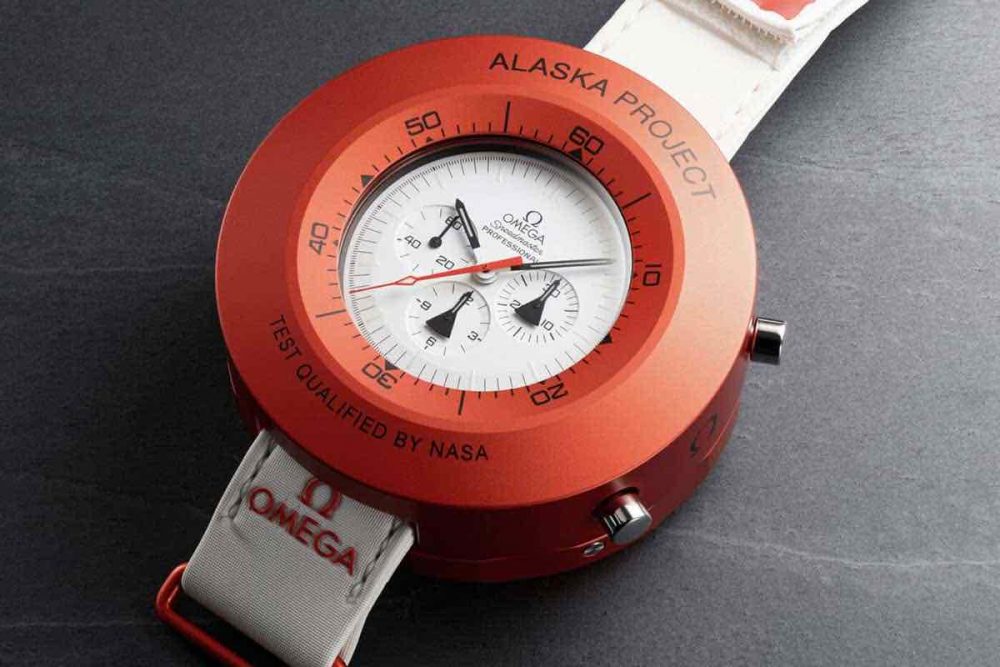 1970 Reference ST145.022-69 — Grey Racing Dial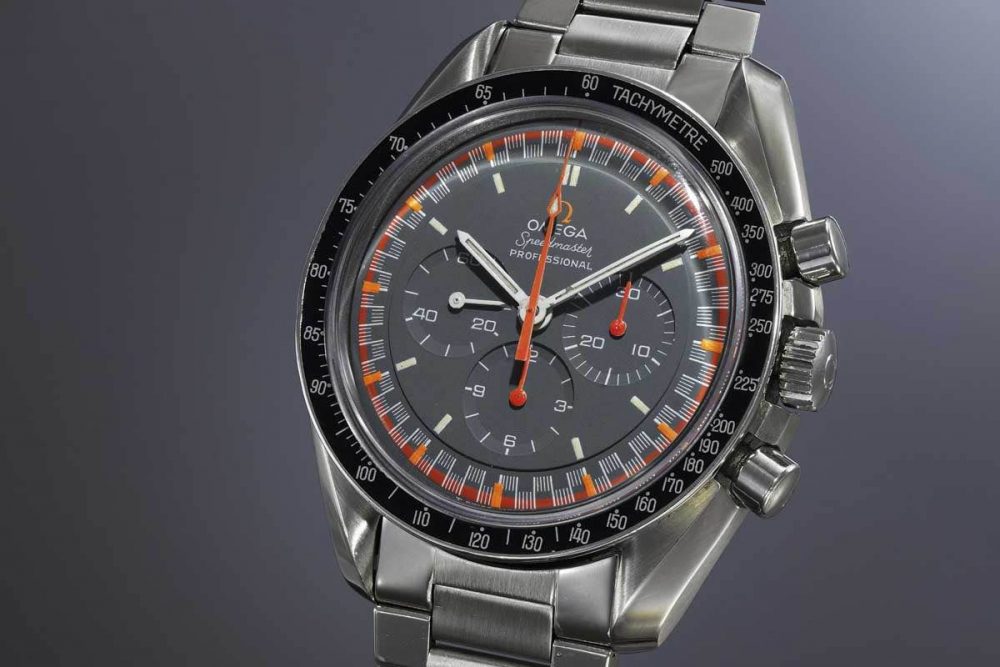 It is estimated that between May and June of 1970, 150 units of 145.022-69 watches were delivered to Switzerland with the racing dial found far more commonly in the Speedmaster Mark 2. These are rare and highly collectable watches but must be accompanied by an extract from the archive to prove their authenticity.
The image of the watch, featured here, sold with Phillips in 2016 at their Start-Stop-Reset: 88 Epic Stainless Steel Chronographs sale, fetching a solid CHF 57,500.
1992 Reference BA 148.0052 — First Yellow Gold Speedmaster with Black Dial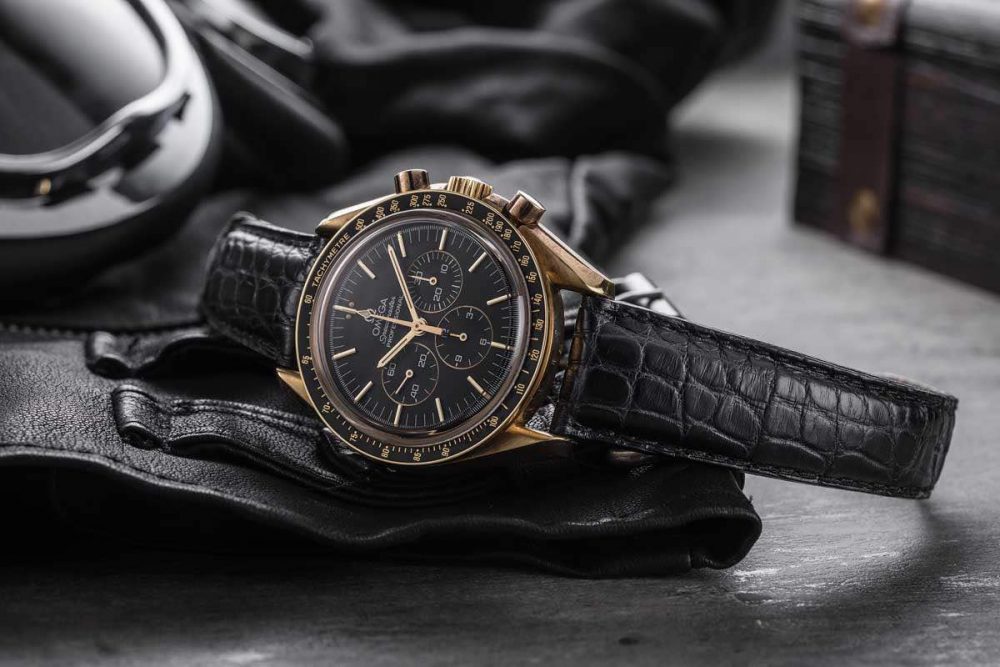 The very first black dial yellow gold Speedmaster, this watch was made in an edition of 999 numbered watches with solid case backs and 250 watches with display backs in a special presentation box. Note that it can be immediately be distinguished from the yellow gold black dial regular production Speedmaster in the appearance of gold frames around all three sub dials. The only other Speedmaster that has such a dial is the 7-piece MIR 365 edition. But best of all, and first reason why this watch is cool, is because this is the watch that Omega issued to celebrate the mighty calibre 321. The 27 CHRO C12 project that Omega launched in 1942, which ultimately yielded the 321, turned 50 in 1992. Therefore, on this occasion, Omega fit this special watch with the COSC certified calibre 864, which made this the first COSC certified manual wound Speedy.
2003 Reference PIC 3578.51.00 — The Blue Snoopy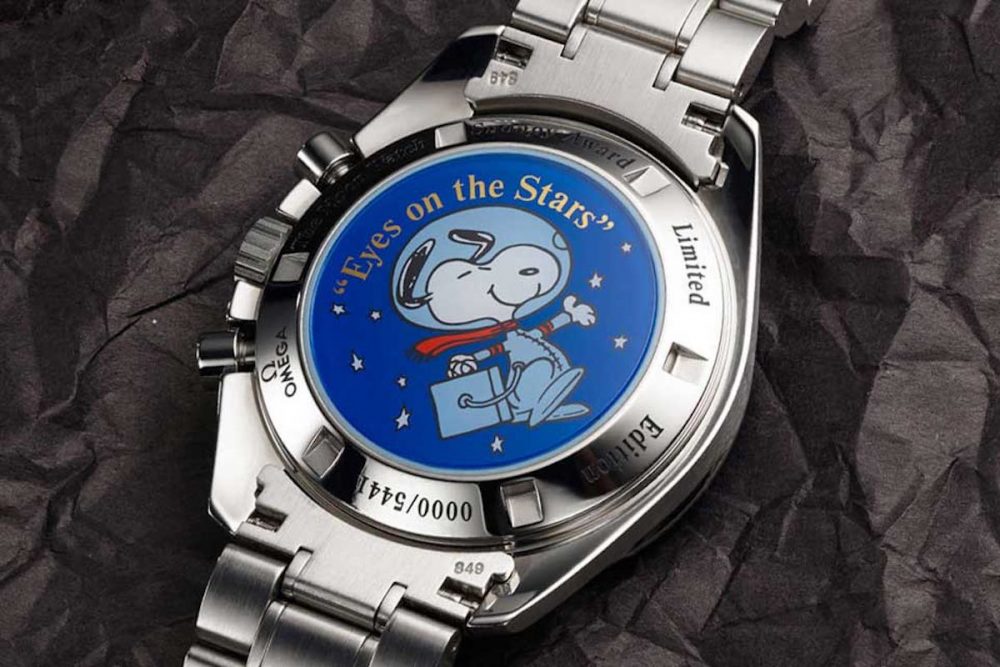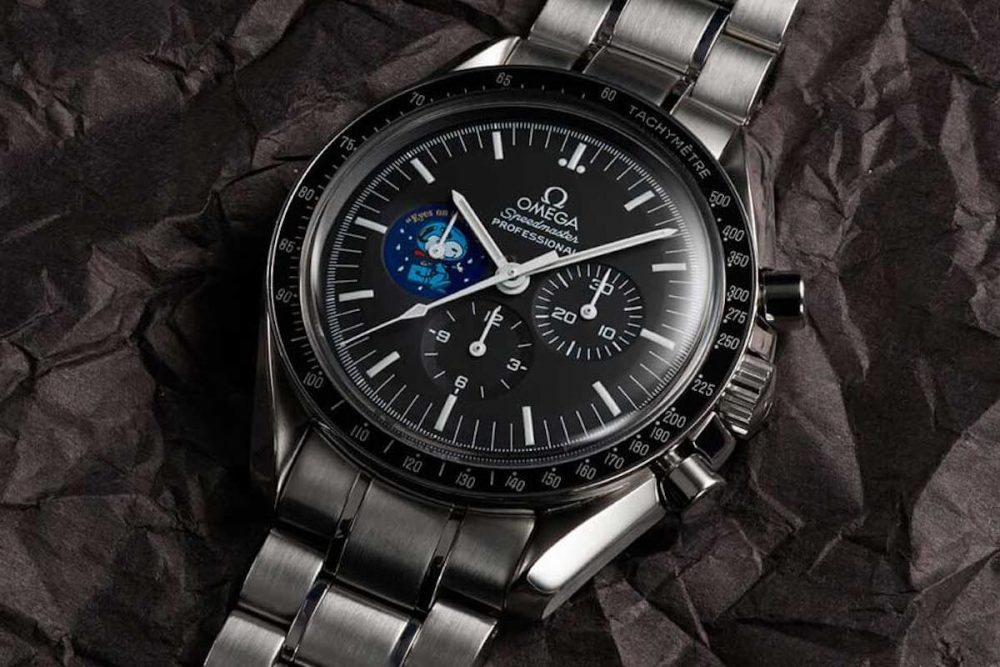 Like the Speedy Tuesday, the "Snoopy" is an example of a recent limited edition that didn't need to undergo the passing of decades to enjoy a sharp increase in value. Based on the "mission patch" watches which featured the designs on a sub-dial, the "Snoopy" did the same for the Silver Snoopy award given by NASA to employees and colleague agencies for outstanding contributions to mission safety or success. NASA first presented Snoopy awards in 1968, with the support of Peanuts creator Charles Schulz, an avid supporter of the US space programme. A further connection came with the Apollo 10 mission, when Peanuts characters were used as calls signs. Omega received a Silver Snoopy award in 1970 after its involvement in the now-famous Apollo 13 mission, when Jack Swigert's Speedmaster timed the critical 14-second fuel burn to put the craft on course for Earth. In 2003, Omega released PIC3578.51.00, with Snoopy in a blue astronaut's suit, on a black dial, in an edition of 5441 pieces — in reference to the length of the Apollo 13 mission — 142 hours, 54 minutes and 41 seconds. These easily command £12,000-£15,000. Not far behind is the white-dialled Silver Snoopy Award of 2015, issued in an edition of 1970 watches, with prices already reaching £10,000.
An instance of the Blue Snoopy recently sold at the Phillips 29 May 2018 Hong Kong auction, for close to US$13,000.
2003 Reference PIC 3570.31 — The Mitsukoshi Special Edition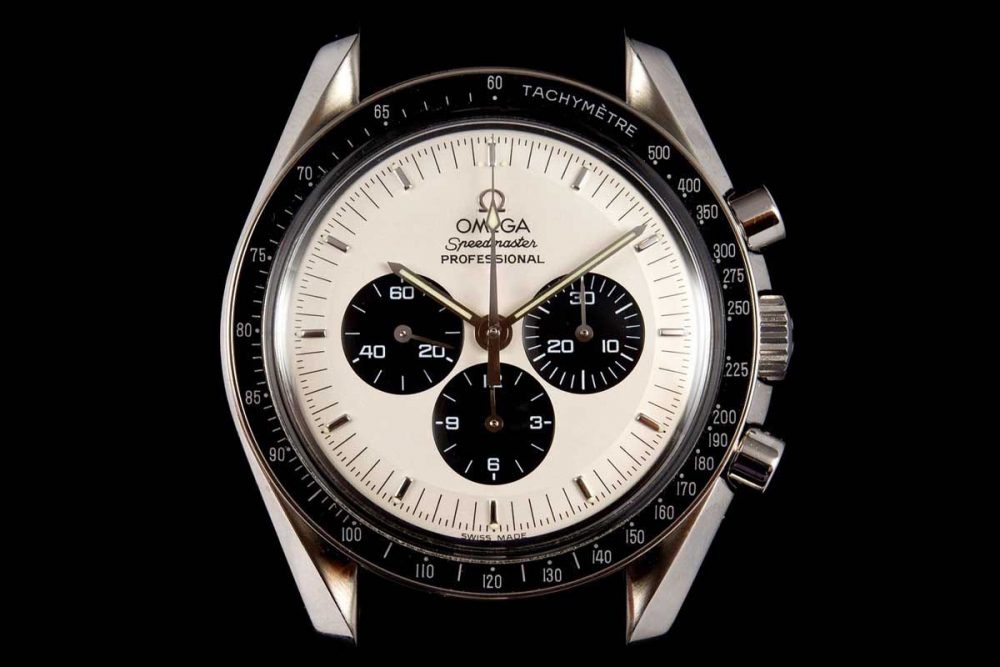 In 2003, the legendary Japanese department store Mitsukoshi launched a 300-piece edition of this panda dial special Speedmaster, which many consider one of the most beautiful of all time. Be careful, however, as the dials were also sold as aftermarket units and many have taken to assembling their own version of this watch, using a regular 3570.50 steel Moonwatch, following the Mitsukoshi's success. In 2004, Omega celebrated the 35th anniversary of the Apollo 11 mission with yet another panda dial Speedmaster, the reference PIC 3569.31.00. However, this one's easy enough to tell apart, as it has the date July 20, 1969 — the day the Apollo 11 crew landed on the moon — printed in red at 12 o'clock.
2004 Reference 3570.40 — Japanese Racing Dial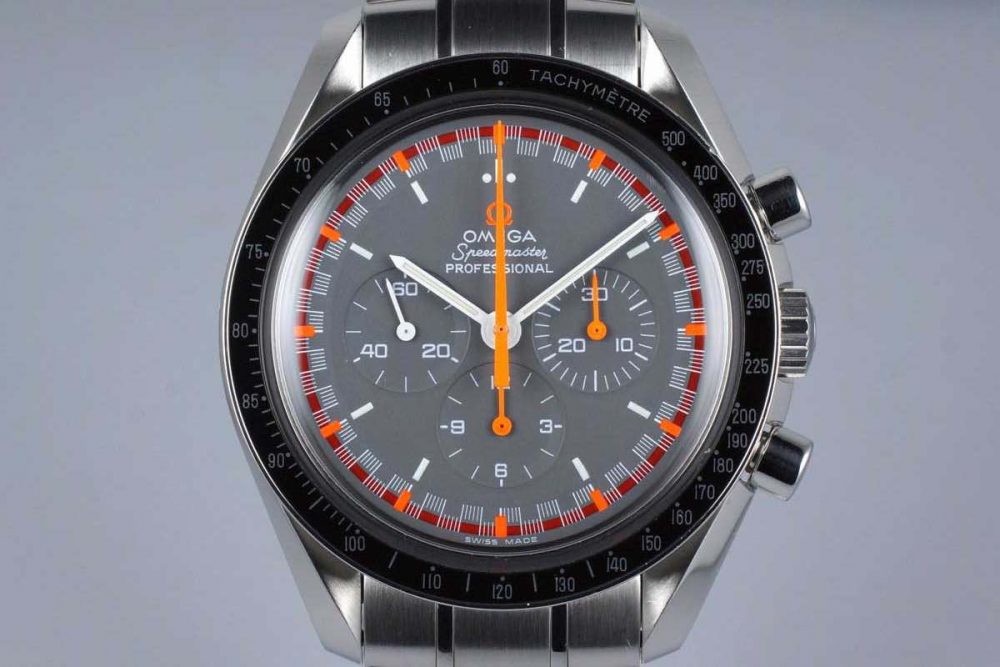 Made in 2004, for the Japanese market, these watches featured the striking racing dials first seen in the late 1960s rare 150 (estimated) run of 145.022-69 and the early 1970's Mark II Speedmasters. Of course, these now use Super Lumuniva instead of tritium of those earlier years. 2004 unnumbered pieces were issued and yet, with such a large number made, they are extremely hard to find on the secondary market with prices climbing steadily year by year. Absolutely stunning in the flesh.
An instance of the watch was sold with Phillips in Hong Kong on 29 May, for just shy of US$16,000.
2013 Reference: 311.30.42.30.01.004 — The Tintin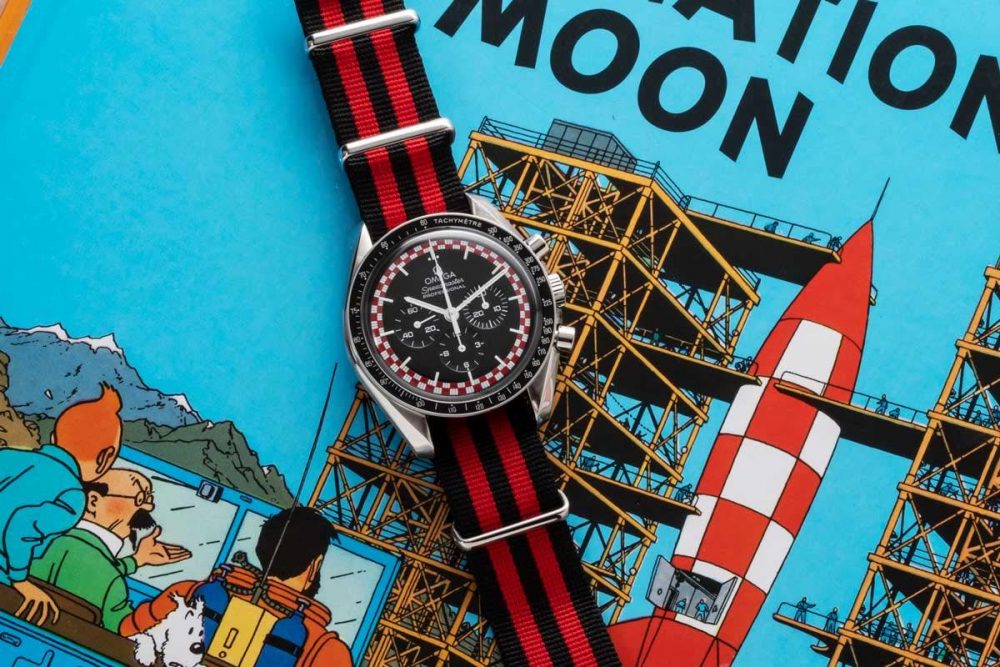 This is our pick as one of the best investments for the future. Omegaforums.net has approximated the number of watches to be between 1000-2000. They were launched in 2013 and discontinued roughly in 2016. The distinct red and white pattern around the minute/seconds track was meant to echo the pattern found on the rocket ship Tintin flies to the moon, in the comic Destination Moon. Unfortunately, negotiations with the estate of Herge fell through leaving Omega with these dials and no story to tell — not legally that is. Amusingly, the original design for this watch even featured a miniature rocket ship at 11 o' clock. Ever the pragmatist Omega repackaged the watch and a red and white Racing dial.
2015 Reference 311.32.42.30.04.003 — Silver Snoopy Tribute to Apollo 13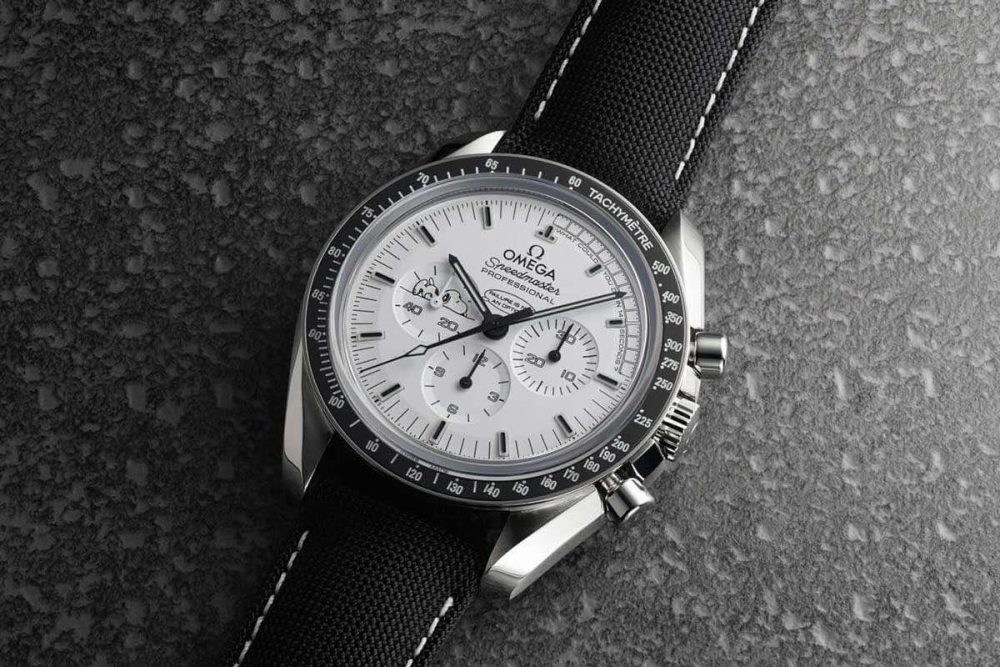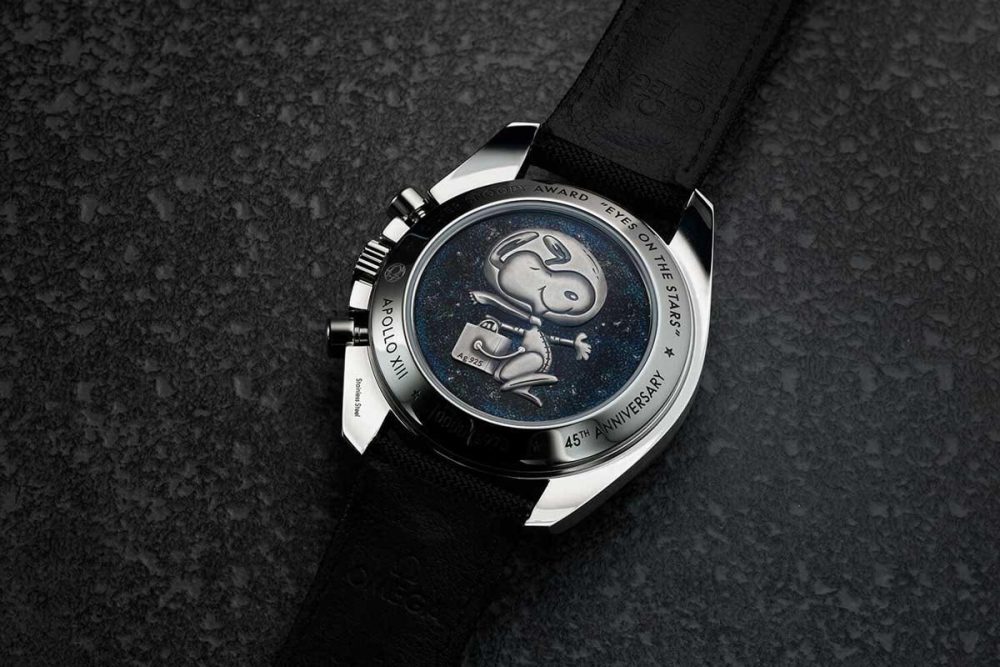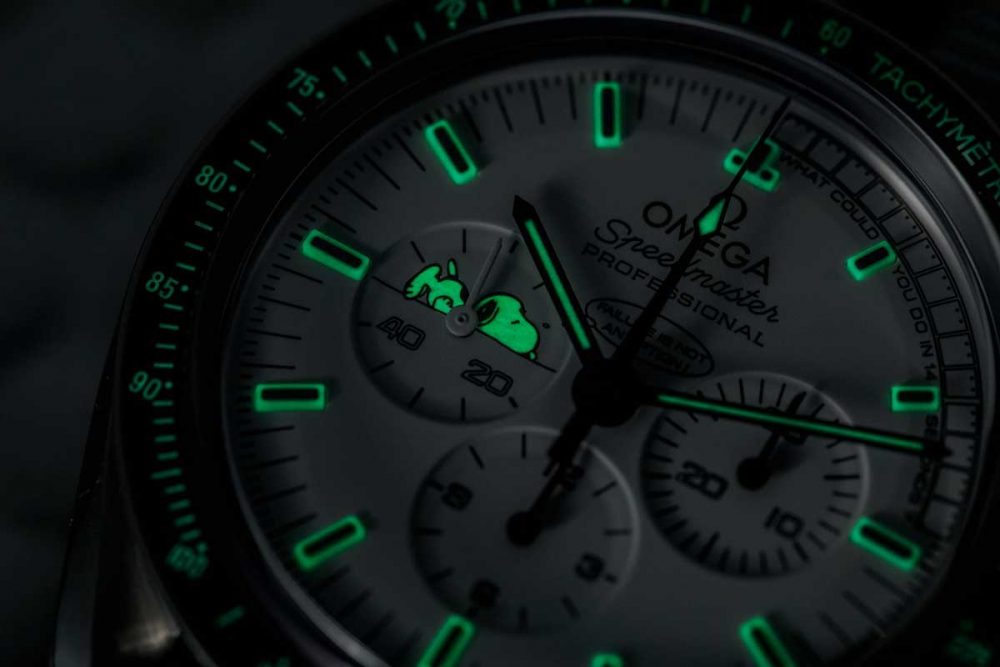 Possibly one of the most collectable watches in recent memory, the Silver Snoopy Tribute to Apollo 13 released in 2015 — one of the most charming timepieces in existence and currently trading at close to three times retail price on the aftermarket. Many of us in the Revolution office are kicking ourselves for not scooping one up when we had the chance. It features a charming use of Charles M. Schulz's Snoopy to remind us of the extraordinary heroism of the Apollo 13 astronauts and how, in 1970, they used an Omega Speedmaster for re-entry into the earth's atmosphere after all on-board electronics failed. This amazing tribute features a luminous Snoopy in the running seconds subdial, declaring "failure is not an option," while the seconds track at the perimeter of the dial reads "What could you do in 14 seconds?" referring to the precise amount of time calculated by astronaut Jack Swigert's Speedmaster for the critical rocket burns that enabled the crew to return to earth unharmed. The Snoopy Award, one of NASA's highest honors for "dedication, professionalism, and outstanding contributions in support of the first United States Manned Lunar Landing Project," was bestowed upon Omega by the Astronauts of Apollo 13 upon their safe return. This was commemorated in the Silver Snoopy Speedmaster with a hand carved Snoopy figurine set against a backdrop of dark blue enamel found on the watch's caseback. CEO, Aeschlimann shares, "Of course it's not the objective but when you see how sought-after these watches are, how much they are trading for on the secondary market and how these prices are set in an organic way by buyers and not by market manipulation, it makes us feel as if we are creating the right kind of timepieces." And, yes, that is a ceramic bezel with luminous tachymeter on this one.
2017 Reference PIC 311.32.42.30.01.001 — #SpeedyTuesday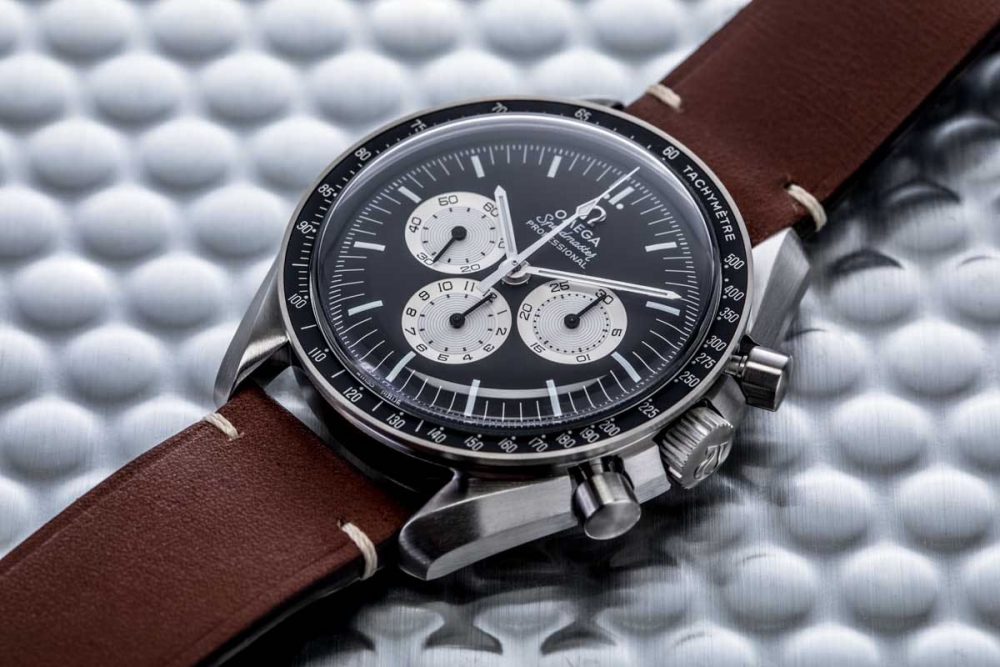 Future historians charting Omega's appeal will probably consider this watch as important as the "Omegamania Effect" in elevating the brand's collector appeal. It showed how desirable limited editions could be, especially if sold on-line and targeting enthusiasts. Produced in 2017 to commemorate a half-decade support by the online community of #SpeedyTuesday fans, this model featured "radially numbered" sub-dials in white, for a "reverse panda" look, along with other almost-secretive details from the Speedmaster's history, including the Alaska Projects. Only 2012 made, in honour of the year the group started, and all were sold in four hours. And then, appeared in the second-hand market near instantaneously. If one is very lucky, perhaps £6000 or £7000 might persuade an owner (or, seller perhaps) to part with his or her Speedy Tuesday, while the current online listings go for around £8000-9000, and are still rising. This Speedmaster, like certain Tudors, which will appeal to those who buy watches as investments, who have the willpower to sit on their watches and never wear them, to sell later at a huge profit.
2017 Omega Speedmaster '57 Chronograph the 1957 Trilogy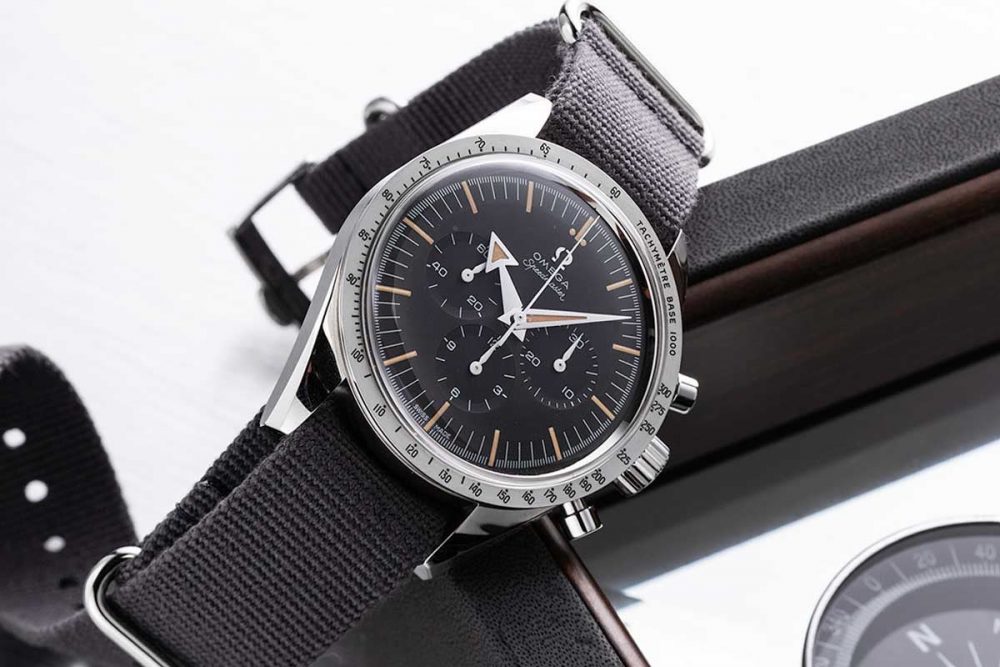 While it will be some time before a special sells with the rapidity of the "Speedy Tuesday", there's no doubt that the 1957 Trilogy, marking the 60th anniversary since the launch of all three models, had collectors checking their bank accounts for surplus cash. In addition to a pair of non-Speedys – the concurrently launched Seamaster 300 and the Railmaster – was the star of the trio, the 1957 Speedmaster. For Speedy-only types, all three were sold separately as well as in a set. Measuring 38.6mm and fitted with the period stainless steel bracelet, with reference number 311.10.39.30.01.001, the "Broad Arrow" was the first Speedmaster, as well as the first chronograph wristwatch with its tachymeter scale engraved into the bezel as opposed to printed on the dial. This is perfectly reproduced in the 1957, which is powered by the 1861 calibre and detailed with lume that looks as aged lume should. If you weren't quick off the mark, then expect to pay £5000-£7000 for an escapee from the trilogy. And it's worth it, because this is one of the best-looking Speedmaster reissues to date.