How to Embrace Charcoal 
Here's how to scale up on your grey attire to build a sophisticated winter wardrobe.
It's a slow burn. 
Charcoal doesn't shout, it doesn't 
immediately 
catch your eye. Yet deep grey tones have much to offer the modern man
. For a colour named after an ancient fuel, it's surprisingly contemporary. In the fifties, 
The Man in the Grey Flannel Suit
 evoked an establishment man
, the diligent but unexciting heart of corporate America
. 
Now that the twin forces of conformity and informality have 
driven
 business and political leaders in
to
 sartorial no man's land, 
stuck 
in identical navy suits
 and tieless white shirts
,
 charcoal is no longer a thoughtless default. It's a sign of quiet 
sophistication.
Despite being 
so close to black, charcoal has amazing tonal range. 
You might think it would result in a 
gloomy appearance, 
but charcoal is 
soft without being dull. Just look at the charcoal sketches by 
Henri Matisse
 and you'll see what I mean: the light gleams off those beautiful, rounded, warm bodies. And the same is true 
of
 clothes: in tailoring, charcoal is flattering; in well-fitting knitwear
,
 it's downright enticing. Here are a few ways to 
make the most of it
.
Go for texture
.
Navy might make the
 best sleek, professional uniform, but textured fabrics excel in charcoal. 
The king here is 
wool in all its seasonal varietie
s
. For warmer months, choose high-twist tropical weaves 
such as Fresco, with its honeycomb
ed
 surface
 and dry 
hand
. For winter, flannel comes into its own. Brushed 
wool and cashmere flannels have a richness and depth to them which make ordinary worsteds seem lifeless and thin. If you get 
the 
chance, choose 
flannels 
with wisps of black and mid-grey in the weave for even more surface interest.
Use pattern
.
 As
much as the world needs peacocks, there are times when a bold overcheck isn't the right choice. At the same time, it would be a shame to be confined to nothing but solid colours. Dark greys offer the perfect compromise
. Grey-on-grey patterns from windowpanes to Prince of Wales are subtle without being boring. From across the room, they resolve into solid grey; up close they are full of life.
Stay
 warm.
Greys, like other colours, can be divided into warm and cool. 
There's nothing wrong with the crisp combination of cool grey
 suit
, white shirt, and icy blue
 tie
. But don't miss out on charcoal's special affinity with warm accent colours. It's something Drake's has demonstrated brilliantly in recent seasons. Charcoal both balances and accentuates reds, yellows and 
earthy 
browns. A silk knit in gold or rust, a pocket square in burnt sienna or umber. 
Perhaps these tones 
work so well because they
 echo 
an
 open fire—
shimmering
 red and gold, and the carbon left behind.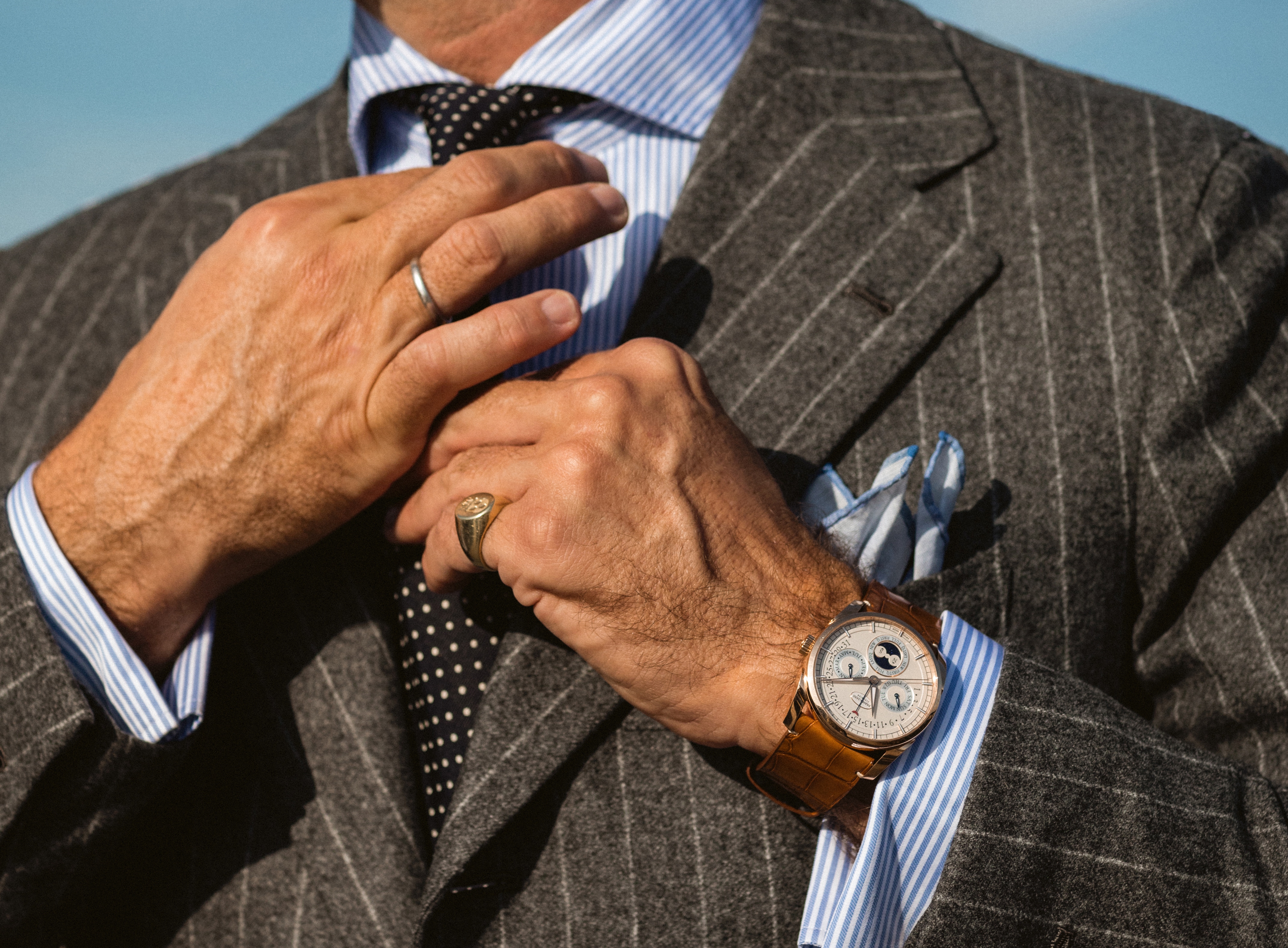 Be flexible.
 One of the best qualities of charcoal is its versatility. With a charcoal suit, it's easy to swap out the jacket for a sweater or bomber after hours. This gives you an extra pair of odd trousers when travelling. Likewise, charcoal is the most useful colour for an all-purpose overcoat. In heavy wool flannel, it will complement and protect any suit, but will also work with denim and 
corduroy, 
sneakers or 
boots
,
 on the coldest of weekends. At the other end of the formality spectrum, casual pieces become more refined in charcoal. A cardigan gains seriousness. The humble t-shirt excels.
Keep things simple.
What's the problem with excess? Too much is never enough. 
We have learned the lessons of minimalism in the past few years. A few quality 
item
s will outlast a huge inventory of forgettable possessions. 
It's better for makers, wearers, and the planet. But this doesn't mean abandoning every small addition and accessory. Instead, choose simple, elegant, neutral pieces. Grey accessories such as ties and pocket squares not only go with everything, they introduce 
less visual 
noise, meaning that you can add an extra 
note or 
two without 
drowning in details.