Jean Geniuses: How to Style a Denim Shirt with Tailoring
Despite their deeply divergent histories, denim and tailoring prove to be strangely well-matched bedfellows. With the help of some superb Italian street style, we show you how to combine the two.
Here at
The Rake
, we're not big on fleeting trends; but nor are we so stubborn as to turn our face against the wind of history when it's clearly blowing in the opposite direction. And if there's one gust of wind that's been blowing with the force of a gale over the last decade or so in menswear, it's fusion dressing. In fact, it's this intermixing – of the high and low, of the smart and casual, of the traditional and the new – that has propelled men's fashion since the end of the Second World War. We have this overarching trend to thank for such garments as the polo shirt and chino trousers, as well as for comfortable interventions such as
sneakers with suiting
. And the latest in a long and venerable line of syntheses: denim shirting with tailoring. As garments go, they don't come from worlds much further apart than do
denim
and tailoring. Tailoring has long been the preserve of the white-collar worker, men who can afford the cost of a bespoke suit safe in the knowledge that it won't be spoilt by strenuous physical labour. Hard-wearing, durable denim, on the other hand, was invented in the Gold Rush era precisely for workers who required something a little tougher than tailored cloth. Since then, jeans have been adopted by almost every
subculture
– from rockers to ravers – who have set themselves up in opposition to the men in suits. How, then, did it come to pass that at Florence's
Pitti Uomo
and Milan's Moda Uomo this year, there was barely a suit in sight that didn't have denim's unmistakable blue hue pocking out underneath it. The answer is simple: it's now 2018, not 1858, and the boundaries between forms of labour are more blurred than ever before; clothing no longer connotes career. Also, pairing a denim shirt with tailoring looks bloody great, combining the rugged spirit of the American frontier with the elegance of a well-cut suit. Here, a few styling tips on how to pull off a denim shirt with tailoring in a way that is masterfully modish as opposed to foolishly faddish.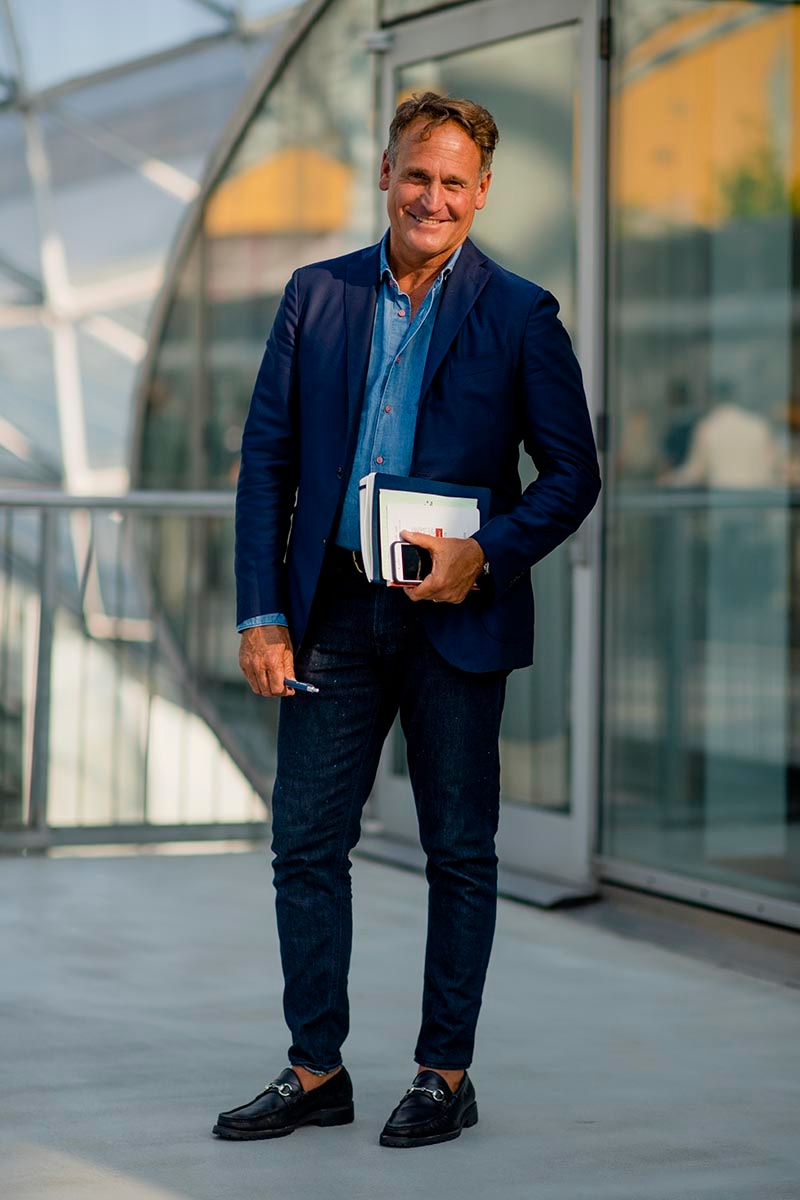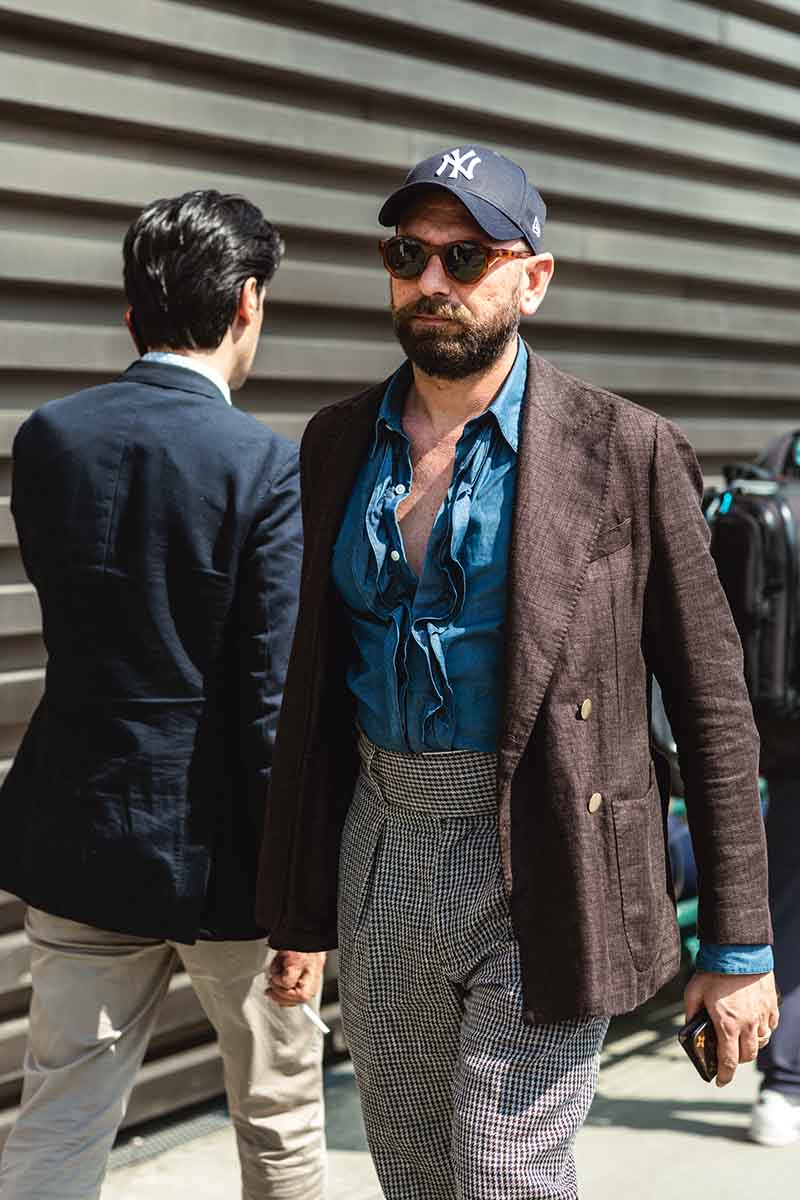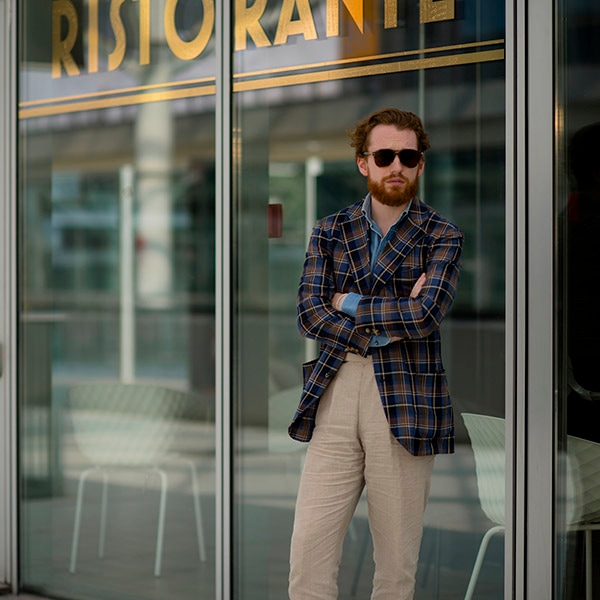 Pick your Pattern
Pulling of patterns in a tailored ensemble is no lean feat; it's famously hard to pick the right tie to match a patterned jacket, and wearing the same pattern on both your torso and legs can easily seem overkill. When you wear a denim shirt under your suit, however, you're basically licensing yourself to play around with mood and register, putting a more relaxed accent on smart suit separates. Take your cue from the gentleman pictured above right, and pick a pattern with blue in it to co-ordinate with your denim. Italian brand
Rubinacci
has your work cut out for you: they even have the perfect pair of smart chinos to complete the look.
Tone it Down
Another, even bolder way to incorporate patterns is via the shirt itself. Coming across a patterned denim shirt that actually looks good is no easy task, but happily British brand
Turnbull & Asser
have done all the hard work for you, with their range of smart, dress-style denim shirts. Follow the example of the gentleman in the blue blazer above, by keeping your tonal variation to a minimum. Construct your outfit from similar shades of blue in order to allow the pattern to serve as the main attraction of the look. A pair of brown Oxfords are a classy way to introduce a new colour that won't distract attention from the shirt.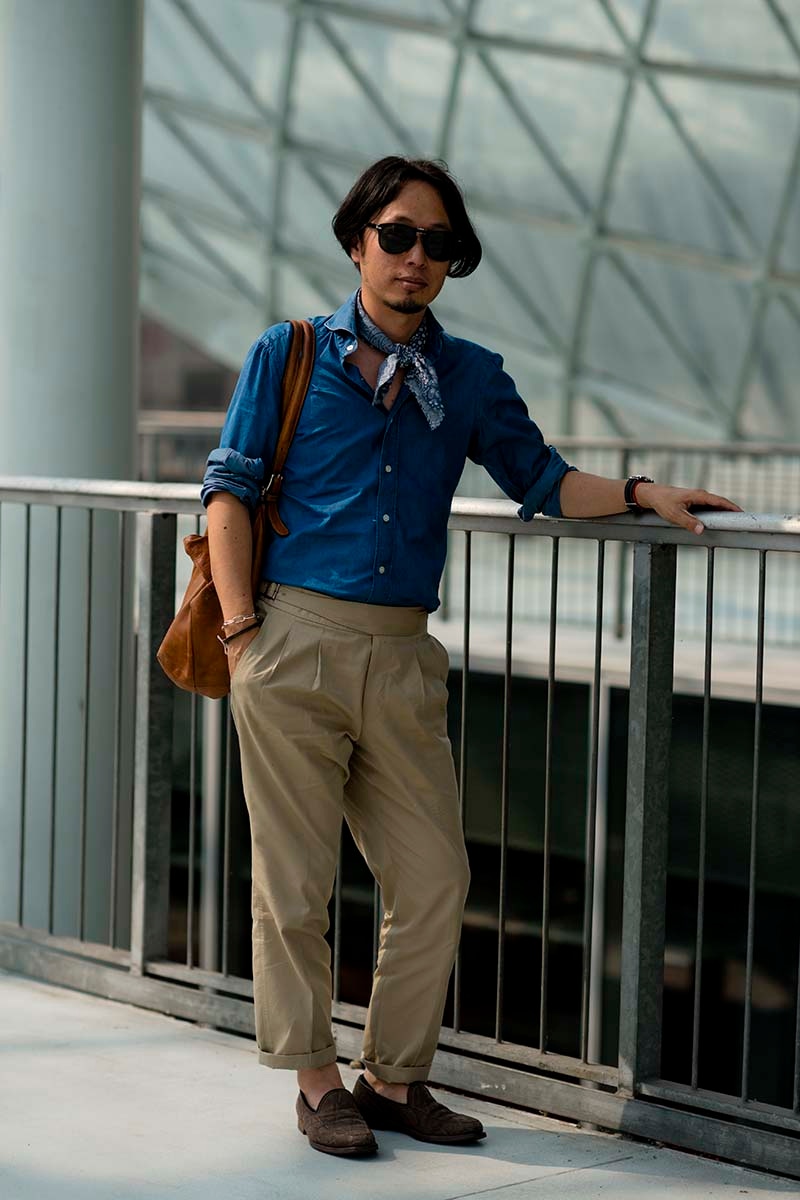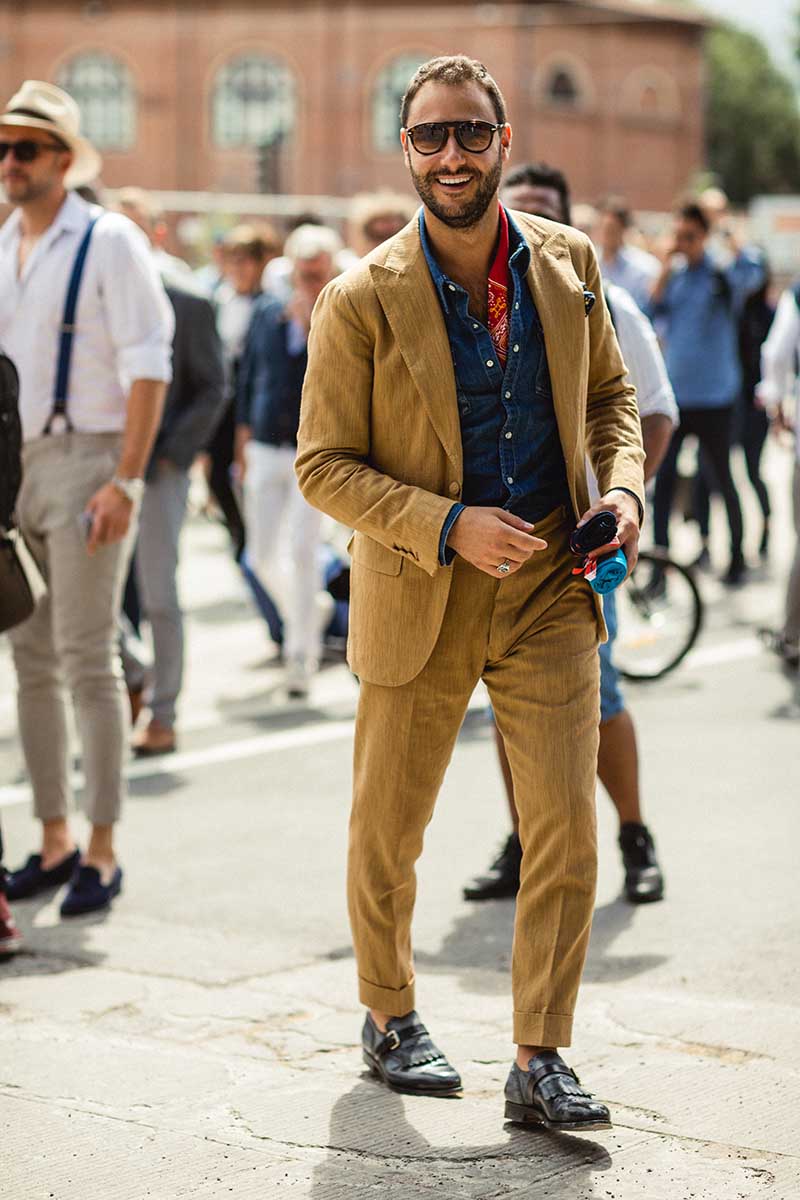 Camel and Denim
There's no scientific explanation for why camel (and similar, lighter shades of brown) and denim go so well together, but looking at the two gentlemen pictured above right, we don't see how this truth can be refuted. Perhaps it's because of the Wild Westerners who wore their denim with suede waistcoats and cowboy boots back in the early days of denim in the 1870s. Perhaps it's because 'C' and 'D' are neighbours in the alphabet. In any case, the important thing is not what you know, but what you do with this knowledge. We suggest matching a light blue
Edward Sexton
denim shirt with tan brown chinos from
New & Lingwood
. A stylish bandana from Japanese brand
Kapital
is a subtle way to pay homage to the denim shirt's Americana heritage, and will look superb with the shirt's top two buttons undone.
Inverse Canadian Tuxedo
Finally, we couldn't do a piece on denim and tailoring without making mention of what is perhaps the most reviled ensemble in all of menswear: that double-denim demon, the Canadian tuxedo. We're not for a moment going to suggest you try to make it work; that would only be a waste of your money and a strain on our credibility as menswear experts. But we are going to suggest that you take the principle of double denim and invert the tuxedo by wearing denim as an underlayer rather than an overlayer. This will accentuate the workwear aesthetic of denim by creating the illusion that you are wearing denim overalls. Then adding a tailored jacket on top (again, you can venture into pattern territory here, but keep it understated) will wreak utter havoc with this sense of the utilitarian, fusing blue-collar (literally) and white-collar motifs with panache. The effect is extremely chic, but be warned: this look will take confidence to pull off. Stick to naturally-dyed indigo denim in a slim fit, from jeans experts like
Marol
and
Cifonelli
, in order to maintain an air of refinement.