How to Wear Bold Checks
Bold checked tailoring can be tricky to pull off, but when worn with the right pieces, is an indicator of a generous wardrobe and, most importantly, someone who's confident in their style.
My first dozen or so suits were all quite conservative in fabric, mostly solid greys and blues with the occasional subtle check or stripe, but working on Savile Row exposed me to some beautiful bold fabrics from the numerous West End cloth merchants. One of the most memorable I found was from Henry Lesser – a 13oz grey semi-milled worsted with an ecru pindot windowpane check 'guarded' with three lines of cherry red that could only have been woven in the 1970s. The sensible option would have been to choose a suit in a simple cut, but I wanted to match the 'sportiness' of the cloth in the style of the suit, so ordered a three-button hacking-style jacket with deep vents, a ticket pocket, a flap over the breast pocket, turn-back cuffs and cloth-covered buttons. The suit was fabulous, but not without its controversy. The Yorkshire-based workshop that sewed it together disapproved of my styling choices and demanded that I remove most of the extra details or they would not make it. I agreed to their request on the telephone only to add them all back after the first fitting. When the owner of the factory discovered this, he called my manager saying that they would never make a suit for me again. I got around this by using a fake name on future commissions. Bold checks contain clues of what they should be combined with, expressed in their colours, but it's important not to take this too far, and remember to add contrasting textures. A strong patterned sports jacket can be much easier to wear than a full suit, especially when worn with plain trousers. The concept of a 'neutraliser' in men's style is referred to in the copy accompanying the wonderful fashion plates of
Esquire
in the 1930s and 1940s; the idea that a bold colour or pattern should be balanced with an article of clothing in a sombre, simple shade.
Grey flannel trousers
are the most useful 'neutraliser' and combine well with any bold jacket. Denim is also useful, but the sports-jacket-and-jeans thing never looks as cool as you'd hoped. The next time you're tempted to wear jeans, wear flannels instead. Trust me.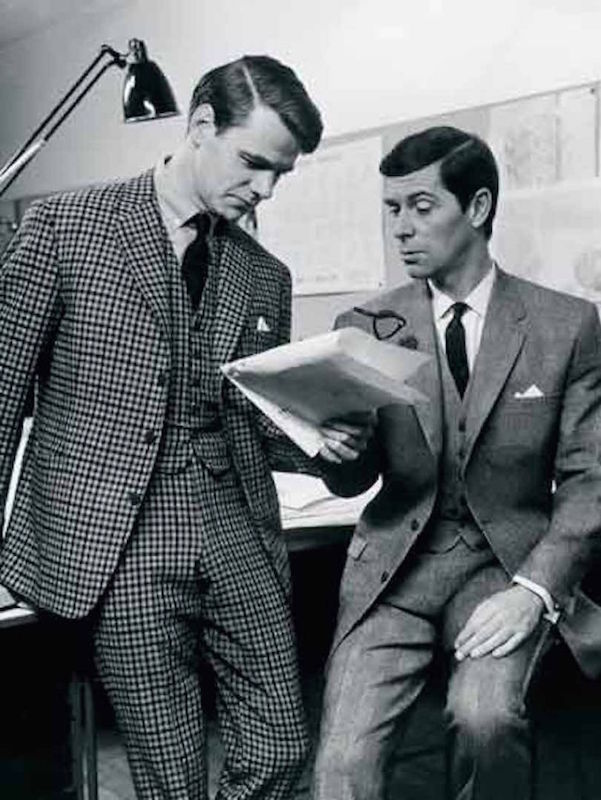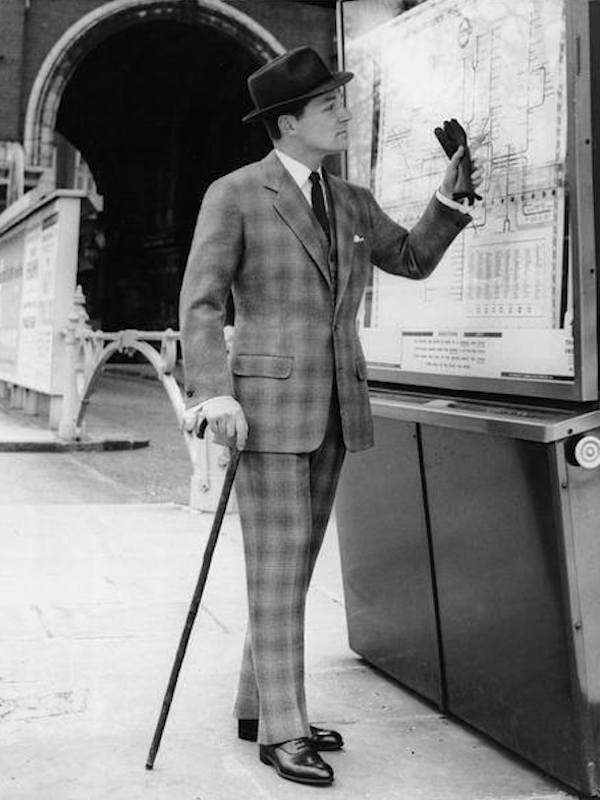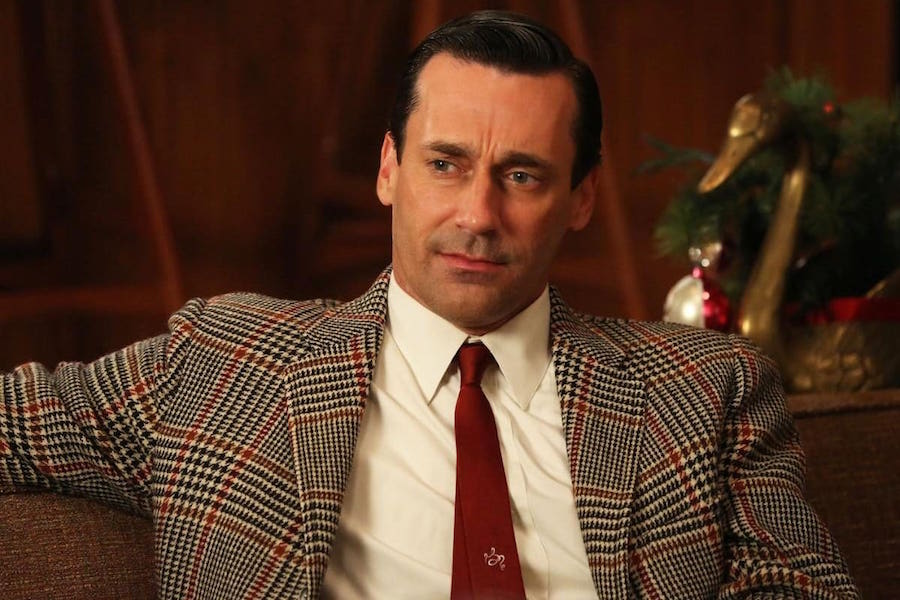 Roger Moore's James Bond didn't wear jeans with his sports jackets, and gives us all a masterclass in wearing bold patterns in
The Man with the Golden Gun.
With his epic oversized checked sports jacket, Moore wears plain trousers, a dark textured tie and a cream poplin shirt. Cream and pastel shades are useful for combining with strong patterns and are less stark than white.
If I am a little anti-jeans, I am certainly in favour of denim shirts with strong tailoring. The master of this look is Luca Rubinacci of the eponymous Neapolitan tailoring house. The addition of a blue chambray shirt dresses down and relaxes a jacket in a bold pattern or unusual colour whilst still retaining its elegance. In cooler months, a rollneck sweater combines well with sports jackets. If the jacket has multiple colours in the decoration, try to avoid matching the most prominent shade. If in doubt, a warm mid-grey in cashmere is always a good idea. It is nice to pick out a shade of your jacket in your socks or your handkerchief, but not at the same time.
Save
Save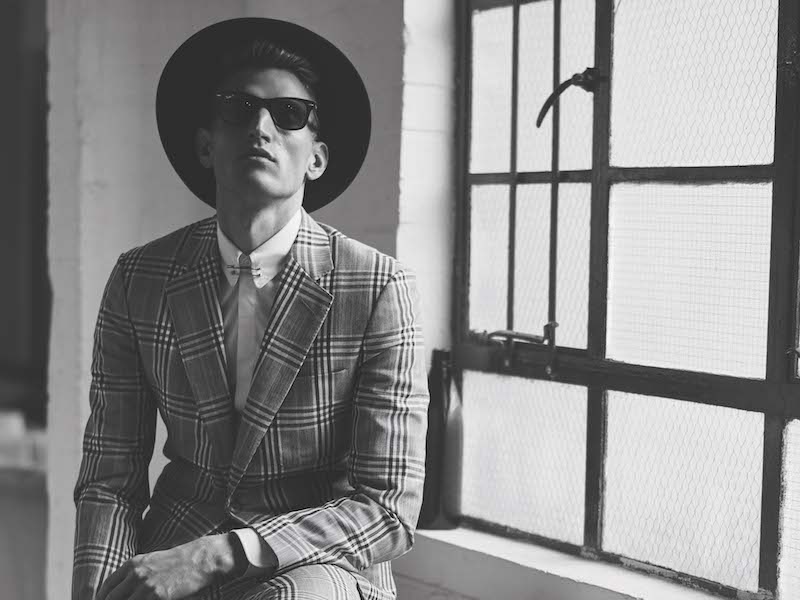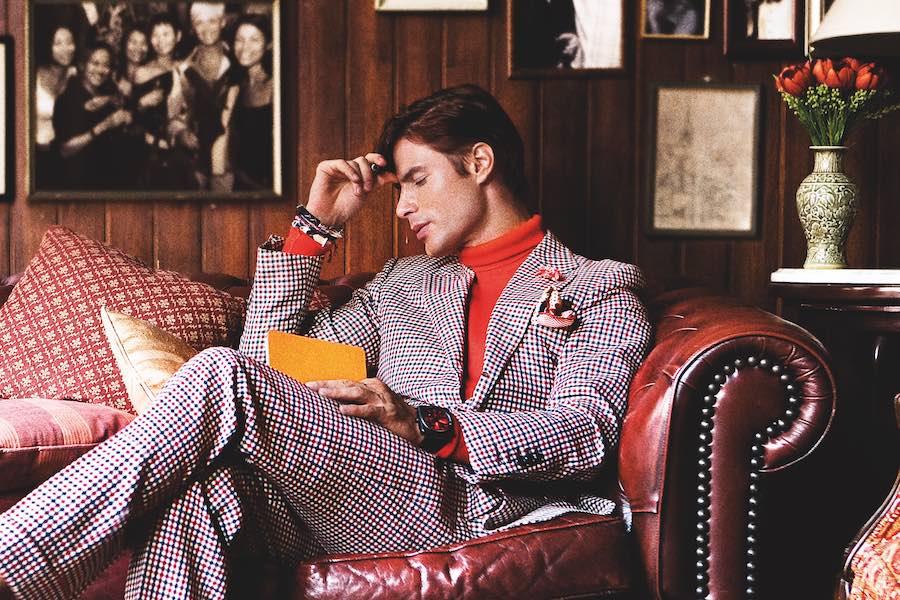 Of course, the most important factor in wearing bolder patterns, whether it is in jackets or suits, is that they are worn unselfconsciously and not too often. To this effect, they are an indicator of a gentleman with a decent-sized wardrobe and who is confident in his style. When I see someone wearing fancy tailoring, it makes me think of someone who wants to wear a suit, rather than someone who has to. My vintage-clothed suit remained a favourite for many years, but I would wear it sparingly. When I left Savile Row to become the suit buyer for Ede & Ravenscroft, I wore it to visit a factory in Tuscany where it was met with great enthusiasm, and I discovered there is an appreciation of English style in Italy. The trip was a great success and I remember feeling quite pleased with myself on the journey home. It was a beautiful spring evening and I decided to walk back from the train station and catch the last five minutes of the Arsenal match at my local pub. It was there that I was reminded that New Malden is a long way from Massa and my suit was not met with the universal praise it was accustomed to. "Who booked the fuckin' comedian?" was one of the wittier comments.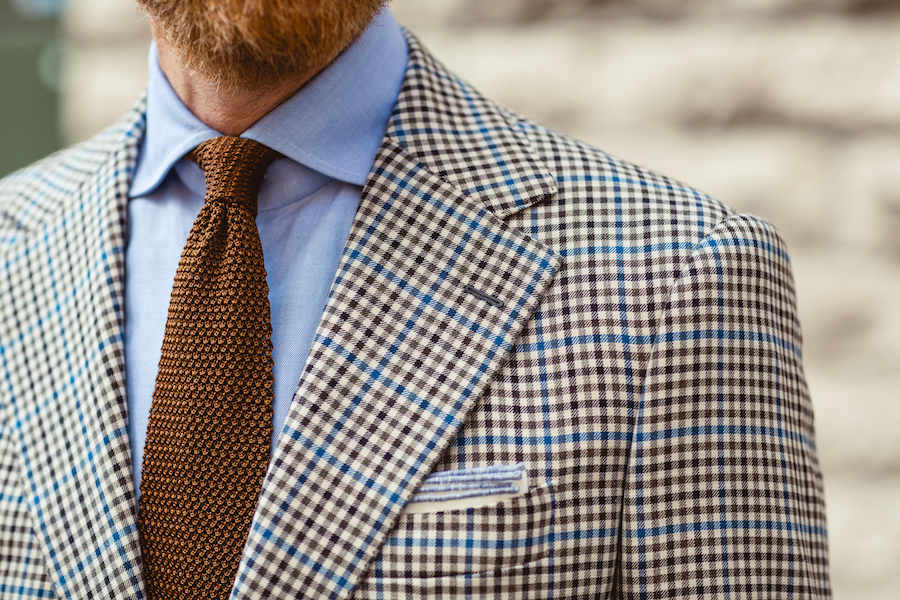 Save
Save