How to Wear Purple
Although it's been given a bad rap over the past few decades, purple is seeing a slow yet steady comeback. Whether light and airy or deep and elegant, here's how to wear the regal colour.
A few millennia back, purple dye was extracted using a long, labour-intensive process involving sea-snails. Thousands were required to produce even the smallest amount, making the dye – known as Tyrian purple – expensive and rare. Today, it is still linked with power and excess, but despite its regal associations, purple has developed a bad rap. Blame cinema: Batman villains, chocolate factory owners and one pussy-bow-collared international man of mystery characterised the colour as flamboyant and over the top, and the regal colour once worn by Roman rulers and the aristocracy unsurprisingly lost its mojo as a result. Last year, however, purple bounced back. At menswear mecca
Pitti Uomo
, the gateway garments of choice were paisley scarves, silk neckties and artfully folded pocket squares. In the spring/summer collections, Hermès played with jewel-toned corduroy and plush outerwear and Ermenegildo Zegna embraced aubergine tailoring, while
Anderson & Sheppard
and
Brunello Cucinelli
both produced royal purple sports-luxe polos. In November 2017, Hugh Jackman collected a BAMBI award wearing a Ralph Lauren Purple Label amethyst velvet dinner jacket; not one to usually venture away from greys and blacks on the red carpet, Jackman's pop of colour looked far from novelty – designer Ralph Lauren himself once told journalist Dirk Standen, on the subject of his brand's lines, that "Black is not as good as purple". One month later, Pantone declared Ultra Violet the 'colour of 2018'. In it's darkest form, purple can be surprisingly easy to wear. Plum, aubergine and grape aren't just ways to get your five a day – these more subtle shades complement a palette of equally dark forest green, teal or brown. (That said, while dark greens and purples go well together, avoid a striped tie involving the two unless you're attending
Wimbledon
.) Lighter lilacs and lavenders feel more appropriate for summer, and textured fabrics can have an uplifting effect; cross-dyed linen, seersucker and loose-weave hopsack can soften the intensity of the colour without dulling it down.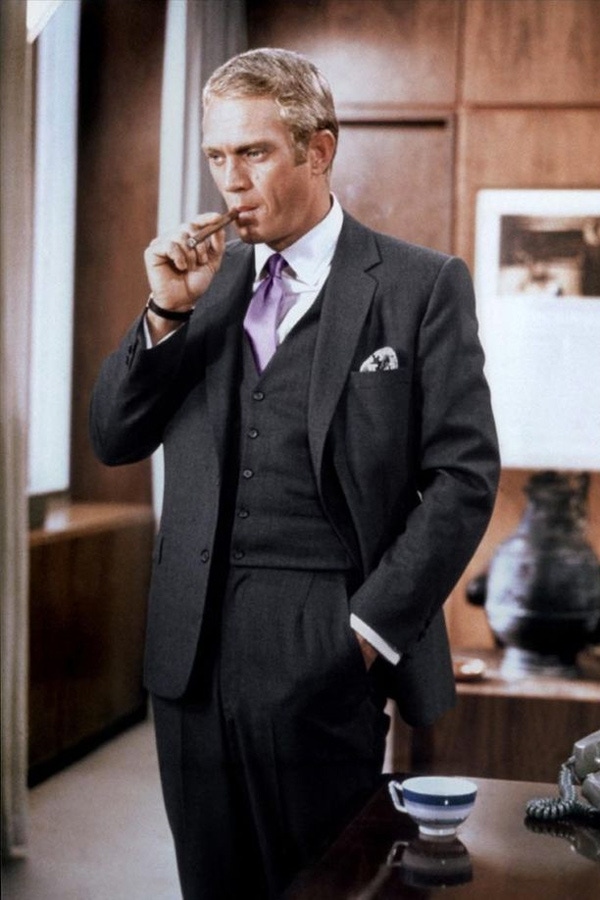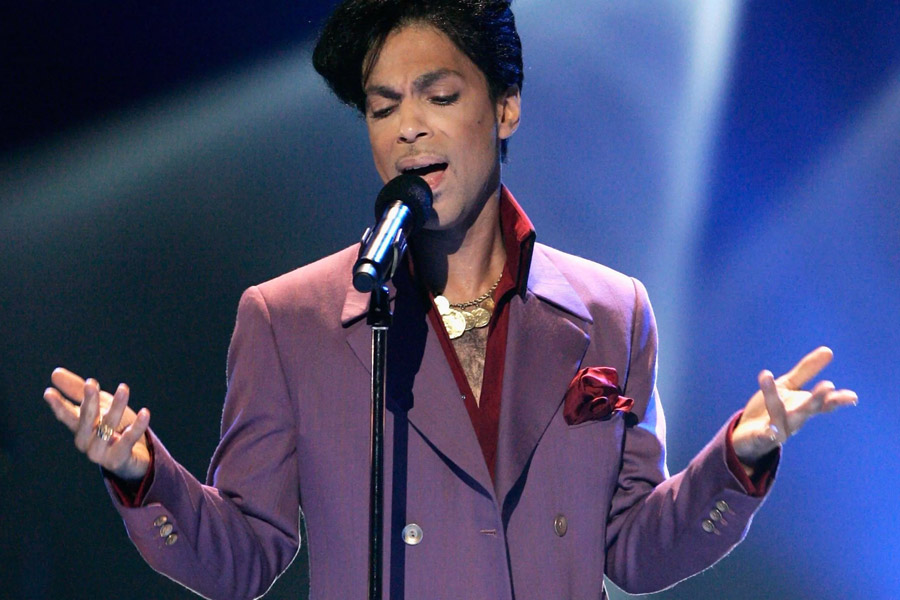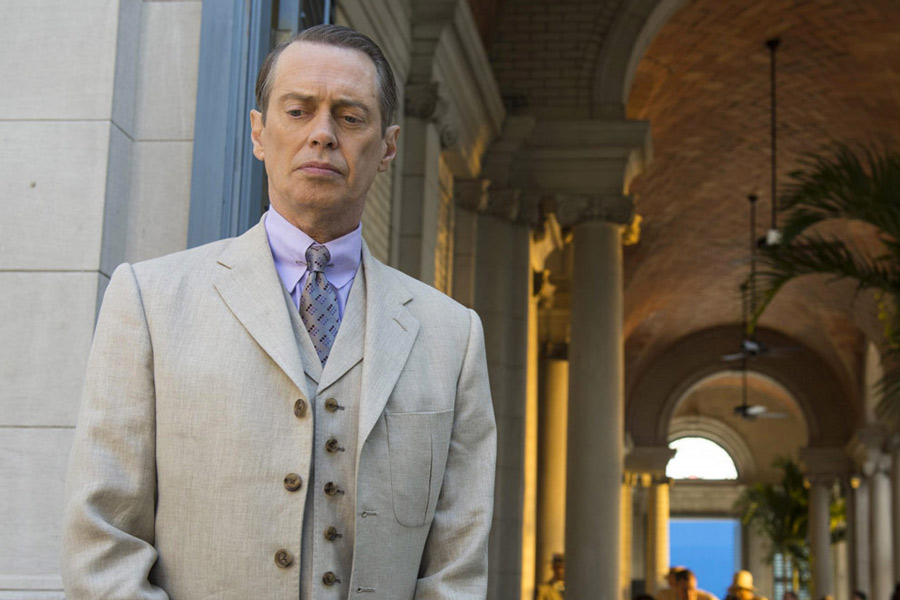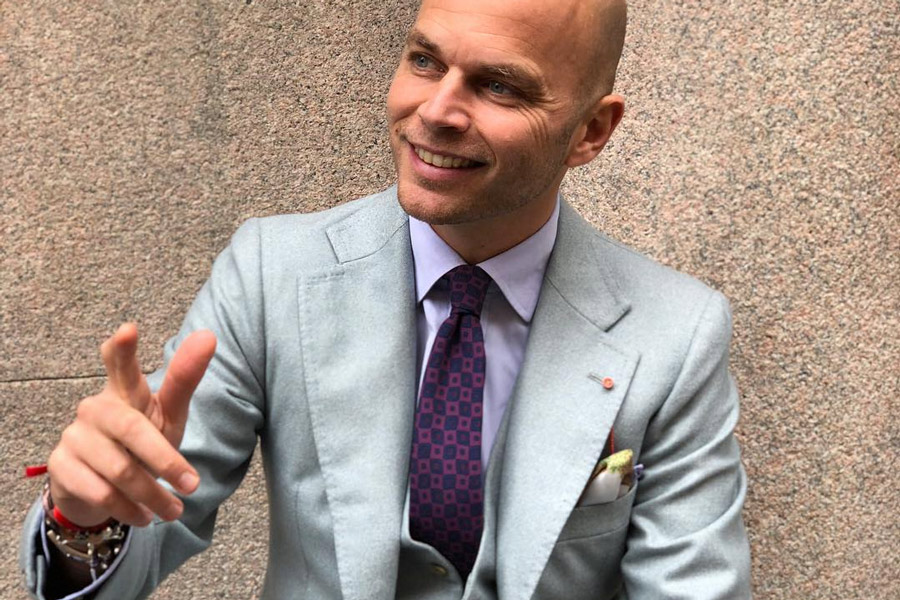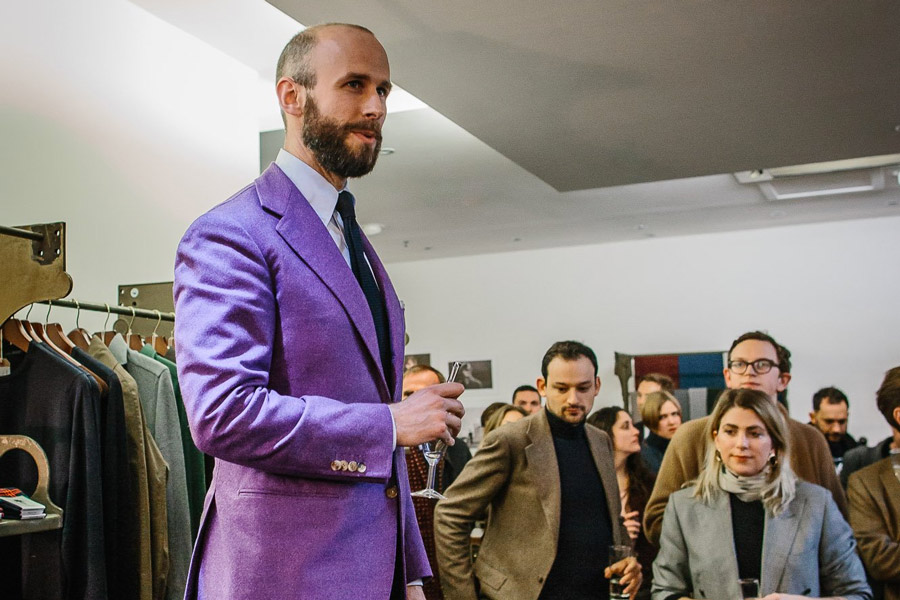 Pattern is another effortless to way to incorporate the hue into your wardrobe without going top-to-toe Tyrian. Clothier
New & Lingwood
has celebrated British eccentricity in its spring/summer collection by weaving a luscious purple overcheck into a lime green checked jacket. "Wearing purple as an accent with classic colours such as navy, grey, white and beige is an easy way to introduce it," says the house's Creative Director Simon Maloney. "Then, as you become more comfortable with what works for you, you can be bolder. It's also a wonderful colour for the more mature man, as they often have an established and unique style of their own. This season, gentlemen should set themselves apart by choosing sharp and original colour combinations for all events whether it be at Henley, the Qatar Goodwood Festival, a wedding or garden party." If you're ready to invest in more than a statement necktie or bold overcheck, purple tailoring doesn't have to be challenging. "The choice of cloth, in particular, is important," The Rake's sartorial expert and Creative Director of Kit Blake
Chris Modoo
explains. "I have often considered a purple-toned flannel suit where the shade is mixed with warm greys and creams.
VBC
often offers this option in its autumn/winter collections, and I think it would be so striking as a double-breasted two piece that could also be worn as separates." Style authorities
Nick Foulkes
, Hamish Bowles,
Luca Rubinacci
and
Michael Bergen
know the secret to pulling off purple tailoring – be it an immaculately cut suit or the flash of a coat lining – is confidence. "It's also a great colour for the evening," Modoo continues, applauding Hugh Jackman's pivotal purple moment. "Velvet is a great choice for a smoking jacket, as it combines elegantly with black and white." If you want to go all out, play on the drama of purple velvet with a sweeping shawl lapel like Cifonelli's double-breasted jacket, and find inspiration in actors John Boyega and Donald Glover, who have both worn purple suits on the red carpet. It's a look that may take a little practise – and a lot of confidence – to pull off, so Modoo advises the less adventurous to consider purple velvet slippers instead of the traditional black, blue or burgundy. However you choose to wear it, it's always been a colour fit for a king (or Prince) – so, we say, let purple reign.