How to Wear Shorts This Summer
Now that we're on the wrong side of the summer solstice, it's high time you said goodbye to constricting trousers and realised the emancipatory potential of bare legs. Here's our guide on how to wear shorts.
No two entities go together quite so swimmingly or stylishly as the summertime and a quality pair of shorts. As soon as the mercury edges its merry way into the mid-twenties, that sweet Celsius spot where it's warm enough to bare flesh without burning, it's time to free your legs from their fabric cages and feel the breeze between your knees. Skies out: thighs out, as
The Rake's
summer motto has it. For such a simple garment (literally trousers, but
shorter
), it's incredible how much anxiety shorts can provoke. First, there is the question of length, of finding the elusive spot between the knee and the waist which cools the lower legs while preserving a gentleman's modesty. Then the question of material: however comfortable, a pair made from jersey will simply never do outside of the privacy of your own home, but a tailored pair made from suiting fabric will be too stiff and stuffy for summertime activities. Then the trickiest question of all: what to wear shorts with. Whilst it seems unlikely that Pitti will go ahead in July, we remain optimistic, hopeful for the chance to travel again and feast on fresh inspiration for the summer season. Ahead of the event, we've looked to some of the most
sartorially competent men in the world at Pitti Uomo in Florence
from previous years, who facilitated a masterclass in the wearing of shorts for summer, and whose enduring appeal underlines their timelessness. Taking our cue from these heroic liberators of the lower leg, we've come up with a style guide to wearing shorts this summer. The most important thing is to advertise your thighs without being chastised, weatherwise. Or, put less poetically, check the goddamn forecast. Few sights are more tragic than a shivering pair of bare legs cowering under shelter in a shower. Also, don't fall into the trap of thinking that shorts must mean sandals. As the examples below will show you, there are more elegant ways of styling your shorts that don't involve leather straps slicing into your instep.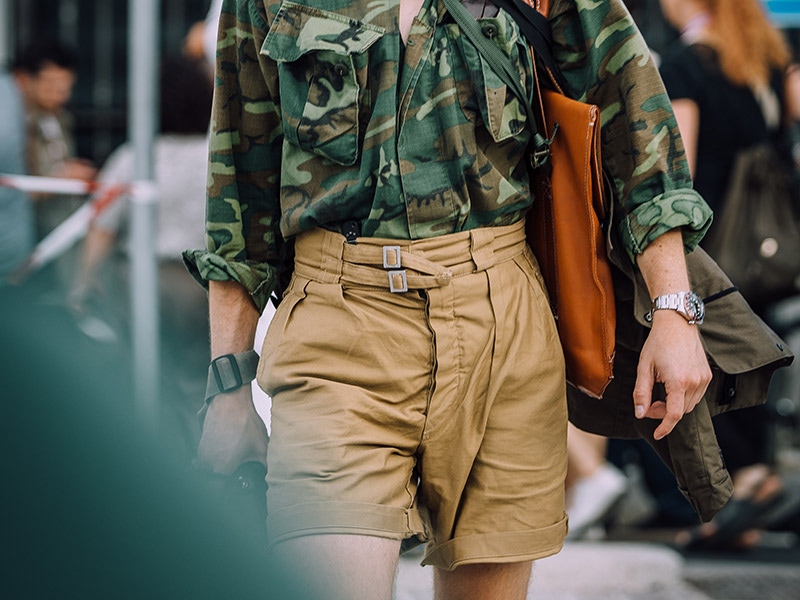 The Bermuda
The Bermuda is an example of a high-risk, high-reward kind of short. You need a spirit of adventure to wear these shorts that is redolent of the
fearless Gurkhas who famously wore the style
as part of their army uniform. As the gentleman pictured above capably demonstrates, the best way to wear Bermuda shorts is to capitalise on their military heritage. For a more refined take, eschew camo print for a tailored military style jacket that will pair perfectly with the smart pleats on a pair of well-pressed Bermudas, or dress the look down with a simple white T-shirt.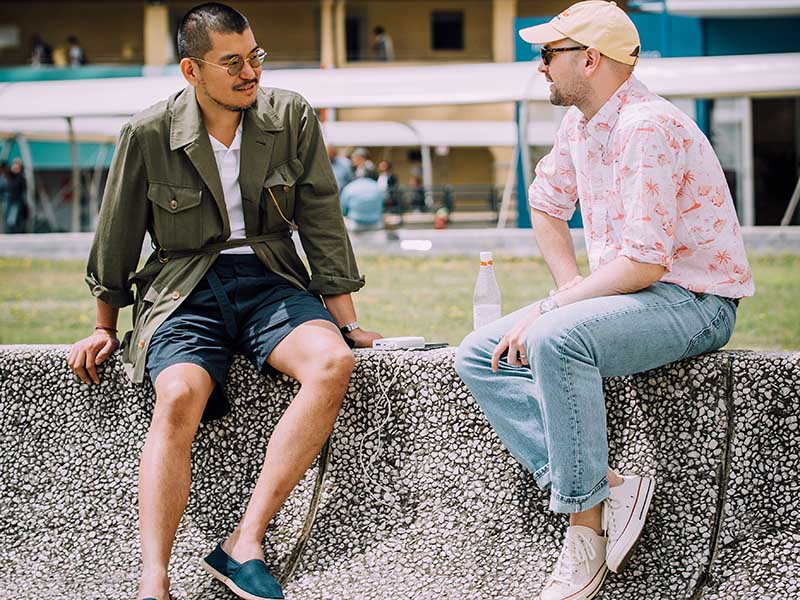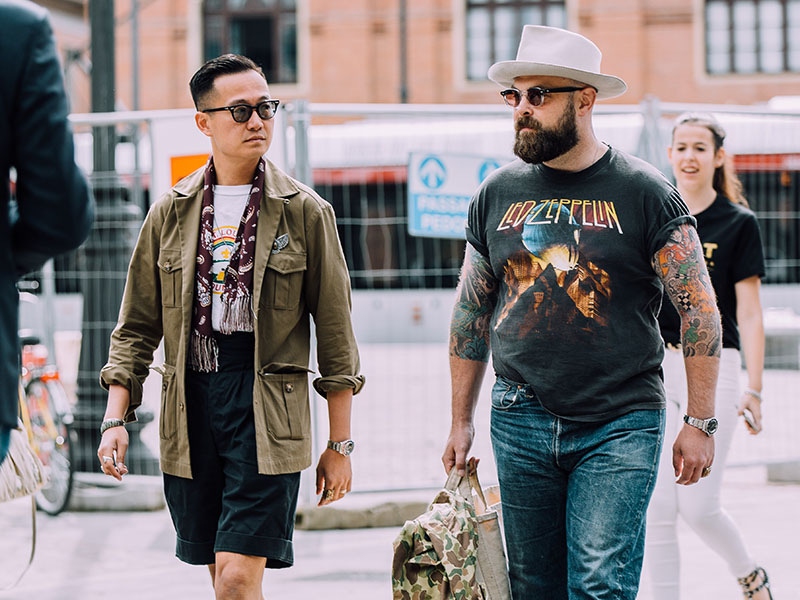 The Utilitarian Approach
You don't have to be labouring away in the sunshine to channel the utilitarian look, but if you do have business to attend to, a pair of shorts can put a playful spin on classic workwear that will keep you cool during boardroom meetings. Although shorts can work fantastically with suiting, the risk of looking like a public schoolboy is simply too great. Think safari instead of preppy. Extra pockets provide a practical point of difference, without looking too bulky or ruining a clean silhouette.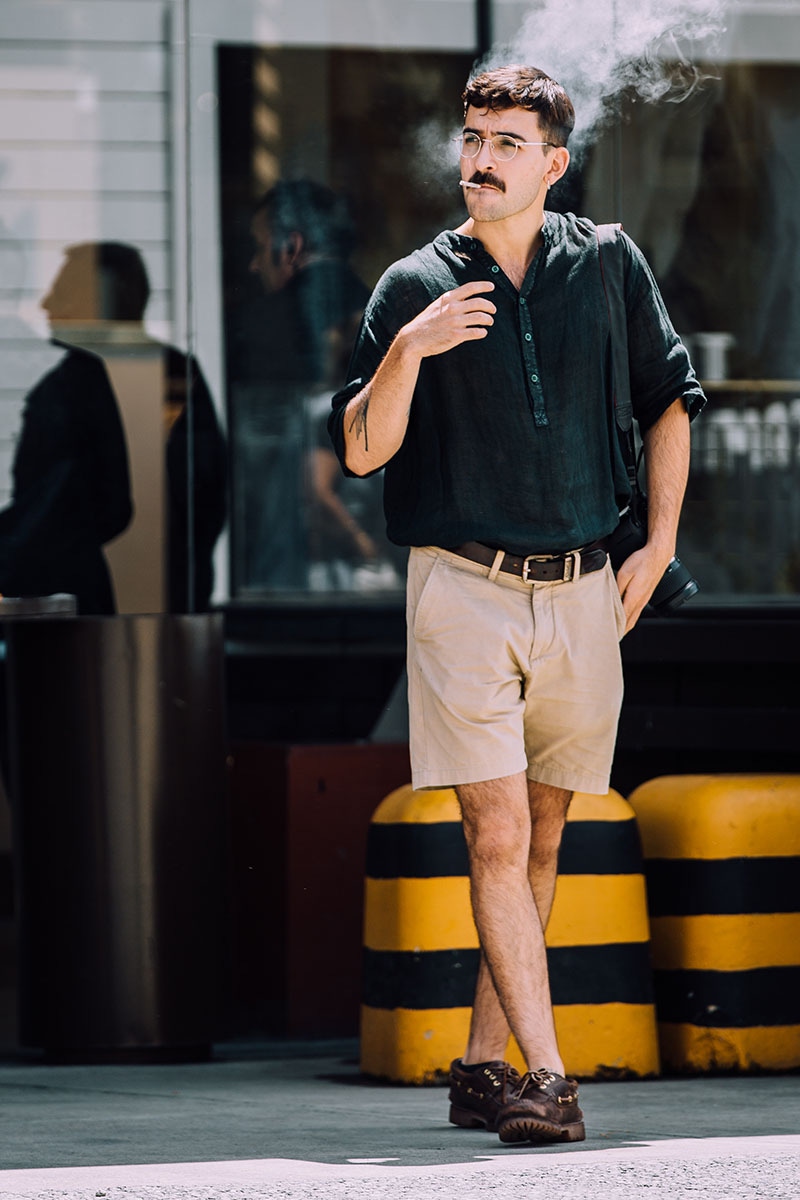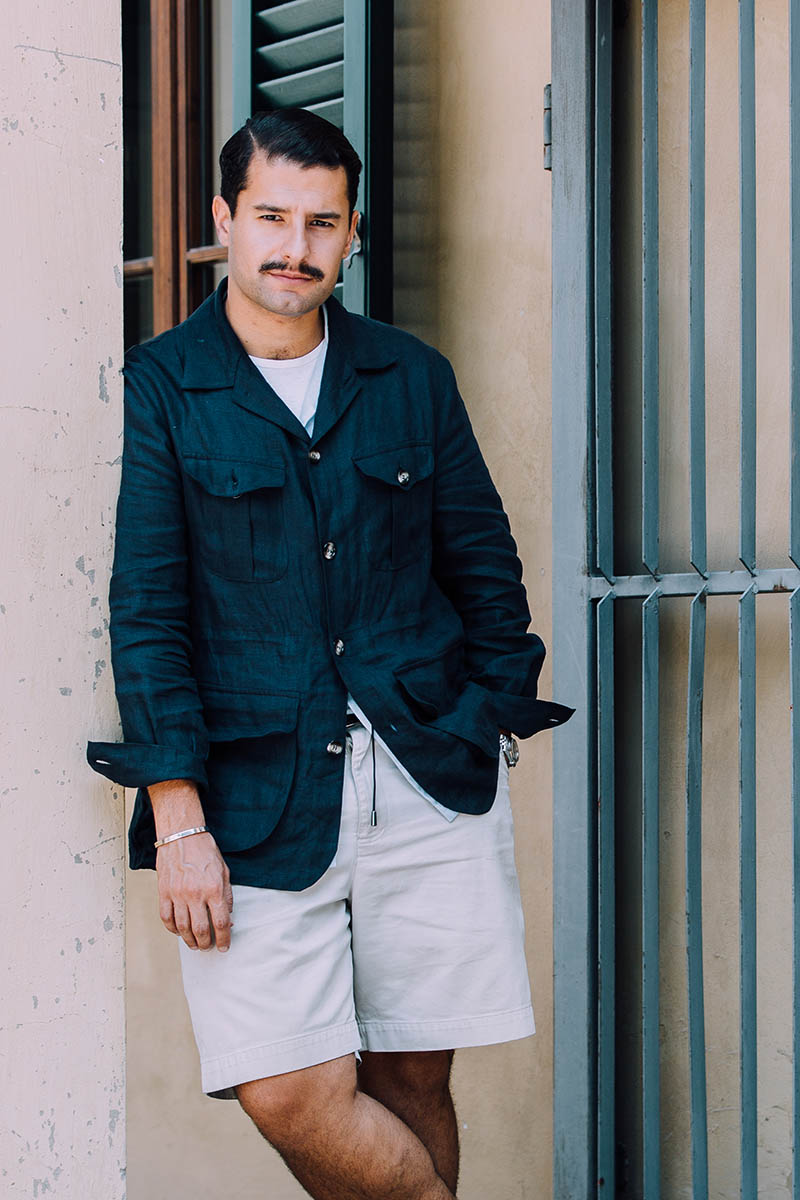 Riviera Refinement
As well as dazzling onlookers in the sunshine, a pair of bright shorts are perfectly evocative of the laid-back luxury of the
French and Italian Rivieras
. You can't go wrong with a pair of crisp white shorts cut to sit just below the thigh (so as to not chop your legs in half at the knee): they will look eye-catching for all the right reasons. Wear with a patterned or Cuban collar shirt to accentuate the Mediterranean feel, and bare your ankles in a pair of smart but comfortable brown leather loafers or espadrilles.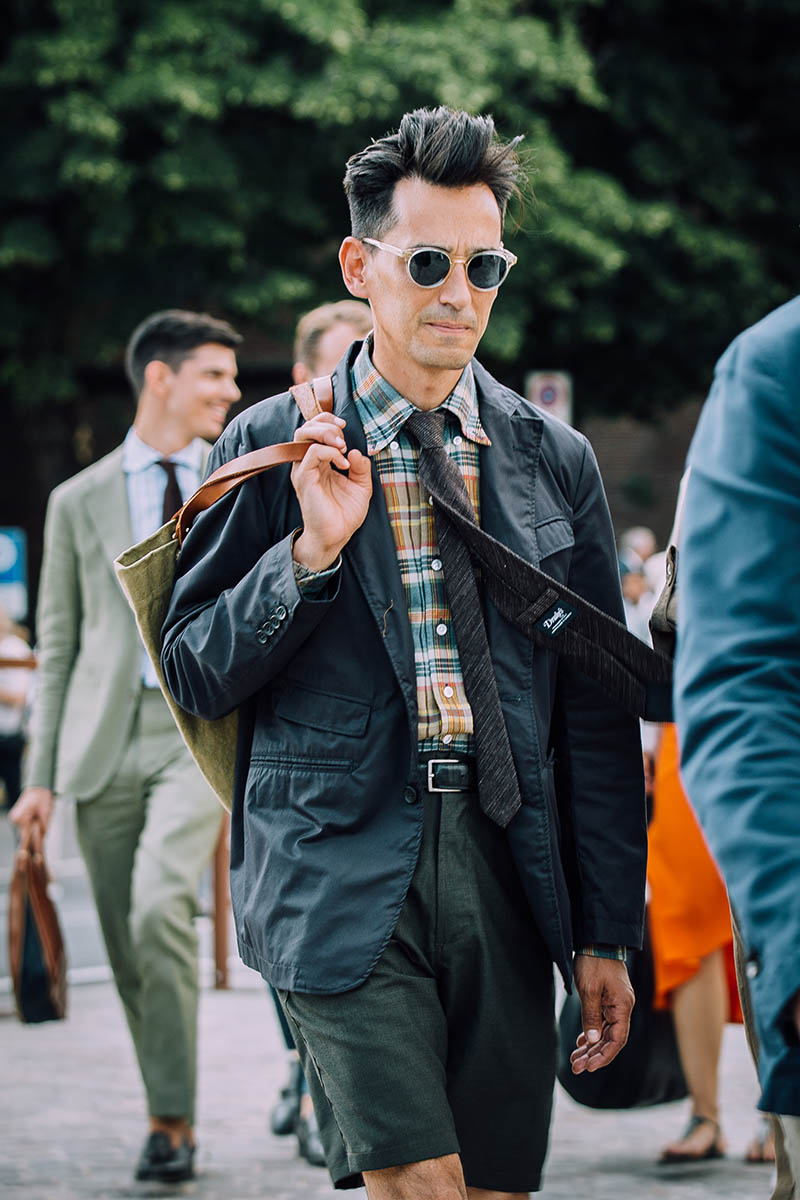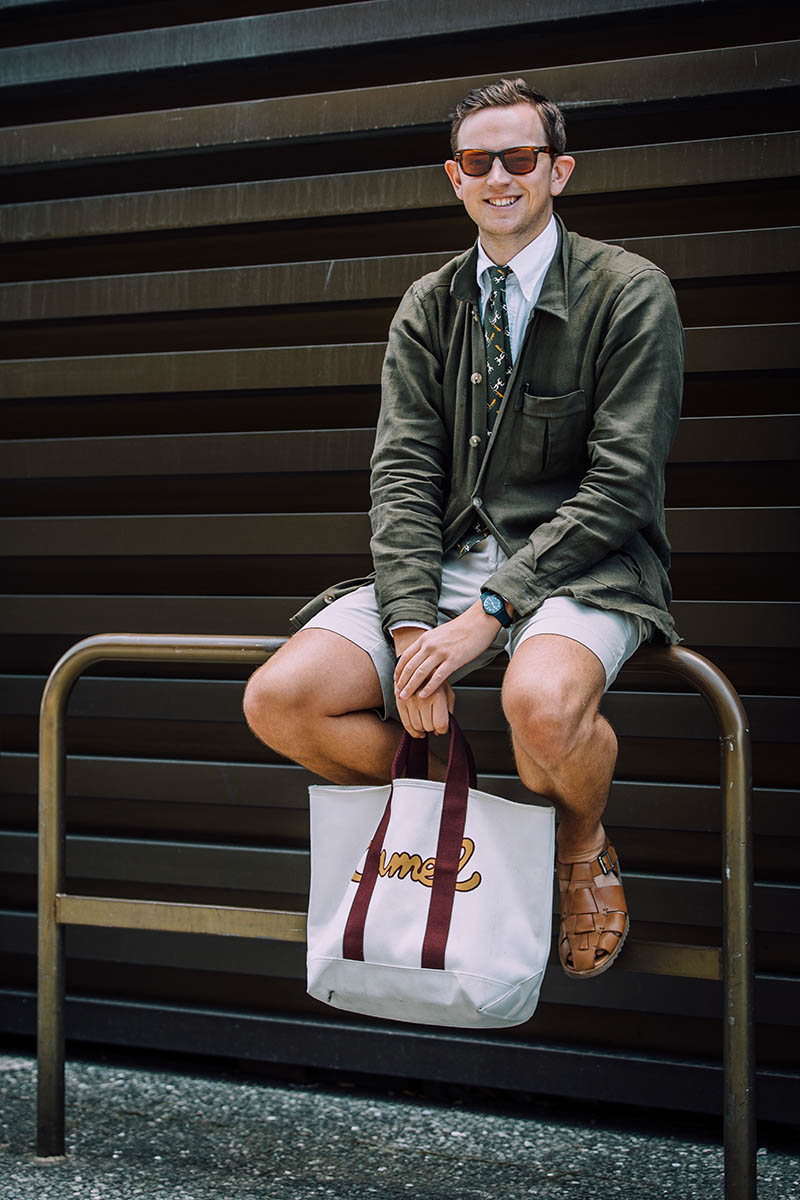 Short and Tie As these Pitti attendees prove, this combination of the ostensibly formal and the apparently casual work excellently well together in a way that recalls the stylish mods of the 1960s. The trick is to be mindful of colour and pattern. Use a plain tie with matching shorts to cut a clean line through a patterned shirt, or keep your underlayer neutral and introduce a patterned tie that complements your jacket. A clash of textures – such as cotton shorts and silk tie – can look great against a striped shirt or subtle seersucker.