Huntsman: Sheer Elegance
It's been a year of revolutionary technical innovation for Huntsman. But in the midst of these accomplishments, they've produced a typically sophisticated yet comfortable assortment of tailoring apparel.
It seems a pertinent week to be writing about Huntsman's spring/summer 21 ready-to-wear collection. The brand were at the tail end of a year-long celebration to commemorate a 100-year residency at No.11 Savile Row when Covid-19 struck. Shops of that ilk were soon forced to close, and whilst there's been brief and intermittent openings since, this week it feels like the welcoming of new and old faces back through No.11's entrance is not a false dawn. Pierre Lagrange, shortly after he became owner in 2013, told the Financial Times that the house would be one that could balance "disruption with respect". He meant that the firm's modern innovations were to be undertaken with a sympathetic eye to the core values of the house. He couldn't have foreseen the impact and disruption that Covid-19 would cause, but with a forward-thinking yet sensitive refurbishment of the shop, Huntsman have been better equipped than most to react and adapt to the challenges faced by the pandemic. Around 90% of Huntsman's business is bespoke, and with people unable to visit or travel for fittings, they have somehow managed to bring Savile Row's renowned personal service into the home of clients around the world. Huntsman at Home, in partnership with HERO® (a communication platform) is a suite of technologies that enables Huntsman's in-store teams to interact with customers browsing on the website in real-time, empowering them provide consultation on anything from fitting to fabric. Named after their legendary former Head Cutter of the 1970s, Colin Hammick, Mr Hammick is the firm's telepresence robot. Clients anywhere in the world can be measured up by Mr Hammick whose screen and high-resolution camera, which is controlled by the cutters, also enables the cutters to communicate with the person being measured. Such is Mr Hammick's impact, Dario Carnera, Co-Head Cutter at the firm said: "What's been very helpful, even more helpful than actually being there is being able to take still images of what you're seeing".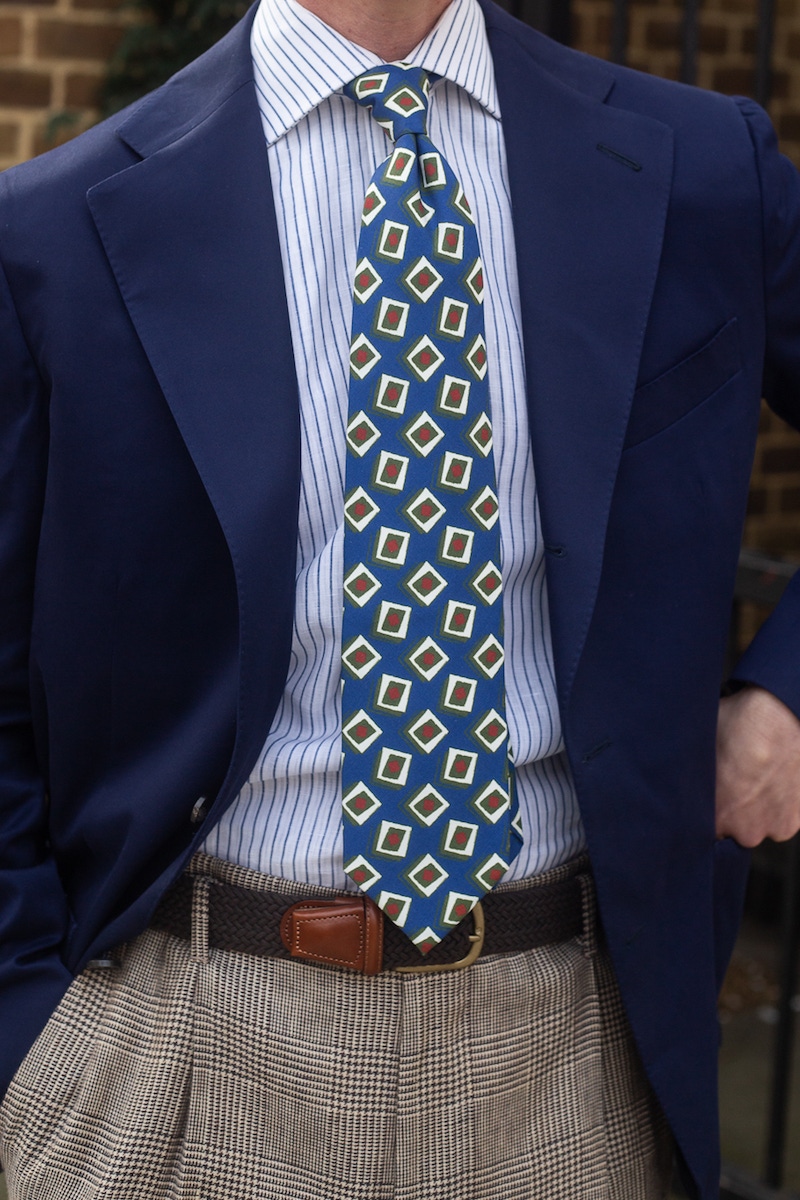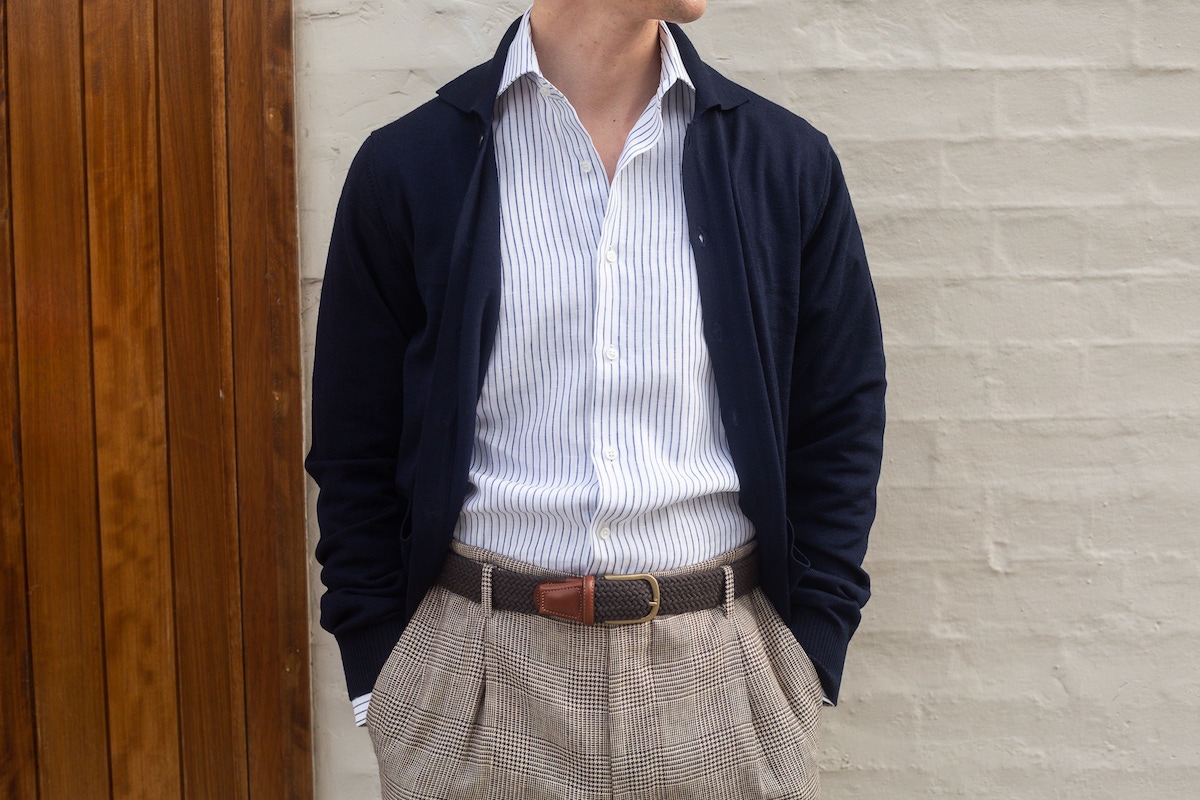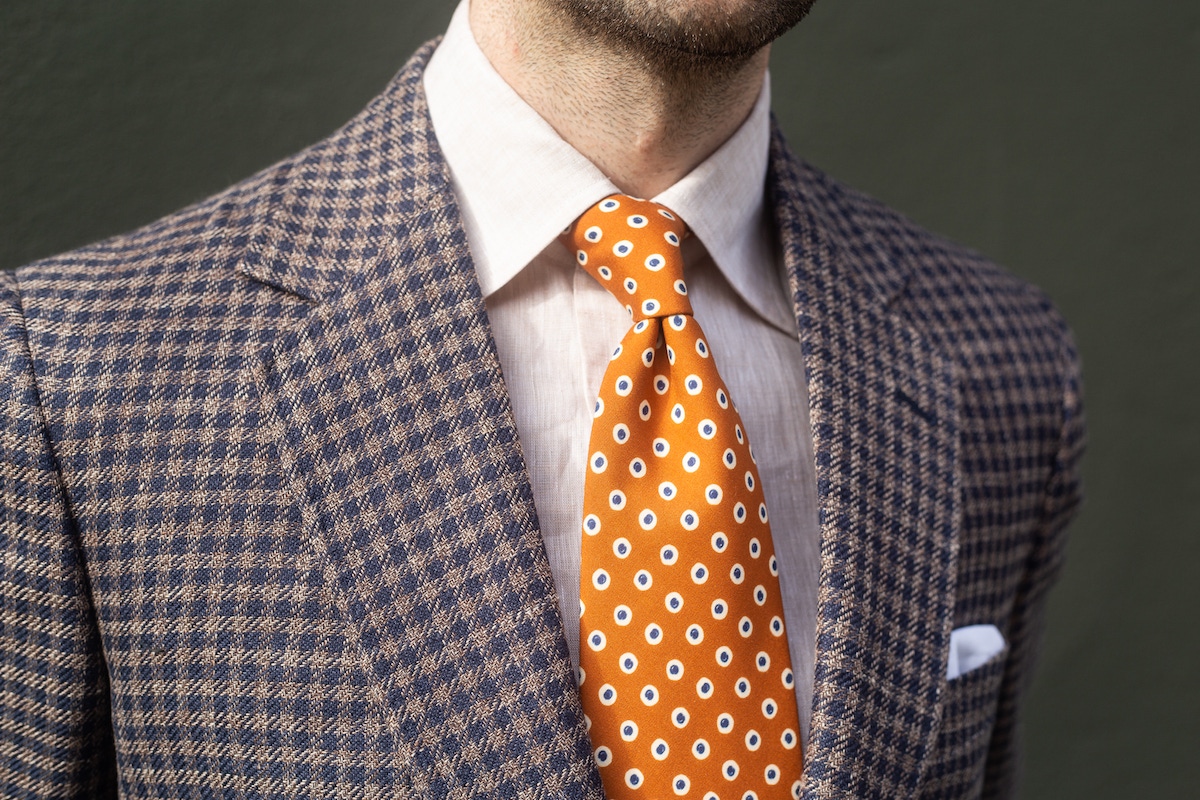 Asides from all of the revolutionary gimmicks, that have gone some way to mitigating the enforced economic challenges, Huntsman's shop reopened this week. It remains the gentleman's club it always has been. A pair of stags heads, left behind by a customer in the early '20s still hang above the slate fireplace, there's intermittent tweed-covered walls, and there's even a tweed-covered billiard table that is surrounded by mahogany antiques. Upon entering their redesigned space, there is still no doubt about the heritage of Huntsman and what is continues to stand for today. Founded in 1849 by Henry Huntsman, initially as a breeches and sporting tailor – the firm has always attracted the thrill-seeking smart set who engage in country sports. There's the Duke of Beaufort, who owns one of the few remaining private hunt packs, Winston Guest the suave Anglo-American polo champion, and Princess Anne, an Olympic equestrian and Sport Personality of the Year winner in 1971. Other famous patrons include travel writer, Patrick Leigh Fermor, and his good friend, the former Irish-based film director, John Huston. On Paddy's Irish visits, the pair were renowned for their hard-drinking, which inevitably turned to trouble on occasion. British author, Artemis Cooper, recounts a tale where Paddy once provoked a massive brawl at the Kildare Hunt Ball and had to be rescued from a pounding by John's fourth wife, Ricki Huston. The beautiful Italian-American dancer and Paddy became lovers not long afterwards. As an intrepid soldier and traveller Paddy had a facility for bringing together worlds usually incompatible. It's a notion that can relate to another one of the house's esteemed clients. Three-time inductee to the Rock and Roll Hall of Fame, Eric Clapton regularly commissioned bespoke shooting suits. In fact, Huntsman jackets consisting of a single-button front, high armholes, suppressed waist and somewhat-longer-than-usual skirt, quickly became a signature style that has attracted an extraordinary breadth of followers. The house earnt royal warrants before the turn of the 20th century. Then came the influx of the leading stars of Hollywood's golden age, and it wasn't long before the crème de le crème of nearly every profession were inked in on the Huntsman order books. One man's devotion and dependence on the house stood out. American actor and tailoring aficionado Gregory Peck placed 160 orders in a relationship that lasted fifty years. He had a particular affinity for Huntsman's signature checks, which were not only for personal enjoyment but transcended their use for him to wear in big movies such The Million Pound Note, 1954.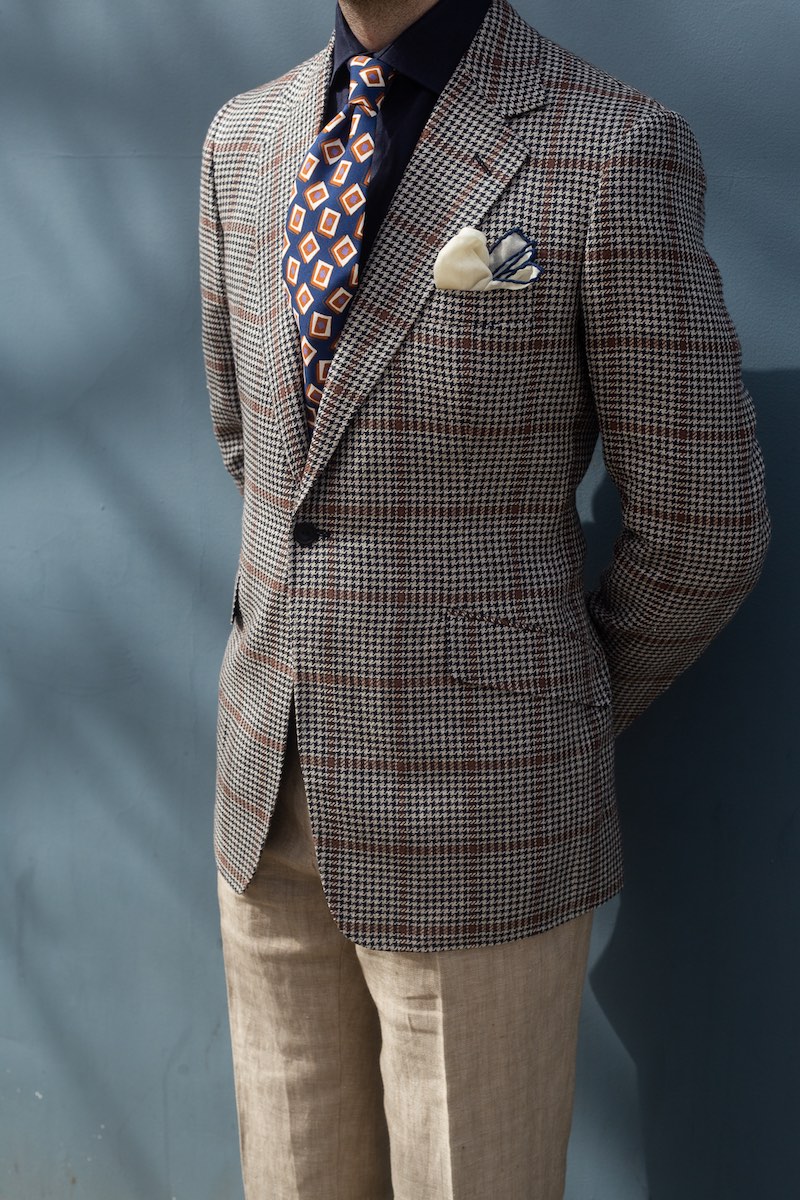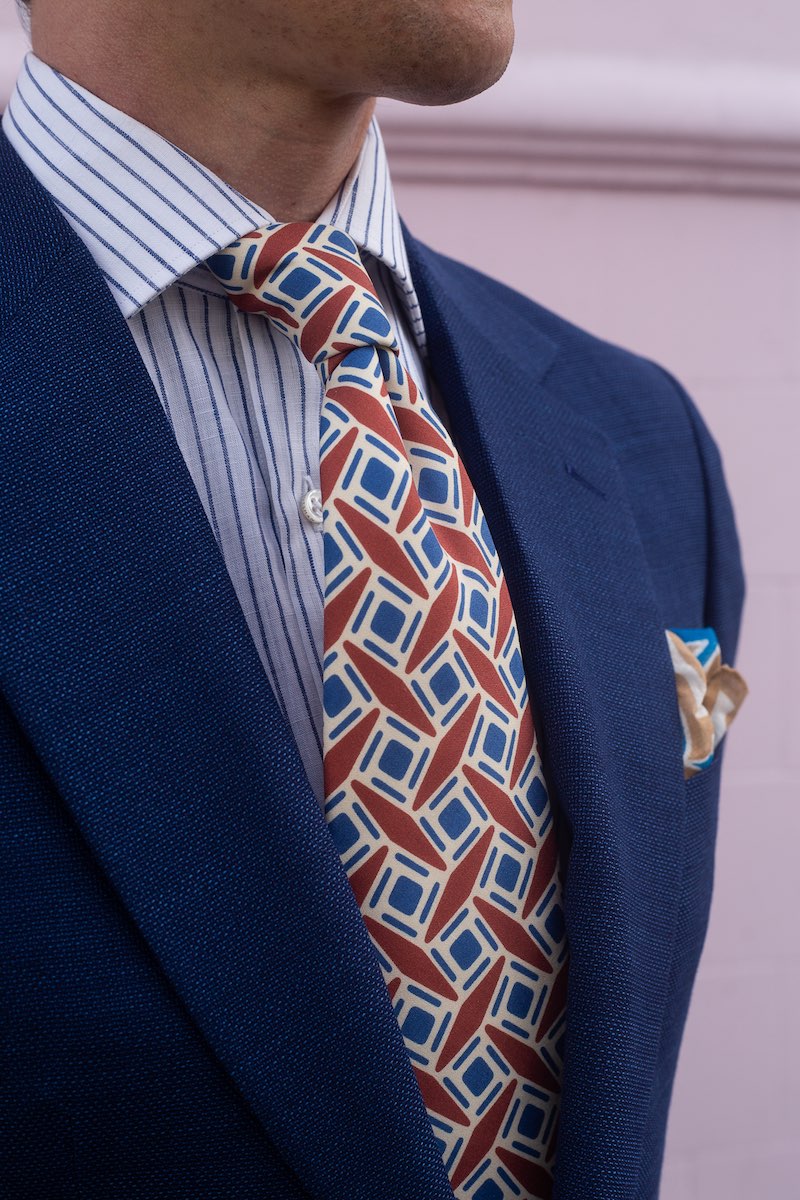 Every distinguished tailoring style has its benefits, and in Huntsman's case its structured approach of strong, square shoulders, clean chest and longer-than-usual skirt, has the ability more than other schools to accentuate a man's physical attributes. This is particularly true for shorter gentleman who find that the longer shoulders and skirt, give him an assisted and stronger vertical shape. However, in the summer months, this more defined approach isn't always compatible with the heat and people's lifestyles, and so Huntsman's ready-to-wear line masterminded by Head Cutter and Creative Director Campbell Carey has taken a softer approach, but still very much retaining Hunstman's signature details. Their navy linen single-breasted houndstooth jacket is a beautiful example; using thinner shoulder pads, less canvassing, it is made for a softer more relaxed construction than their house block. We've seen some magnificent summer checks so far this season, but in a beautiful and understated navy and orange houndstooth and in high-quality linen this separate must be one of the standout jackets on the market. Wear with the brand's denim linen two-button cuff shirt for a striking colour contrast, which looks just as cool accessorized with a tie or without for more casual occasions. It is usually the case that the spring/summer collections from the most distinguished brand's only produce a limited selection of key linen pieces to lust after. Huntsman have left no gaping linen holes to our delight, and this very much applies to their unique yet sophisticated selection of linen pants. In a crisp taupe herringbone, which are flat-fronted, these trousers traverse easily from smart to casual. Wear with the brand's Loro Piana French navy worsted cashmere unlined navy jacket for the four-day Ebor meeting at York racecourse, and whilst you're enjoying the company of the horse racing's smart set, you could pair these trousers with the brand's navy wool and linen glen check jacket on another day. With a lighter than usual canvass it gives the wearer an air of unconventional elegance and total comfort, when amongst the crowd (we hope) at York in August.
Either able to compliment a summer suit, or worn tucked into some classic-cut trousers with no jacket, Huntsman's selection of linen shirts, must be one of the most versatile on the market. It looks like travel will be opening up soon, and with the multifaceted attributes that their linen shirts pervade, I would have no hesitation in packing at least two of their styles for a vacation. The fine blue striped and the sand tone would be a sensible contrast if you could only take two. However, in white and pink, and the aforementioned blue denim tone, anyone of their luxurious linen shirts are a shrewd investment. Huntsman have always been able to recognise the importance of workwear. Heading back to your city office in a new Huntsman suit will certainly inject some inner confidence – after a long absence from the working environment. In either navy or grey these suits are made in their signature one-button house cut. Made in England, this Scabal suiting cloth is a tight and dense weave, giving a wonderful matte finish with little or no luster. These suits mirror many of the house's bespoke suiting credentials – and as people filter back to offices, these suits – at a very attainable price would be a smart, but cherished addition to your wardrobe for many years to come, which is true of all of Huntsman's ready-to-wear offering.