In Praise of the Drape
The Rake talks to Anderson & Sheppard's head cutter Danny Hall about its revered English Drape Cut house style - and why the younger generation is falling for a style made famous by Fred Astaire. 
Anderson and Sheppard is maybe the odd one out of the Savile Row tailoring houses, in that it no longer resides there - it moved a mere 176 yards to neighbouring Old Burlington Street back in 2005, just a year shy of its centenary on the hallowed Mayfair street. But the slight change in location hasn't prevented it being held in awe as the standard-bearer of bespoke suiting.
For those yet to have had the pleasure of crossing the esteemed threshold of Anderson and Sheppard, allow me to elucidate. As you enter, the door swings shut swiftly in your wake on to what A&S call
Front Shop
: a welcoming, spacious habitat, not unlike a drawing-room of a fine aristocratic English country estate. From its
indubitably
understated reception desk, flanked by dark wood-panelled shelves of
Encyclopedia Britannica
-resembling leather-bound ledgers; a rather grand open fireplace complete with mantle to ceiling mirror; two rather natty chairs with velvet cushions chiseled out of the inward-facing part of the window display to a rather lived-in olive green leather sofa with tomes of
Vanity Fair
perched on top of an ottoman style side table. A place so inviting and unhurried that in times gone by it was not uncommon for esteemed clientele to completely build a leisurely day around a visit, knowing their relaxant vessel of fino or scotch would always be topped up between consultations.
The interior decor owes much to the artistic nous of Vice-Chairman Anda Rowland, daughter of the intriguingly-named Roland Rowland, and famed A&S alumni known simply as 'Tiny'. While the tailoring house has upheld a certain style and tradition for more than a century - something that was not lost on Rowland when she furnished the space - she has ensured it is a business fully-equipped to withstand the demands of the twenty-first century. The incandescent light adds a homely warmth that resonates throughout. From the orange ochre-painted walls adorned with historical paintings, you imagine, and rather eulogise, that an average day here barely changes from one day to the next. It will invariably involve Managing Director Colin Heywood extending a hand to greet you on arrival; Front of House William Lo offering a cup of tea or something stronger if you prefer, before clambering a step ladder to titivate a display wall of ties; sartorial widows waiting in the wings while their other halves disappear behind plush velvet curtains to extol the virtues of the house style and much-revered
English
Drape
. In any case, this fumoir-like, albeit, nowadays cigarette-less destination, makes you feel very proud to be British. It is quite simply a bastion of timeless elegance. For the impressionable overseas visitor, and A&S has quite the global following, it is about as quintessentially English as you can get.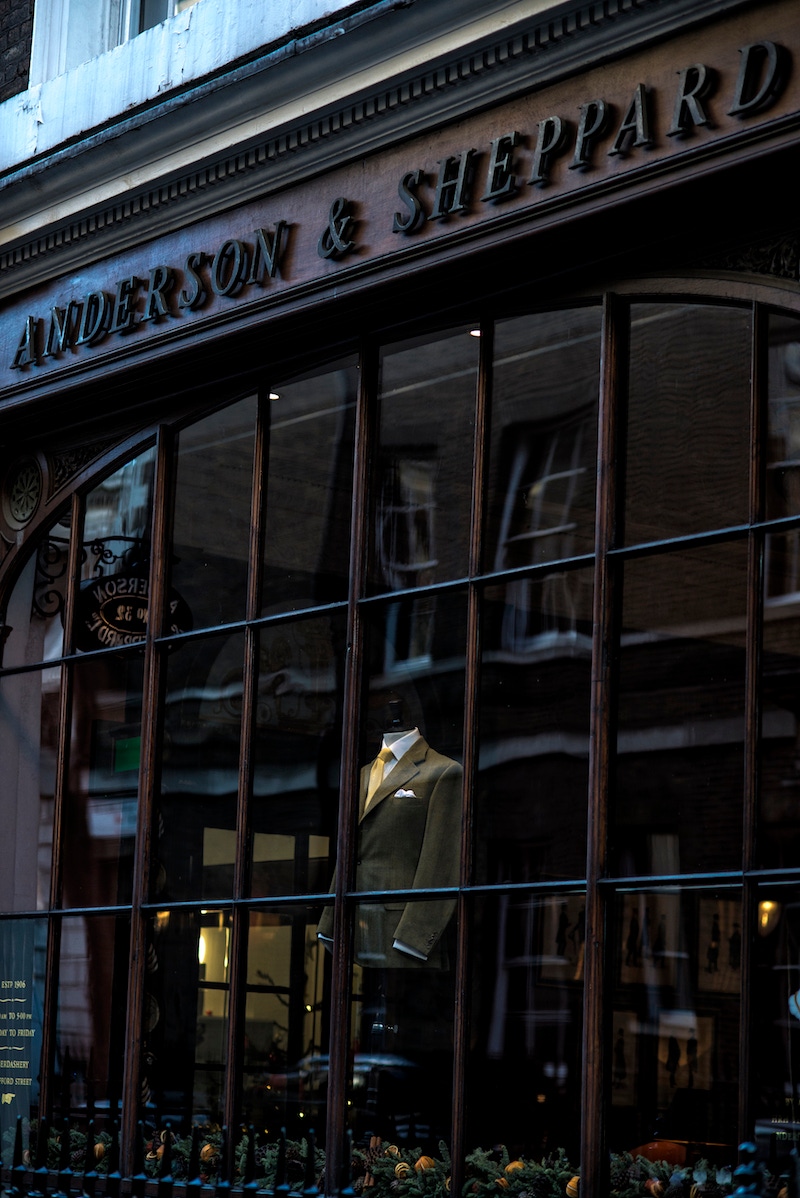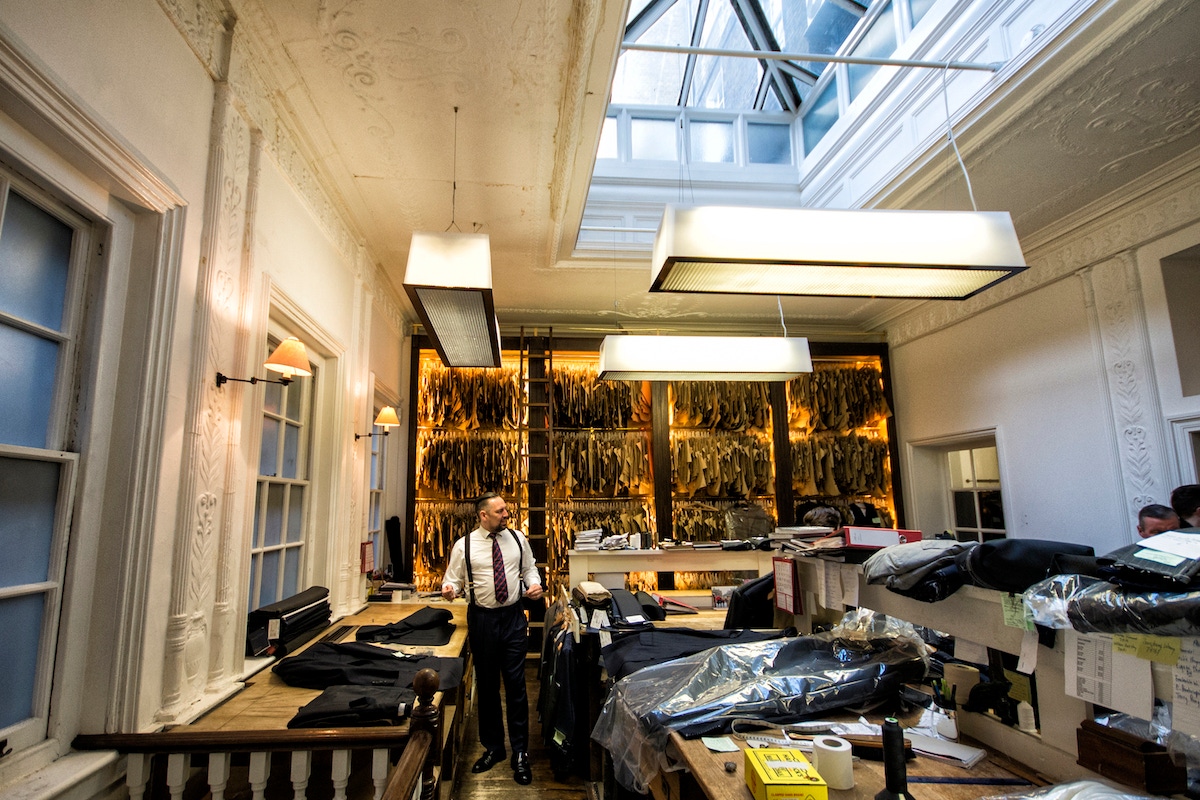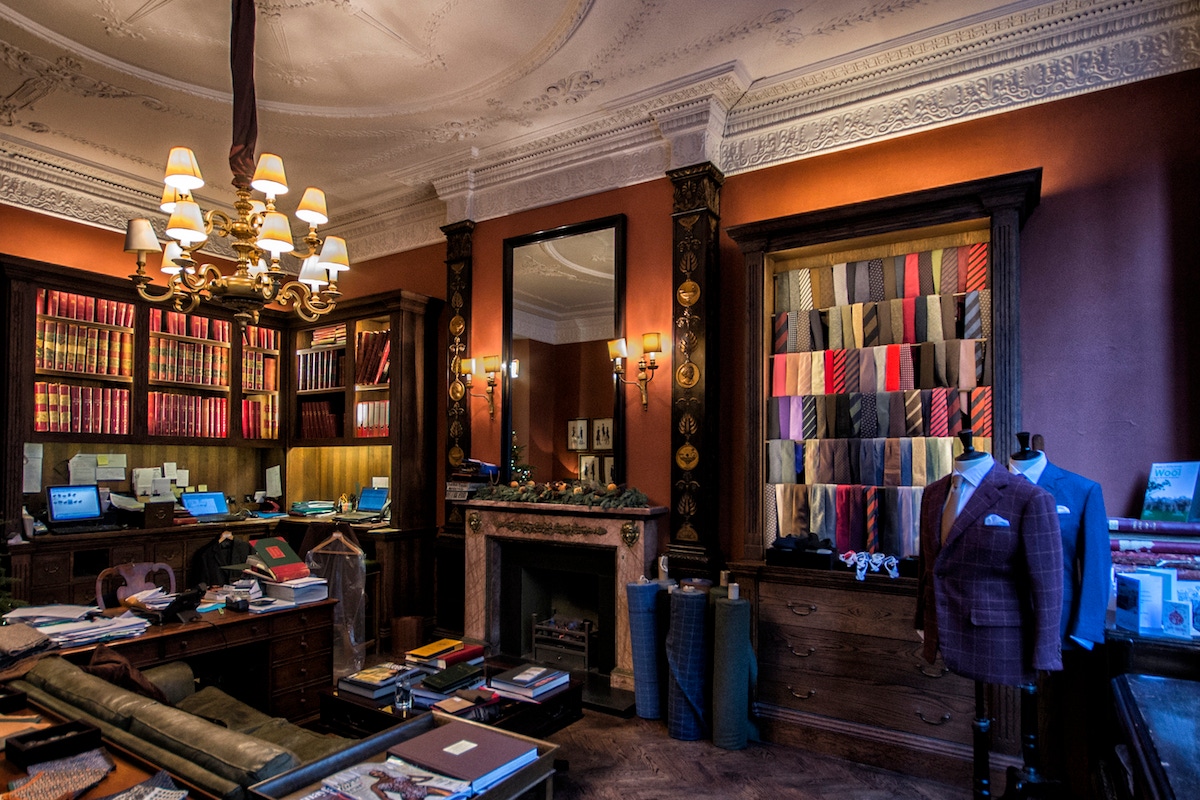 Anderson and Sheppard has cleverly managed to simultaneously maintain its existing clientele whilst being able to attract a younger generation still seduced by the classic style made famous by Fred Astaire. Men are more partisan about style at a much younger age nowadays - as their grandfathers once were. Whether it be City boys or media types, men, generally speaking, are more interested in how they are expected to dress, and there is a real sense of appreciation for heritage and well-made clothes - particularly with the issue of sustainability being so newsworthy and an insurgence against mass-produced fast fashion. Gone are the days of shoehorning into cheap slim-fitting suits -  the generation X, Y and millennial gent is better informed, therefore more restrained in his purchases, preferring quality over quantity thus developing a penchant for the ostentatious. It's much easier for the likes of Anderson and Sheppard to attract this type of younger customer, who, as his life progresses and wealth accumulates, will see the value of investing in bespoke and never look back.
Comfort is a buzzword bandied about liberally in sartorial circles nowadays. Guys don't just want to look sharp, they want to feel comfortable in their second skin. The fabulous thing about a bespoke A&S suit is that it will absolutely deliver on both counts. Before we expand upon the innate nuances of the
English Drape Cut
, the whole process of a bespoke suit or jacket begins with
each new customer signing his or her name in the measurements book. A set of 27 distinct measurements are then chronicled, by hand as you would expect: 3 rows of what would otherwise resemble entries in a mathematics compendium. These are the client's unique set of statistics: 20 for the jacket, 7 for the trousers.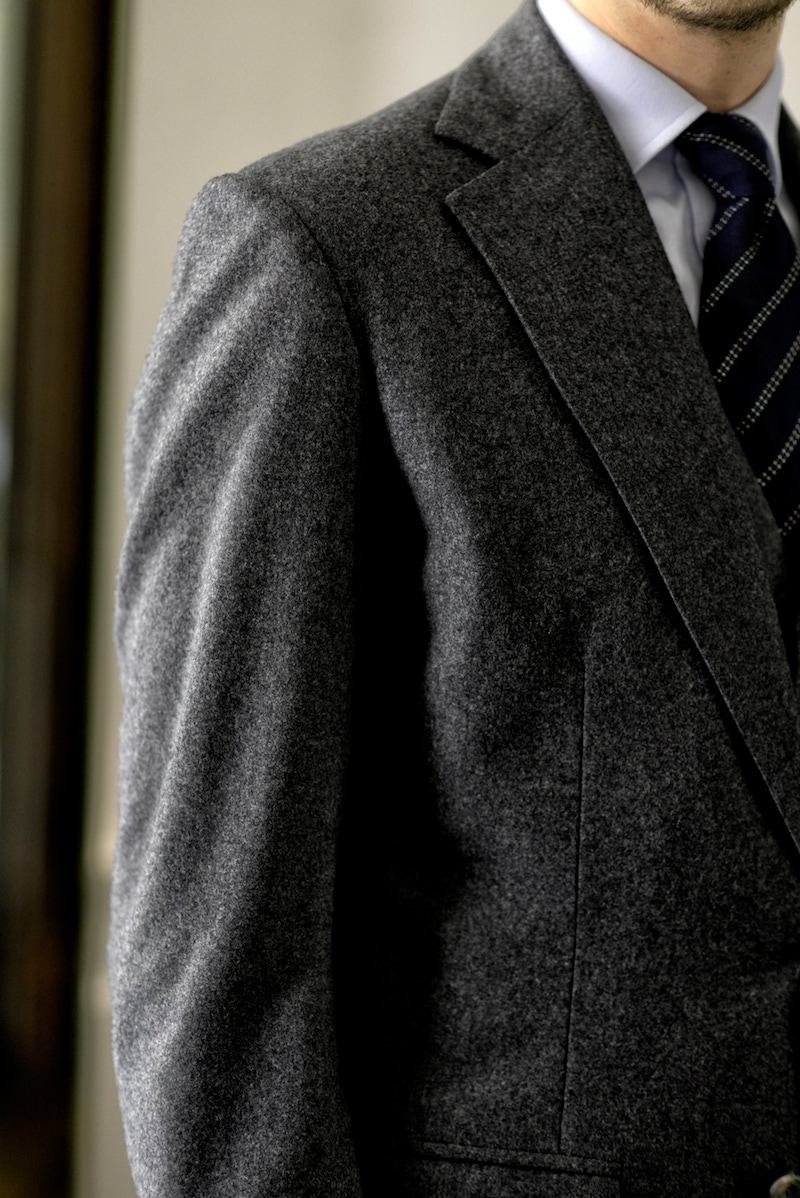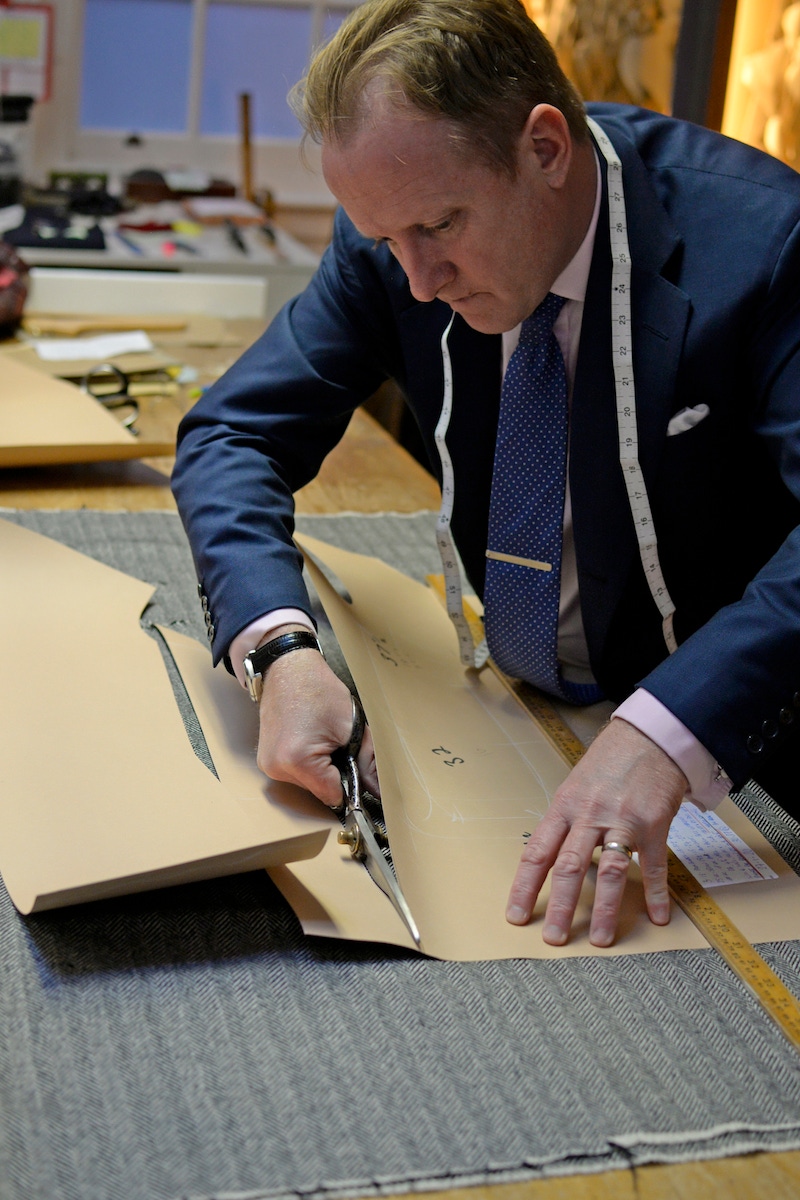 From the great and the good of the silver screen, to leading dignitaries, fashion designers and Royalty have all helped put Anderson and Sheppard well and truly on the world stage. The Duke of Windsor, Prince Charles, Cary Grant, Gary Cooper, Calvin Klein and Tom Ford to name but a few. But none is more synonymous with the tailoring house than American film star Fred Astaire who certainly put the A&S suit through its paces: the garments he commissioned had to allow for enormous freedom of movement — but they also had to stay in place, no matter how vigorous Astaire's dance routines were. When Astaire arrived for fittings, he would don the suits and think nothing of pirouetting up and down the hallway to ensure everything was just to his liking, using the three-way mirrors to maximum effect to check there was no movement on the neckline. He was a stickler for fit - if he felt something wasn't quite right he would demand the tailor immediately rectify. It's quite remarkable, watching his films now: Astaire moves with such ease across the dance floor, you tend to forget he's wearing a suit at all.
But what does it feel like to actually wear one of these masterpieces? I asked Head Cutter Danny Hall if he'd allow me to try one on for myself, in the interests of research of course. As he guided my arms into the sleeves of the jacket and over my shoulders, my immediate reaction was, "Am I really wearing anything?" The jacket was so light on it could easily have been a layer of air.
So comfortable, in fact, it felt as unobtrusive as a jogging suit - you could work out in it, fling your arms about and damn near flip a somersault and the neck would stay in exactly the same position. It's easy to see how you could forget yourself in your newfound comfort zone and team a green tweed suit with petrol blue Vans pumps as Producer Charles Finch is pictured doing in 'A Style is Born' - the bountiful coffee table book charting the rise of the tailoring house edited by the great Graydon Carter.
So how is this effect achieved? Hall is about to give me a masterclass in the art, but first of all, draws my attention to a pattern he is in the process of cutting - as if to prove a point, for a Generation Y customer. A&S has an unerring faith in its tailor's instinct. That's why the same cutter responsible for taking the customer's measurements will cut patterns immediately afterwards so that any idiosyncrasies of proportion and posture are front of mind. "Look, here's how we incorporate the drape." He points to the 2 sections closest to the armholes: "We cut a full chest with a touch more material in the front and the back of the jacket." Hall tells me the company has been doing this since it was established back in 1906, a trait begun by Mr. Frederick Scholte who trained A&S co-founder Per Anderson. It was quite revolutionary at the time going against the trend of more rigid and structured military garments that were being made.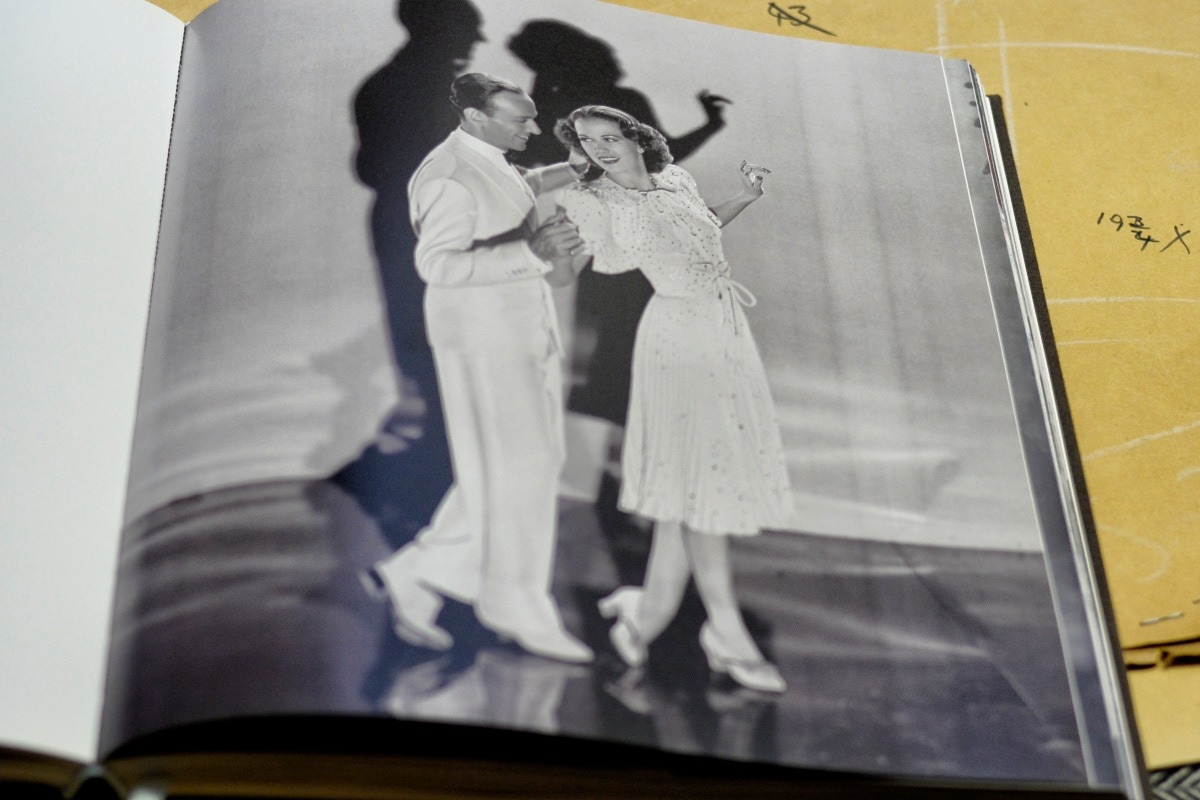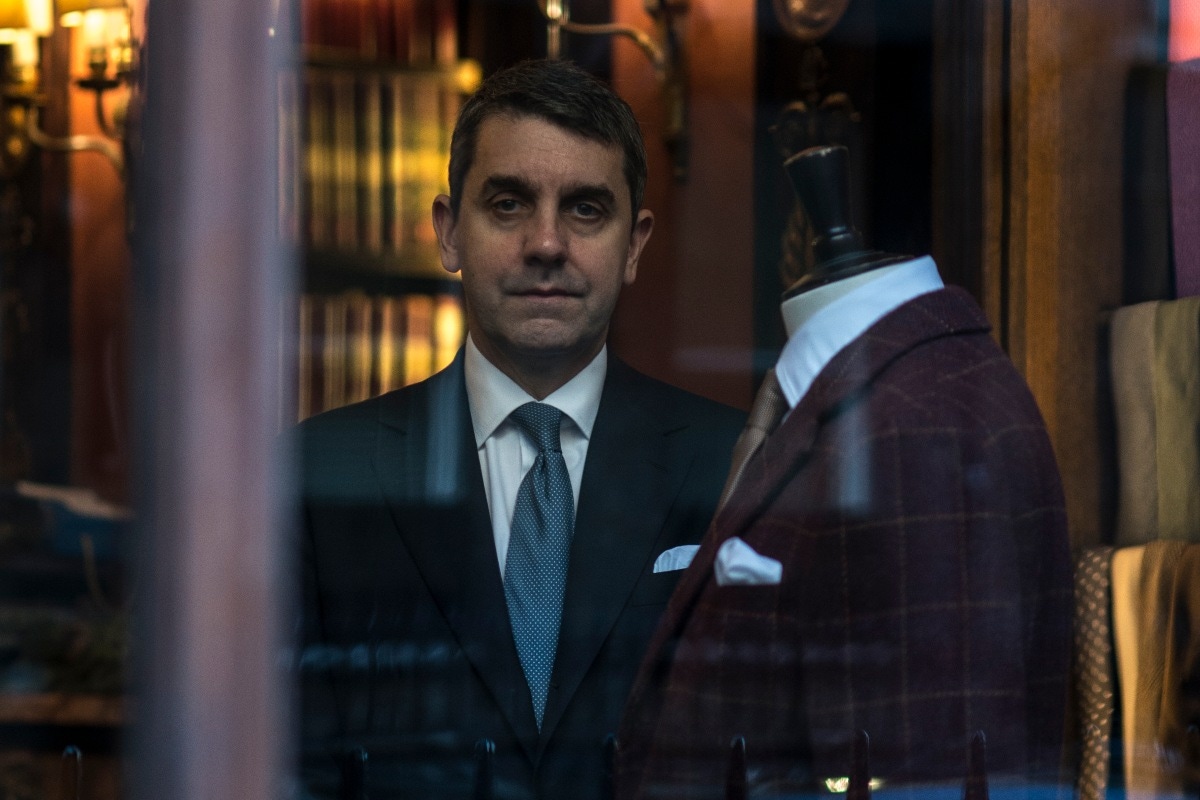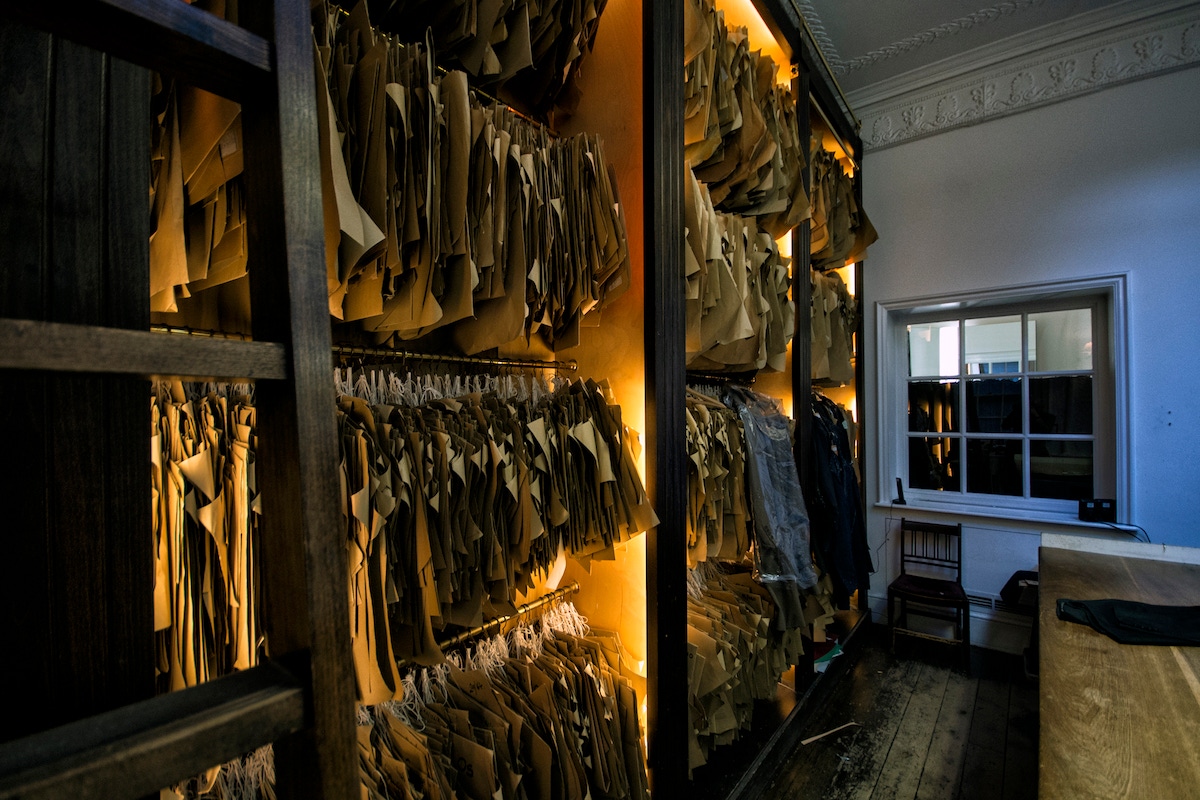 "The drape is for comfort and ease of movement", continues Hall. "The characteristics defining the drape are a small, high armhole with additional fullness in the sleeves." He walks me over to some rolls of fabric, which he unfurls to reveal the two types of canvas the house uses to line its jackets. "As you can feel, it's super lightweight. We cut it on the bias with minimal padding. It's actually only a foundation and doesn't control the fabric in any shape or form."
"What does the drape actually look like once the jacket has been created?" I ask. Hall calls upon colleague Max Castano-Blacker and we head off into the changing room for closer inspection. As the accompanying imagery reveals, the drape in its three-dimensional reality is no more than a crease either side of the chest, and the same on the back of the jacket. "You will notice the fabric billows outwards slightly across the chest, there, see?" remarks Hall.
The past decades have seen London's West End flirt with changing fashions and menswear focus, and even bore witness to several members of the Savile Row community diversify into ready-to-wear and made-to-measure clothing - something A&S has not been averse to itself - opening a Haberdashery of its own on nearby Clifford Street in 2012 selling arguably the finest knitwear and accessories on the planet. But as the company testifies on its website, when it comes to its bespoke offering: "Anderson & Sheppard has always upheld its house style, bespoke traditions, and focus on continued craftsmanship—all in support of its unwavering mission to dress men in comfortable, understated elegance." Long may that continue.
The testimony continues: "Anderson & Sheppard remains the spiritual home of the
English Drape
to this day, thanks to three key factors. Firstly, the firm's steadfast commitment to this as their house style, its unerring faith in its tailor's instinct, and lastly the increasingly soft, high-performing fabrics the company sources, the high-twist yarns of which offer an improved silhouette as well as better comfort, durability and crease resistance." Whether it's a shot of poster boy Astaire during the 1951 film
Royal Wedding
— the memorable scene where he swaps dance partner Ginger Rogers for a hat stand — or fronting a glossy magazine in a sharply tailored suit, his finesse will undoubtedly continue to inspire future generations of rakish gents.