The Interview: Paul Stuart design director Ralph Auriemma
With the much anticipated launch of NYC tailoring house Paul Stuart on The Rake this week, we got the inside scoop with Creative Director Ralph Auriemma...
To celebrate the launch this week of Paul Stuart on The Rake, we caught up with the lauded New York City brand's Design Director Ralph Auriemma to get under the skin of this stateside institution of sartorial menswear. Ever since 1938, Paul Stuart has been the defining purveyor of classic elegance over the pond, uniquely referencing British and Italian tailoring traditions and riffing on them in an irreverently American way. Here's Ralph...
How has Paul Stuart remained relevant for over seven decades and how is it evolving today?
Paul Stuart has remained relevant by staying true to the brand, the image, and our DNA. We are an American company with an English style: country clothes, Savile Row style suits, elegant formal wear.  Our look is 'style with flair'. Today we are evolving by staying true to our heritage, but I have made the clothing more modern with slimmer shapes, softer construction, lighter weight garments and sports jackets with a cardigan construction. We also have our Phineas Cole collection which focuses on a younger version of Paul Stuart. It's another point of view but still keeps true to our DNA.
What values or aesthetics keep the regular Paul Stuart customer coming back?
Let's start with values. We have great customer service, great relations with our customer base, on the spot tailoring, and we open at 8am so we are here for your sartorial needs! In terms of aesthetics, our look is never trendy but modern classic. We have heritage. We opened in 1938 and are still in the same location.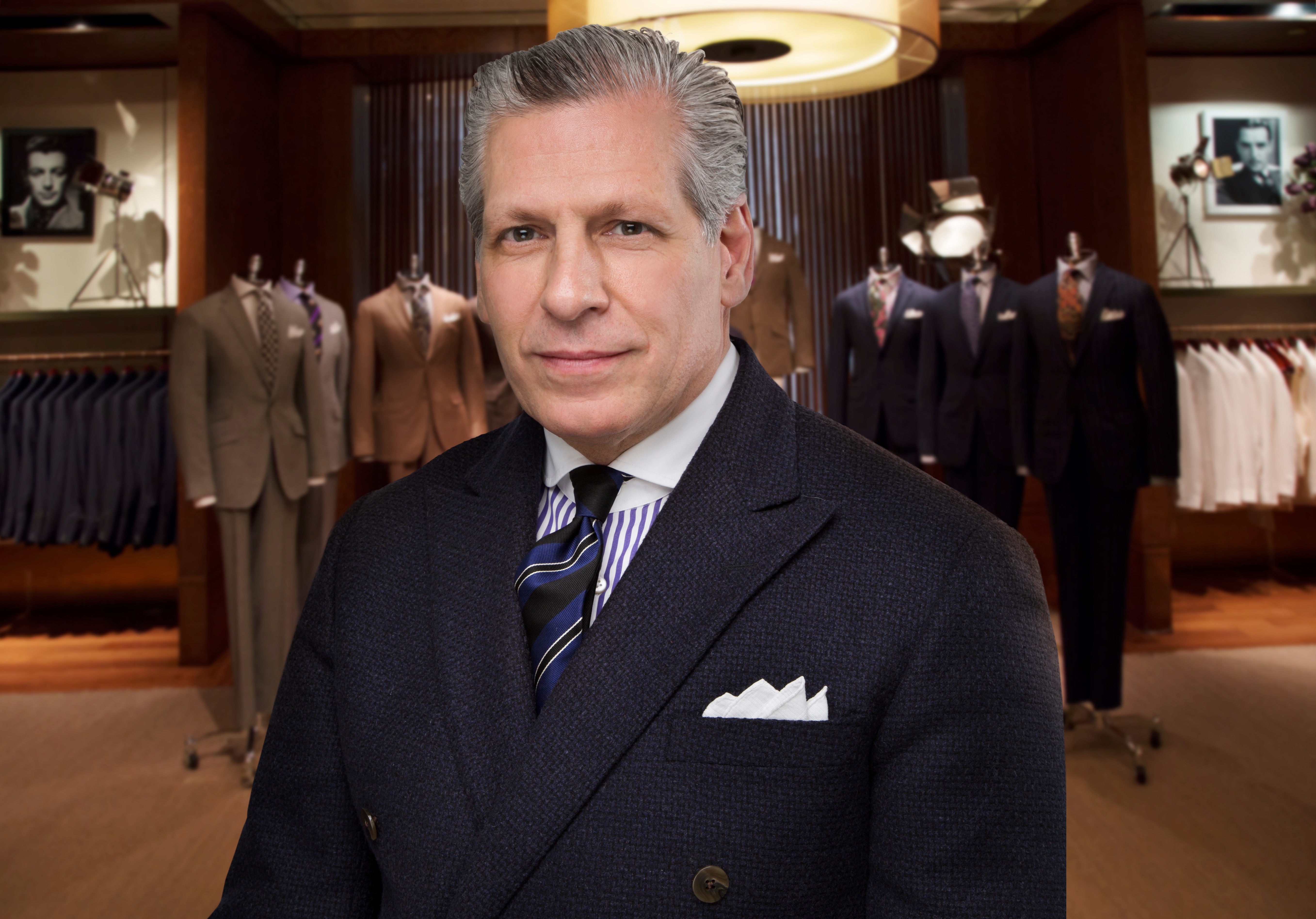 What are the key tenets of Paul Stuart style?
"A blend of Savile Row, Connecticut living and the concrete canyons of New York," as Mr Clifford Grodd once said. Fashion is peripheral to us. Our clothes are our own thing; classic and traditional but with an attitude. I have kept the DNA but have updated it with a modern style and fit. The house style is an American take on English clothing.
Can you describe the inspiration behind the Fall 19 collection and any key pieces?
The inspiration is Modern Country Gentleman, so think Shetland fabrics, colourful sweaters, tweed suits, plaid sport jackets.  The idea was to show tailored clothing as sports wear. We are well known for our sartorial look, so I wanted to take our style in a slightly different direction. In our Phineas Cole collection, the inspiration is modern equestrian; soft constructed jackets and suits, bouclé fabrics, horse blanket plaids for jackets with slimmer body fits.
What position do you see sartorial menswear having in a world that's increasingly casual?
Paul Stuart is still very much embedded in the sartorial world and our customers love to dress up.  However, the world is indeed becoming more casual so I have taken another approach to our tailored clothing, one more closely related to a sportswear concept in the sense that the construction uses lighter, softer fabrics, with super lightweight canvas so that jackets sit very light on the body. It's still luxury and still made by hand. From a visual point of view, we're also displaying the garments in more modern ways using, for example, turtle neck sweaters with a jacket or suit rather than a shirt and tie.
What's your personal vision for the brand in the coming seasons?
To stay true to who we are, keep the DNA, but stay modern.  Years ago, approximately 90% of our sports outerwear was wool. Now we are 90% lightweight technical outerwear so the idea is to stay relevant and modern but without diluting the traditional tenets of Paul Stuart.