Introducing the Bvlgari Octo Finissimo Chronograph GMT for The Rake & Revolution
Bvlgari's world record setting Octo Finissimo Chronograph GMT gets a "tool watch" makeover and an unexpected take on luminosity.
I remember the exact moment I set eyes on the Bvlgari Octo Finissimo Chronograph. Though it was just over a year ago, considering the mind-bending changes that have happened to the world in the interim, it seems like a lifetime ago. So before I get into the details of the special edition of this watch that Bvlgari's amazing creative director Fabrizio Buonamassa designed for us, I'd like to talk about these changes and how Bvlgari's reacted to them in a way I find truly admirable. When the COVID-19 pandemic hit, Bvlgari's CEO Jean-Christophe Babin was one of the very first to respond: funding a 3D microscope to help researchers at Spallanzani Hospital study the virus at the cellular level; transforming a fragrance factory outside of Milan to produce hand sanitizer. And if the latter seems somewhat commonplace today, think back when the world and in particular Italy faced a total shortage of sanitizers and PPE amid the first wave of COVID-19.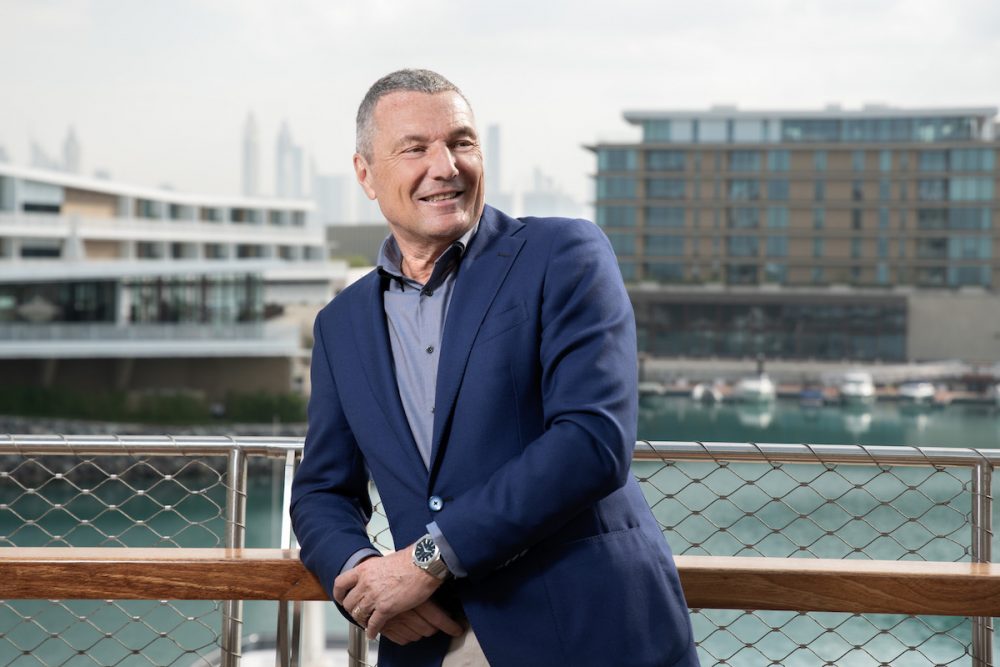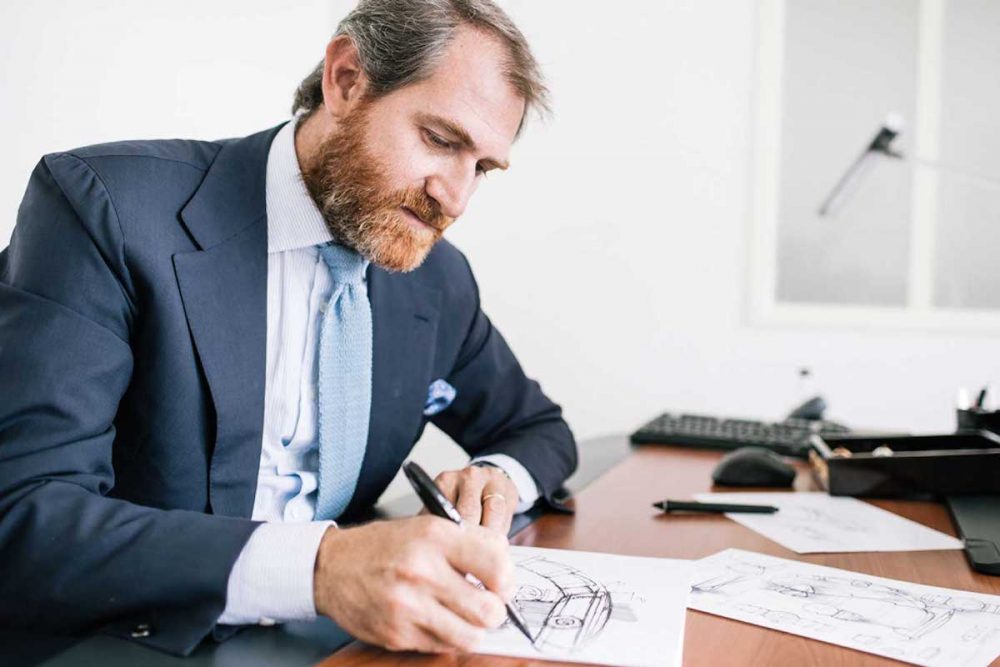 But then Babin did something truly extraordinary. He and Bvlgari created a virus eradication fund dedicated not just to combating COVID-19, but also to address any future outbreaks of infectious disease that could threaten the world. This fund provided much-needed medical school scholarships to the next generation of researchers and helped to fund vaccines, such as the one developed at Oxford University. My point is that even as the first-world nations return to some semblance of normality and our human resilience sets us collectively on the path to recovery and we all look with hope and optimism at 2021, we will all remember how everyone, in particular the world's biggest luxury brands, acted during this crisis. And it is without a doubt that thanks to the leadership of Babin, Bvlgari has been one of the most exemplary. OK just wanted to put that out there before I got to the watch. But back to last year at the launch of the Octo Finissimo chronograph. At what turned out to be the very last Basel fair in history, I was seated beside Babin at a restaurant situated next to the Rhine River that bisects the Swiss-German town. I was familiar with this location as every morning, I had hauled my aged body in some pathetic semblance of jogging past it.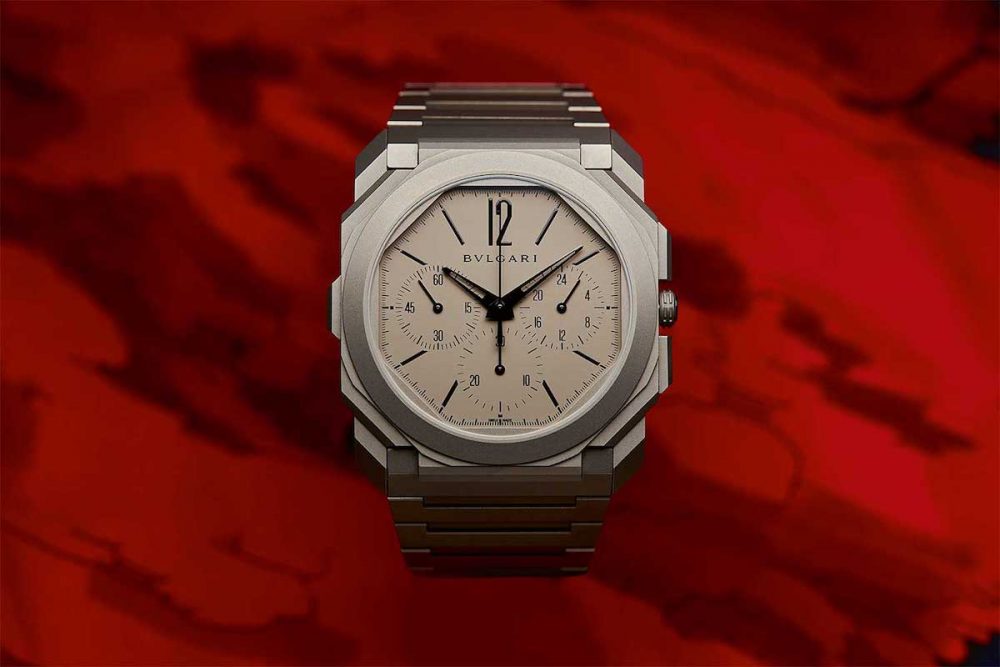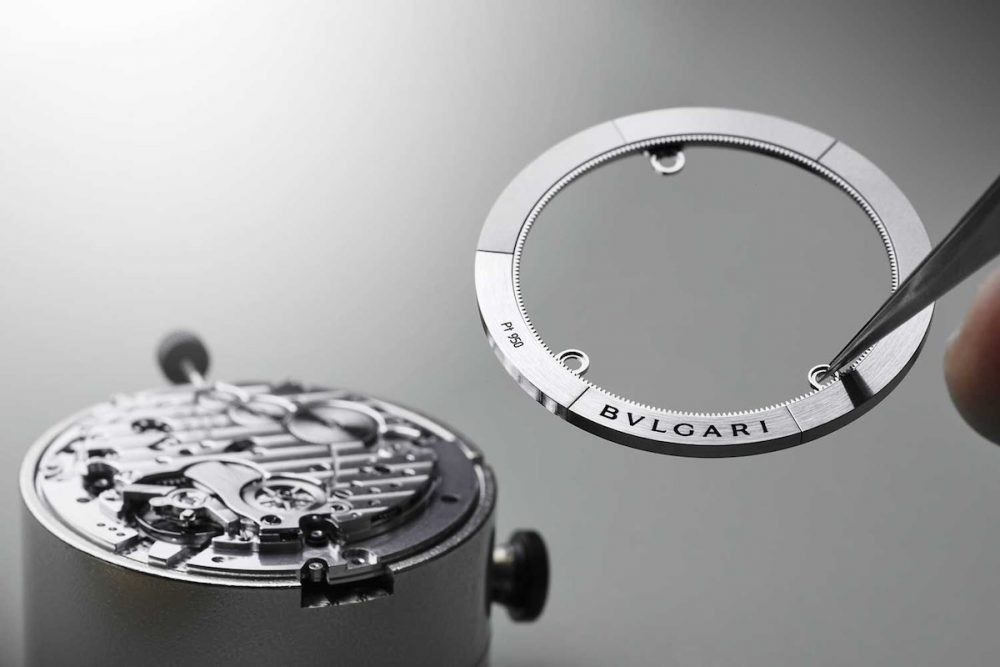 Babin placed the watch in my hands and I was utterly blown away. As you may know, I am a fan of chronographs and one of my favourite movements is the Frédéric Piguet 1185, which for 31 years previous to 2019 was the world's thinnest automatic time writer at 5.5mm. But the movement in the  Bvlgari smashed that. At 3.3mm in a watch that is just 6.9mm thick, the automatic BVL 318 is even thinner than the manual-wind version of Piguet's legendary vertical clutch calibre, the 1180, which is 3.95mm thick. The fact that Bvlgari added a peripheral winding automatic rotor as well as a GMT function seemed to be something of a victory dance, but done with the brand's typical Italian panache. The BVL 318 uses a laterally coupled clutch and features a column wheel. The winding mass is made of platinum and aluminium. But it was the watch itself that charmed so relentlessly. I've often spoken about my first encounter back in 2014 with both the Octo Finissimo Small Seconds and the transcendent tourbillon version; how these watches seduced with the dynamic tension between a strong muscular wrist presence contrasted by their extraordinary elegant litheness in profile. This record-setting slimness could only be achieved through the brilliant combination of in-house dial making, case making, movement development and later bracelet making. The dial of the titanium watch was 0.2mm in thickness, making it thinner than a single index on most watches. To achieve this, Bvlgari had to develop a whole new way to case the watch. The case and caseback are essentially monocoque. The movement is placed inside the case. Followed by the dial and hands. The dials use a combination of pad printing but also the world's first applied indexes that are galvanically grown then affixed to the dial without posts but using glue like a decal all in an effort to keep things as thin as possible. Then finally the bezel which has posts integrated into it is put in place. These posts traverse the entire length of the watch and are retained by special fasteners in the backcase. It is as revolutionary a design as both the Royal Oak in 1972 and the Nautilus in 1976 which both radically changed the way watches are assembled both with the objective of attaining an approximately 7mm thickness. The Bvlgari Octo Finissimo automatic in titanium has a case that is 5.15mm in comparison. The latest version of the Octo Finissimo in steel features a case that is 5.25 mm but also has a screw down crown and boasts a 100 meters water resistance.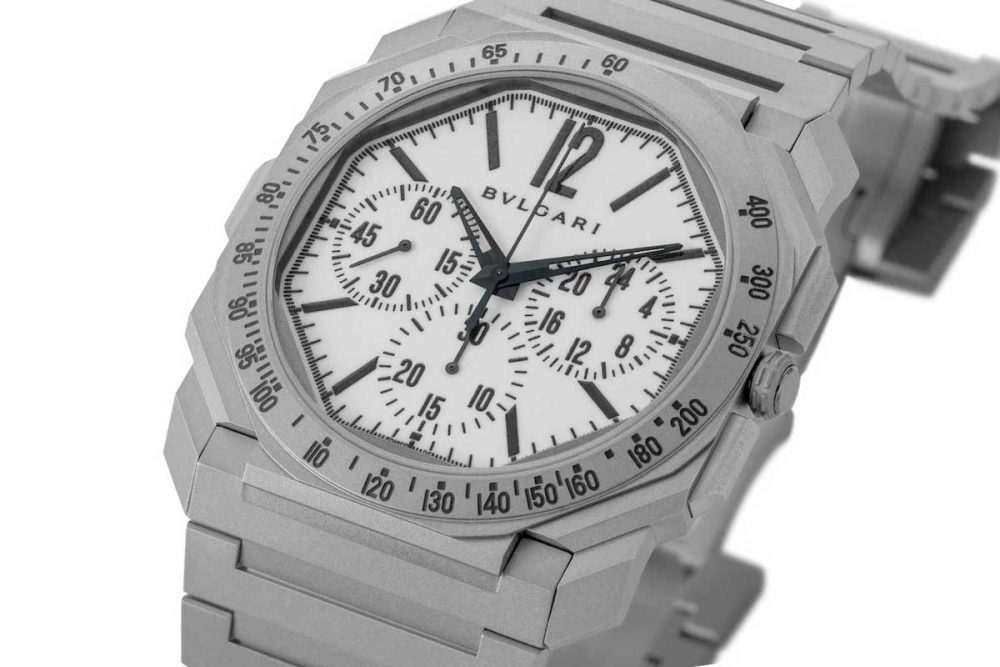 From 2014, Bvlgari would set records for thinness in the tourbillon manual-wind (5mm), minute repeater (6.85mm), automatic (5.15 mm) and automatic tourbillon (an insane 3.95 mm) categories. And as of this year Bvlgari also holds the record for the world's thinnest automatic tourbillon chronograph with a case that is just 7.4 mm thick. But more than revolutionizing the ultra-thin watch, each model they created added to the credibility and power of what can only be described as an all-new design icon. Indeed I have often said that the Octo Finissimo is the single most important new watch design of the last decade. Then in 2019, Bvlgari unveiled their chronograph automatic GMT, which I could only describe as hypnotically alluring in its beauty and technical street cred. The 42mm case clad in Bvlgari signature sandblasted titanium perfectly integrated the pusher on the left for the GMT function as well as the two pushers on the right for the chronograph function into its faceted architecture. Indeed they were so subtle in appearance that you might initially mistake the start/stop and reset buttons as crown guards on a slightly more aggressive variant of the Octo Finissimo. This is one thing I love. Each time Bvlgari adds a complication it works all the new pushers into its iconic case in a way that just fits perfectly so they seem to have always been there.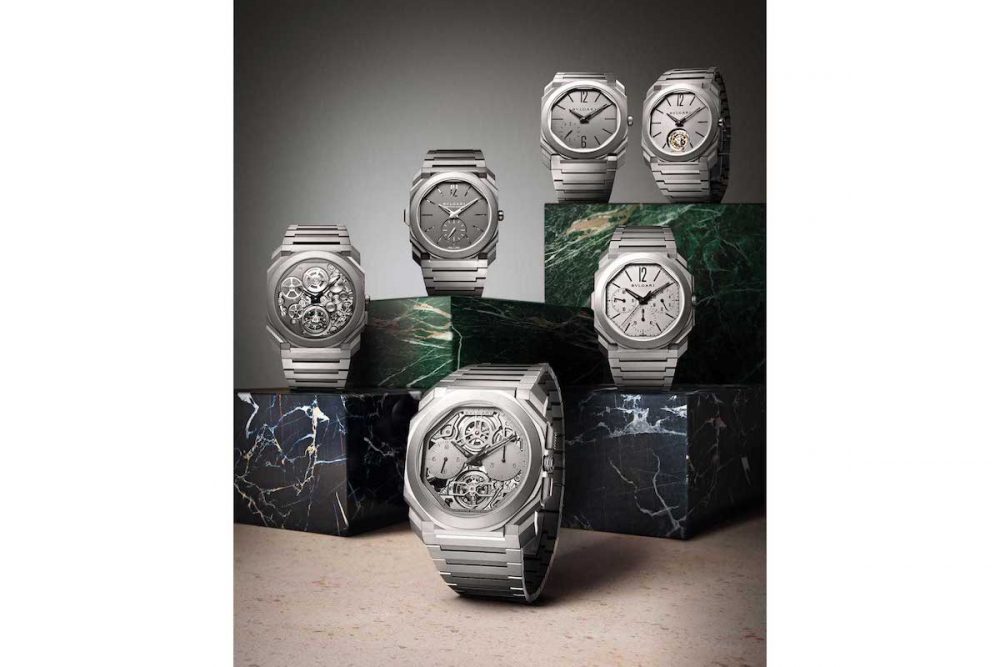 The counters on the dial were as follows: continuous seconds at nine o'clock, 24-hour home time at three and 30-minute counter at six o'clock. It was the perfect ultra-modern stealthy gentlemen's chronograph. The movement of the Bvlgari Octo Finissimo Chronograph GMT is also a technical revelation. The BVL 318 calibre is just 3.3 mm in height. It features a column wheel, it is laterally coupled and features an ultra-efficient peripheral winding rotor. The balance wheel is fixed to a full traversing bridge for better stability. Next to the balance you can see a polished bridge that stands in contrast to the rest of the Geneva stripe plate and bridges. This is the chronograph lever. You can see that just underneath it is the drive wheel that engages the central chronograph wheel. This powered by the skeletonized seconds wheel that is mounted co-axially with the seconds wheel driving the small seconds indicator on the dial. This chronograph train is designed to be much more compact than other laterally coupled chronographs which save space and is efficient. A brilliant efficient and beautiful design representative of Bvlgari's commitment to authentic watchmaking.
From Stealth to Standout
Almost immediately, though, I started dreaming of a decidedly more aggressive version of this watch. Broaching the subject with Buonamassa, he found the concept appealing. He explains, "I love the idea of a 'tool watch' version of the Octo Finissimo Chronograph GMT. The first thought was that we should put a tachymeter on the bezel. For someone that is an auto enthusiast, this would be a valuable and iconic function to have." Even though Bvlgari has an Octo chronograph model with a tachymeter — its Zenith El Primero-driven Velocissimo — that watch is significantly thicker as are all its parts. It wasn't a question of printing a tachymeter scale on the bezel of the Octo Finissimo chronograph. Buonamassa explains, "The Velocissimo is considerably thicker and the bezel is totally different. Engraving and printing a tachymeter scale on the ultra-slim Octo Finissimo took a lot of experimentation." As I explained the way in which any Octo Finissimo is assembled involves posts integrated into the bezel which run through the monocoque case and which are fixed on the caseback with special fasteners. During the engraving and printing process of the tachymeter, any pressure deforming the bezel would result in a case that would be compromised in its security. After considerable attempts, Buonamassa found the solution. But then we arrived at a second challenge.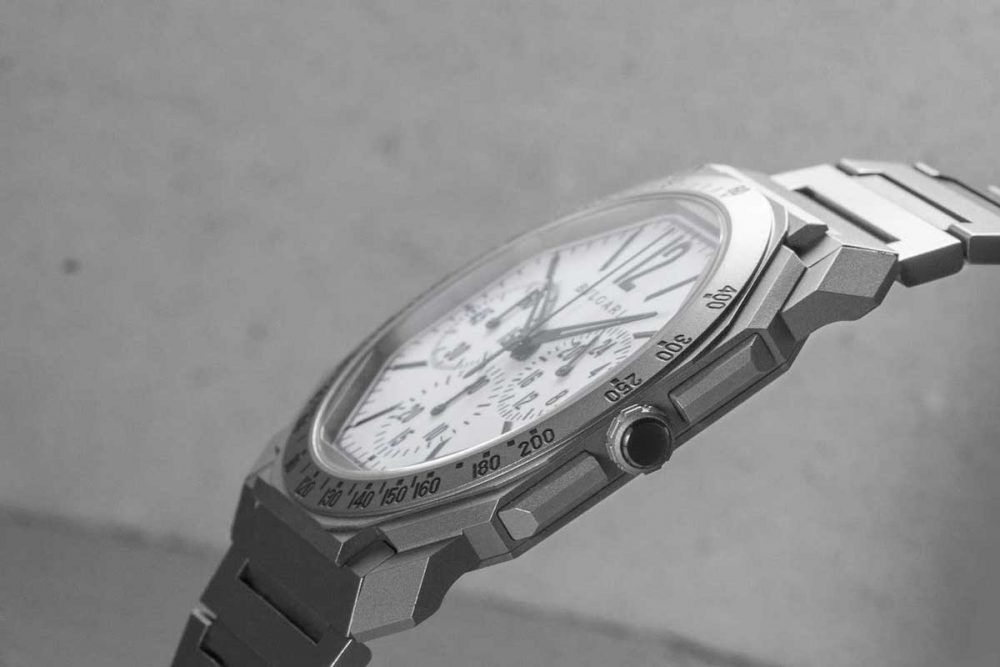 Any tool watch needs to have luminous indexes and hands. But in the Octo Finissimo, this proved almost impossible. Says Buonamassa, "With a dial that is only 0.2mm thick the indexes and hands were just too thin to be coated with lume. But then I thought what if we painted the entire dial, then all the indications would stand out in negative relief?" As you can imagine, I loved this. Buonamassa immediately set to work on dial prototyping. He explains, "We went through quite a few dials. Some were too luminous so that even in normal light they were glowing and some were not luminous enough. We wanted to find just the right balance so it looked like a normal white dial chronograph in daylight, but as soon as you move into darkness, it glowed with perfect visibility and remains luminous for a long time." Once a specification of Super-LumiNova was determined, the team at Bvlgari had to reconfigure the amount of material used to stamp all of the markings on the dial of the Octo Finissimo Chronograph GMT. Essentially the markings had to be made a lot thicker, effectively making this a "maxi dial" Octo Finissimo Chronograph GMT. They had to do this so that the sheer glow of the dial completely covered in lume doesn't render the indexes illegible. One of my favourite moments when lockdown lifted was a video sent to me by Jean-Christophe Babin as he and Buonamassa were discussing the dials over lunch. I love a white dial chronograph. There is something so appealingly pure about it and the Bvlgari Octo Finissimo Chronograph GMT perfectly encapsulates this.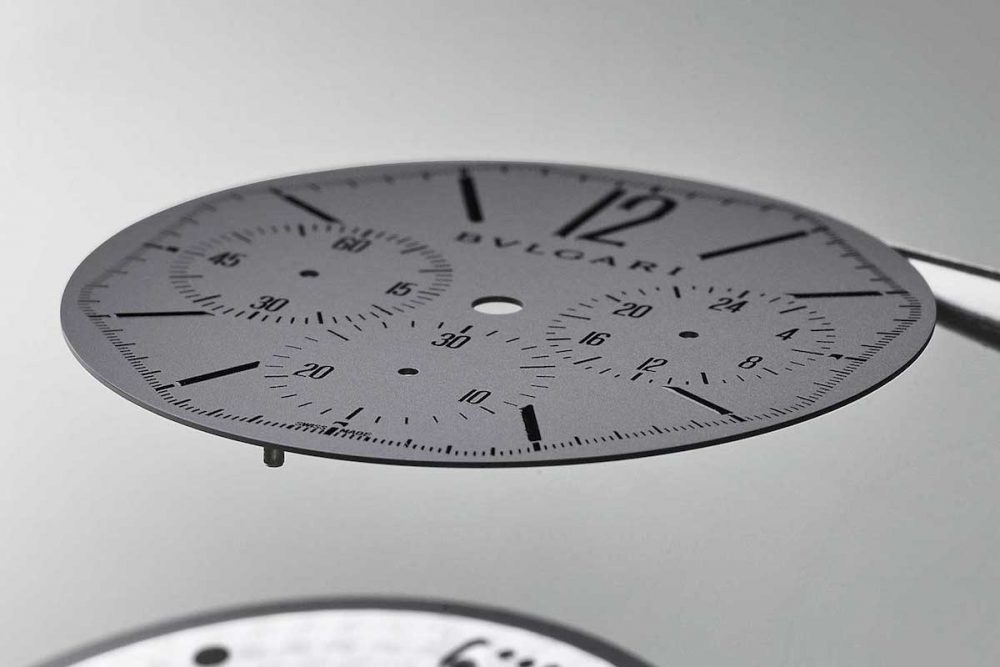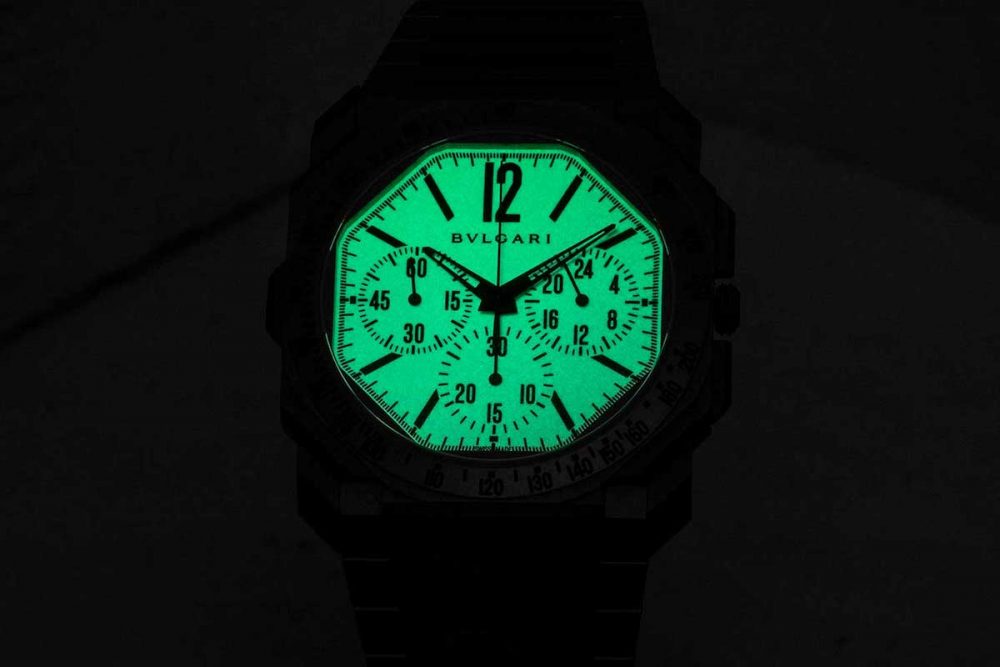 Of the various prototype dials we eventually ended up on two that we loved the best. The first was a stunning pure white dial that remained looking essentially like a traditional dial in bright light. But the magic with this dial was that as soon as you stepped into ambient light you could see it begin to glow. And when you entered a dark room or turned the lights off you could see its full luminous majesty with every indication standing out in relief so that you could easily read the chronograph, time and GMT indication at night. Buonomassa and I decided to nickname this dial "White Light," from the Velvet Underground's second studio album and titular song, "White Light, White Heat" from 1968.  The second dial is something that Buonomassa and I started referring to jokingly as the "Nuclear Option" which was a dial coated with the most powerful SuperLuminova known to man. As opposed to the "White Light" dial, which looked white until you entered darkness the "Nuclear" dial looked a kind of light jade green but essentially was glowing at full blast all the while, all the time. We loved it but wasn't sure that after prolonged wear it would start to become distracting or make you feel like your wrist was irradiated. Unable to make a decisive choice we decided to case both the dials up. Says Buonomassa, "This is probably the greatest amount of R&D we've ever done for a 25 piece limited edition watch. But it was also extremely fun." After he had worn both prototypes, the "White Light" and the "Nuclear Option", for a few weeks he sent both watches to me in Singapore. I then wore them both for a month straight and then we shared our conclusions.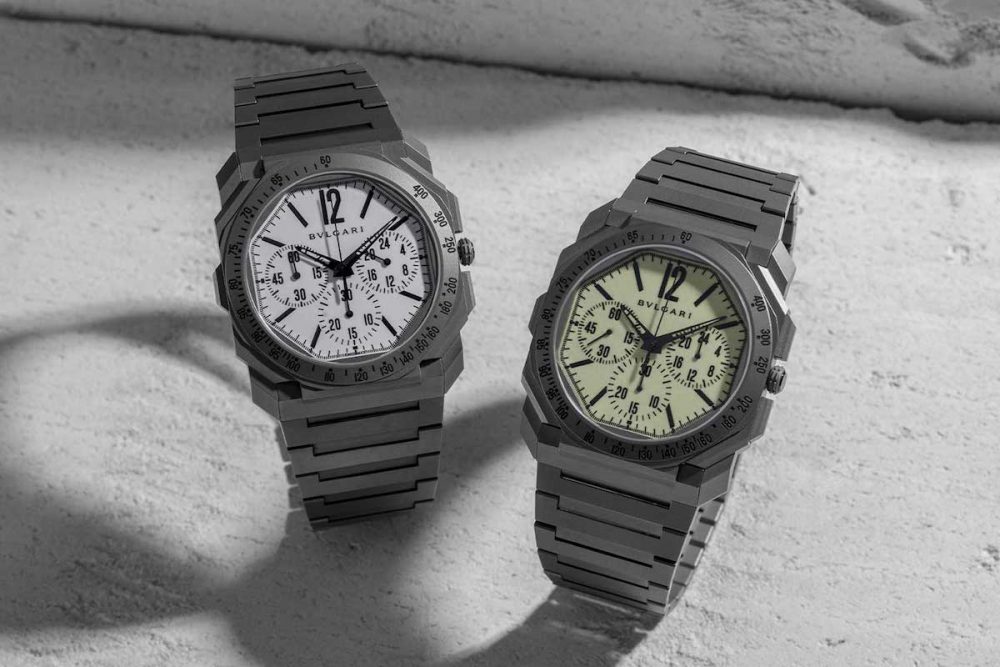 The Nuclear Option Octo Finissimo Chronograph GMT was incredibly cool and fun. There was something hugely entertaining about having this watch glowing at full blast, like an alien spacecraft descending from the sky. But it could also become a little bit distracting because you or at least your wrist becomes the center of attention all the time. I remember begin at a dimly lit sushi bar and all the heads snapped when I reached for my beer. I loved the dial but because we also live in an age where a small measure of discretion might be wise, I had a few reservations. In contrast the "White Light" dial has a great Jekyll and Hyde personality. Which means that in direct sunlight it just looks like an incredibly cool white dial chronograph. I have a real affection for all white dial, or "Albino", chronographs like the Speedmaster Silver Snoopy or the Mitukoshi. And in direct sunlight the Octo Finissimo Chronograph GMT White Light looks like just that: a beautifully rendered white dial chronograph.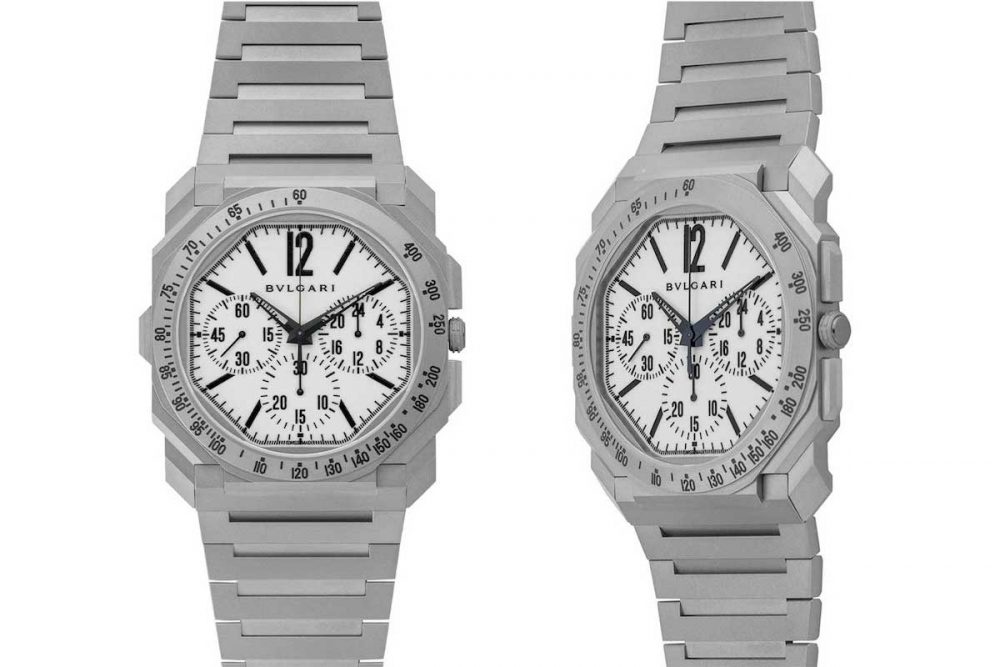 You could enjoy it in this format simply as a stunning sports chronograph with a truly innovative design. But then as soon as you enter an ambient or dark surrounding it glows strongly enough to provide perfect legibility. To be fair in a dark environment like a bar or nightclub, there is no getting away from the high visibility luminous optics, but then again this comes as more of a surprise rather just an extension of a watch that is always glowing. In the end, Buonomassa and I both loved this kind of split personality, the epitome of sporty elegant chic in the day and then this wild, larger than life spirit in the night.  After much deliberation we decided to use the "White Light" dial for our limited edition. Amusingly we were initially only going to make 15 examples of this watch to commemorate Revolution's 15th anniversary, but the resulting watch was so good that even within our own team we've had so many expressions of interest that we had to increase it to 25 pieces.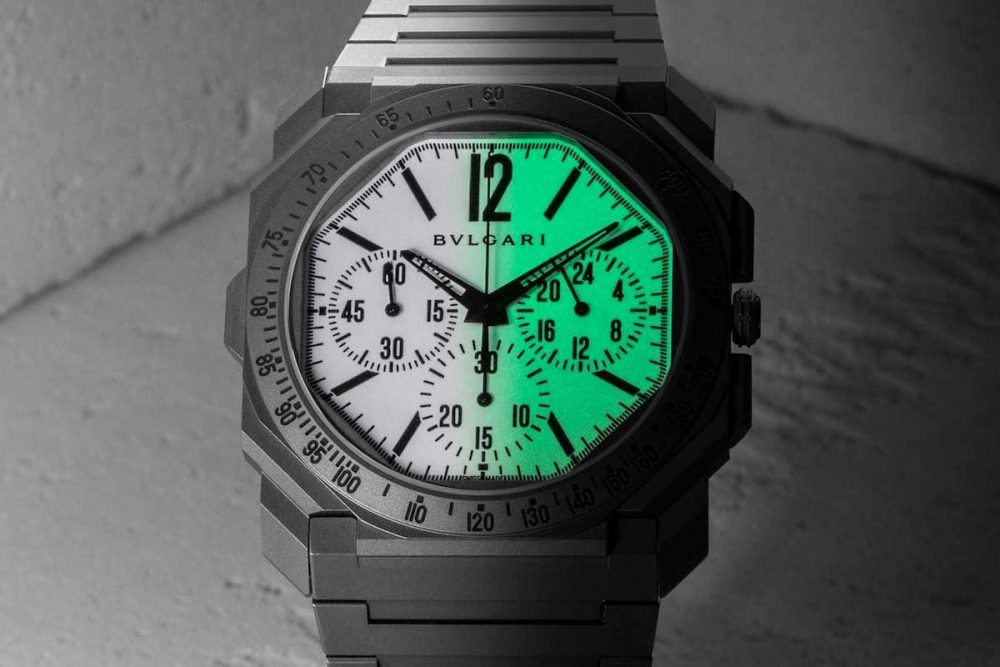 For example, while Adam Craniotes founder of the Red Bar global collecting community and I were discussing the watch with Buonomassa, at the LVMH Dubai watch fair this January, he immediately placed his order for one of them. So we had to allocate a watch to the big guy. Anyway I hope you like the watch. It really is one of the collaborations I am most proud of because it is functional but at the same time totally unusual and has this fun split personality to it. Perhaps what I like best about this collaboration with Bvlgari is that this is a watch that represents our partnership with a truly ethical brand. I like to think that as luxury consumers, the choices we make are our declarations about the world we want to live in and the people and brands we want to support. I hope that the owners look down on their watches and smile not just because this is a crazily cool chronograph, but also because it is made by some truly good people at Bvlgari. In case you missed yesterday's webinar, here is The Rake and Revolution Founder Wei Koh, talking to Bvlgari's Fabrizio Buonamassa about the new Octo Finissimo Chronograph GMT, now available on TheRake.com.
Technical Specifications
Movement
Self-winding BVL 318 Finissimo Extra-Thin Caliber (3.30 mm thick); hours and minutes; small running seconds at 9 o'clock; chronograph with 30-minute totalizer at 6 o'clock; GMT with 24-hour display at 3 o'clock; 55-hour power reserve
Dial & hands
White lacquered dial covered in SLN with black indexes; skeletonized hands in brass with black PVD treatment and polished finishing
Case
Diameter: 42mm, thickness 6.90mm; sandblasted titanium case with transparent back case; sandblasted titanium crown with ceramic insert; water resistant to 30m
Bracelet
Sandblasted titanium bracelet with folding clasp
Price
USD 17,300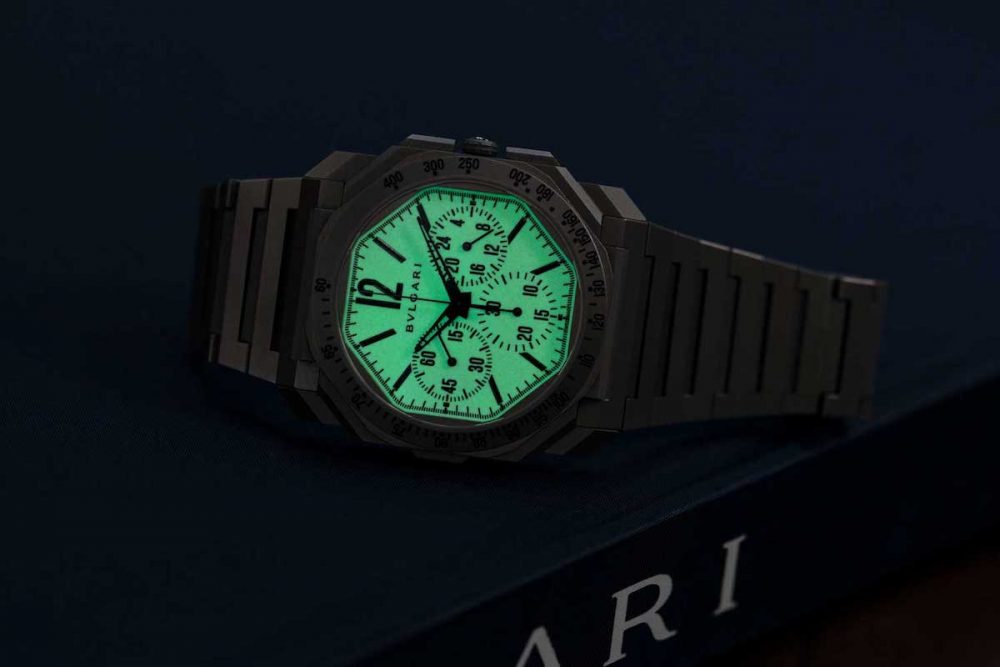 Attention Singapore based interested buyers: A prototype of the timepiece is available for viewing at our Singapore offices. Please book an appointment with us, by writing in to shop@therakemagazine.com