Introducing the Chopard L.U.C 1860 Flying T, Special Revolution
Chopard collaborates with The Rake & Revolution to create the 36.5 mm in diameter and 8.2 mm in height L.U.C 1860 Flying T, Special Revolution, the ultimate expression of complicated elegance.
Small Is Beautiful
While the header to this paragraph could easily allude to my very public penchant for sausage dogs, it in fact references what I genuinely believe is one of the most important tourbillon wristwatches of all time. I speak, of course, of the new Chopard L.U.C Flying T Twin that is made in just five examples, in collaboration with
The Rake & Revolution
, aka the L.U.C 1860 Flying T, Special Revolution. If that statement seems biased or self-serving, let me explain myself. For the most part, the Swiss watch industry has found itself caught slightly out of step when it comes to the size of their wristwatches. Conjure up your horological Valhalla of the most iconic and desirable timepieces ever created. Who appears in those mythical halls? A steel Patek ref. 1518? Sure! The dial measures 35mm in diameter. The Patek first-generation ref. 2499 with its square pushers and tachymeter? Absolutely. The dial measures 37.5mm. A Philippe Dufour Simplicity? Damn right. Did you know its original size was 34mm? He only created the 37mm size at the behest of four Singaporean clients of The Hour Glass. Ask him, and he will tell you that he far prefers the smaller size that he'd originally designed. I think you get my point. So, why is it that almost all watch brands make complicated dress watches in sizes exceeding 40mm in diameter? The answer is simple. Maisons that invested in manufacturing these complications in-house, did so during the late '90s and early 2000s — which was exactly the time the trend for oversized watches emerged. I chose the word "trend" carefully, but with respect, I genuinely feel that these behemoths are the result of a two-decade-long trend rather than what is genuinely the perfect classic size. So, why is it that none of these brands have scaled down their watches to be in alignment with the aesthetic dictates that prevailed over the near-120 years of history of the modern wristwatch? The answer to this is also simple. They can't — or they won't. Because that would involve a vast and costly complete re-engineering of their movements.
Proof Positive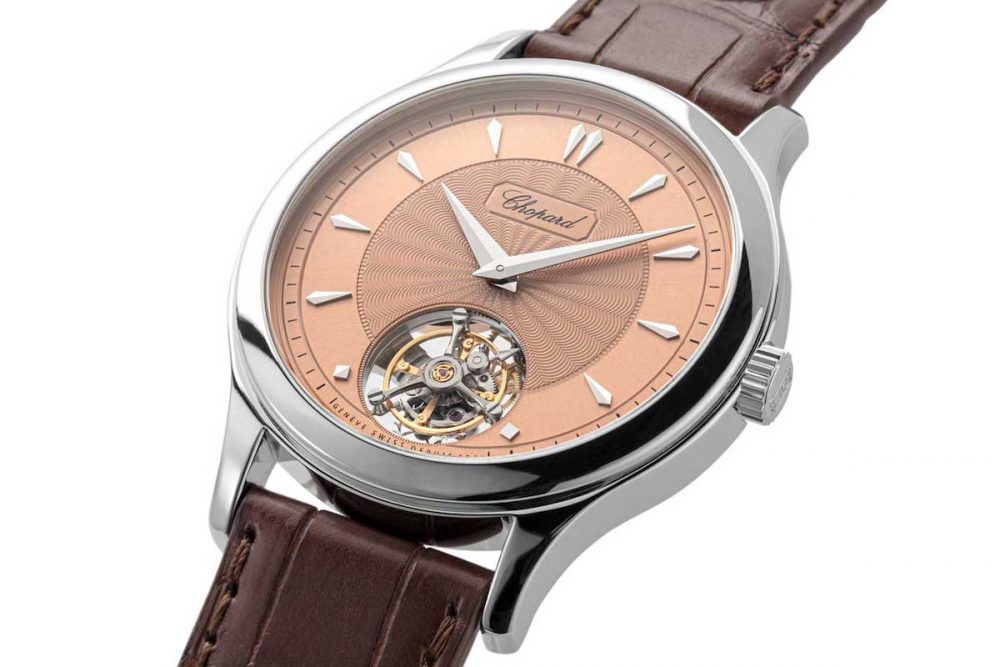 This is, of course, with the one exception of Chopard L.U.C. Proof positive is the watch you see here, which is one of the world's smallest automatic flying tourbillon. With a case diameter of 36.5 mm, to me, this represents the precise cynosure of size and proportion for the perfect complicated classic dress watch. But hang on. Because it's not that this timepiece is just magnificent and unique in its size; it is also the world's only Geneva Seal flying tourbillon that is also COSC-certified as a chronometer. Personally, I feel any tourbillon that does not come with some credible form of a certification for its accuracy, is simply a visually amusing spinning device on your dial. Perhaps most importantly, it is a symbol of a quarter-century of relentless groundbreaking technical innovation and dedication to both chronometry and excellence in finish that is Chopard L.U.C. Indeed, this watch is a celebration of the 25th anniversary of this remarkable brand, and a ticking testimony to the extraordinary commitment to authenticity and quality that form the central ethos of its founder, the amazing Karl-Friedrich Scheufele.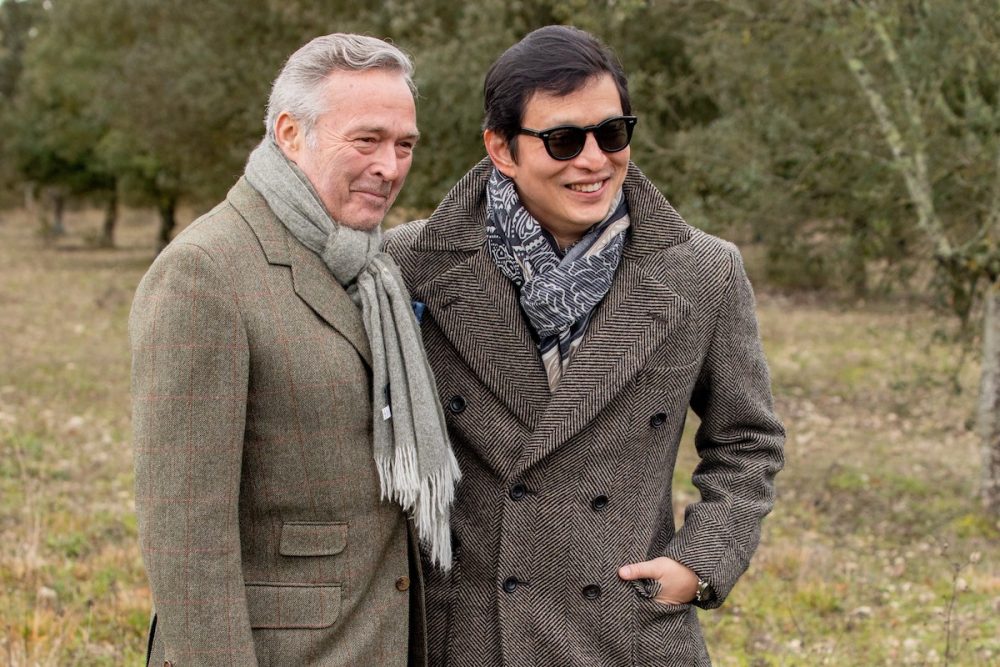 In every way, this amazing L.U.C Flying T Twin is a tribute to the very first watch launched by Scheufele, the L.U.C 1860 featuring the caliber 1.96. Incredibly enough, this automatic tourbillon fits in precisely the same case of the original watch, which measured just 36.5mm in diameter and 7.2mm in height. Accommodating the tourbillon does increase the case's height by a millimeter, but regardless retains incredibly slim and elegant proportions for a watch, let alone a complication of this stature.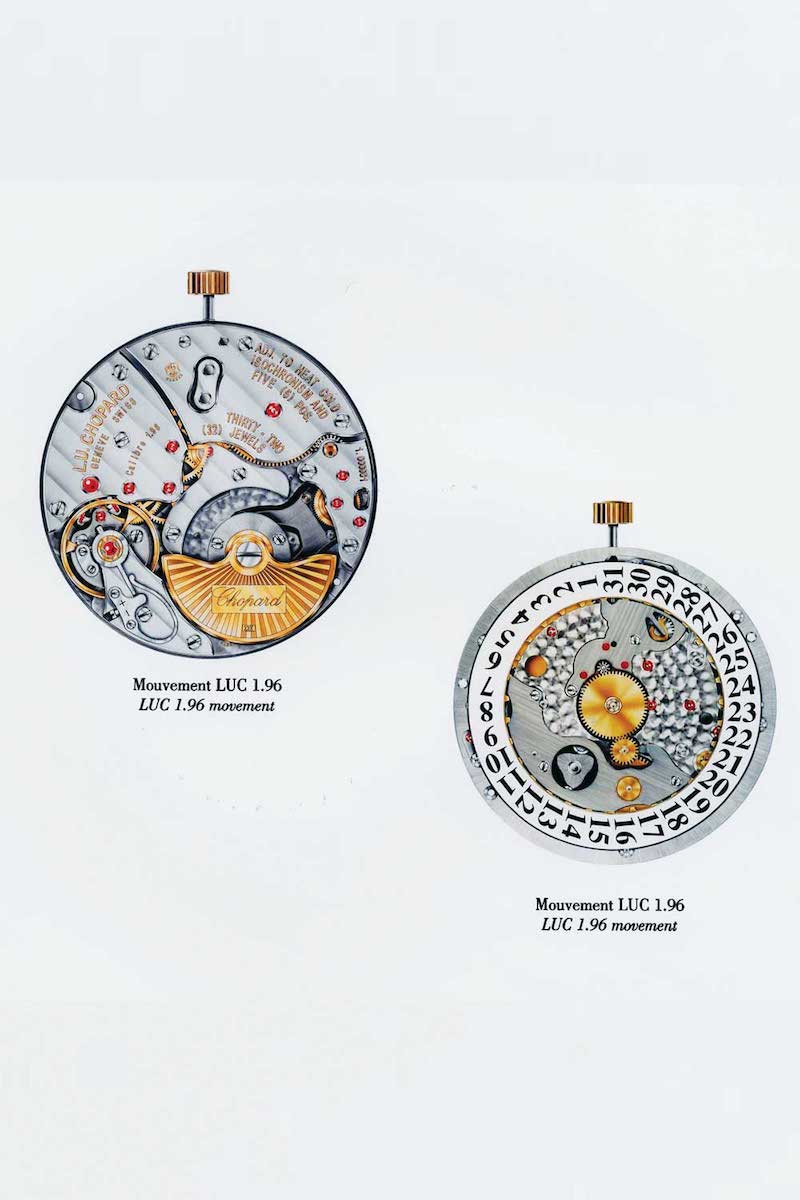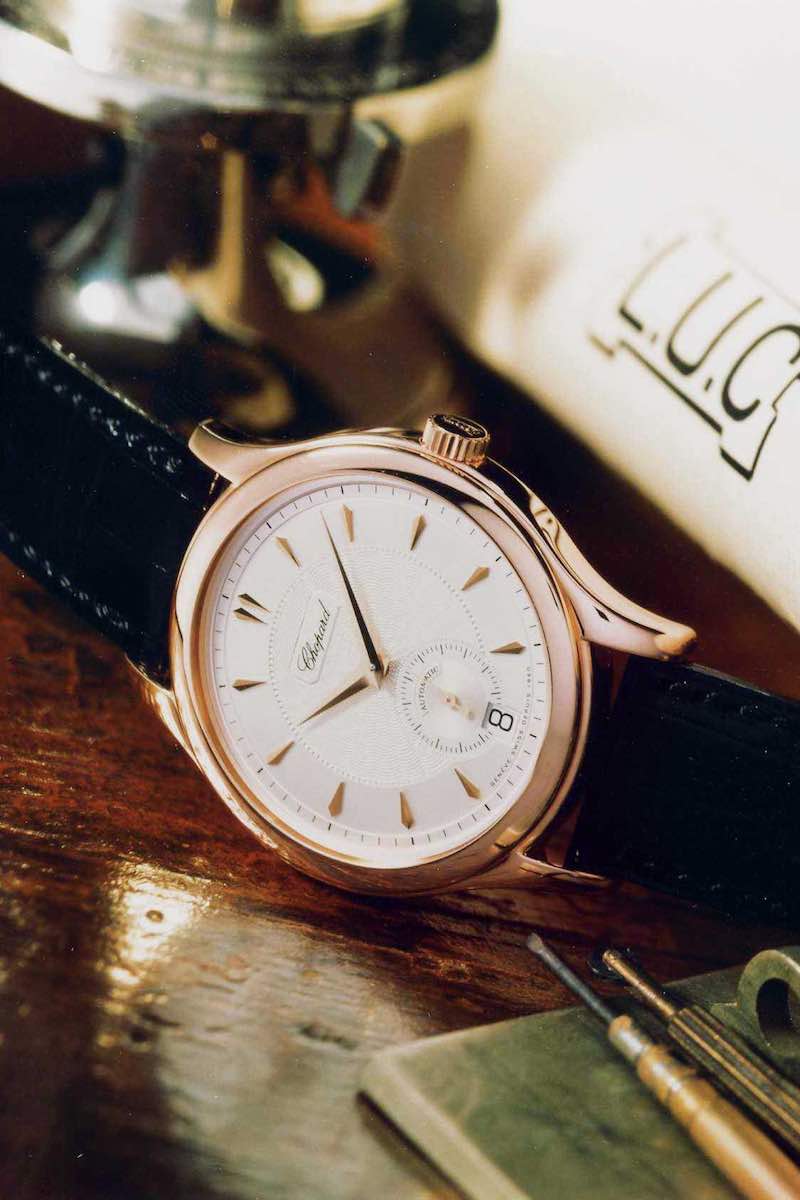 When the L.U.C 1860 was released in 1996, it was heralded as one of the greatest wristwatches ever created. A large part of this was due to its movement. The caliber 1.96 was the first automatic micro-rotor-equipped movement since Patek Philippe created its famous caliber 240 in 1997. But the 1.96 was a totally different animal. Boasting bi-directional winding, it was also one of the first movements to use ceramic ball bearings to aid in winding efficiency. It ran at a blistering 4Hz, or 28,800 vibrations per hour, featured an elegant swan neck regulator, received the Geneva Seal as a testimony to its peerless finish, and COSC certification as a chronometer as irrefutable proof of its accuracy. Famed watch journalist Nick Foulkes says, "Since the beginning of Chopard L.U.C, Karl-Friedrich Scheufele has insisted on these two certifications — one for beauty and one for chronometry — as a demonstration of the authenticity and quality of his watches. But this is because he is as authentic and qualitative a human being as I have ever known."
Masterpiece of Classic Watch Design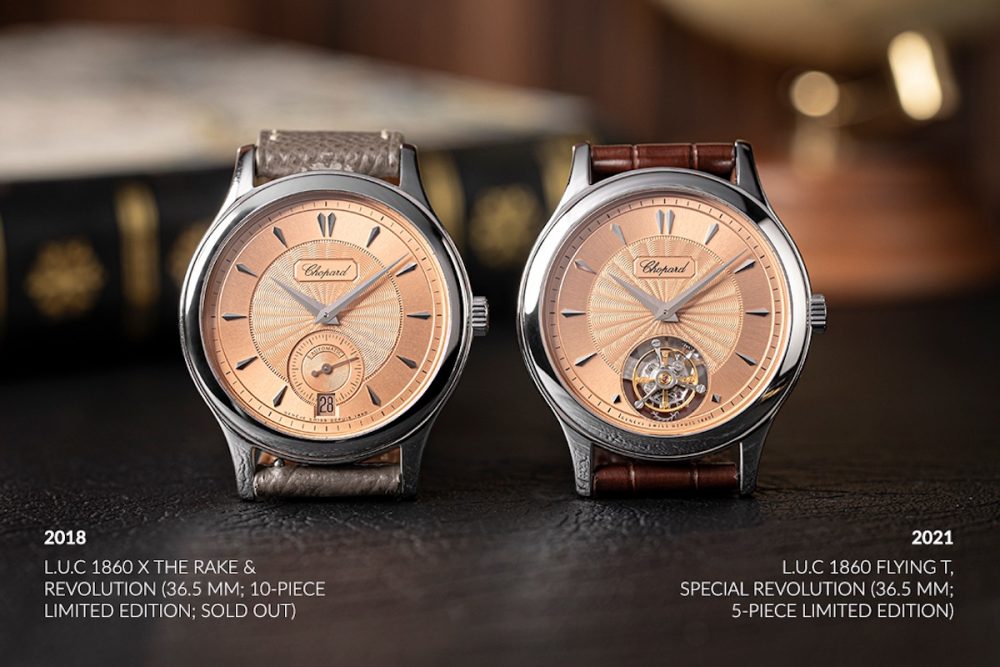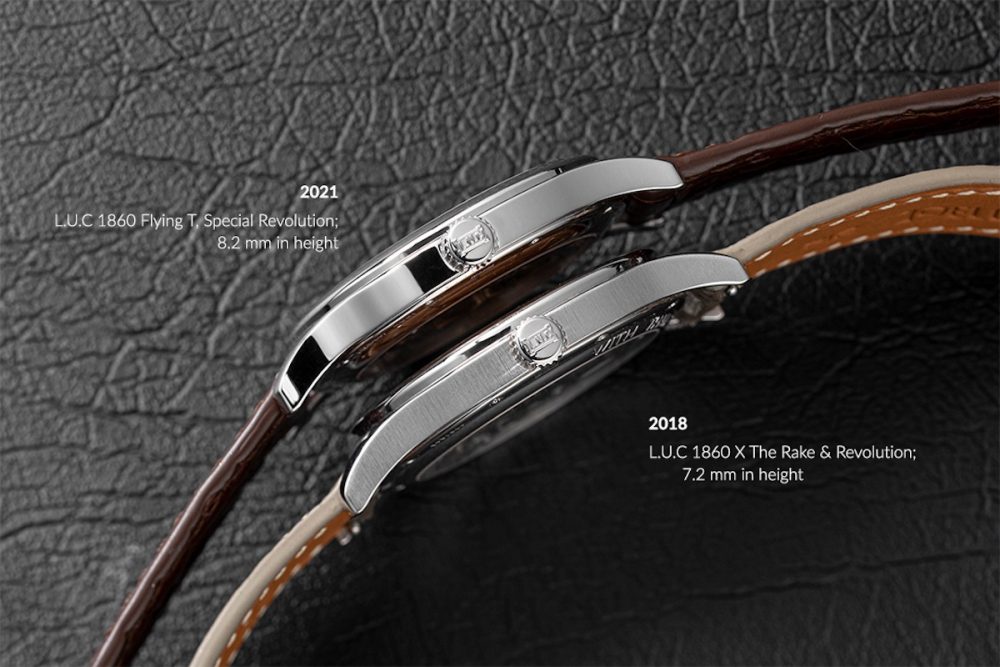 But what is sometimes overlooked about the L.U.C 1860 is its status as a masterpiece of classic watch design. Foulkes says, "It is simply a superb watch with a perfectly delineated smooth case and one of the most stunning dials to ever grace any timepiece." The dial Foulkes speaks of was created for Chopard by the most revered manufacturer in Switzerland — Metalem. The dial starts off as a disc of massive gold, and then receives a hand-application of stunning rose-motif guilloché emanating in waves from the center pinion. So exquisite and fine is the pattern on the dial that it creates a sense of luxuriant undulating momentum as light and shadow play sensually across its minute textures. This is perfectly complemented by an incredibly fine sunray brushing at the rehaut that is so lightly applied, it can really only be identified in strong light under a loupe. Affixed upon this stunning dial are mirror-polished arrowhead-shaped hour indices. It gives me great pleasure that these striking indices play a very large role in all of Chopard L.U.C's 25th anniversary watches. The sunken seconds subdial receives a contrasting circular guilloché and is framed by a large, legible seconds track as befits a watch with chronometer-level performance. A date window is integrated at six o'clock and the date disc is matching in tone, but subtly frosted in finish to help with the spatial separation.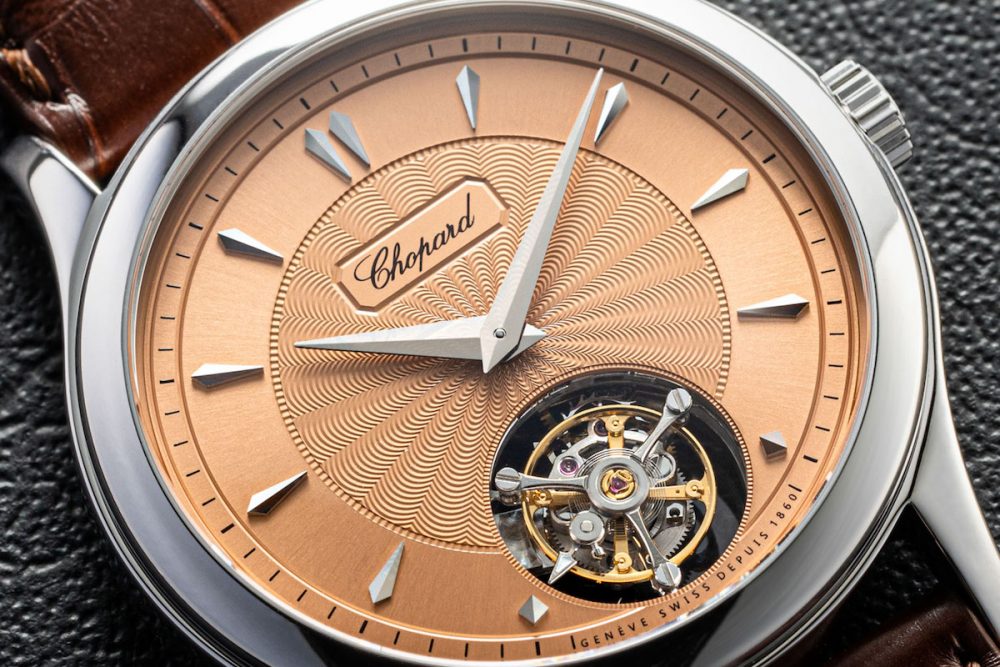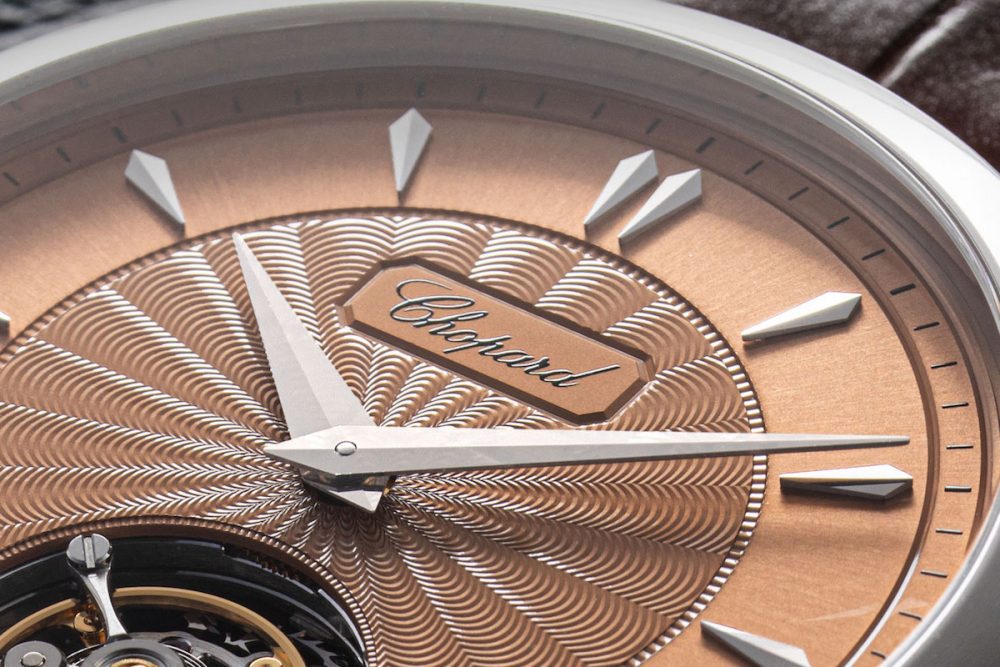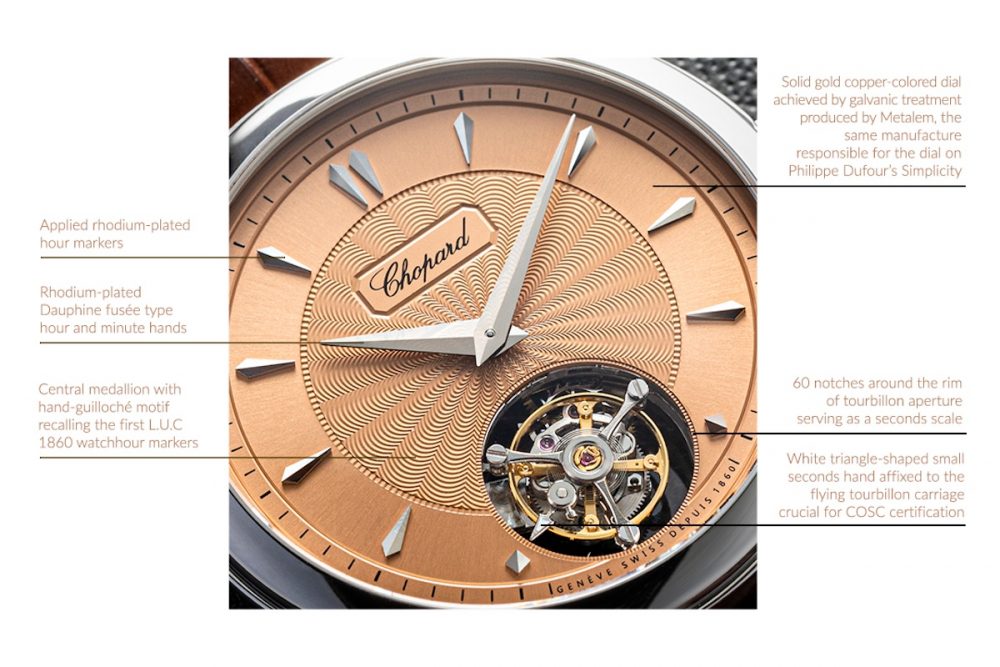 In his excellent
Hodinkee
article on the L.U.C. 1860, Louis Westphalen wrote about how this watch and Dufour's Simplicity (which also features a Metalem dial) shared a deep spiritual kinship in design. He states, "Being compared to a Simplicity or a Patek is a pretty big deal, and it shows how right the Chopard design team got it." My incredible affection for this watch was well chronicled in 2018 when we released a limited-edition homage to the 1860 in white gold, with a stunning salmon-colored dial. To continue the story created by this first partnership, it was decided by Karl-Friedrich Scheufele that this new timepiece should feature exactly the same configuration of a white-gold case and a salmon dial.
Read more about the Chopard L.U.C 1860 x The Rake & Revolution Limited Edition, here.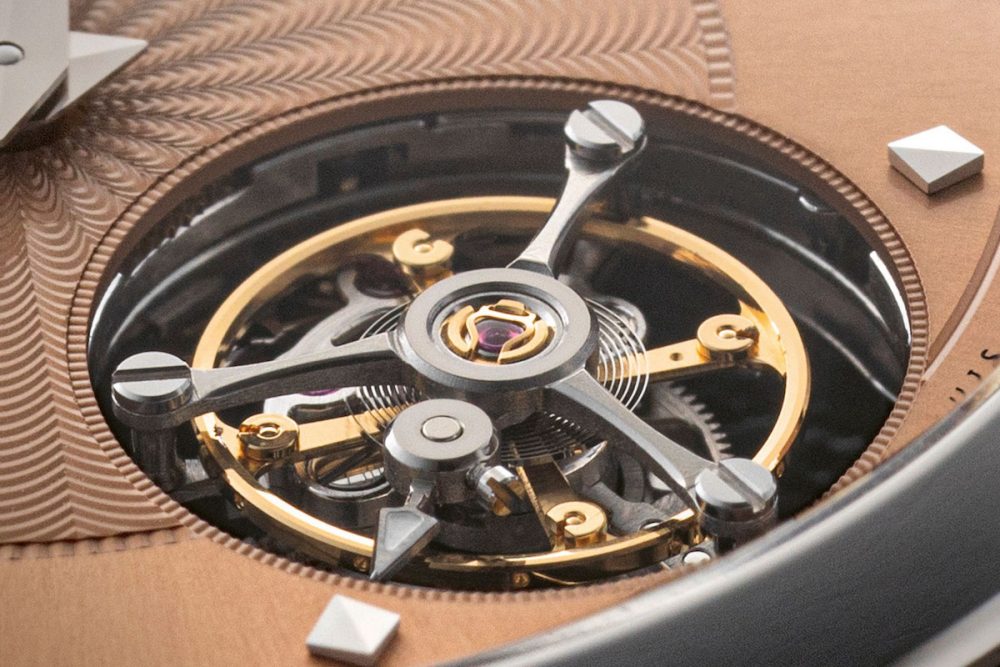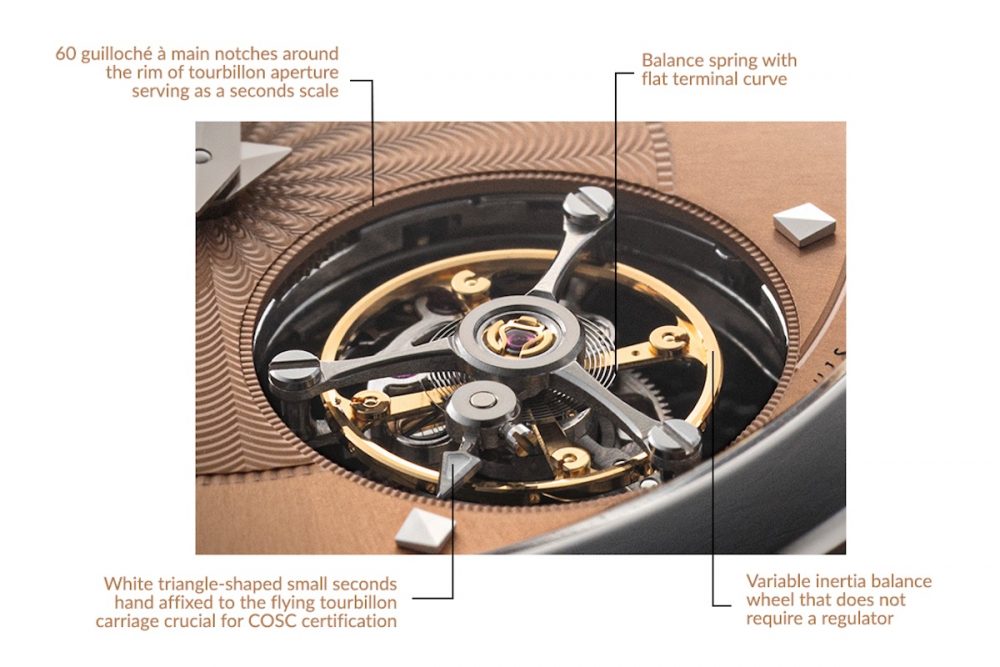 However, the similarities end when your eyes land on the stunning COSC-certified, 3.5 Hz flying tourbillon that dominates the lower half of the dial. Karl-Friedrich Scheufele says, "I particularly like how we have essentially replaced the seconds indicator of the first watch with a far more complicated seconds indicator in the form of our tourbillon. Because mounted on the cage is a discreet but highly visible seconds hand, which is what the COSC uses to measure our tourbillons' performance."
The L.U.C 1860 Flying T, Special Revolution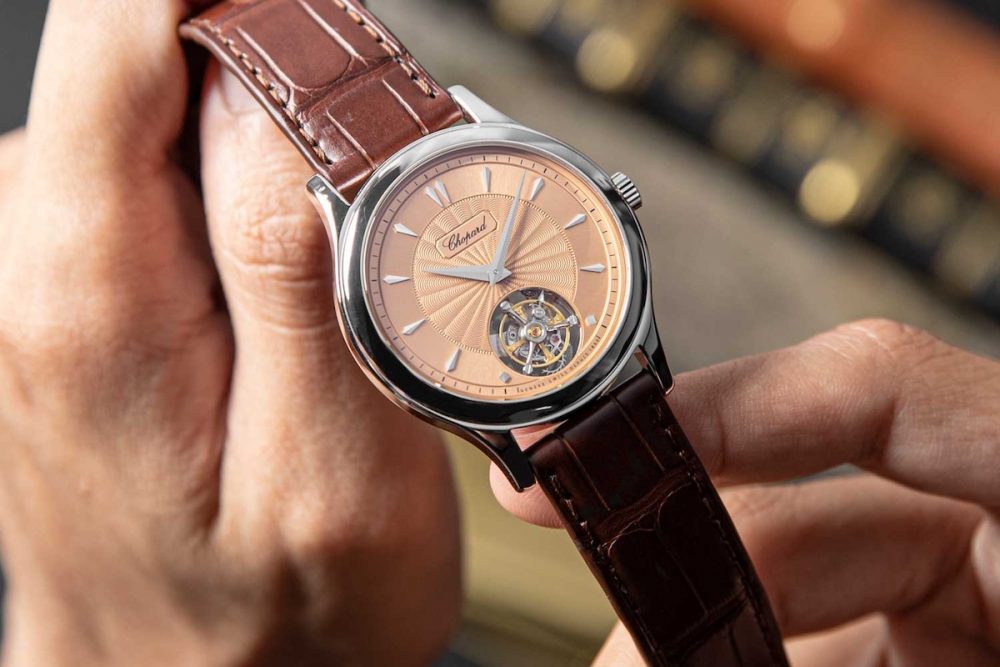 But how did the idea of creating a flying tourbillon chronometer in precisely the same dimensions as the original L.U.C 1860 watch come about? It all started in 2019 at a vineyard in Bergerac named Château Monestier La Tour. Purchased by Karl-Friedrich in an act that is demonstrative of his typical insistence on quality, he spent the first three years of his ownership converting the vineyard to meet biodynamic standards. We were there to help him celebrate this transformation in a wonderful event that involved the healthy consumption of his healing tonics. Accompanying the vinicultural resplendence was, of course, an array of new watches. Among these was a stunning automatic flying tourbillon named the Flying T Twin. A flying tourbillon is distinguished by having no upper bridge. Instead, all the weight of the cage, the balance and the escapement is supported by the pinion of the cage from behind. This is considered to be one of the greatest horological achievements and one of the masterworks of high complication beauty, as you are able to enjoy the view of what Breguet referred to as the "whirlwind" unobstructed by any impediment.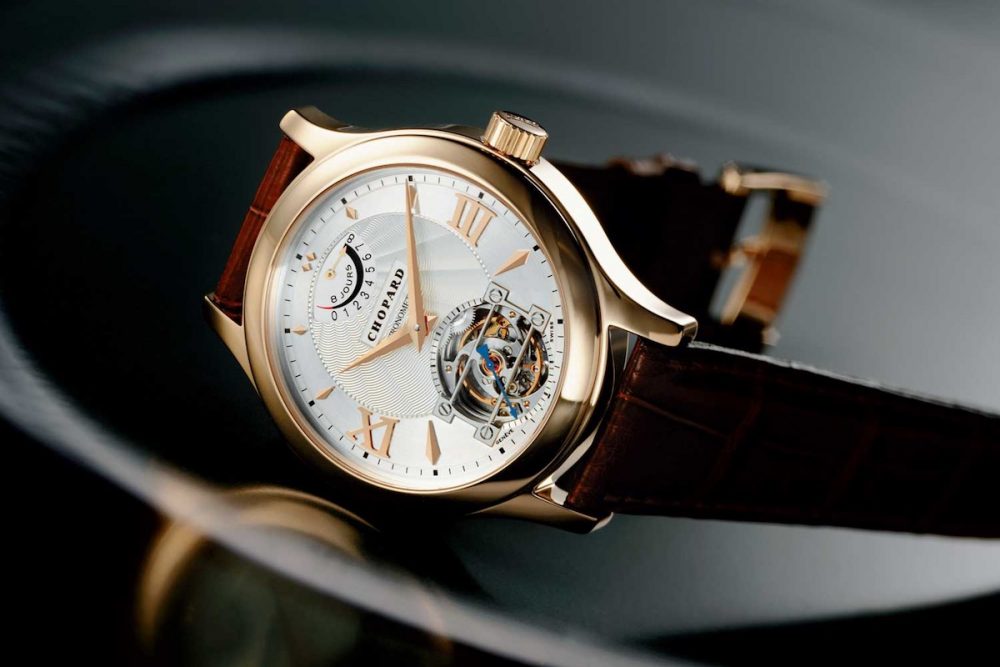 I had always known Chopard to produce some of the world's best tourbillons. In 2004, when the Chopard L.U.C manual-winding tourbillon was first introduced, it became only the second tourbillon to ever receive COSC certification. Scheufele attributes a major part of achieving COSC certification for each and every one of his tourbillon watches to their 4Hz vibrational speed. He explains, "At the time, almost all the other tourbillons ran at 3Hz because that was the tourbillon escapement that was available from Nivarox. We wanted a tourbillon that ran at a modern speed and that had much greater autonomy from micro shocks, so we had to design and commission our own tourbillon escapement."  The 4Hz tourbillon watch featured Chopard's four-barreled Quattro technology, but it also had an upper bridge. So when the Flying T Twin was presented to us, I was smitten. Then when it was explained that this flying tourbillon featured an automatic movement, I was even more deeply intrigued.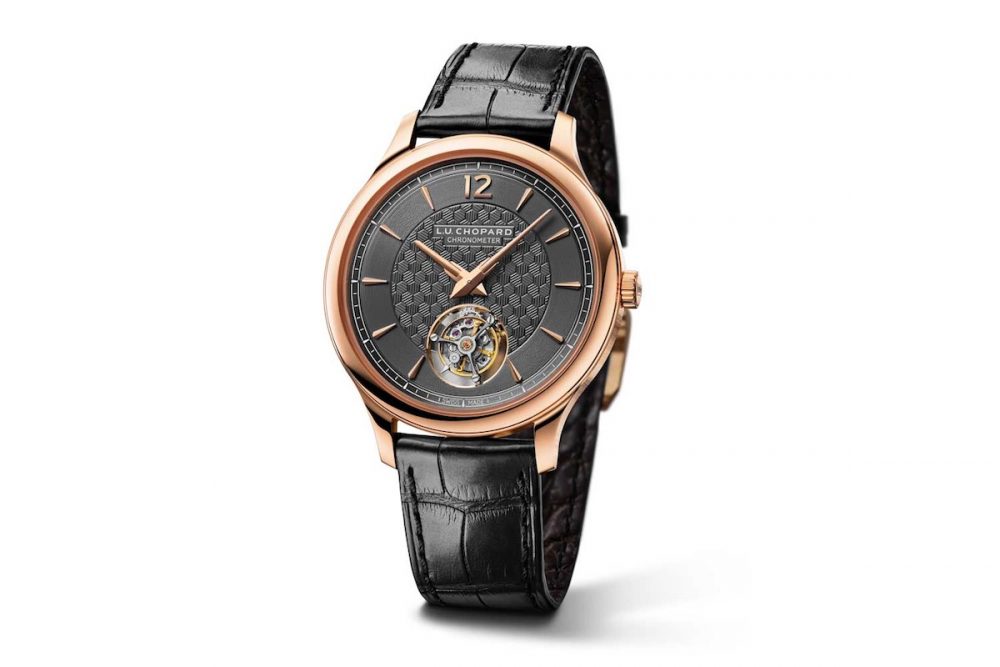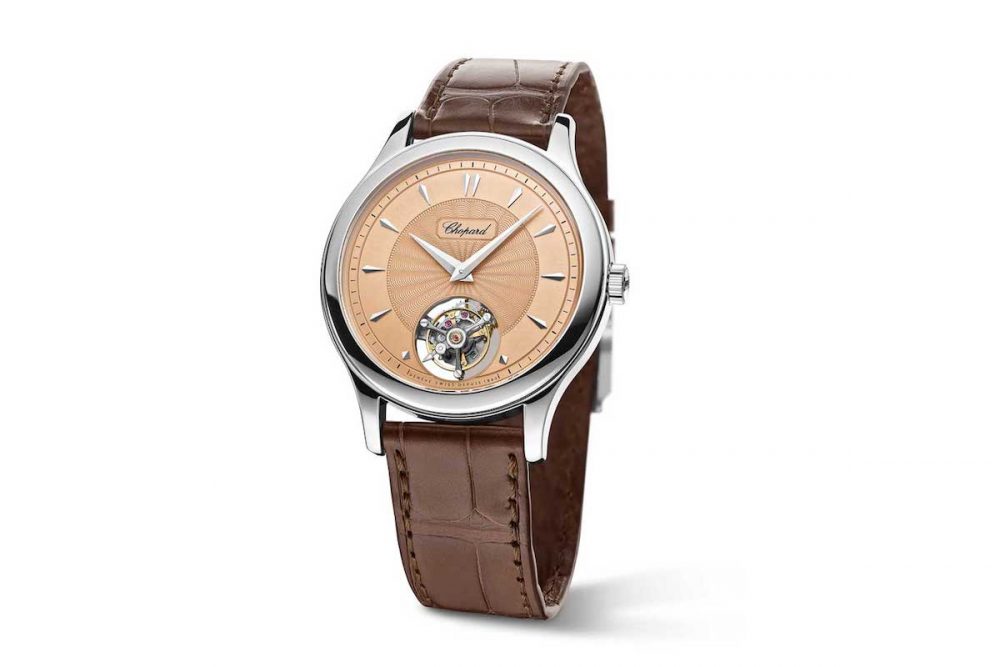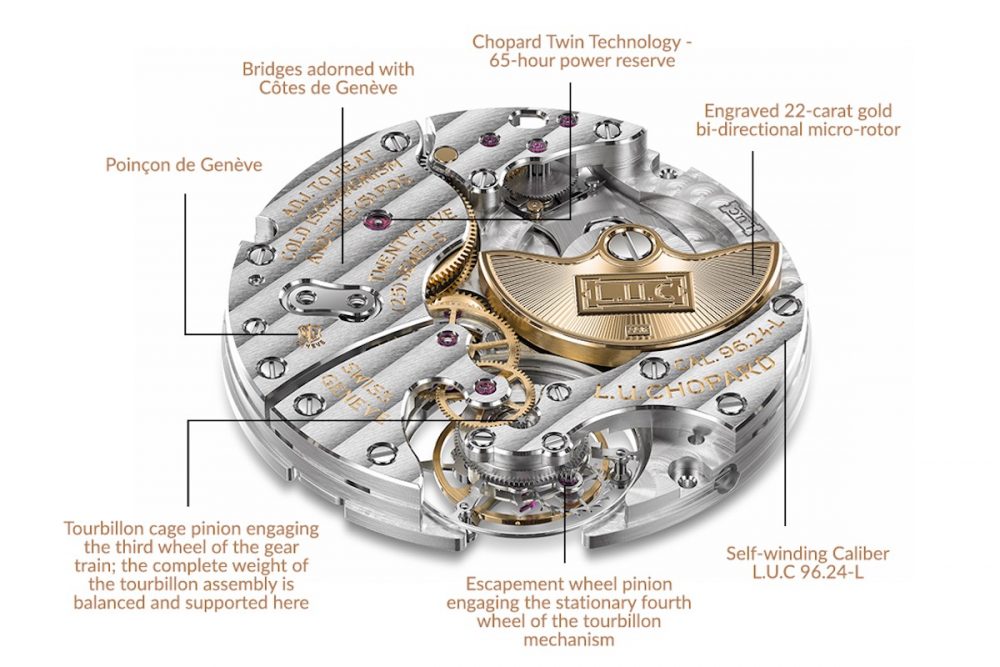 Turning the watch over, I felt an electrifying sense of
Proustian
nostalgia wash over me. There before my eyes was the wonderfully familiar architecture of my beloved caliber 1.96, complete with its distinct micro-rotor. Karl-Friderich Scheufele must have noticed my rapture when he approached me and asked, "Do you see something familiar?" I replied, "It looks like the caliber 1.96 with the third wheel now powering the pinion of the tourbillon." He laughed and explained, "Yes, we used the movement as the base caliber for this new flying tourbillon. In fact, remarkably enough, this new tourbillon caliber occupies essentially the dimensions as our original movement." Suddenly, I felt overwhelmed with an idea so tantalizing that I was almost afraid to articulate it in case it were not possible; I'd be crushed by the disappointment. While the new Flying T Twin was 40mm in diameter, it dawned on me that it might be possible to make a much smaller version of the watch. I asked Karl-Friedrich, "Does this mean that you could conceivably create a flying tourbillon watch in exactly the same dimensions as the original 1860 watch?"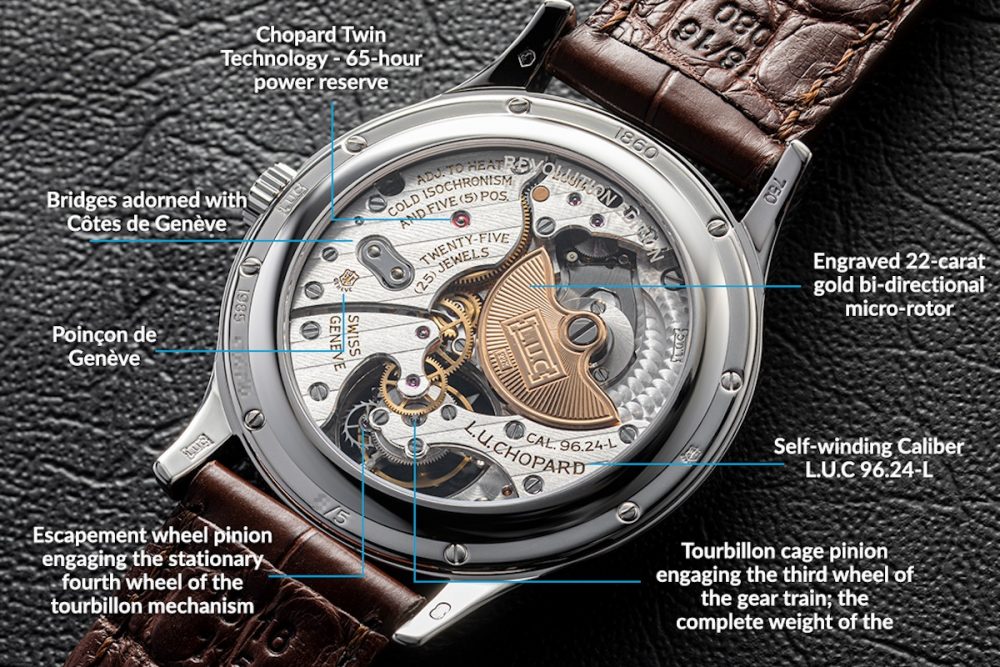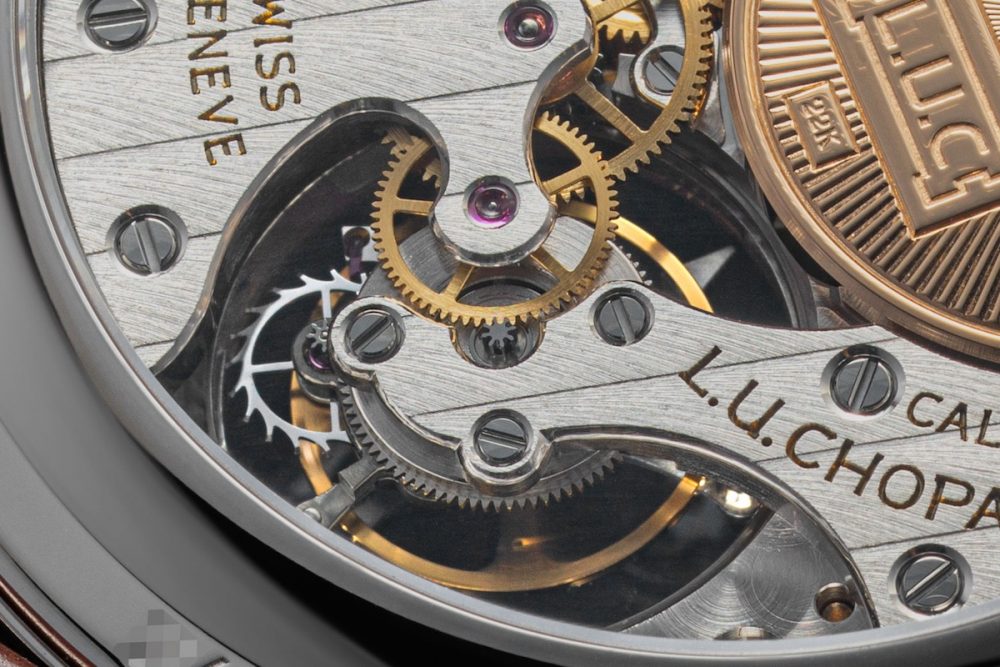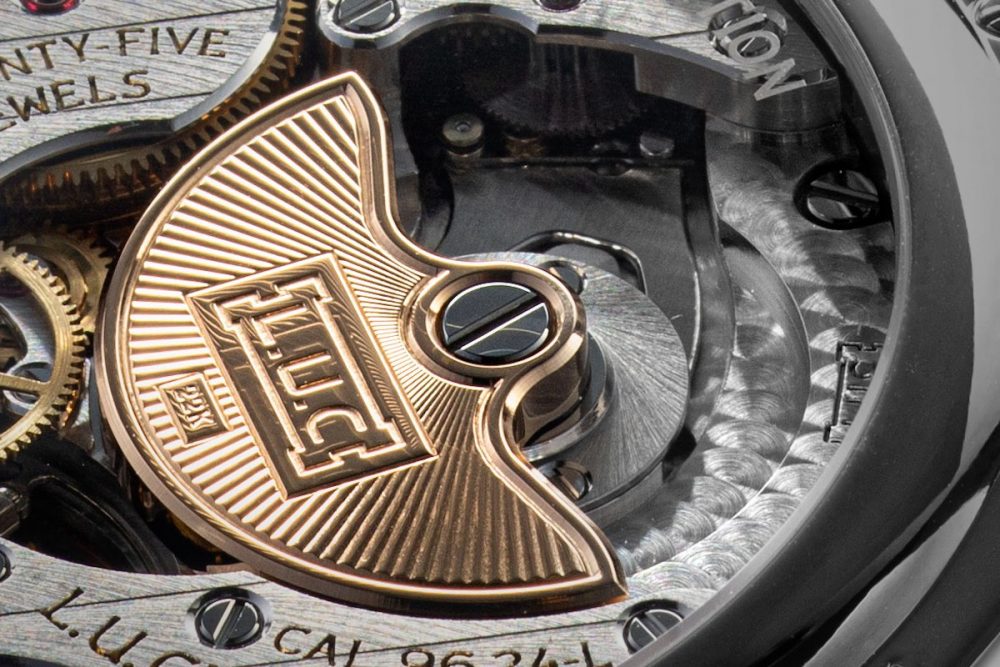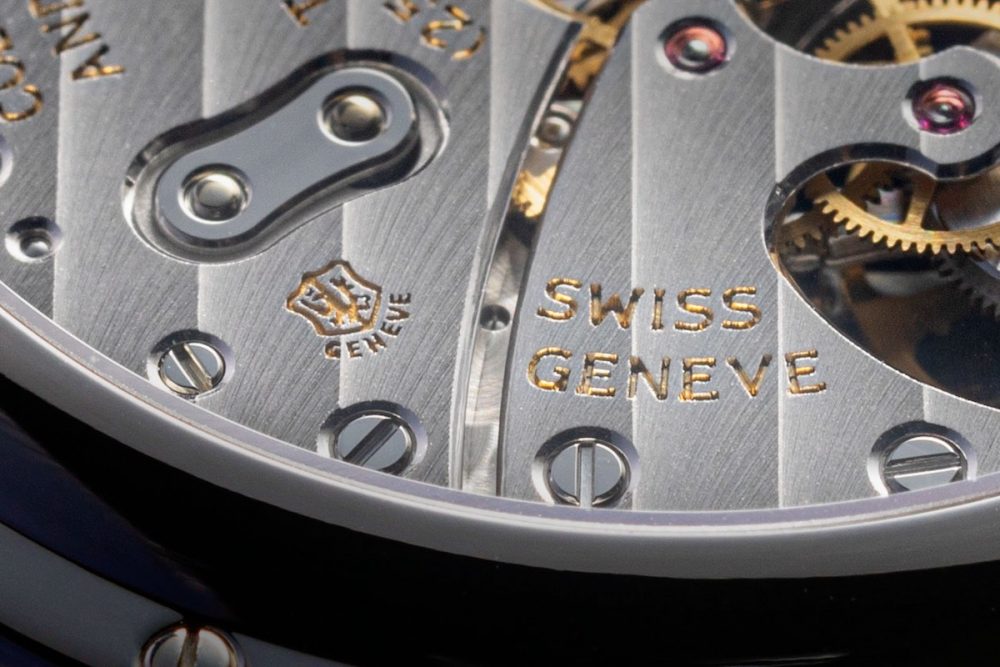 He looked at me and smiled, "Wei, I like this idea very much. And it should be designed so that it looks exactly like the original watch, but now with the addition of the flying tourbillon. Shall we do this together?" And that was the beginning of a three-year journey that has culminated in the single timepiece that I am most proud of. I admit it. I am biased. How could I not be? So here's a breakdown of why I feel that the L.U.C 1860 Flying T, Special Revolution is such an extraordinary watch. First, the watch is a celebration of L.U.C's incredible 25-year-long commitment to technical innovation and pure authentic watchmaking. Second, it is an aesthetic masterpiece that takes one of the most iconic modern watch designs and added to it a stunning flying tourbillon.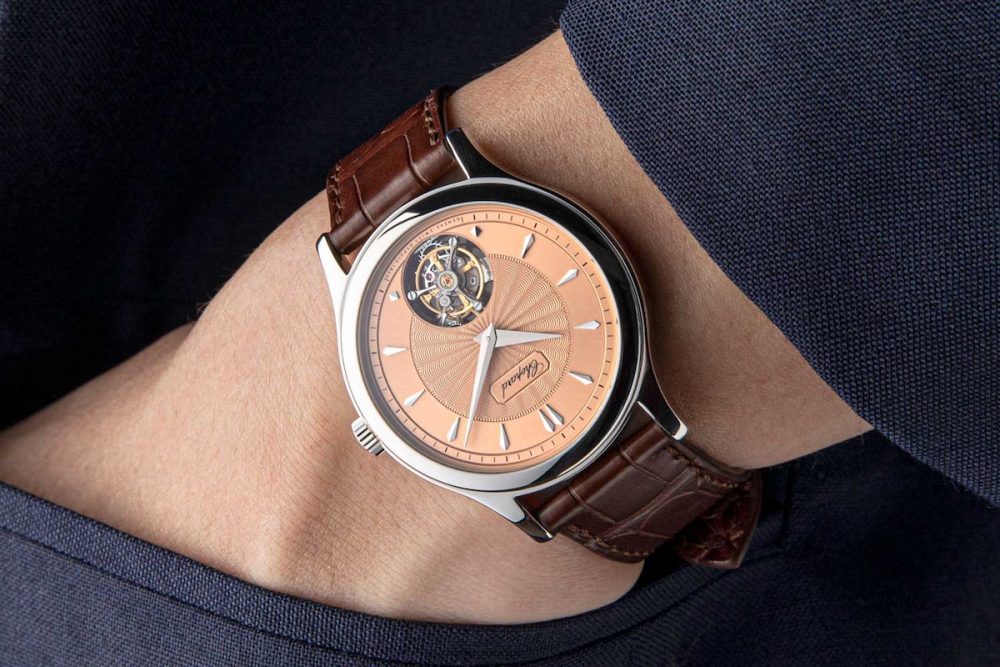 Third, it is one of the world's smallest automatic flying tourbillon at 36.5mm in diameter and 8.2mm in height. It is to my mind the perfect size for a complicated classic dress watch. With a world in the throes of vintage watch fever, here is a modern timepiece that wears like a vintage one, but which has none of the disadvantages. Just to be cheeky, the thought did cross my mind that if Philippe Dufour ever made a tourbillon version of the Simplicity, it would probably end up looking a lot like this. Fourth, it is the only automatic flying tourbillon that has received both the Geneva Seal as well as COSC certification. Last but not least, thanks to Chopard L.U.C's understanding, we have been permitted to price this timepiece at what we consider a tremendous value proposition at USD 121,000.
Technical Details: 
L.U.C Flying T Twin, Revolution Edition Ref. 161985-1001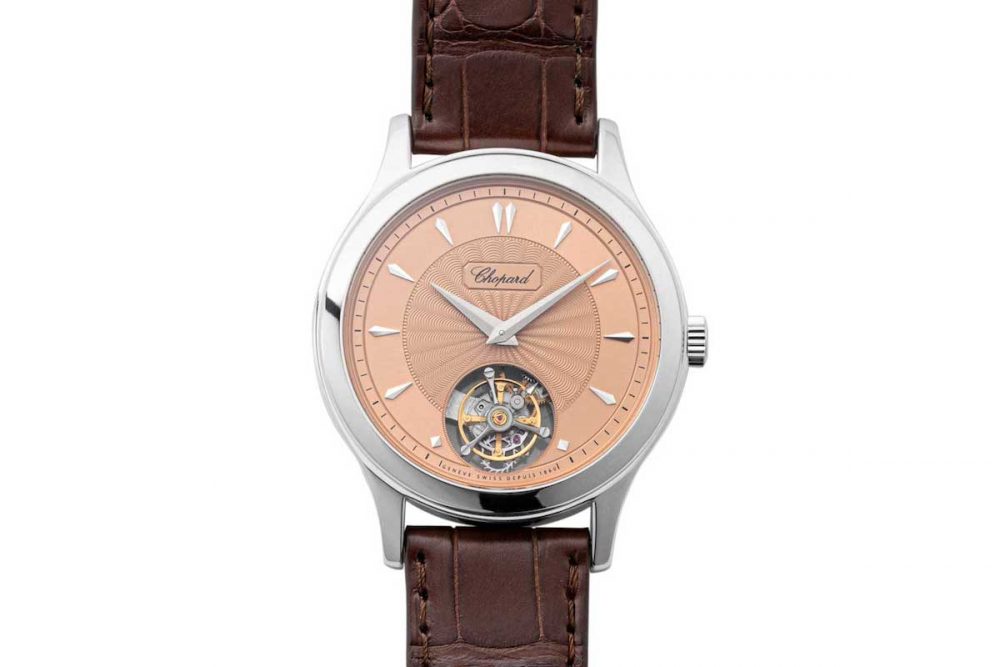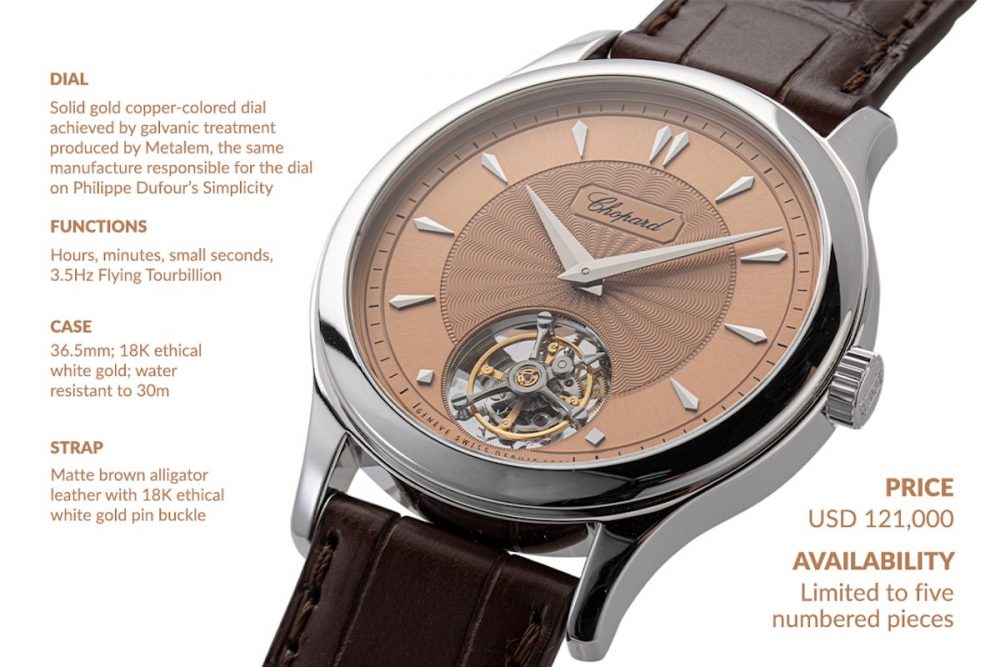 Case
: 18-carat ethical white gold; diameter: 36.50mm; height: 8.20mm; water resistance: 30m; 18-carat rose gold crown with L.U.C logo: 5.00mm; vertical satin-brushed case middle and inter-horn spaces; polished bezel and back; glareproofed sapphire crystal; exhibition back fitted with a transparent sapphire crystal with "Revolution Edition" transfer
Movement
: L.U.C 96.24-L mechanical movement with automatic winding; winding via an engraved 22-carat gold micro-rotor; number of components: 190; total diameter: 27.40mm; thickness: 3.30mm; number of jewels: 25; frequency: 25,200vph (3.5Hz); power reserve: 65 hours; flying tourbillon performing one rotation per minute; two barrels – Chopard Twin Technology; bridges adorned with Côtes de Genève pattern; variable-inertia balance wheel; balance-spring with flat terminal curve; Chronometer-certified (COSC); Poinçon de Genève
Dial & Hands
: Solid gold copper-coloured dial achieved by galvanic treatment; snailed hour ring; railway-type minutes track; applied rhodium-plated hour-markers; central medallion with hand-guilloché motif recalling the first L.U.C 1860 watch; rhodium-plated Dauphine fusée-type hours and minutes hands; white triangle-shaped small seconds hand affixed to the flying tourbillon carriage
Functions & Displays
: Central display of the hours and minutes; small seconds appearing at 6 o'clock on the flying tourbillon carriage
Strap & Buckle
: Hand-sewn matt brown alligator leather strap with brown alligator leather lining; 18-carat ethical white gold pin buckle
Price
: USD 121,000
Availability
: Limited edition of five numbered pieces, exclusively available from
The Rake & Revolution