Introducing the Girard-Perregaux Laureato Absolute Gold Fever
A modern take on a luxury sports watch, the Girard-Perregaux Laureato Absolute Gold Fever is a design full of dynamic tension.
Who would have thought that the seminal sports watch designs of the 1970s would create such a seismic uproar a full half century later? But what is irrefutable is that watches like the Royal Oak created in 1972, the Nautilus created in 1976 — both designed by Gérald Genta — and now the reference 222, genetic forefather of the Vacheron Constantin Overseas, launched in 1977 and designed by Jörg Hysek, have become the most sought-after timepieces of today. The first two watches are each selling at a 100-thousand-dollar premium, such is the craze around them, and for the first time ever, the Overseas is out of stock and trading at a premium on the secondary market. This has compelled savvy collectors to search elsewhere for their integrated bracelet sports chic watch, pushing watches like Moser's Streamliner, Czapek's Antarctique and even Laurent Ferrier's Grand Sport — if only it came without a tourbillon — directly into the crosshairs of the smartest watch snipers. A case in point was my friend Robert-Jan Broer's collaboration with Czapek, which resulted in him selling 50 Fratello special edition Antarctique Passage de Drake watches in 39 minutes. His story behind this was one of the most amusing anecdotes of recent memory. He said, "I was so nervous about the launch I couldn't sleep all night. Then in the morning, we launched the watch, and I saw a few pieces transact. I couldn't help it and crashed. I fell asleep. When I woke 30 minutes later, I rushed to the computer, and I saw that all the pieces had sold." So it seems that shaped bezels and integrated bracelets, born in the era of where luxury and sports first merged, are hotter than ever. But there is one watch that has as much authenticity as the entrenched Royal Oak, Nautilus and Vacheron 222. It was born at the same time, was a success in its era and, to me, has immense potential to return as an icon. That is the Girard-Perregaux Laureato. But before we get into the history and latest evolution of this watch, let's talk about Girard-Perregaux. Back in the day, Girard-Perregaux was the most badass watch manufacture, in particular when it came to watch accuracy. Its battleground was the observatory trials conducted in places such as Neuchâtel. Why was accuracy so important? Well, today we are basically inundated with electronic devices that feed us perfectly accurate time. But before the advent of quartz technology, humankind depended on mechanical timepieces for everything from navigating the oceans to transcontinental flight. Any deviation in accuracy could mean the difference between life and death. Girard-Perregaux made a name for itself as the first brand to submit a fast-beating movement called the caliber 32A to the Bureaux Officiels de Contrôle de la Marche des Montres, predecessor of the Contrôle Officiel Suisse des Chronomètres or COSC. Watches with this movement were subsequently submitted for testing and certification as "Observatory Chronometers." But at the same time, Girard-Perregaux was not blind to the revolution represented by quartz technology. In 1975, it introduced its in-house quartz movement, the caliber 705, with an oscillation speed of 32,768Hz. The home for this movement was an incredible, futuristic, slim integrated bracelet sports watch with an octagonal bezel named the Laureato.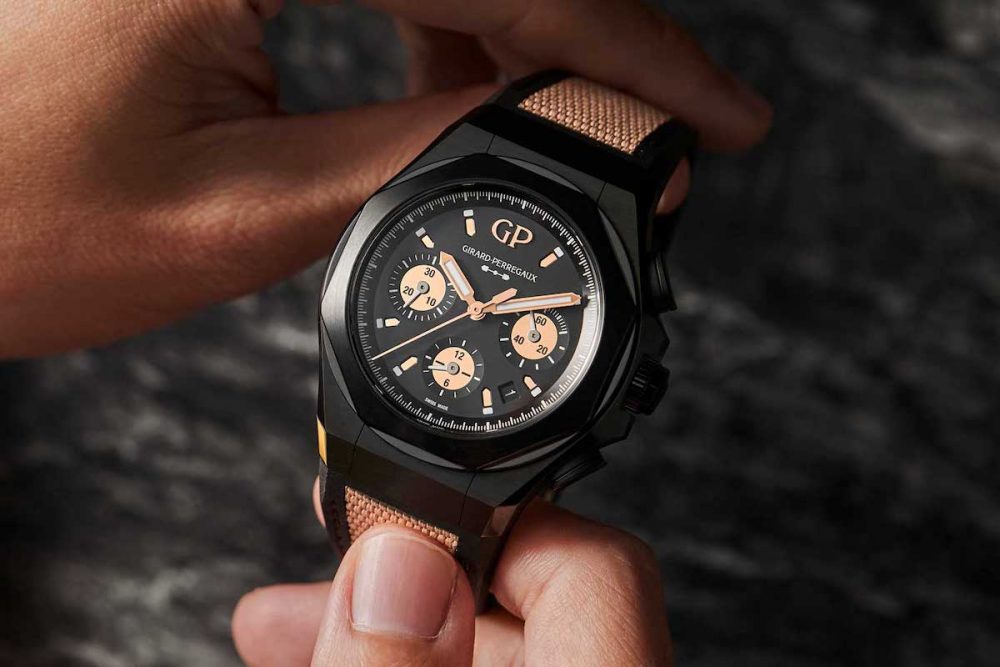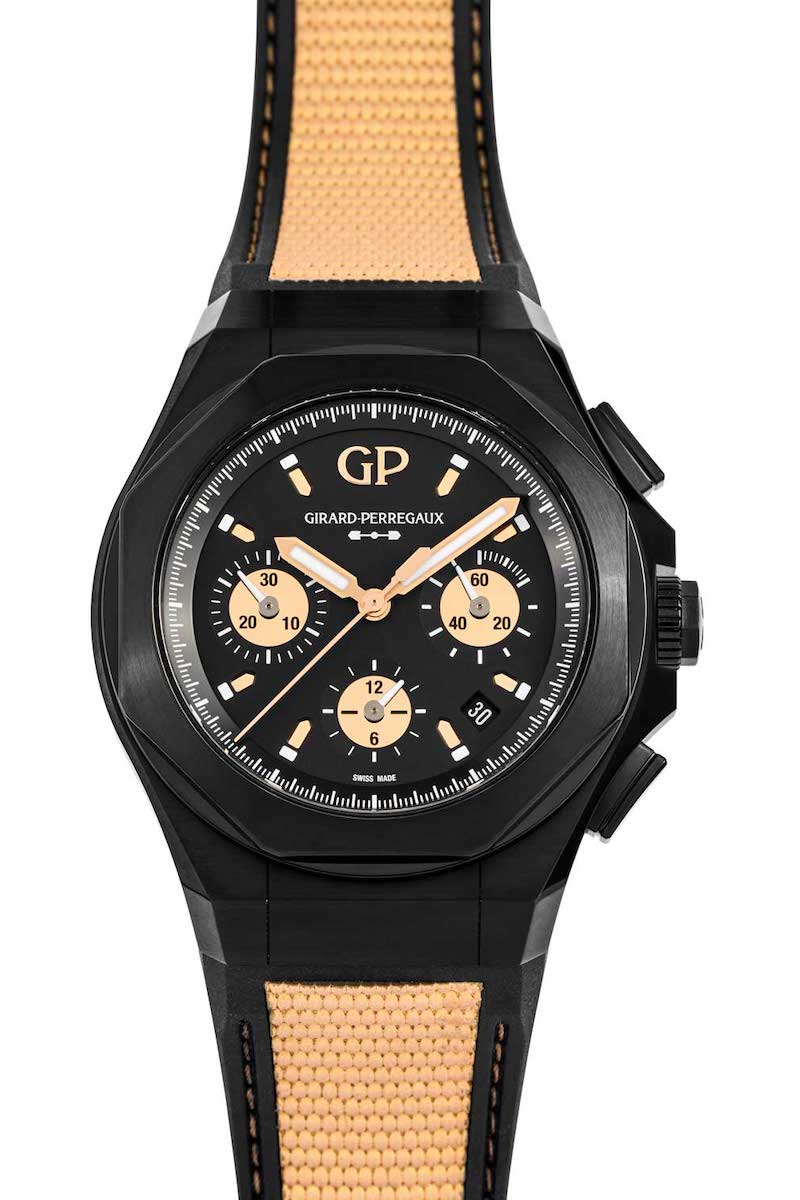 Under the Radar Sports Chic
In 1995, the Laureato was revived by Girard-Perregaux's new owner, the legendary Luigi "Gino" Macaluso. He placed inside this watch his manufacture's in-house 3100 caliber. In the new millennium, this model was updated into the Evo 3, which was larger and also came in a rubber bracelet option. The Laureato also became a showcase for Girard-Perregaux's avant-gardist high watchmaking, with watches such as the Laureato Evo 3 Tourbillon with Three Sapphire Bridges, one of the coolest high complications ever created in a sports watch case. As a sign of this watch's street cred, it is one of the timepieces most frequently found on the wrist of none other than Auro Montanari aka John Goldberger, one of the watch world's greatest collectors and authors.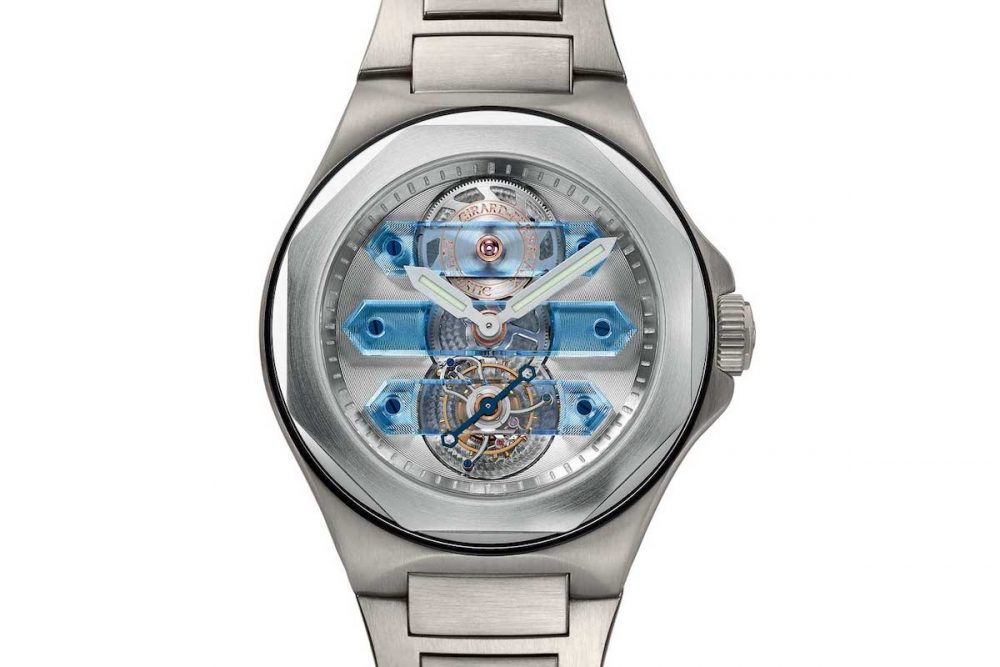 Over the past few years, the Laureato has come in tourbillon versions, skeletonized ceramic versions and many more. Of course, this begs the question: Why is it that the Girard-Perregaux Laureato is not yet one of the hottest watches in the world? I asked the brand's CEO Patrick Pruniaux, who replied, "I think it is very clear that because of several changes in management, the identity and focus of Girard-Perregaux was not completely clear for some time. But I and our current team feel we've really found the right direction and are genuinely making great watches. Our issue is, of course, we don't have the same marketing budget as some other brands, and so you don't hear about us broadcasting our message everywhere. But we feel with watches like the Quasar, the Neo Bridges and the Laureato Absolute, we are genuinely creating what collectors want while also strongly expressing our core identity."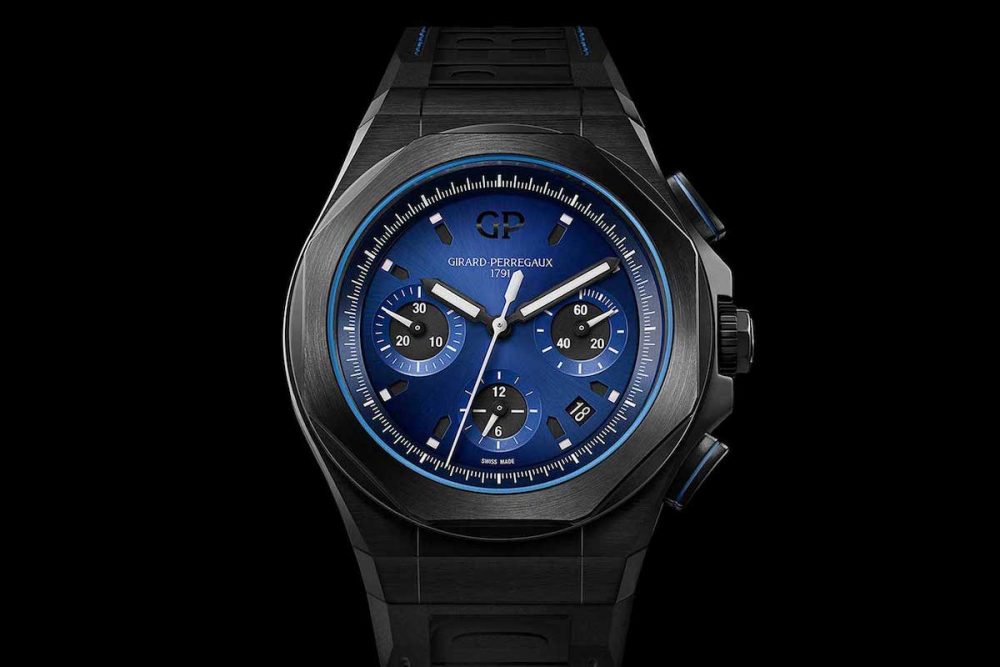 I'm always interested to find out more about the people behind a watch brand. Girard-Perregaux, despite having flown under the radar for a few years, and despite what Pruniaux had described as a period of miasma due to leadership changes, is really starting to come back strong. Much of this has to do with a genuinely amazing team. Said Clémence Dubois, the brand's chief product and marketing officer and an individual whom I respect immensely, "What was important for me was that when Patrick joined, he didn't just jettison what we did before. Instead, he clearly identified what we did right and built on that. This resulted in the sapphire case, sapphire bridge tourbillons like the Quasar and the Quasar Light; it resulted in the revival of technology like the Constant Escapement; and it resulted in a renewed focus on the evolution of the Laureato." OK, so what's my take on the Laureato? To be honest, like most of the world, I wouldn't say the watch was anywhere near my acquisitional radar. At all. But then two things started to happen. The entrenched watches in the sports chic category started to become harder to get and more out of reach in secondary pricing. And the Laureatos just started to get much better. Said Meera Anand, Girard-Perregaux's head of public relations, "We didn't want to shout about it, but we definitely felt that the Laureatos were getting better and better, and we could see collectors responding to them." It all changed for me in 2020 when I saw a watch called the Laureato Absolute Crystal Rock made from a material called Carbon Glass. It was a genuine "oh shit" moment. I believe my exact words to Meera were, "Dude, what the hell? Is it just me or is the Laureato Crystal Rock seriously dope AF? I really like it!"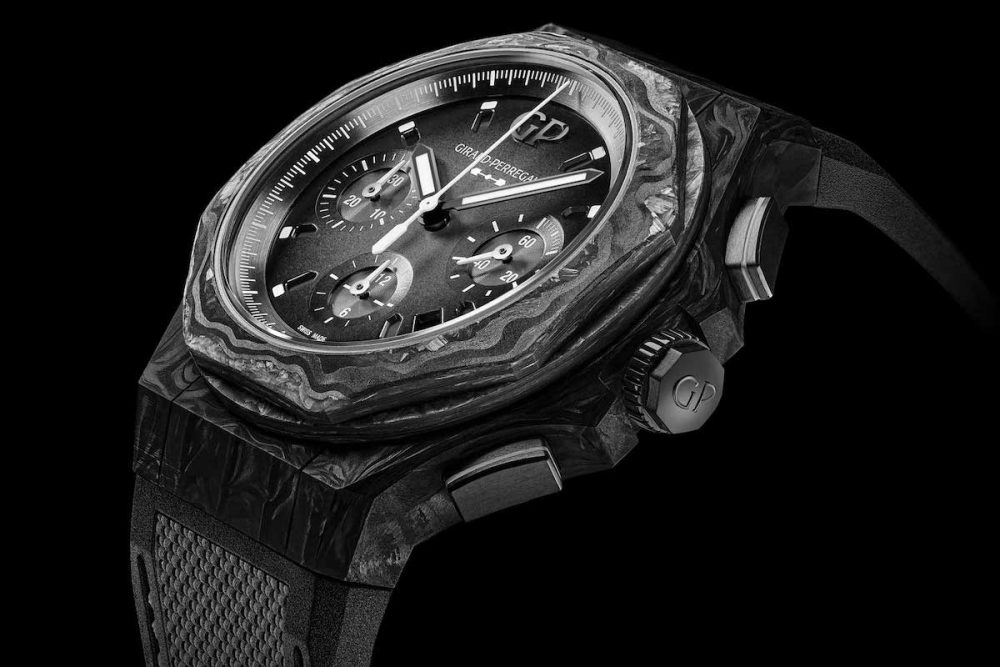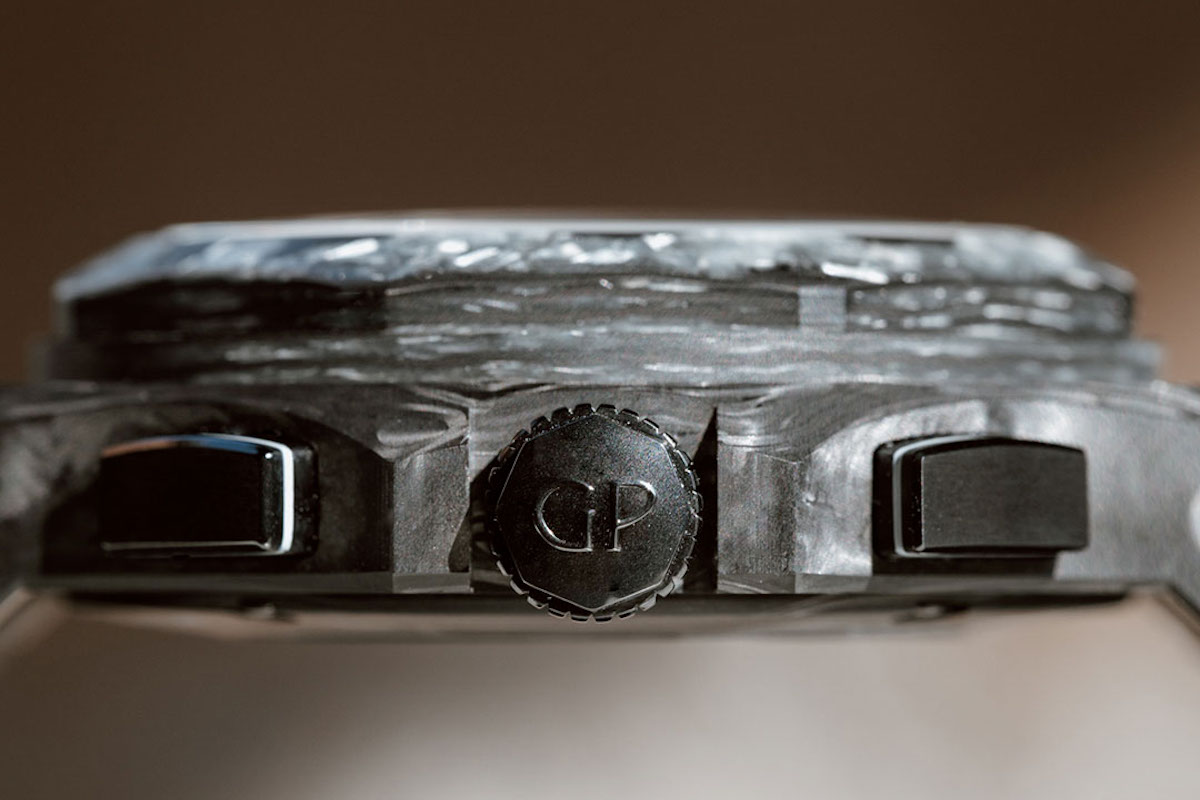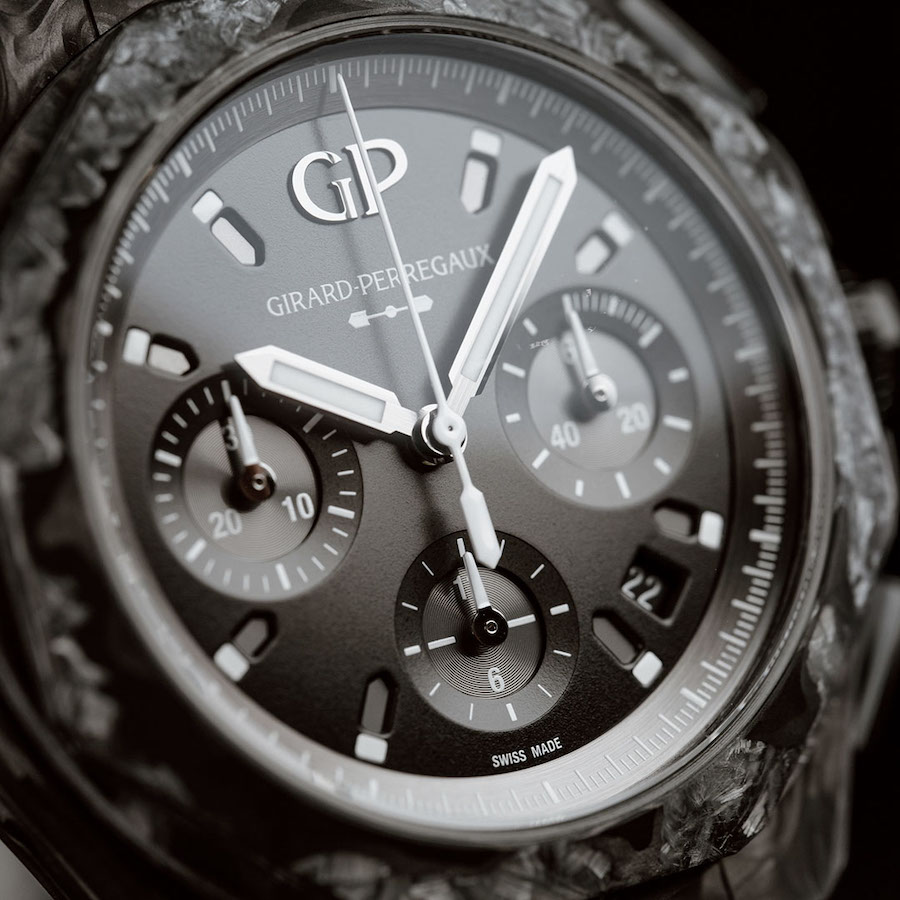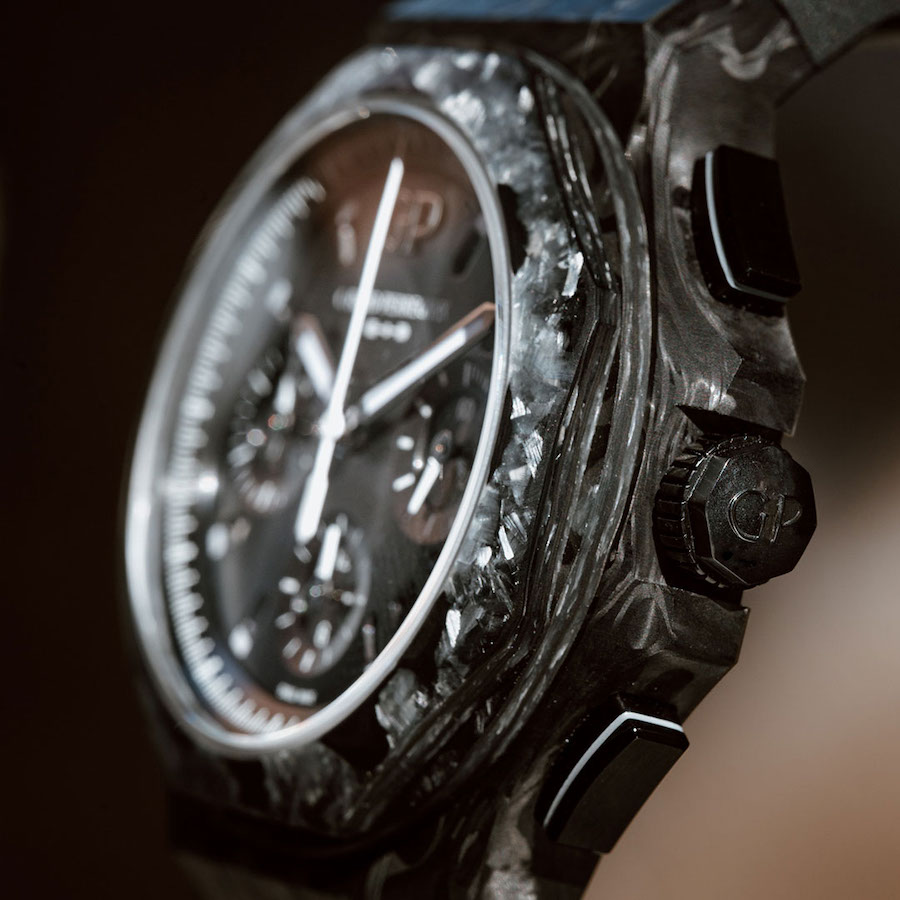 Her response as I recall was, "It's not just you, I love the watch, and it is seriously flying." Within minutes, I tried to place my order only to discover the watch was sold out. Finally, it was only thanks to Pruniaux and Anand, who allocated me a piece destined for other shores — my apologies to whoever missed out because of me — that I was able to receive my Laureato. Taking it out of the box, I immediately loved it, particularly how the high contrast case material made from carbon fiber and fiberglass worked so perfectly with the angular aggressiveness of the timepiece. At 44mm, the watch was large but still easy to wear, thanks to a very smart ergonomic case profile. So much so that it was a watch I didn't take off for weeks, wearing it to spin class, walking my dog, out to dinner — you get the picture. On top of that, the watch was just fantastic looking. It's funny, but here in Singapore, there is a sushi restaurant I love called Sushi Kimura. Those of you that follow me on Instagram will have probably vicariously experienced the chef's multi-course omakase. At this restaurant, everyone shows up on point, watch wise. Because when you place your forearms on the table, everyone can see what you are wearing on your wrist. And the watches become an instant source of discourse and debate while engendering a sense of community. Every time I've worn the Laureato to Kimura, someone has commented on how cool looking it is, how the fumé gray dial perfectly complements the amazing high contrast carbon, and how tactile and pleasant the chronograph pushers are to operate. A funny anecdote relates to how I was complaining to Meera Anand about the fact that my wrist size was between two of the holes on the Laureato's rubber strap. She said, "Dude, you realize there a micro adjuster on the deployant, right?" My blank look clearly conveyed that I didn't. She continued, "You put the watch on your wrist, and you depress the pusher at the clasp and slide the buckle either direction." To my embarrassment, not only did the fine adjuster work perfectly, it is one of the best integrated functions of this kind I've ever seen. Well, so much so that I didn't see it. Clémence Dubois laughed when I relayed this to her saying, "Well, we try to engineer the best solutions in an elegant way so they do not overpower the watch."
Laureato Absolute Gold Fever
So, it's clear that I have since become a Laureato convert. Accordingly, I asked the Girard-Perregaux team to let me know of any other cool launches they might have planned. That's when they approached me about a collaboration on their latest model, the Laureato Absolute Gold Fever.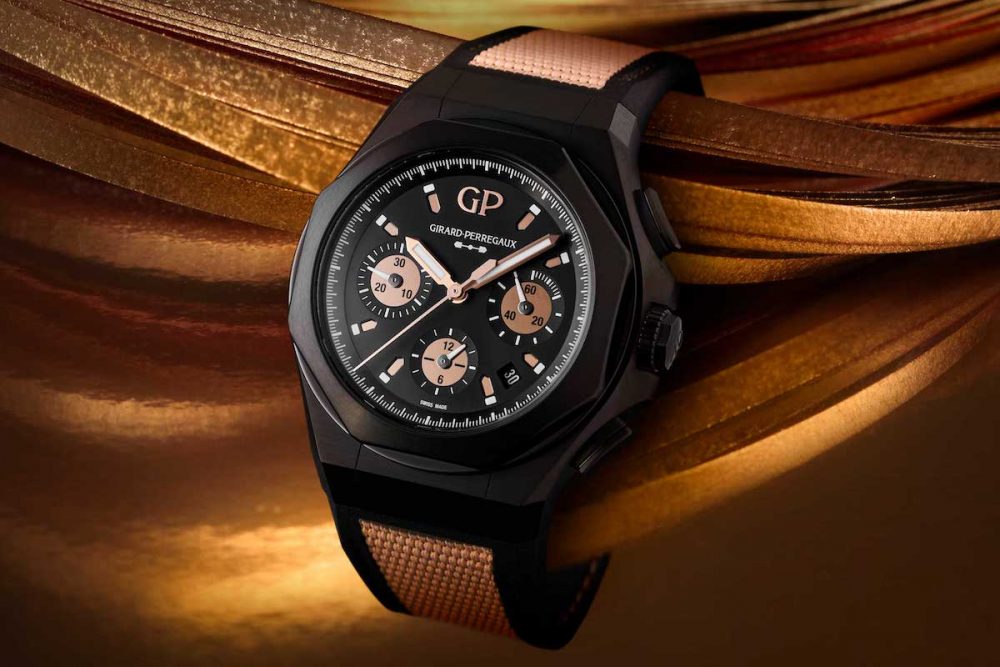 "We feel this is the perfect model for you and your readership," said CEO Pruniaux. I wasn't entirely sure what he meant by that, but I have to admit I've always had a penchant for gold as expressed by two gold skull rings from my favorite rock and roll jeweler Crazy Pig in London. And I must admit, I have toyed with the idea of getting myself a set of Lil Wayne-style gem-encrusted gold grills. So, when GP showed me an image of the watch, I had to admit it was pretty damn cool. The Laureato Absolute Gold Fever takes its design iconography from the Laureato Absolute collection launched back in 2019. While the collection offers a time and date version as well as a world time model, I tend to think the watch works best in chronograph configuration. So, what does the Absolute mean? It references a design evolution to the Laureato that is similar to that performed by Emmanuel Gueit on the Royal Oak to create the Royal Oak Offshore back in 1993. Which means it takes an elegant sports chic watches and enhances the aggressive aspects with a larger, more angular presence with oversized pushers and an integrated rubber strap. What I like about the Absolute Gold Fever is the dynamic contrast to the 44mm blacked-out titanium case represented by the very targeted use of pink gold. The GP logo, the hands, the indexes and the counters are all 18K pink gold. What's nice about the dial of the Laureato Absolute watches is the multi-level sandwich construction, which creates a really nice sense of depth. And while, in absolute terms, this is not a lot of gold, the overall effect is one that endows the Gold Fever with a kind of louche, seductive opulence. The balance is perfect in that you can dress the Gold Fever up with a few gold accessories or keep it relatively discreet. Yet the price is not significantly greater than that of the normal titanium model which is CHF 12,900 relative to the Gold Fever's CHF 14,390. The primary innovation represented by the Gold Fever is the watch's rubber strap, which has actual 18K pink gold injected into it. This is a proprietary and world premiere technology using FKM (fluoro-elastomer) rubber and pink gold. However, if you feel like wearing the watch in a more discreet way, it also comes with a second all-black strap.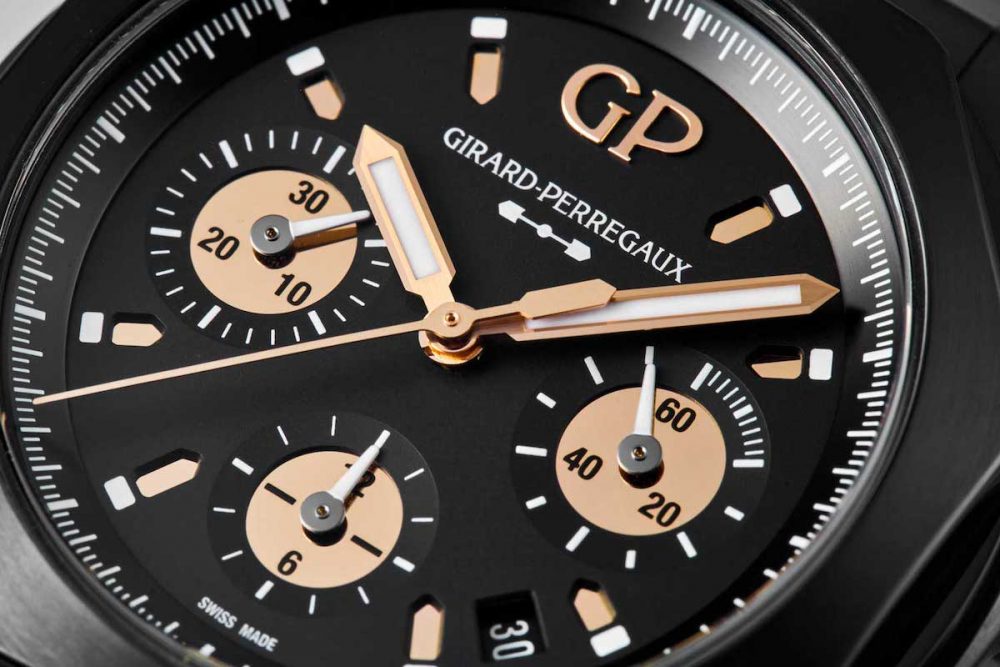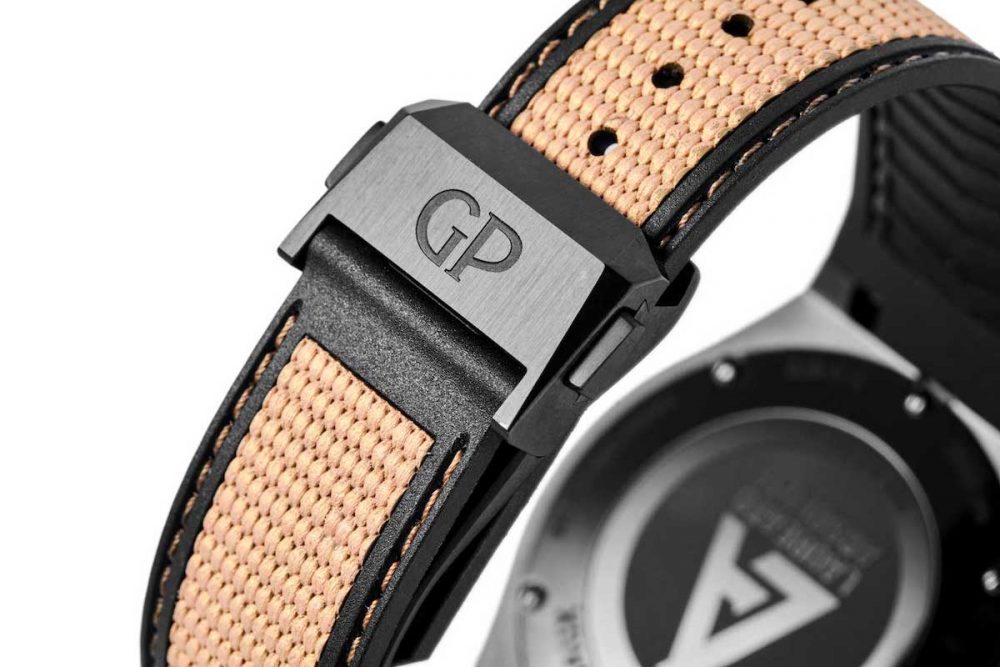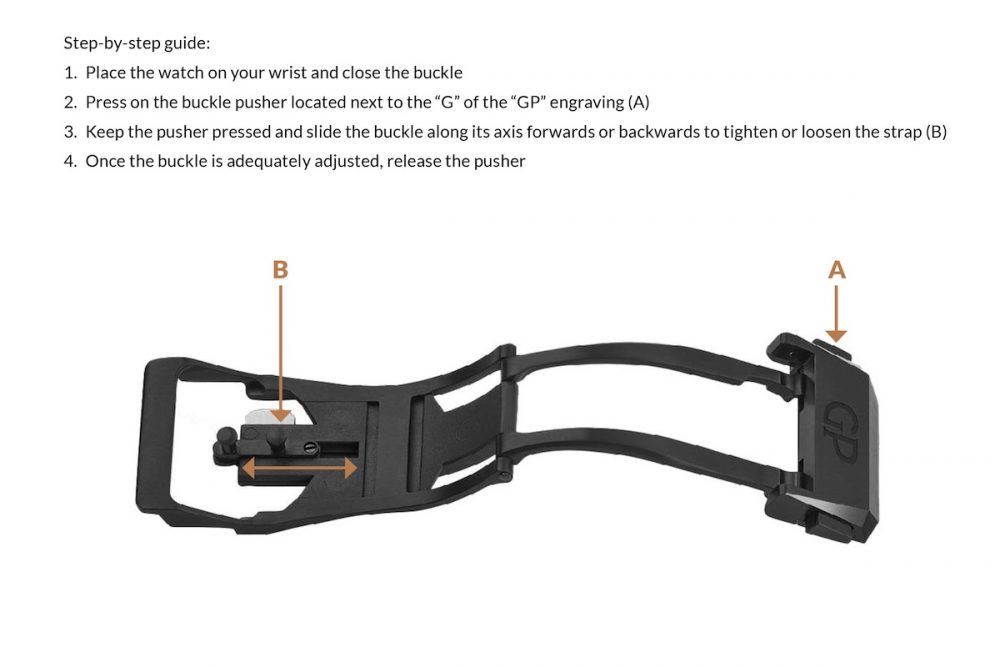 Like the other chrono models in the Laureato Absolute family, it uses Girard-Perregaux's in-house caliber GP03300 chronograph movement. One other appealing element to the Absolute models are their 300-meter water resistance, which is a lot for a non-diving watch and a nod to the fact that you are meant to wear this watch during all forms of activities sporting, nocturnal, social — you get the idea. The Gold Fever will be made in 188 pieces, and we have the exclusivity to retail this model online for the next two months. The Gold Fever is also the precursor to a very exciting collaboration between Girard-Perregaux and Revolution, which I can't wait to unveil next year. In the meantime, I genuinely feel that the Gold Fever is a very cool watch. The point to this whole story is, yes, I get it, everyone has been chasing after the same watches for a while now. But all of those watches are impossible to get. However, what I like is that the watch-loving community is becoming receptive to alternatives that in their own right are genuinely great timepieces. Through this process of exploration, people are finding more unique and individualistic ways to represent their identities, and I think that's a very good thing. If you have never tried on a Laureato Absolute, you will be pleasantly surprised at how cool the watch is in the metal and on the wrist. And the Gold Fever is one of the most appealing executions of this design yet.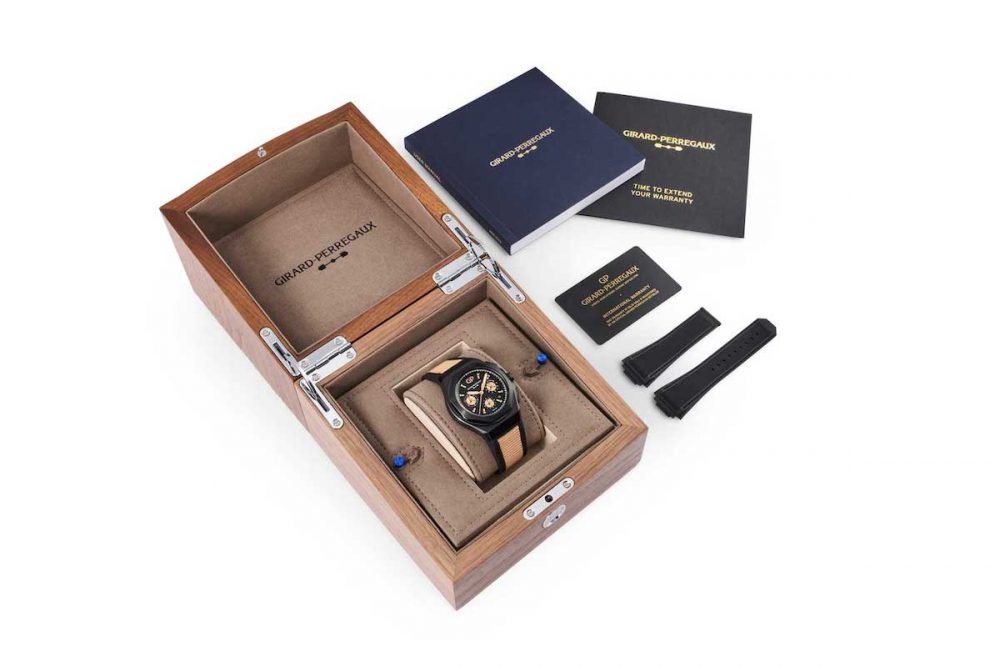 Tech Specs
Girard-Perregaux Laureato Absolute Gold Fever Ref: 81060-21-492-FH3A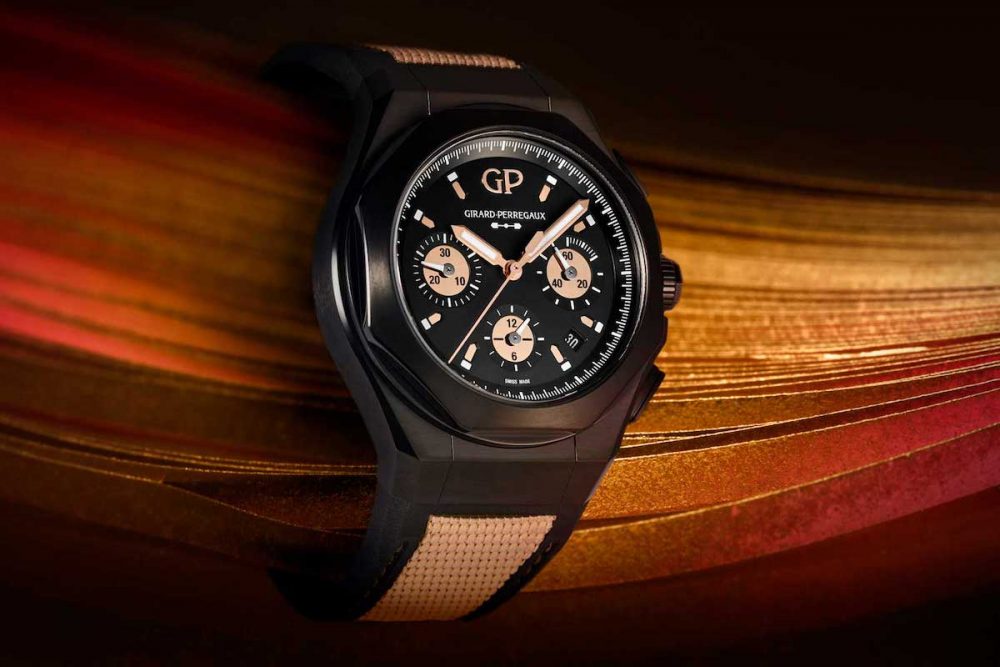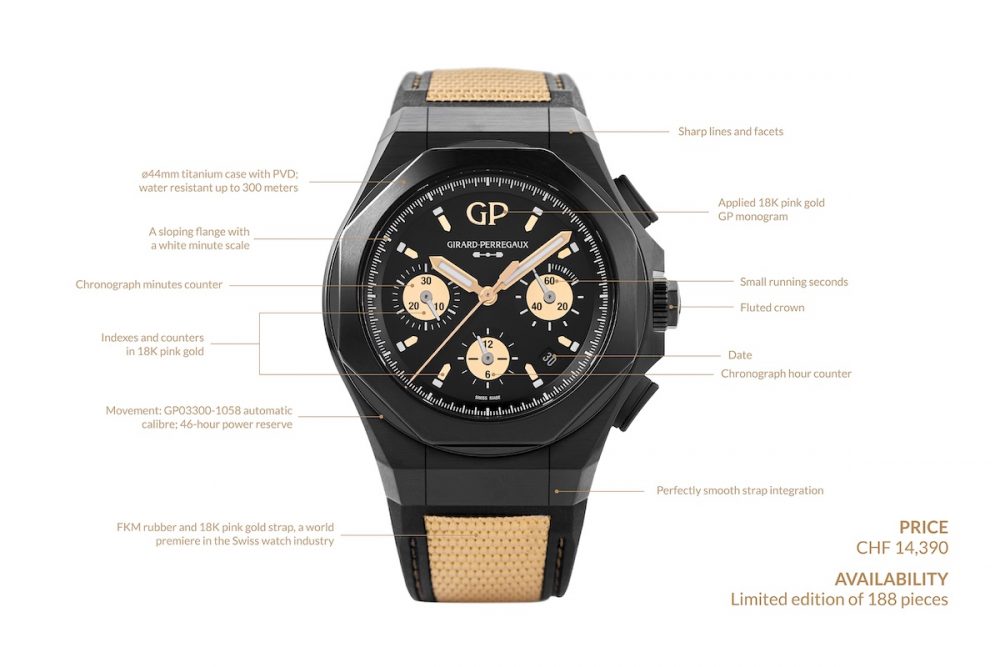 Movement:
Self-winding caliber GP03300; 46-hour power reserve
Functions:
Hours, minutes, small seconds, chronograph and date
Case:
44mm; titanium with PVD treatment; water resistant to 300m
Dial:
Matte black with applied 18K pink gold GP logo and counters; applied pink gold indexes with luminescent dot markers
Strap:
Black rubber and pink gold with fabric effect; PVD-treated titanium folding clasp with micro adjustment system
Price and availability:
CHF 14,390; limited edition of 188 pieces