Introducing the Laurent Ferrier Classic Origin for The Rake & Revolution
Having witnessed the beauty of Aurel Bacs' sector dial Laurent Ferrier, we worked with the Swiss watch manufacturer to create our special edition in the same spirit but with different details.
OK, let's jump in the DeLorean, set the year for twenty-o-ten, because in the words of the immortal Doc Brown, "We are going back to the future." In 2020, Laurent Ferrier celebrated his 10th anniversary with what might initially seem like a counter-intuitive move, which was to launch his most accessibly priced and simplest watch. But this act of revisionist horological history has been in the works for a full decade. Says Ferrier with a smile, "It was important to me 10 years ago to position my brand at the highest level, with a watch that had a substantial technical value like the Tourbillon Double Spiral. But in my heart I was always dreaming to create something that was a core expression of my purest values. A simple three-hand manual-winding watch with a beautifully restrained movement expressing all my values — elegance, love for watchmaking history, ergonomy and finish at the highest level." The resulting timepiece, the Classic Origin Opaline, is a watch that is destined to make you smile, in that it is an expression of all that Ferrier loves. His wonderfully smooth Galet case shape, now in grade 5 polished titanium, is complemented with a uniquely stylized yet charmingly understated dial. I described Ferrier as a bridge between horology's past and the present, constructed through nuanced details gleaned from vintage timepieces reaching as far back as the 19th century but perfectly reinterpreted for the modern day. Nowhere in his range is this more in evidence. Here, a unique combination of applied baton markers with printed indexes, a burgundy 13–24-hour scale (an amusing and unconventional addition) and continuous seconds subdial come together perfectly.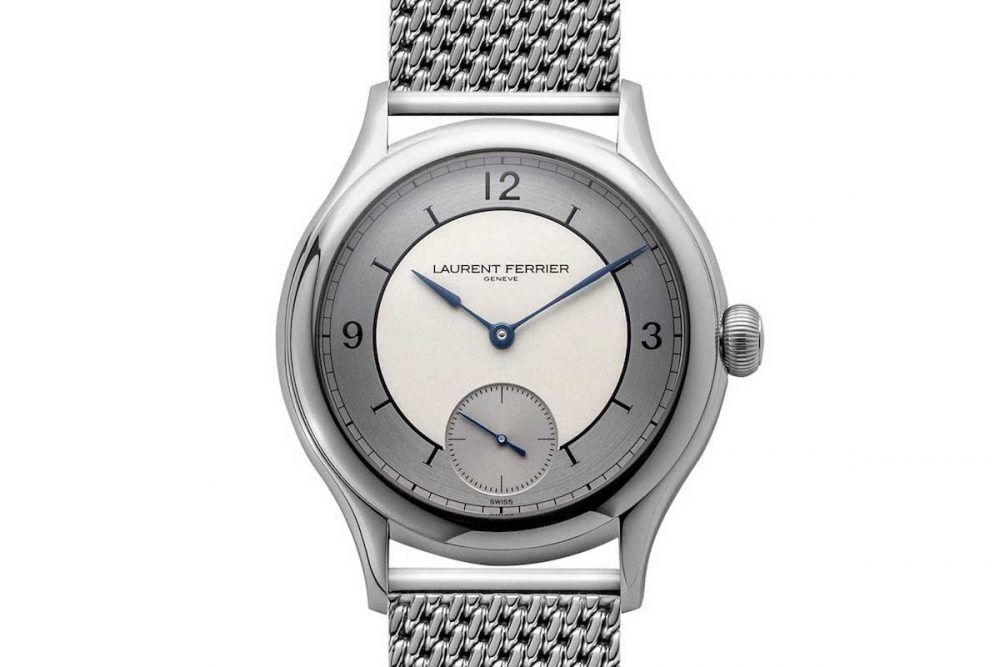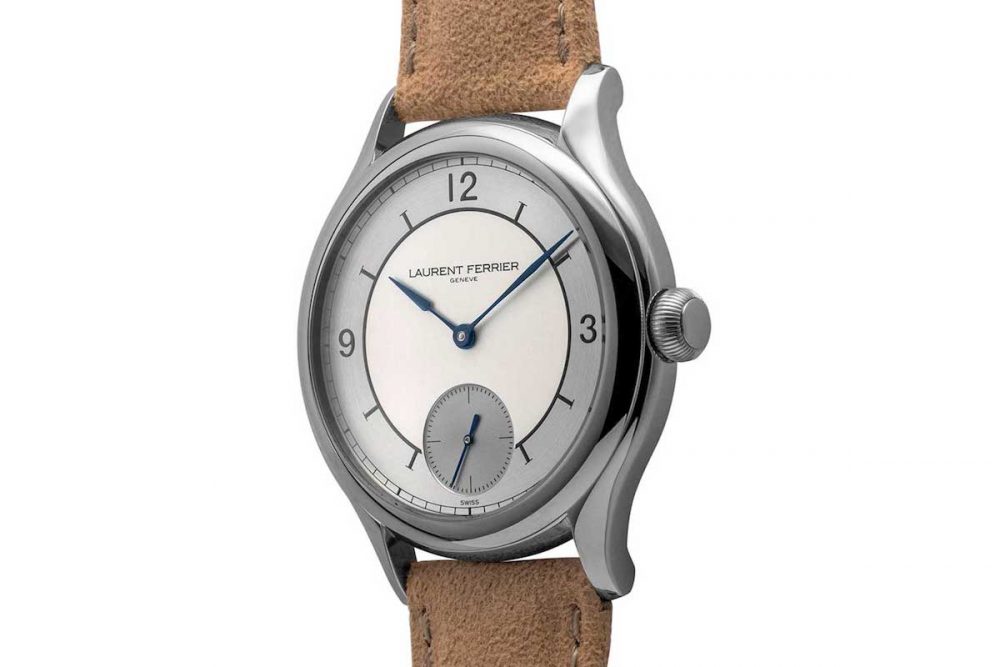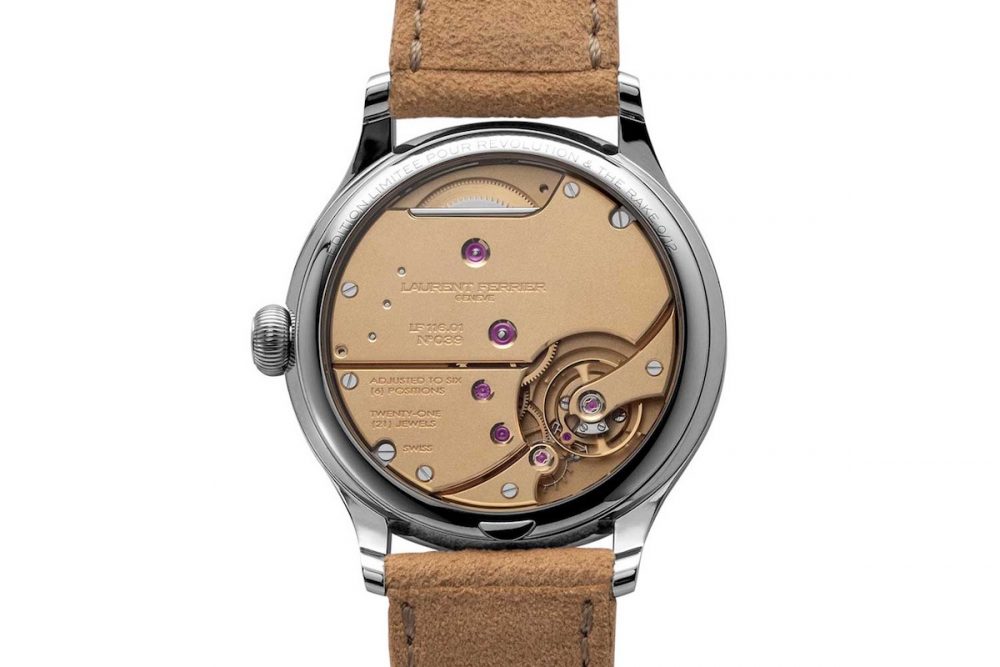 Turn the Classic Origin Opaline to the back and the beautifully and intuitively laid out movement will continue to charm in abundance. If the caliber LF116.01 looks familiar, that's because it actually forms the base movement of the caliber LF126.01 used in Laurent Ferrier's annual calendar. The differences between this and the LF automatic micro-rotor movement are significant. First, there is no natural escapement. Instead, here the movement uses a traditional Swiss anchor escapement in combination with a large free sprung balance wheel. Says Ferrier, "The free sprung balance was important to me because it's far more stable than a balance that is adjusted using a regulator." Ferrier refers to the regulator as a device that is used to effectively lengthen or shorten the hairspring to speed up or slow down the oscillations of the balance wheel. His preference is to regulate the oscillator using inertia screws which, when adjusted so more of their mass sits toward the center of the balance slows it down, and when adjusted so greater mass is at the perimeter speeds it up. Says Ferrier, "The free sprung balance is nothing new but it is to me the best way to create stability in timekeeping." The movement has all of the codes that we've come to love in Laurent Ferrier's watches. There are three wonderfully finished bridges and a balance cock. The top bridge which retains the barrel features Ferrier's signature black-polished flat-blade ratchet spring. The second bridge retains the direct drive seconds bridge while the third bridge exists to retain the escapement wheel. Note the use of a shock absorber integrated into the jewel bearing of the escape wheel pinion for greater autonomy from micro-shocks. The fluid shape of this bridge is echoed in the beautiful almost bird-shaped balance cock. All bridges received a micro-sandblasted treatment which contrasts nicely with their polished bezels and sharp hand-made angles. So the point is that this "simple" Laurent Ferrier is also one of his most appealing offers. But if given the opportunity to run creatively rampant on the Classic Origin, what watch would be the result? For the answer to that, we would need to go back to the popularization of the sector or scientific dial watches. They began in the 1920s as a way of more clearly delineating time and were used on both wristwatches and pocket watches. They featured a circular track where the hour indexes would radiate outward. This means that the hour hand would align perfectly with this track and there could be no mistaking its placement. On the perimeter of the dial, you would have a clearly printed minute track that would align with the minute hand to provide ultimate clarity. Seconds could either be placed in a subdial at six o'clock, or read off a central seconds hand.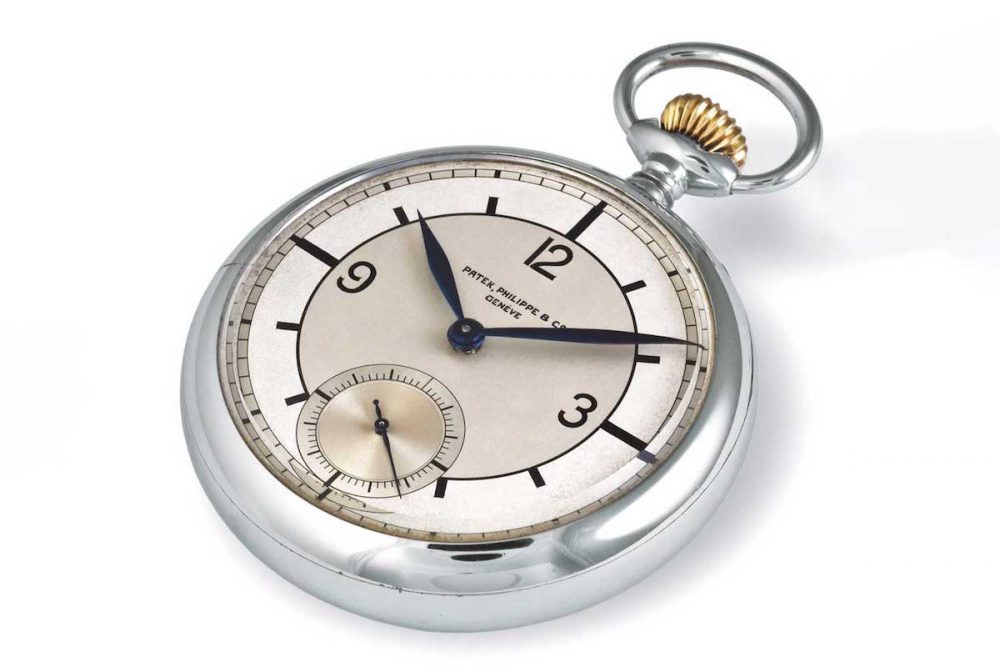 Further, different sectors of the dial would always have different decoration to more fully create a sense of information compartmentalization. Over the ensuing decades, brands including Omega and Longines, in particular with their tre tacche waterproof watches, became synonymous for this style of "scientific" watches.
Simply Ravishing Sector Dials
Laurent Ferrier has used the sector dial to great effect, in particular in his Galet Square with the Only Watch 2015 pièce unique, the two limited editions for Chicago's Swiss FineTiming and even in a luminous version with the Borealis. But to me the most beautiful execution of this is the watch created by Aurel Bacs, the world's greatest vintage watch auctioneer and expert. Around the time the Micro-Rotor watch emerged, Bacs came up with the idea of creating a pièce unique for himself with a sector dial. Using his extensive knowledge, he created what must objectively be called the most beautiful Laurent Ferrier watch of all time. It was so stunning that when he showed it to several of his team members at Phillips, including renowned experts and collectors Alex Ghotbi and Paul Boutros, they too wanted to order one. And finally the watch was anointed as an icon when it was also ordered by none other than the incredible Auro Montanari or John Goldberger, historian, author and collector ne plus ultra.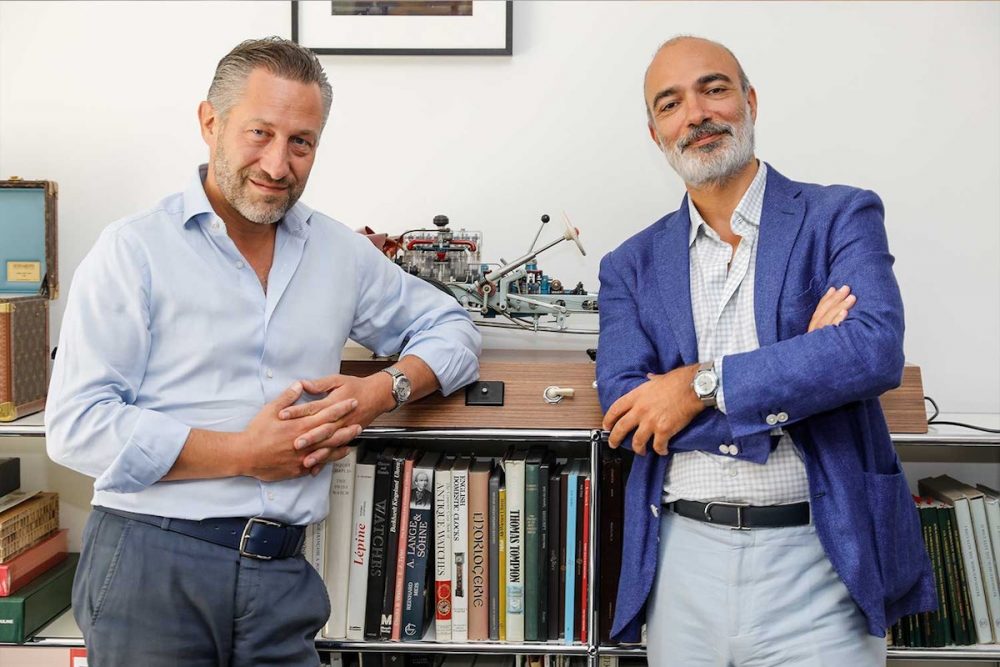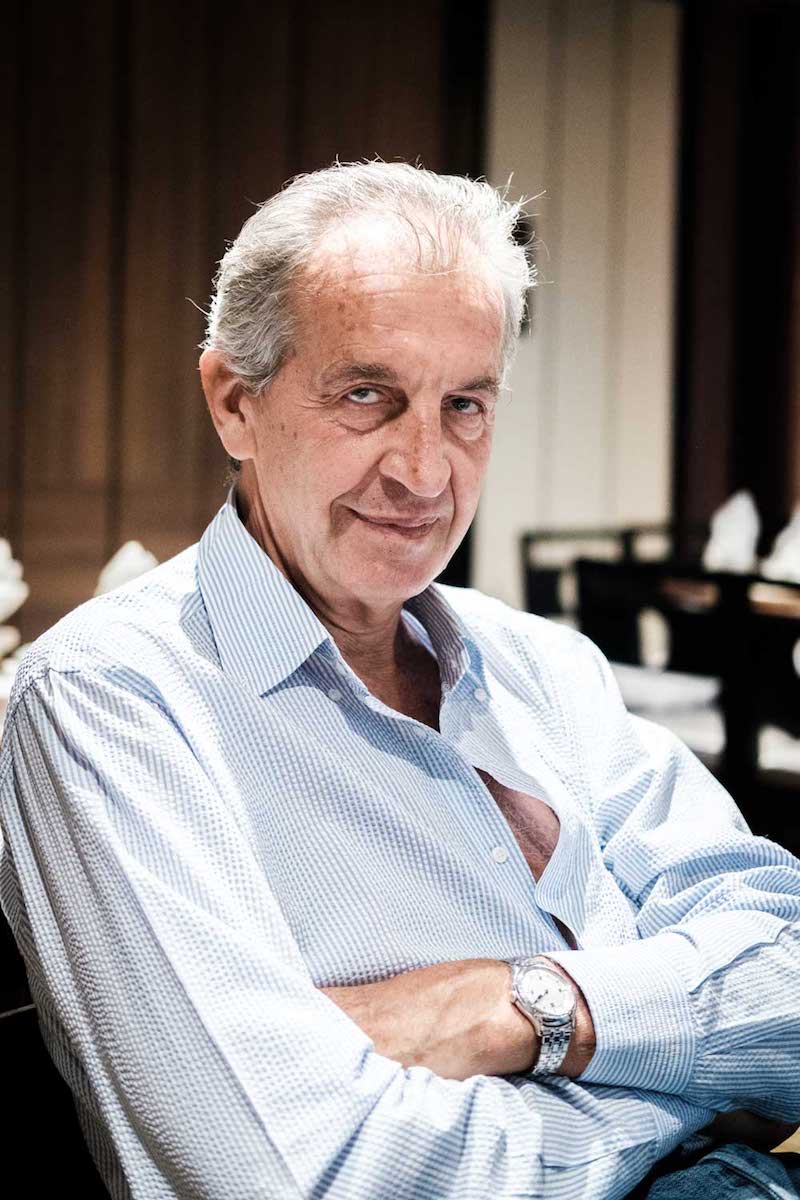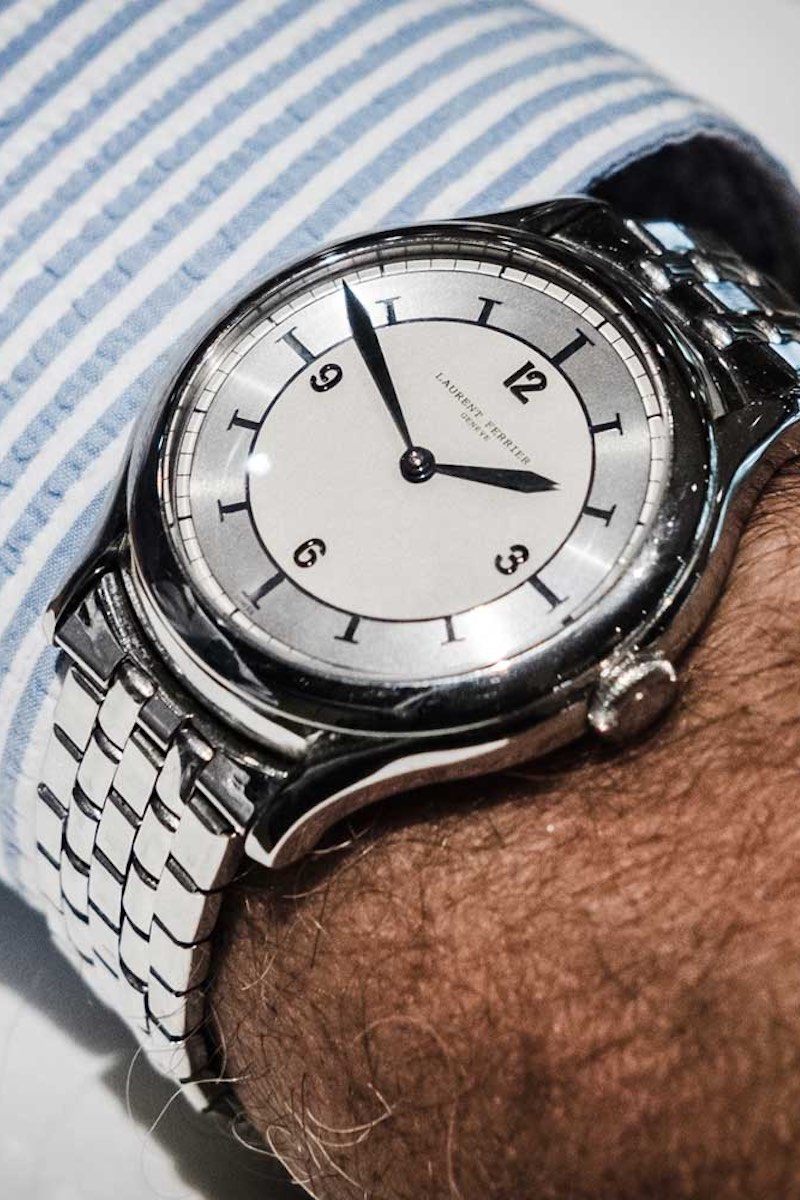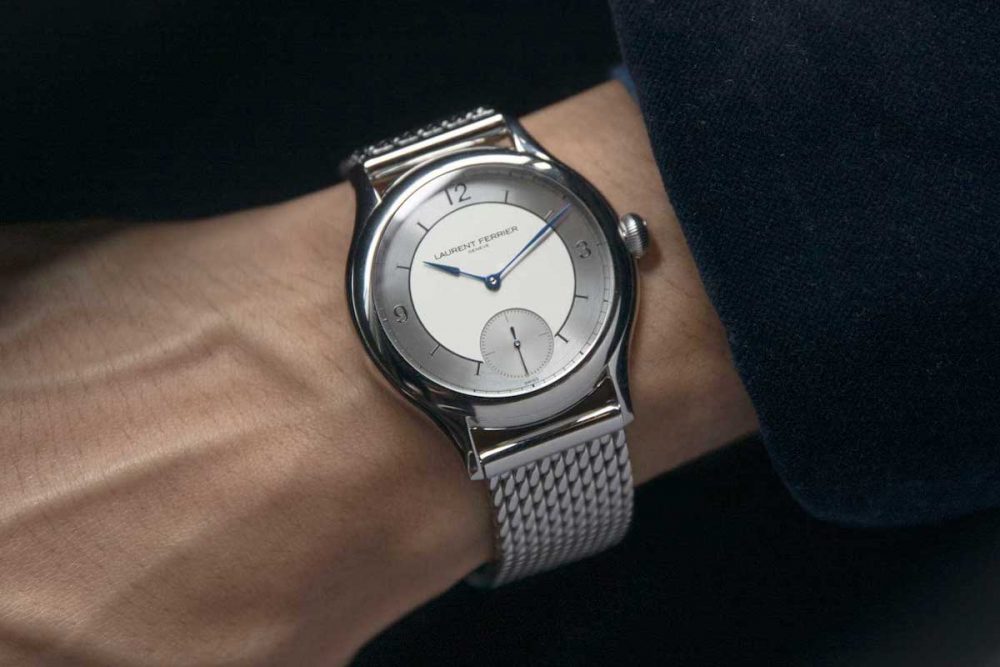 While those watches featured a micro-rotor movement, when given an opportunity to create something on the Classic Origin hand-wound platform, I simply requested that Ferrier create something in the spirit of the Aurel Bacs but without replicating it. The resulting design by Ferrier and Amandine Perrier was something that I could only describe as ravishing. It features a two-tone dial with a cream center, surrounded by a printed sector track and Arabic markers. The dial is silver outside the central area, receives circular brushing under the indexes and is opaline under the minute track's chemin de fer. Seconds are at six o'clock with a full seconds track and four enlarged markers at the compass points. The hands are Ferrier's signature Assegai models that have been flame-blued and to me contrast perfectly with the cream of the dial. It should be noted that the Aurel Bacs watch features different hands selected by him, as well as a different styled crown. While I had the choice of titanium or steel, I selected steel. Why? Because first, I found this more appropriate for a scientific-style watch and second, because we wanted to mount the watch on a steel "beads of rice" bracelet made in Japan with straight end-links — this is our preferred way of wearing the watch. This bracelet was directly inspired by Auro Montanari and his wearing of his own Laurent Ferrier Micro-Rotor Aurel Bacs scientific model on a vintage steel Gay Frères "beads of rice" style bracelet. A second Alcantara strap with beige lining fitted with a Laurent Ferrier pin buckle.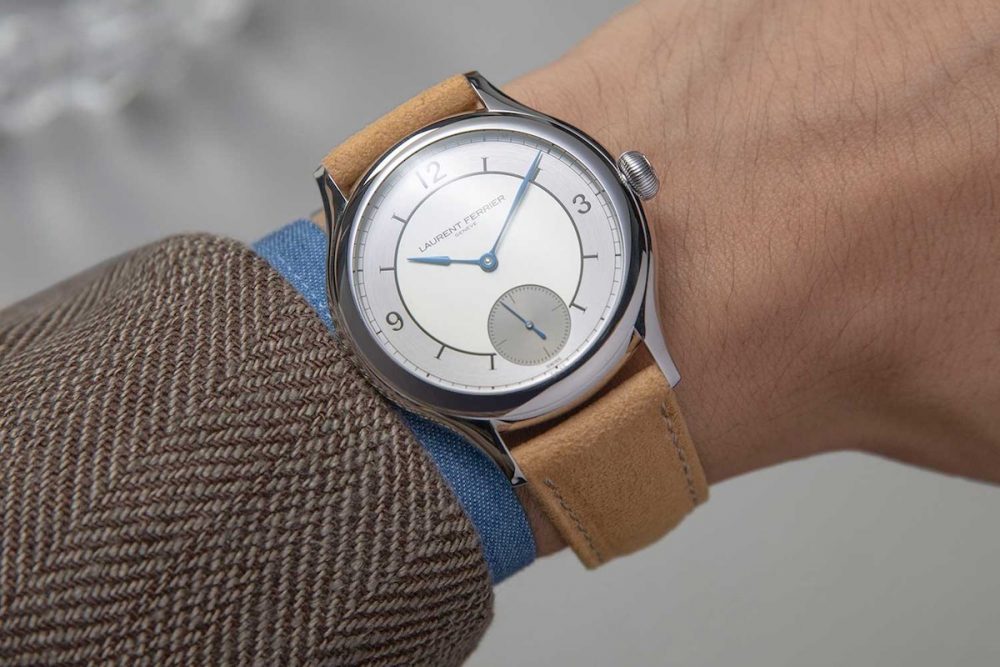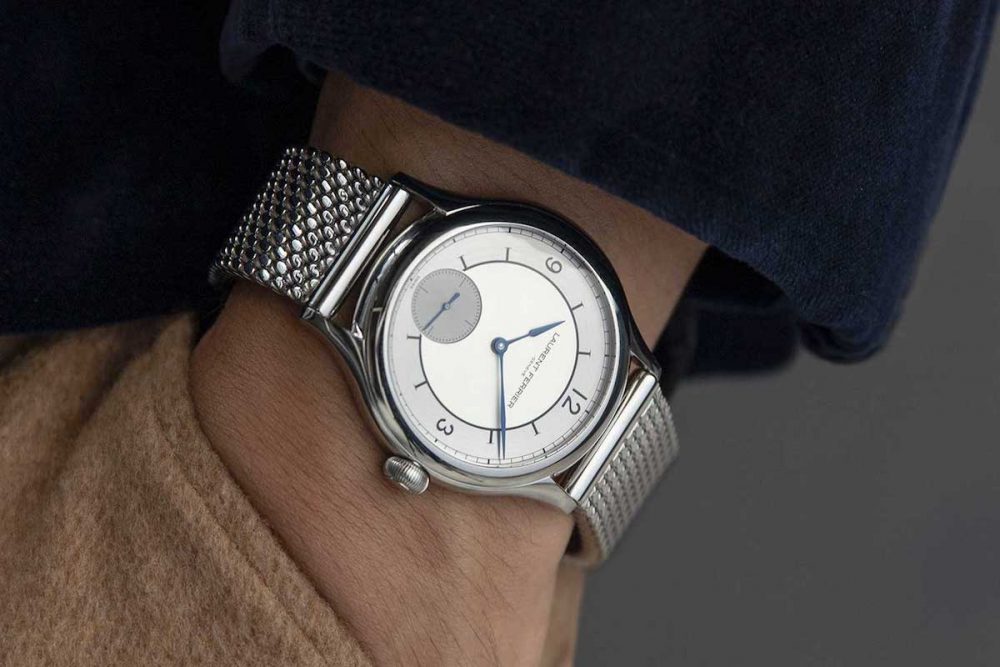 But that's not all because I've also sourced a second set of blued steel LumiNova-filled hands which are included with our Laurent Ferrier Classic Origin Revolution & The Rake edition. I've always loved it when vintage scientific dial watches were ordered with radium hands and as a tribute to this, you now have a choice as to which set of hands you would like fitted to your watch. As we will be offering this watch by preorder, please note to specify if you would prefer the luminous hands or the normal Assegai hands fitted, and we will include the second pair in your watch box.
Assembled by Order
We've sourced a second set of blued steel LumiNova-filled hands which are included with our Laurent Ferrier Classic Origin Revolution & The Rake edition. We will be offering this watch by pre-order, please note to specify if you would prefer the luminous hands or the normal Assegai hands fitted, and we will include the second pair in your watch box.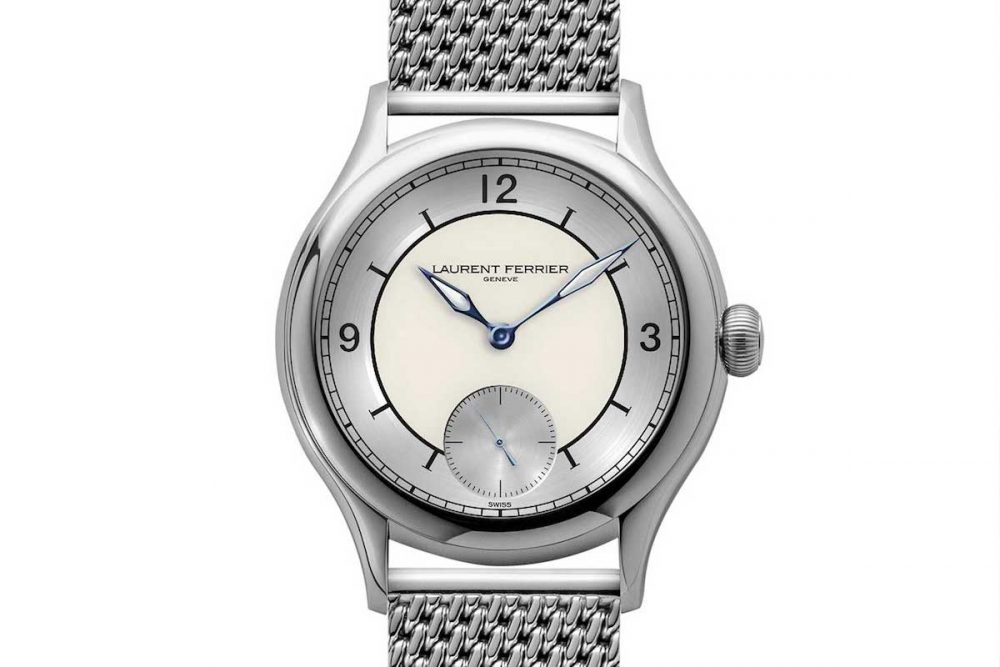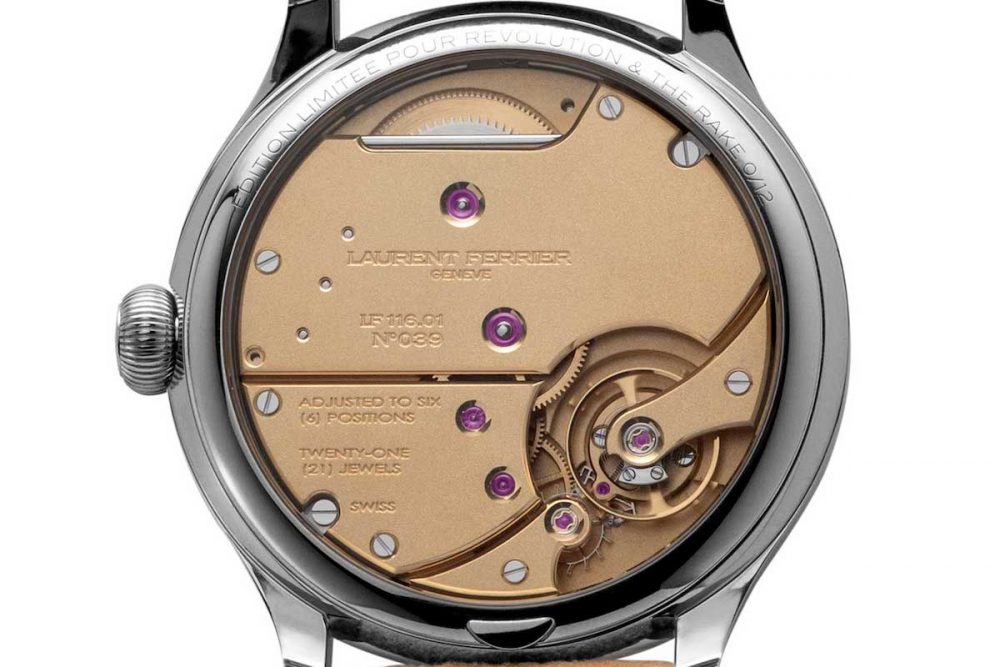 Flip the watch over and there is a final surprise waiting for you. Instead of the sandblasted black rhodium finish, I've requested the finish that was used only once before on the Montre École in steel. That is a yellow-gold or champagne finish that has been micro-sandblasted to appear almost like a frosted finish, which to me sets off the high-finish angles even better. The Laurent Ferrier Classic Origin for Revolution & The Rake will be made in 12 numbered examples. It features a steel case, two sets of flame-blued hands (luminous and classic Assegai), a steel "beads of rice" bracelet and a calfskin bracelet with tang buckle. Its price is 28,800 Swiss francs, which to us is an amusing nod to horological vibrational speeds, and in Asian culture means forever prosperous which can't be a bad thing.
Technical Specifications
Movement
Manual winding calibre LF116.01 treated in a special yellow-gold finish that is micro-sandblasted, used previously in the Montre École watch; hour, minutes and small running seconds; 80-hour power reserve
Case
40mm diameter and 10.70mm thickness in stainless steel; ''ball-shaped'' crown in stainless steel; water resistant to 30m
Dial & hands
Hours and minutes: "Assegai-Shaped" in blued steel;
second set of blued steel LumiNova-filled hands which are included with our Laurent Ferrier Classic Origin Revolution & The Rake edition; we will be offering this watch by pre-order, please note to specify if you would prefer the luminous hands or the normal Assegai hands fitted, and we will include the second pair in your watch box
Strap
Steel "beads of rice" bracelet; supplied with additional Alcantara strap with Beige lining fitted with Laurent Ferrier pin buckle
Price & limitation
CHF 28,880 / USD 31,600; limited edition of 12 pieces, only
If you require any further assistance please contact our customer service team at shop@therakemagazine.com