Introducing Yuri & Yuri
By championing perennial style for the modern man, Yuri & Yuri is the new kid on the Savile Row block and staying true to its values is paramount...
Founded earlier this year by Yuri Choi and Will Field, an alumni of Savile Row Academy and a cloth merchant respectively, Yuri & Yuri is a bespoke and handmade ready-to-wear menswear label. Based on Savile Row, it has a commendable mission statement of further underlining The Row's relevance in a world where dress codes are becoming increasingly more relaxed. While you might only wear a tie once or twice a month now, the demise of the necessity of formal business tailoring — think Goldman Sachs' new uniform policy — and the accent of the 'smart casual' dress code in the office place is, in turn, opening doorways for a whole new kind of classical menswear. Yuri & Yuri is here to occupy that space.
Amazingly, Yuri is the first South Korean to open up a store on Savile Row and while the majority of Asia has an affinity to the relaxed Italian school of tailoring, Yuri & Yuri is a British brand with a British aesthetic. Taking influences and cues from the likes of Sean Connery as James Bond — "the first few really had class" she adds — and the equally stylish Arnold Palmer, plus the easy-going and transportive wares in The Talented Mr Ripley, Yuri & Yuri are making the silhouettes of the 50s and 60s more modern and relevant than ever. Split into three areas – outerwear, trousers and knitwear – the seasonal collections are designed to be easily mixed and matched together.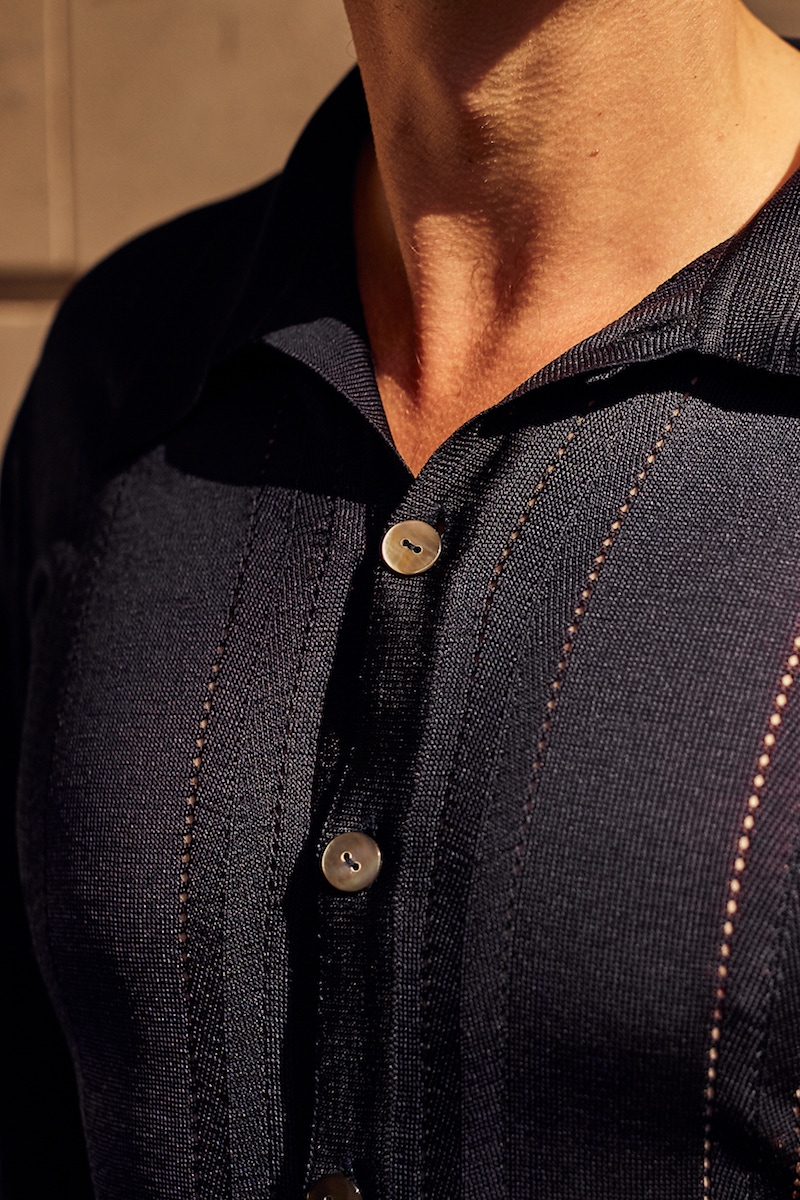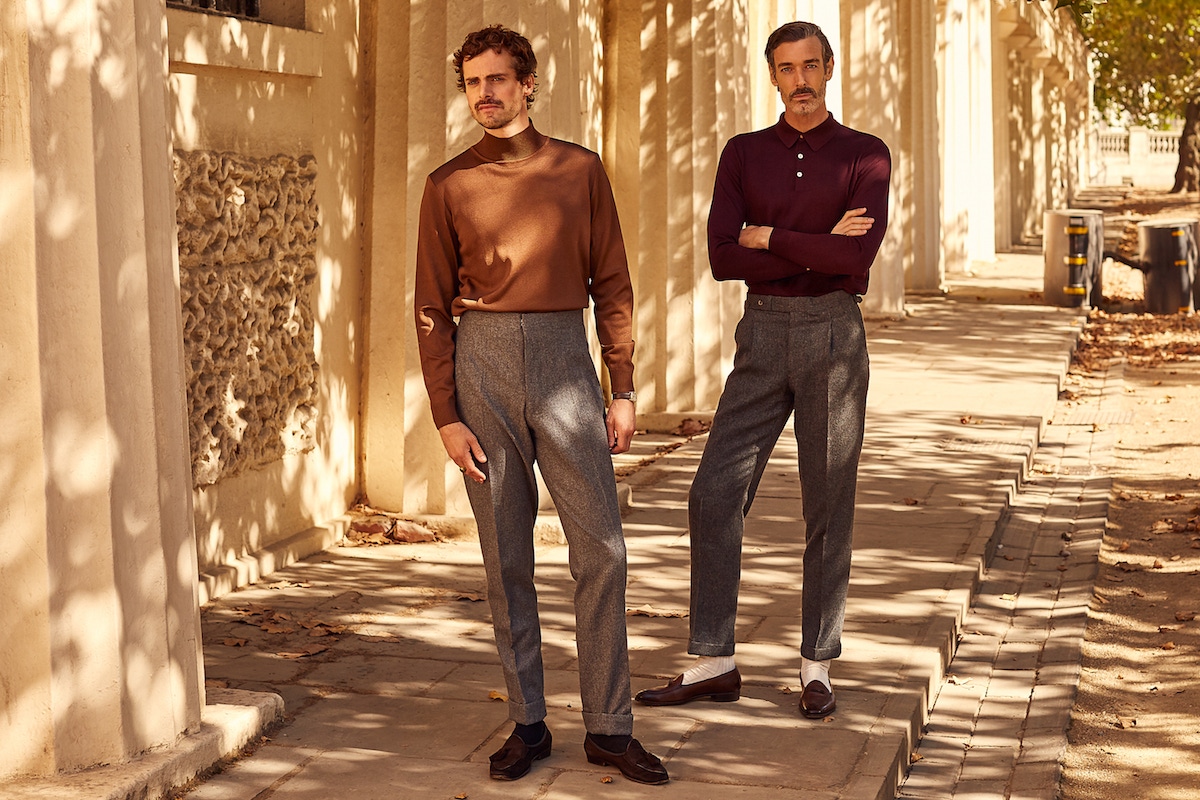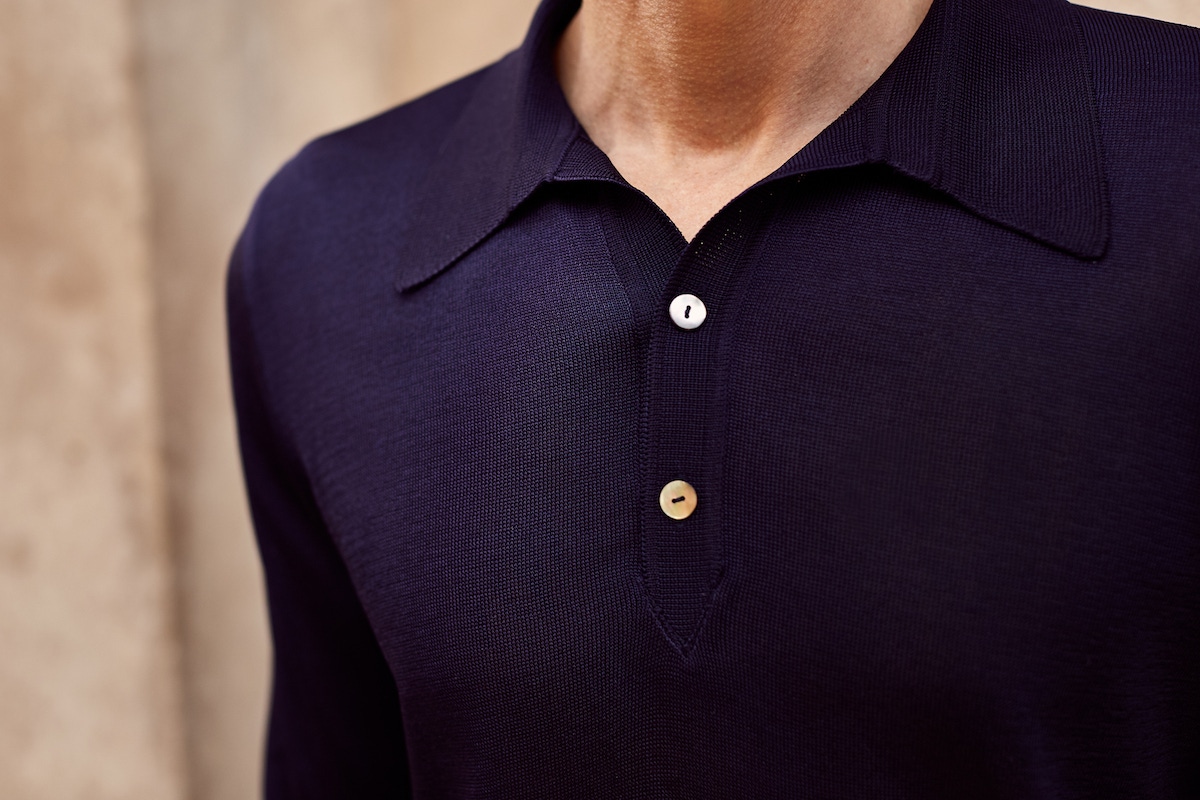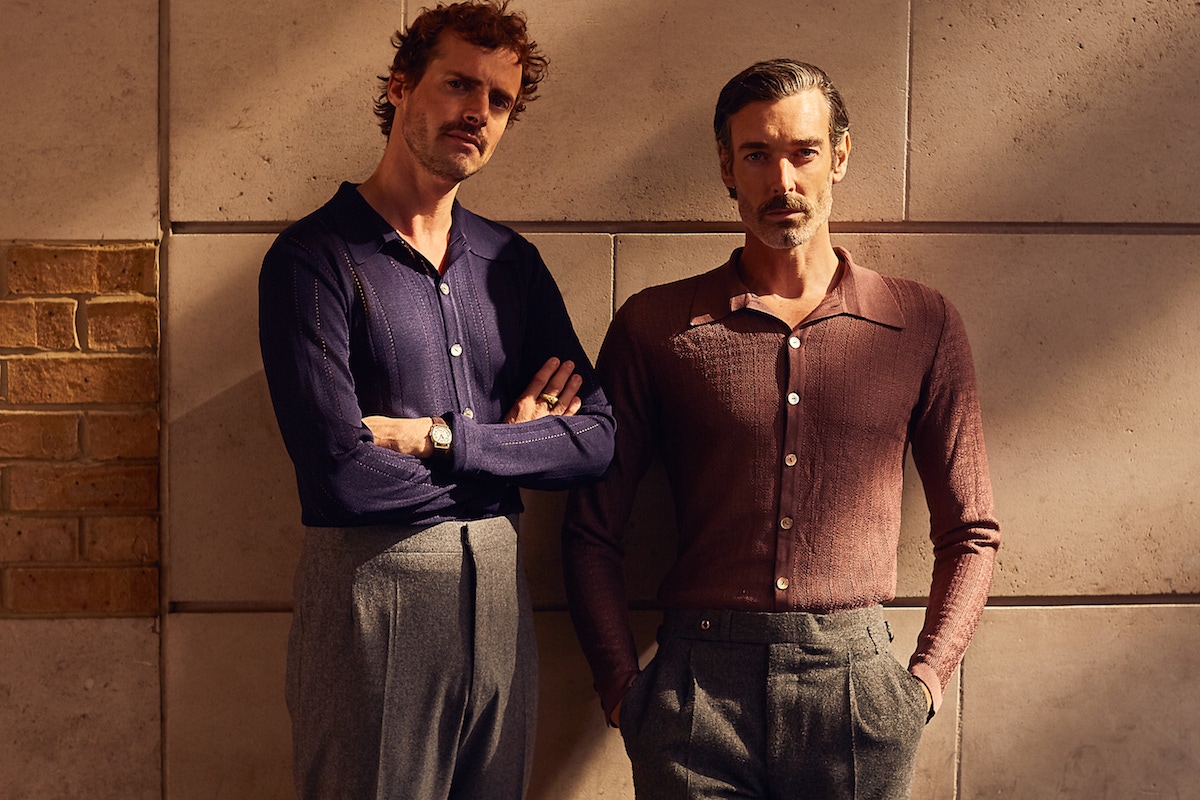 As you'd expect from a Savile Row house, the fabrics and construction techniques used are of supreme standards. Thanks to her education, Yuri has drafted the entire range's patterns, while Will has had influence in the cloth choices and silhouettes. The hero product is, without doubt, the Cadogan jacket, a hybrid between a safari and a wax field jacket. The safari jacket is having a moment right now, so it's great to see another tweaked iteration of it with a louche belt sans buckle. "It's our English safari jacket. It's cut and loosely put together in South Korea — kind of like a basted garment — then finished here in London on Savile Row," Will says. In a navy and brown wax cotton from Halley Stevensons, which is the world-leading producer of the fabric, it's utterly robust and durable. "You can smash it, rip it and it will last you forever," Will adds. For the artisanal lovers out there, there are signs of handwork all over the jacket, but nowhere is this more noticeable than the button holes which have been sewn with a double thread silk twist - which is a touch found normally in bespoke. Lined in cotton, it has a wire within the one piece curved collar so that in unruly weather you can pop it up and it'll stay in place.
For trousers, Yuri & Yuri offer two styles for spring and two for summer. The spring collection is certainly a bit cleaner and formal. There's a single pleat trouser in a grey wool/mohair fresco and a flat-fronted trouser in a beige wool/mohair, both of which have side adjusters and have been cut and constructed entirely on Savile Row. "The waistband has proper horse hair canvassing in it so it won't roll and you also have the hand-stitched bar tacks," Yuri explains and adds that the fork of the trousers is lined with shirting cloth. What makes these trousers special for a ready-to-wear product, though, is that they've had "shape stretched and shrunk into them with an iron and water. It makes such a difference," Will says. As such, they're a phenomenal fit. For summer, Yuri has been inspired by the trousers worn in The Talented Mr Ripley, "I just wanted to make a really comfortable trouser," she explains. Made in South Korea by retired bespoke tailors, they're a more casual counterpart to the spring offering. Coming in two shades of Russian linen with double pleats, the beige trouser without belt loops or side adjusters, whereas the tobacco brown has side adjusters. Intended to be worn on high the waist, paired with a polo shirt or T-shirt is a clean look that will help you channel your inner Arnold Palmer.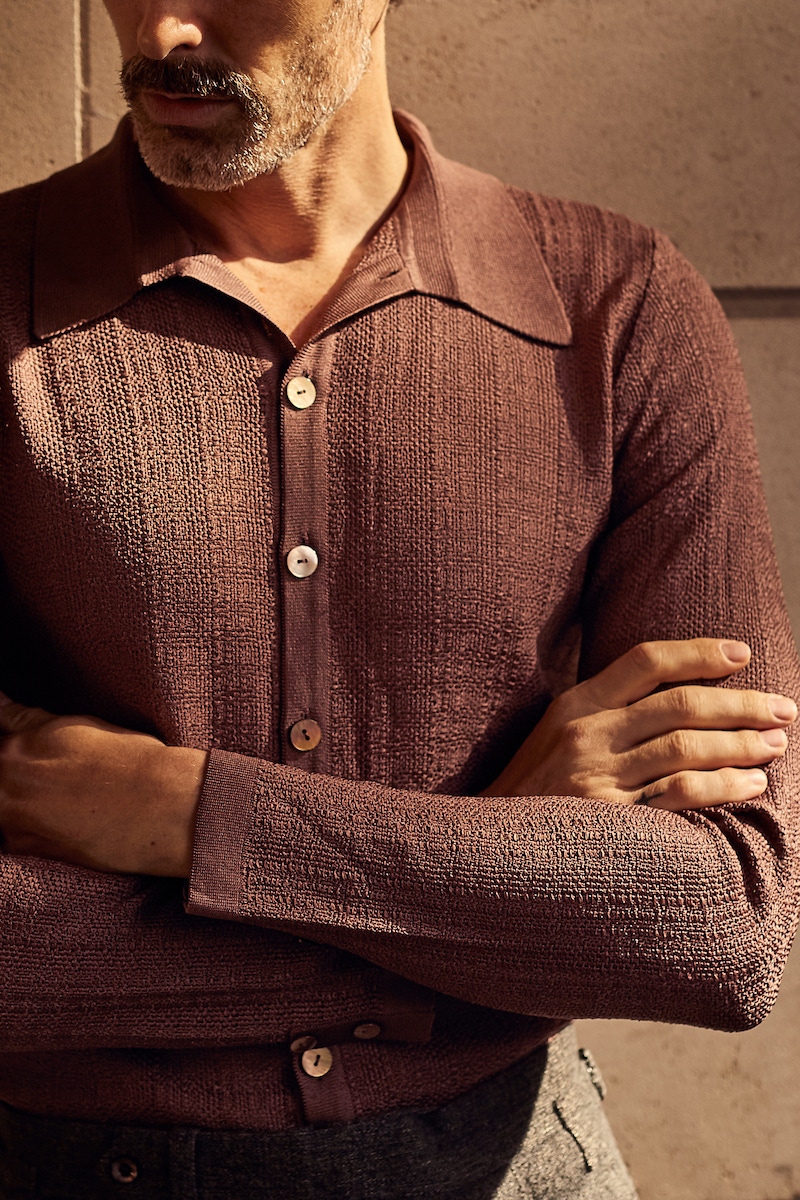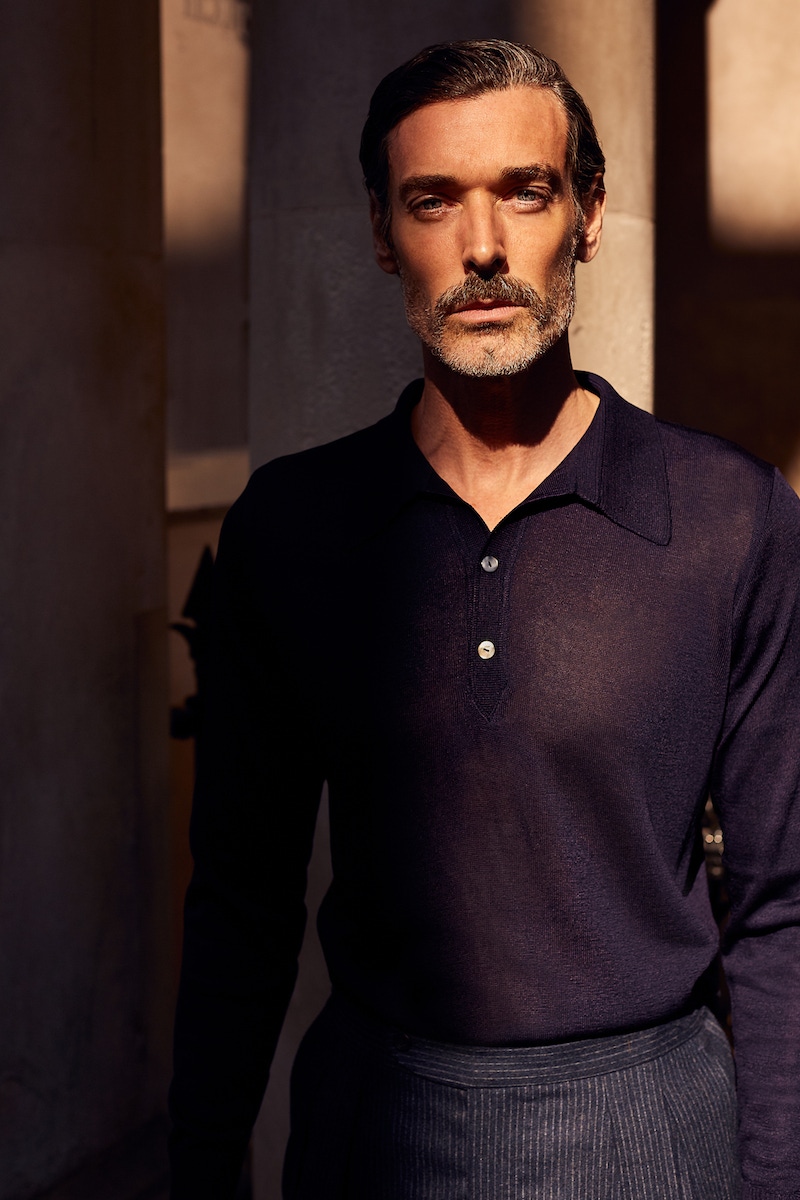 Moving on to knitwear, Yuri's family has been in the industry for more than 30 years. "When I work with them, I can see that they really enjoy making knitwear. So I wanted to work with them on my brand." The collection is constructed from a cutting-edge, patented and now defunct Japanese-made yarn called Serie (pronounced se-re-ya). Yuri's family bought as much as they could get their hands on and they have enough to last them several years. With a silk-like handle and Mother-of-Pearl buttons, the shirts are designed to last you 10 years. "It's vegan friendly and it's also antibiotic," Will adds. Yuri then states that they're the "first company on Savile Row to offer bespoke knitwear," which, for those who have an athletic build or are on the larger side of things, is an ideal offering. "They can bring in their favourite jumper and we can use it as a block to go by," Yuri states. Overall, the four polo shirts have a one-piece collar and a 1950s aesthetic to them. Interchangeable and easy to wear, they'll pair with all kinds of sports jackets for a more formal take, or, as the solo piece up top. 
It's not often that there's a new kid on the Savile Row block and speaking with Yuri and Will, one can't help but marvel at their passion and drive. "In five years, I want to make my name on Savile Row with Will," says Yuri. Looking at this debut collection available at The Rake, I have no doubt she will succeed.