INVEST in Perennial masterpieces
Investments can be unpredictable, but not so with these four winners, which we have handpicked to provide you with sound and secure appreciation — aesthetically, spiritually and financially.
Blancpain Fifty Fathoms Bathyscaphe Chronograph Flyback with green dial
To indulge in a rather moth-eaten phrasal template, there is little doubt that green, in the world of haute horology, is the new blue. Breitling's Premier B09 Chronograph, with its gorgeous pistachio dial; Patek Philippe's verdant take on the Nautilus; Jaeger-LeCoultre's version of the Reverso Tribute Small Seconds inspired by the fir forests surrounding the manufacture; Montblanc's 1858 Geosphere in bronze and olive; IWC and Blancpain introducing a Pilot's Watch Chronograph 41 and the Villeret Extraplate Boutique Edition, respectively, with something not far off British racing green gracing their facades... All supremely elegant pieces, indicating that, having looked on jealously for so long, the pastoral hue has finally usurped its neighbour on the spectrum's throne. There are many theories as to why. A subconscious response to the rise of environmentalism? The colour's association with the outdoors in an era strewn with lockdowns? Some primal instinct, hardwired into us by our dependence on plant life? Whatever the reason(s), surely one of the most clear-cut executions of the trend is Blancpain's Fifty Fathoms Bathyscaphe Chronograph Flyback with green dial and bezel, released last year in tandem with a Day Date Desert Edition in brown.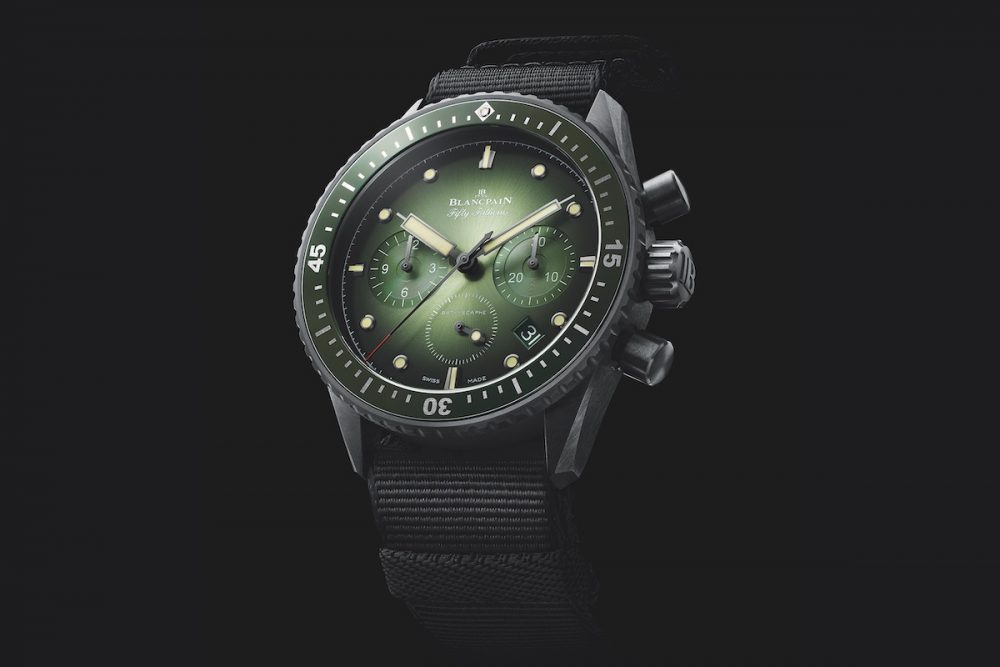 For all the colour's associations with rebirth and renewal, here the watch's military-ish viridity is a nod to its origin as a tool for French naval frogmen. The Bathyscaphe, after all, was introduced in 1956 as a smaller, daily, user-friendly cousin to the Fifty Fathoms watch introduced by the then Blancpain C.E.O., Jean-Jacques Fiechter, a few years earlier. Over subsequent years it built up a repertoire of complications (date, day/date, annual calendar, moon phases), eventually culminating in 2014 in a version with a flyback chronograph (which enables users simultaneously to reset the watch to zero and restart it with a single press of a pusher at four o'clock), which had another USP: a new, in-house-developed, more accurate automatic movement that means the chronograph — which, in this version, can be viewed via the sapphire crystal caseback — will now measure up to 1/10th of a second. With its 43.6mm diameter and 15.2mm thickness, the satin-brushed ceramic case is a tad chunkier than Bathyscaphes that have come before it, but that serves only to bolster legibility. The piece's extraordinary lightness and sail canvas strap, meanwhile, make it extremely comfortable to wear. But it is the watch's appearance — dressier than its siblings and yet manifestly fit for purpose (indeed, both a diving watch you would wear on land and an eyecatching watch you would eagerly take to the depths with you) — that makes this an attention-hogging addition to any collection. NS
Port Ellen 40-Year-Old
'Ghost distillery': even in the rarefied, mystique-soaked world of fine whisky, it's an enthrallingly emotive phrase. For the uninitiated, it refers to a whisky facility whose productive life came to an end long ago but for which a finite supply of stock remains in existence or, in some cases, is still coming to maturity. There's more to the romance of this concept than rarity and provenance: it's also about legacy and posterity. When a master distiller lays down a whisky that will come to fruition after years or decades of extraction, evaporation, oxidation, concentration, filtration and colouration, he proffers a gift to the future. Like the medieval artisan laying a cathedral's foundation stone, or the man who plants a tree in poet Alexander Smith's aphorism, in some cases he may never experience the final glorious expression of his labours himself. He would have had no knowledge that the wooden casks he was setting to rest would become a finite resource due to the demise of the establishment that employed him. The Islay distillery Port Ellen, along with Brora — small establishments in remote crannies of Scotland — closed down in 1983, but last year the drinks giant Diageo pledged £35m to restart production at both. Expressions laid to rest before the two establishments' hiatus, meanwhile, have gained near-mythical status, and this single malt, part of the now revitalised Port Ellen's Untold Stories series, has been singled out by Tod Bradbury, the Head of Rare and Collectable Whiskies at Justerini & Brooks, as one of the most wonderfully complex offerings on the market.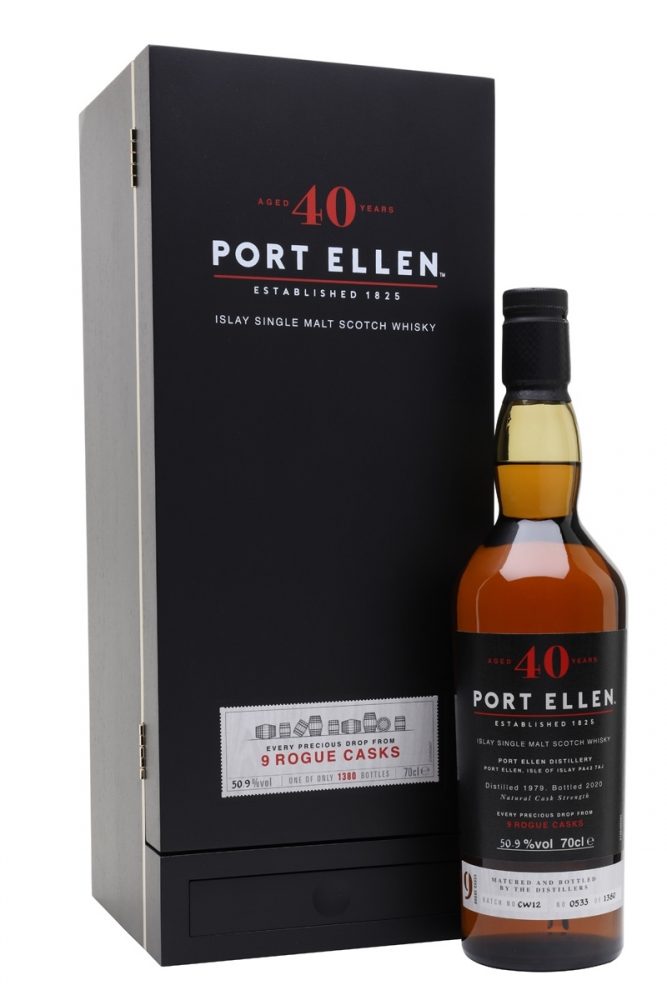 Made using nine 'rogue' casks from 1979 (four American oak hogsheads, five European oak butts), which were discovered in a dark corner of the premises by the master blender Dr. Craig Wilson, this exceptionally scarce liquid (only 1,380 bottles were produced) features — alongside the soft peat smoke and sweet aromas associated with Port Ellen in its heyday — notes of wood spice and pipe tobacco mingling with delicate herbal tones and burnt tangerine. A wisp of smoke delights the palate, then also calls the shots in a long, wispy finish. That's if you end up tasting it, of course: risk hedgers seeking alternative investment opportunities are increasingly turning to whisky as a stock with emotional as well as fiscal returns. If you crack it open, do so in good company, revelling in the knowledge that, thanks to Diageo's intervention, your offspring may get to taste something just as delectably complex in four or so decades' time. NS
Breguet Type XXI 3815 limited edition
Breguet, architects of trailblazing mechanisms, are best known for their haute horology watchmaking, which includes the first ever tourbillon. The French-Swiss watchmaking genius Abraham-Louis Breguet patented his mechanical coup in 1801, 26 years after founding the marque. The family's contributions to telecommunications and aviation have been life-changing inventions for people around the world. Precision, clarity, irresistible elegance and an infinitely baroque style have always been celebrated characteristics of Breguet timepieces. In July the house made a rare modernist move, with a stripped-down and sporty chronograph that lies within their Type XXI collection. The 3815 timepiece marks a new chapter in the history of this iconic aviation chronograph. With a titanium case and vividly coloured lume, the new limited edition 3815 deftly blends vintage and modern aesthetics. Breguet have reminded us that they were also significant players in the development of watches for aviation throughout the last century. Louis Charles Breguet, the great-great-grandson of Abraham-Louis, became one of the pioneers of French aviation. As early as 1918, Breguet delivered timepieces to several military and civil organisations, and by 1935 the company began developing its first wrist chronographs. A couple of decades later, in response to an order from the French armed forces, Breguet launched the production of a legendary watch, the Type XX chronograph, which would equip the French air and naval forces until the early 1980s.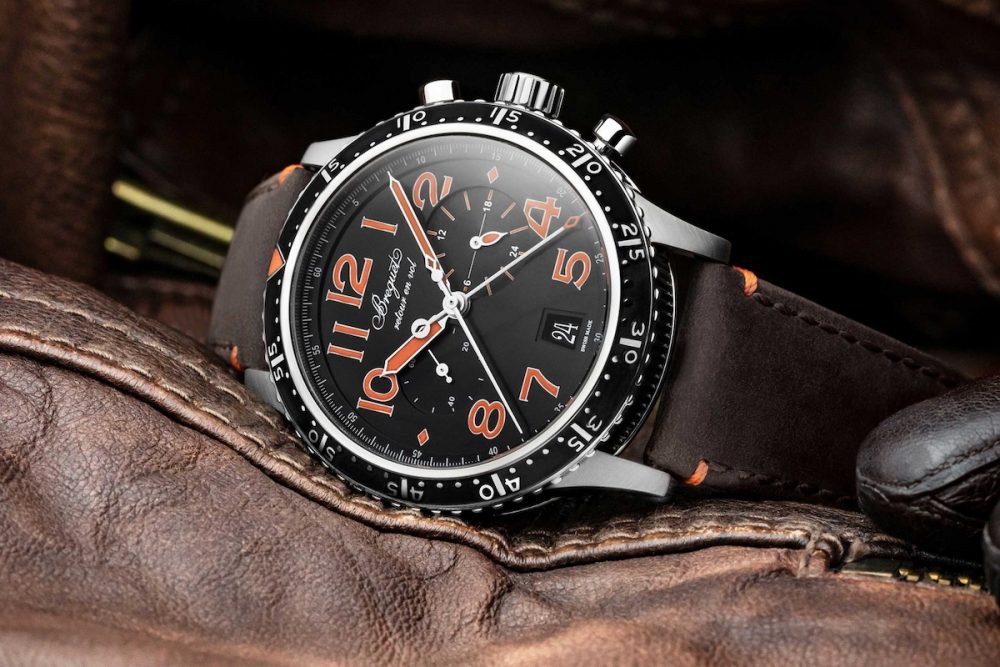 This year, the Type XXI 3815 chronograph becomes the contemporary counterpart to the previous vintage-style edition, the Type XXI 3817, which was unveiled in 2016. The new 3815 has a 42mm case featuring the classic fluted side, water resistance up to 100 metres, a screw-down crown, and polished and satin-finished surfaces. The bidirectional bezel, also made of titanium, is fitted with a contrasting black lacquered 60-minute scale. Available with green or orange numerals, markers and hands (all luminescent), this new dial also features a display with only two counters, with a 24-hour indicator and small seconds placed at three and nine o'clock, respectively. A new precision minute track and a date at six o'clock complete this contemporary display. An essential element of this collection, the mechanical self-winding movement, comes equipped with a flyback function, incorporating the latest technologies implemented by the house of Breguet, such as the silicon escapement and balance spring. The sapphire-crystal caseback reveals the movement in all its detail, as well as a gold rotor with a specific finish for this edition. The Type XXI 3815 chronograph is produced in a limited edition of 250 pieces per colour. FA
Lardini reversible trenchcoat "If a man does not keep pace with his companions, perhaps it is because he hears a different drummer. Let him step to the music which he hears, however measured or far away." So runs one of the famous passages from Walden, a tome written by Henry David Thoreau detailing the transcendentalist American author's experiences over two years, two months and two days in a self-built cabin in the wilderness next to Walden Pond, Massachusetts. Along with the works of the naturalist painter Giuliano Mauri, this paean-in-prose to reconnection with nature, with its vivid accounts of autumn hues, has served as inspiration for a stunning new collection of outerwear from Lardini, a brand founded in Filottrano, in the Ancona province of Italy, by its now creative director when he was just 18, in 1978. Aptly enough, the collection of coats, trenchcoats and field jackets affords gentlemen the opportunity to keep in tune, sartorially speaking, with two very different drummers depending on his mood and the occasion.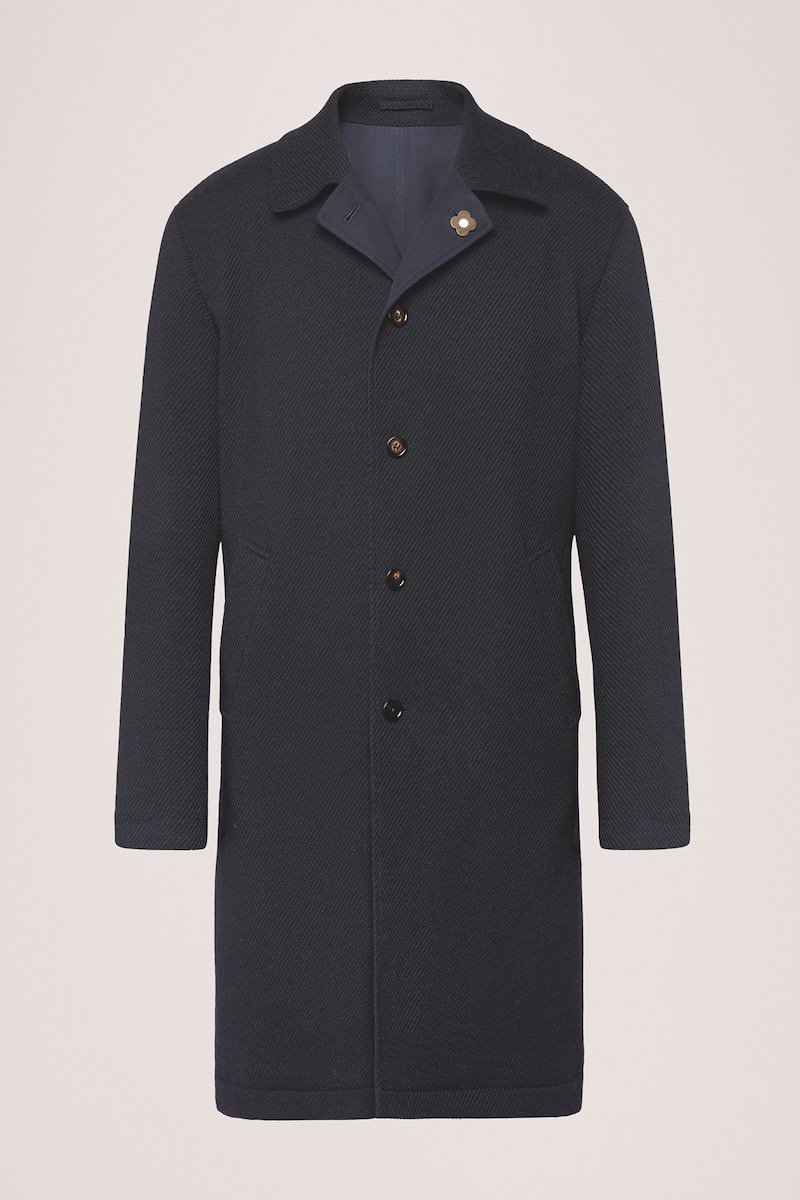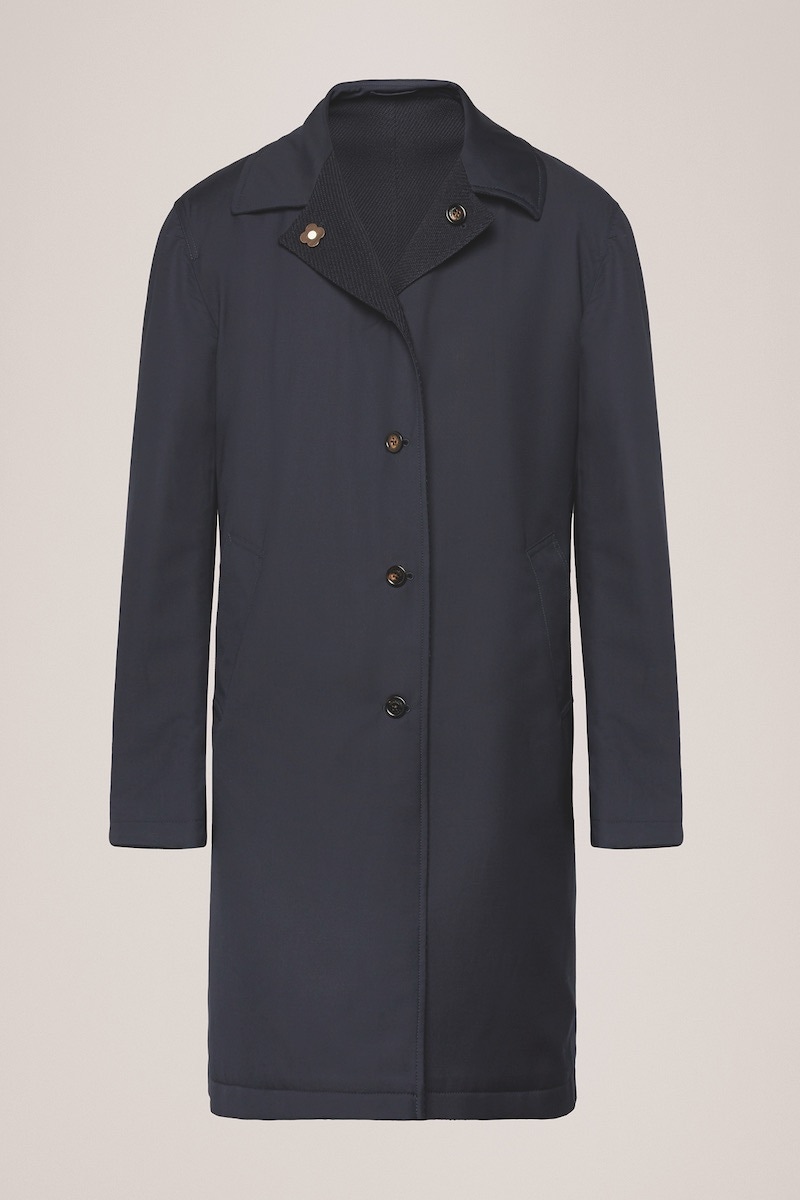 Like many of Lardini's compatriots lauded on these pages, the family helmed brand — which has made menswear for Italian luxury houses including Etro, Valentino, Dolce & Gabbana, Ferragamo and Versace — is a master of technical fabrics, as all will attest who have had the pleasure of experiencing its LIKNIT cloths, which blend the positive traits of linen and wool (think the resistance and durability of the former, the lightness and breathability of the latter). Slip on the garment here, and what you have is the kind of outerwear — made from a high-quality wool, cashmere and silk drapery fabric — that is a sine qua non wardrobe staple after the autumn equinox has passed: authoritative, clean-lined, adorned with the famous Lardini flower pin, and conducive to striding through the day with emotional deference to another of Walden's famous quotes ("If one advances confidently in the direction of his dreams, and endeavours to live the life which he has imagined, he will meet with a success unexpected in common hours"). Reverse it, though, and a technical, elements-battling nylon fabric comes to the fore. The boldly understated silhouette is one that calls to mind another nugget of prose this culturally attuned brand has cited as an inspiration, this one from Virginia Woolf: "Clothes have, they say, more important offices than to merely keep us warm. They change our view of the world and the world's view of us." NS You can also view this feature in Issue 77 of
The Rake
- on newsstands worldwide now. Available to buy immediately now on TheRake.com as
single issue
,
12 month subscription
or
24 month subscription.
Subscribers, please allow up to 3 weeks to receive your magazine.