INVEST In Timeless Classics
Investments can be unpredictable, but not so with these five winners, which we have handpicked to provide you with sound and secure appreciation — aesthetically, spiritually and financially.
Edward Green Berkeley in antique oak
'Classic with a twist' has become one of the most commonly used phrases in luxury, but when the concept is executed with true délicatesse, it becomes clear why such a delicious paradox is the holy grail for apparel makers, shoemakers and watchmakers alike. Named after the distinguished quadrangle in the heart of Mayfair, the
Edward Green Berkeley
features a 1930s stitch pattern re-introduced by the one-time Edward Green custodian John Hlustik, who studied shoe design at Arsartoria in Italy and purchased
Edward Green
in 1982. Its other distinguishing details include a punched toe cap and the brand's signature swan neck facing detail ("If you see this on a pair of shoes walking through St. James's, it's more than a clue as to their provenance," is how Euan Denholm, the Head of Brand and Business Development at Edward Green, puts it). The Berkeley also has fine leather soles that have been tanned in Germany for nine months in a solution of oak, spruce and mimosa barks, giving unparalleled comfort and durability. There's a difference with this new version, though: it has been made using the house's Number 82 last, which is slimmer than the Number 202 — a classic, rounded, quintessentially English last — traditionally used for the Berkeley. "The 82 last, with its almond-toe shape, gives the Berkeley a particularly elegant and balanced profile," says Denholm, adding that the model featured here is cut from antique oak, a stunning calfskin also introduced by Hlustik. "The handsome patina results from layers of handwork and creates a finish of remarkable depth and character," Denholm adds. "You can develop the colour yourself as you care for it — either bringing out the richness of the colour or using black for a more toned-down formal shoe." For Denholm, the hallmark of shoe quality is how they withstand the effects — cultural and physical — of time. "Shoes are quite different from clothes in that, unlike cloth, leather is a material that can improve with age," he says. "If you buy shoes made with real care and attention, from beautiful full-grain calf, and then maintain them well, you can be enjoying them in a quarter of a century from now. That's why you should think about them as investment pieces — quality endures and pays dividends." And what's unique about a purchase like this is that in a quarter of a century, they'll still be 'classic with a twist'.
Ettinger Heritage Burlington briefcase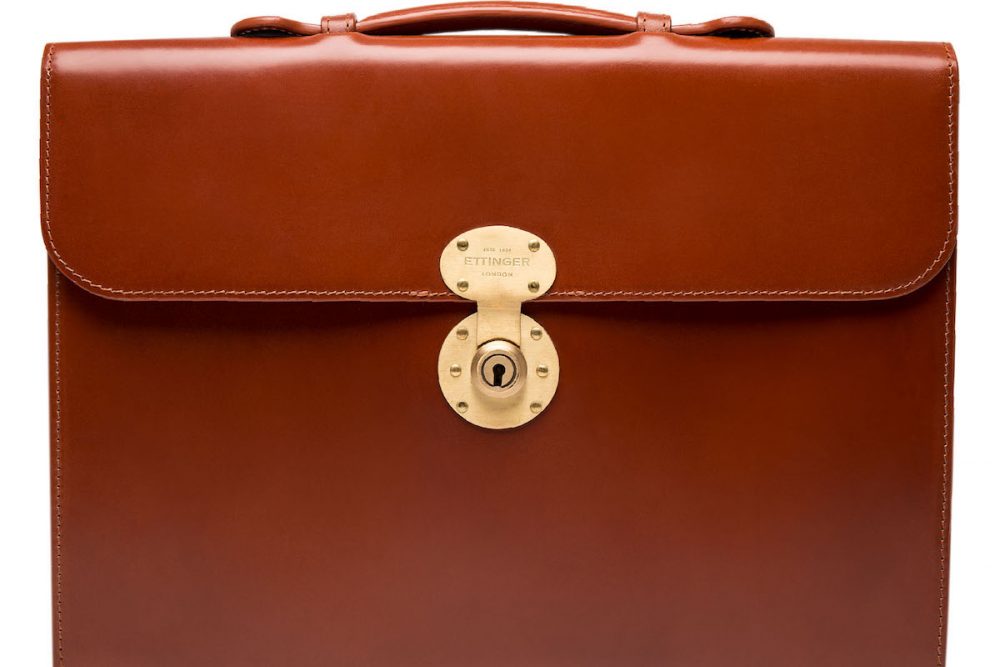 They're gloriously impractical, have a questionable cumbersomeness-to-storage ratio, and were manifestly designed for a time when all human interaction took place via mailbags or insulated copper conductors — but consider them obsolete at your peril. Like many things supposedly enjoying a 'resurgence', the old-school gentleman's briefcase is just too cool, too elegant and too iconic ever to find itself in the zeitgeist's slipstream. The briefcase's oldest known descendant is the 'loculus', the goat- or calf-hide carriers clutched by Roman legionaries; more recent ancestors are the satchels held by Shakespeare's "whining schoolboy" in the
As You Like It
soliloquy and the haversacks used by soldiers in the Napoleonic and American Civil wars. But it was leaps forward in textiles and metallurgy, precipitated by the industrial revolution, that made briefcases the sturdy, silhouette-bolstering artefacts they are today, an era in which they have greater cachet than ever. Mark Carney may have eschewed convention by turning up for his first day as the governor of the Bank of England carrying a soft-sided, grey affair, but let's face it, if the receptacle containing Marsellus Wallace's soul in
Pulp Fiction
had been a man-bag, there's serious doubt as to whether Quentin Tarantino would be the cult figure he is today. The Heritage Burlington briefcase before you is the perfect choice for the urbane gent who seeks the antithesis to the regrettable scenario whereby grown-up professional men opt for bags more suited to Silicon Valley neophytes who skateboard to work. Fashioned from traditional English bridle leather — which is not only durable but over time will acquire the kind of gorgeous patina that will enable you to recognise it among thousands — the briefcase, unusually, offers plenty of space for a laptop or other device, and has a reassuringly robust brass lock. The Burlington comes in hazelnut, nut and London tan as well as black, and even if you adhere to the 'no brown in town' adage with shoes (although whoever makes up hard and fast style rules surely sports a matching tie and handkerchief and square-toed shoes, and considers his golf-club blazer badge 'a bit ritzy'), surely the most conservative of city slickers over the decades have carried their documents to the Square Mile ensconced in brown leather briefcases. It's hard to think of a company that nails the tradition/ modernity dichotomy with more guile and finesse than the fine, heritage British leather accessories brand that is
Ettinger.
Use the leather balm they provide with it, and this will be an investment you keep for life: to have and to hold, if you will, from this day forward...
Vacheron Constantin Fiftysix with sepia brown-toned dial and matching calfskin strap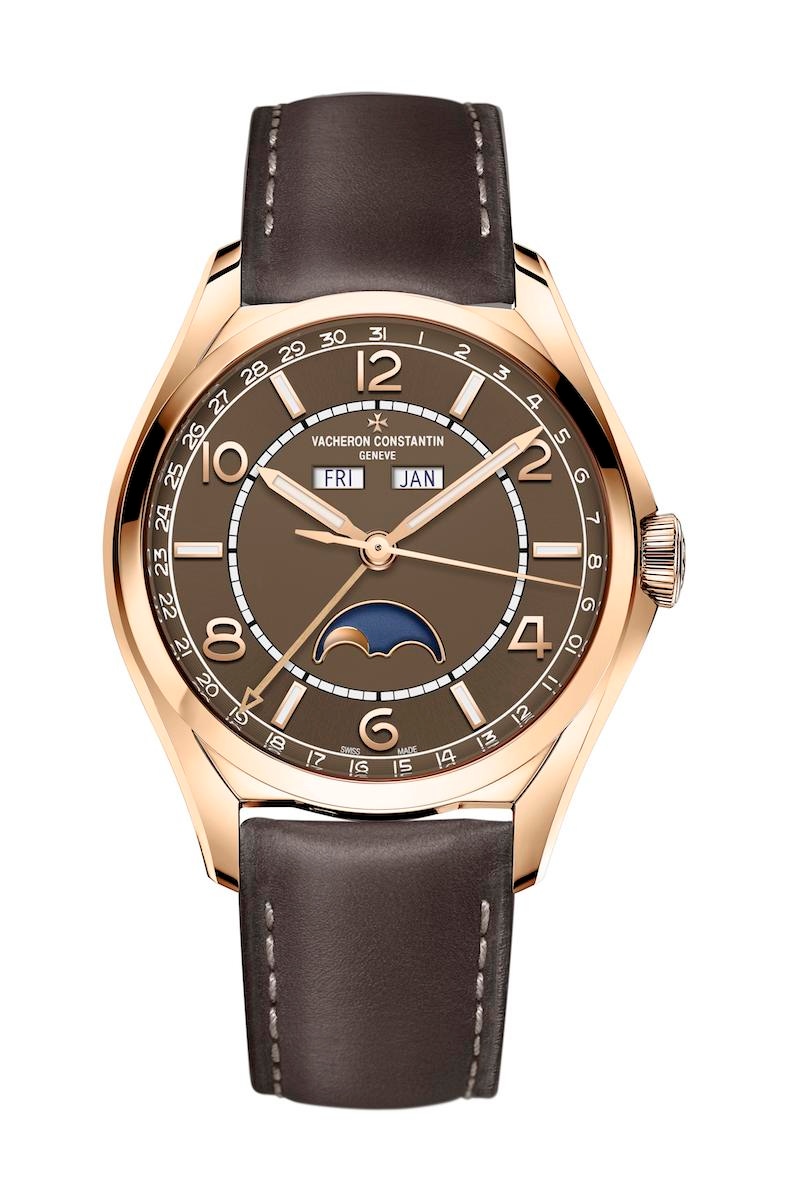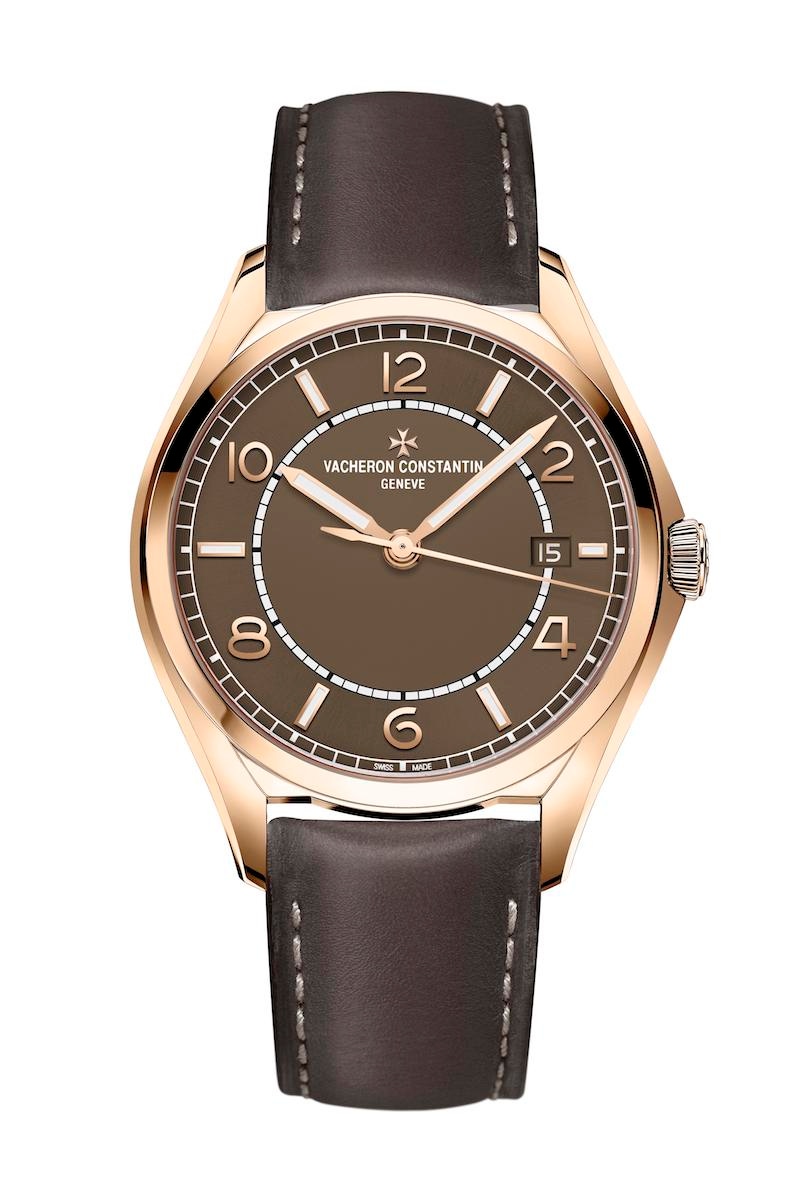 In 1877, Vacheron Constantin chose the Maltese cross as its company symbol, in tribute to a cross-shaped barrel component that, by limiting tension within the mainspring, reduced the number of cogs necessary for winding. Almost a century- and-a-half later, the world's oldest continually operating watch manufacturer has introduced arguably the most elegant expression of this modestly dignified emblem to date.
The Fiftysix collection's narrative, as the name suggests, begins in the mid fifties, when Vacheron Constantin introduced their first water-resistant automatic watch. It was a bold new step for the manufacture in terms of design language, thanks largely to the way its lugs protruded from its 40mm pink-gold case, echoing the shape of the Maltese cross (it also had a box-type crystal topping the bezel, as was typical of post-war watches). Then, in 2018, SIHH attendees were wowed by three new additions to the Fiftysix collection, one including complete calendar with precision moonphase, available in gold or steel — the first time timepieces made from both materials were available in a single Vacheron Constantin collection. A version that nodded to the watch world's ongoing love affair with blue dials followed last year, and now two new versions — a complete calendar model and a self-winding model — are available in sepia brown. The warm, organic hue of the new models' dials — which, on examination, have opaline, sunburst and snailed finishes, which offer mischievous interactions with light and improve legibility — juxtapose beautifully with the pink-gold 40mm case, while the new calfskin leather strap stretches the Fiftysix range's repertoire into more casual realms. The self-winding movement, in that particular model's case, is visible through the sapphire crystal caseback; in both models, owners can gaze through the reverse side at a Côtes de Genève decoration and an openworked, 22-carat pink-gold oscillating weight whose design offers another nod to the Maltese cross. The complete calendar version, meanwhile, as well as day, date and month indications, has a precision moonphase that will require no adjustment for 122 years. Vacheron's new women's collection, the diamond-studded Égérie Moon Phase, is snatching the headlines at the moment, but this altogether quieter duo — which offer a textbook study on how to nail vintage-contemporary watch design with authority — is showing that a maker that was the first to convert watch movements into calibres and created the pantographic device has also got aesthetic smarts in spades. It's a safe bet that, beholding this, the medieval knights who first donned the Maltese cross would consider Vacheron to be exemplary custodians of their eight-pointed symbol.
Budd Shirtmakers pyjama shirts and face masks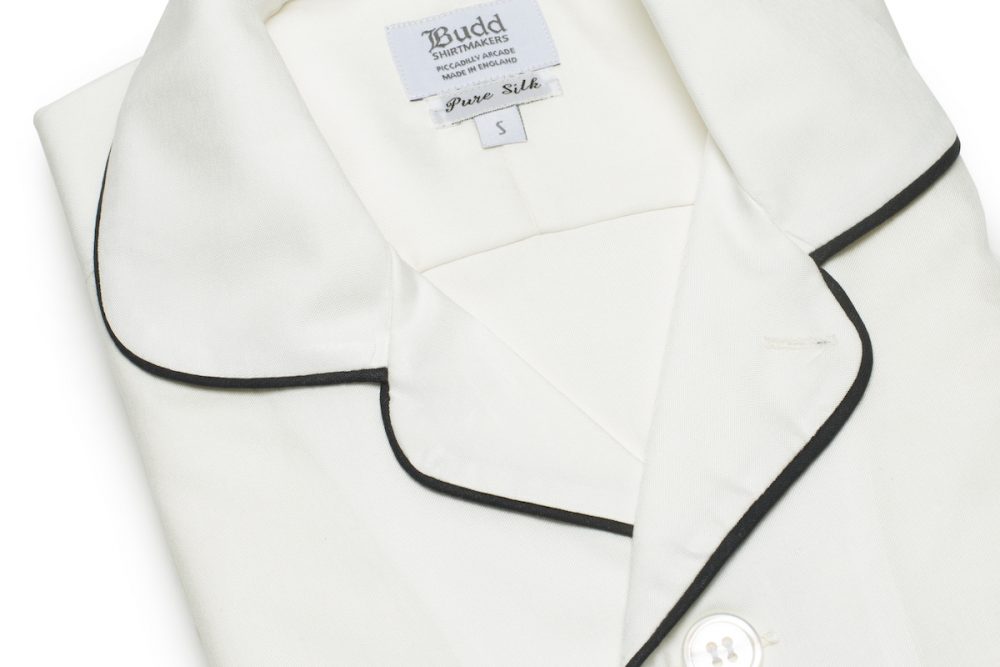 It's not surprising that most sartorial nomenclature brought back from India by colonial officer types — jodhpur, cummerbund, cashmere — denote a gentrified lifestyle, and 'pyjamas' should be no exception. After all, there's something inherently raffish about opting for uncompromising elegance even when the togs in question will never be seen by anyone but your householders. Even before impromptu early morning Zoom meetings became part of our daily lives, though, stylish pyjamas have been playing a more substantial role in stylish people's diurnal existences. So much so, the team at Budd noticed a while back that many of its customers were buying pyjama sets with the intention of wearing only the shirt (you might have noticed the trend at Pitti and at various fashion weeks). With no little commiseration extended to the neglected bottoms, Budd developed their pyjama shirt as a standalone item. Styled to be worn alone over shorts or casual trousers, or with a blazer or jacket, they are at the pinnacle of what Budd's cutter and designer James MacAuslan refers to as "sartorially casual", and "look as at home on the beach as they do worn more elegantly in town", as he puts it. The pyjama shirt — available in cream silk with navy piping and navy poplin with white piping, and sized between small and extra-large, like Budd's existing casual and safari shirts — features an informal camp collar (notched, soft and unstructured for a relaxed vibe) as well as an out-breast pocket, piped edges and straight bottom, all evocative of Budd's classic pyjamas. The yoke and collar take their cue from the house's classic men's shirts. The silk is pre-shrunk and woven in England, the poplin milled in Switzerland. Pyjama shirts such as this are available for pre-order from Budd's website, but supply, for the time being, may outstrip demand, and for good reason. Budd, like their Jermyn Street siblings Turnbull & Asser, have set their workshops to the task of producing personal protective equipment (masks and scrubs) for frontline and key workers; the masks will also, eventually, go online, with proceeds of sales going to The Passage, a homeless shelter in Victoria, south-west London.
George Cleverley Dawson bag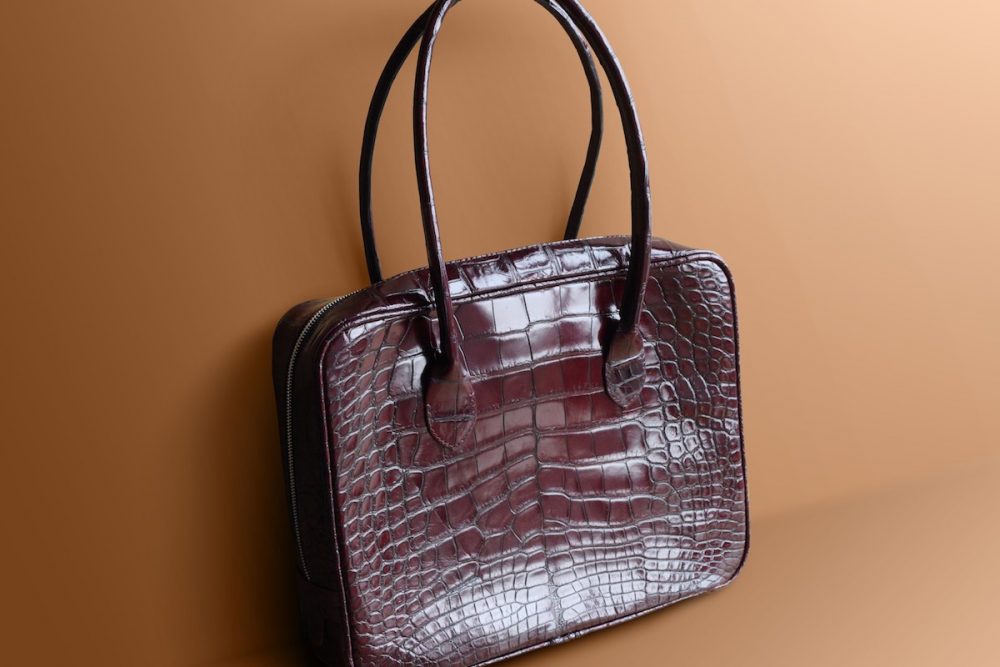 George Cleverley
are, to footwear, what Aston Martin are to cars, as a vast array of customers past (Humphrey Bogart, Cary Grant, Fred Astaire, Sir Winston Churchill) and present (Jason Statham, Hugh Grant, Colin Firth, David Beckham) would attest. Their stature in that realm is all the more remarkable for the fact that they are one of just a handful of independently owned bespoke shoemakers in the world. But there's more to that hum of masterly endeavour — sometimes audible from the ground floor of its premises in Mayfair's Royal Arcade — than just old-fashioned artisanal cordwaining: bags, too, are among Cleverley's growing repertoire. The one you see before you, whose loop handles offer a nod, perhaps, to the tote bag's new status as an option for stylish men, is hand-stitched by the same expert craftsman whose handiwork has graced the silver screen in movies from
Murder on the Orient Express
to the
Kingsman
franchise via
Hobbs & Shaw
(which stars Statham, who, incidentally, is a close friend of George Glasgow Jr., Cleverley's co-owner and chief executive). The pocket inside, designed for a laptop or iPad, is padded to protect the contents during travel, while on the opposite side is a full-length zip pocket, two large phone compartments, and two pen pockets. "The Dawson is designed for the modern client," says the aforementioned Glasgow Jr., a man whose authority on style goes beyond his position at Cleverley (he was named one of just seven 'Men of Style' in the Los Angeles- based luxury magazine
Angeleno
last year). "We wanted to make something that was within the DNA of the George Cleverley brand but would also appeal to the modern- day traveller who wants something unique and luxury. So we took our 'Bond Street', which we designed in 2010, and changed the handles to loop ones to offer a unique look with a modern feel." Glasgow Jr. recently described modern men as being "willing to invest in a bag in the same way as they might have done in the past with shoes or a bespoke suit". It's a salient point upon this product's launch, and, given Cleverley's fanatical approach to product construction and the sourcing of animal hides, you can rest assured this investment — like Cleverley shoes — will have improved by the time you hand it down to your descendants. Read the full story in Issue 70 of
The Rake
- on newsstands now. Subscribe and buy single issues
here.