Invest in Timeless classics
Investments can be unpredictable, but not so with these four winners, which we have handpicked to provide you with sound and secure appreciation — aesthetically, spiritually and financially.
Rolex Lady-Datejust in 18ct gold
It was the year that Audrey Hepburn, her cultural cachet at a premium, starred alongside Fred Astaire in the musical romantic comedy
Funny Face
; around the same time that
Those Without Shadows
, French author Françoise Sagan's third novel, threw light on the human condition from a distinctly female perspective; at a moment when Adele Simpson's creations were making her more and more beloved of New York's fashion cognoscenti; and, in the Middle-East, when Rawya Ateya was taking her seat in the National Assembly of Egypt, becoming the first female parliamentarian in the Arab world. Notwithstanding the household-management 'self-help', darning lessons in school, and other trappings of life as a woman in the late fifties (as depicted in homely sitcoms such as
I Love Lucy
), a nascent feminism was sneaking into the zeitgeist. More and more women were acquiring independent incomes, and huge cultural game changers (such as the pill) and a tsunami of counterculture sentiment were waiting in the wings. So there is nothing arbitrary in the fact that Rolex's classic women's watch, the Lady-Datejust — a sublime emblem of elegance and assertiveness — came into being in 1957. Today, as was the case 65 years ago, the Lady-Datejust is beloved of women at the top of their game (think marine biologist Sylvia Earle, golf champion Annika Sörenstam, singer Dame Kiri Te Kanawa, pianist Yuja Wang, tennis champion Garbiñe Muguruza, biologist and environmentalist Emma Camp, and the sitar virtuoso Anoushka Shankar). The iteration before you, meanwhile, is in 18ct yellow-gold, its bezel set with 46 brilliant-cut diamonds, its white mother-of-pearl dial with 10. As with all its siblings (there's a huge selection of dials, bezels and bracelets in the range), it has instantaneous date with cyclops lens, Syloxi hairspring in silicon, high-performance Paraflex shock absorbers, and a 28mm Oyster case (waterproof to a depth of 100 metres). The precision of the in-house movement is guaranteed by the Superlative Chronometer certification, redefined by Rolex in 2015. No paperwork is required, though, when it comes to how accurately any Lady-Datejust epitomises the harmony between femininity and fortitude. Indeed, female readers may see this as an investment in their own empowerment; a gentleman purchasing for a woman, meanwhile, may see it as a symbol of emancipation from values that, in retrospect, enfeebled both genders.
NS
Cromford Sharif bomber jacket
In 1917, the U.S. Army aviation clothing board pulled off a masterstroke of functional clothing design: a garment that would keep military pilots warm in unenclosed aircraft cockpits at freezing, high altitudes. A heavy-duty, fur-lined piece in sheepskin, horse leather or sealskin, its cut was conducive to being worn in a seated position, its tight-fitting cuffs and waists designed to cheat draughts, its voluminous sleeves and unstructured shoulders to facilitate movement. It's safe to say that how stylish the wearer would look when hopping out of his F4F Wildcat could not have been further from their minds. As for the idea of creating what would become a consummate menswear staple? A popular culture emblem thanks to various Hollywood starring roles (Steve McQueen's in
The Great Escape
, Humphrey Bogart's in
Tokyo Joe
and Marlon Brando's in
A Streetcar Named Desire
, to name just three)? A piece to be adopted by counterculture groups such as the late-sixties skinheads (the racist ones came later)? It's fair to say that none of this got a look-in at the drawing board.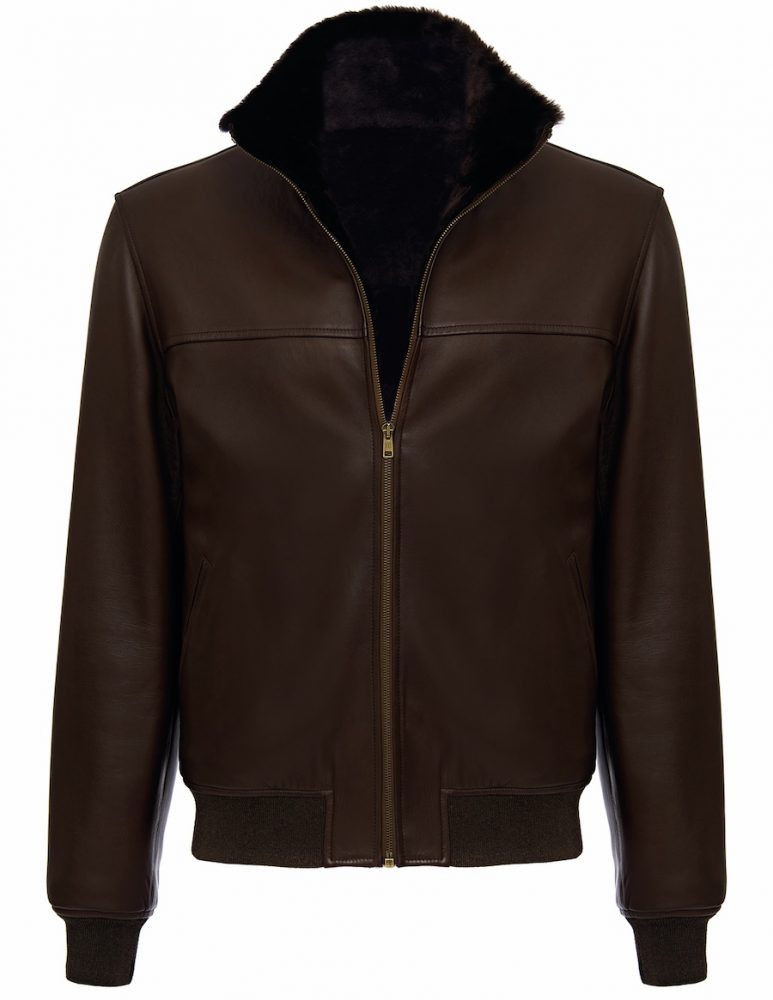 The functionality fanatics who conceived of the bomber jacket would surely be flabbergasted (and pleasantly so) to discover that peacetime has nudged the garment many, many steps along an evolutionary trajectory, the latest expression of the form being this offering by Cromford Leather Company. The brand, named after the Derbyshire town in which the world's first factory operated, was founded in 1971 by the Savile Row tailor Alan Sprooles and his architect friend Peter Goodall. It has been helmed by the visionary leather tailor Pauline Harris since 2015. Named in adherence to Cromford's tendency to give garments appellations that toast silver-screen greats (see the striking 'Keitel', 'Eastwood', 'Douglas' and 'Hoffman' pieces on
The Rake
's website), the Sharif is everything a modern sartorialist's bomber should be. Containing the aesthetic DNA that military bombers have used since they were donned by U.S. airmen over France and Belgium during world war I, the Sharif has a far more tactile, second-skin feel (it's fashioned from supple French lambskin and lined with shearling), and features luxe details such as the wool ribbing at cuffs and waist, a concealed inner pocket, and an antique brass Swiss Riri zip. No one is expecting readers to send the sex-o-meter needle spinning like Marilyn Monroe did when she wore a bomber jacket with a tight dress while visiting and performing for American troops in Korea in 1954. This is a shrewd investment, though, for the dashing flâneur who has the temerity to give it a stab.
NS
Romeo y Julieta Línea de Oro cigars
The appearance of new cigars on the market is always to be celebrated. The fanfare isn't too dissimilar to that which greets new watches — from dimensions to craft details, the intelligentsia is looking at similar things. Where a watch may announce a new case-size only millimetres in difference, Cubans deal with imperial measurements, and fractions of an inch are key, with cigars sometimes measuring, as in the case of the Capuleto, six and 3/8th of an inch with 52-ring gauge. The ring gauge is a unit of measurement that increases in increments of 1/64th of an inch. Then there are the working parts — the blend of three leaves (the seco, the volado and the ligero) — all of which determine the nature of the smoking experience. Anyone who enjoys and treasures cigars has their own preferences, so we all look out for new releases to see if they will work for us.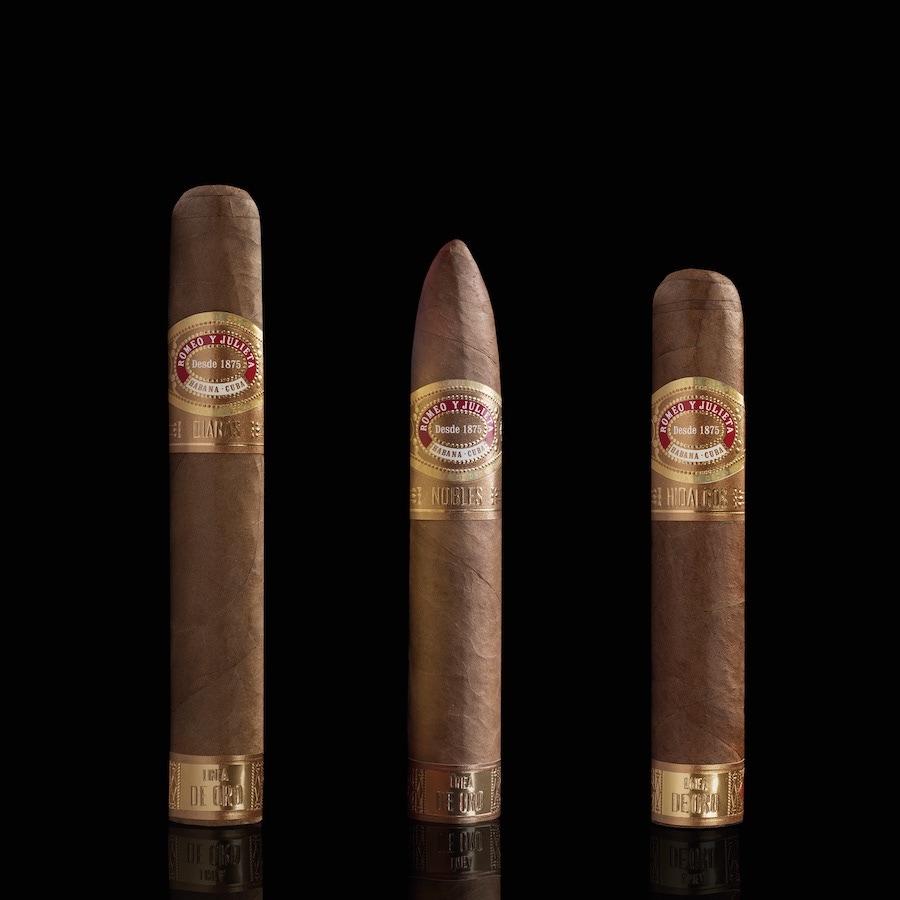 Well, three new cigars from Romeo y Julieta have been announced that have got everyone in a frenzy. For the first time in the firm's history (est. 1875), they are forming the first sub-brand of Romeo y Julieta. The Línea de Oro is its name, and it features an abundance of gold on the
anillas
(labels you always find on cigars) and foot bands (which you find less frequently). The names of the new cigars are Dianas, Hidalgos and Nobles; their sizes are, respectively, 52x7 1/2", 57x4 7/8", 56x5 3/8". They are all on the thicker side, but will no doubt have their own personalities to distinguish them. Considering they are of Romeo y Julieta stock, you can expect medium- to full-flavoured cigars. Additionally, the recent Cuban craze for extravagant boxes continues. Anyone who had a box of the Romeo y Julieta Maravillas will have seen the gorgeous red-lacquered box, which returns in a slightly different shape for these new cigars. Debate will continue as to which is preferable, but I rather like the creativity. Cigars appreciate in value much quicker than wine or whisky; you can, for example, find cigars doubling in value within a year of purchase. If Romeo y Julieta continue to make these in regular production, 99 per cent of them will not have any real appreciable value, but the first batch almost certainly will, so make sure you get down to Davidoff of London to stock up.
TC
Omega Globemaster Annual Calendar in burgundy
Omega boast a history replete with micro-engineering masterstrokes that changed the course of horological history. They are early pioneers of the tourbillon wristwatch and the creator of the world's first minute repeating wristwatch, the first tourbillon wristwatch to be chronometer certified, and the first wrist-chronometer with a co-axial escapement. Less trumpeted but equally impressive, though, are its achievements in the field of timepiece aesthetics, including the 12-sided domed dials that unofficially became dubbed 'pie pan dials' and featured on the manufacture's Constellation watches of the 1950s and sixties. Omega's latest three additions to the Globemaster Annual Calendar collection pay tribute to the pie pan dial, as well as another signature detail that fans will be familiar with: the fluted bezel first used in a now highly collectable model from 1968. These — along with the faceted hands, elegant indexes, cursive text month indications, Constellation star and Omega's logo — make up more than the sum of their parts, especially in the case of the piece pictured here, with sun-brushed burgundy dial, which for our money is one of the most visually compelling watches to come out in the past year.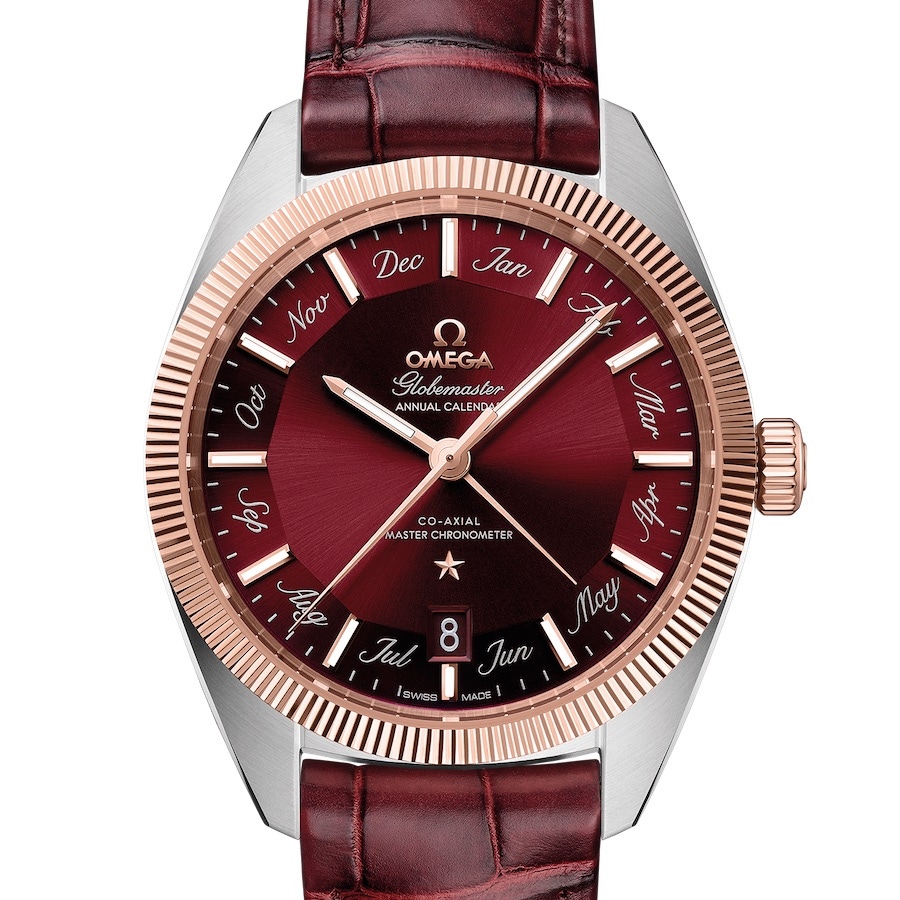 Presented in a 41mm stainless steel case, with a polished bezel in Omega's own red-gold alloy (which is also used for the crown and numerals), its burgundy leather strap completes a complex but concordant symphony. Meanwhile, a Central Observatory medallion set on the scratch-resistant sapphire crystal caseback gives a nod to Omega's achievement in precision instruments in the early 20th century. And talking of precision, the whole thing is powered by Omega's own co-axial master chronometer Annual Calendar calibre 8922. The burgundy version is one of three, and the iteration with sun-brushed green dial in stainless steel and 18ct white-gold on the faceted hands is also a handsome addition to any collection, as is the one in 18ct Sedna Gold, with its striking black onyx index settings. With the piece seen here, though, Omega — a brand that has taken humanity to the loftiest heights and deepest waters with its Speedmaster Moonwatch and its Seamaster, respectively — have taken us to another rarefied realm indeed. It could be just the inexplicable elegance of the interplay between form and hue seen here. Is it audacious to suggest, though, that burgundy could soon usurp green's crown when it comes to watch dials — and so soon after green assumed blue's place on the throne?
NS
You can also read this article in Issue 80 of
The Rake
- on newsstands now. Available to buy immediately now on TheRake.com as
single issue
or
12 month subscription
. Subscribers, please allow up to 3 weeks to receive your magazine.