INVEST in true artisanship
Investments can be unpredictable, but not so with these four winners, which we have handpicked to provide you with sound and secure appreciation — aesthetically, spiritually and financially.
Rolex's yellow-gold Meteorite Daytona
What is it about meteorite that makes it so captivating as a raw material? The romance of a substance being genuinely extraterrestrial — of having undergone an interplanetary journey since the formation of our solar system before crashing into some Namibian lake or Arabian peninsula — is certainly arresting. Aesthetically speaking, it's the irregular geometry of the criss-crossing lines (or Widmanstätten patterns) created by the cooling of the nickel and iron interiors (a few degrees Celsius every million years or so) beneath meteorites' ashen, knobbly surfaces. Now, Rolex have used a meteorite dial on a ceramic-bezel Daytona for the first time ever, and time's molecular tinkering of this alien material has given a trio of new gold Daytonas their own idiosyncratic charisma. Rolex might eschew limited editions, but buy one of these and it'll be as unique to you as your fingerprints. Expect the Daytona fundamentals with all three: 40mm case, sub-dials at three, six and nine, the familiar concert of pushers and lugs, and tachymetric bezel for measuring average speeds (few can wear a Daytona without feeling vicarious Newman-as-Capua delusions). Here, meanwhile, there are three options. One is in 18-carat white-gold, with a monobloc cerachrom bezel and Oysterflex bracelet (yes, bracelet: beneath the black elastomer exterior, small struts in titanium and nickel alloy give it structural integrity). The other two are in 18-carat Everose gold and — the one you see before you here — yellow-gold, both coming with matching metal bezel and Oyster bracelet. Everose gold, a mixture of gold mixed with copper and platinum, certainly has its appeal, just one of its benefits being its resistance to tarnishing, but the yellow-gold version is featured here because of the particularly arresting interplay between case and dial (check it out in bright light, if you haven't already). As ever with a Daytona, you'll be investing in accuracy: the in-house self-winding calibre 4130 is a game changer thanks to its 'vertical clutch' chronograph coupling mechanism. You're also investing in God's own artisanal endeavours (watchmakers rightly express pride when a dial takes weeks to decorate... try 4.6bn years for size). As for emotional investment, slipping any of these on your wrist will make you want to move at a speed approaching that with which its dial penetrated the Earth's atmosphere.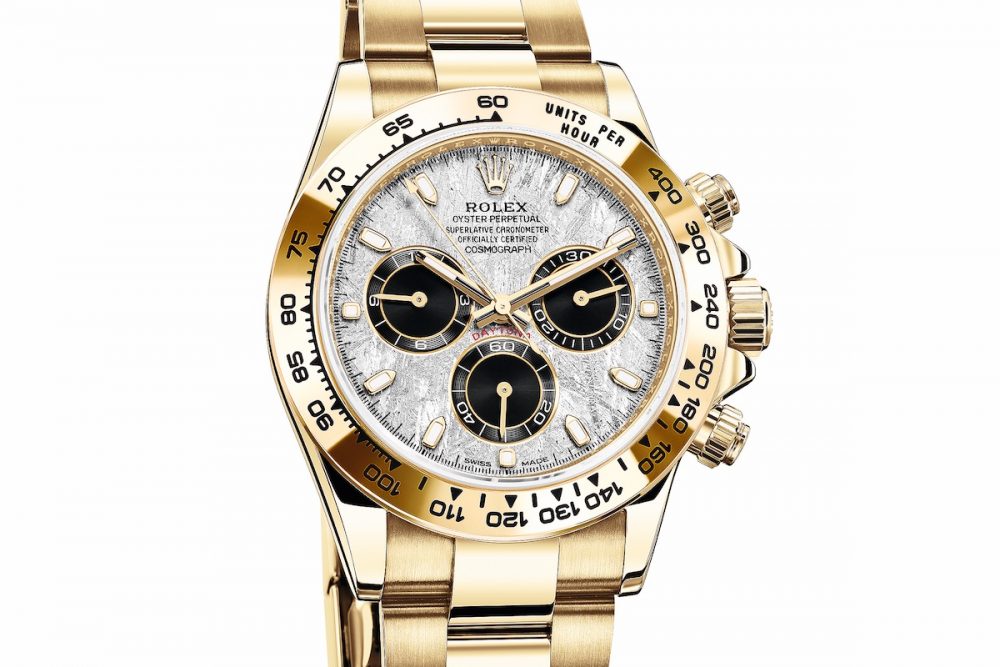 Private White V.C. suede safari jacket
Precisely zero safari jackets manufactured today will ever be used to suppress insurrections in far-flung, searingly hot colonial outposts, as their earliest descendants — garments in khaki cotton drill with four large pockets on the chest and waist, oversized revere collars, epaulettes, and belt around the waist — were during the Boer war. But then again, only a minuscule percentage of pilot's watches have ever been worn by people reshaping the Sahara's dunes while commanding a low-flying Lockheed Martin stealth jet. The point is that modern-day safari jackets, like modern-day pilot's watches, are fit both for their ostensible purpose as well as the function for which urban flâneurs will adopt them in these times of relative peace and prosperity. This is because, as well as being practical and lightweight, they also boast such an ineffably dashing silhouette and elusive charm that, paired with matching trousers, they have become tropical India's equivalent of the formal business suit in the 1960s. The five-button garment here, crafted in Private White V.C.'s Manchester factory from 100 per cent goat's suede (which is just 0.4mm thick), is unlined and has an action-back pleat, making it even less constrictive than most jackets of its ilk: this factor, along with the four standard voluminous pockets (button-secured, with side entry on the lower, larger pockets), make it an excellent companion, especially for long-haul flights (aptly enough, the word 'safari' does, after all, derive from the Arabic for 'journey'). Functional embellishments include a security button on the belt that prevents it from slipping; aesthetic details include the way the internal seams have been pared down and finished with elegant top-stitching on either side of the leather. This quintessentially British label — which shares a Mayfair premises, 73 Duke Street, with the luggage purveyor Bennett Winch and the Avanzato Grooming Lounge (a visit to the gentleman's club-esque basement floor and its cigar terrace is zealously recommended) — has vastly more pedigree than most when it comes to military apparel: it's named after the world war I hero Private Jack White, a Victoria Cross recipient who became an apprentice at, then owner of, the factory whose door now bears his name. Other outerwear in the brand's repertoire includes great coats and peacoats that would draw envious gazes in any officer's mess. Channelling Lord Kitchener's militia at the Battle of Spion Kop when slipping this on, though, remains optional. Ernest Hemingway, Roger Moore's Bond, Edward VIII, Winston Churchill and Prince Charles are also fair game when it comes to looking the part for one's vicarious musings.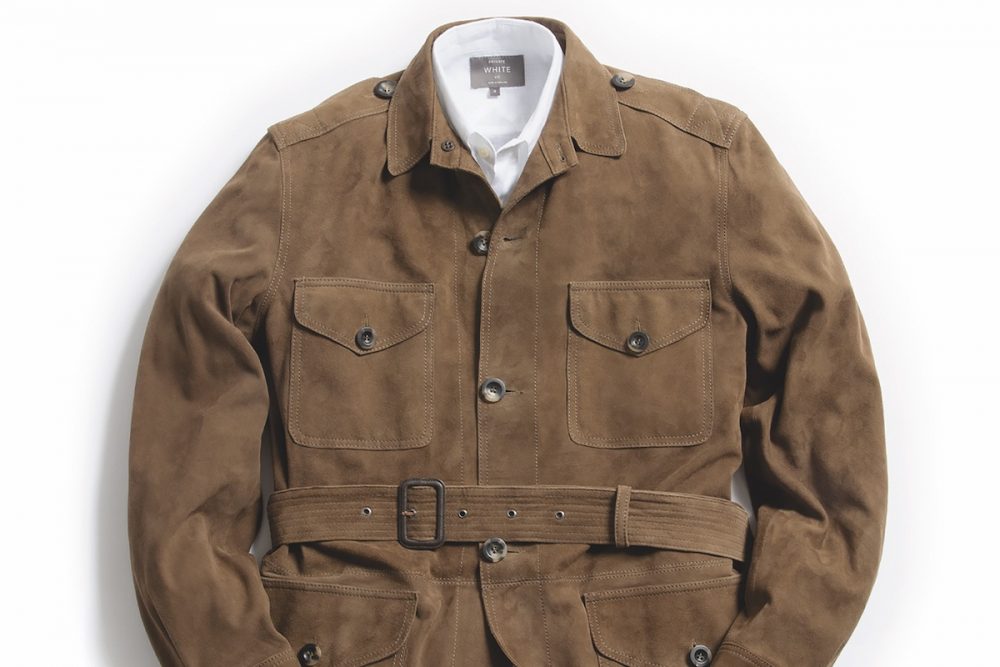 Vitale Barberis Canonico's Naturally Dyed Montecarlo Jacket cloth
It's hard to think of a company that pays more respect to the planet from which it yields its raw materials than one founded in 1663 in Biella, northern Italy. So fastidious are Vitale Barberis Canonico — the oldest continuously operating cloth mill — about respecting the natural world that waste avoidance is an article of faith throughout their production zones, while the 120,000 litres of water they use each day is returned to nature — much of it to a lake packed with koi and goldfish — cleaner than when their 400 employees drew it. So it's not a token nod to corporate responsibility but an authentic statement of intent that the exclusive capsule collection VBC have created in collaboration with Drapers is called H.O.P.E., which stands for How to Optimise People and Environment. H.O.P.E. is a set of fabrics, all made from natural fibres, that would stop the most seasoned cloth merchant in his tracks, prompting him to wonder why he'd never seen anything like it before. The collection, an artful expression of painstaking research, comes from unusual sources: the Moretta wool, for example, is sourced from a Spanish breed of sheep that has a darker-hued fleece than other breeds; the eri silk (a staple fibre, which can vary in length, unlike other silks, which are a continuous filament) has an unusual orange tinge (and is cruelty free, having been harvested only once the butterfly has left the chrysalis). Similar exhaustive groundwork has gone into creating the natural vegetable dyes and thus a rich palette of colours that complement the stunning texture of the fabrics' hopsack structure, as neatly exemplified by the cloth here: the Naturally Dyed Montecarlo Jacket cloth, woven from 21 micron wool, and a crease-resistant summer staple thanks to its breathability. Apart from its visual (and, take our word for it, tactile) exquisiteness, what's so impressive about the H.O.P.E. collection is how neatly it epitomises VBC's admirable willingness to engage in autodidacticism. The search for ever more intriguing and aesthetically pleasing raw materials goes on unabated. Similarly, the rediscovery of ancient dyeing techniques using natural pigments and materials — plants, flowers, leaves, roots, fruits, and even bark — to eke out gaps in the existing fabric colour spectrum is a tireless enterprise. The company will not rest in its quest to adapt to new production processes that reduce even further the use of chemical products and dyes. The pursuit of perfection, they say, is a Sisyphean task, and yet, for VBC, it is one they're hungry to undertake. Their ethical diligence, like the beauty and functionality of their cloths, is well worth investing in.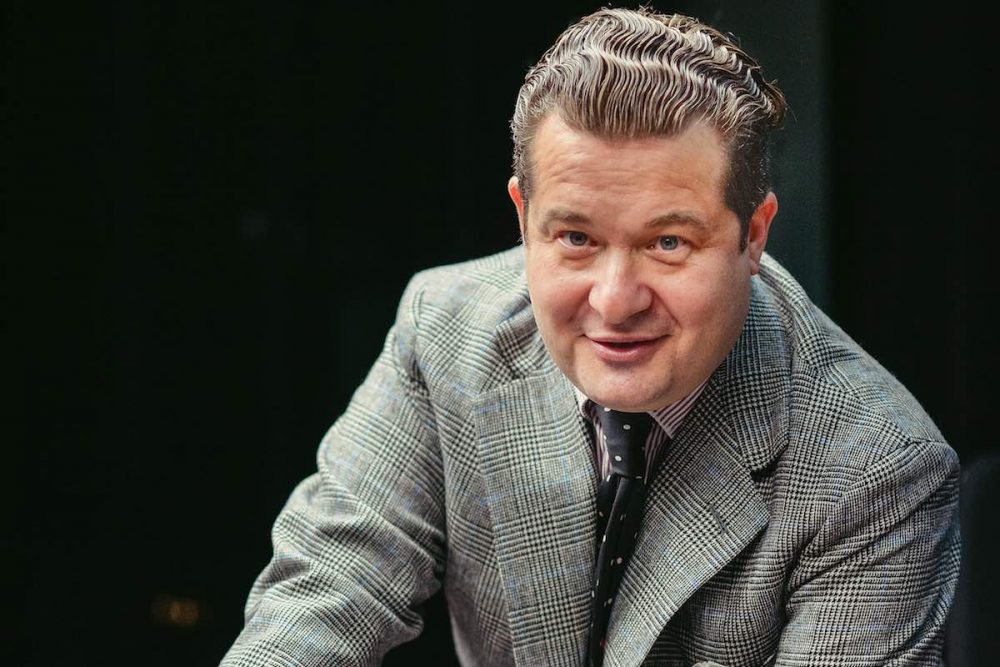 The Canali 'Shacket'
Power and panache; imperious dignity and subtle flair; clean, sharp aesthetics and effortless insouciance... The brand founded in 1934 in Triuggio, 15 miles north of Milan, by brothers Giacomo and Giovanni Canali has quite a track record when it comes to a fusion of sartorial abstractions. Now, Canali — which counts i signori Clooney and Obama among its prestigious admirers — have fused two of the key pieces of apparel that shroud a gentleman's torso, in the process elevating the house's 'sartorial lightness' philosophy to new altitudes. With the 'Shacket', Canali's designers have not merely blended the lightweight comfort of a shirt with the elegant versatility of a tailored jacket, they have cherry-picked finer details that gents love about each: mother-of-pearl buttons, rounded cuffs and locker loops in the case of shirts, and patch pockets, visible stitching and contrasting inner lining in the case of jackets. As well as the kind of detail-fixated craftsmanship we've come to expect from brands who authentically abide by the phrase 'made in Italy', Canali have, in their 85-year existence, garnered a reputation for being serious about sourcing the finest fabric blends from mills in Biella, the centre of gravity of the Italian textiles scene. In this instance, a unique wool-cotton-silk-linen blend ensures that drape, comfort and tactility are the ruling triumvirate. "With the Shacket, our commitment over the years to pursue the concept of sartorial lightness is renewed within the spring/summer 21 collection," says Stefano Canali. Stefano belongs to the third generation of the family dynasty; he worked at an Italian commercial bank in New York before joining his family's company in 1998, becoming C.E.O. in 2018. "A new creation has come to life that embodies attention to detail and functionality to the fullest, exploring new dimensions in the world of tailoring," he adds. "This garment perfectly balances the versatility of a tailored jacket with the lightweight feel of a shirt. The Shacket suits the contemporary man — the man who wants to masterfully combine elegance and sophistication with comfort and wearability for every occasion." Indeed, as well as a turbo boost to your existing wardrobe's versatility, what you're investing in here is a garment whose clean, featherlight silhouette packs poetic resonance with the arrival of spring, and, in many parts of the world, the emancipating effects of restrictions being eased.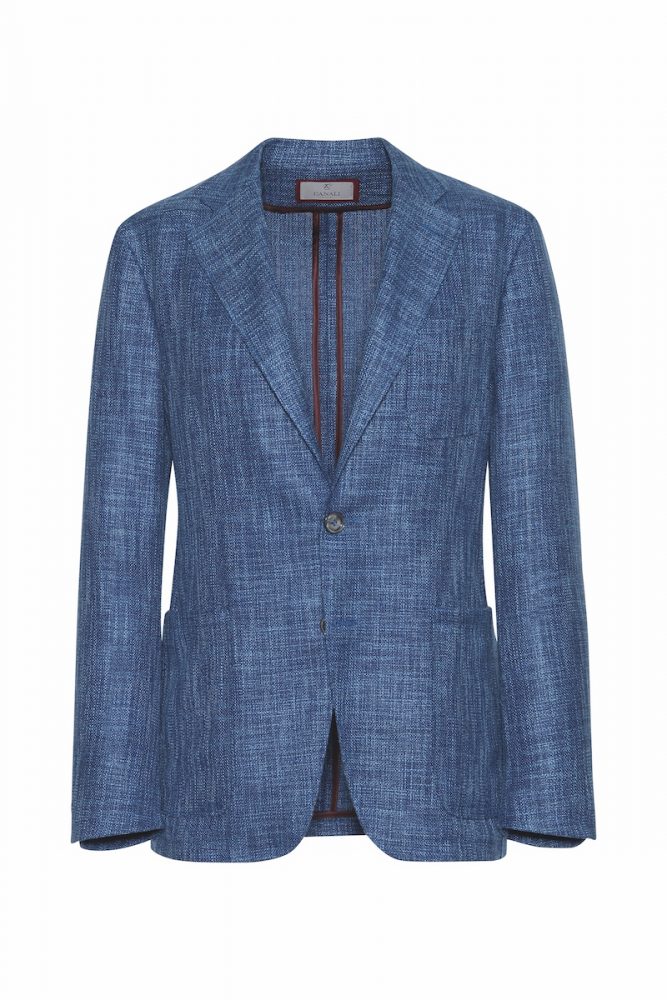 You can also view this feature in Issue 76 of
The Rake
- on newsstands worldwide now. Available to buy immediately now on TheRake.com as
single issue
,
12 month subscription
or
24 month subscription.
Subscribers, please allow up to 3 weeks to receive your magazine.