I've seen the light
No more excuses: Wei Koh has a morning suit. In fact, thanks to Huntsman's generosity, The Rake's founder has a couple. And where better to unveil his new favourite form of dress than at two of the events of the summer, Royal Ascot and Luca Rubinacci's wedding...
As evocative quips go, my favourite among them is, "I don't know nothing 'bout birthing no babies", uttered by Scarlett O'Hara's servant Prissy when commanded to aid in the impending arrival of her progeny. My go-to comeback has always been "I ain't got no morning suit" each time my dear friend Ahmed 'Shary' Rahman, a man whose largesse overflows like the sweet goblets of wine in Valhalla, has invited me to Royal Ascot, the most fabled horse-racing occasion in all of Christendom. O.K., so here's the deal. It is ironic that as the individual that started a magazine about style, to my greatest shame I am not so secretly something of a slob. The comedic value of this was made abundantly clear to me at the previous Pitti Uomo, when the temperature shot to nearly 40 degrees and, unlike my immaculately dressed brethren, I was the first to sartorially tap out and don a pair of Rubinacci Gurkha shorts paired with a shirt more appropriate to the doorman of a moderately priced south-east Asian brothel. Of course, I'd forgotten that was the day I was to meet Ring Jacket's President, Kunichi Fukushima, son of the company's legendary founder, Jhoichi-san, a man with a style that is nothing less than regal. Upon being introduced to me as "the founder of The Rake", he did a double-take at my garish ensemble and replied earnestly, "Are you sure?" Those acquainted with me in Singapore know that I am likely to turn up for most occasions dressed like the assistant ukulele player at a Hawaiian Luau. So the idea of getting decked out to the nines in morning dress — an ensemble considered the most formal of daytime wear — to attend a horse race in the middle of summer seemed a recipe for discomfort. For neophytes to morning dress, like me, the morning coat has its origins in the 19th century, when gentlemen would ride their horses in the morning wearing a long jacket with a cutaway front. By the 20th century it overtook the frock coat as the preferred means of formal daytime dress. The most formal and correct morning coat is a single-breasted peaked-lapel jacket with a link closure that cuts away in the front and falls to the knees. Indeed, it was explained to me by the amazing Dario Carnera, head cutter at the mythical Huntsman tailors of Savile Row, that you gauge the quality of a bespoke morning coat by how perfectly it tucks to the back of the knees. It is accompanied by a grey, buff or black double-breasted shawl- or peak-collar waistcoat, and both the jacket and waistcoat can be piped and should feature dress slips, a layer of white fabric that just underlies the top edge of the waistcoat to give the illusion of a second layer beneath it.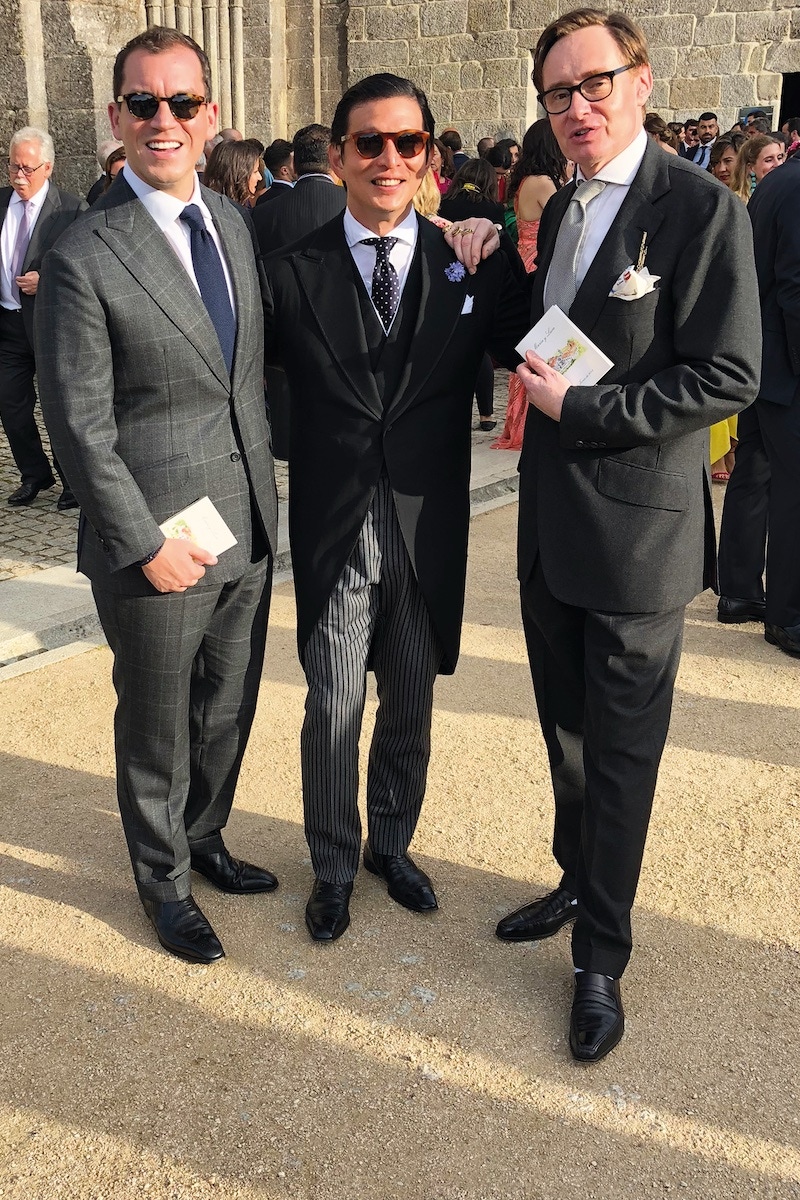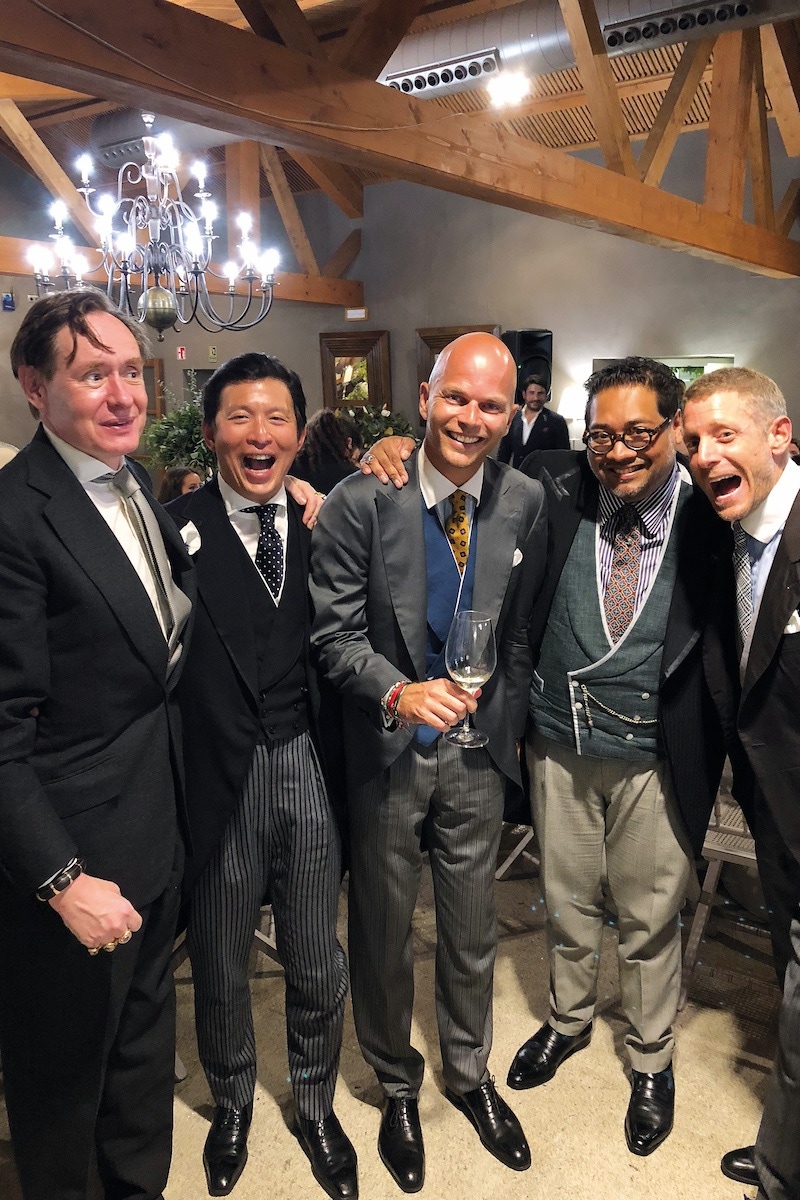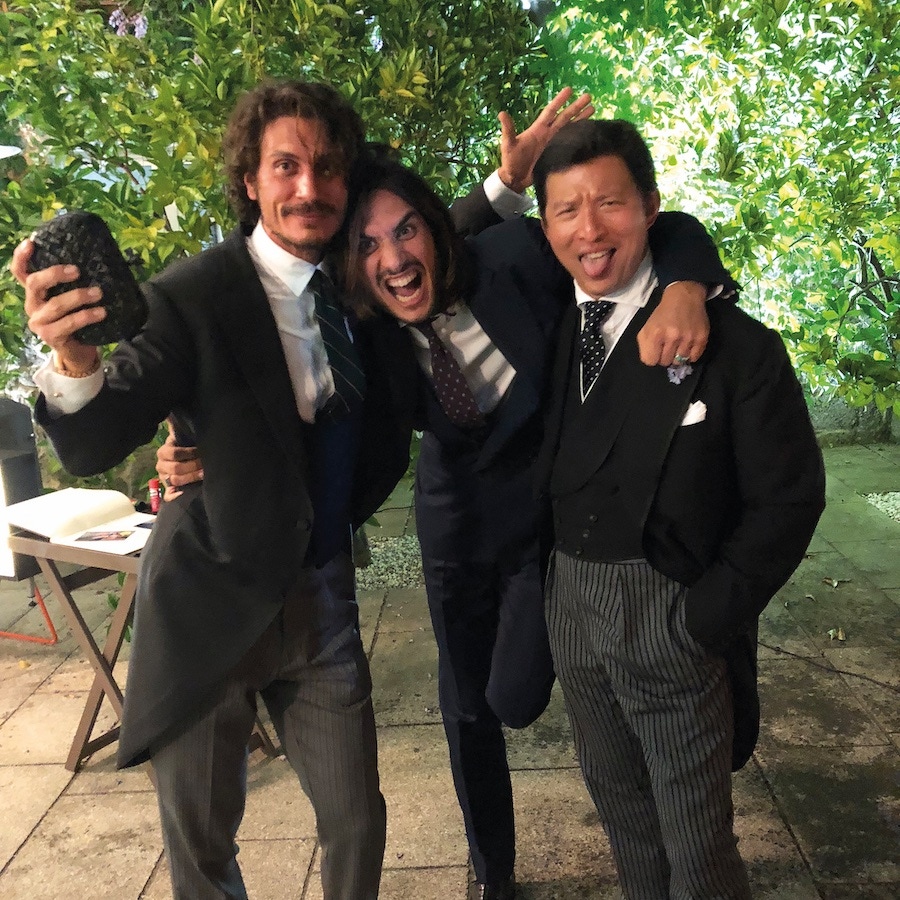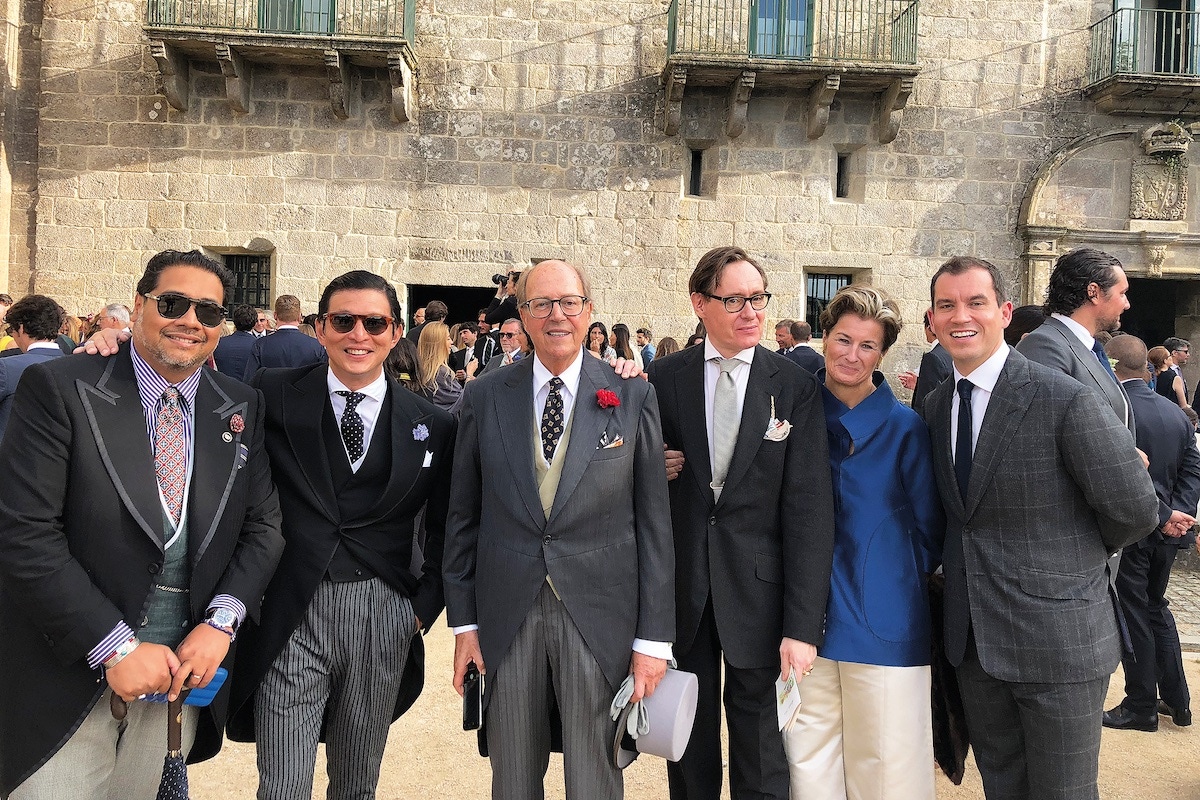 Of the various waistcoats, black is the most formal. Trousers are cashmere-striped and ideally high-waisted, fishtail-backed and worn with braces. Shoes should be plain cap-toed Oxfords sans brogueing and polished to a military-parade-square gleam. The alternatives at the races and other equestrian-associated milieus are Jodhpur and Chelsea boots. Shirts should have a white collar and cuffs, and ties should be fastened in place with a stick-pin. It goes without saying that boutonnières and pocket-handkerchiefs are
de rigueur
. The crowning glory of morning dress is the silk top hat, but as the factory for actual silk head-dress burned down many decades ago, and took with it the recipe for this particular silk, today's hats are rabbit fur, finished to a high sensual lustre. Finally, a thin, elegant and perfectly furled wood-handled umbrella is considered correct. Aha, but what about the grey morning suit, you ask? Well, at one point this was considered a more casual alternative to the black morning suit, until it caught on, in particular at Royal Ascot. Incidentally, a grey morning coat is traditionally accompanied by a matching grey top hat. There is one man who has done more to make the grey morning coat a truly viable alternative, even at occasions as formal as weddings, and that is none other than the sartorial panjandrum that is H.R.H. Prince Charles, who owns possibly the most magnificent morning coat on Earth in mid grey, cut for him by John Hitchcock when Hitchcock was at Anderson & Sheppard, and which Charles wore to the wedding of his son Harry and Meghan Markle. My attitude towards attending Royal Ascot suddenly changed during a chance conversation in a West Village bar in New York City. I was there meeting my friend James Fayed, the owner of Turnbull & Asser and all-round wonderful human being, when he introduced me to his brother-in-law 'Truck' (bestowed this sobriquet for his imposing stature belied by a genteel persona). In addition to being the proprietor of said West Village bar, Wogies, which makes a sublime Philadelphia cheesesteak with the added bonus of not having to venture to the cultural wasteland that is Philadelphia, Truck had also attended Ascot. And this was his takeaway: "I have never seen so many elegantly dressed people that drunk before in my life. There were people actually passed out in full morning dress in the bushes." Suddenly my eyes grew bright and my nose began to twitch, like a dachshund in the general proximity of a veal sausage. Because there is nothing, and I mean nothing, that I like more than an alcohol-fuelled misadventure. And then Truck said the magic words: "Dude, wait till you visit the enclosure for the people from Essex, those guys take drunkenness to a whole different level." That was it: challenge accepted! Plane ticket booked. I rang up Shary, desperately trying to convince him to let me join him on that fateful day.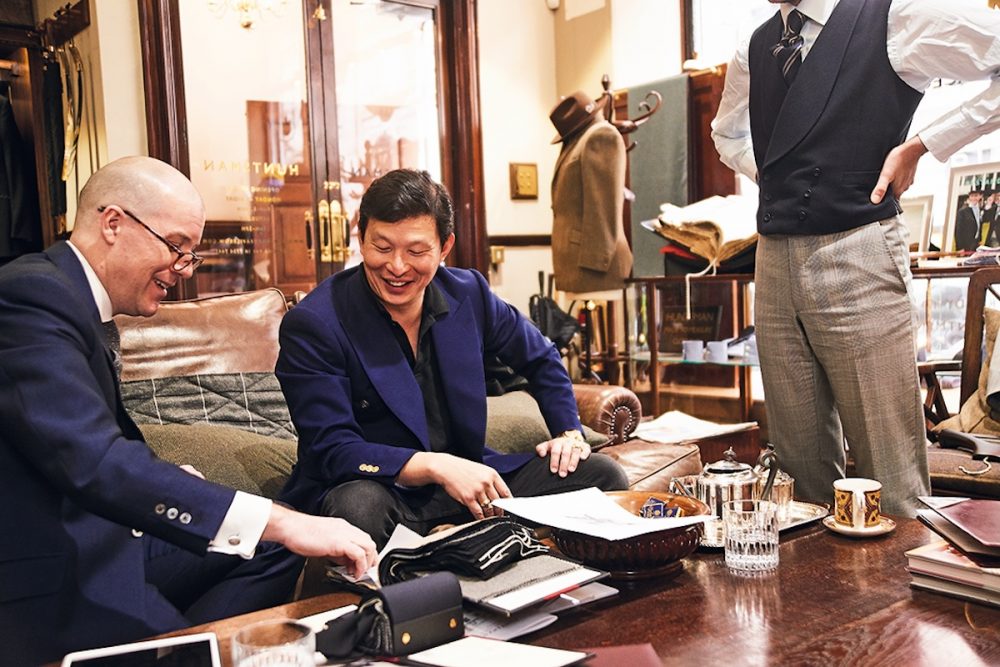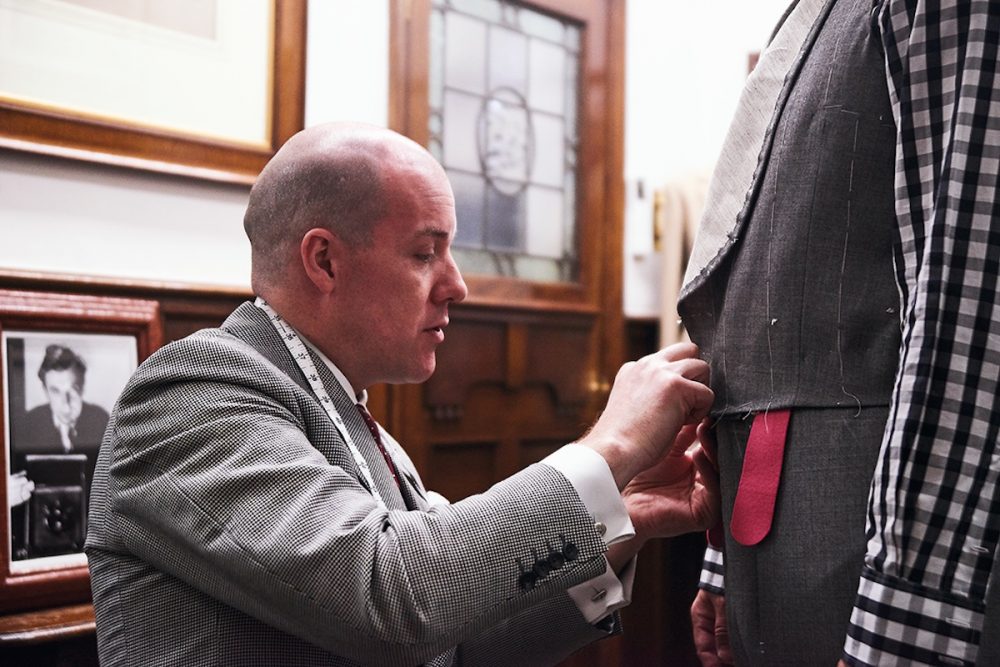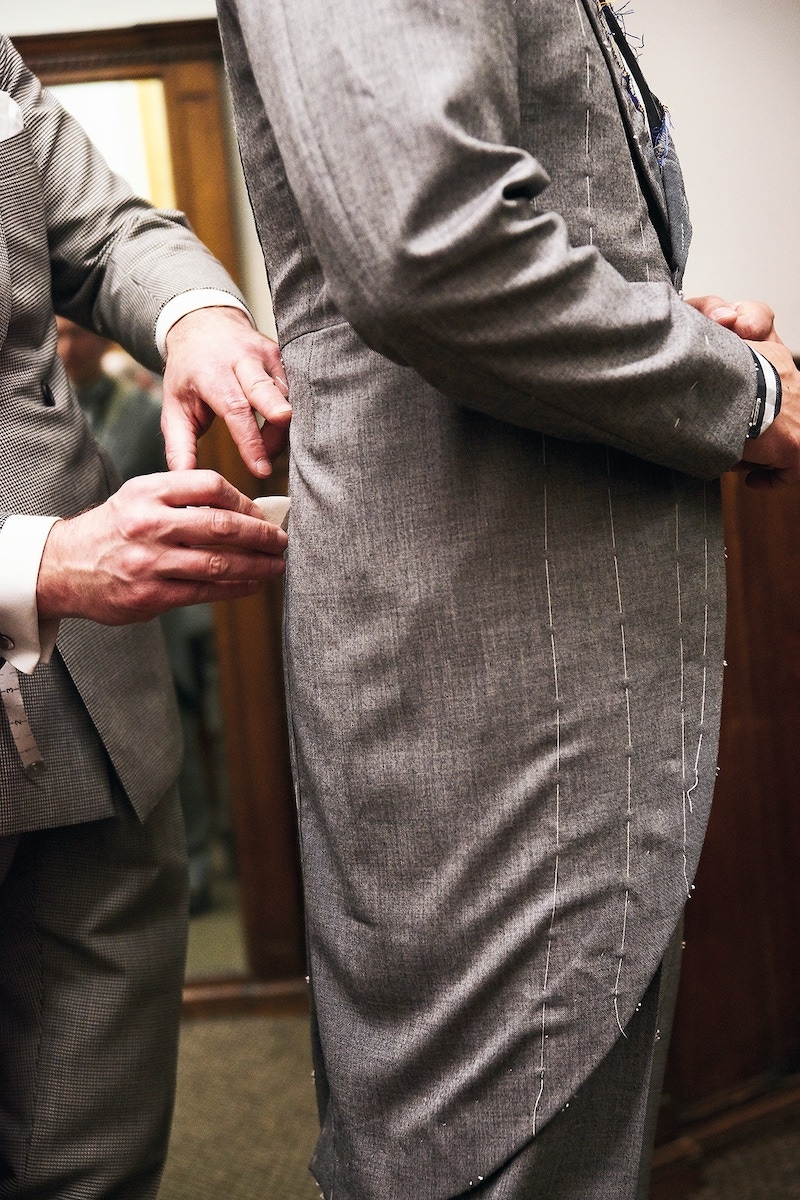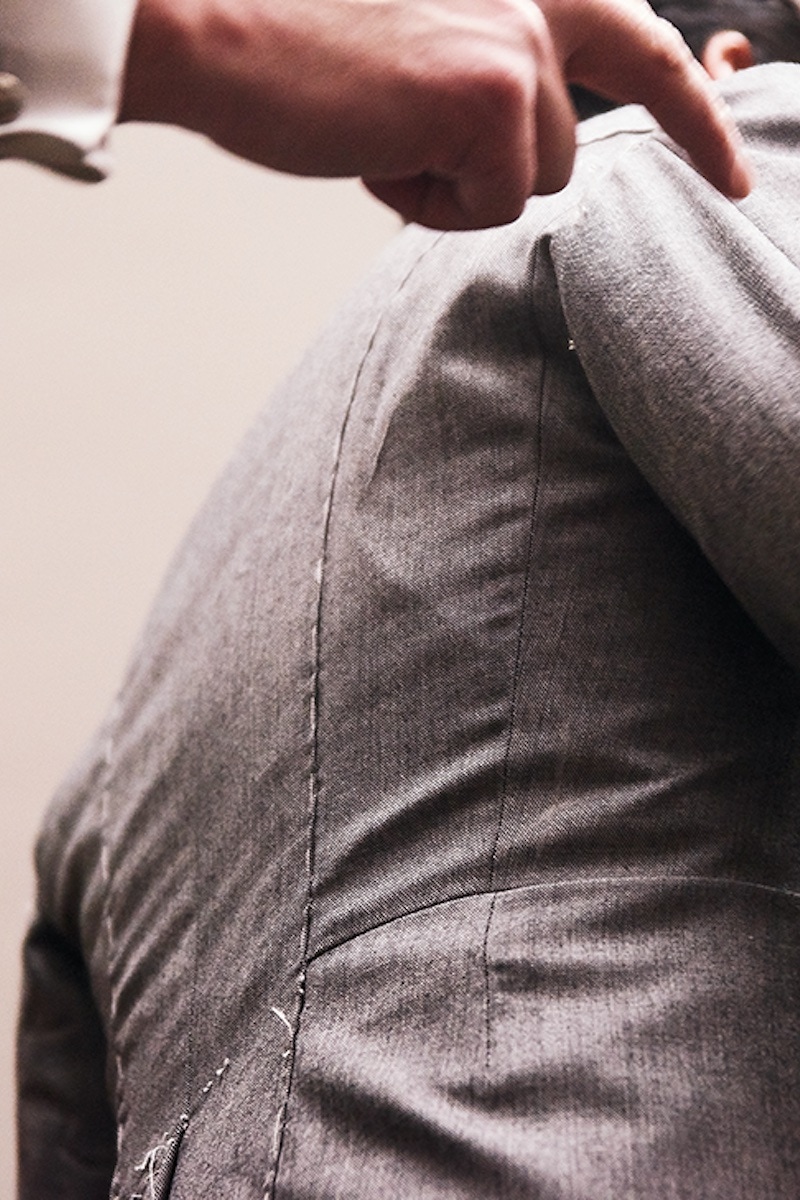 One major hurdle still existed: I was bereft of a morning suit. I was about to contact my favourite tailor, Lorenzo Cifonelli, when Shary, also a devotee of Lorenzo, advised me differently. He explained: "Because morning dress is such a big part of British culture, I would suggest that you go to a British tailor to get it really perfect and correct." But whom? And also, what was this going to cost me? I couldn't imagine bespoke morning suits came into being particularly accessibly. While puzzling over this at New York's Soho House bar, negroni in hand, I miraculously crossed paths with a man I admire deeply. Pierre Lagrange is so successful in his work in finance that Nick Foulkes has taken to introducing him to people with this statement: "Please meet my friend Pierre. He invented money." However, his success is also accompanied by kindness, brilliance, charm and courage, making him one of my favourite people in the tailoring business, as he is, in his spare time, the owner and director of Huntsman. He explained to me: "We've just started a new project, a level of production just below our traditional bespoke. The clothes are all cut in-house, but the making, which is at the highest quality, is done off premises. I would propose to make you two similar garments for you to see if you can ascertain any subtle differences between these two services. I won't tell you which is which but I'll leave it to you to intuit. Are you game?" I was so bowled over by his generosity that I think a good quantity of my negroni dribbled out of my mouth as I hastened to say yes. And I had the two perfect occasions to wear said morning suit: to Royal Ascot with Shary and to the wedding of my dear friend and scion of the legendary Neapolitan tailoring dynasty that bears his name, Luca Rubinacci. Dario Carnera is the son of John Carnera, who (along with George Glasgow Sr.) is a spiritual descendant of the legendary George Cleverley, London's most reputed and distinguished bespoke shoemaker. Dario is a brilliant tailor and an incredibly humble, sincere and approachable man. Taking Shary's advice, I placed myself entirely in his hands, with implied trust that he would prevent me from looking like a crazed Asian interloping arriviste in the Garrick Club tent in the Royal Enclosure. For the black morning suit jacket and waistcoat, Carnera selected a 10-and-a-half-ounce feather weave, which is a very small herringbone considering it would be worn during summer. "This is the most classic cloth used for morning coats," Carnera said. He added a grey double-breasted waistcoat to this ensemble, which he said he would prefer if I decided to wear the black jacket to Ascot. He explained: "This vest is from 10-and-a-half-ounce dove-grey hopsack wool — also a classic for morning dress." Both waistcoats would be fitted with the prescribed dress slips. The first example of his steady guidance appeared as I started to lean towards the more boldly striped pattern for the 'cashmere' trousers, which he subtly explained might be "a bit much" — in other words, would make me look as though I'd escaped from a circus tent. He added: "The term cashmere refers to the stripe and not the cloth, which is 100 per cent wool." For the grey morning suit he selected a 10-and-a-half-ounce pick-and-pick weave wool otherwise known as sharkskin, which is the preferred option if you want a morning suit in all one colour.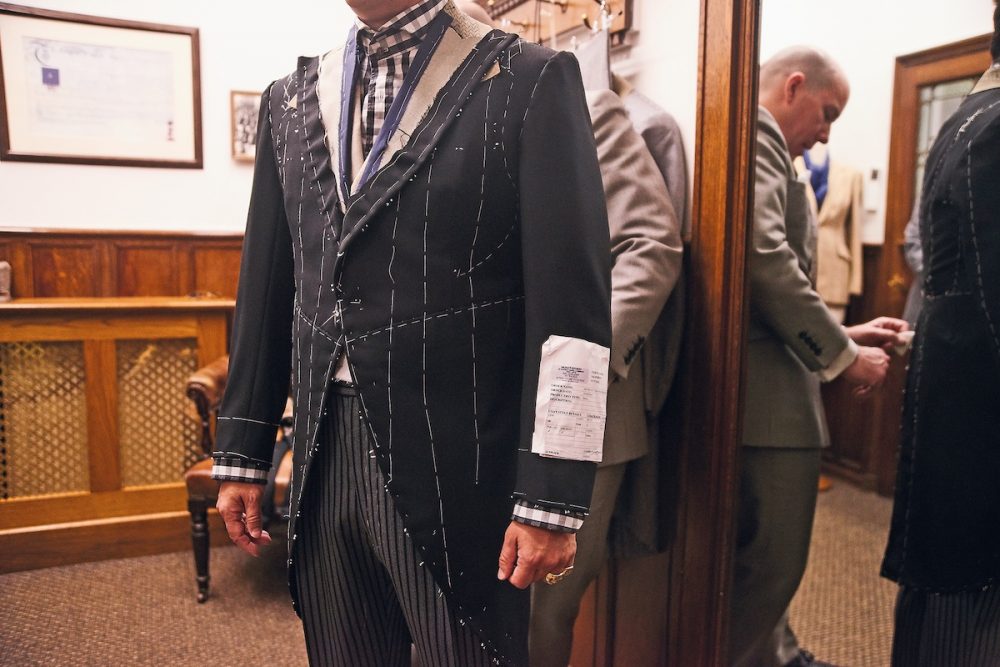 Hastening to complete my sartorial arsenal, I made my way to Paris, where my friends Anne-Marie and Jean-Claude Colban, the sublimely erudite and charming owners of Charvet, where I've made my shirts for the better part of two decades, helped me select the appropriate shirts and ties for the suits. For the grey suit we landed on a gold-striped shirt with a matching tie, which is a bit of an homage to Robert Redford's signature look in
The Great Gatsby
. Amusingly, my dear friend Alexander Kraft, who accompanied me to Charvet and who would join us at Ascot, said: "Well, I couldn't do that but for you it works." Which I took to mean that people expect me to turn up in mildly insane-looking outfits. For the black suit we decided on a red-striped shirt with a solid blue necktie, with all shirts featuring the requisite white collars and cuffs (barrel cuffs for me, as I dislike French cuffs and don't wear cufflinks). A silk cornflower boutonnière ordered from the Gentleman's Gazette and a turquoise stick-pin made by my friend Mike at Red Rabbit completed the picture. For shoes I selected the slightly rule-breaking brogue mock lace-ups made for me by George Glasgow Sr. 12 years ago: I wanted to wear them as they were my first pair of bespoke shoes, and, as we would be accompanied by his son and my friend George Jr., I thought it most apropos. The inappropriateness of my shoes was later pointed out by some social media pundit on Huntsman's Instagram, but alas you can't make everyone happy. Finally, my hat was fitted for me by Oliver at the mythical Lock & Co. on St. James's Street. And though a grey hat would have been more technically correct, I ended up selecting a black tall-crowned model (just in case, knowing my friends, someone decided to use it as a beverage holder). The hat, incidentally, is magnificent and, emerging unscathed from Ascot, takes pride of place in my headwear collection.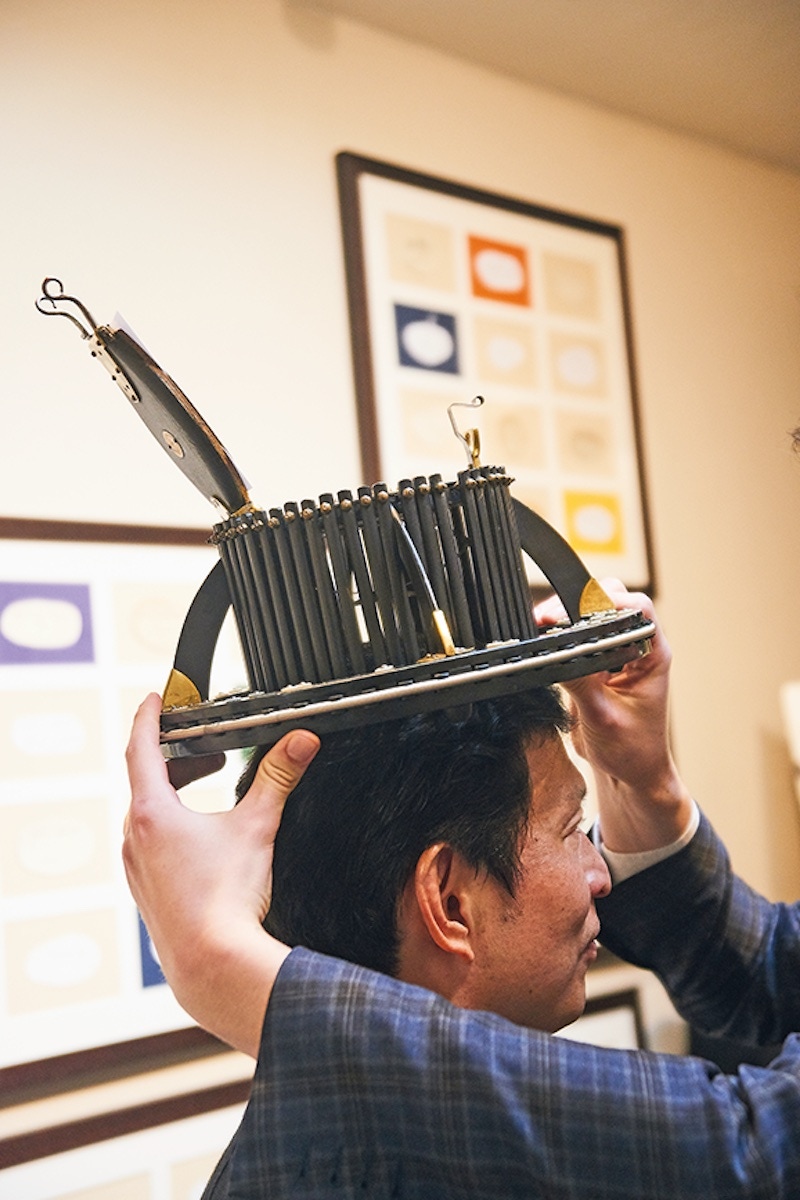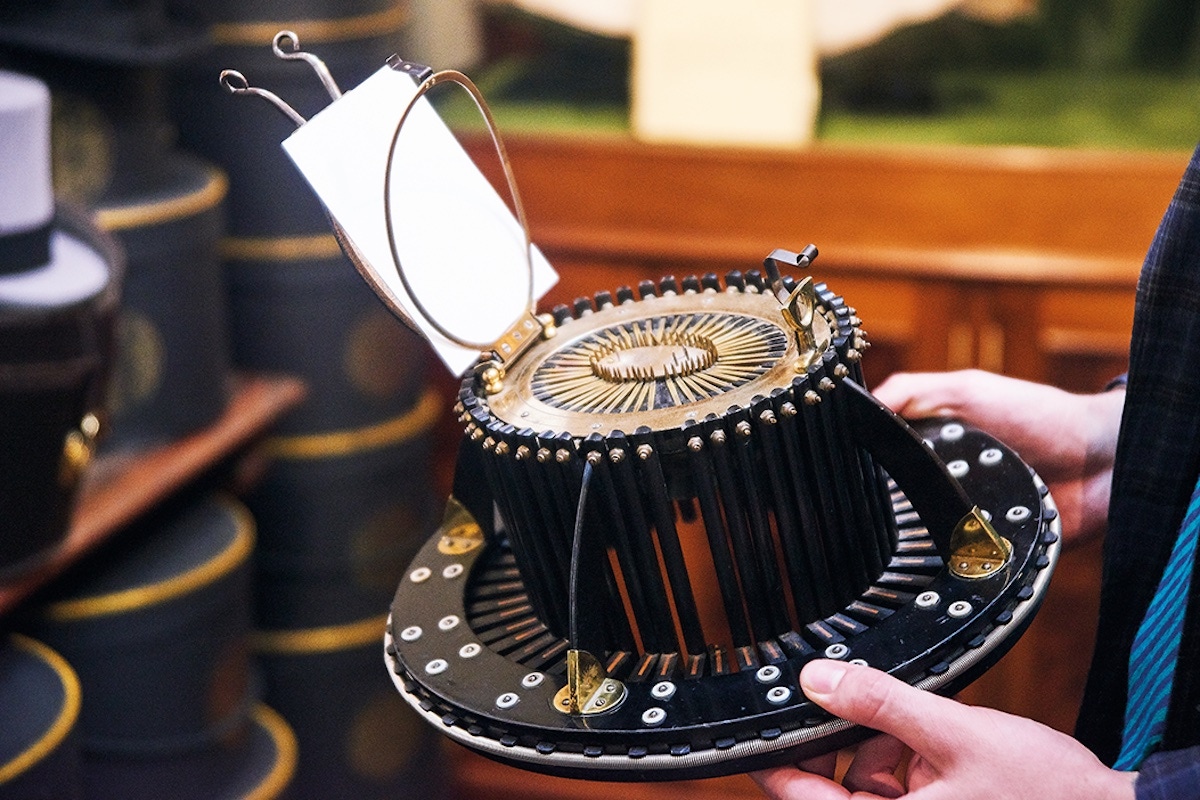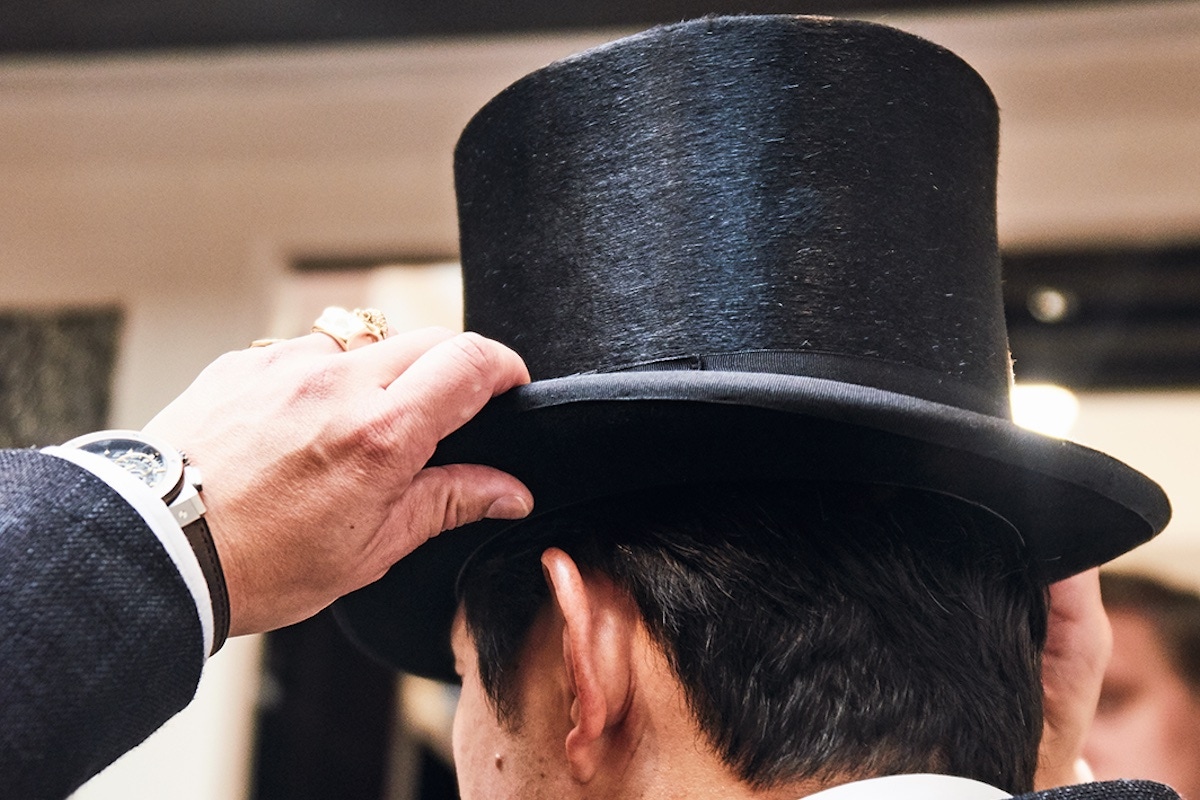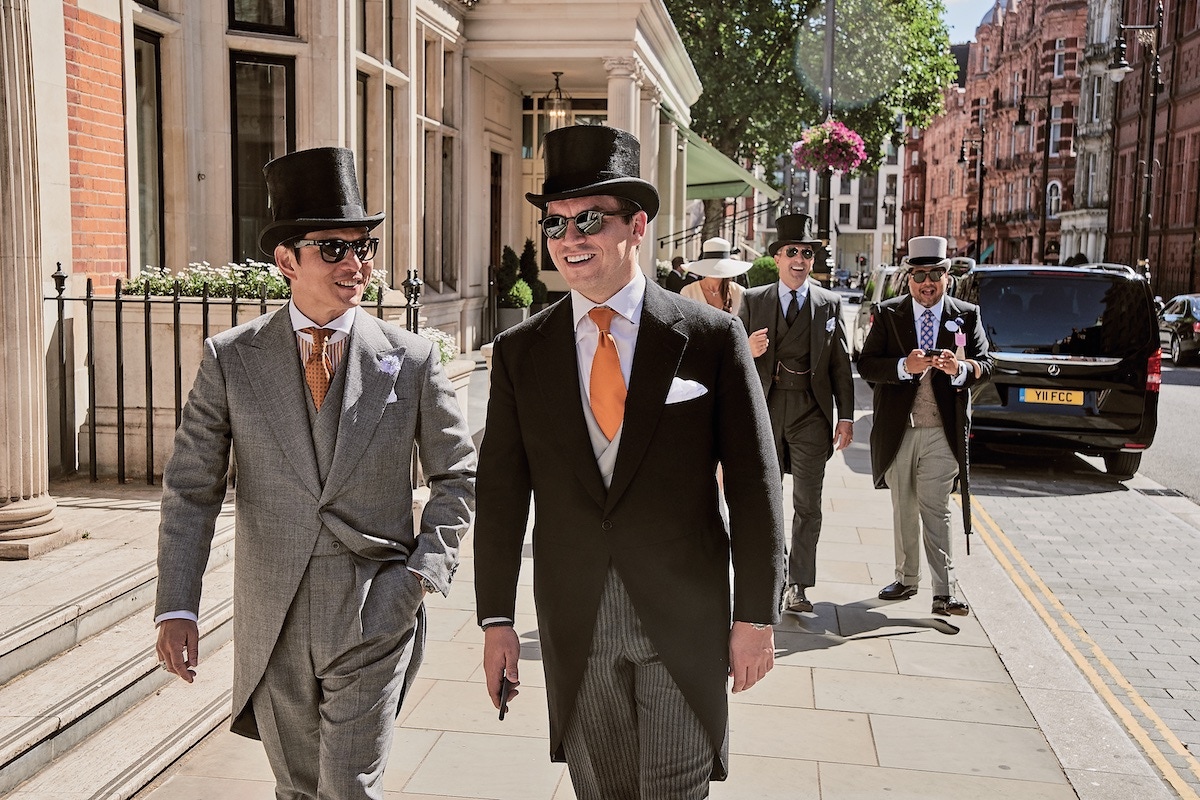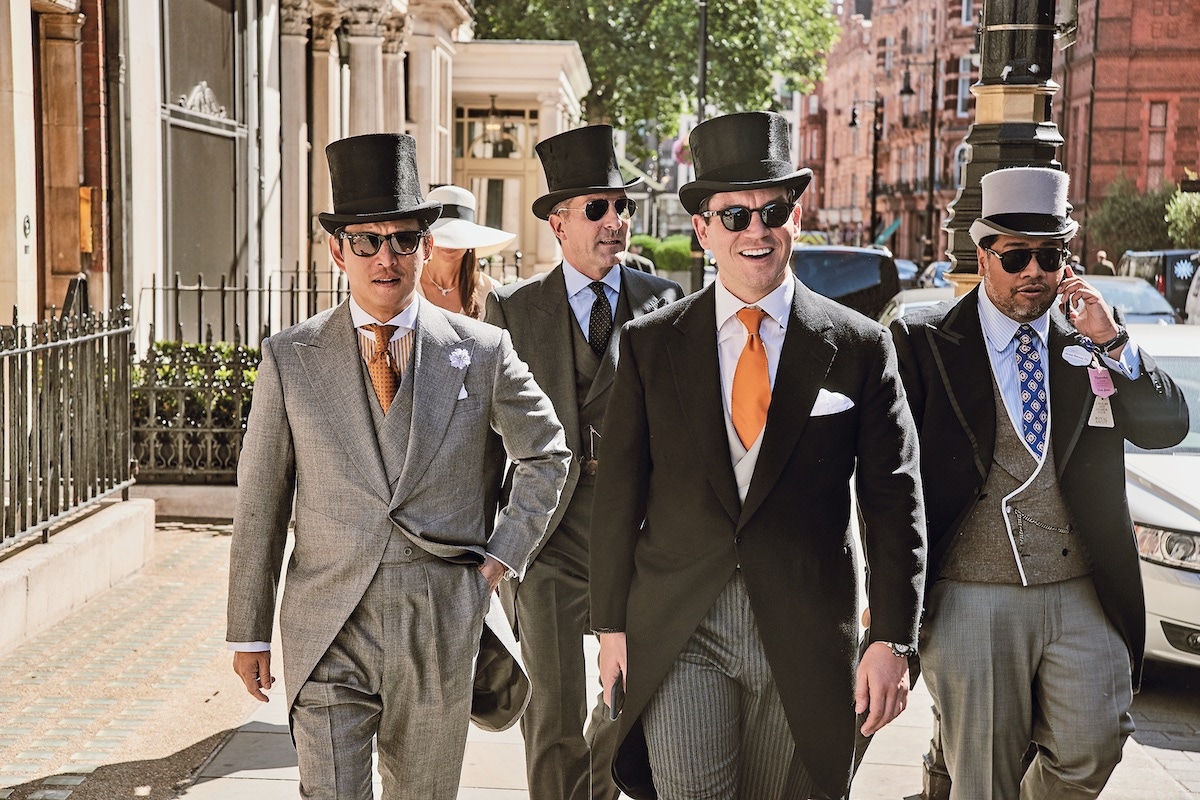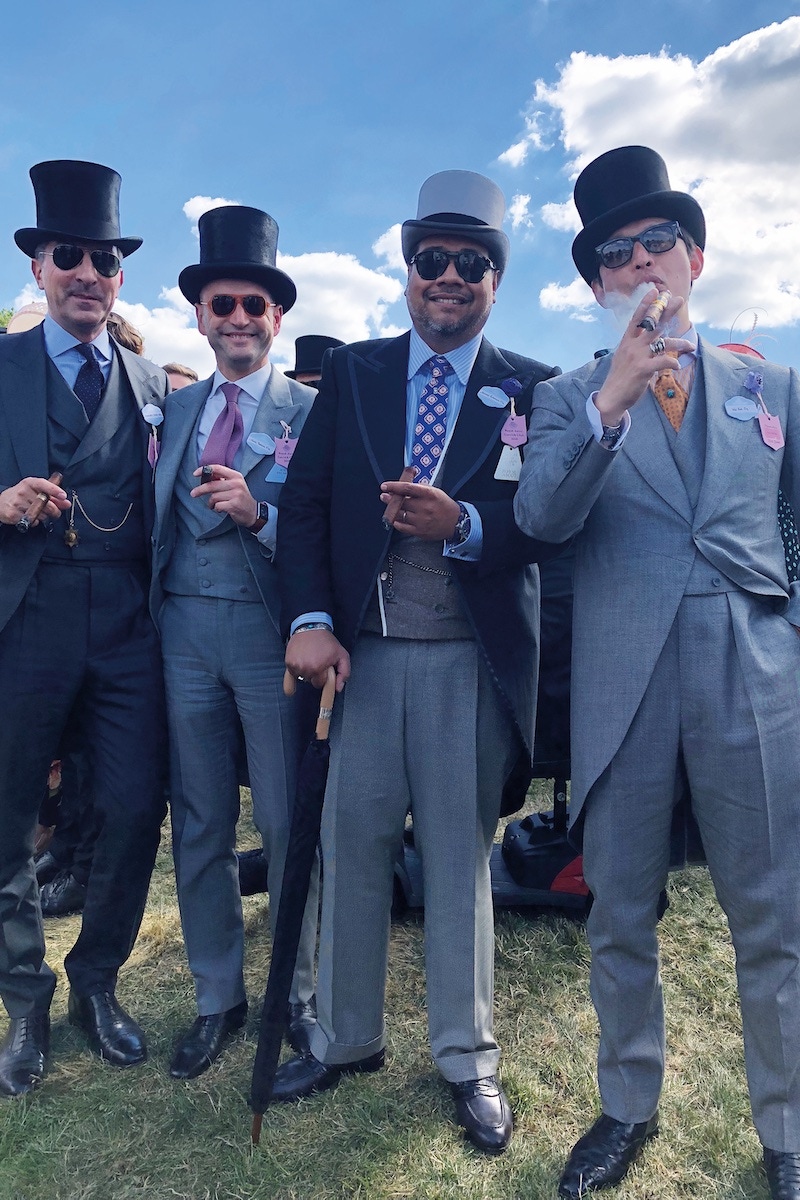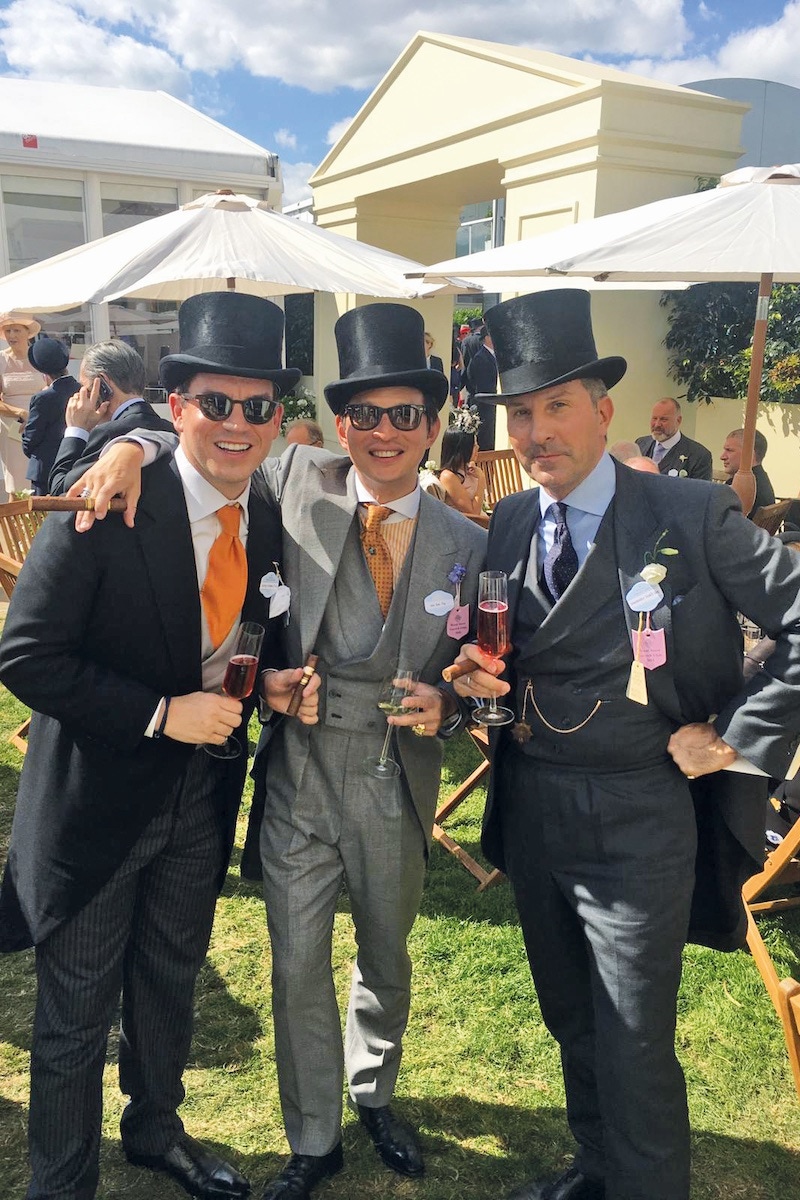 On the day itself we convened outside The Connaught hotel. Shary, Alexander Kraft, George Glasgow Jr. and I — as well as the hotel's dynamic General Manager, Max Binda, who was also Ascot-bound — proceeded to George on Mount Street to start imbibing as much champagne as we could. At the appointed time a procession of vehicles bore us to Ascot. Even on the road approaching the grounds, I was delighted to see drunken shenanigans flourishing like wildflowers, with inebriated ladies going for spontaneous tinkles by the roadside. The day was wonderful, with Shary, as always, the consummate host. Bets were made, money was won and lost, but memories of the charm, joyousness and entertainment will reside forever in the bank of my most treasured recollections. Amazingly, I managed to stay relatively sober until the evening, whereupon Kraft, Glasgow Jr. and I ensconced ourselves at the David Collins-designed bar at The Connaught, proceeded to order multiple truffle pizzas from Jean Georges, and consumed far too many martinis, after which it all became something of a miasmic blur. Now, the wedding of Luca Rubinacci, on the other hand, was both wonderful but fraught with peril. I say this because on the day I departed from Barcelona airport, the entire computer check-in system for Vueling airlines froze, causing a backlog of hundreds of frustrated travellers. If they were perhaps to upgrade their computer system beyond the mid-nineties Pentium processors, perhaps this wouldn't happen, but anyway, it seemed to bother very little the profoundly useless check-in staff, whose go-to response was a shrug of the shoulders and a smug expression, which will hopefully change once they die and go to hell and are having hot irons applied to their nether regions for all eternity. Upon arriving in Vigo, the charming medieval seaside hamlet where Luca was holding his wedding, I was informed that zero luggage had been loaded onto the plane, despite the fact that the flight had been delayed by a good two hours. Fortunately, Huntsman had sent my black morning suit to the Hotel Nagari, which I have to commend for its stellar staff. However, the situation set in motion a rampant series of purchases, including one Borrelli white shirt, a polkadot Dolce & Gabbana necktie, knee-length Brioni black socks, and a pair of black Dolce & Gabbana lace-ups. After racking up a substantial credit card bill, to my amusement my luggage arrived the following day, 10 minutes before the wedding. However, by that point I had only time to change into my Cleverleys before heading to the church. The wedding was marvellous, joyous and charming. And the moment that made this entire misadventure worthwhile was when Maria, Luca's wonderful wife, remarked, "You look great!" When the wife of the proprietor of Naples' most storied tailoring dynasty says that to you, you can but blush in gratitude. It was also a wonderful moment to share with my friends Shary, George, Andrew Seibert and his wife, Lisa, the Guardì brothers behind Barbanera, Alessandro Squarzi, and Fabio Attanasio. And of course typical of Vueling/Iberia, which takes pole position as the worst airline on Earth, they lost my luggage on the way back as well. But airline disasters are temporary and a magnificent morning suit and the memory of wearing it in great company are for ever. This article originally appeared in Issue 59 of The Rake.