Jamie Foxx goes Off Script
Given what you read about Hollywood stars, one might expect that a chart-topping, Oscar-winning, silver-tongued, good-looking comedic genius would, in reality, not live up to the sum of his parts. We can confirm that Jamie Foxx is every bit as awesome as he seems.
To watch an interview with Jamie Foxx is to understand what it is to feel your sides split with laughter. Full rupture, ribs blown out, eyes leaking, facial muscle pain situation. I challenge you to watch "Wheel of Musical Impressions with Jamie Foxx" on Youtube, which he performed on
The Tonight Show starring Jimmy Fallon
, and not trouble your pelvic floor muscles into sparing you a puddle of blushes. His comedy timing, his unflappable flow, his incredibly nuanced impressions combine to create a perfect funny storm, all delivered with a humble confidence that is hard not to envy. Yet being the joker has been Foxx's life since growing up in a small segregated town in Texas, where at school he would be used as a class reward:   
"Yes, that was back in Ms. Reeves' 3rd-grade class. I was always a disruptive kid so she told me that I needed to calm down. She said that if I behaved she would let me tell jokes that I learned watching Johnny Carson on the Tonight Show to the other kids in the class. In fact, I'm about to go back out on a stand-up comedy tour so I've been practising a lot. I've always had that ability. When I was a little kid, the only TV in our house was in my bedroom so I would stay up watching television, impersonating the jokes that I would see."
Today, as in 3rd grade, Jamie Foxx has a seemingly innate talent to slap smiles on people's faces, as evidenced by
Grey Goose Off Script
(greygooseoffscript.com), a new web mini-series he hosts, in which he interviews Hollywood stars in his signature playful and teasing manner, opening up as close to the real-life sides of the likes of Denzel Washington, Benicio del Toro, Melissa McCarthy and Chadwick Boseman, as a public audience is likely to see. Sat on a purple crushed velvet sofa in the back of a spruced up studio trailer, one gets the impression that what you see is what you get with Foxx: an astonishingly grounded and humble human being despite the fame, wealth, and accolades he has piled up for fun during his career that spans film, music, TV, stage and comedy.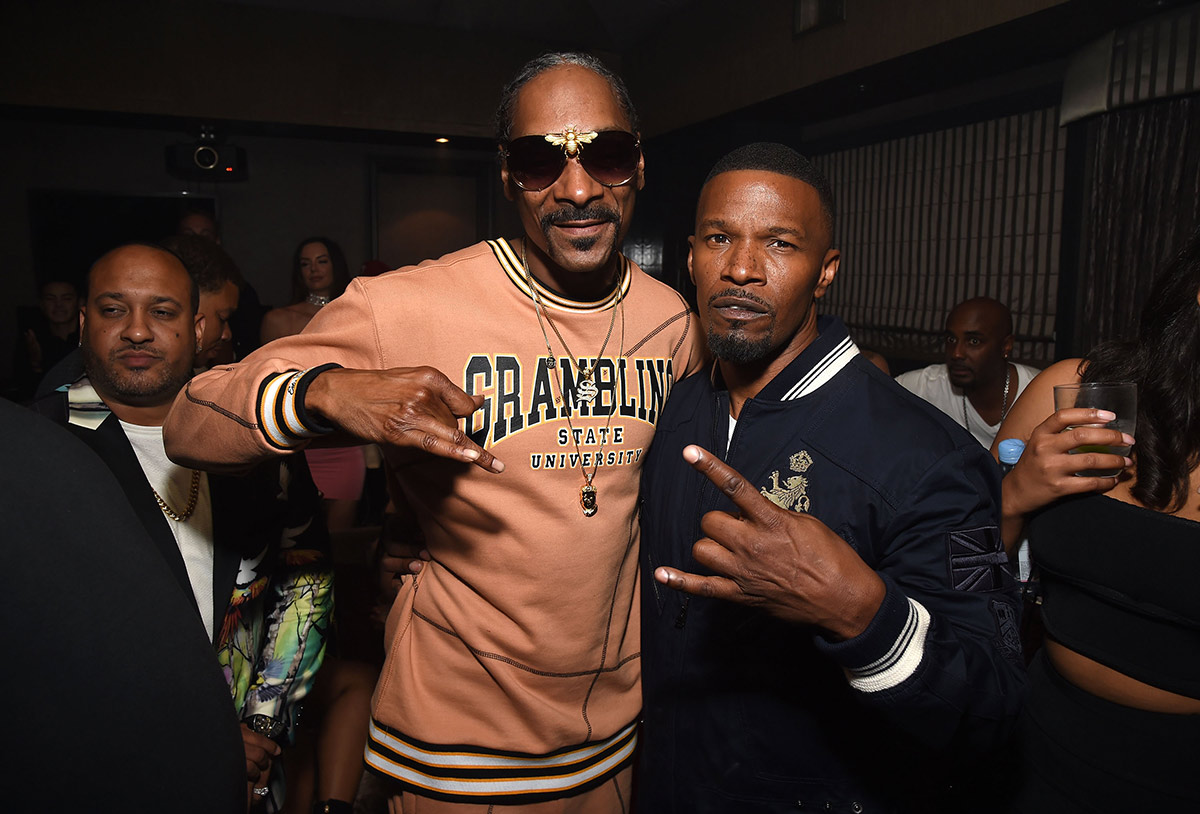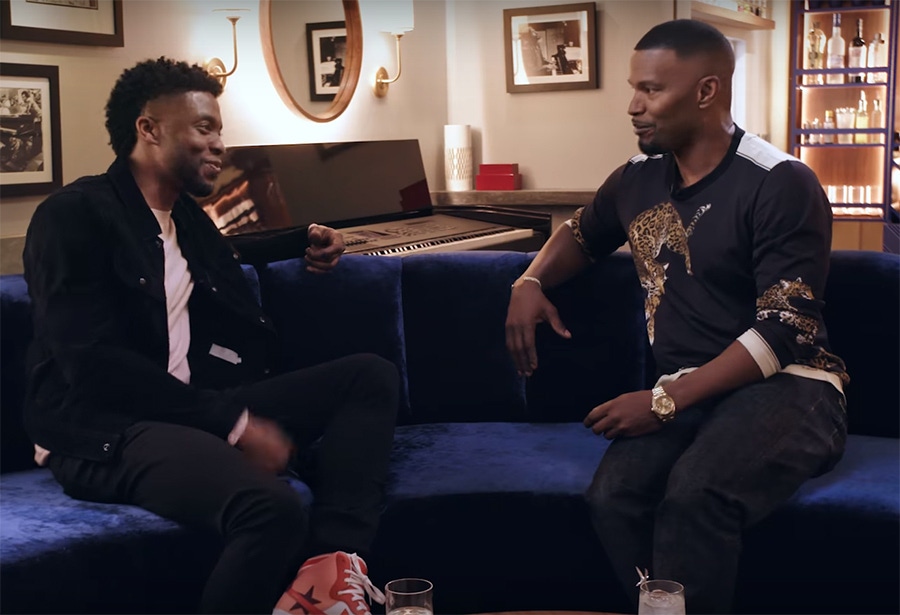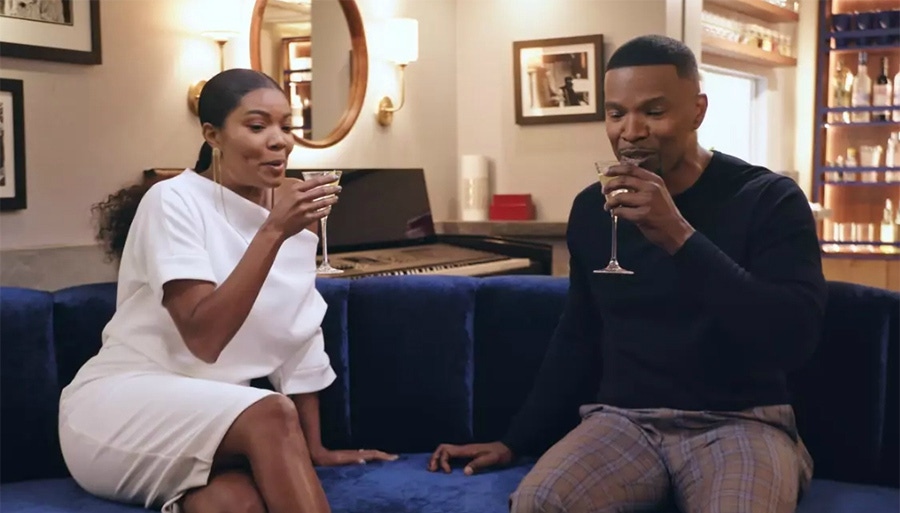 "To be honest, I don't consider myself famous, I really don't," explains Foxx. "I've always been the guy, my whole career, that people feel a familiarity to, not really a 'celebrity.' It's important to keep good people around that always keep it real with you. My friends that I met when I first came to LA 30 years ago are still my same friends. We all still kick it and laugh."
Born Eric Marlon Bishop in 1967, (he changed his name to Jamie Foxx when he discovered that female comedians were more often than not called out first to perform at improvs in Los Angeles), Foxx's young life wasn't exactly framed by misery and destitution but it was far from plain sailing: adopted and raised by his mother's adoptive parents in a strict Baptist household in the racially segregated town of Terrell, Foxx had very little contact with his birth parents. His grandmother duly took on the mantle as an omnipresent source of strength and guidance in his life:
"I owe my grandmother everything. Not only did she teach me confidence, but she was the one that insisted that I take classical piano lessons. She always said it would 'help get me on the other side of the tracks.' At the time, we were living in a small town called Terrell, Texas - population 12,000. Thanks to my grandmother, I was able to get a scholarship to a music college in San Diego and the rest is history."
And what a history. From playing the obscenely ugly "Wanda" in the 90s skit show
In Living Colour
, to winning an Oscar in his superlative performance as Ray Charles (or as Sintra called him, "the only true genius in the music business) in the 2004 biographical masterpiece
Ray
and a Grammy Award-winning double platinum musician (not to mention joining the holy cabal of only four artists to have won both an Academy Award for an acting role and to have achieved a #1 album in the U.S; the other three being Frank Sinatra, Bing Crosby and Barbra Streisand), almost everything that Foxx has touched has turned to proverbial gold. That's not to say that success just followed him around. If anything Foxx was a Hollywood entrepreneur, a hustler determined to insert himself into the right places at the right times, swapping phone numbers with the right people (and you better bet he called them up). In fact, his talent for networking is legendary: Foxx's house parties he used to throw in the late 90s and early 00s in LA are things of Hollywood lore:
"Those parties are what helped me get into the music business" he says. "I had a studio at my house where artists could come and record songs - my one rule was they had to leave me 16 bars. And long story short, through those connections, I ended up doing
Slow Jamz
with Kanye West and Twista and that's what made my music career take off."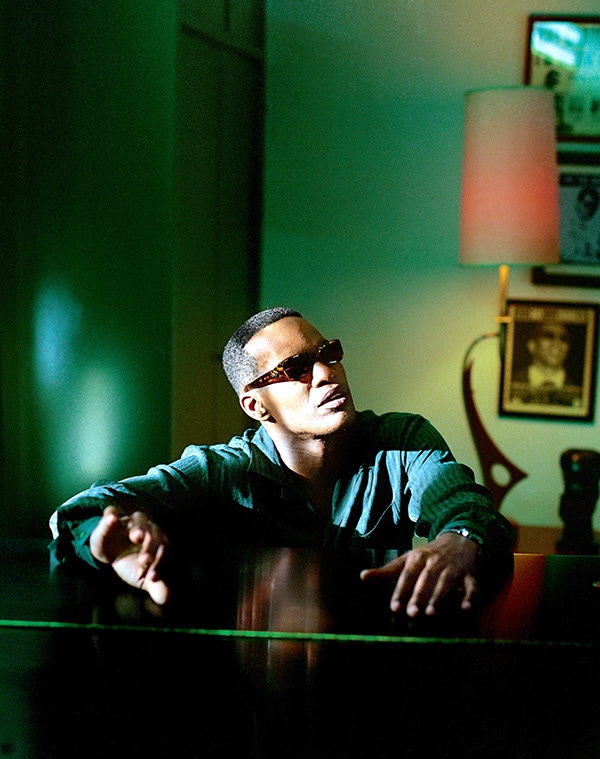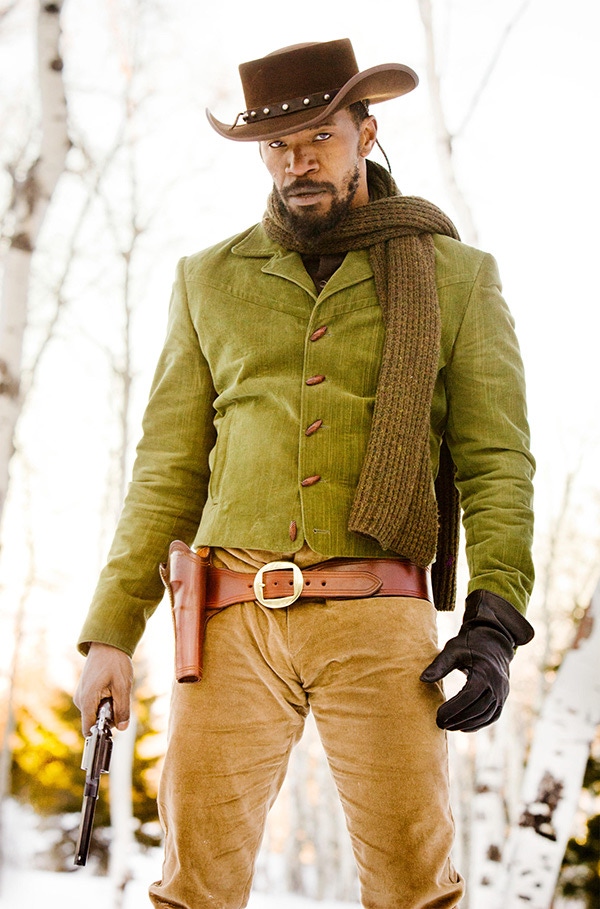 Then there's the tale of Foxx pretending to be a documentary maker so he could get into Diddy's $1.5 million shindig, only to invite the rapper to one of his parties, claiming that it will be bigger and better and cost him no more than $400. Would you bet against him? And that is the allure of Jamie Foxx: you never quite know what to expect next, which is why putting him on a velvet sofa sat next to Hollywood legends - as he is on
Off Script
- is a recipe for hilarity, but also candid conversation.
"One of the guests who surprised me the most was Denzel Washington," says Foxx. "He is such an icon. It was amazing to have him on the show. I had no idea he was a garbage man before he became an actor. He had regular jobs coming up in Mount Vernon, NY. His dedication to the craft of acting is incredible. And – we found out that D loves Cardi B! We even got him to sing a bit on the show. I love all of the guests equally, but if I had to choose to swap lives for a day with one of them, it would probably be  Jeremy Renner. He's such a badass and so talented. After the Off Script interview we did, we actually found out we are going to be working together on Spawn. I can't wait to work with him."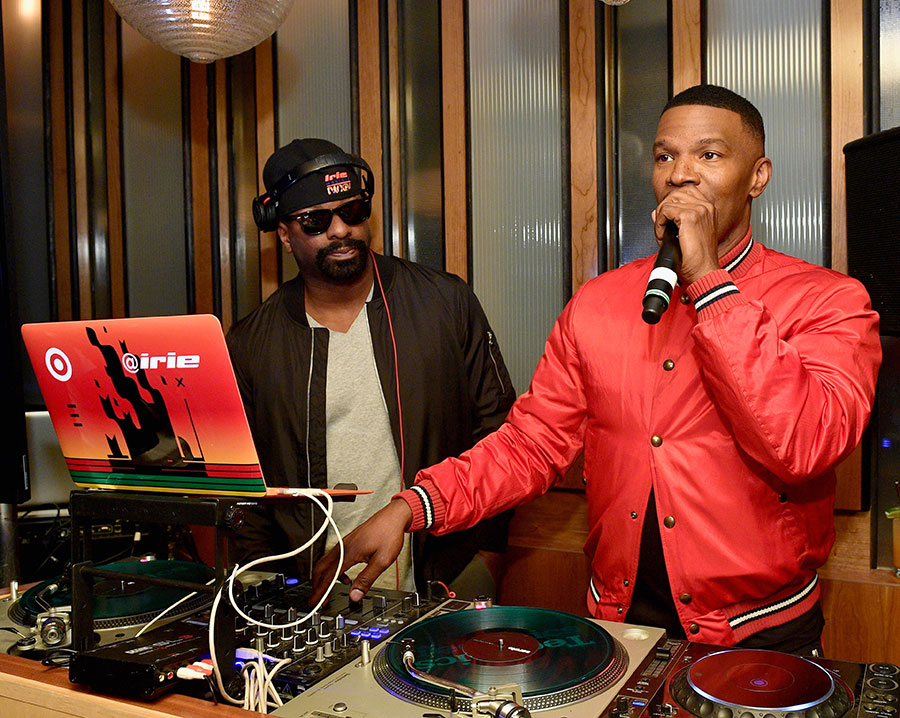 This year, Foxx has also had the pleasure of working with his oldest daughter, Corinne on the TV game show
Beat Shazam
which Foxx produces. "Man, I'm so happy for Corinne. She's really doing her thing. And she's so good on
Beat Shazam
season 2. It's amazing to see your kids blossom. She walked in the Dolce & Gabbana fashion show and I was the proud dad holding two cameras sitting in the front row. She's embarrassed by me, but that's ok. We have a blast working together on the show."
To be fair, you'd have to be some kind of clinical misanthrope not to have a blast with Jamie Foxx. If you're not yet perturbed by how likeable and talented he is, the fact that he is constantly well turned out might be the straw that breaks the camel's back. You'd be hard pushed to find a better template for summer dressing and punchy formalwear than Foxx's wardrobe in
Ray, 
while off-screen he spins a deft mix of high fashion brands, tailoring and streetwear ("
My guy Jack Manson keeps me right!), 
which for a man dipping his spritely toes into his sixth decade is no mean feat. He is, in short, an all-singing, all-dancing, powerhouse of contemporary entertainment and there's little evidence to suggest he's going to slow down any time soon.