La Belle et la Bête: Birkin & Gainsbourg
Serge Gainsbourg and Jane Birkin were the golden couple of their generation, and their grand amour continues to inspire and fascinate.
For a pair of lovers whose passionate and tempestuous affair made them the glamorous poster couple of their era, their first encounter on the Parisian film set of
Slogan
in 1968 could scarcely be described as love at first sight. The stunning upper-class British actress starring in the low-budget French flick complained bitterly to her visiting brother, "He's horrible! … Serge Bourguignon! The man in the film with me. He's meant to be my lover but he's so arrogant and snobbish and he absolutely despises me!" Then again, the unlikely beginning of Jane Birkin and Serge Gainsbourg's tumultuous relationship entirely befitted the unlikely coupling. Her, the dewy 22-year-old ingénue from Chelsea (infamous for becoming the first actress to go full-frontal in mainstream cinema in the 1966 film,
Blow-Up
) with the leggy thoroughbred gait, unforced beauty and effortless style, and him, the louche,
jolie laide
40-year-old musical genius as revered for his exceptional way with a lyric as he was notorious for his Gitanes- and alcohol-fuelled hard-partying lifestyle — no wonder the press and public were mesmerised by this seemingly far-fetched yet strangely perfect union of opposites. Controversy trailed in Birkin and Gainsbourg's wake from the get-go. Singer, songwriter, composer, pianist, painter, auteur, author, gambler, Pygmalion, alcoholic, poet, lothario, actor, misanthrope, provocateur, a modern-day Baudelaire, a 20th-century Rimbaud, flâneur, French national treasure and the list goes on — there is no pithy way of summing up who Gainsbourg was and why his prolific artistic output continues to be so influential over two decades since his demise (everyone from Portishead to Beck, Madonna to Sonic Youth, Air to John Zorn have declared him as a profound influence). His and Birkin's place in the pop-cultural pantheon was cemented by '
Je t'aime…moi non plus
'. It may sound relatively tame to the contemporary listener jaded by the twerking hijinks of the Miley Cyrus generation, but back in the day, the duet became quite the cause célèbre. Gainsbourg had originally recorded the song with screen siren Brigitte Bardot, with whom he was having an affair after his first two marriages ended in divorce. For fear of incurring the wrath of her husband, Gunter Sachs, the multi-millionaire German playboy and scion of the Opel motor dynasty, Bardot begged Gainsbourg not to release the recording with its explicitly sexual lyrics, backing of ecstatic feminine sighs and climatic culmination in the finale. Gainsbourg acquiesced, re-recording it in 1969 with Birkin. Thanks to its unabashed eroticism, Gainsbourg and Birkin's romp on vinyl was condemned by the Vatican and banned by the BBC, thus catapulting it right to the top of the British charts.
"Thanks to its unabashed eroticism, Gainsbourg and Birkin's romp on vinyl was condemned by the Vatican and banned by the BBC, thus catapulting it right to the top of the British charts."
If one were to conjecture a typical day in the life of the Gainsbourg/Birkin household based on the countless paparazzi snaps of this golden couple throughout their 13-year affair — they never married — one might get the simplistic impression that life was one long night on the tiles, dressed to kill. Lithe and lovely, Birkin had the sort of fabulously androgynous figure that had designers like Balenciaga, Yves Saint Laurent and Givenchy queuing up to dress her. She was never without her voluminous wicker basket — these were the days before she met Jean-Louis Dumas, then-Chairman and Artistic Director of Hermès, on a flight to London in 1981, who offered to design a travel bag capacious enough for Birkin's needs and which has since gone on to become the brand's most coveted style of
maroquinerie
. Gainsbourg was always in impeccable tailoring — often pinstriped — inimitably accessorised with his dishevelled, devil-may-care and debonair attitude and his signature pair of white Repetto jazz shoes, always worn sockless. When the two children were young, the couple's ritual was to feed them dinner in the evening, tuck them into bed, get dressed to go out for dinner then stay out all night club-hopping, returning just in time in the wee hours for the school run, sleep through the day, then fetch the girls from school. Rinse, repeat. The conclusion that life for Gainsbourg and Birkin was essentially a non-stop dusk-to-dawn bacchanalia, punctuated by the odd parenting duty or two, is all too easy to make. In December 2013, Birkin's brother Andrew Birkin, whom the couple was very close to, put together
Jane & Serge: A Family Album
, published under the aegis of Taschen. A familiar presence in the couple's life throughout their relationship, Andrew Birkin was an avid photographer and took thousands of candid photographs of his sister and Gainsbourg, few of which have ever been published. The book offers a rare, authentic, intimate and far more accurate view of daily life for the couple. Much like Andrew Birkin was instantaneously captivated by Gainsbourg — outrageous one moment and introspective the next, with an outré sense of humour and rapier wit — the rest of the Birkin clan (mother, Judy Campbell, the English stage actress and Noël Coward's muse, and father, David Birkin, a Royal Navy lieutenant-commander and World War II hero) took immediately to Gainsbourg, whom they met at the end of July 1968 during a visit to Saint-Tropez, where Jane Birkin was based, having landed the plum part of Penelope Lannier in
La Piscine
, also starring Alain Delon.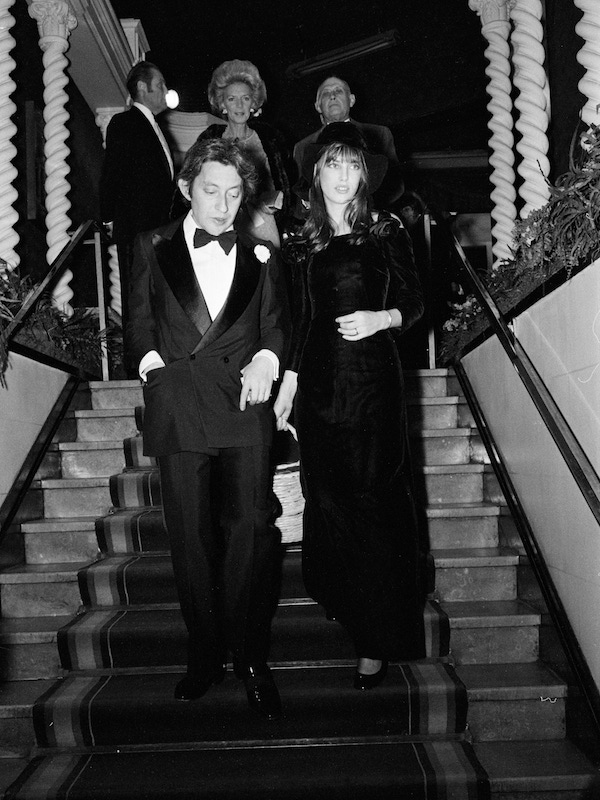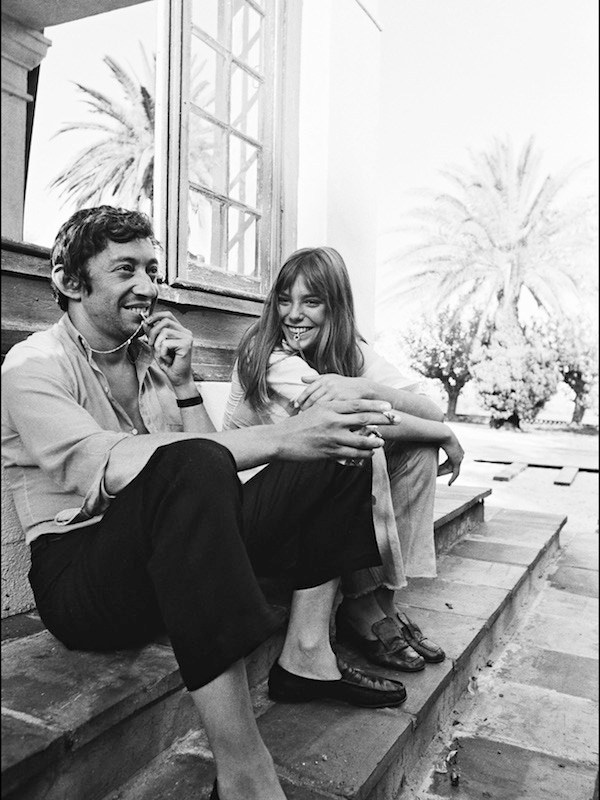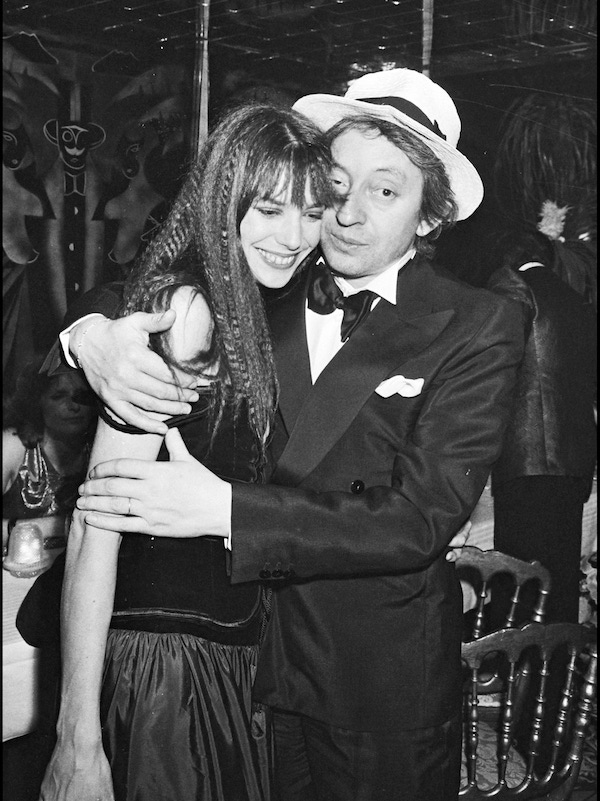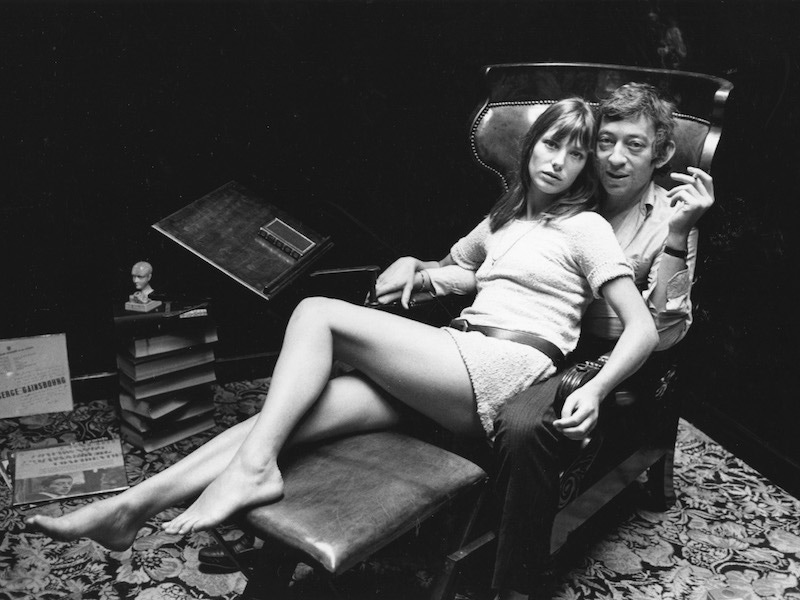 Gainsbourg loved to scandalise the public. When their daughter was 13, he recorded 'Lemon Incest', a risqué duet which included the lyric "the love that we will never make" and a video of two of them lounging in bed. While designed to shock, his true intention, according to Birkin, Charlotte Gainsbourg, as well as family friends, was to record a pure love song from a father to a daughter. Other stunts which provided Gainsbourg much gratification included his reggae rendition of 'La Marseillaise', setting alight a 500-franc bill on live television to show how much money he had left after paying his taxes, and telling a 23-year-old Whitney Houston that he wanted to "fuck her" (also on live television). For all the apparent irrepressible gaiety, gregariousness and grandiloquence, Gainsbourg's true self was essentially lonely and brooding, a character darkly tempered by a Russian melancholy of Chekhovian proportions. Gainsbourg's sister, Jacqueline Ginsburg, has commented that his cynical persona was always a defense mechanism, a cultivated carapace under which lay a sensitive and vulnerable individual. What's more, with his prominent ears and an even more majestic proboscis, Gainsbourg harboured no delusions about his appearance, and was fond of sardonically quipping, "I prefer ugliness to beauty, because ugliness endures." A cursory glance at his history of wives, mistresses, lovers and rumoured-paramours would, of course, indicate otherwise. Jane Birkin, Brigitte Bardot, Caroline Paulus (aka Bambou), Catherine Deneuve and more — if there is a God, this is a veritable roll call of His most divinely beautiful creatures. Very much part of Gainsbourg's enigma was his irresistible magnetism to the world's most desirable women despite his unconventional physicality, sealing his status as the world's most unlikely sex symbol. Birkin has said that Gainsbourg revelled in surrounding himself with attractive women, that he was well aware of his looks and sought validation via the attention of the aforementioned women. She has also recounted that in their entire relationship he was very pudique — he never let her or the children see him bathe, go to the toilet, or totally naked. This was a man who, despite his penchant for showmanship, controversy and publicity, was fundamentally very private and modest.
"For all the apparent irrepressible gaiety, gregariousness and grandiloquence, Gainsbourg's true self was essentially lonely and brooding, a character darkly tempered by a Russian melancholy of Chekhovian proportions."
After a decade together, Birkin still loved him deeply, but life with Gainsbourg ultimately proved to be one alcohol-induced contretemps too many. Birkin left Gainsbourg for the director Jacques Doillon, with whom she had a daughter. While Gainsbourg was devastated when Birkin left him, he remained very close, eventually winning over even Birkin's new partner, such was his charisma. When Lou Doillon arrived, Gainsbourg sent an enormous package to the American hospital full of clothes he'd bought for the baby with a card he signed "
Papa Deux
". The Rue de Verneuil family home became Gainsbourg's solitary abode, where he passed away on 2 March 1991 at the age of 62. His body was discovered by Bambou, his partner for the last decade of his life. Birkin was shattered by his death, and her grief was compounded by the passing of her father two days later. The four women closest to Gainsbourg — Birkin, Bambou, Charlotte Gainsbourg and Kate Barry — kept vigil around his corpse for four days in the bedroom, reluctant to let him go. When they finally had to bury him, Birkin picked out a plot in the Cimetière du Montparnasse (where many artists and intellectuals, including Charles Baudelaire, Jean-Paul Sartre, Simone de Beauvoir, Man Ray and Constantin Brâncusi, are buried). Birkin had just lost the greatest love of her life, and she felt she should bury a part of herself in the coffin — her beloved Munckey, a stuffed felt monkey that was her most prized possession since childhood.