Karl-Edwin Guerre wears The Rake Tailored Garments
A photographer primarily, Karl-Edwin Guerre's own personal stylistic tendencies has rallied a like-minded legion of discerning gentlemen to follow suit. With a spirit that encapsulates an eclectic take on timeless style, he's the utopian attorney to sport The Rake Tailored Garments.
Karl-Edwin Guerre is a poet turned photographer and through his warm personality and artistry behind and in front of the lens he has become a close and valued friend of The Rake. Guerre is the "King of men's street style" in New York. Never seen without a hat, it is thought he hasn't rushed out of his house once in ten years without sporting a chapeau. With a real sense of adventure, Guerre looks to create his own rules when it comes to his personal style, which is why we couldn't think of anyone more pertinent to don a selection of The Rake Tailored Garments. His style approach has real symbiosis with the way The Rake has curated their collection. Guerre's outlook on style is that he believes feelings and emotions should be infused with a taste acquired with experience and knowledge of self, thus hailing freedom and expression of which The Rake Tailored Garments certainly encourages.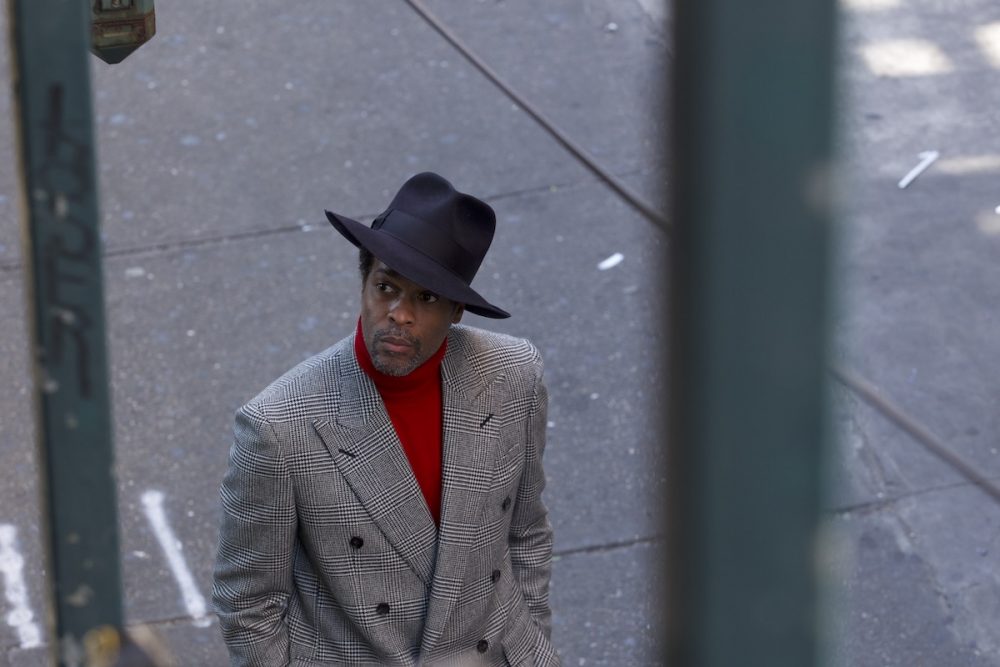 The objective of The Rake Tailored Garments is to bring back the dialogue to men's classic elegance. It is to recast the most iconic garments in history, but with a natural focus on adaptability and ease of wear. One of the most recognisable of all patterns is the Prince of Wales check. It also happens that Miles Davis, the inspiration behind our very own POW sports jacket is also the superlative icon with whom Guerre most admires. Davis had the ability to turn commonplace clothing items to artistic expressions in their own right. It is with this in mind that we see Guerre wearing the Prince of Wales check double-breasted jacket from The Rake Tailored Garments. Underneath the jacket is a deep-red rollneck jumper, which perfectly marries the impeccably tailored jacket with a rebellious spirit of jazz – a combination that Guerre is known to fully encapsulate. Now to do this with the character that Guerre does, isn't quite so straightforward if the tailoring you're wearing is restrictive in nature. Inspired by the British Drape as well Neapolitan and French tailoring, we've sought innovative ways to remove the stiff, restrictive padding and layers of horsehair that impede freedom of movement. Guerre has shown here with more than a hint of nonchalant elegance the pioneering virtues of a jacket stemming from intelligently fused tailoring techniques. Guerre's wide-brimmed fedora caps off a cool and effortless ode to jazz.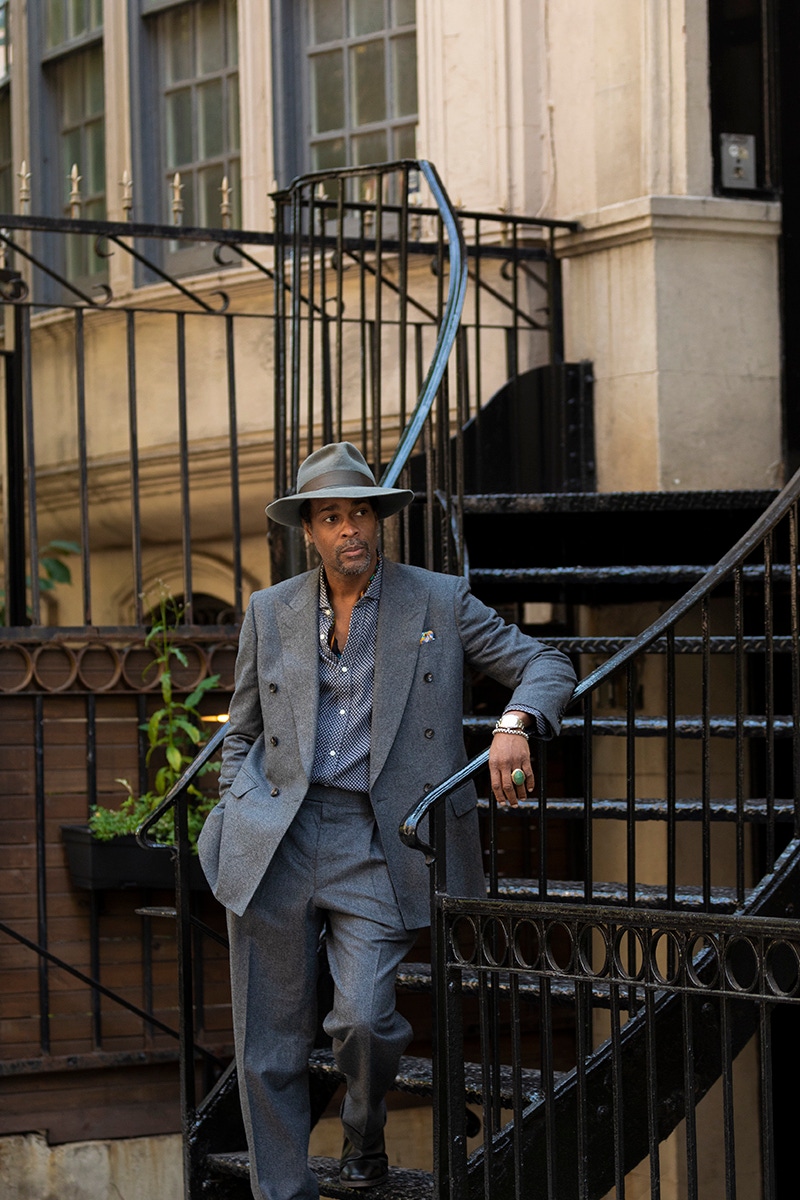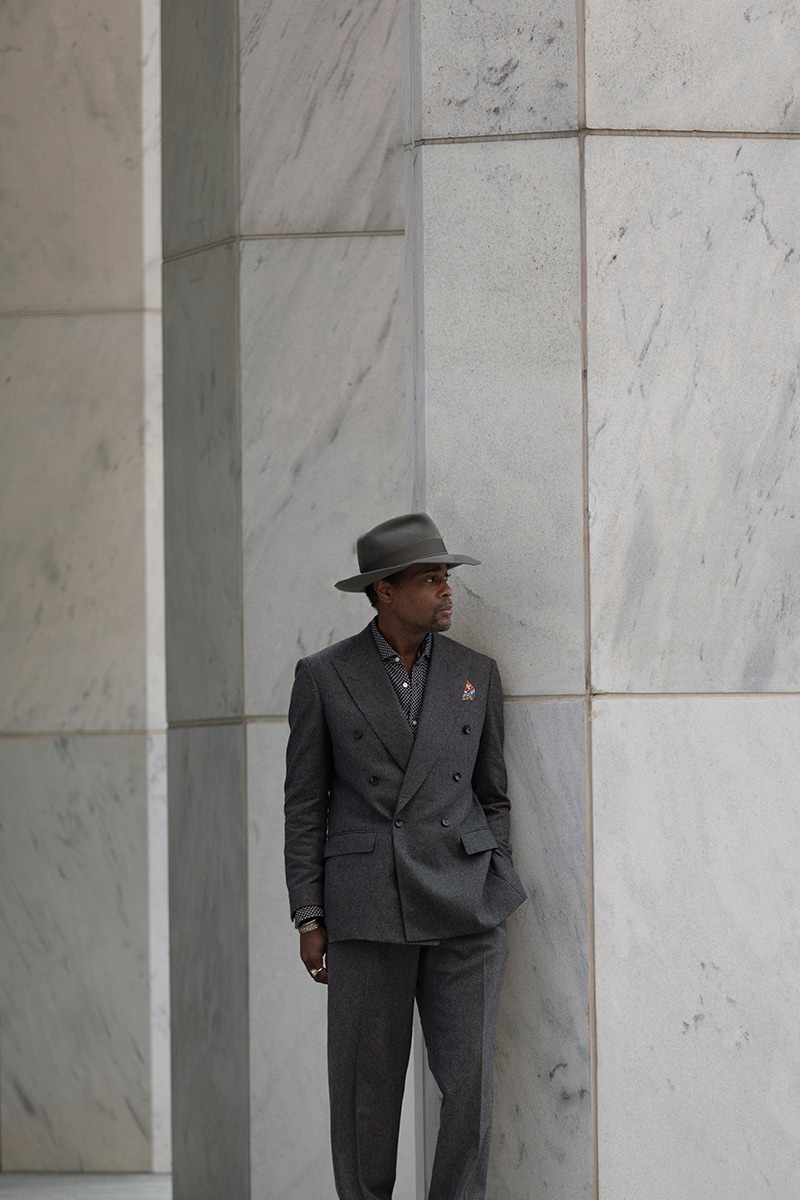 Guerre exhibits this unique and ethereal glide with the way he wears his clothes. Wherever you see him photographed, even if he his standing still, there's this marvellous fluidity of elegance. He emanates this aesthetic perfectly when wearing the grey flannel double- breasted suit of The Rake Tailored Garments. The upper-half is the 6x1 half-canvassed double-breasted jacket. British and Neapolitan tailoring combine; in this case with its wider than usual peak lapel and spalla camicia shoulder, opening up a roster of pairing possibilities if you desire to wear as a separate. But here Guerre wears as a suit with the jacket unbuttoned and carries on the grey shade with his hat and shirt that is also worn open. The added drape of the jacket allows the silhouette to fall beautifully when unbuttoned. Equally an advantage of wearing it open is that the sharp reverse double-pleats on the trousers are also visible.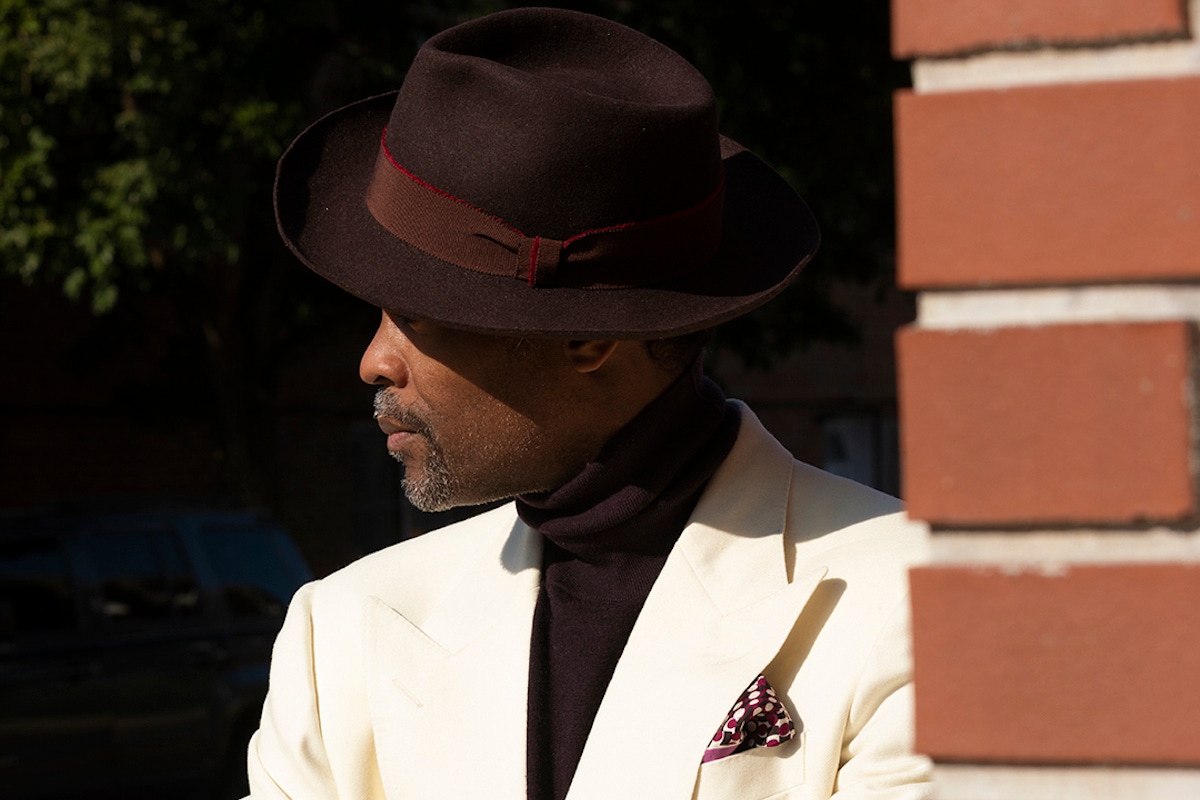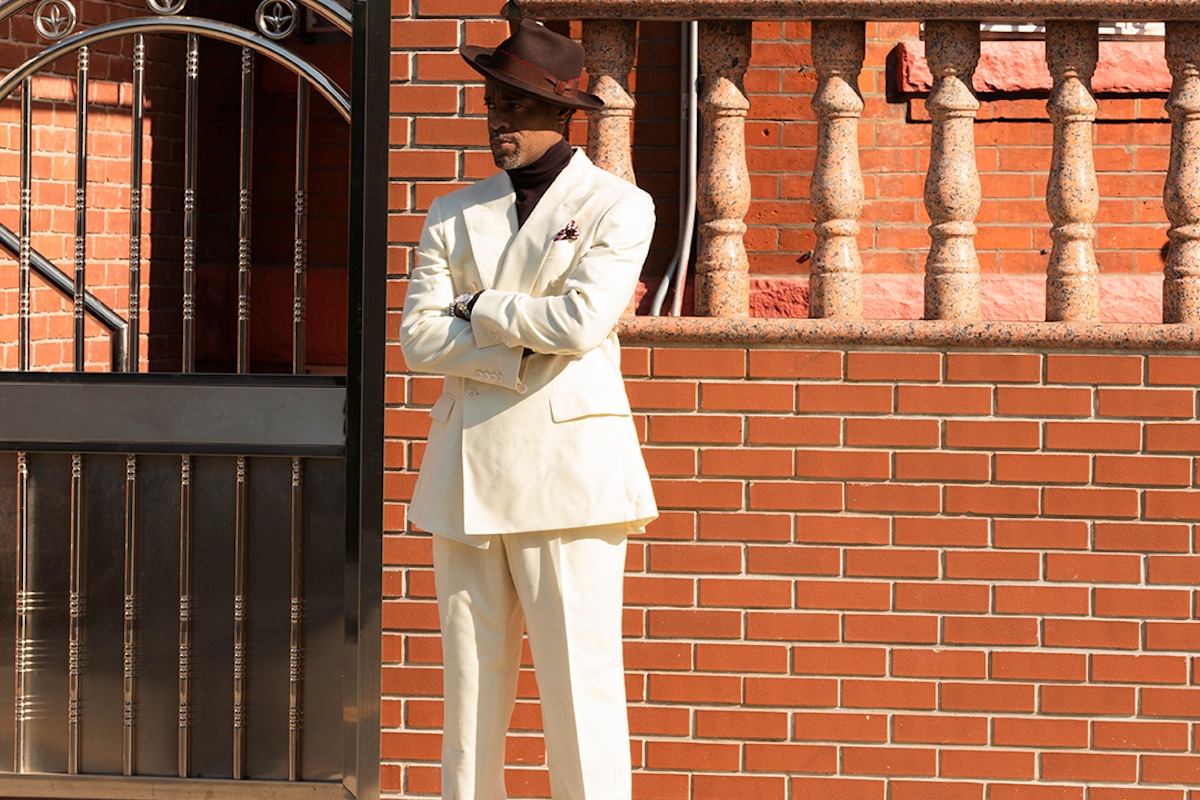 Guerre is a size 38 chest and a 32-waist trouser. Not every gentleman would think of wearing a rollneck with a cream suit. Perhaps this is where Guerre finds himself with own style today. As a younger gentleman he favoured a cool hip-hop aesthetic, but then reversed to a more serious style, incorporating a more Wall street grey. Now he finds himself somewhere in the middle using beautiful tailoring, but with accompaniments evoking a sense of casual cool. As the suit is flannel there is no reason to use the cream shade as an excuse as it has been tailored with the intention for you to make your own interpretations of how you would like to wear the suit, according to your style. This is exactly what Guerre has done, by intelligently using the cream shade as a beautiful juxtaposition to his brown rollneck and brown trilby hat, which is downright cool. With a swaggering silhouette and armed with flexibility due to the strategically applied VBC cloth, this suit can be worn all-year-round and just like Guerre has shown can be worn in more artistic ways than one, whilst keeping its core of originality.