Keith Richards: Elegantly Wasted
Through bust-ups, heartbreak, heroin and hero-worship, Keith Richards has proved himself survivor and legend...
"Five notes, two strings, two fingers, and one asshole." That's all Keith Richards has ever needed to get by. Well, that, and perhaps an indestructible physical make-up from hell, a few hip cats with a thing for the blues by his side, and the blessings of the gods. Drug busts, heartbreak, heroin: there isn't much the archetypal rock 'n' roll guitar-slinger hasn't endured. That he's managed to emerge from the madness of his misadventures (relatively) unscathed, to the disbelief of lovers and naysayers alike — let alone keep one of the world's greatest bands charging forth for more than five decades — is cause enough to hail him as the definition of a rake. There was once a time when the world's most "elegantly wasted" man (as the critic Nick Kent christened Richards in his heyday) was but a shy and soft-spoken wight with wonky ears. A few miles away from central London, in Dartford, Kent, the young Keith quelled the boredom of the 'burbs with Charles Dickens and grooved to the sounds of the jazz and classical records on his mum's record player. While spellbound by the guitar that hung on his grandfather Gus's wall, he was told he'd only be able to strum away on it with his sticky little fingers when he was tall enough to reach it. Rise to the challenge he did — and, boy, did it feel good to get the chords to Malagueña down pat. Richards had known Mick Jagger as a schoolboy in Dartford, but it wasn't until happenstance brought them together on a railway platform that the two hit it off. On one auspicious October day in 1961, the erstwhile choirboy who'd once sang for Queen Elizabeth and had ditched school to devote himself to music spotted Jagger carrying Chuck Berry's Rockin' at the Hops and The Best of Muddy Waters, and the two struck up a conversation. Like Keith, Jagger also worshipped at the altar of Chess Records, and it wasn't long before the two found themselves jamming with a golden-haired bluesman by the name of Brian Jones, and later moved into a squalid flat in Chelsea's Edith Grove with him. "What are you called?" asked a promoter one day. Fortunately for the scruffy bunch, Muddy Waters saved the day. "The Rollin' Stones," Jones said, eyeing the track Rollin' Stone on the aforementioned collection.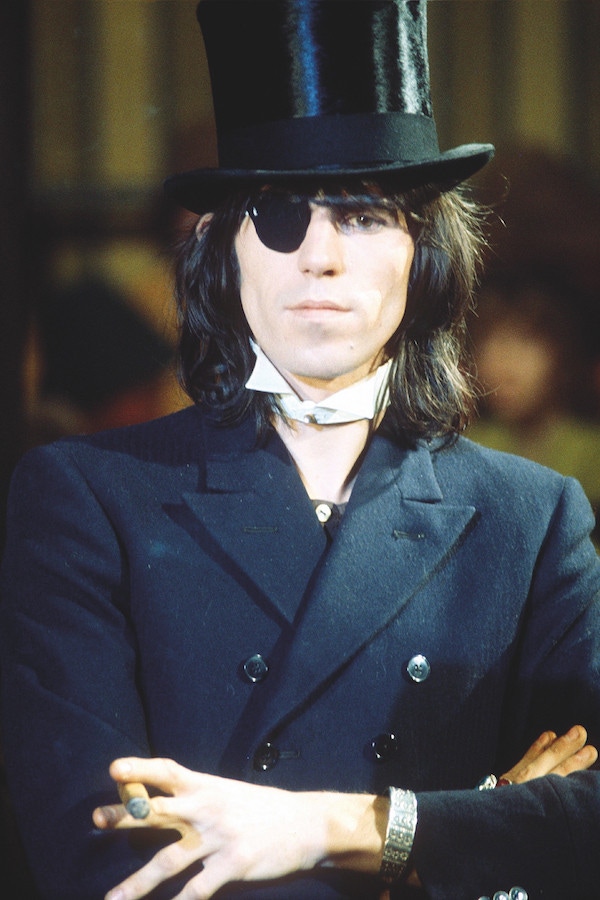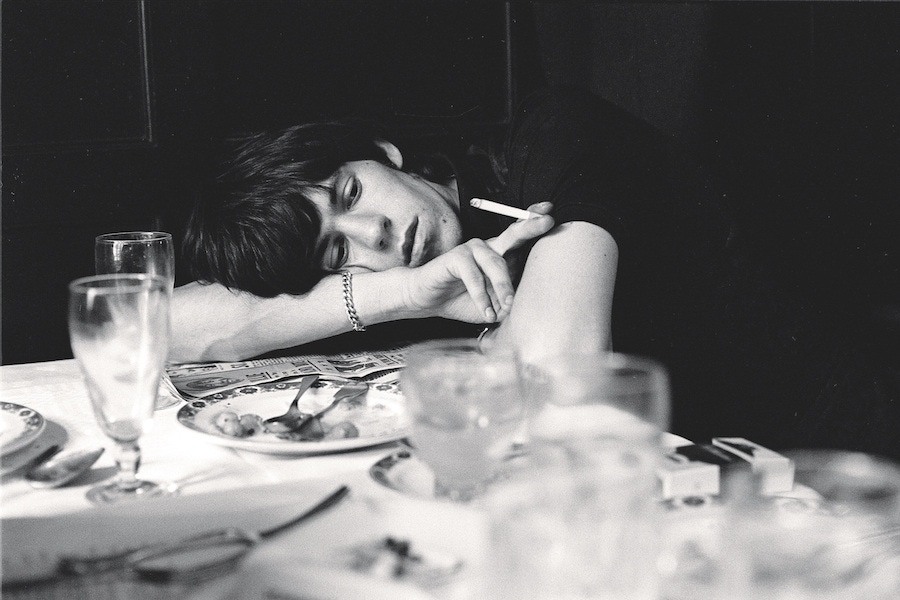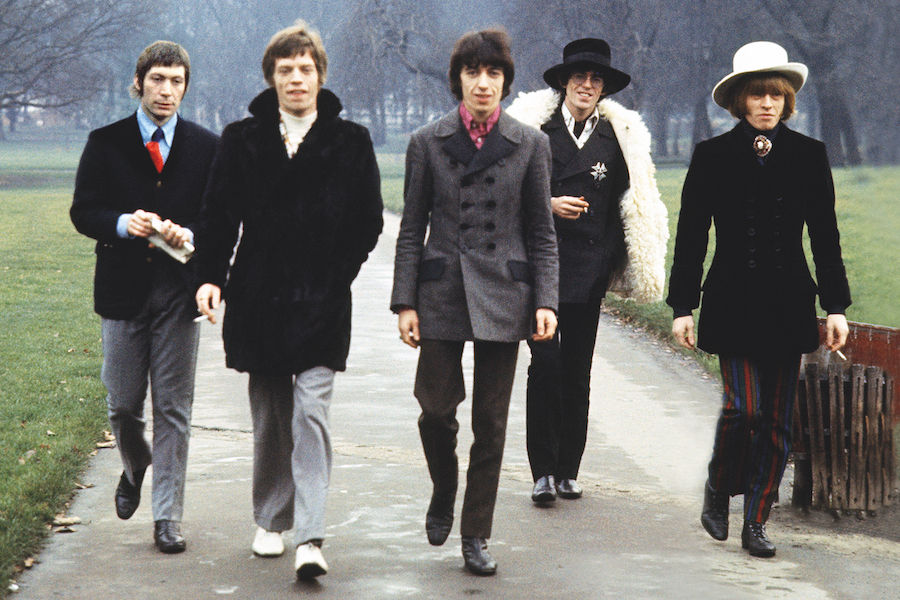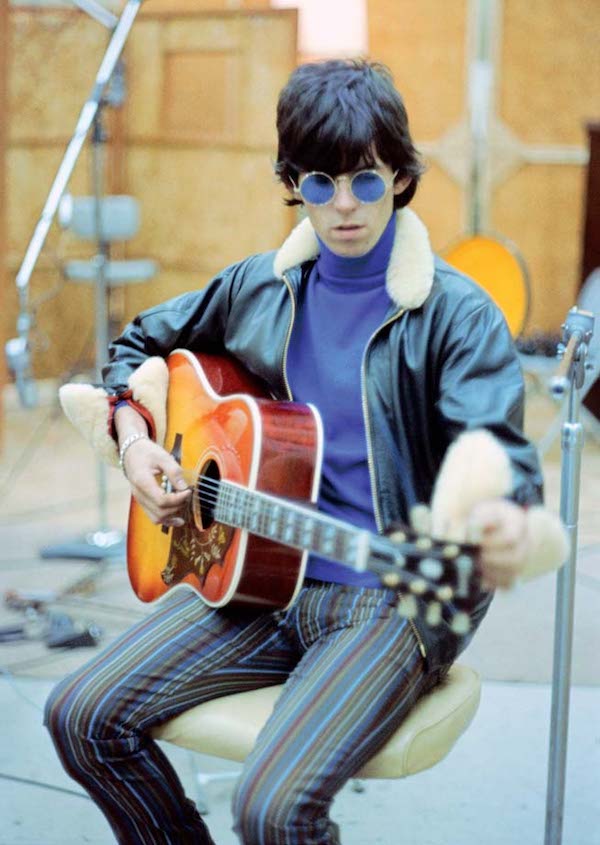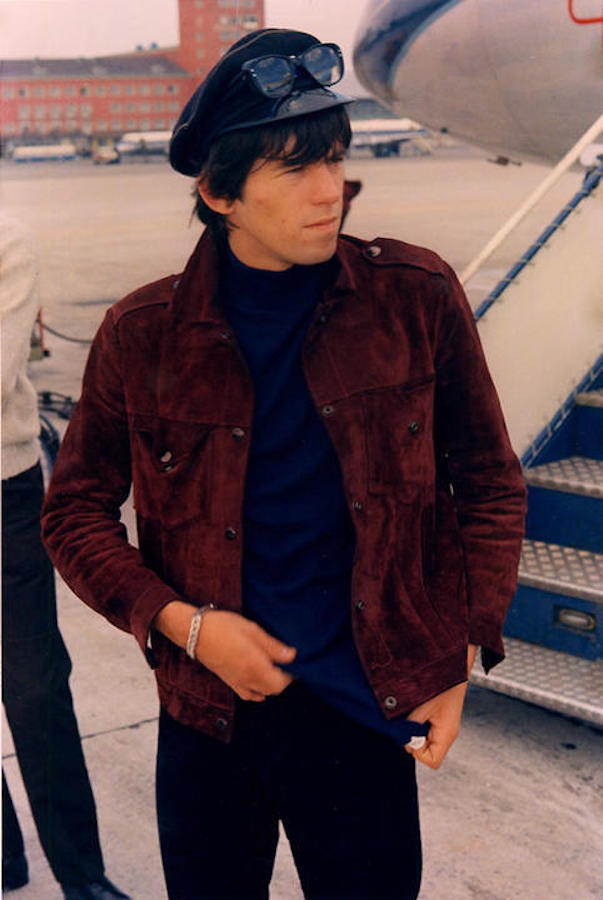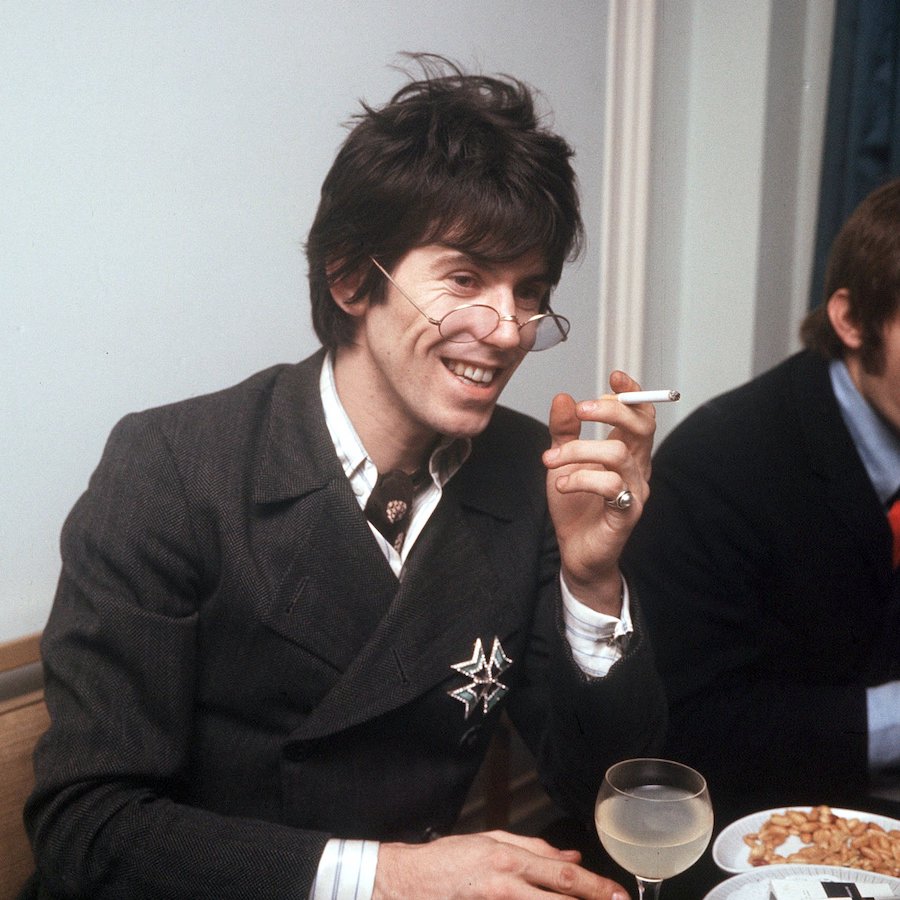 Fast-forward some months, and, in addition to a little 'g' in their name and members Charlie Watts and Bill Wyman in tow, Richards is having a grand old time churning out the blues on rhythm guitar. He still looks a bit funny, with his ears sticking out of his head and sporting a nerdy fringe, but he's pulling women, waking up in Howlin' Wolf's house without knowing how he got there, and riding on top of the charts with Mick and the gang. He's got everything he's ever dreamed of, and more, but he doesn't have any songs of his own. The solution? Lock him and Mick in a kitchen until they tumble out with As Tears Go By, of course. He conjures up some of the decade's meanest riffs — sometimes in his sleep, as in the case of Satisfaction — grows his hair long, invests in velvet trousers, snakeskin boots, and other wondrous things, and takes his chemistry experiments up a notch. Still high on acid, the policemen who turn up to bust him at his Redlands home in '67 for drugs appear in the rocker's eyes as little blue dwarves. Along with them, he lambasts the magistrate who hands him a prison sentence for their "petty morals" and becomes an overnight rock 'n' roll hero for sticking it to the man. He quickly gets out of the slammer, but his troubles are far from over. Pained by his girlfriend Anita Pallenberg's affair with Mick in the Persian-themed film Performance (1970), he turns to smack to ease the pain, and morphs into the living dead. Far from hampering his abilities, the records he waxes with the Stones between 1968 and 1978 turn out to be the band's greatest, and their tours become the stuff of legend. When he wasn't laying down the law on stage, Richards was living the zombie-cum-rock-star life to the hilt, and getting himself into a whole lot of trouble, too. During the recording of Exile on Main St., he reportedly stayed awake for nine days before finally nodding off and crashing into an amplifier. With saxophonist Bobby Keys, he threw televisions out of hotel windows before it was ever a thing, and nearly set the original Playboy mansion on fire in an attempt to get high in one of its bathrooms. He also managed to whack a deranged fan on stage with the back of his guitar and get back to cranking out Satisfaction as if nothing had happened, though that was after the shit had hit the fan in Toronto in 1977. If there was one thing he learned then, it was that it was time to clean up his act. The Mounties came a-knockin', and, once again, Keith found himself busted for drugs. This time, however, the charges were so heavy that they threatened to put an end to his escapades. But the gods — along with a 'wingless angel', a blind fan who testified in his defence — were still on his side, determined to keep the Stones rolling into the eighties and beyond.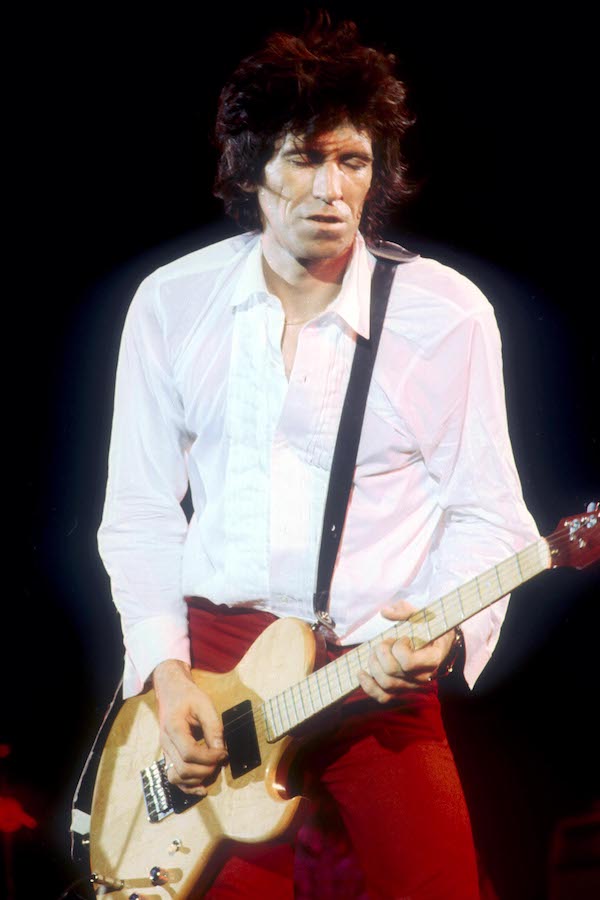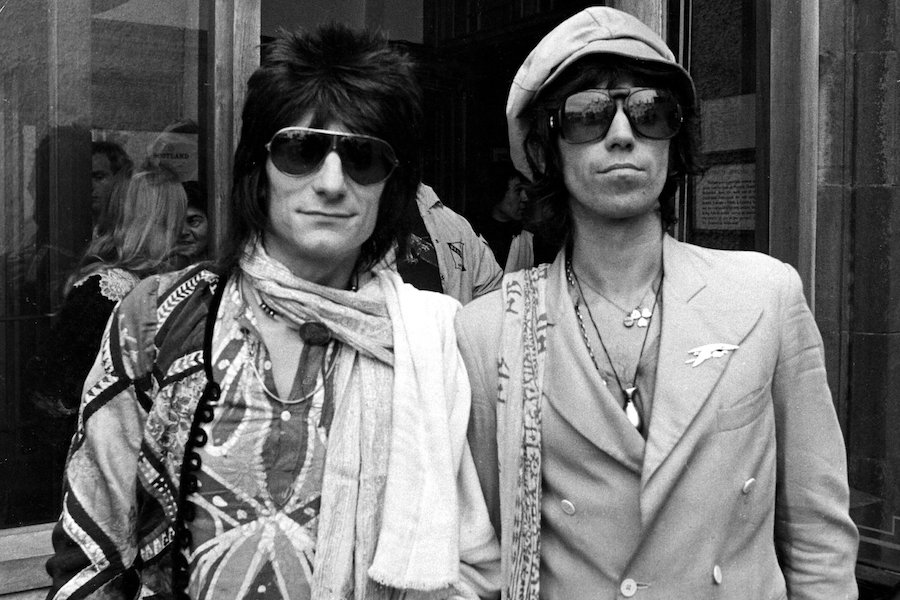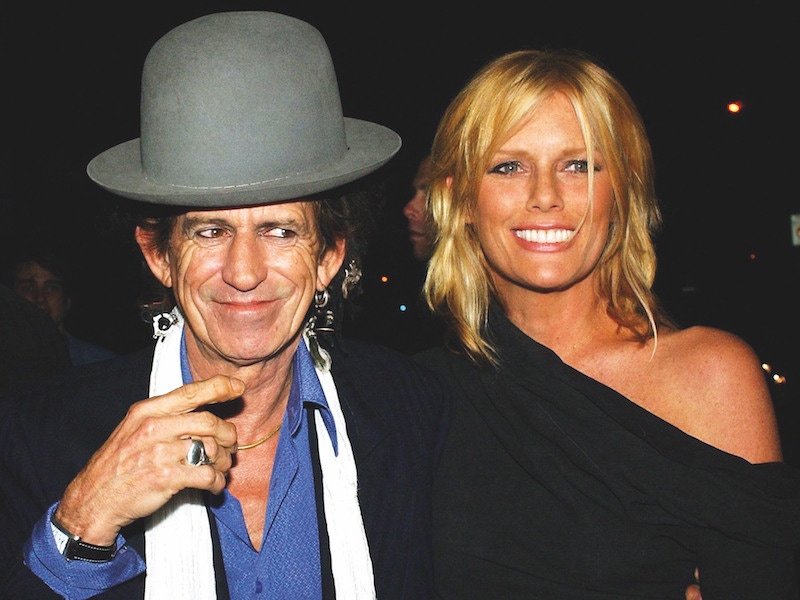 Shaken up by the Toronto incident, Keith decided to cool things down. Not wanting to end up like his many pals who'd never lived to tell the tale, he kicked heroin and whipped the Stones back into shape for the sordid disco-punk of
Some Girls
and (what is often considered their last hurrah)
Tattoo You
. Sporting a handcuff bracelet as a reminder never to stray again, a skull ring, and a wardrobe brimming with skinny jeans and leopard-print shirts, Keith took his swagger to new heights. At around the same time of the Toronto fracas, Keith fell for the Scandinavian good looks of model Patti Hansen, and some years later, in 1983, tied a knot that has never shown any signs of coming loose. The
Still Life
tour of the early eighties saw Keith and the Stones firing away on all fronts in bursting mega-stadiums. Afterwards, however, all was not well in Stonesland, and, for a brief period, Keith and Mick — the 'Glimmer Twins' — went their separate ways. Fronting a new band with a penchant for perms, the X-Pensive Winos, Richards was as rocking as ever, but never for a second did he give up on the Stones, and thank God. Their resulting studio output may not have matched the critical acclaim of their earlier gems, but ol' Keef has shown the world throughout the past 30-odd years that the once-spotty rock 'n' roller from Dartford is a force to be reckoned with yet – let alone a marvel of nature. Fresh from a massive European tour and celebrating his 74th birthday on December 18, he still looks and sounds every bit the star whose archetype he moulded decades ago and can make the many bands he's inspired wet their cigarette trousers in awe. Taking into account his triumphs and trials, it's hard not to ask oneself, as Keith's once famously photographed T-shirt asks, Who the fuck is Mick Jagger?