KNNOX: THE LIGHT OF YOUR LIFE
The Rake sits with Knnox's founders Desmond and Jessica Ware to discuss their gorgeous brass lighter, an essential piece built to last a lifetime.
A renaissance is happening. Not the Titian type; hanging at the National Gallery's Salisbury Wing - where Knnox's co-founders Desmond and Jessica Ware are sat talking with
The Rake
; but in 'fire'. Yes, fire; that captivating happenstance, the foundation of all civilisation, and igniter of many, various cigarettes, cigars and, latterly, scented candles. "People tend to take it for granted," begins Jessica. "That's evident with all the disposable, plastic lighters dumped around the place, or borrowed and never returned." The Knnox lighter strives to change how we think about our everyday items. Made entirely in England, with precision machined raw solid brass, it is built to be your personal long-term lighter - more than a briefcase essential. "They're built to last a lifetime," Desmond adds. "Wherever you go, and whatever you do, it will remain reliable."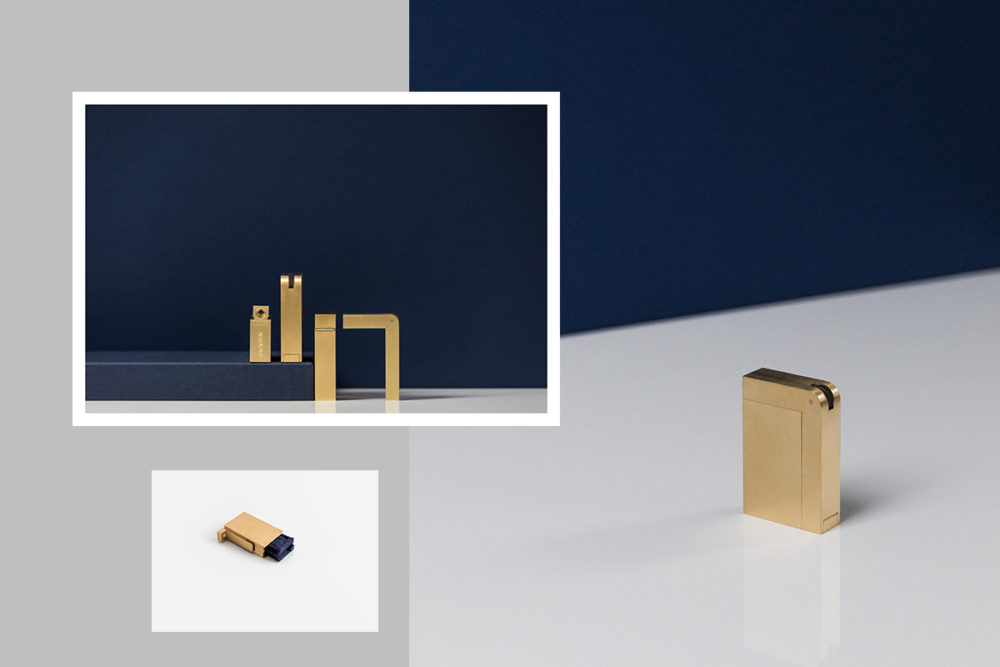 Knnox's lighter began, like a lot of great products do, from dissatisfaction with what was already on the market. "I wanted a lighter to have around the house," says Desmond, "but wasn't impressed with what was on offer. The choices were either cheaply-made, overly opulent, or just poorly designed." While many of us would settle on a Clipper, Desmond instead took matters in his own hands and devised his own lighter concept. "When we [he and Jessica] saw the prototype, we were so pleased, we thought: why not share it?" Luckily for us, he did - and with Jessica on board as business partner, began searching for suppliers up and down England. "All of our suppliers are experts in their industries," she says. "Whether it is with the machine precision brass, or hand-stitched felt and flint." Regarding the flint, Desmond mentions that they guarantee a first time light, every time. The team have spared no pains in producing a transparently excellent example of English craft; one that you grow more attached to over time. And it isn't just for lighting your smoke, either: both Desmond and Jessica list a variety of ways they have seen it used, from incense sticks to camping stoves. While unquestionably photogenic, the lighter is better seen and held in person. It is weighty, but not too much, and the brass glimmers - but not enough to seem garish. A unique sliding mechanism affords the lighter its signature open flame. Everything about the Knnox lighter speaks taste, and depending on where you take it, it is either a minimalist luxury, or an art-deco piece of art – versatile enough to go with a tuxedo and a subtle watch, or camping gear for a weekend in the Peak District.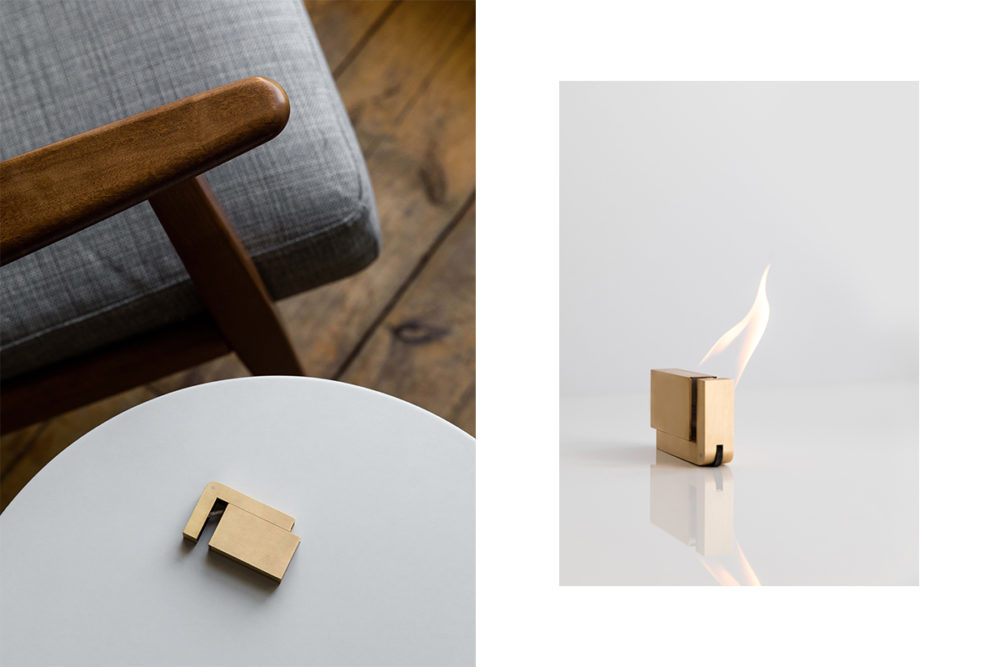 "This mark here," Desmond says, pointing to a faint blemish on his own gorgeously broken-in lighter, "that was from a trip to Copenhagen." With the main components made of raw, solid brass – the lighter experiences an ageing process and develops its own patina. "Each one is unique," Jessica adds. "Depending on how you use it, it will change. Desmond's is the original prototype and you can see how the brass has developed with time." Indeed, it has. The proud owner is relating each scratch and blemish to a time and place, as if the hand-polished face of his light is a map marked by life itself. It's a nice thought, particularly for something that you may, one day, decide to hand-down. Before you've laid your
own
hands on the lighter, however, the personal experience begins. "When you open the box, each piece is laid out for you to assemble," he grins. "Cool, isn't it?" Like the individual components of a military-grade gun, the brass, wicks, flints, and stainless-steel hex tool are lying there for your itchy fingers to put together. "By doing the process yourself, you get an idea of what each piece does to produce the flame," adds Jessica. Yes -
you
make the fire; inviting a sense of primal delight as each component slots together, and the first sign of a flame gracefully flows from the brass. Knnox are so sure of the quality of their materials, that each lighter comes with a Lifetime Warranty.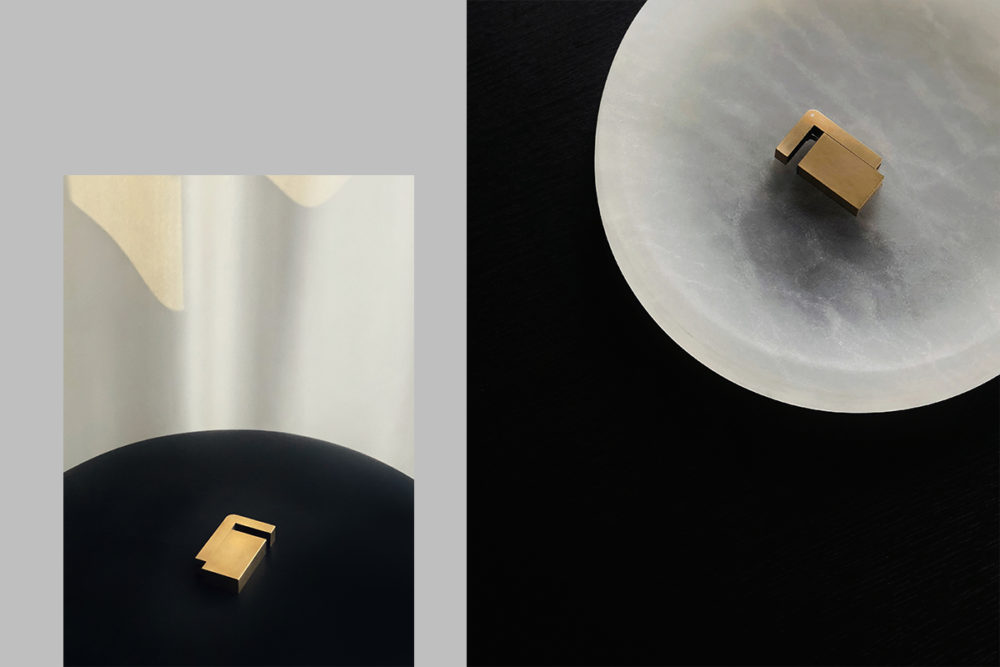 But why can't your lighter be as cared-for, or personal, as a favourite watch? Both serve a utility that can be afforded cheaply after-all; you can check the phone for the time (or find one of those flimsy disposable lighters we mentioned earlier). Nothing competes with wearing a watch, however, and some may even hold sentimental value. Lighters are very much the same, and with vaping becoming more prevalent today, people are looking back to timeless tools that deliver not only a purpose, but a ritual. Knnox are gearing for a future as the go-to brand for light and flame accessories. "We were blown away by the reaction we got," smiles Jessica, "so we're designing the lighter in new finishes, like matte black and silver." There will also be a butane-compatible edition of their flagship lighter, for cigar smokers, and a variety of lifestyle products such as ashtrays and cigar cutters. The duo insist that whatever happens, they will be leading on the design (Jessica being a designer herself) and manufacture. "It's important that we keep that small studio spirit," adds Desmond, with a knowing smile. Knnox's brass lighter is more than just the sum of its parts. The Wares have worked tirelessly to deliver a tool durable enough to be relied upon throughout our lives; from lighting the cigarette of a captivating stranger (on a whim) to the candles in our honeymoon suite some years later. We're reminded how necessary lighters are. As we go through life, the world leaves marks on us. With Knnox's special brass ageing process, we can now trace those marks… Try doing that with a Clipper.