Lardini: Easy Does It
Initiated in 2017, under the chimerical vision of Luigi Lardini, the brand's pioneering Easy-Wear offering might just be on its way to becoming more relevant and popular than ever before.
Embedded in the family of Lardini is a kindred spirit of innovation. The basis of the Italian style may now be internationally identified, but it is Lardini's youthful and innovative approach that has made it stand out from its predecessors and peers. It is a mentality that has been carried forward to this present day, where special projects are frequent. For some firms, the acceleration with which the world changed this past year, provoked a knee-jerk reaction to adapt. Rapid change, with minimal preparation is seldom fruitful. Lardini have never had this problem – as by placing significant importance on research and creativity they have been well-equipped to accommodate the changing needs of society.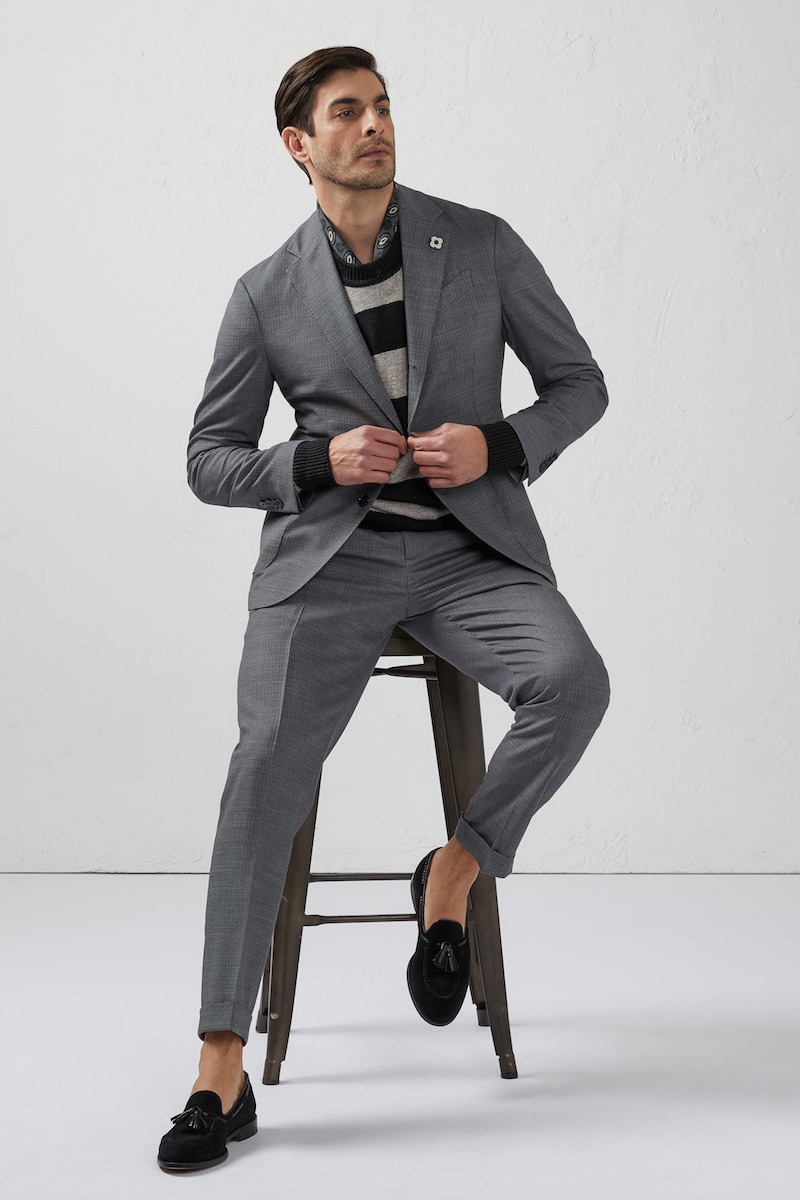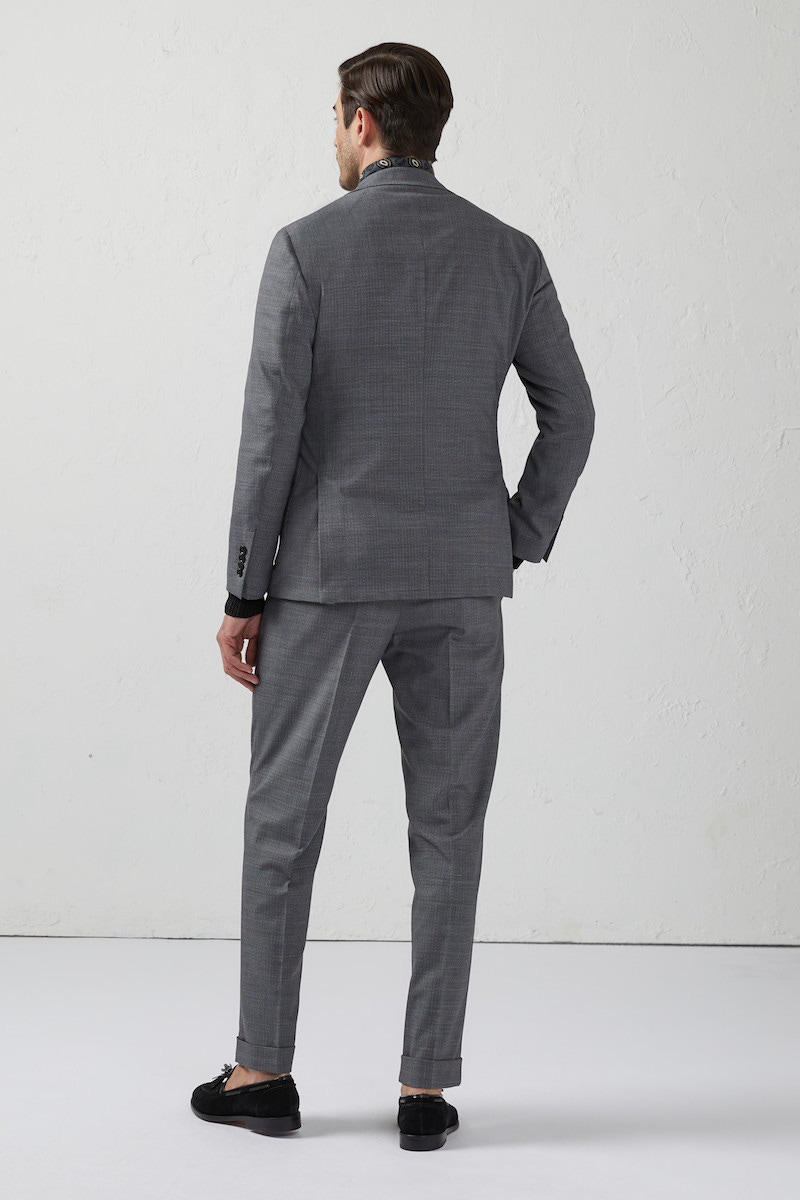 One scheme in particular that has altered the way people think and feel in a garment is Lardini's Easy-Wear offering. Presented as part of their 2017 Spring/Summer collection, they initially produced an Easy-Wear travel suit. This was at a time when the banes of performing multifarious assignments at a more frenetic pace in smart-yet-restrictive apparel were no longer being tolerated.. On a business trip to a financial hub such as Paris or Frankfurt people were fed up of opening their suitcase in their hotel (the night before a serious meeting) to find their suit was severely creased and needed ironing again. Made from water-repellent and crease-proof fabric, the travel suit could simply be taken out of its case (a 30 cm x 20 cm fabric bag with a zip closure) and be worn without the need to iron. Featuring the iconic woollen flower which is attached to the jacket lapel buttonhole, this suit in many ways was a 24-hour garment. After your morning business meeting in the height of summer you may need to jump on the metro for a working-lunch, which could escalate to more drinks and dancing in the evening. Lightweight and breathable to cope with the heat, comfortable, and tailored in the classic style, this ingenious creation really was the answer to avoid multiple pit stops to change outfits.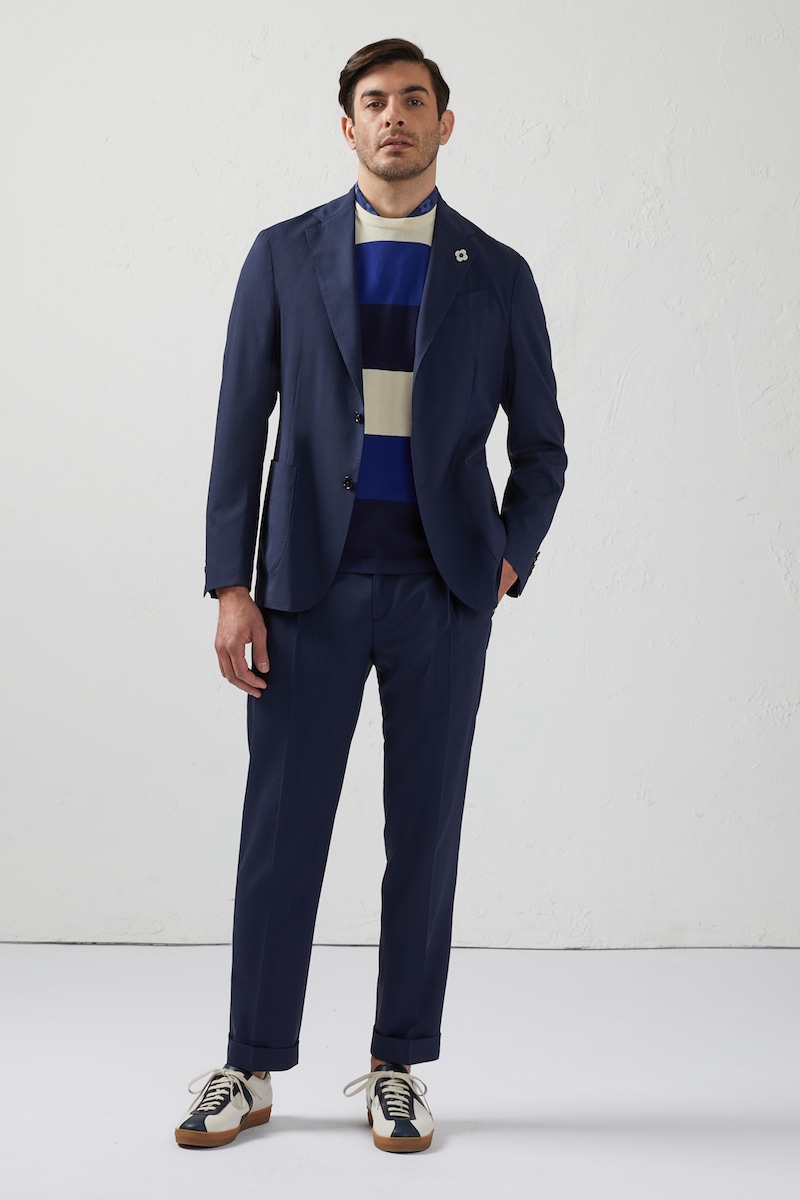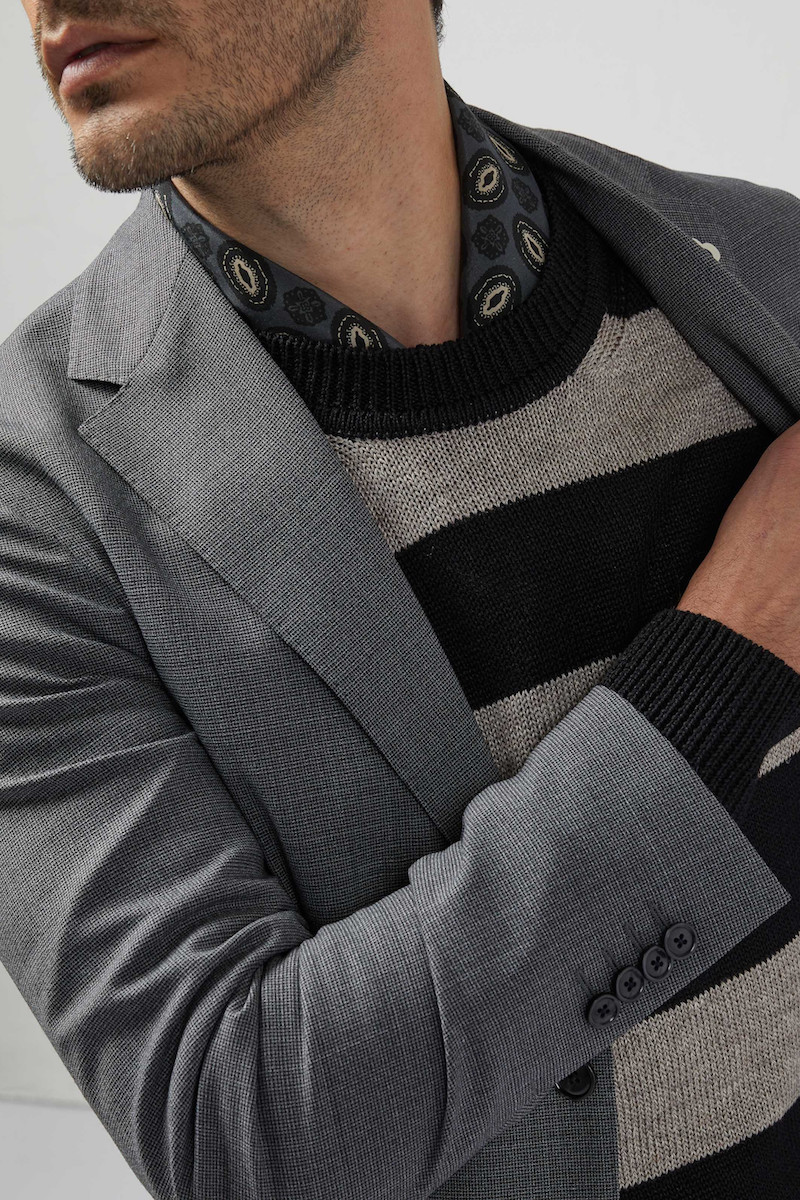 Even in financial circles, not every business meeting requires a suit. If you're unsure on the formality of it, it is better to be overdressed than underdressed. If you think this conundrum is likely to persist on more than one occasion, Lardini have come up with the perfect solution. Their denim blue travel suit is made with the same technical feats as the original travel suit, except with it being denim it does tone down that conventionality that a navy wool suit may exude. With its refined notch lapels and patch pockets, it looks extremely smart with a shirt and tie, but it also has the ability to be dressed down quite considerably to perform in informal situations.
Lardini have now expanded their Easy-Wear repertoire to feature blazers, outerwear items and trousers with concealed elastic waistbands. The fabrics that Lardini use are accumulated through rigorous research. Luigi once told The Rake about the sourcing of their materials: "Every season, at the beginning of the new collection, we meet more than 150 suppliers with great care and research. We select the best of them." In their Easy-Wear collection you will only find the very best in wool, cotton and cashmere materials. This scheme has become a mainstay in the make-up of the Lardini assortment, and with the corridors of travel beginning to open up, this assortment may just be heading in a direction where it is as relevant and essential as ever. If criss-crossing the globe on business or pleasure is inked in on your itinerary again, it is certainly well worth looking into Lardini's forward-thinking Easy-Wear inventions.