L'ART DE VIVRE
He is one of the world's leading interior designers, commissioned by various Rothschilds and potentates. She is Yves Saint Laurent's muse, androgynous and enigmatic. Together, writes Stuart Husband in Issue 44 of The Rake, François and Betty Catroux blazed a trail through post-war Parisian style, defining as they did the 'art of living'.
As wedding photographs go, it's beyond premier league. It's February 1968, and French model and Yves Saint Laurent muse Betty Saint is posing with her new husband, French interior decorator extraordinaire François Catroux. They're leaning against a railing in Cap Ferret while boats bob in a marina behind them; the Côte d'Azur is going through one of its periodic hippest-place-on-the-planet moments, thanks to the patronage of Brigitte Bardot and various luminaries of the nouvelle vague. The bride interrogates the camera with her smoky eyes, her angular face framed by a mane of blonde hair; she's skipped the white dress in favour of a black and white-striped fur coat by Pierre Cardin, teamed with black tights and patent leather boots. The groom's tousled fringe gives him a Serge Gainsbourg-in-the-Small Faces kind of look, accentuated by his chocolate velvet suit and white turtleneck. Their studied insouciance is an extension of François's design aesthetic, a credo the couple has come to embody: l'art de vivre. It's immediately apparent from studying this picture that M. and Mme Catroux are no ordinary couple. But even in haute Parisienne circles, they hold an exalted rank. "They bring an inimitable style and energy to any room they happen to occupy," wrote David Netto in a profile for The Wall Street Journal — particularly, he almost but didn't quite add, if that room has been designed by François in his characteristically elegant melange of modernist styles. He is one of the most respected practitioners of his craft in the world, a designer's designer, with a client list that has included a posse of Rothschilds, Santo Domingos, and Millers (as in Robert, the co-founder of Duty Free Shops, and his wife, Chantal), as well as an array of potentates including the Shah of Iran and King Hussein of Jordan. Betty, meanwhile, is now entering her eighth decade and still turning heads with her long, lean, androgynous elan. "I've been wearing the same thing every day since I was a child," she told Porter magazine last year. "Black jeans, a man's jacket, a long T-shirt and men's shoes. It is always black. There's nothing calculated about my look." The Catroux trajectory resembles that of a pair of comets cutting a path through the heart of post-war Parisian chic. François was born in colonial Algeria, the grandson of a French army general who served as governor of Algeria and, later, as French ambassador to the U.S.S.R. After a two-year stint in the French army himself, he made it to Paris at the age of 20. He had no formal training in design, but was soon immersing himself in what we might call the université de vie. "I began to visit people living in beautiful apartments and houses, and, without knowing it, I was learning," he has said. "Schools can only teach you technique, not taste or flair."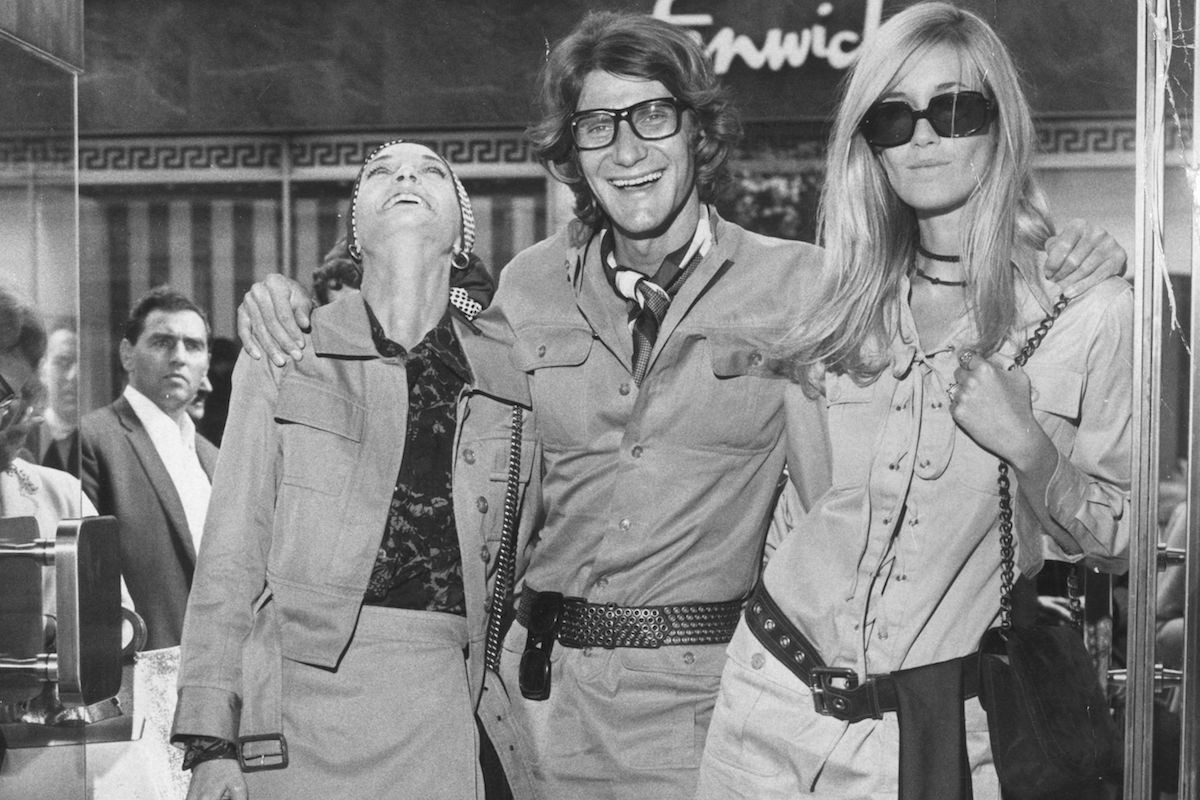 He found the latter qualities in abundance when he moved to New York in 1960 as a correspondent for Elle magazine, socialising with a crème-de-la-crowd including Cole Porter, Pamela Harriman, the architect Phillip Johnson (he visited the latter at his legendary Glass House, which "blew me away"), and the decorator Billy Baldwin, creator of exquisite interiors for the likes of William and Babe Paley and Diana Vreeland. Returning to Paris in 1967, François created a sleek, monochrome mission statement for his own apartment on the Quai de Béthune, where serpentine sofas faced off against giant African masks. Fashion designer Mila Schön was captivated enough to ask him to outfit her Milan palazzo-cum-boutique: the Kubrickian vision he created — all 2001-style white moulded display islands and an amphitheatre for the staging of fashion shows — made the cover of L'OEil, an influential art magazine, and François was on his way. While her husband's social ease and modish master planning has always enabled him to elide work into play — "he's such a good guest" is a recurring refrain applied to François, from clients and friends alike — Betty has a stock response when asked her profession: she throws back her head, cackles and replies, exultantly, "Nothing!" Just being the ineffable Betty Catroux has been more than enough. She's the only child of Carmen Saint, a Brazil-born French socialite, and Elim O'Shaughnessy, an American diplomat who served in the U.S.S.R. and Britain as well as France. By the time Betty was a teenager, she had settled into her slouchy, masculine style. "I've never carried a bag, I've never worn a scarf, and I've never worn jewellery," she says. "I've always worn sunglasses, every day, and I've always had the same long blonde hair that I cut myself. I suppose I'm not very coquettish, but I like a clean look."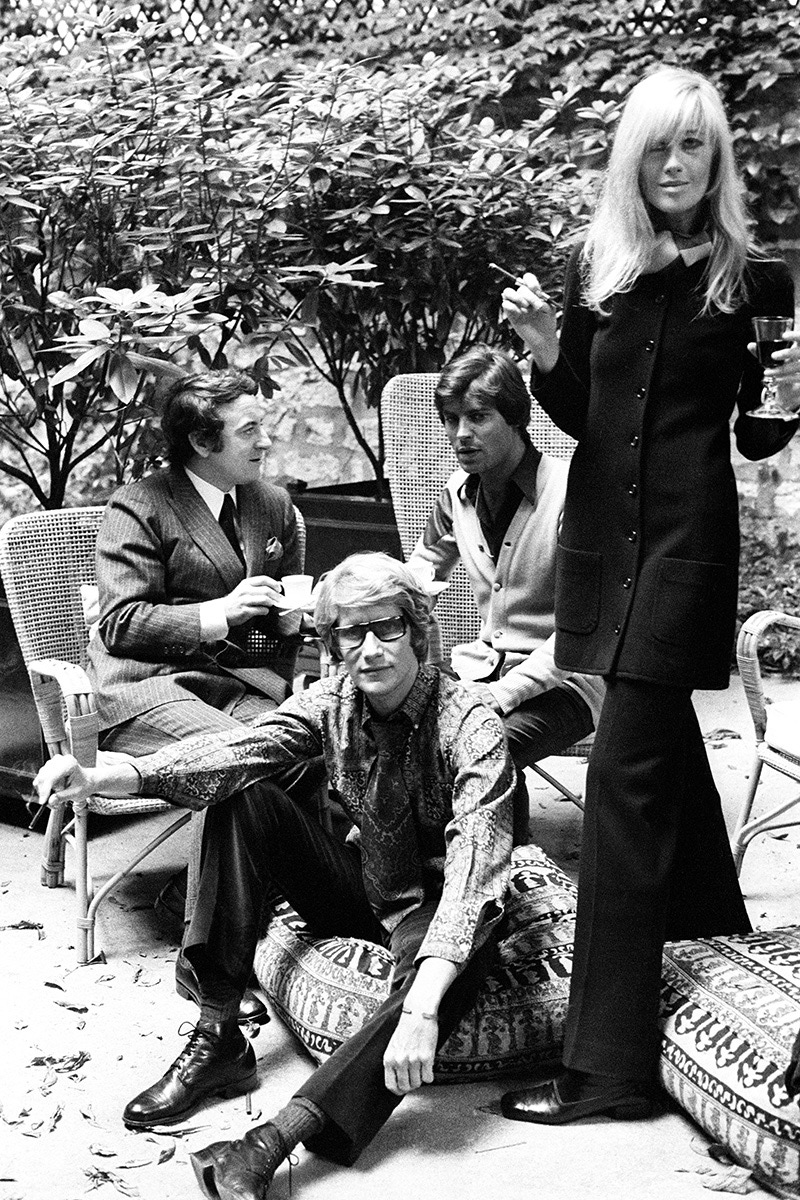 Betty became a 'face' amid the demi-monde of sixties Paris, with a waifish hauteur — part ingénue, part proto-rock chick – that made her the equal of Anita Pallenberg, Marianne Faithfull, Loulou de la Falaise or Jane Birkin. It's an alluring mix, and men and women alike were drawn into her orbit. At 17 she was modelling for an ageing Coco Chanel, but found all the couture-house favouritism and backbiting risible. She then met a young Saint Laurent at a nightclub called Regine's. "Yves picked me up!" she recalled. "It was coup de foudre when we met, and we never left each other. After that we only lived for fun, two of us against the world. We hated normal life!" For his part, Saint Laurent regarded Betty as his female incarnation. Her lanky yet ultra-feminine proportions were an uncanny match for the supple, flowing line that he etched in the air and reproduced in his clothes, including his iconic Le Smoking tuxedo suit, which Betty modelled on its introduction in 1966. But her agile mind and unorthodox take on everything from fashion to feminism also enchanted Saint Laurent, with his twisted sense of humour and eccentric worldview. "I feel like she is some kind of long-lost twin," he said at the time. "There is certainly no one else like her." François Catroux came to share that view. He and Betty met at an art opening in Paris in 1967, and, while they have rarely spoken about their private life, Betty gave a hint of their relationship dynamic in her interview with Porter. "I have never listened to style advice because I know what I like," she said. Indeed, she rarely seems to have countenanced advice on any front. "My poor husband doesn't have a choice because I'm not about to change," she continued. "I suppose he is rather fascinated by me; he sees that I have a strong personality." Friends of the couple go farther, saying that he has patiently indulged her whims for more than 40 years, through the birth of two daughters: Maxime, a book editor at Flammarion, and Daphné, who is married to Count Charles-Antoine Morand, a tech entrepreneur and descendant of a Napoleonic general. A second photograph of the couple shows them in their seventies pomp: they're reclining on a stark black and white banquette amid the Op-Art splendour of the Quai de Béthune apartment, which had recently been photographed by Horst. Both are in slubby, sub-Sahara-ready khaki separates, with François adding a raffishly knotted scarf and Betty idly tugging on the ties of her laced shirt. This was the era when they became fixtures of an intoxicating Parisian nightlife scene, hanging out at the likes of Le Fiacre and Le Palace with de la Falaise, Bardot, Gainsbourg, Karl Lagerfeld, and, of course, Saint Laurent. "He used to force me into dresses when we went out," recalled Betty. "I hated it, but at least he made them look boyish."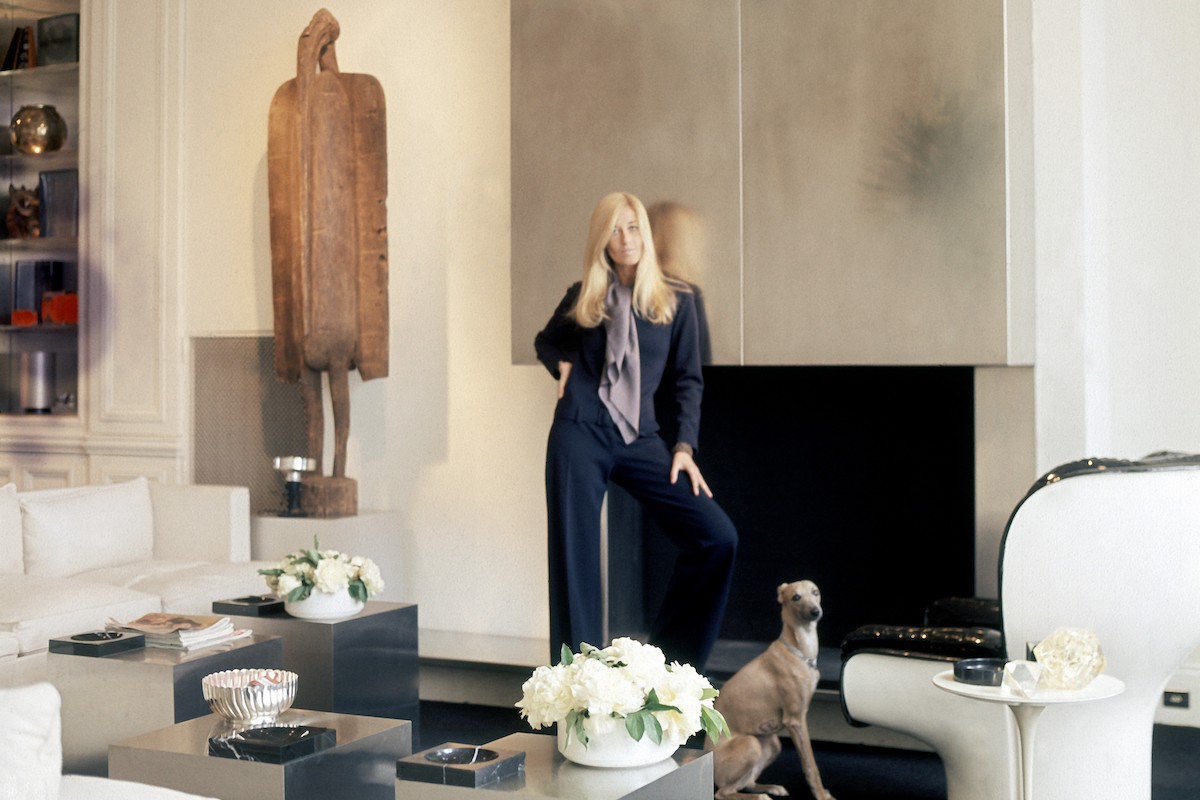 François, meanwhile, had been taken up and championed by the grand dame of Parisian society, Marie-Hélène de Rothschild, embarking on several projects in the family's signature opulent style — in which a Rembrandt or a Frans Hals could be fittingly set off — that chimed with the prevalent robber-baron mode of the late 1970s and early eighties, while bringing his own singular eye to bear. "In New York, we started having a huge taste for this 19th-century look, which I hated," he says. "All those tassels and lampshades, and cheating with second-rate furniture and fabrics. It was awful." François instead looked back to the 18th century: "I went in the direction of neoclassicism, which is much more strict and pure, much nearer to modernism. The 19th century was heavy and full of clutter and unnecessary detail." Betty, meanwhile, has been duly honoured by Saint Laurent's designated successors. Tom Ford was so smitten that he dedicated his debut YSL Rive Gauche collection to her, and later photographed her, resplendent in a tailored suit from his own collection. More recently, she's been pictured, beaming and hand-in-hand, with Hedi Slimane, who has virtually modelled the Saint Laurent main line in Betty's be-leathered, skinny-jeaned image. "I still wear men's Saint Laurent clothing every day," she says, returning the compliment. A third photograph brings the Catroux story up to date: they're pictured in their Paris apartment, now a palimpsest of their decades at the top of the à la mode food chain, where 1950s velvet Vladimir Kagan sofas meet Ron Arad 'Big Easy' chairs, and giant portraits of Betty by Philippe de Lustrac mingle with statues of Atlas hefting his burden. Betty sits on a white sofa in the library, her white hair just as choppy and wind-whipped, her leather jacket and suede boots just as artlessly scuffed. François looms behind her in a Ralph Lauren polo, his hair now equally white, his demeanour somewhere between that of Brian Sewell and Richard Serra. The environment — refined, exotic — is a perfect fit with its occupants, as is the cultivated retreat of their 16th-century Provence farmhouse, with its fields of lavender, potted boxwoods, Matisse drawings, Calder rugs, floors embedded with river stones, and 'common' rattan seating (which François is credited with elevating to super-rich accessory status). It also reflects their latter-day standing as style éminences, with past excesses firmly behind them. François says he hasn't been to a nightclub in 30 years, while Betty conceded to
Porter
magazine that, "I have had many drinks all my life, but now I only drink white wine". However, she still attends a modern-jazz dance class every day in Paris: "I'm definitely a frustrated dancer. It's my passion." While Betty continues to be a fashion-week front-row staple and great-grandmotherly muse, François is celebrating his 45th year in business on the Faubourg Saint-Honoré: current clients include Barry Diller and Diane von Furstenberg (L.A. house, Paris apartment, three-mast sailboat), and Prince Faisal of Saudi Arabia (palace). The first monograph of his work is being published by Rizzoli later this year, and should make the Catroux name better known outside insider circles; it might also help cement both François's and Betty's places as pre-eminent 20th-century tastemakers. He could be speaking of their mutual credo when articulating his vision of
l'art de vivre
: "To me, you achieve timelessness by removing unnecessary things, without being a minimalist. It is about keeping just what is essential." This article originally appeared in Issue 44 of
The Rake.