Lee Marsh Blue Label: Savile Row Style Meets Smart Streetwear
The Rake speaks to Savile Row tailor Lee Marsh about his influences, vision for bespoke tailoring, and his range of bomber jackets.
Lee Marsh is speaking with
The Rake
about Savile Row traditions and taboos. The highly-sought after tailor - veteran of such illustrious addresses as Gieves & Hawkes, Henry Poole, and H.
Huntsman
- has been a fixture since the 1990s (when cutting rooms still smelled of tobacco). Since 2013 he has run Lee Marsh Bespoke (its ready-to-wear arm Lee Marsh Blue Label is now available on
The Rake
). He muses on one old superstition of whistling in the shop floor. "I don't know that one," he says. "But today's tailors are not interested in taboos." Like
Edward Sexton
, who in the sixties rebelled against the unspoken rules of the Row by dressing rock-stars like Mick Jagger in flamboyant colours at
Nutters
, Lee Marsh has a vision to update British tailoring - without affecting the Row's DNA. "I love bespoke suits," he says. "That's my heritage. But I also love casual wear, so my way of working is to figure out how to marry the two tastefully." No piece best exemplifies this than Lee's range of bomber jackets. All hand-cut, and part-handmade, on Savile Row, the jackets have a mid-century elegance to them ("I'm working on bringing that time back!") - but also look and feel masculine and modern. One can imagine Steve McQueen, or Lee's own personal icon James Dean, wearing it on a Sunday drive to the tennis club. On the same token, they suit a savvy-gent going for lunch in London or New York today – perhaps paired with white trainers and tailored trousers. "My thinking was simple," he says. "My customers love their tailored suits during the week, but when it comes to the weekend struggle to find something casual that still has that tailored look – all whilst remaining comfortable." Thus, the bombers were born; a product of Savile Row ingenuity and Marsh's own awareness of the times. Such things may have been considered beneath the Row decades ago, but Lee is keen on experimentation. His diversity of influences extends from the 1950s to British heritage, but also with sportswear brands. 'I actually appreciate the work done by brands', he says – an uncommon opinion for vanguards of British tailoring. "Hugo Boss, Kenzo… I think there's something to learn from everyone." He lists fellow Savile Row tailors and rebels Ozwald Boateng and Sexton as people he admires.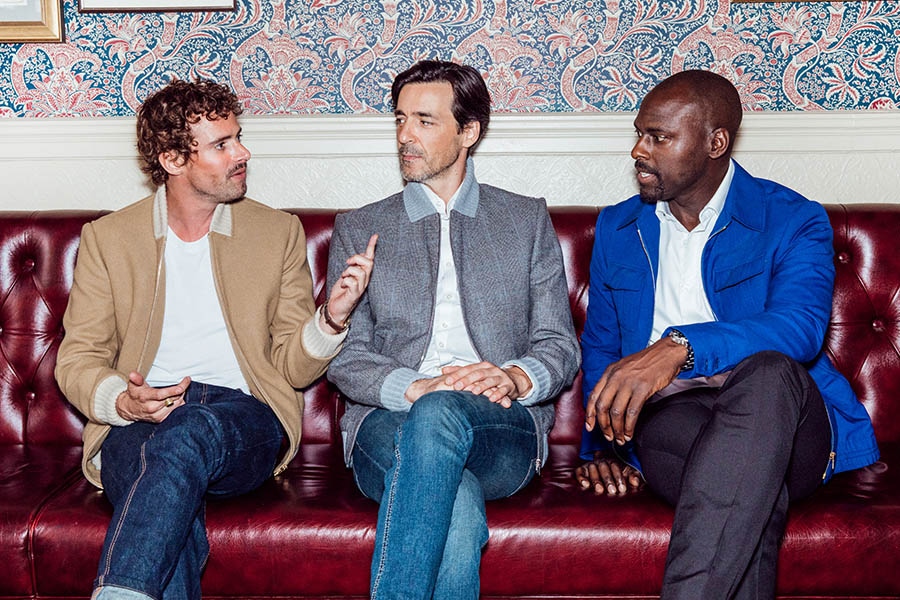 To this end, Lee is very much like an artist. One can imagine him sat atop a mountain of influences, with British heritage as the extensive base. The trail up is dotted with stories: Lee's nostalgia towards his Jamaican grandparents, who created flamboyant outfits for London's Notting Hill Carnival; and his exemplary work with other tailors on the Kingsman film, dressing Colin Firth ("It was about time we brought it back to Savile Row"). At the peak sits Lee's own skill. His tuition is sought by both apprentices and students at the London College of Fashion, all of whom recognise his technical genius. Genius of which is best understood by listening to Lee outline the various features of the bomber jackets himself. Unlike others, they have sharp shoulder lines with a roped sleeve head and high arm hole for comfort and flexibility. "The internal structure has a floating chest canvas to give it a clean look, and the inside facing lining is done entirely by hand," he says; a creative spin on a classic. This relationship between 'now' and 'then' is something that makes Lee's work particularly attractive. But Lee is a Savile Row man at heart. In the end, with some sentimentality, he remembers one notorious superstition. "If you drop a needle or pin and it lands eye or head up, you'll have good luck; if it lands point up, you're destined for tragedy." Either way, for Lee Marsh – and his customers - things continue looking up.