Leg Spin - how to wear the trousers
In Half Moon Bay Antigua, The Rake shot a masterclass on how to wear different styles of trousers from some of the finest sartorial brands in the world...
Like Theresa May, Elon Musk and the shareholders of Flybmi, trousers get a poor deal. They're the workhorse of a man's wardrobe, with a thankless task to perform — squashed, pressed, scuffed and stretched out of shape day-in, day-out, from trains to planes, bar stools to benches. This is a shame, because trousers have the power to make or mar any outfit you care to put together, particularly in warm weather, when the time comes to shrug off your flannel and corduroy in favour of a lighter, sun-friendly look. In fact, this summer we'd encourage you to pay more attention to the clothes you wear on your bottom half than those you put together for your top; when formal winter layering isn't an option, trousers become the primary tool to elevate your wardrobe, whether for work or play. Herein lies the problem, because many men — even ostensibly stylish men — don't give their trousers enough thought. For the best part of 10 years, slim, low-rise, flat-fronted trousers have dominated menswear, from the high street to couture catwalks. Certainly, here in London, there's nothing less pleasurable than spotting a 'City Boy' wearing a sharply tailored jacket ruined by miserable, 1,000-times-washed skinny-fit chinos (often in a lurid colour) falling down below his hips. The flat-fronted look, worn this way, is both tired and uninspired. Which is not to say that tapered, flat-fronted trousers can't be an elegant addition to your wardrobe — the key is to know how to wear them. Look to both
Anderson & Sheppard
and
Drake's
for inspiration here. For several seasons now, Drake's have made chinos and suit-trousers that taper gently from thigh to ankle for a crisp, modern look, but with a mid-high rise that sits firmly atop the wearer's hips. This changes the silhouette of the trouser, helping to temper its slimness by flattering the wearer's waist, as tailored trousers should. Worn with the hems rolled up, a pair of deck shoes or
Baudoin & Lange'
s cult-favourite Sagan slippers, and with a simple linen one-piece collar shirt, chinos like these will see you right through the warm spell and beyond. Anderson & Sheppard offer ready-to-wear trousers with a similar silhouette, cut in soft Italian linen with tapered legs, a flat front, belt loops and an unashamedly high rise. With a colour palette ranging from teal to tobacco, and from dusty pink and china blue, these are indispensable in warmer climes. Try a pair with one of A&S's lightweight hoop stripe crewnecks — the blue and cream version in knitted silk is a real stunner.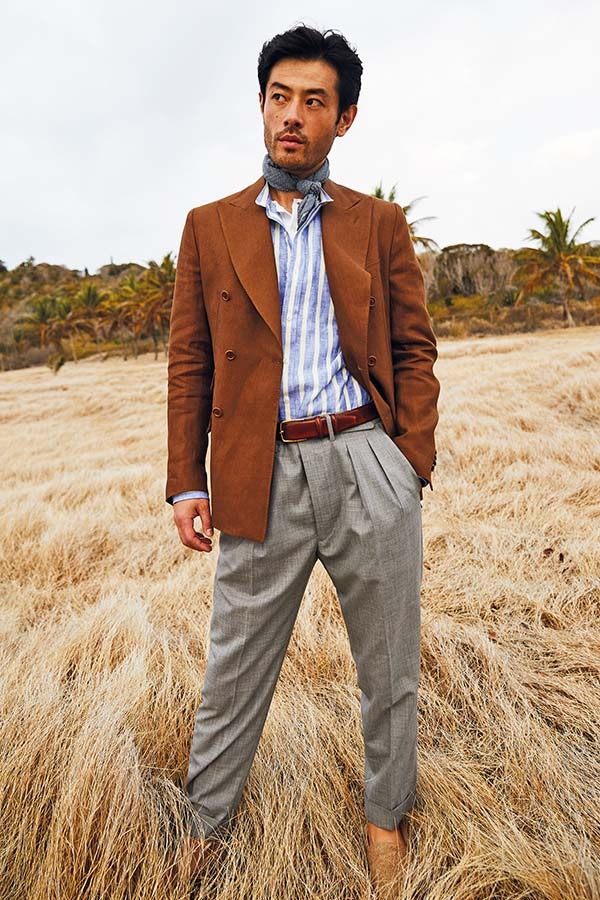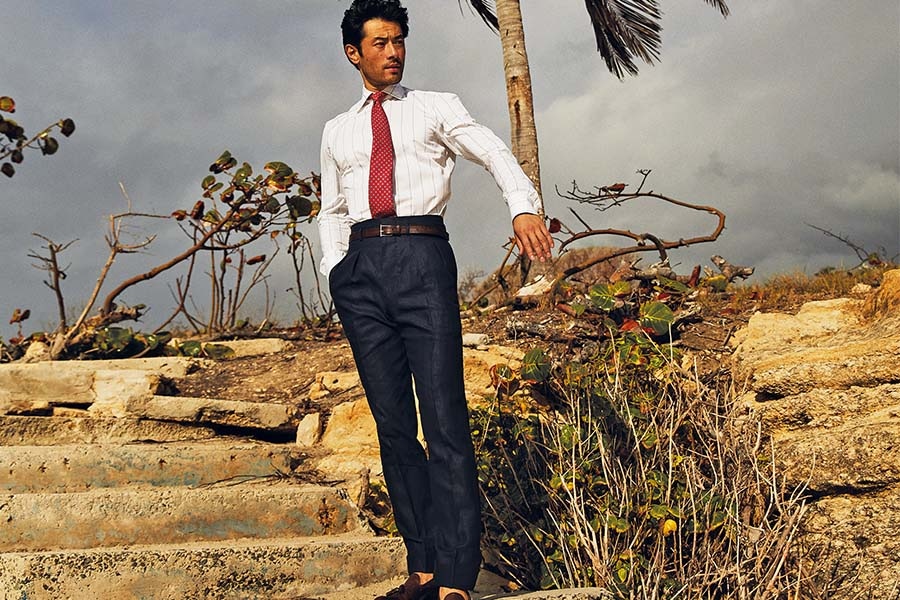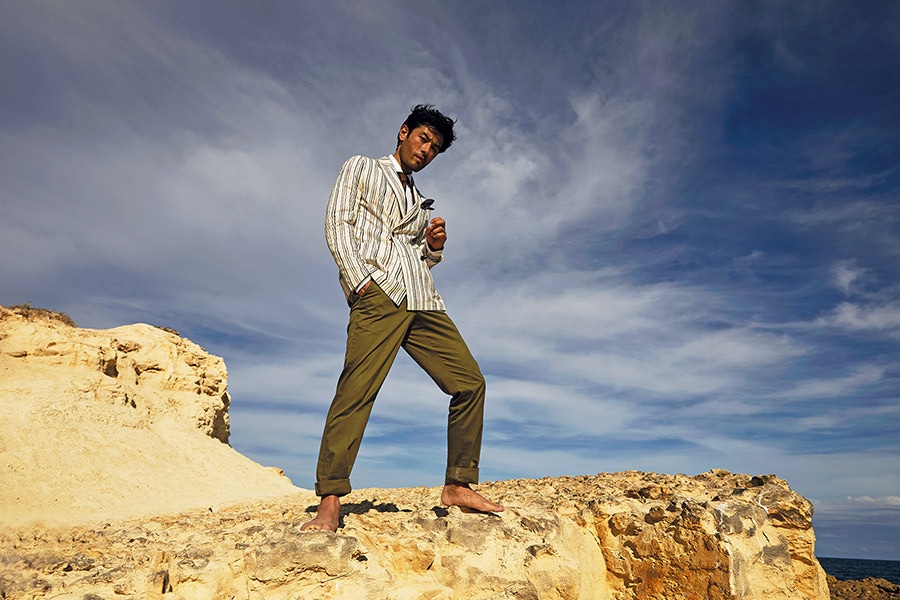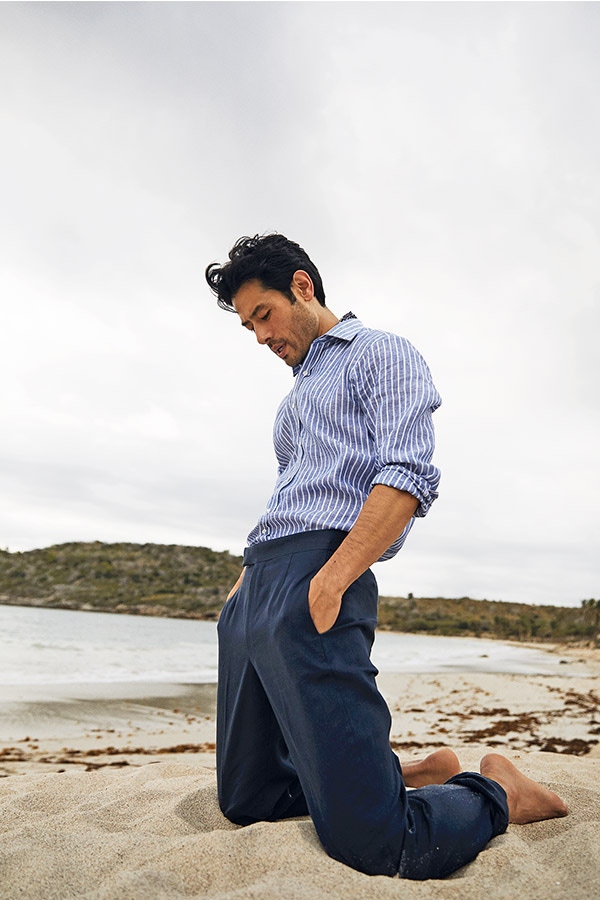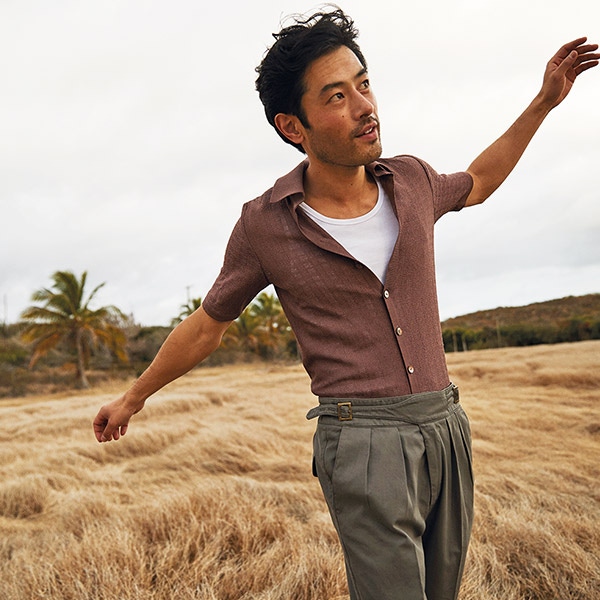 Of course, Anderson & Sheppard's glorious Clifford Street haberdashery is home to no fewer than 12 different trouser styles, which range from the aforementioned flat-fronted type, to model No.2, which I call a 'golden era' trouser, inspired by the generous silhouette of the 1930s and forties. These are cut to sit on the natural waist (across your belly button), with twin forward-facing pleats, full legs and on-seam pockets — another authentic 1930s touch. This summer, A&S has cut
The Rake
several pairs in a frankly sumptuous blend of linen and silk, which is possibly the most luxurious cloth you'll ever wear. Cleverly, they are finished with belt loops, which helps to dress them down just a touch; we wear ours with lightly structured Neapolitan sports coats, woven leather belts and repp stripe ties, and for a nod to A&S's former patron Fred Astaire, don't forget the jauntily worn tie clip, either. While we're at it, there are two other independent British brands worth knowing for their exceptional summer trousers. The first is a
Rake
favourite,
Kit Blake
, founded by the Savile Row stalwart Christopher Modoo. The brand launched on TheRake.com last year, and this summer its signature high-waisted forward-pleated model is taking on a variety of guises. It's a subtly different silhouette to Anderson & Sheppard's pleated trousers: slightly crisper with side adjusters, internal brace buttons and sweeping tapered legs for a more modern impression. Modoo has designed several pairs in Vitale Barberis Canonico's superb tropical wool, silk and linen blend plainweave for summer, and Kit Blake's house check trouser showcases a very impressive four-ply Super 120s open-weave cloth, woven exclusively for Kit Blake by Lovat in Hawick, Scotland. With their high-twist fabrication, trousers like these remain cool and crisp to wear throughout the warmer season, so they are suited to travel or business dress. The Blake Check trousers are a sharp choice with a navy fresco or hopsack blazer, which picks out the blue overcheck in the trousers. Kit Blake makes a wonderful four-ply Mock Leno blazer with a half-lining and trim peaked lapels. Read the full article in Issue 64 of The Rake - on newsstands 6 June. 
Subscribe here.
With thanks to Half Moon Bay Antigua, the exclusive new resort on the island of Antigua, and home to the Rosewood Half Moon Bay Hotel, set to open in 2020.