Like Art: The Life of Glenn O'Brien
Celebrating the original Style Guy and late, great renaissance man.
The great Glenn O'Brien passed away at the weekend. The last Tweet he fired off, six weeks back, read "Andy Warhol died 30 years ago today. I remember thinking, 'Whose opinion will I care about now?'" That's kinda how I felt when I learned of O'Brien's death. Because, though we never actually met, O'Brien's opinion mattered to me. And so, so many others. He was the ultimate arbiter and bellwether of modern manly cool.
When we launched
The Rake
in 2008, O'Brien was one of the first people I sent a copy to, hoping for feedback, advice, maybe a kind word or two. Still serving as US
GQ
's sage advice-dispensing Style Guy at the time, I'd been reading and gleaning wisdom from O'Brien's writing for years. Hoping to be a writer and editor half as good as he was one day. He was a hero, seriously, an idol to me. Generously, he deigned to respond on email — though it's lost in the cyber sands of time, I vividly recall it read: "Nice work. It's good to see classic style making a comeback. Though I hope the same can't be said for wearing watches over shirt cuffs." (We'd done a shoot inspired by
Gianni Agnelli
's stylistic quirks, including this trademark move.) That "Nice work" remark? Total 'Praise from Caesar.' It meant the world to me.
More recently we'd shared a little social media interaction. I'm not ashamed to say I'd Tweeted a few things that I'd rather hoped would gain O'Brien's attention — one of which, a plug for a story on this website listing the most rakish album covers of all time, got retweeted not only by O'Brien, but Andrew Loog Oldham, the man who managed the
Rolling Stones
' early career. (Small thing, but yeah, still, c'mon, utter fanboy OMG moment for me.) O'Brien claimed, with "100 percent certainty," that it was his tighty-whiteys depicted in the
Warhol
-photographed and -designed sleeve for the Stones' Sticky Fingers LP, the album featured atop that rakish sleeve-art list.  
Glenn O'Brien got his professional start, aged 23, working with Warhol as editor of the pop artist's groundbreaking Interview magazine in 1970. He subsequently became New York bureau chief for
Rolling Stone
, edited classy skin mag
Oui
for a spell, then invented the title of 'editor-at-large' while helming
High Times
(working 'at large', he said, because he was too paranoid about getting arrested to base himself at the offices of the viper's bible). In the late '70s he launched the public access television program TV Party, where over a four-year broadcast period, he hosted key cultural icons of the time including his buddy
Basquiat
,
Bowie
,
Byrne
, Debbie Harry,
the B-52s, Kid Creole, George Clinton, Nile Rodgers, Iggy Pop, Steven Meisel, Mick Jones, Kraftwerk, and Robert Mapplethorpe. (O'Brien once advised, "People remember a good listener better than a good talker." Wise words to keep in mind, whether you're conducting an interview or simply holding a conversation.)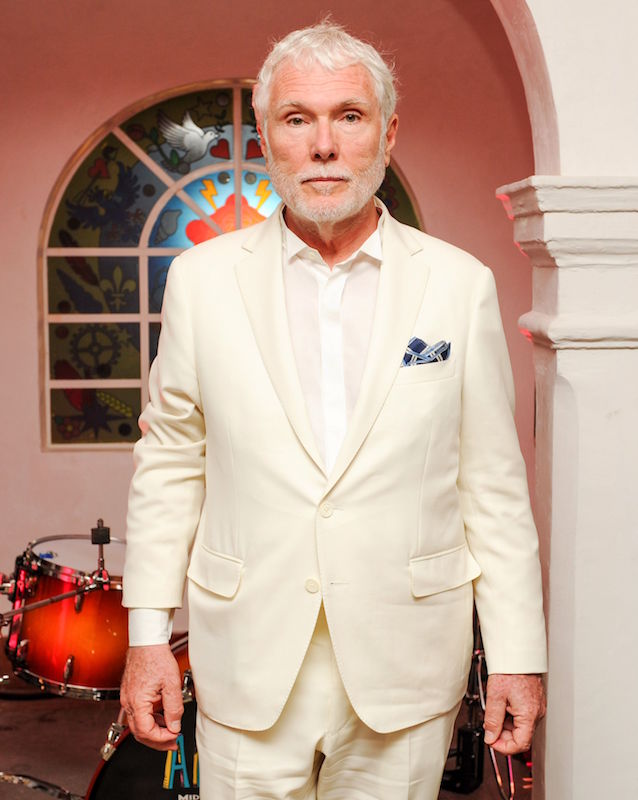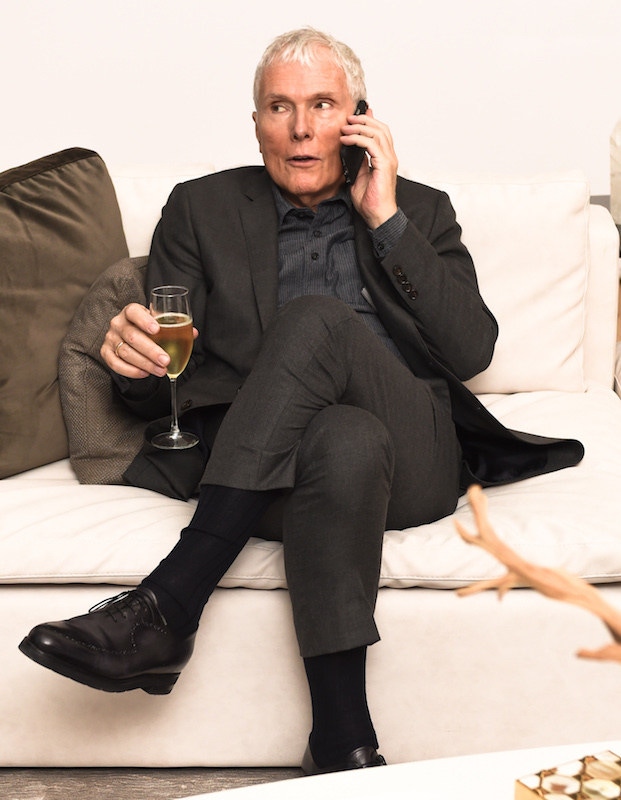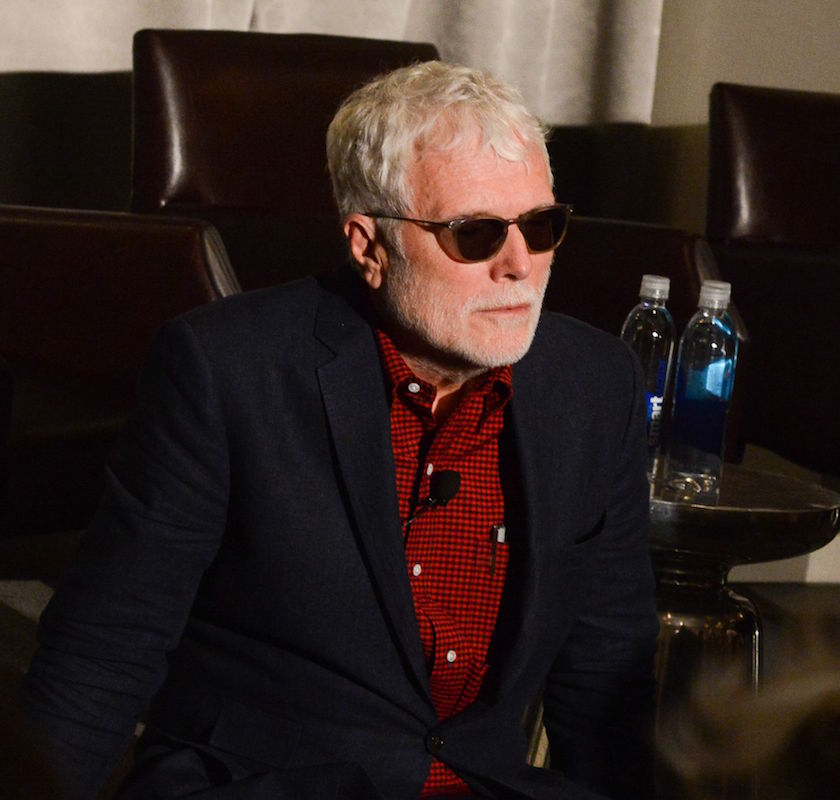 In the '80s O'Brien began dabbling in advertising work, copywriting and creative-directing. "
The firewall was gone between art and commerce," he wrote in the preface to his recently published, and unfortunately final book,
Like Art
, a collection of O'Brien's 1980s pop-cultural columns for Artforum magazine. "Advertising was like art, and more and more art was like advertising," the Warhol acolyte said. Eventually, he'd create what he called "art with a logo" for an enviable list of clients including Barneys, Calvin Klein, Dior and Chanel.
For someone like me, who came from the music business into the ad-driven milieu of glossy media, and today skips to and fro' editorial and (even more) commercial content, Glenn O'Brien was a standard bearer, a pioneer, showing it was possible to straddle the two worlds — with style, with class. Despite being "
scolded for working both sides of the fence, editing a magazine while continuing my career as a creative director," he wrote in
Like Art
, "I can honestly say that I never felt I was put in an awkward position by this supposed conflict of interest, but also I can say that if I was guilty of working both sides, so was every fashion editor, creative director, photographer, and stylist in the business."
He equally provided proof positive that a man can be artsy, edgy, 'downtown', hip to new sounds, style and ways of seeing, but also a devotee of the classics. "Don't be afraid to express all your personalities," he said — and led by example. Look at O'Brien's wardrobe, a mix of Supreme streetwear and racks of bespoke Anderson & Sheppard; Nike hi-tops and John Lobb ghillies; Gieves suits and Converse kicks; Charvet shirts and Schott NYC. Spot on! That's 'the modern voice of classic elegance' right there. Ditto for the advice O'Brien dispensed during his lengthy run as Details' and then GQ's Style Guy, where he went far beyond mere sartorial instruction and counseled the reader on (as he'd eventually title a book collecting this wisdom) How To Be A Man.
Though thoroughly modern, new wave even, O'Brien's advice was always informed by the etiquette and mores of the old school. "We must have the courage to go back to the age-old tradition of ritual and dress code. We must have the courage to turn the shoddy away at the door," he wrote. And yet, sayeth the Style Guy: "Never judge a person by his clothes or his act." Go beyond the superficial, and instead, "Always be on the lookout for people who remind you of you… Smart, secure, cultured, cool… We are allies in the cultural conquest of the world." Yes. Bravo. Hero.
Late last year, O'Brien jokingly tweeted, in response to someone pleading that their eventual death not be referred to as 'passing': "Just don't say I flunked." No chance of that. No, sir. Flying colours.
Glenn O'Brien was class, one of a kind. The man lived his life like art.