The 'Ghost Captain' Has Docked: Shop Our Exclusive Rado Collaboration Now
We were so impressed with the 2017 Rado HyperChrome Captain Cook that we unanimously voted it for the Ultimate Value Watch of the Year Award, and even wanted one of our own. Now you can shop the exclusive watch we have nicknamed "Ghost Captain".
When you think of Rado, the first quality that comes to mind is the brand's pioneering status in case material innovation that evolved over the past half-century at a pace unmatched by any other brand. As early as 1962, Rado introduced the legendary DiaStar, a watch with a case crafted from tungsten carbide and featuring a sapphire crystal, resulting in the industry's first scratch-resistant watch. In 1972, it unveiled the first gold-coloured DiaStar case and in 1986 introduced the first watch bracelet in ceramic. In 1990, the brand unleashed its first fully ceramic watch, the Ceramica, and in 1993 brought cermet – a titanium-based ceramic – into the world of watchmaking. In 1998, Rado's Ceramica became the first plasma high-tech ceramic watch. In 2002 it created the incredible V10K, the world's hardest watch (with a surface hardness of 10,000 Vickers – equivalent to that of diamond). This was achieved by taking a watch made of a hard metal substrate and using a furnace capable of recreating the atmospheric pressure of Jupiter to coat the entire watch in synthetic diamond. What you may not be aware of is Rado's history in dive watches. Last year it reminded us not only of a very cool vintage dive watch that dates back to 1962, but created a highly appealing modern homage to this watch, named the 'Captain Cook'. It's clear Rado has been following the prevailing love affair of the new generation of consumer with vintage dive watches. And it should be applauded for retaining the 1962 Captain Cook's perfectly proportioned 37mm case size for its modern reinterpretation.
When high tech met vintage
While the new watch certainly displays touches of retro-themed fun – in particular the grey-brown dial and the luminous indexes coloured to remind us of aged tritium – the contemporary Captain Cook also comes replete with some very nice modern innovations. Case in point the high-tech ceramic bezel, which utilises the brand's high-tech pressing process for ceramic. It also replaces the original acrylic with a highly appealing and totally scratch-resistant domed sapphire crystal. The dial is clear and highly legible and the hands – arrow-shaped for the hour, sword-shaped for the minute and arrow-tipped for the seconds – are both very cool looking and very easy to distinguish from one another in low light conditions, thanks to being luminous. The Rado anchor logo at 12 o'clock rotates when the watch is moved about, a detail that is found on all Rado automatic models and a feature that was developed to protect the brand against being copied. The movement providing power to this gem of a watch is the ETA C07.611, an automatic winding calibre that features an impressive power reserve of up to 80 hours. It also drives the watch's signature red printed date wheel visible through the aperture located at 3 o'clock. Because the Captain Cook does not feature a screw-down crown its water resistance is limited to 100 metres. But this is clearly enough to participate with impunity in the vast majority of casual recreational diving or any ocean-related sports like sailing or jet skiing. Perhaps most importantly, it offered all this wonderful style and dependable performance for under US$2,000, making it an incredible value proposition for a Swiss-made watch.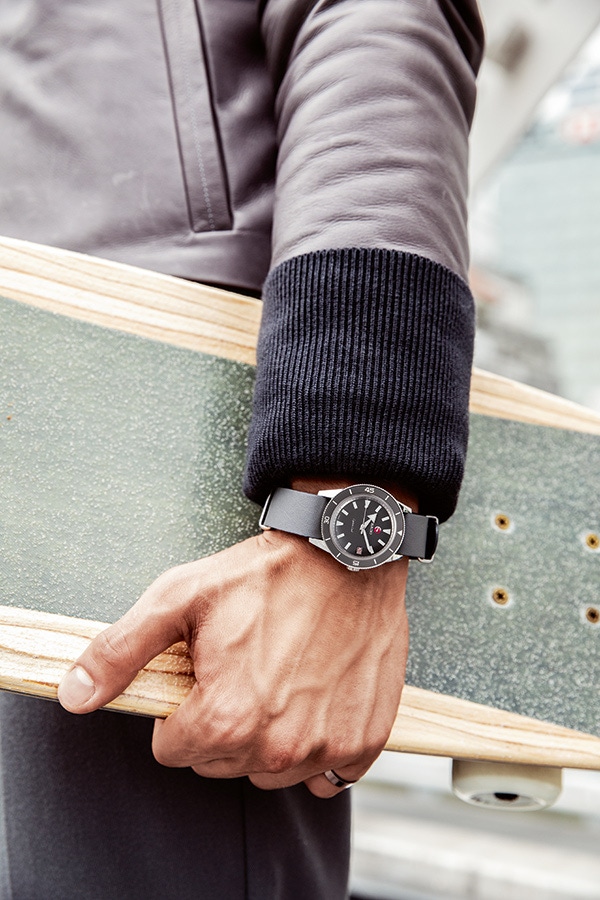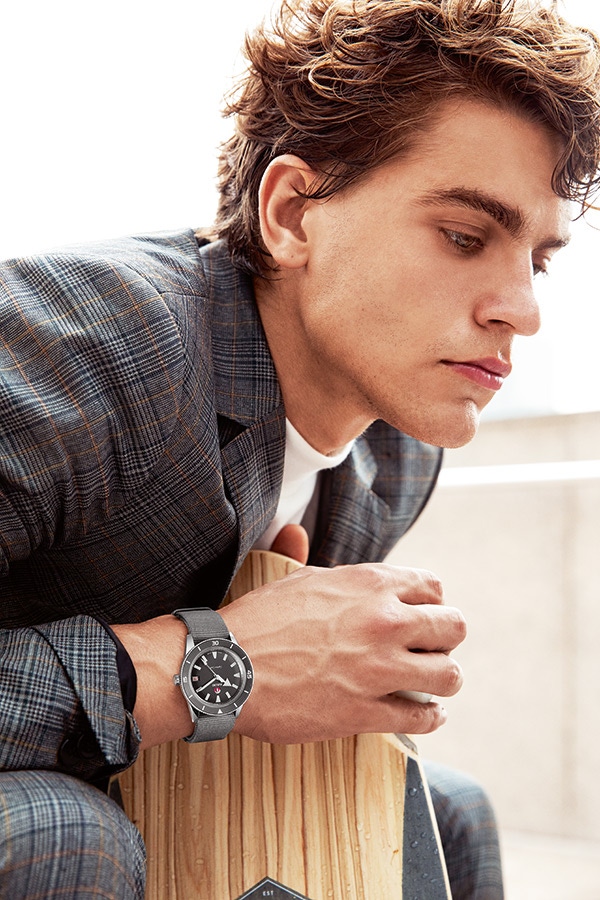 Ghost Busters At the 2018 Baselworld watch fair, after professing my love for the Captain Cook to Rado CEO Matthias Breschan, we began to discuss a possible collaboration on a limited edition of this great watch. Several of the timepieces we have worked on at Revolution have attempted to enhance the already existing vintage codes of their respective watches by endowing them with an extra measure of patina. However, the standard model Captain Cook has already travelled down this vintage path with great results evidenced by its grey-brown dial and yellow-green indexes. We initially made forays into an even more "distressed" watch based on images of vintage 1962 Captain Cooks, but somehow the designs just were not appealing as they started to feel mannered. Then we started to think about another way in which some very special watches have a tendency to age. A "ghost" bezel is one that as a result of sun and seawater and general exposure over time, turns from a solid black into a highly appealing translucent grey. In some instances, dials also exposed to these conditions turn this appealing shade of grey instead of the more usual brown. I've seen some Comex dive watches in particular that end up this way. And the result is a sort of hallucinatory, ethereal appearance for these watches where the bezel and dial are both a ghost-like grey. The idea of the Rado x The Rake & Revolution Captain Cook "Ghost Captain" began to come together. What is impressive is that with Rado's vast in-house manufacturing ability in HyperChrome, the brand was able to render the perfect shade of grey ceramic to counterpoint the grey dial. Instead of the faux-aged luminous indexes, we decided to keep the lume plots a clean white colour, which we feel offers a more appealing contrast to the prevailing grey/silver colour scheme of the watch. In addition to that, the Rado Limited Edition "Ghost Captain" will come on a grey leather NATO-style strap and be accompanied by a second grey fabric NATO-style strap. We have also kept the price of the watch as close to that of the standard version as possible to retain its attraction as an amazing value proposition. Says Breschan: "It was great to hear how much Revolution loved the 37mm Captain Cook, which reflects the extremely strong success we've had with this watch. We like that the limited edition we've created together has a completely different look and style to the 2017 model and that it demonstrates another dimension for this icon of ours." 150 limited edition pieces of The Rado x The Rake & Revolution Captain Cook "Ghost Captain"  are available to purchase at a price of $1900. Get your piece of horological history now at TheRake.com.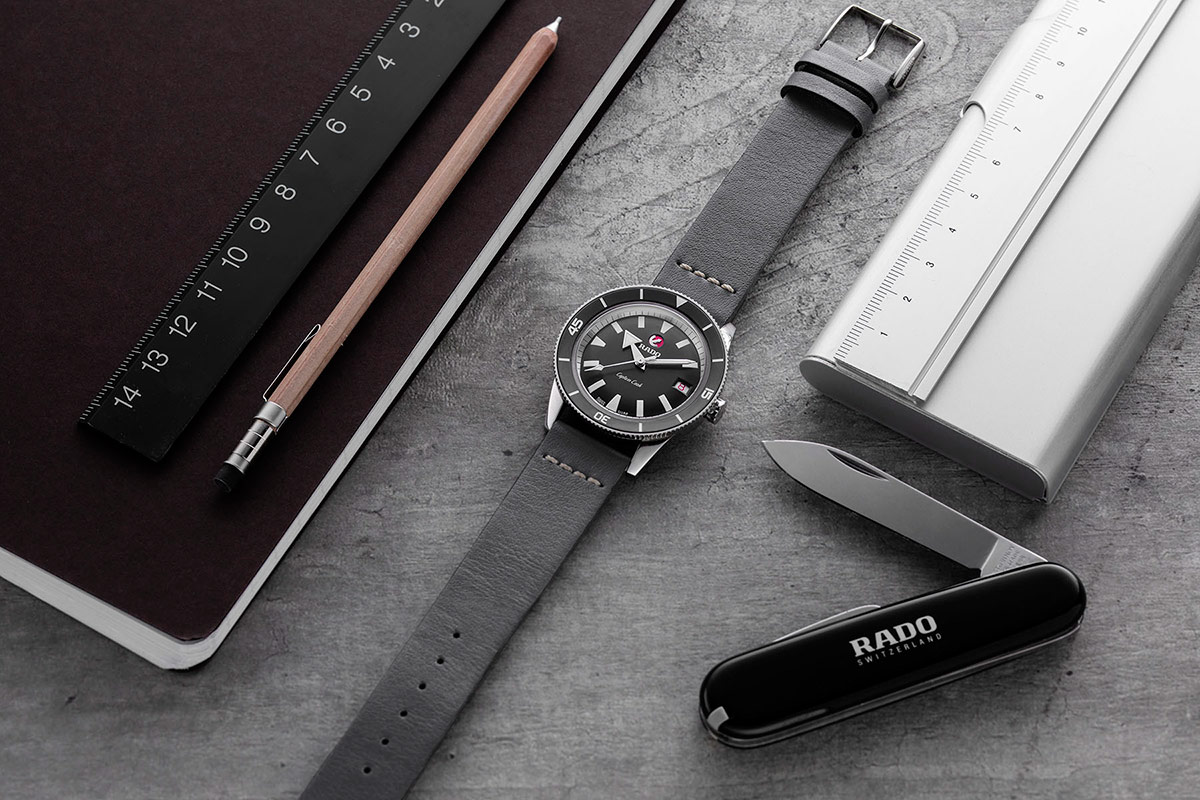 Rado Captain Cook "Ghost captain" specifications:
MOVEMENT ETA automatic-winding C07.6II; 80-hour power reserve; date at 3 o'clock. CASE 37mm polished steel with grey high-tech ceramic insert in a steel turning bezel; box-shaped sapphire crystal; water-resistant to 100m; caseback engraved with "LIMITED EDITION REVOLUTION xxx of 150 pieces" (with consecutive numbers). STRAP Grey leather two-piece strap, plus additional grey leather NATO-style strap and grey fabric NATO-style strap.